A simple dressing, quick and easy to make, perfect for salads, crudites or drizzled over anything grilled.
You might have eaten sumac on many occasions without even realising it! Sumac makes part of the oriental zaatar spice blend and should be in every fatoush salad.
When entertaining, if you want to impress your guests, make this zesty sumac dressing to toss your salad in to serve along a roasted lamb shoulder or whole baked fish.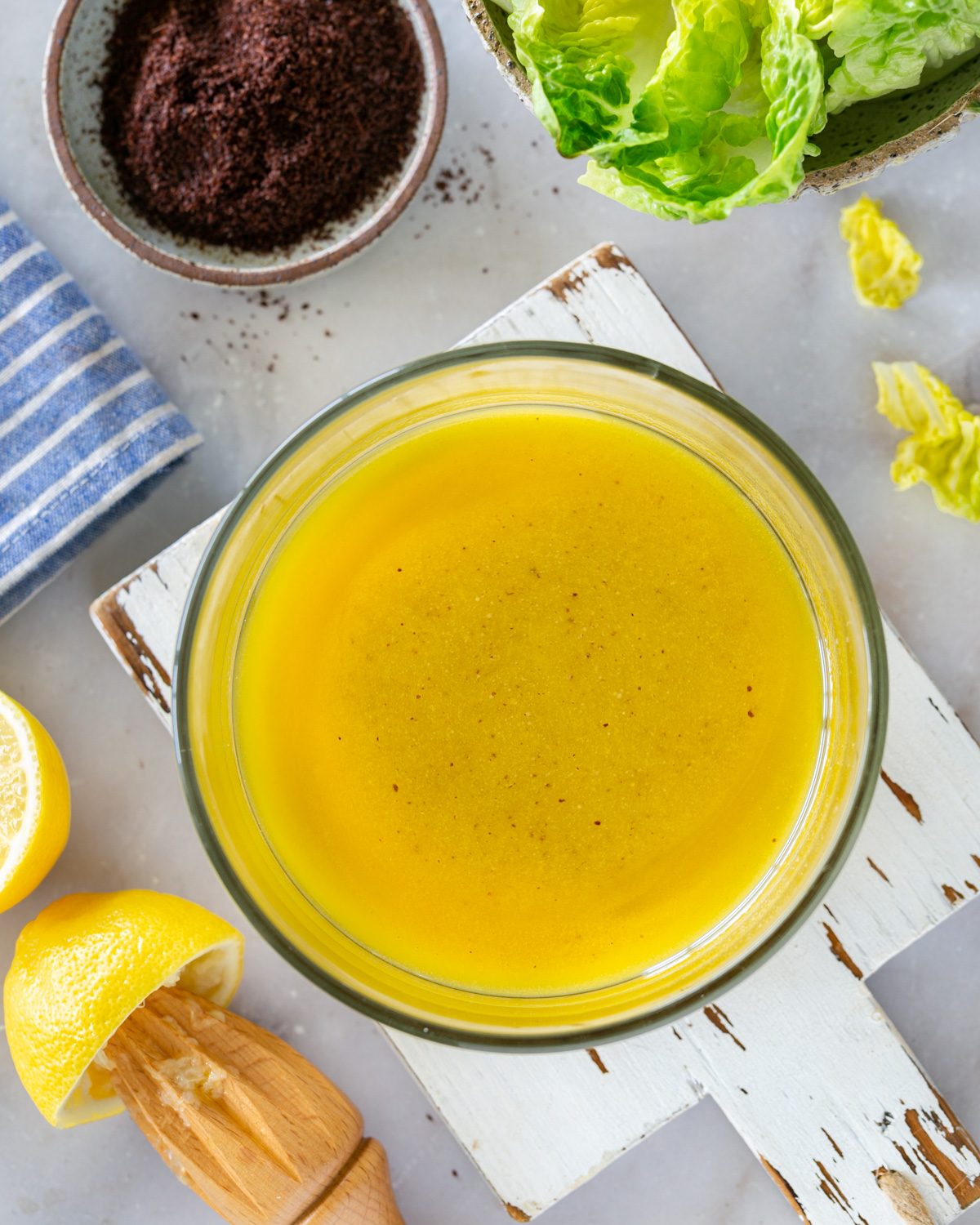 Our sumac dressing is very easy to make and a batch of it, lasts for a good two weeks. Just shake the dressing and pour over any salad to spice up your meals!
Jump to:
What is sumac?
Sumac is an oriental spice that comes in form of a coarse, red powder. The powder is made from the sumac berry that has been harvested, dried and then crushed.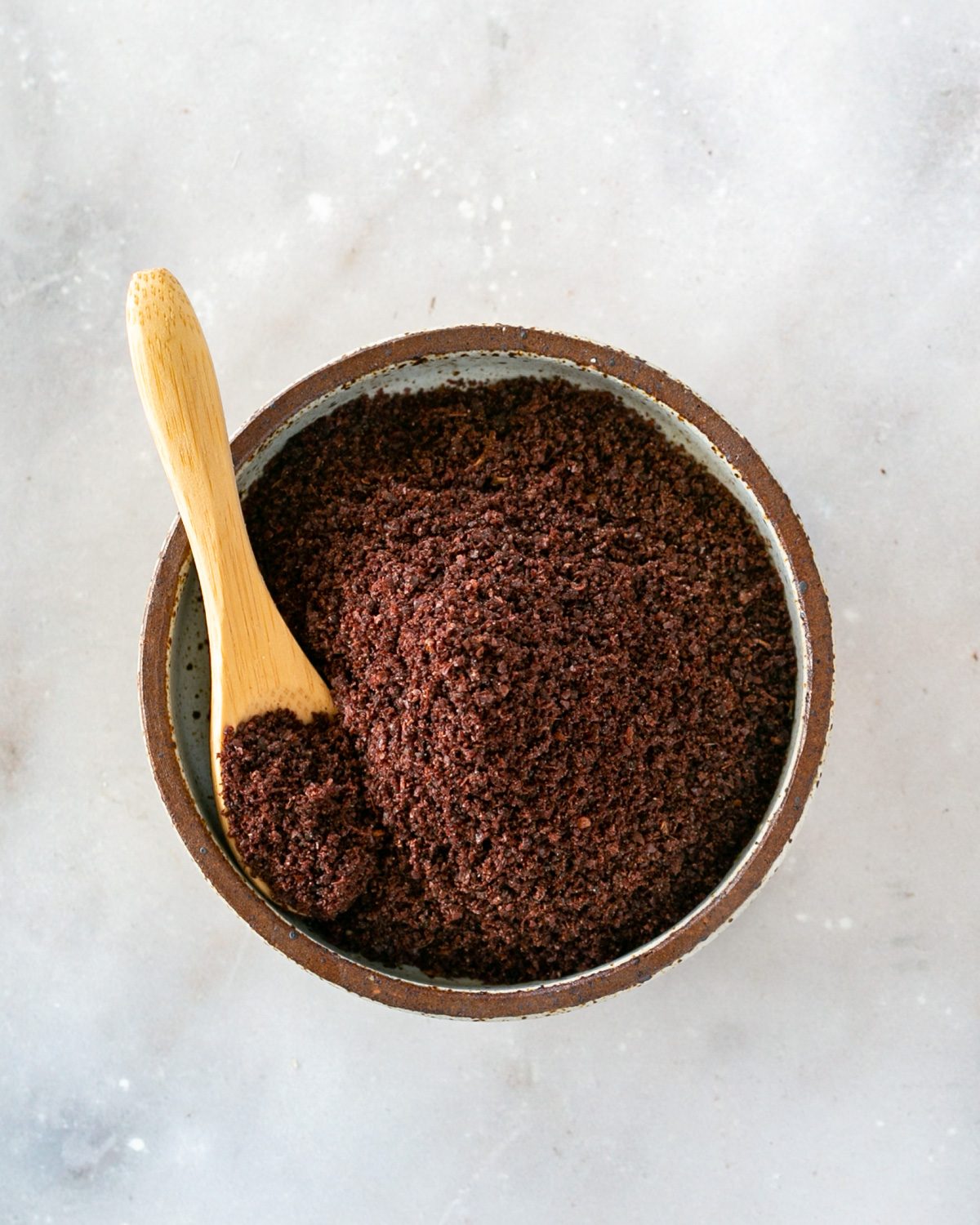 Easily available in supermarkets, speciality stores or online.
What does sumac taste like?
Sumac tastes lemony fruity and lightly salty. It can add a pleasant acidity to food and can be used in marinades, acting like a lemon.
In the Middle East it is added to stews and grilled meats to cut through the richness of dishes.
Ingredients for sumac dressing
Besides sumac, salt and pepper, you will need a few common ingredients to make the dressing, which most probably you already have in your pantry:
Mustard even so the sumac has a nice kick to it, I like to add dijon mustard to the dressing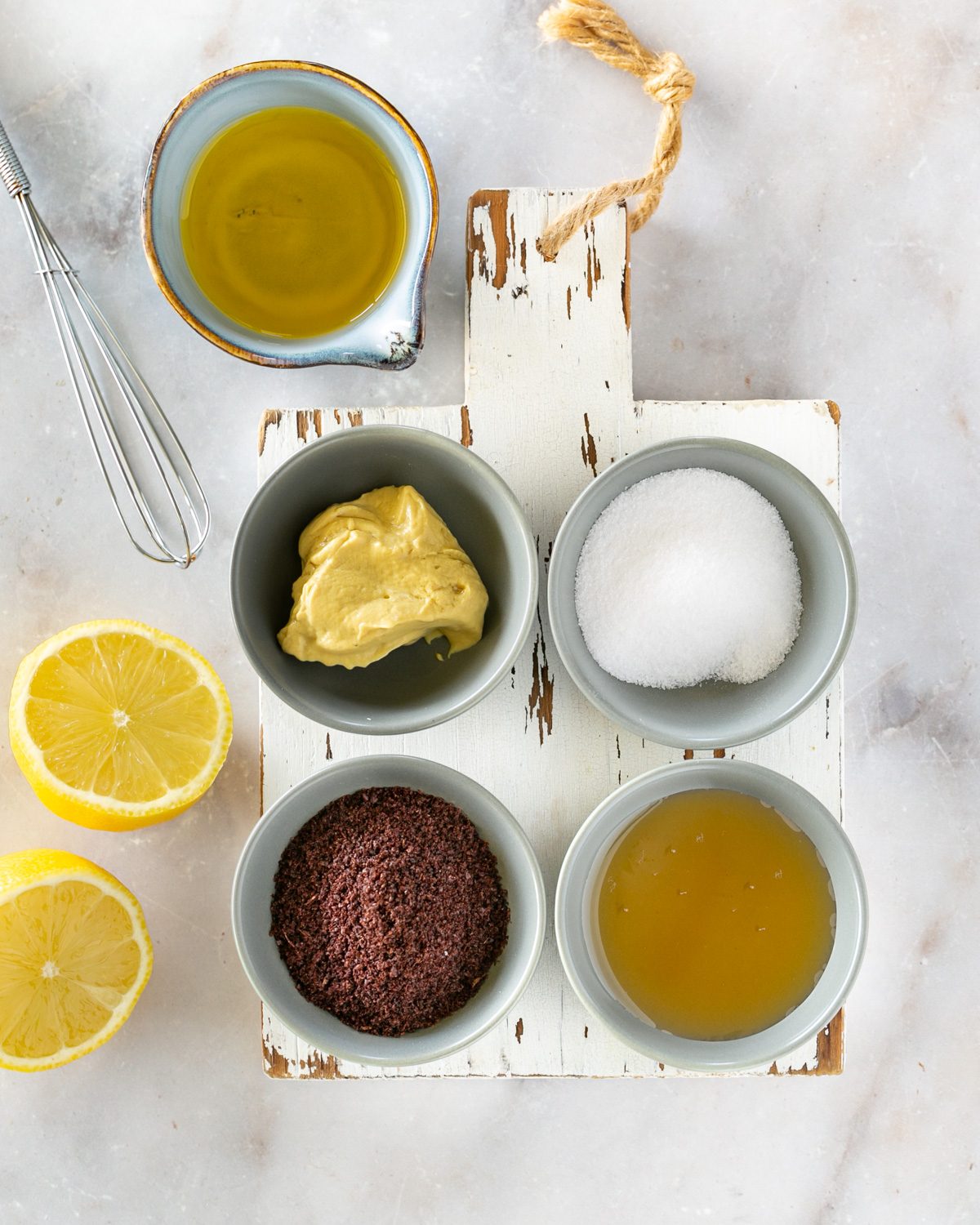 Honey with all acidity going into the dressing, we need some sweetness too. Use raw honey or replace with maple syrup or sugar.
Lemon yes more acidity! You can replace lemon juice with white or apple cider vinegar too.
Olive oil to make it a dressing. Extra virgin will taste best.
How to make sumac dressing
Making sumac dressing is straight forward. Even so the dressing is not an emulsion, I recommend following the below steps rather than throwing everything together in a bowl!
Firstly, use a large bowl, then add the sumac powder, mustard and honey to it.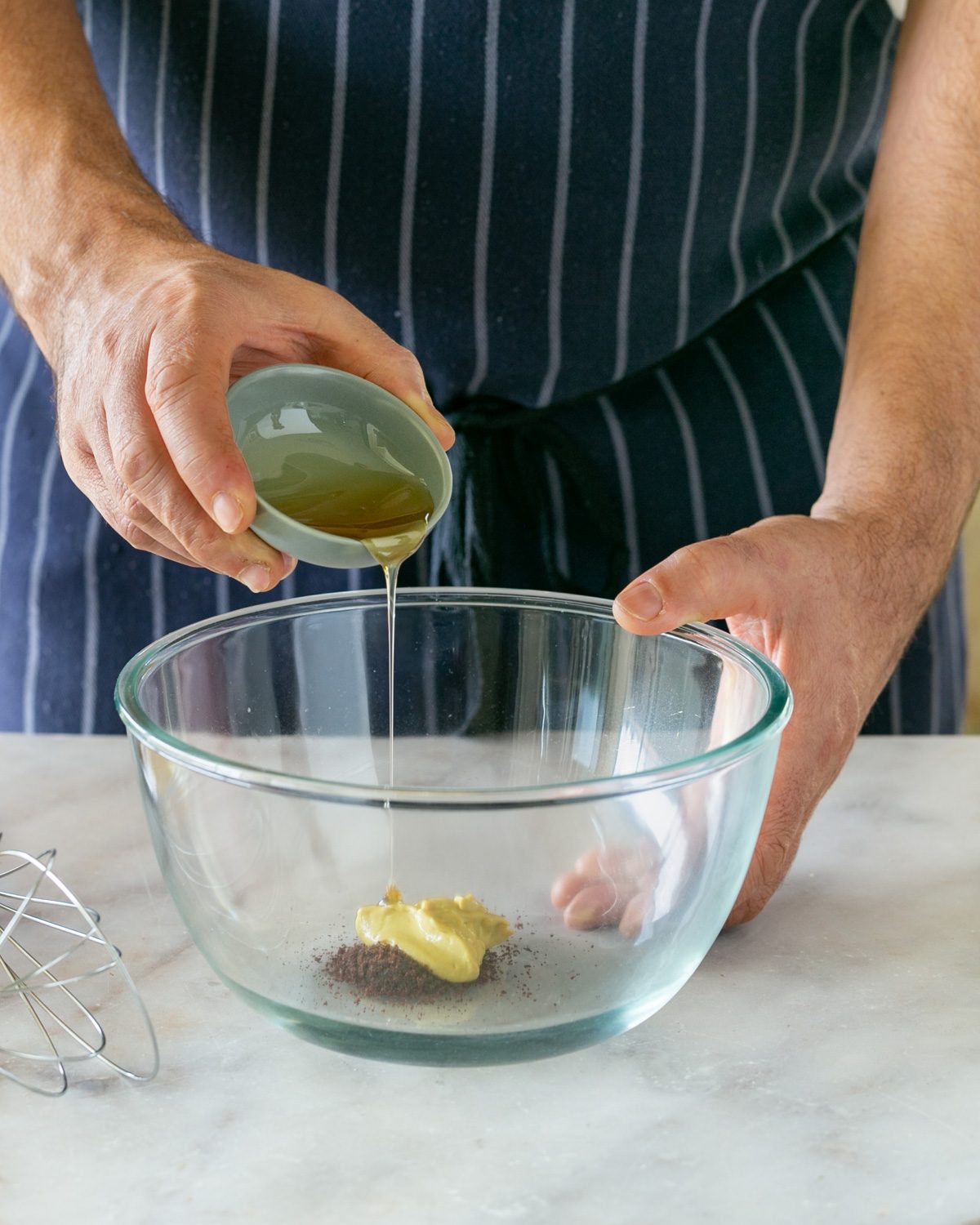 Squeeze the juice of half a lemon into the bowl.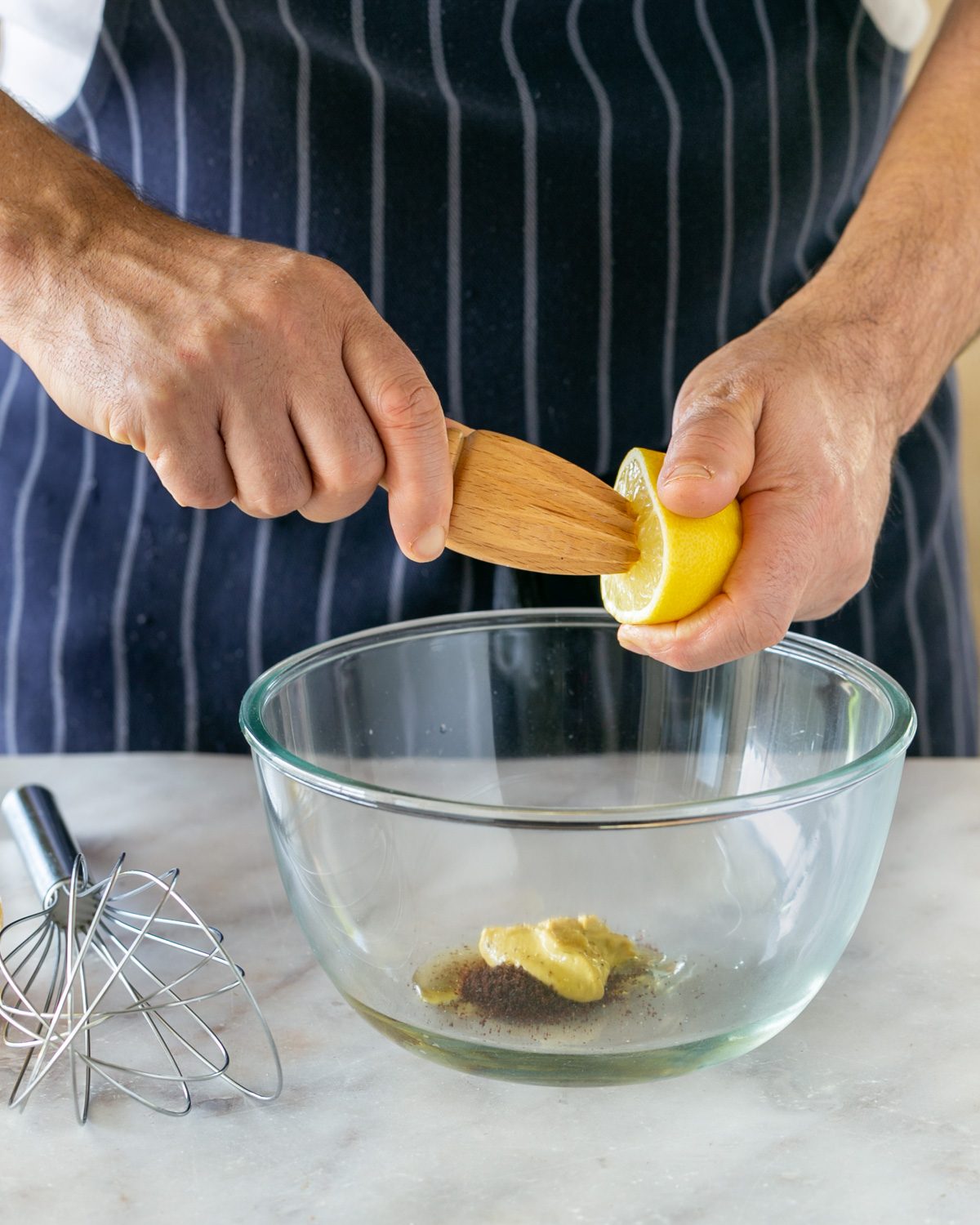 Season with salt and pepper before adding the oil. This is best practice, as adding seasoning after the dressing is finished, will not give the same results.
Now, slowly drizzle the olive oil into the bowl and use a whisk to incorporate the oil into the dressing.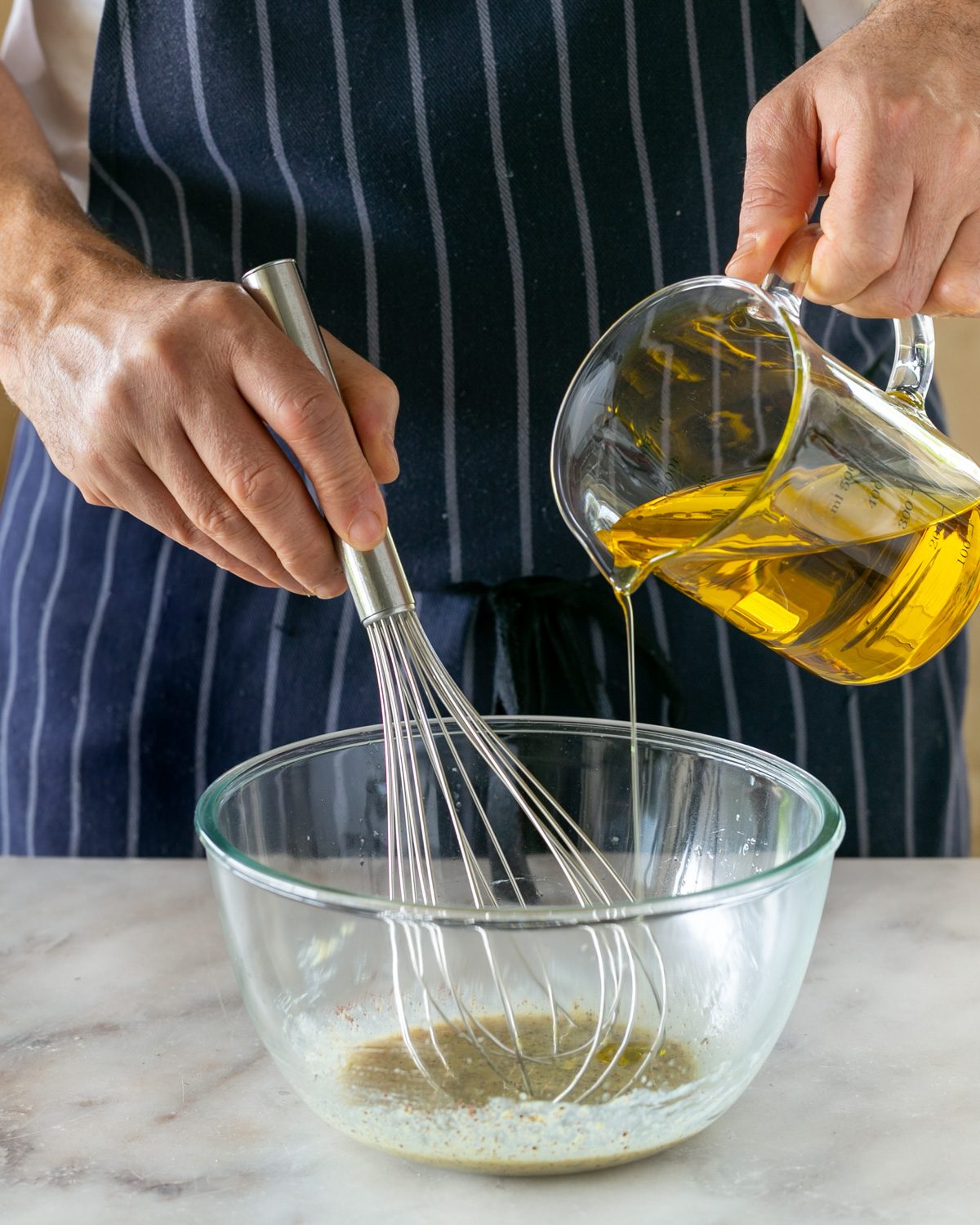 If done right, the dressing will emulsify but be aware it will most probably split like a vinaigrette. No worries, just whisk or shake the sumac dressing before using it and it will come back together again!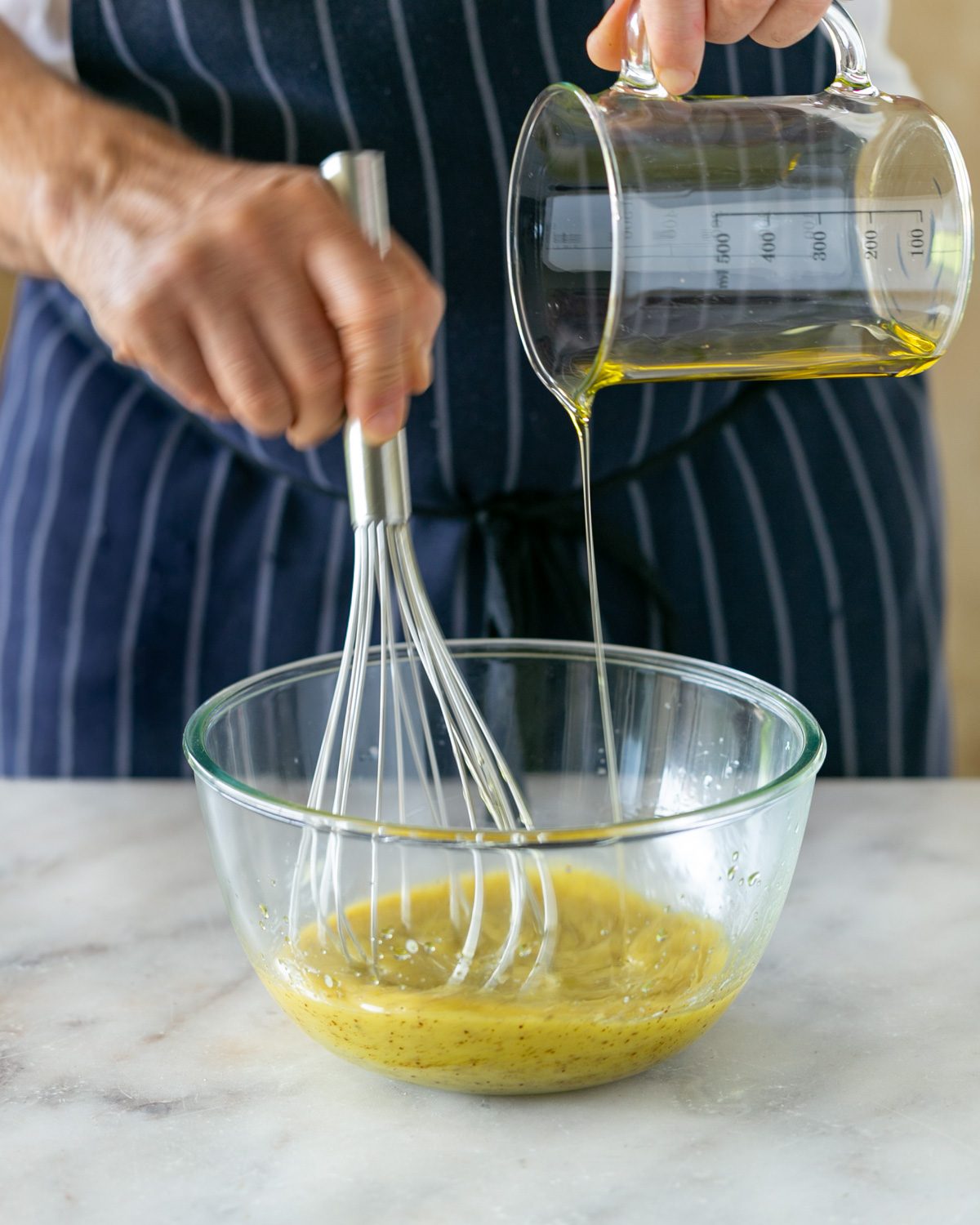 FAQ
what can I use instead of sumac
If you can't find sumac, use lemon zest mixed with salt and paprika powder to get the red colour. Another option is to use a zataar spice blend as it contains sumac.
how can I keep the dressing emulsified?
To keep the dressing emulsified you need to increase the amount of mustard and honey and slowly whisk in the oil starting with just a few drops.
what can I use leftover sumac for?
Sumac can be used as a seasoning for meats or seafood before roasting or grilling. You can add it to spice rubs, marinades and any stews. We even use it to stew berries and on pavlovas.
What to use this dressing for
Sumac dressing is one of these salad sauces, you want to have ready in your fridge for whenever you feel like salad but don't want to stand in the kitchen to make a dressing.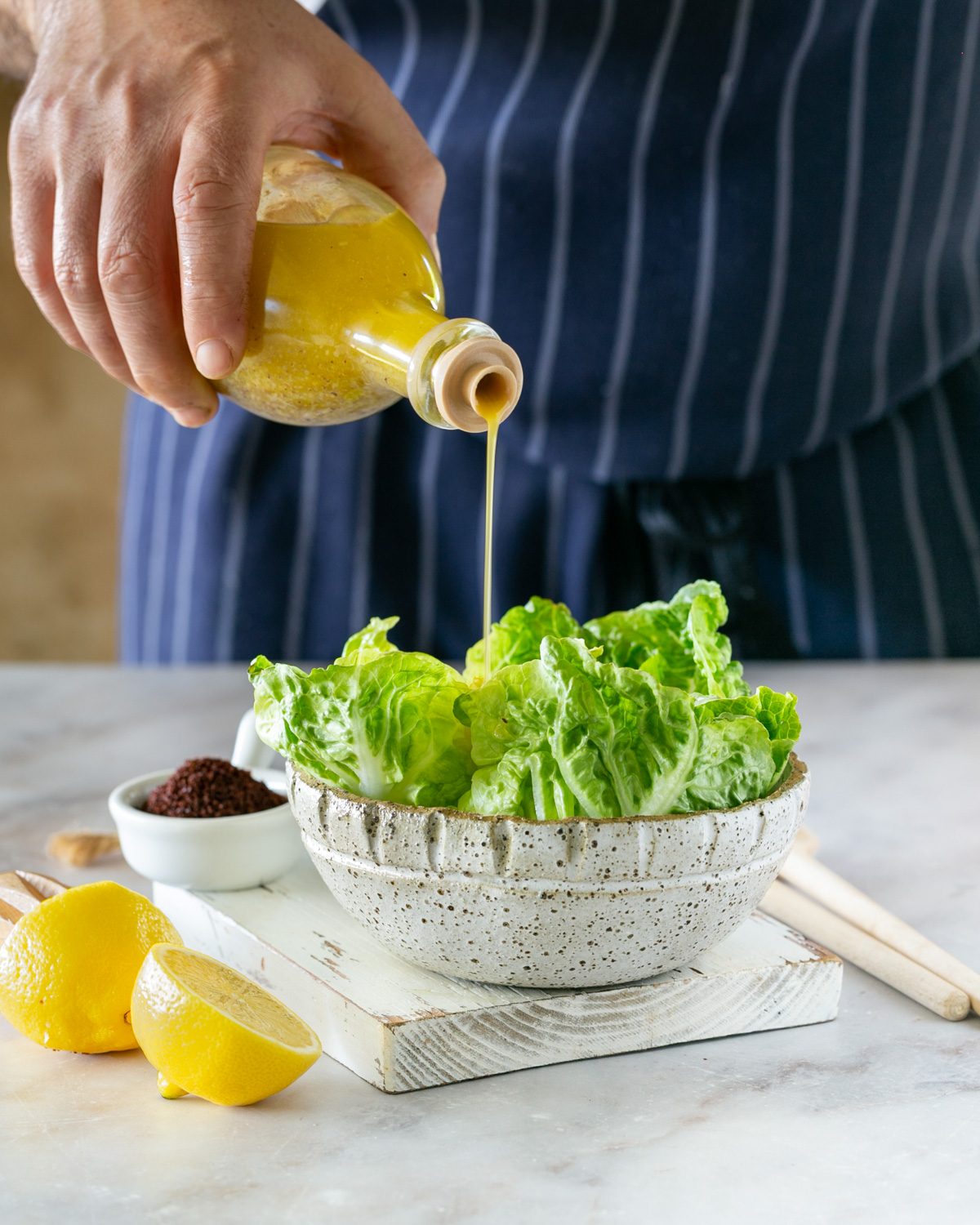 Think tomato and feta salad, any leafy salads, or as a dressing for tabbouleh or fatoush. I in fact, use it for a potato salad with coriander and spring onions, and it's yum!
Other great salad dressings
Here are some more salad dressings for your summer recipe collection:
Enjoy this tangy middle-eastern sumac dressing and let us know how you liked it in the comments below!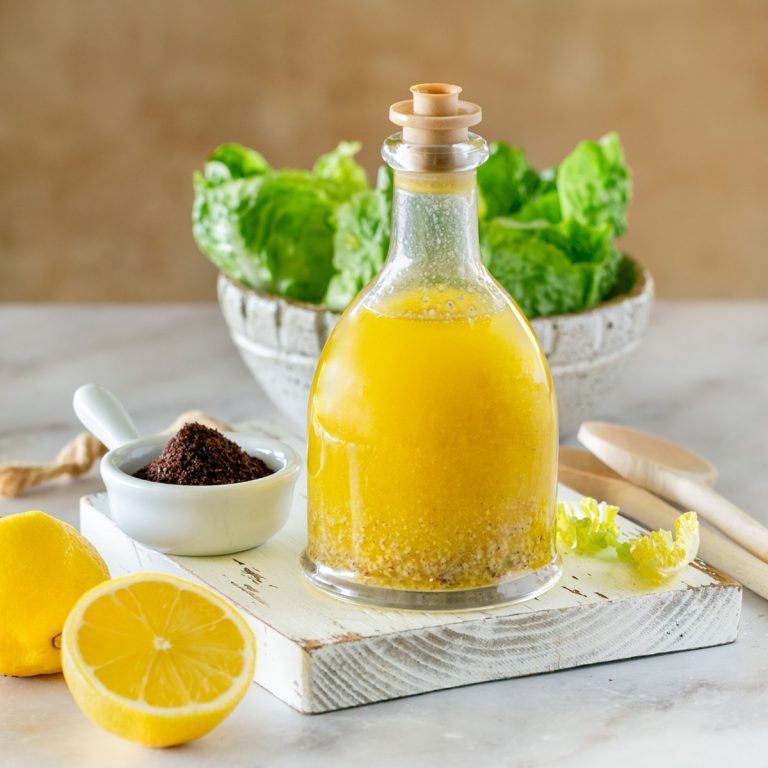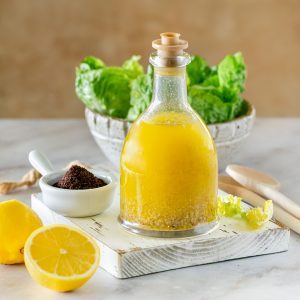 Sumac Dressing
A simple dressing, quick and easy to make, perfect for salads, crudités or drizzled over anything grilled.
Ingredients
1

tablespoon

sumac powder

2

tablespoon

dijon mustard

1

tablespoon

honey

½

lemon, juiced

salt & pepper

300

millilitre

olive oil
Instructions
In a bowl combine the sumac powder, dijon mustard, honey, lemon juice, salt and pepper.

Slowly drizzle the olive oil into the bowl while combining, with a whisk.

Adjust the seasoning with salt, lemon juice or honey if required.

Be aware that the sauce will emulsify when making but might split afterwards like a vinaigrette. Shake or whisk the dressing before using it and will come back together!
Nutrition
Nutrition Facts
Sumac Dressing
Amount Per Serving (51 g)
Calories 251
Calories from Fat 243
% Daily Value*
Fat 27g42%
Sodium 34mg1%
Carbohydrates 2g1%
Protein 0.1g0%
Vitamin A 2IU0%
Vitamin C 1mg1%
Calcium 2mg0%
Iron 0.2mg1%
* Percent Daily Values are based on a 2000 calorie diet.