There are many ways of making the classic French Tuna Nicoise Salad Recipe. Crisp vegetables, boiled eggs, black olives, fresh or canned tuna and a mustard dressing, makes this filling Salad perfect for light lunches, picnics and barbecues.
I lived in Nice for six months but never ate a Nicoise salad. Yep, that's kind of true!
When i first left Germany to work abroad, i worked a summer season at the beautiful Grand Hotel du Cap Ferrat in Cote d'Azur. I was mesmerized by the stunning ingredients I discovered in the kitchen - whole seabass, live lobsters, urchins and langoustines.

An endless variety of vegetables and herbs, beautiful smelling fruits, this was the place to be for a young chef like me. On my days off, we went to Nice and tried out everything from pissaladiere, pan bangat, socca, daube nicoise, ratatouille...but never ate a Nicoise salad.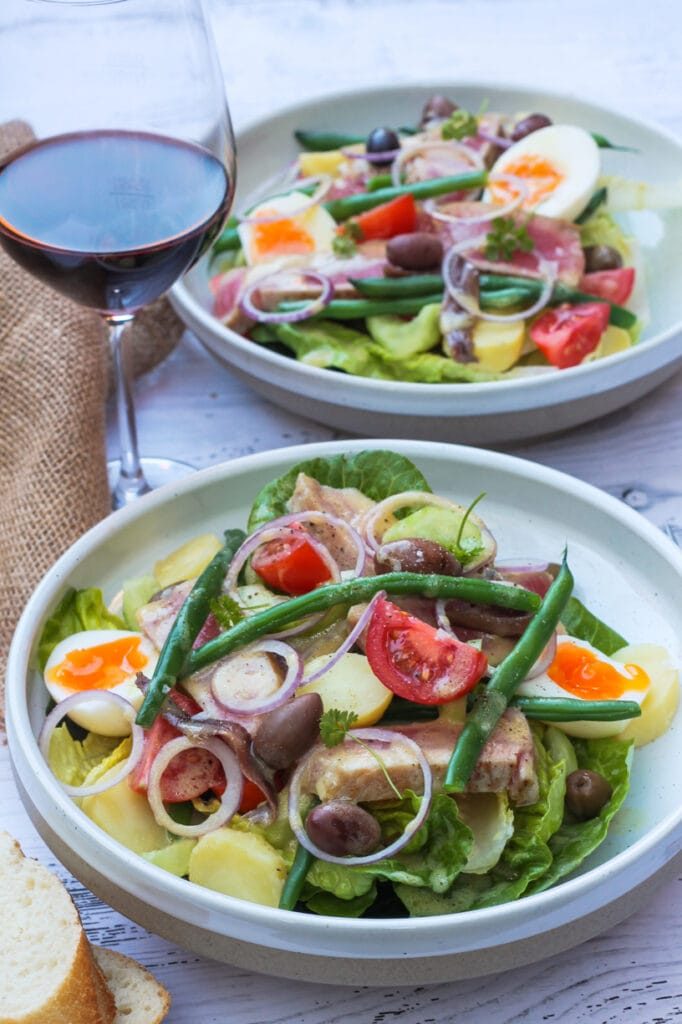 Now, it has become one of my favorite salads. In summer we prefer to eat light meals and keep it simple. Salads like our fennel and orange salad with feta or this freshly made Nicoise salad tick all the boxes of a healthy meal - they are nutritious and packed with veggies.
Jump to:
What goes in a Classic Nicoise Salad?
Nowadays, a lot of restaurants serve a more modern version of this salad. Most use fresh tuna either grilled or pan seared but always served rare. Boiled eggs are replaced with soft poached quail eggs and potatoes are not the boring boiled ones, instead crispy golden brown chips.
Well, there is no right or wrong here, chef's love to play with the classics and recreate a dish which tastes as good or even better at times.
As i mentioned earlier, there are many versions of a Nicoise salad, so feel free to experiment. In this classic recipe for Nicoise Salad, I have used fresh tuna, bought early morning from our local fish market. This can be easily substituted with good quality canned tuna. Anchovies love 'em or loathe 'em, these salty umami-infused ingredient add a great punch to the salad. But if you don't like them, you can leave them out.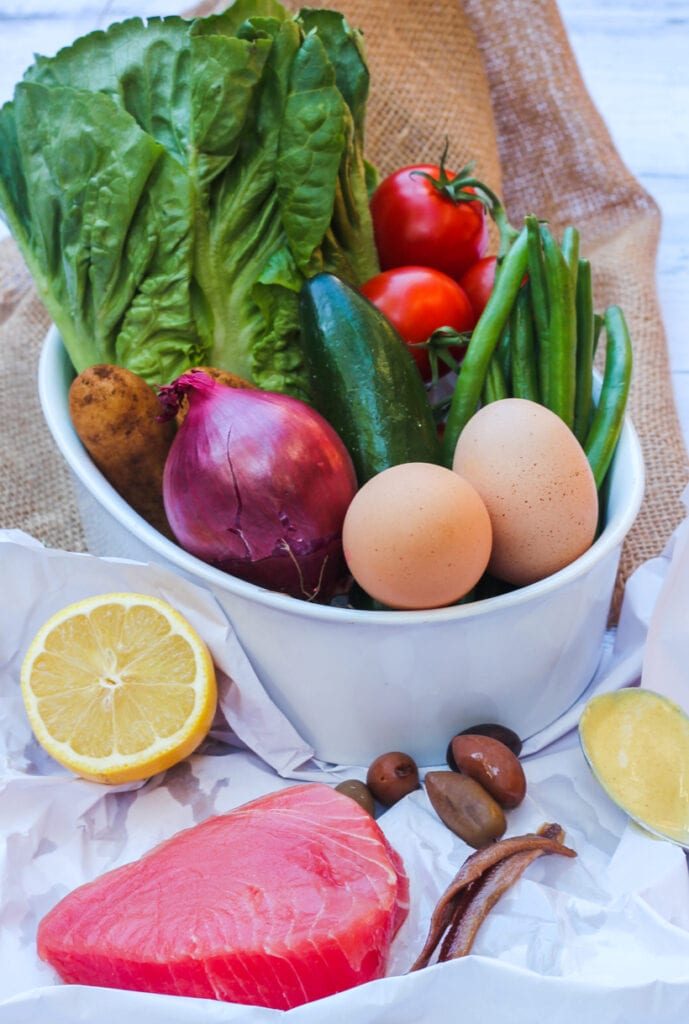 Green beans and fresh tomatoes are a must, so are boiled eggs. I prefer mine runny. They are boiled for 6 minutes and shocked in iced water to stop them from cooking further.
As for potatoes, I chose Kipfler potatoes. Not because they are originally from Germany but more for their ability to hold shape well after cooking. They are the best when you need to chop boiled potatoes for salads etc as they are not too starchy or crumbly.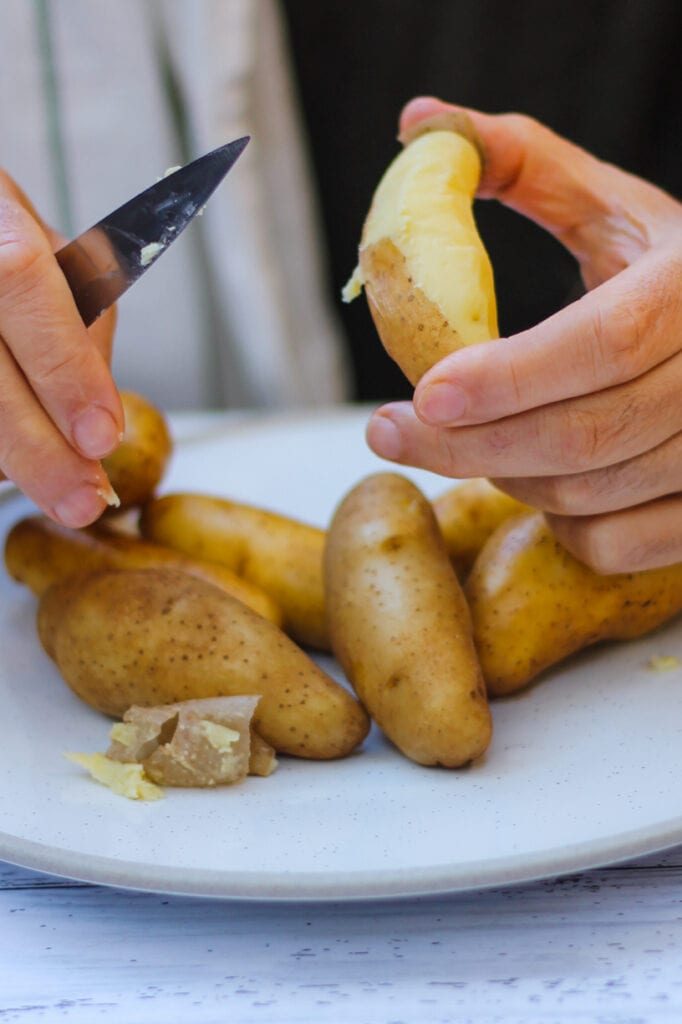 I seared the tuna steaks in a hot pan with olive oil and cooked them just for two minutes on each side. Depending on the thickness of your tuna, the cooking time could vary. So don't take your eyes of them during this step. You want the tuna to stay nice and pink in the centre.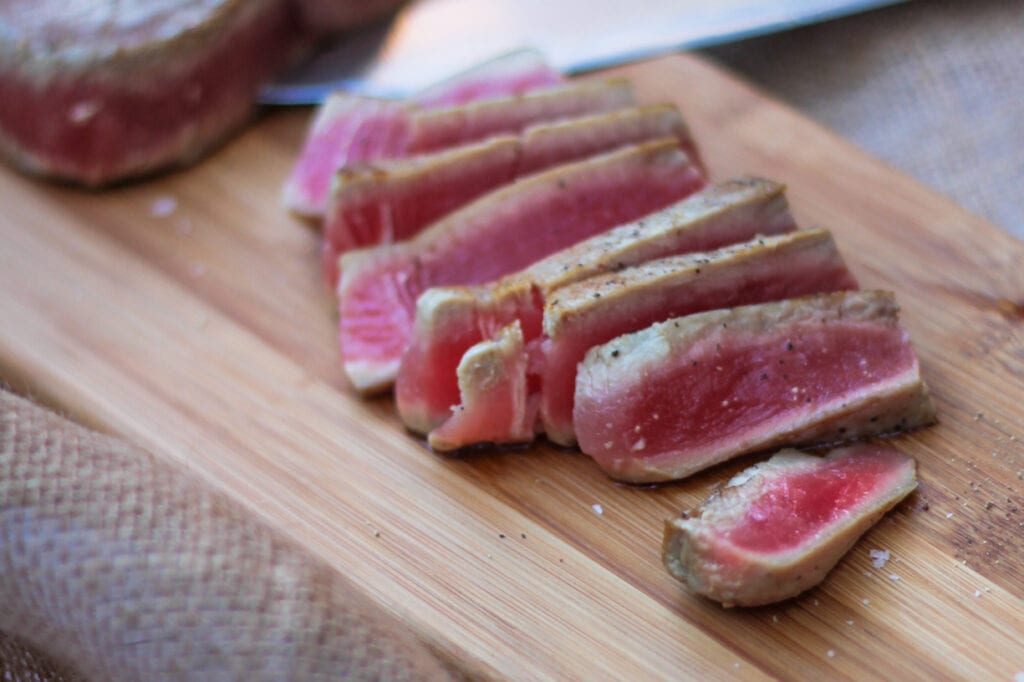 The perfect Salad Dressing
For the dressing, a generous amount of Dijon Mustard makes this vinaigrette stand out. My dressing has a ration 3:3 tablespoon of mustard and chardonnay vinegar to 1 tablespoon lemon juice and 6 tablespoon olive oil. This is my all time favorite go-to salad dressing recipe!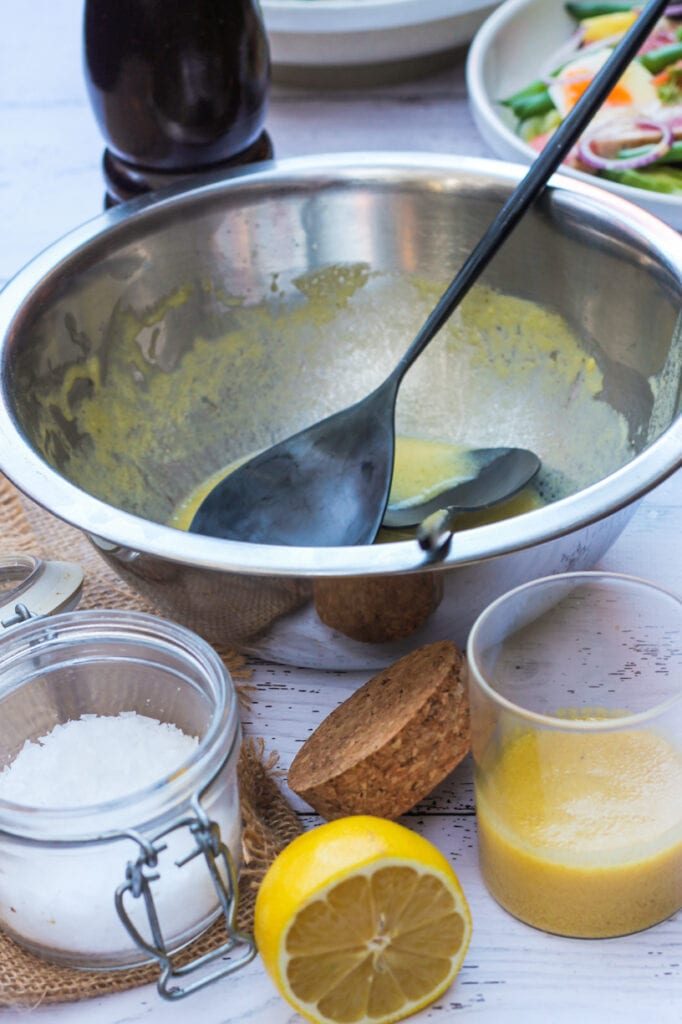 If you are entertaining, you can assemble the salad rather than toss everything together. First layer the tossed salad at the bottom of the bowl. Then add the dressed beans, olives, tomatoes, cucumber, red onions and eggs. Season with salt and pepper before arranging the sliced seared tuna and anchovies on the top.

And voila, this classic salad Nicoise Recipe with fresh tuna will transport you straight to the French Riviera. Its the next best thing to being there!
More salad recipes
You enjoy french cuisine? Us too, why not try our Ile Flottante or Sauce Vierge recipe!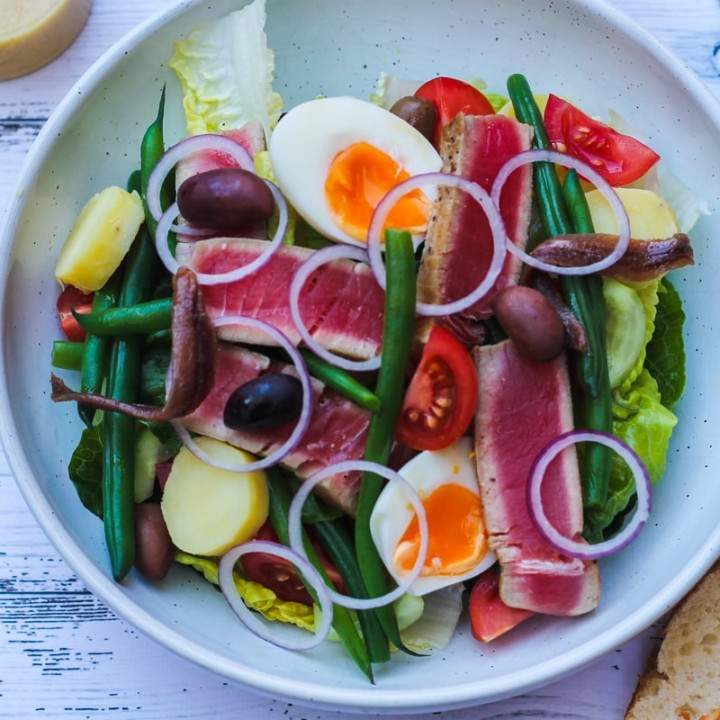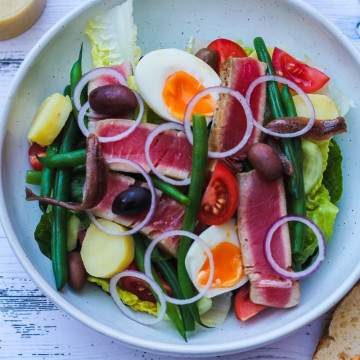 Tuna Nicoise salad
Crisp vegetables, boiled eggs, black olives, fresh or canned tuna and a mustard dressing, makes this filling Salad perfect for light lunches, picnics and barbecues.
Equipment
mixing bowls

whisk

cutting board

knife
Ingredients
for the nicoise salad
300

grams

tuna loin

8

anchovies

160

grams

green beans

4

medium size kipfler potatoes

1

red onion

1

cucumber

4

vine tomatoes

4

baby cos lettuce hearts

50

grams

black olives

4

eggs
for the dressing
3

tablespoon

dijon mustard

3

tablespoon

chardonnay vinegar

1

tablespoon

lemon juice

6

tablespoon

olive oil

salt, pepper
Instructions
For the Tuna
Cut the tuna loin in two 150g steaks and season with salt and pepper

Heat the pan on a high flame, add olive oil and sear the tuna steaks on both sides for 2 minutes each. Set aside to rest.

Right before plating up the salad, cut the tuna into even slices
For the Eggs
Cook the eggs in boiling water for 6 minutes and shock in iced water or cold running water

Peel the eggs carefully and cut in half right before plating up.
For the Vegetables
Bring a pot of salted water to a boil and add the green beans. Cook for about 8-10 minutes and check the doneness. When the green beans are soft, cool them off in chilled or cold water.

Peel the kipfler potatoes and cook in salted water. Check if they are cooked by piercing a knife. Once done, drain the water and cool the potatoes before cutting into thick round slices.

Peel the cucumber, cut it lengthwise into two halves. Make sure to remove the seeds before slicing them into half moons.

Peel the onion and cut into thin rings.

Cut the tomatoes into wedges. Wash the cos salad thoroughly and trim the leaves.
For the Dressing
Combine 3 tablespoon Dijon mustard, 3 tablespoon chardonnay vinegar, 1 tablespoon lemon juice with 6 tablespoon olive oil and adjust seasoning with salt and pepper.
To plate up the Salad
Toss the leaves with some of the dressing and place on the bottom of a bowl. Season the green beans, potatoes, cucumber, tomatoes with the remaining dressing and place on top of the leaves.

Garnish the salad with olives, onion rings, anchovies and halved eggs before placing the sliced tuna on the top.