Perfect for a weekend breakfast or brunch with friends, this comforting Kale Shakshuka with chickpeas and a homemade Za'atar spice blend, is simple and inexpensive. Make this Middle Eastern recipe and we can guarantee you will not get enough of it.
Having lived in Dubai for many years and having worked with chefs from all over the world, I have seen many version of shakshuka.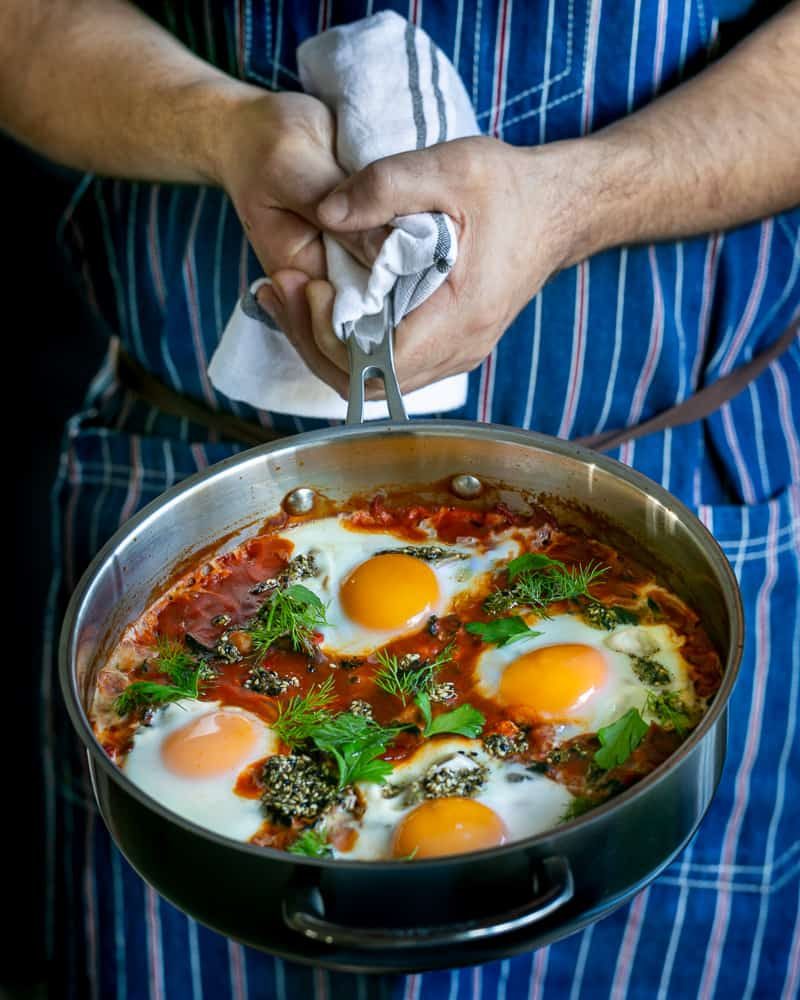 The Lebanese chefs would make it with spicy lamb sausages, the Moroccans would use harissa and the Syrian chefs baked the eggs on a chilli tomato sauce garnished with olives.
Even though they prepared it differently, it had one thing in common – They all were incredibly delicious!
Shakshuka became my second favourite breakfast dish, after poached eggs and smashed avocado on sourdough
In our recipe, we make Shakshuka with kale and chickpeas to make it a heartier and healthier dish. You can substitute chickpeas with any other legumes like lentils or cannellini beans and if you like, instead of kale you could opt for spinach, silver beet or chard.
To finish this dish we drizzled the Kale Shakshuka with our homemade za'atar spice blend which ties in the flavours of this dish beautifully! All we can say is, you got to eat it to believe it 😉
WHAT IS SHAKSHUKA?
Shakshuka is a popular one-pan meal, from the Middle-East and North Africa, now also a popular breakfast and brunch item served in restaurants and cafes around the world.
When translated from Arabic to English, Shakshuka literally means "shaken" or "mixed" – a great way to describe this flavour-packed recipe as there are no theatricals or tactics involved, you are literally just moving ingredients around in the pan while making this dish.
It contains eggs, baked over a fragrant tomato, onion and pepper sauce, flavoured with cumin and chilli. Even so the dish could be eaten any time of the day, it is mostly enjoyed as breakfast.\
PERFECTLY BAKED EGG SHASHUKA
Kale Shakshuka is pretty simple to make once you have all your ingredients ready.
Here is all you need prepared beforehand:
We used red onions, red peppers, garlic, red chilli, kale – either sliced or finely chopped and fresh herbs. Plus tomato puree (passata), eggs and spices.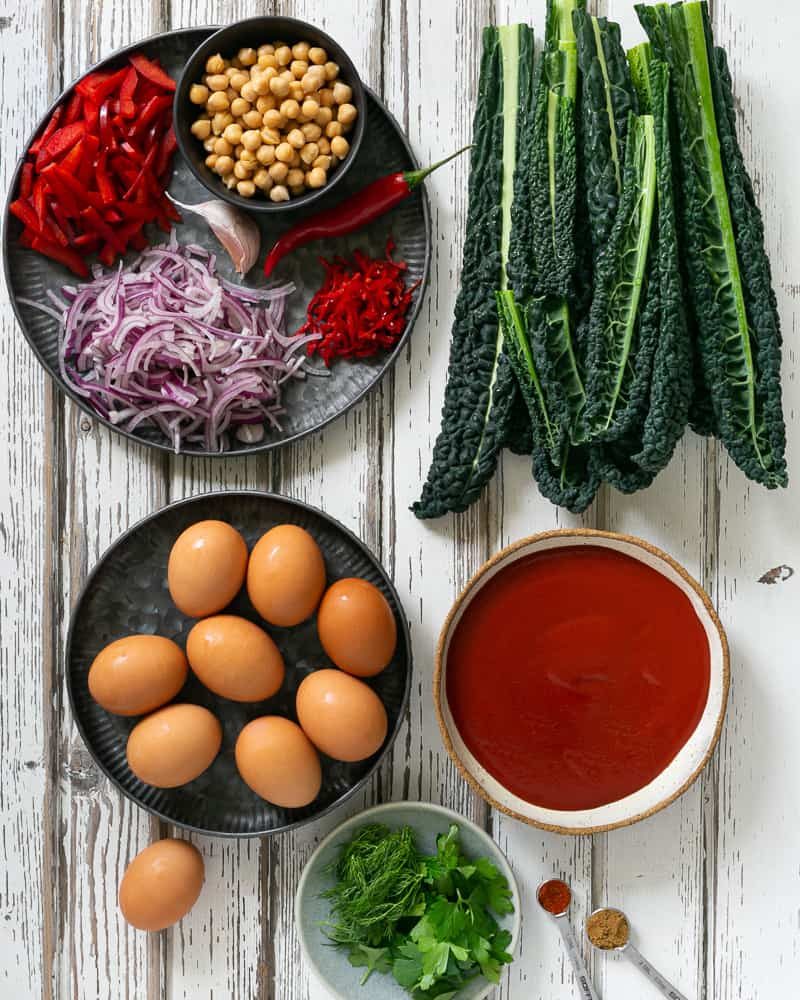 Start by adding the onions and peppers into a pan on high heat and cook for about 4-5 minutes. Then add the garlic and chilli and cook on medium heat for 2 more minutes.
Now add the chickpeas and season with paprika, cumin, salt and pepper. Next add the kale and let it cook until it breaks down. Finally add the tomato puree and allow to simmer for about 10 minutes stirring occasionally.
Before the stew fully cooked, I added freshly chopped parsley and dill. You could also sprinkle the parsley and dill on the top or replace them with fresh coriander.
Once the base is ready, crack the eggs on top. I used 4 eggs but you could add more if you like. Now reduce the heat to low and let it slowly simmer for about 5-8 minutes or longer if you like your eggs medium or well done. I like to keep the egg yolks runny so I kept the pan on the stove without a lid.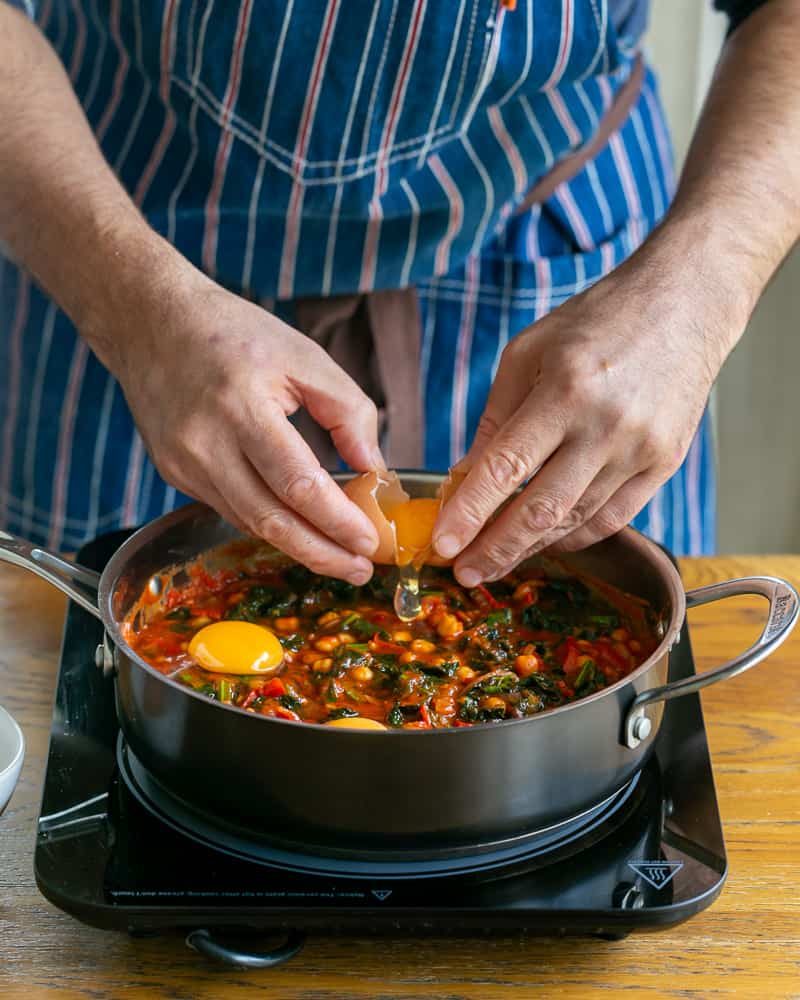 Usually when I am cooking for the family, I am multi tasking!! In such times, I just place the entire pan in a pre-heated oven at 160°C (320°F) and set a timer for 8 minutes.
Before serving the Kale Shakshuka, I generously drizzled it with the homemade za'atar mix and garnished it with some leftover fresh herbs – It turned out absolutely yum!!
CAN I MAKE SHAKSHUKA AHEAD OF TIME?
The chickpea and kale stew can easily be prepared ahead of time. This is a common approach in professional kitchens. The eggs however need to be cooked fresh.
Heat up the sauce first and then add the eggs as per the recipe instruction. Cook the eggs to medium or well done if you want to re-heat the whole dish the next day.
WHAT IS ZA'ATAR?
Za'atar is a Middle-Eastern spice blend used to rub meat or fish with. Described as earthy, herby and toasty, za'atar makes for a dynamic seasoning.
ZAATAR RECIPE
The first time I had zaatar was on a Lebanese type of flatbread called Manakeesh. It was so truly delicious that I just had to explore recipes and make it myself. I have carried this simple recipe with me now for years, I use it on hummus, feta cheese and even to brush naan bread with.
The spice mix is so popular around the world, they even have a restaurant named after it.
Here's what you'll need:
Dried Oregano– is used in most za'atar blends, always dried not fresh
Sumac powder-is the most important ingredient, it adds this incredible tangy almost lemony flavour.
Dried Thyme– can be replaced with other dried herbs like mint or majoram
Sesame seeds– I use black and white sesame seeds, toast them lightly before adding them.
Sea salt– as I use this blend mostly as a seasoning to dishes sea salt is a must for this recipe
Olive oil– you will find most zaatar recipes as a dried version, this one is mixed with olive oil, perfect to drizzle over shakshuka
Simply combine all the ingredients above and your very own za'atar blend is ready. Should there be any left over after you have made it for the shakshuka, drizzle it over soups and stews like this braised chicken with prunes or you can even use it as a dip .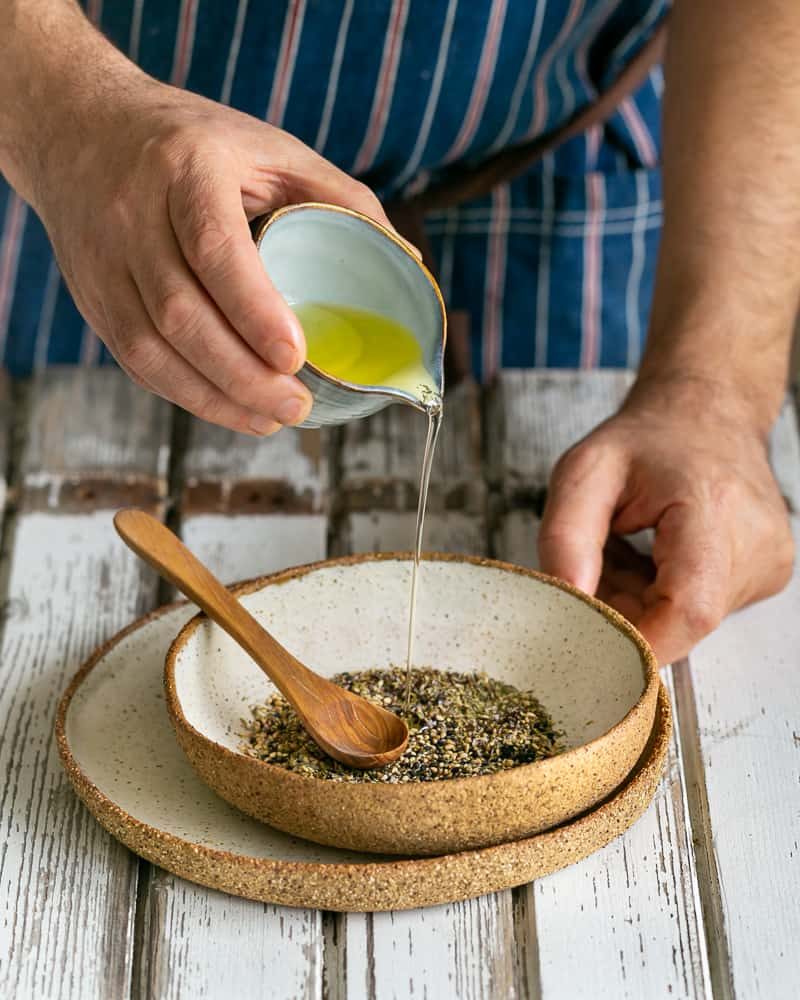 SHAKSHUKA FOR BREAKFAST, BRUNCH OR LUNCH
Kale Shakshuka with Za'atar is best eaten for breakfast or as a weekend brunch. Perfect to share with family and friends we want to show you some ideas for an impressive spread:
Serve Shakshuka for a
breakfast or brunch with hummus, feta, olives, avocado, cold cuts, crudites and flatbreads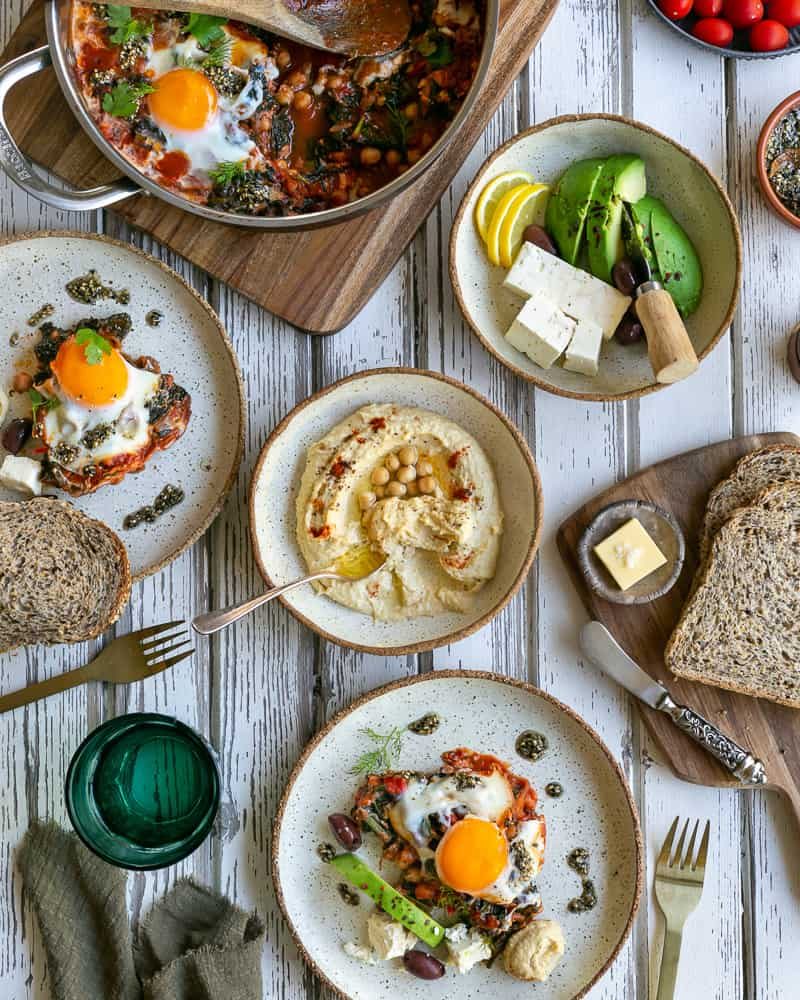 as a light vegetarian lunch add a salad like this tabouleh salad, pita bread and dips like a carrot dip with cashew
add it to your meal prep and take it to the office shakshuka can be made ahead of time and eaten re-heated, that is if the eggs are baked to medium.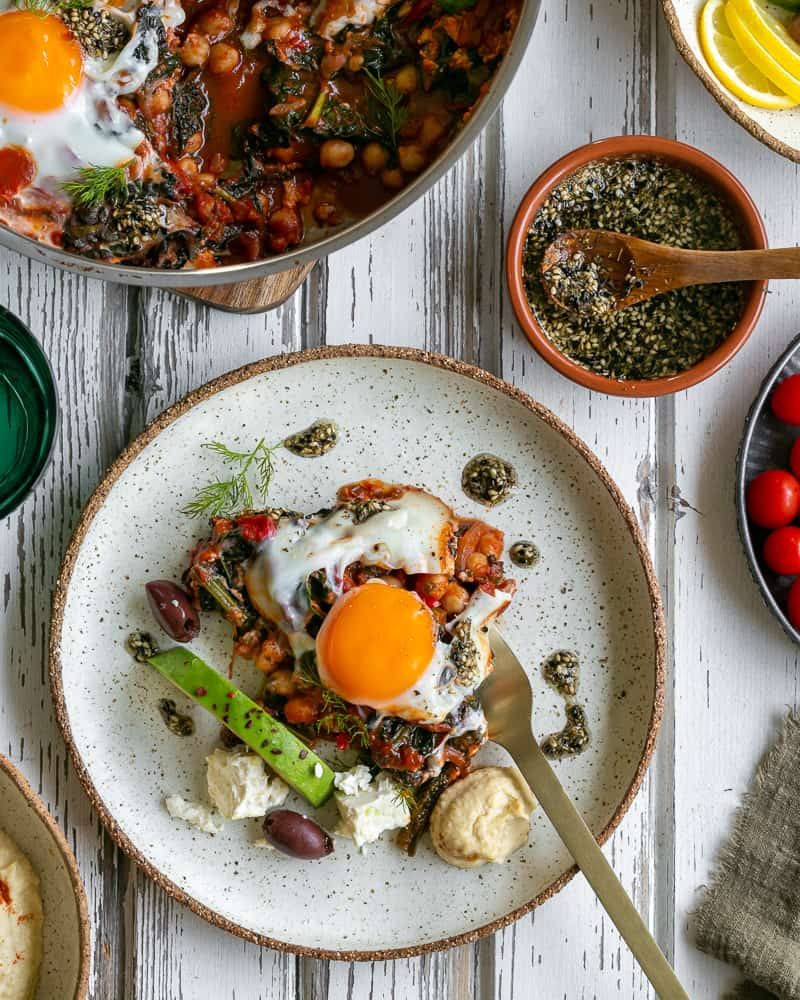 However you choose to serve your shakshuka, be sure to share your experience with us! The easiest way is to leave us a comment below and to rate the recipe. We are also excited to see our recipes recreated and shared on social media so feel free to tag us😊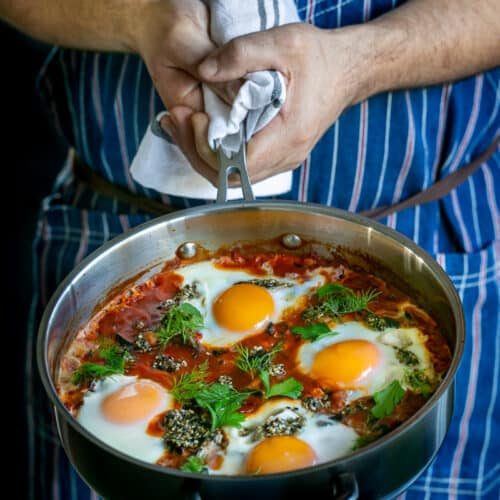 Kale Shakshuka with Chickpeas and Za'atar
A comforting Kale Shakshuka dish served with a homemade Za'atar spice blend, it's simple to make and perfect for breakfast or brunch.
Ingredients
for the shakshuka
1

small

red onion

peeled and sliced

1

small

red pepper

sliced

1

medium

garlic clove

peeled and chopped

1

red chilli

deseeded and sliced

180

grams

chickpeas

cooked and drained

180

grams

kale

roughly chopped

500

grams

tomto puree (passata)

½

teaspoon

cumin powder

½

teaspoon

paprika powder

1

tablespoon

chopped parsley

keep some leaves as a garnish

1

tablespoon

chopped dill

keep some leaves as a garnish

4

eggs

salt and pepper to taste

2

tablespoon

olive oil
for the zaatar
2

tablespoon

black and white sesame seeds

lightly toasted

2

teaspoon

dried oregano

1

teaspoon

dried thyme

1

teaspoon

sumac powder

½

teaspoon

sea salt

100

milliliters

olive oil
Instructions
for the shakshuka
Heat the olive oil in a wide pan or pot on high heat. Add the onions and peppers and cook for 4-5 minutes stirring continuously until the onions start to become translucent.

Add the chopped garlic and chilli and cook for 2 more minutes on medium heat.

Now add the chickpeas and season with paprika, cumin, salt and pepper.

Next add the kale and stir well to combine. Finally add the tomato puree and let simmer for about 10 minutes stirring occasionally.

Lastly add the chopped herbs and adjust the seasoning with salt and pepper.

When the stew has fully cooked one by one crack the eggs on the top.

Slowly simmer on low heat cooking the eggs from the bottom for about 5-8 minutes or further depending how you like your eggs cooked.

Alternatively place the pan with the eggs in a pre-heated oven at 160°C (320°F) and cook for about 8 minutes.

Sprinkle the zaatar over the top and garnish with the remaining herbs.
for the zaatar
combine all the dry ingredients together mix in the olive oil. Add more or less olive oil depending on what you use the zaatar for.