Pea and mint pesto is quick and easy to make but so versatile! Think antipasto dip, salad dressing, pasta sauce or simply served on a cracker as a vegetarian canape.
Green peas and mint go together, like tomatoes and basil do. However you serve them, warm or cold they compliment each other so well, it is a no brainer that a pea and mint pesto can be nothing else but delicious!
Even though we love our traditional basil pesto, we think this one is right up there in terms of flavour and looks. Creamy tender peas crushed with garlic, fresh mint and parsley, combined with toasted pine nuts, tangy lemon zest, parmesan and olive oil, is quick and easy to make and so damn tasty eaten with anything!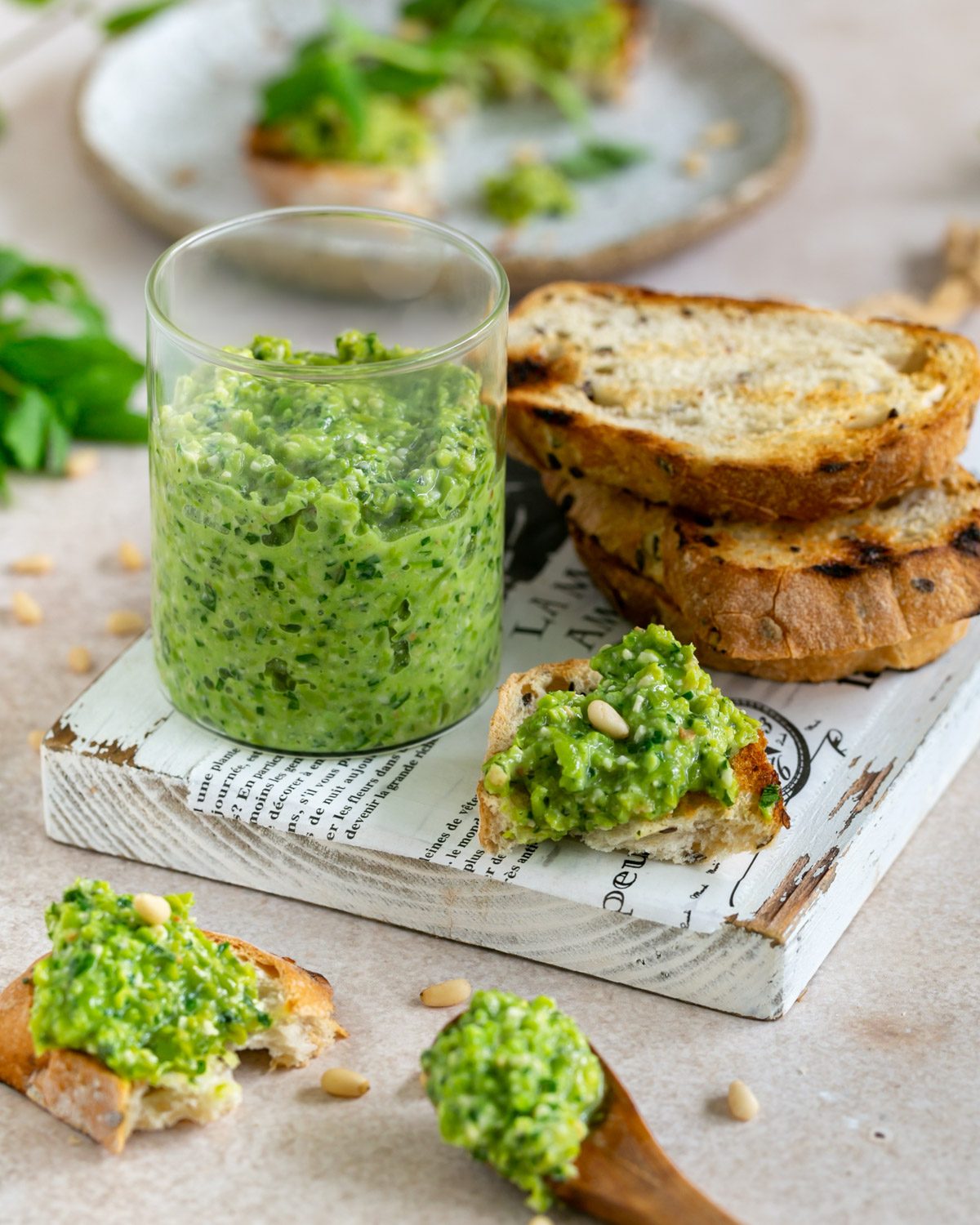 Jump to:
Taste & texture of pea pesto
Pea and mint pesto tastes fresh and herby from the mint and parsley whereas the rich pine nuts and parmesan, add creaminess to this green sauce. The pesto is garlicky but in a nice way and it gets a nice tang from the lemon.
In terms of texture, it is slightly thicker than basic basil pesto because of the crushed peas but depending on what you use it for, it can always be thinned out with some olive oil and lemon juice.
What you need
Peas I used frozen peas and honestly they are probably one of the few vegetables I have no issues buying frozen!
Mint & Parsley freshly picked, no need to chop them, the food processor will do it for you
Garlic as with most pestos, I use raw garlic for this recipe but feel free to leave it out or cook the garlic beforehand if you want to avoid the sharpness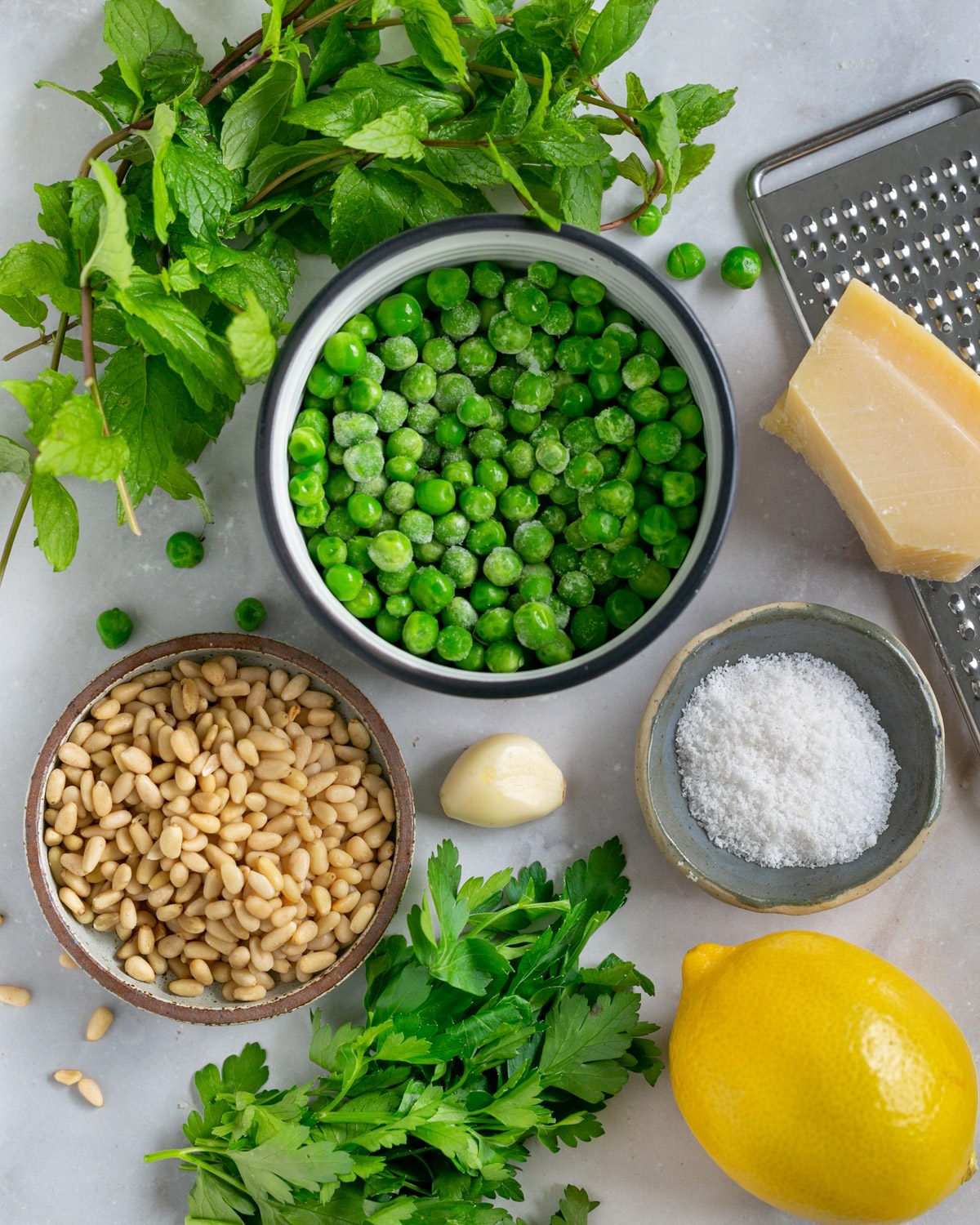 Pine nuts can be replaced with other nuts like walnuts, macadamia, almonds, cashew nuts..
Parmesan preferably bought whole and grated into the pesto
Lemon zest and juice for a tang and freshness
Olive oil, salt & pepper for body and taste
How to make pea pesto
As with most pesto recipes, you can use a pestle and mortar or a food processor. I chose the later.
preparing the ingredients
Here is a trick to keep the peas bright and green - cover them with boiling water while thawing. This also makes the peas warm hence making them easier to process.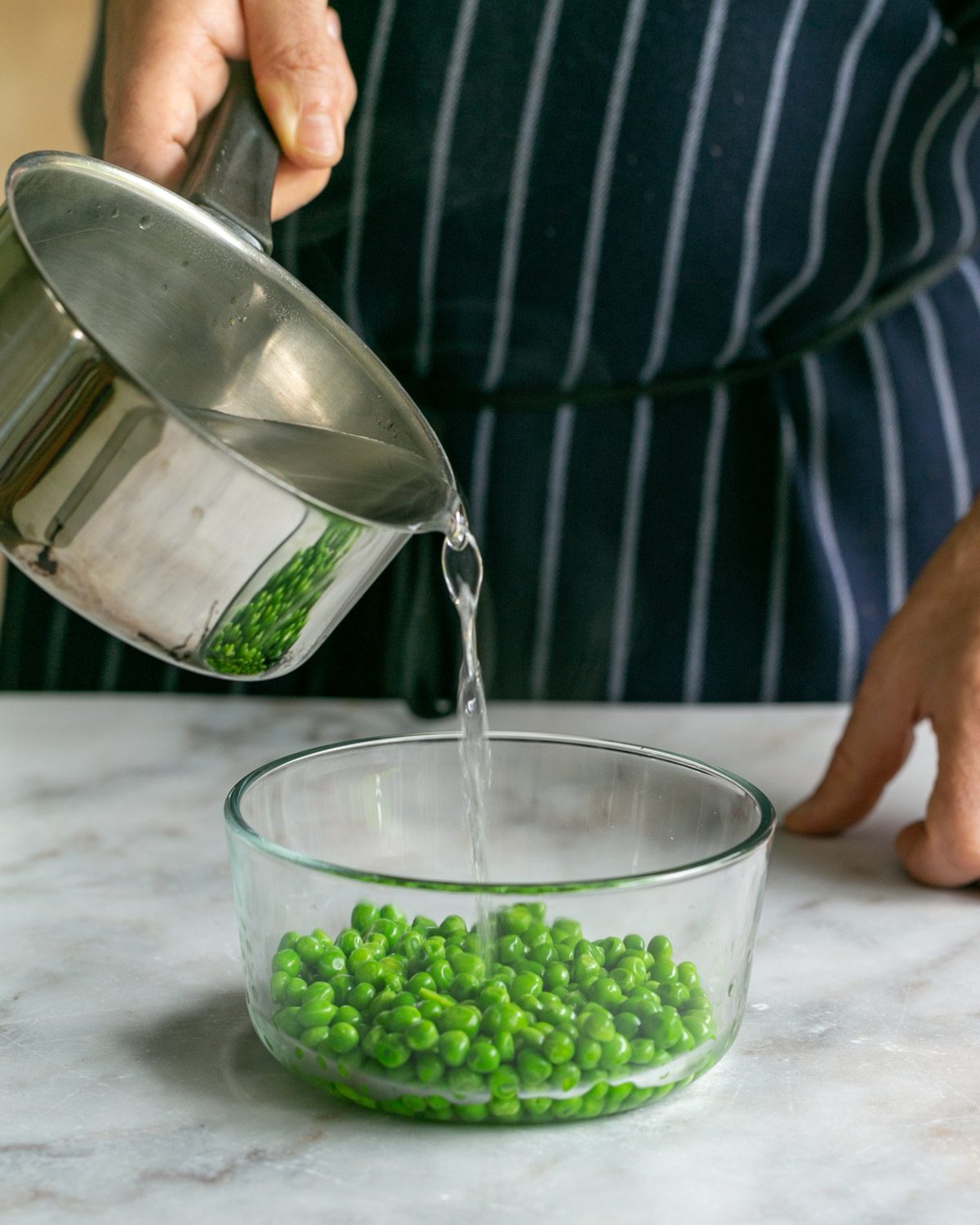 While the peas are thawing, pick the mint and parsley and then toast the pine nuts.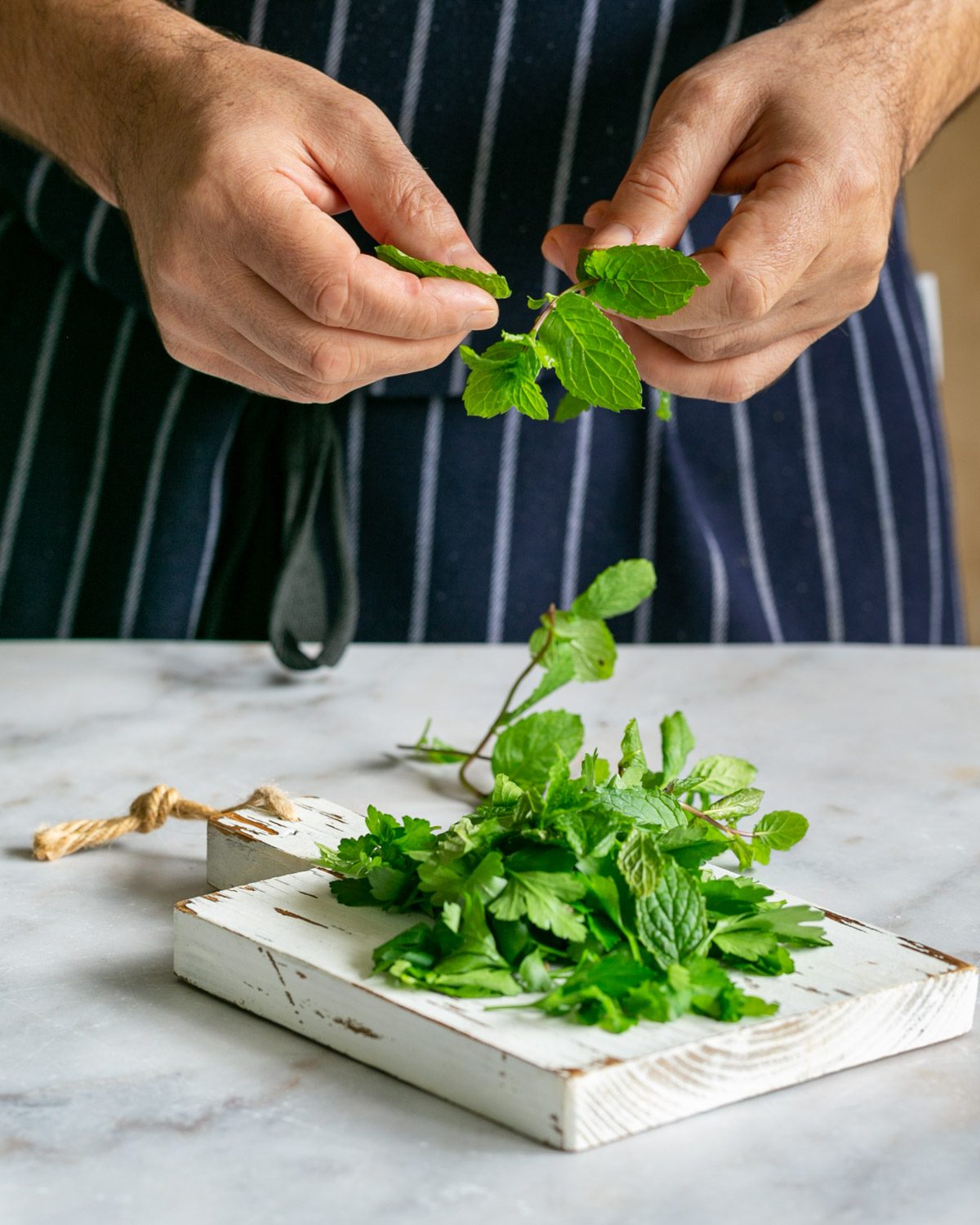 The pine nuts need about 2-3 minutes in a dry pan but do not step away from the stove as they burn quickly.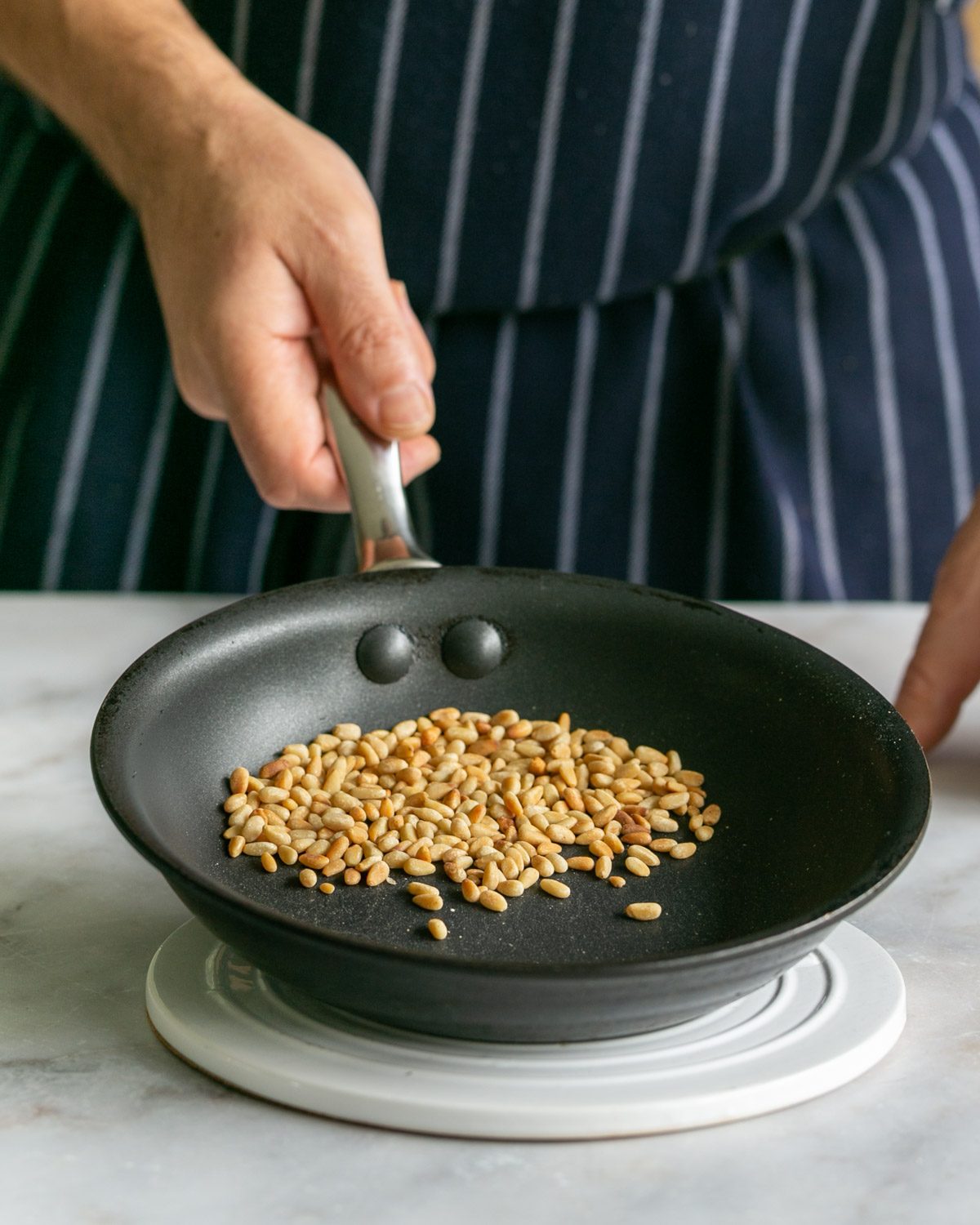 time to mix
Now go ahead and start mixing all the ingredients to make pesto!
First, add the pine nuts and garlic to the food processor. I prefer grating the garlic using a micro grater, this way you avoid larger pieces of raw garlic in the pesto.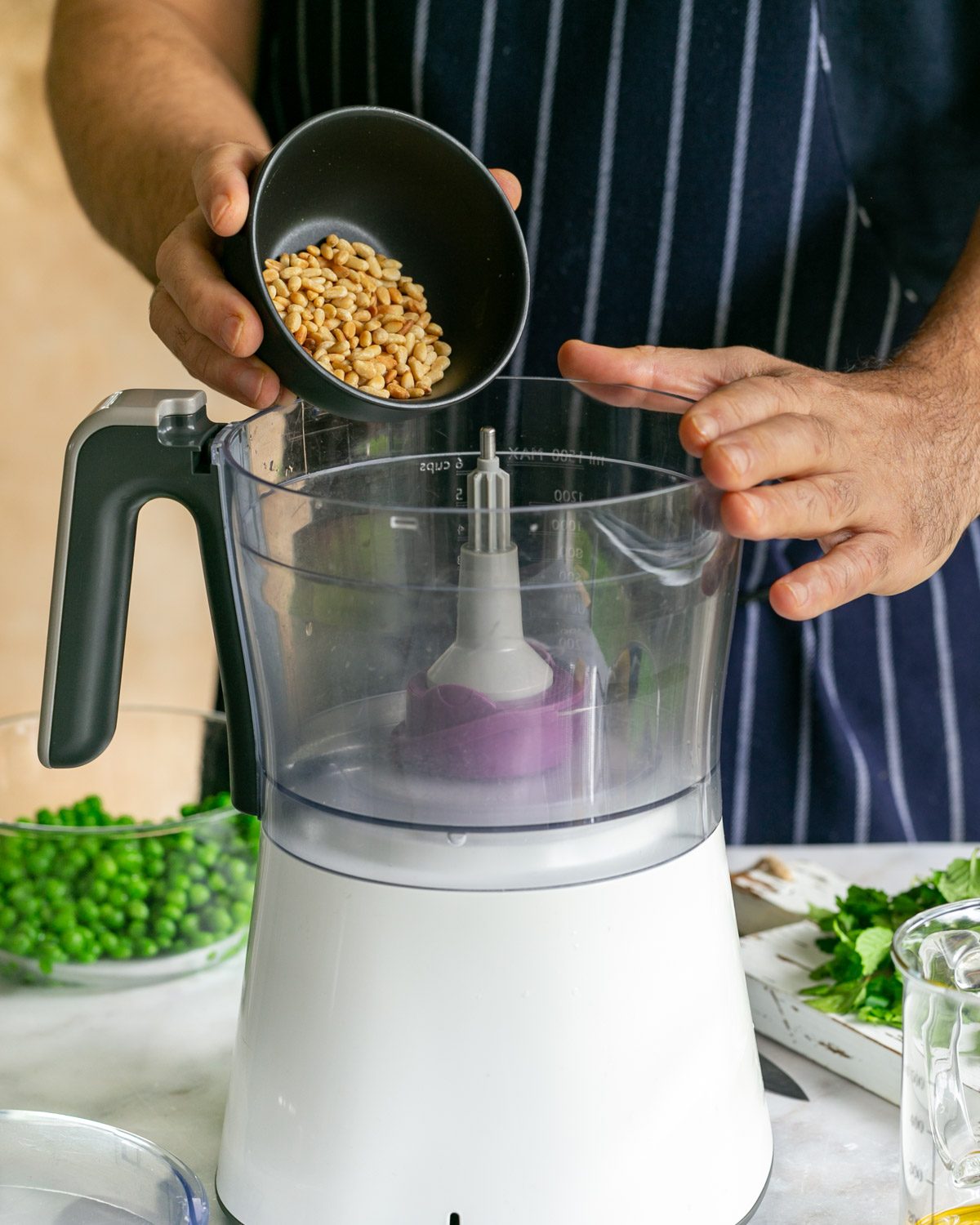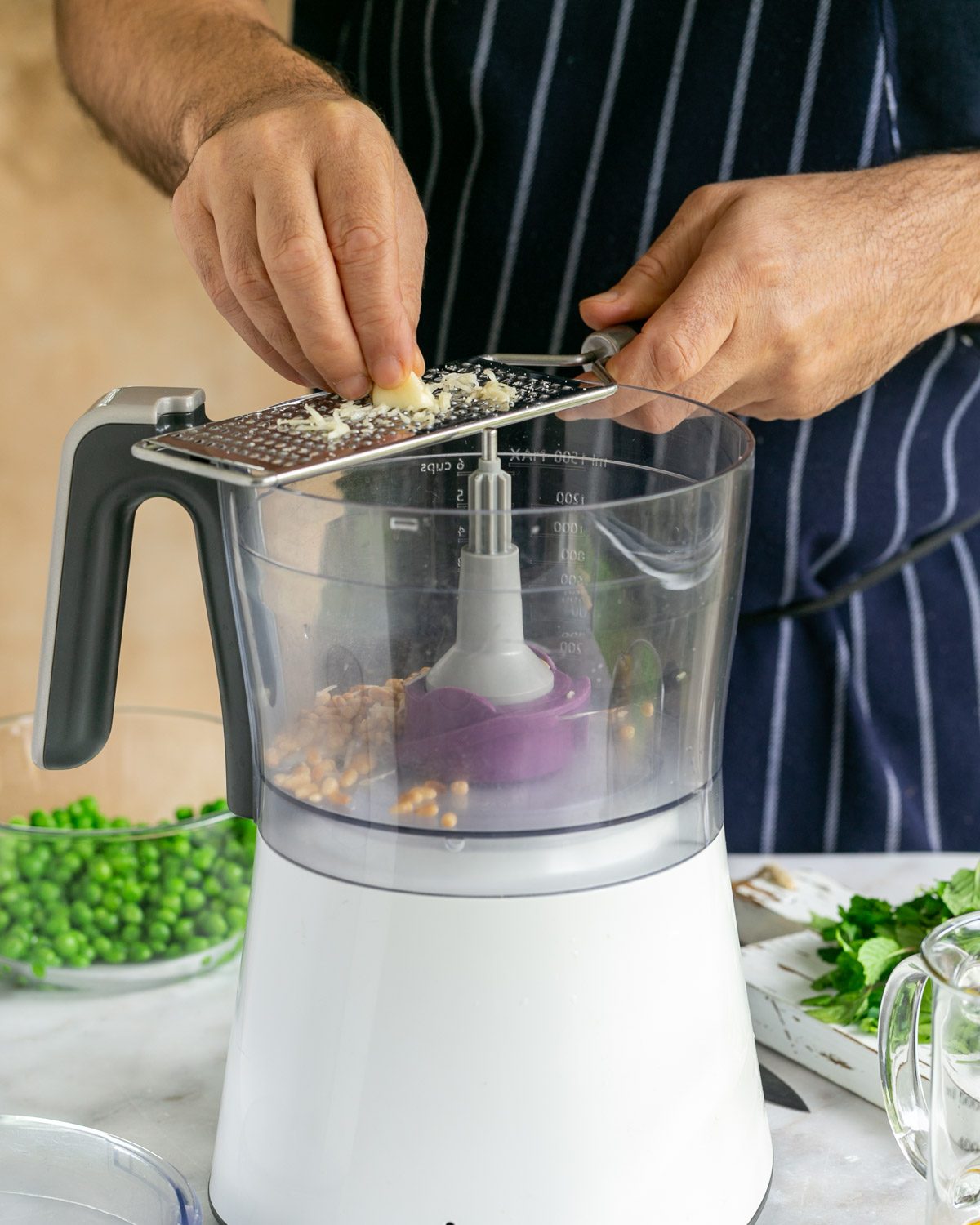 Now add the lemon zest and olive oil.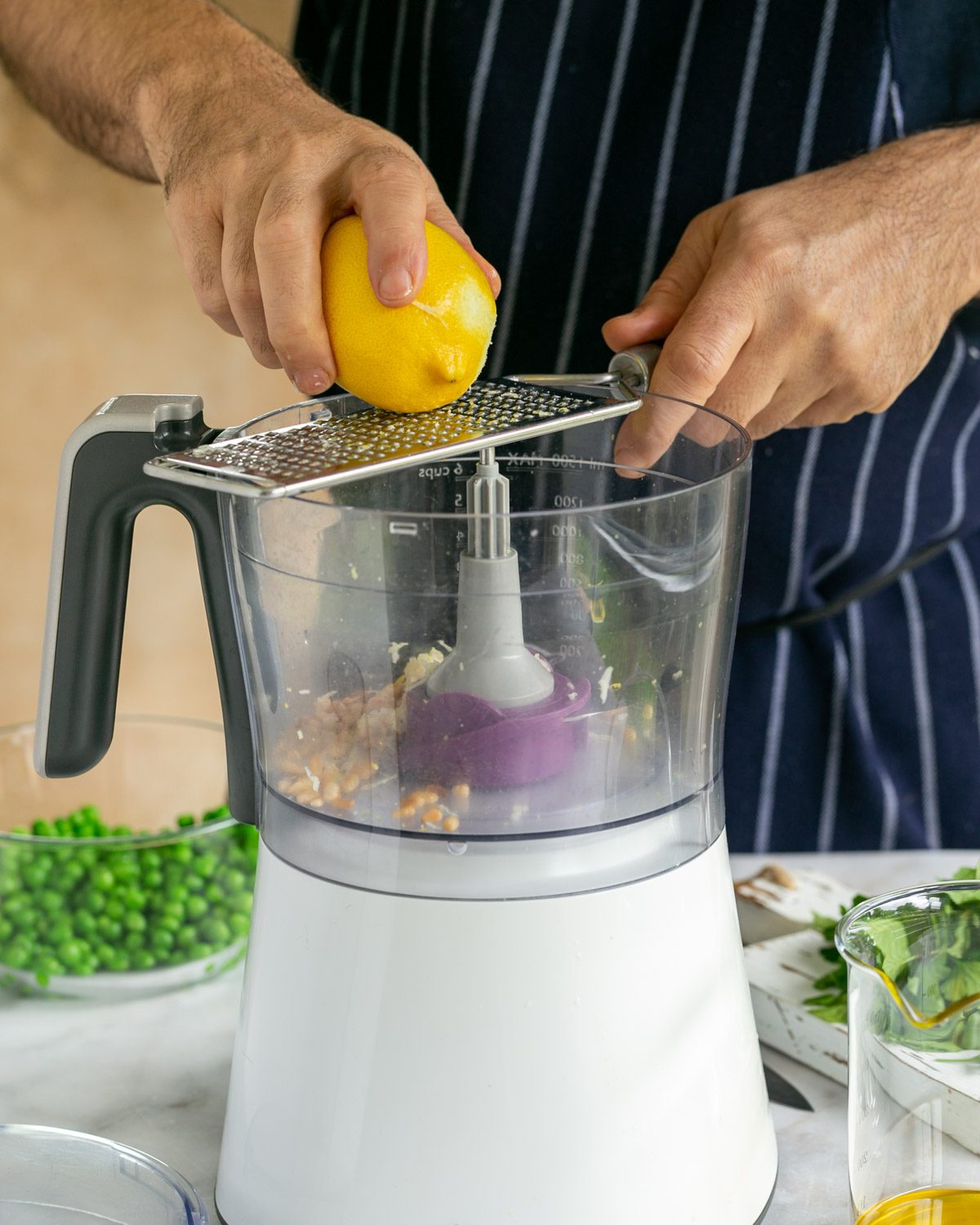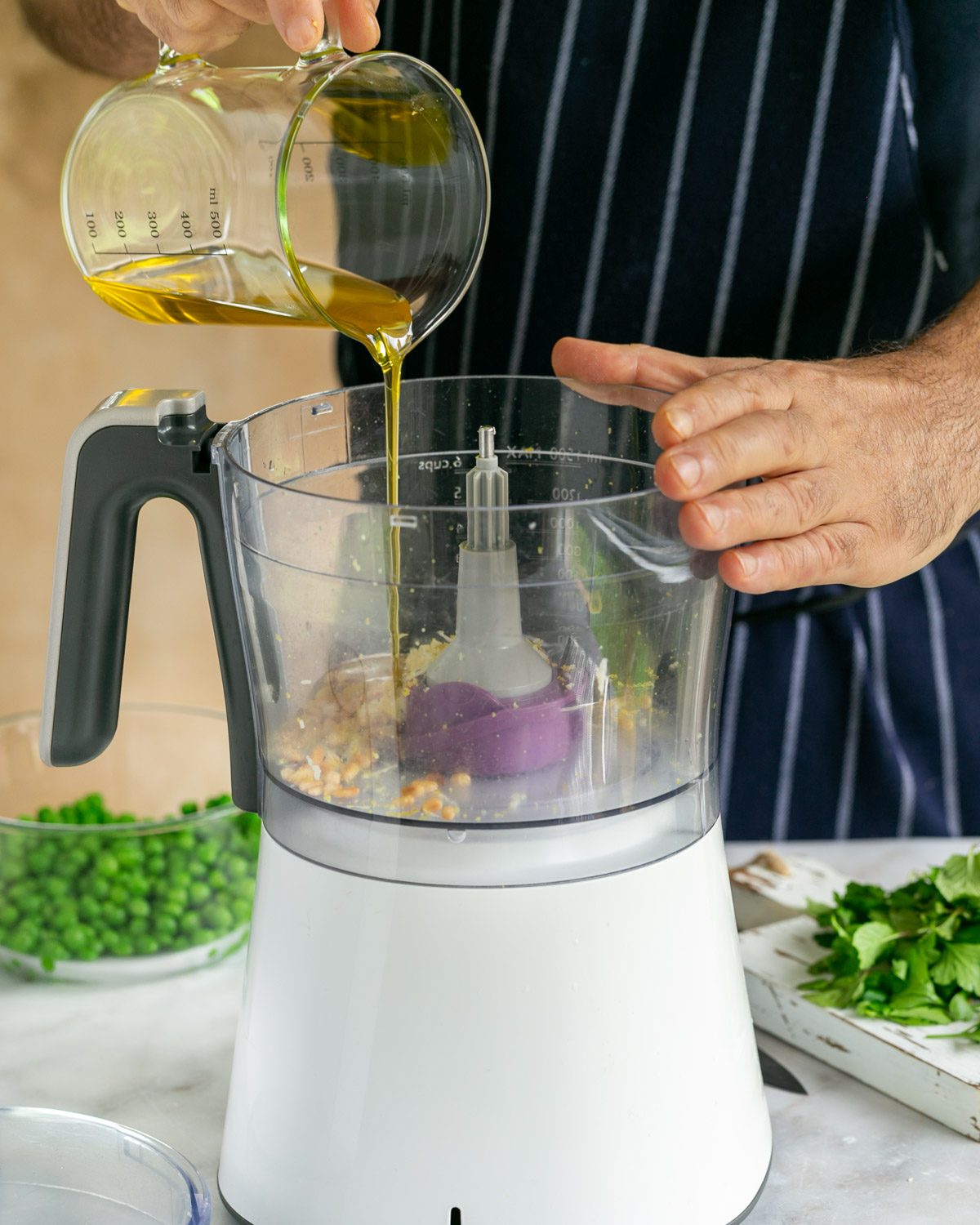 Mix the ingredients for 10-20 seconds until well combined.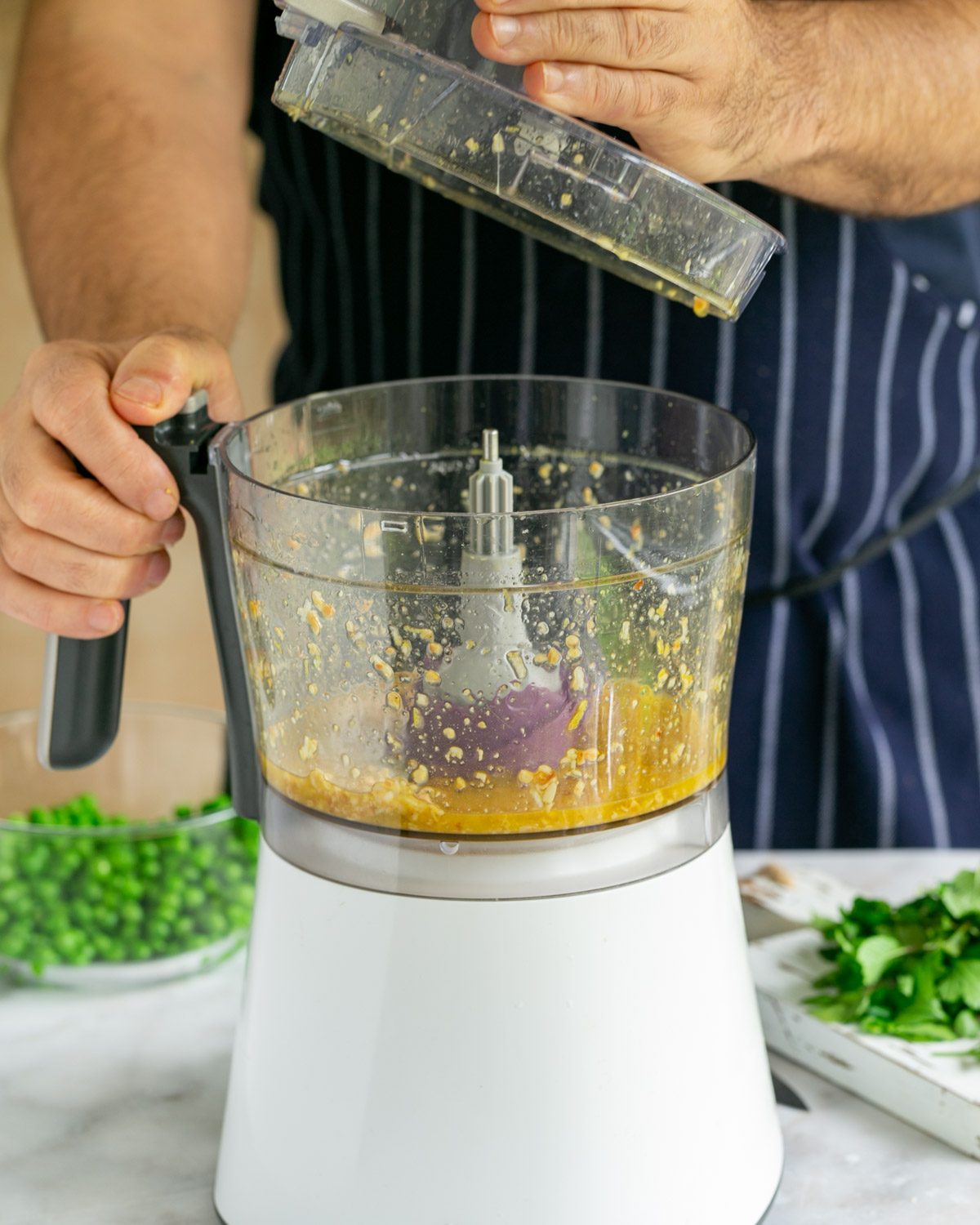 Add the mint and parsley along with the strained peas.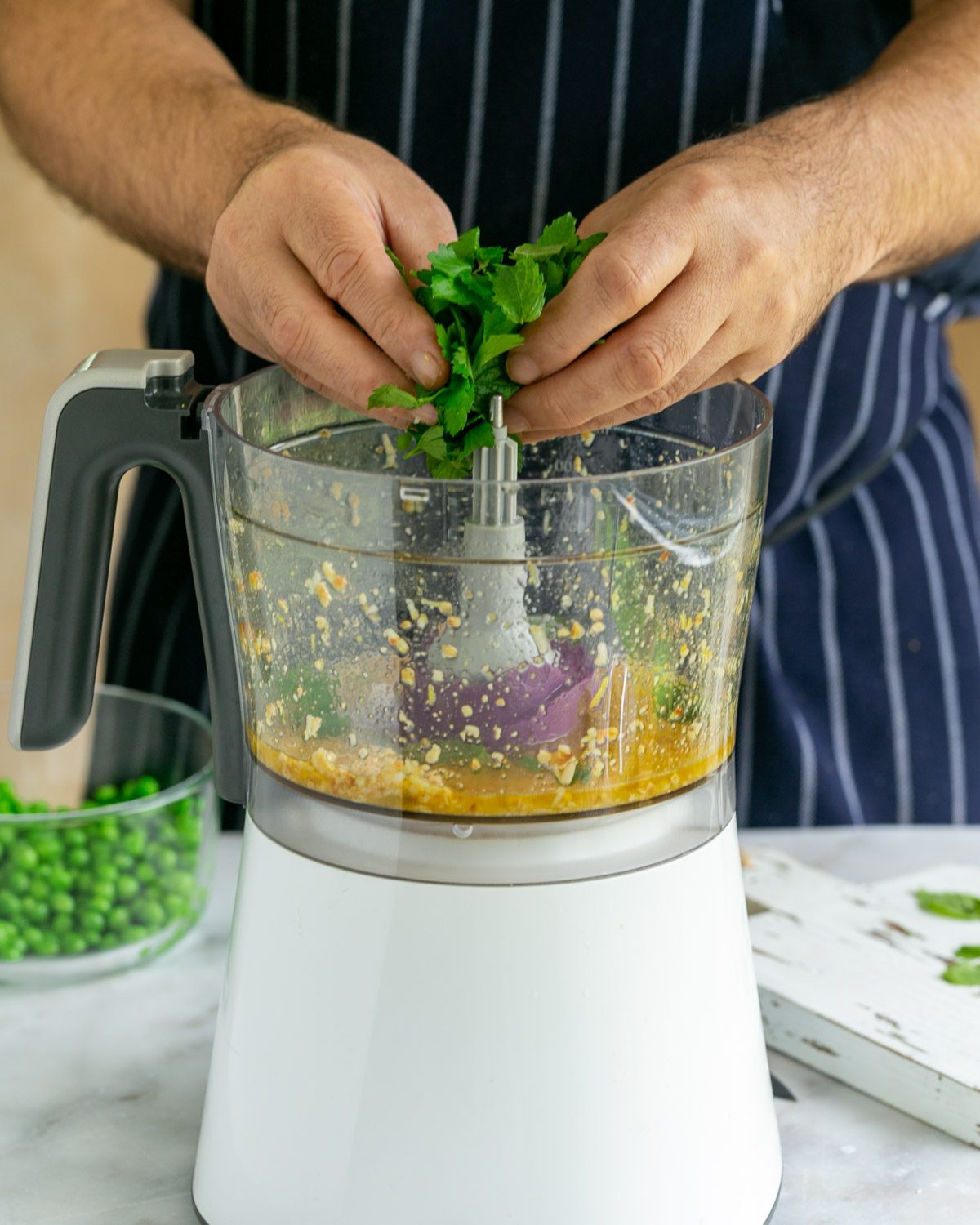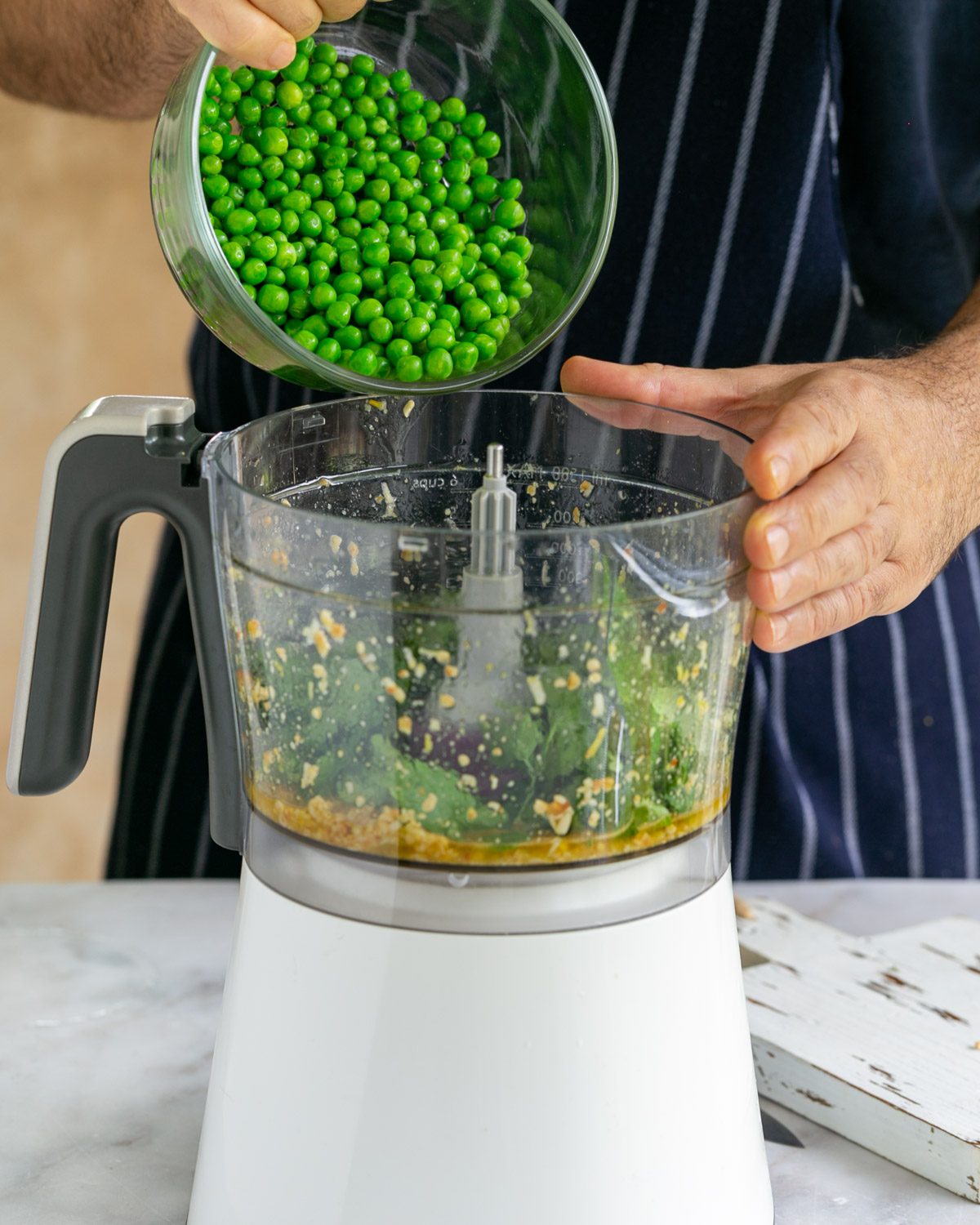 Next goes in grated parmesan, lemon juice, salt and pepper.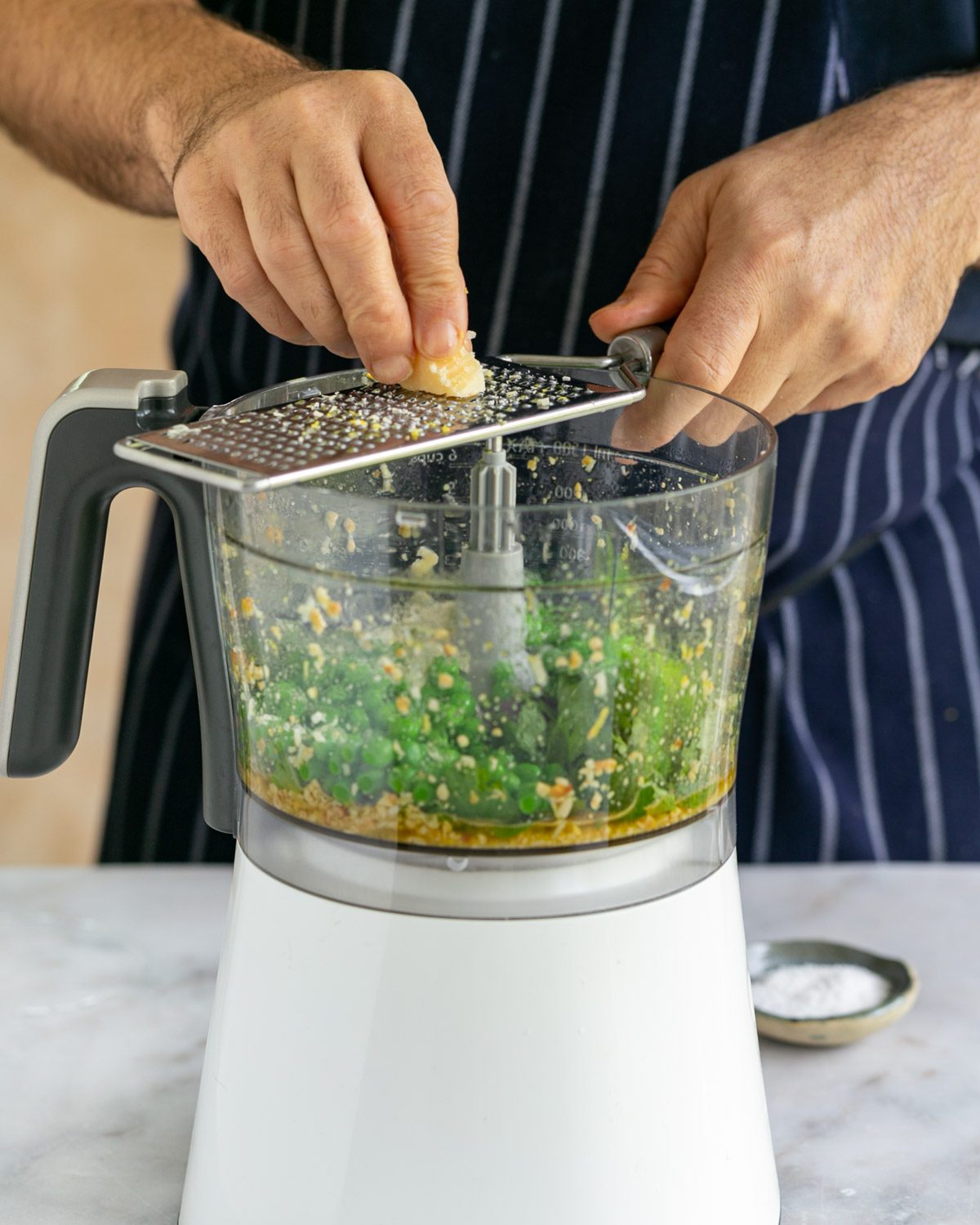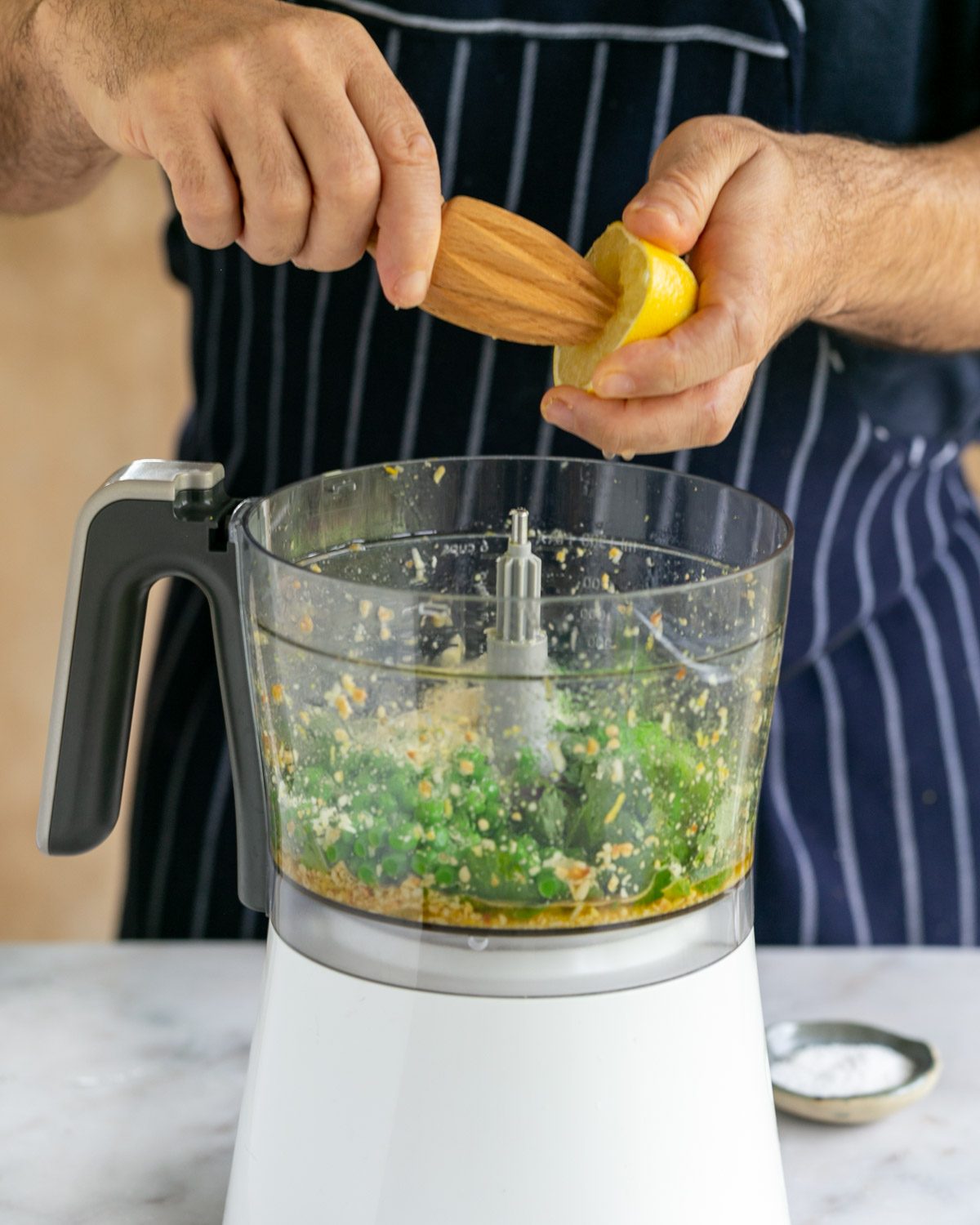 Mix for about 1-2 minutes, adjust the seasoning with salt and pepper (if needed) and the Pea and mint pesto is ready!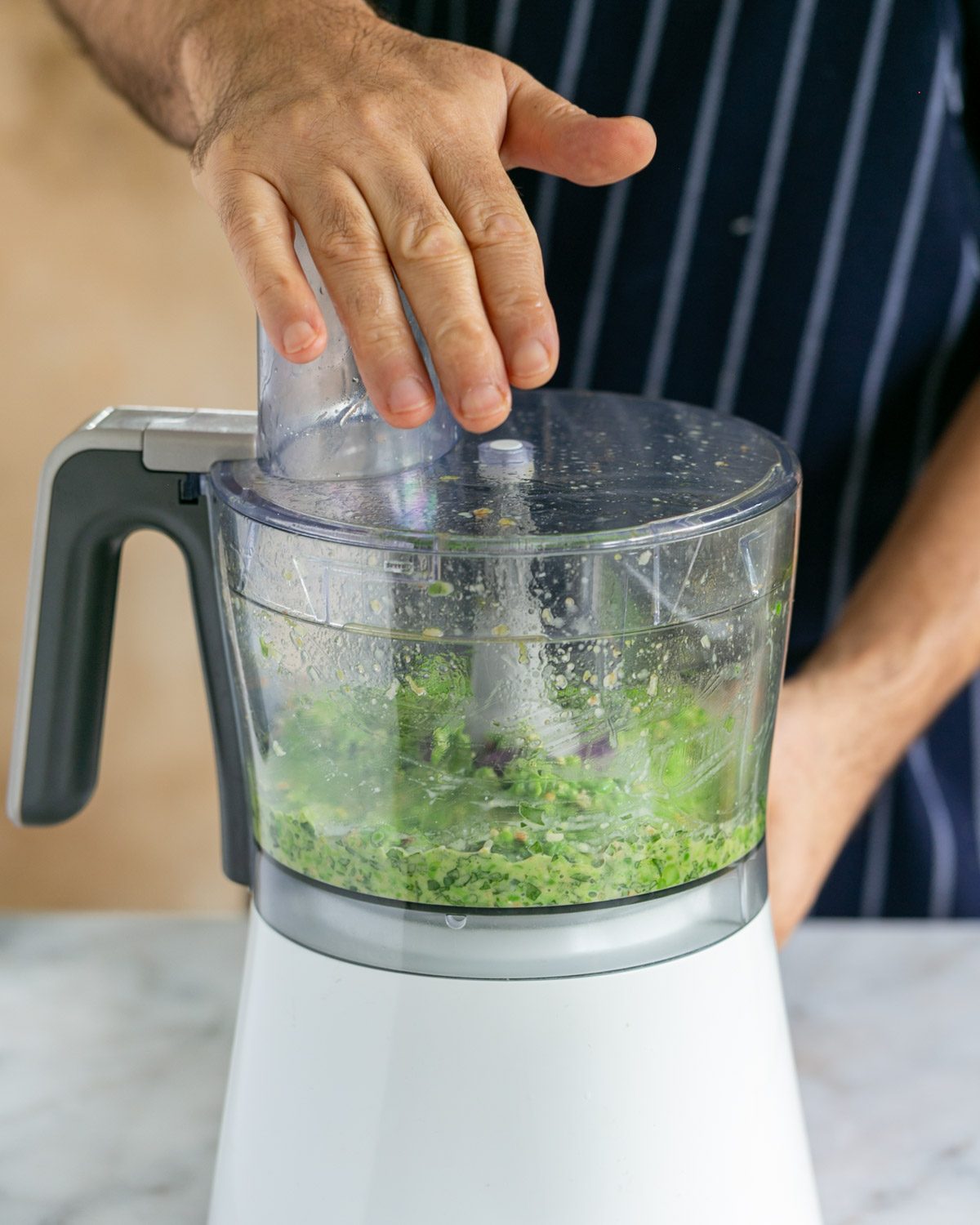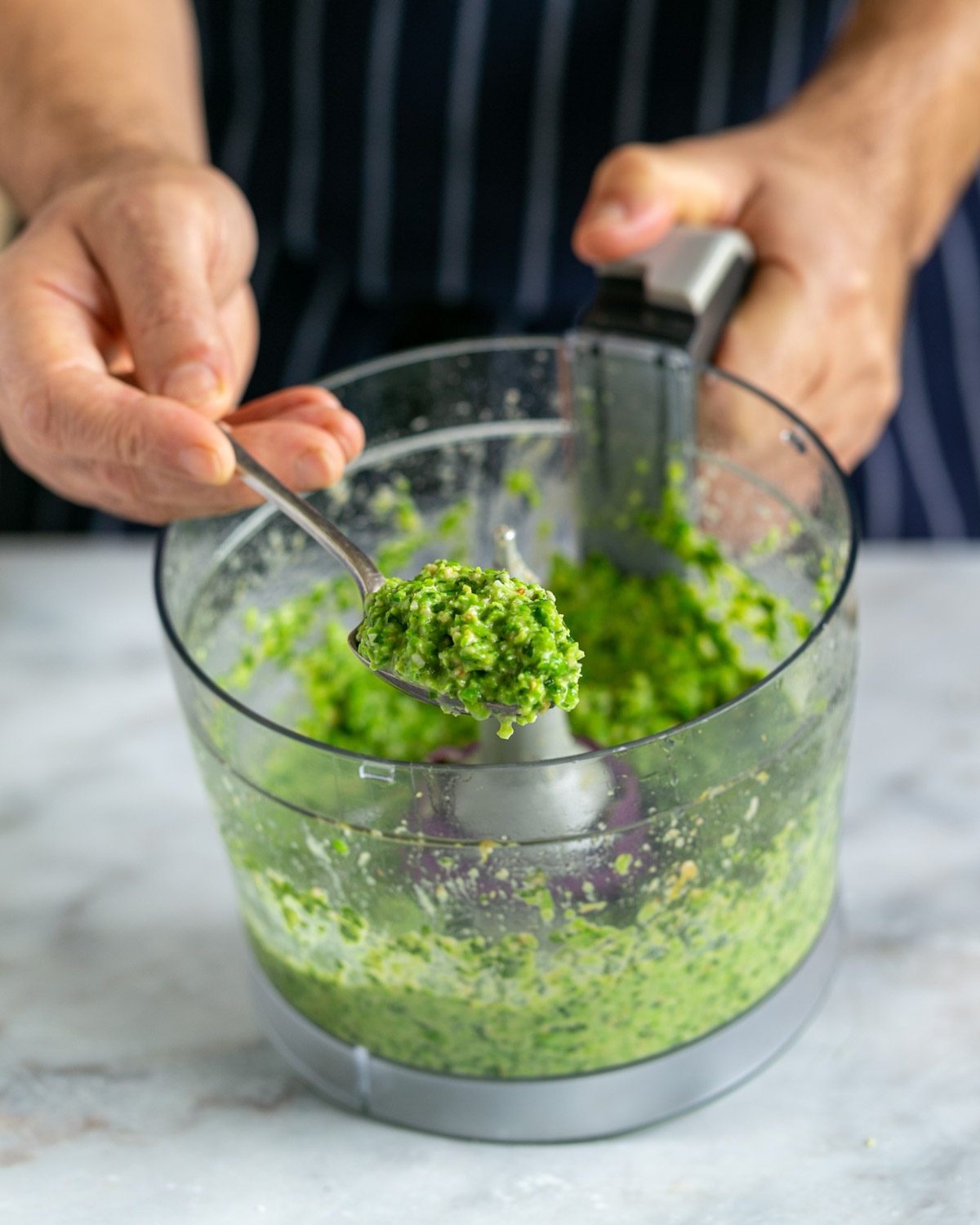 FAQ's
can I use fresh peas for this recipe?
yes of course. You need to pick and cook the peas before you can mix them in the food processor. Cook them for a few minutes in salt water and refresh in ice water.
can it be done vegan?
Yes, leave out the parmesan and the dip is entirely vegan.
how long can I store pesto?
Pesto stored in an airtight container and refrigerated, stays fresh for a week. It can also be frozen for up to 3 months.
How to use pea pesto
Pea pesto is super versatile and economical to make! And not to forget healthy! Here are some suggestions on how to use it best: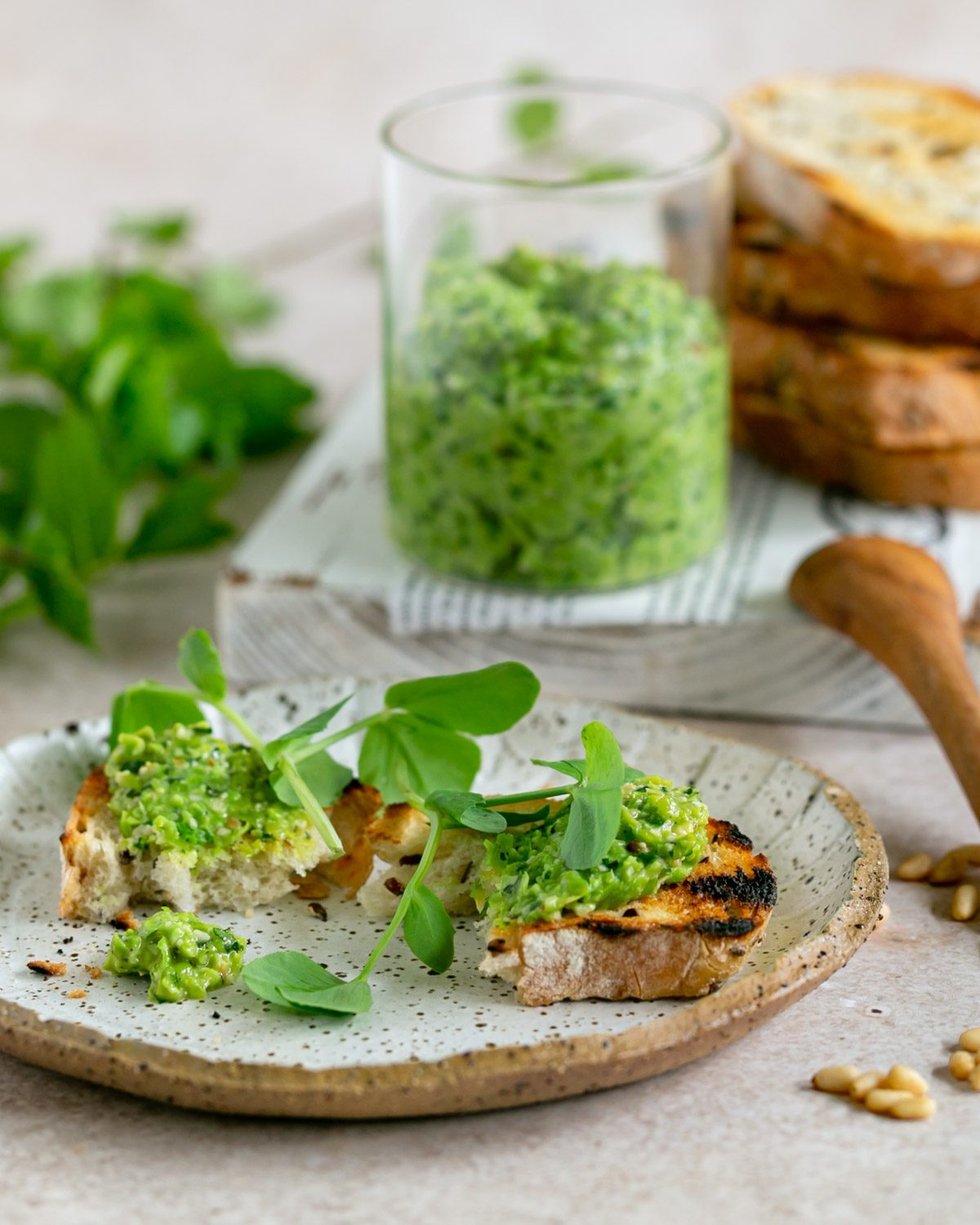 If you try this recipe, let us know what you think! We'd love to see how you use your pea and mint pesto.
Until then happy cooking!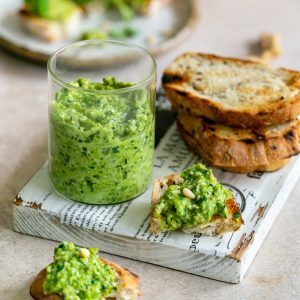 Pea and Mint Pesto
Pea and mint pesto is quick and easy to make but so versatile! Think antipasto dip, salad dressing, pasta sauce or simply served on a cracker as a vegetarian canape.
Equipment
micro grater

small pot

mixing bowl

strainer

small pan

food processor
Ingredients
150

gram

peas, frozen

¼

bunch

parsley

3

sprigs

mint

1

garlic clove, peeled

½

lemon

25

gram

pine nuts

10

gram

parmesan

70

millilitre

olive oil

salt and pepper to taste
Instructions
Bring a small pot with water to a boil. Place the frozen peas in a heatproof bowl and cover with the boiling water.

Meanwhile pick the parsley and mint leaves from their stem and set aside.

In a small pan toast the pine nuts without oil on medium heat until they are lightly coloured from the outside.

Strain the peas and set aside.

In a food processor add the toasted pine nuts, grate the garlic clove and lemon zest over the top.

Pour the olive oil and blitz for about 30 seconds until well combined.

Now add the parsley, mint and strained peas. Grate the parmesan on top and squeeze the juice of half a lemon.

Season with salt and pepper and blitz for about 1 minute until smooth but still chunky.

Adjust the seasoning if needed and serve the pesto as a dip, dressing or pasta sauce.
Notes
storage and freezing
Pesto, refrigerated stored in an airtight container stays fresh for a week. It can be frozen too for up to 3 months.
Nutrition
Nutrition Facts
Pea and Mint Pesto
Amount Per Serving (40 g)
Calories 234
Calories from Fat 189
% Daily Value*
Fat 21g32%
Cholesterol 2mg1%
Sodium 45mg2%
Carbohydrates 9g3%
Protein 4g8%
Vitamin A 646IU13%
Vitamin C 35mg42%
Calcium 55mg6%
Iron 1mg6%
* Percent Daily Values are based on a 2000 calorie diet.