This easy to make, delicious tabbouleh salad recipe is packed with flavour and healthy ingredients. Made with bulgur wheat, chopped tomatoes, cucumbers, fresh herbs, spring onions and finished with a lemony dressing, is the perfect vegan side dish for a BBQ.
Having lived in the Middle East for a while, I am a big fan of tabbouleh salad, in fact I have eaten it hundreds of times. Back then I could make a meal out of a cold mezzeh platter alone! The small colourful plates of dips and salads, is all I needed for a filling meal, tabbouleh of course being one of my favourite salads.
Now that I live in Australia, I probably make my tabbouleh salad recipe the most, it is easy to prepare and holds well in the fridge for days.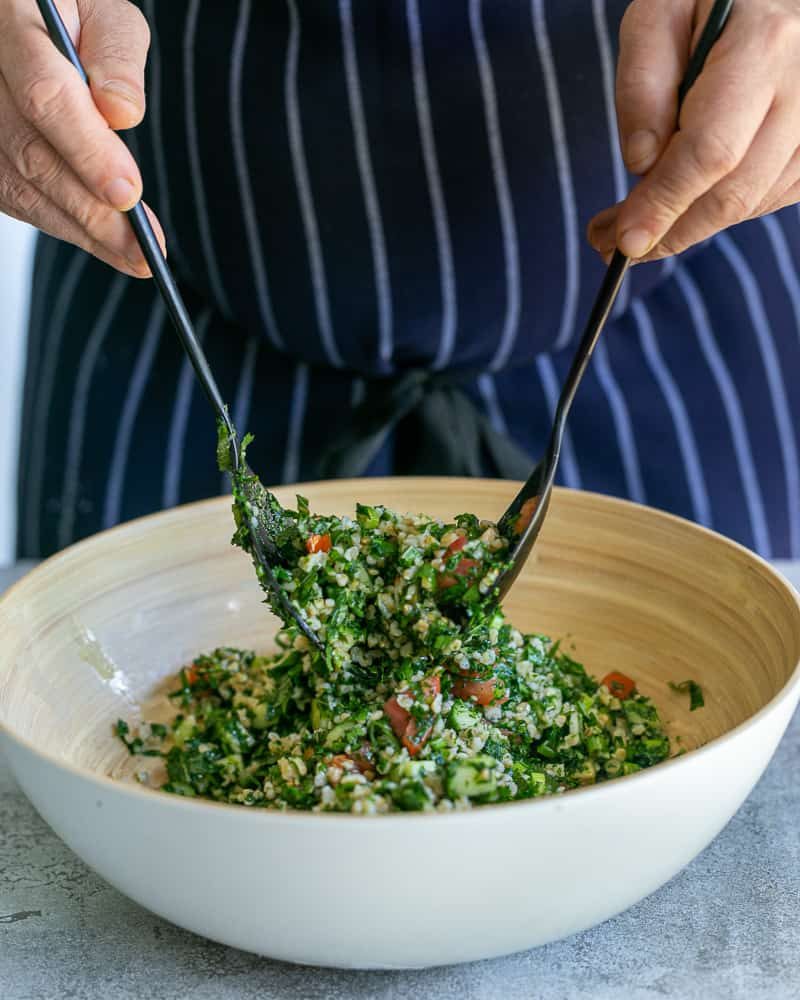 Shilpi loves this salad too and often takes it as lunch to work. A bowl of tabbouleh is actually quite filling and ticks all the boxes for a light, fresh meal!
Jump to:
WHAT IS TABBOULEH SALAD?
Tabbouleh salad or tabouli salad is basically a parsley salad. It originated in Lebanon and it is part of the mezzeh selection in the Arab world. To make this salad you just need a few ingredients. Bulgur, which is a cracked wheat is one of them. Bulgur depending on size can be cooked or soaked.
Keep in mind that it has gluten so you can use quinoa for a gluten free version. Besides bulgur, tabbouleh is made of parsley, cucumber, tomatoes, spring onions, mint, garlic and with a lemon juice and olive oil dressing.
HOW TO MAKE TABBOULEH SALAD
The steps to make this easy tabbouleh salad recipe are super simple. Yes there is some chopping involved, especially the parsley as it needs some serious work. But If you are pressed for time, bypass the chopping and just toss it in a food processor - No problem at all!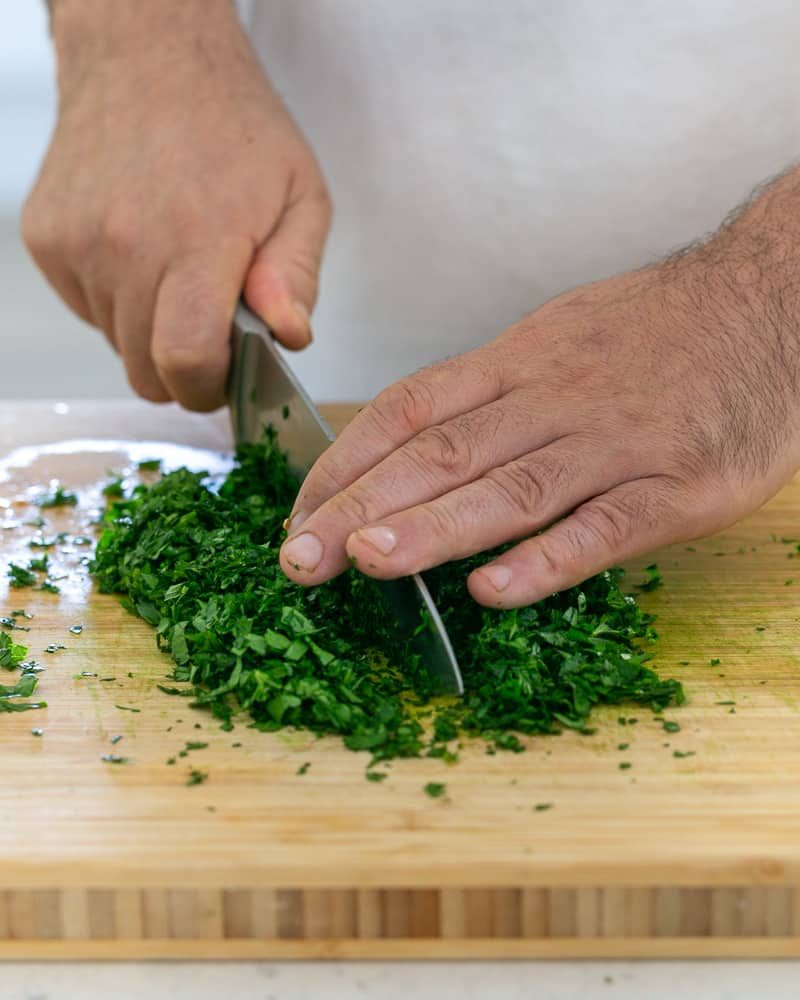 Prepare the bulgar - Measure 1 part bulgur to 1.5 part water. Cook the bulgur for about 10-12 minutes covered. Drain and let it cool. Another way to prepare bulgur, is to soak it in water for at least 10 minutes and then add to the salad directly. As bulgur comes in different sizes, if you want to soak it then you will need fine bulgur.
Salt the tomatoes and cucumber to drain excess water - Cut the tomatoes and cucumbers into dices and season with salt. Place in a strainer over a bowl to allow the water to drain. This step will make the vegetables more crunchy and will ensure the salad is not soggy or watery.
Chop the herbs and veggies - Chop the parsley, mint fine and spring onion in rounds.
Make the Salad dressing - In a measuring cup or bowl, whisk together the olive oil, lemon juice and garlic. If raw garlic is not your thing, you can leave it out.
Toss the Salad - Combine all chopped ingredients in a salad bowl, sprinkle with salt and pepper. Finish the salad with the olive oil-lemon dressing. Tabbouleh should be zingy and full of flavour so don't worry about the juice from 1 whole lemon being too much😉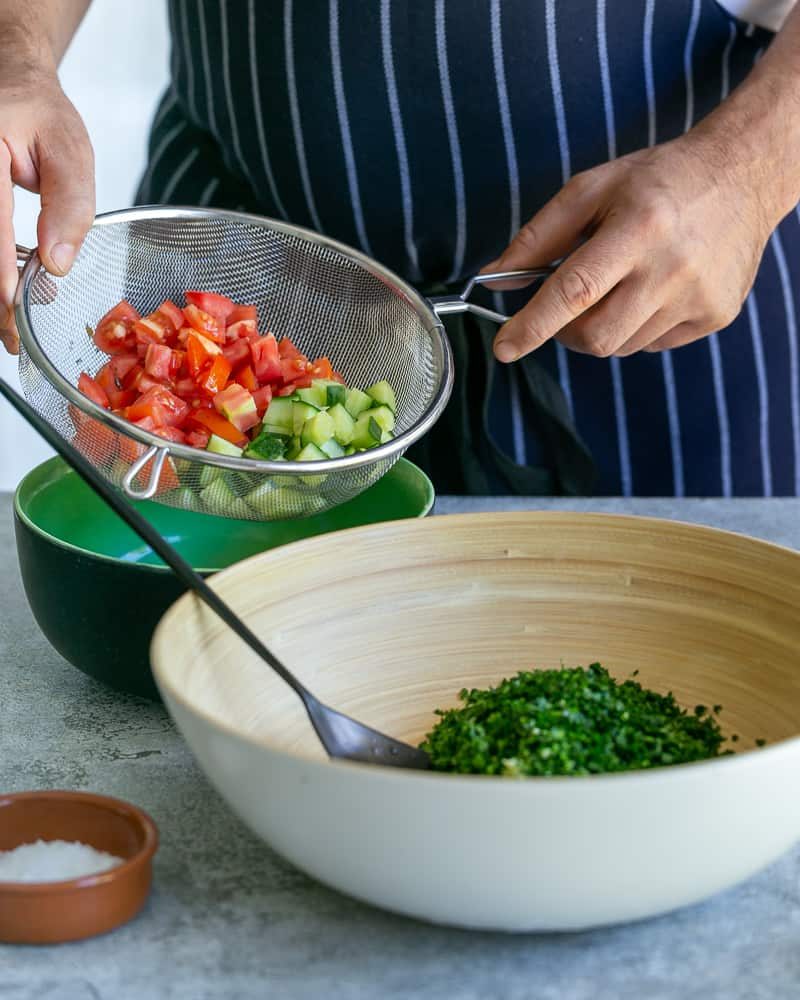 This salad can be made in a jiffy and is super nutritious. Tabbouleh salad can be prepared in advance as it keeps well in the fridge for up to three days. That's why, it makes for a great meal to take to the office.
TABBOULEH SERVING SUGGESTIONS
Tabbouleh salad is a great way to start a meal or as an accompaniment to a mezzeh spread. Think hummus, babaganoush, olives, flatbreads....yum!
We eat tabbouleh as a light lunch and just add pan fried halloumi to make it more substantial. Otherwise it also goes well with: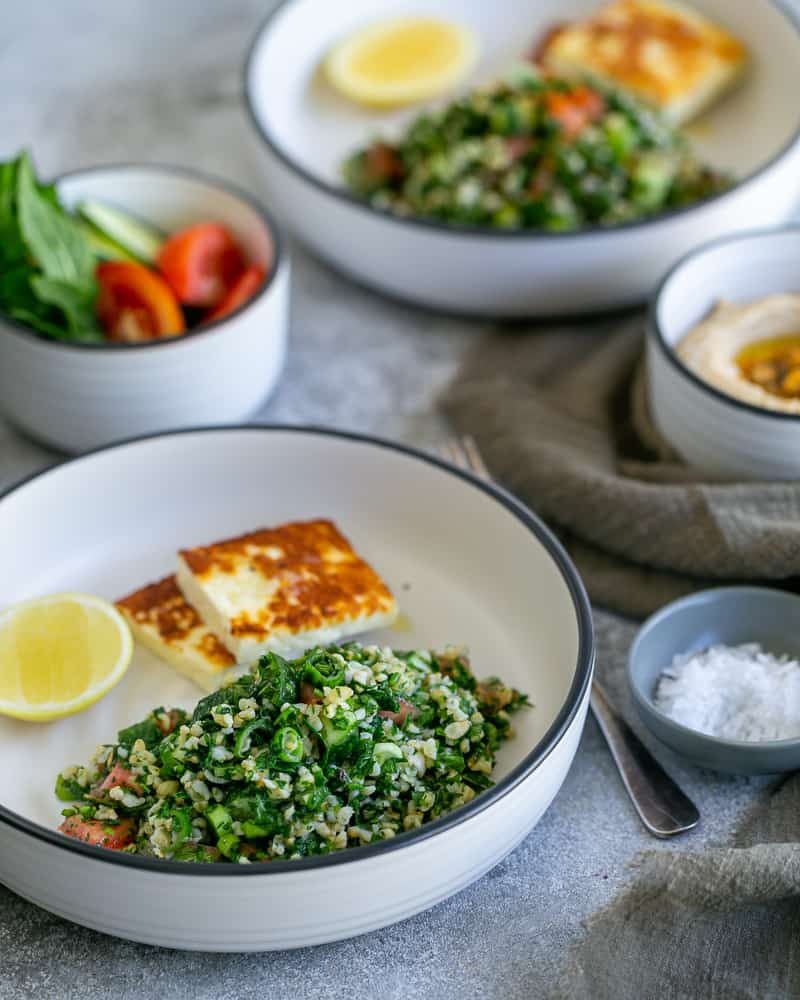 Does that sound good? Leave a comment and let us know how your tabbouleh salad turned out. We would love to hear from you!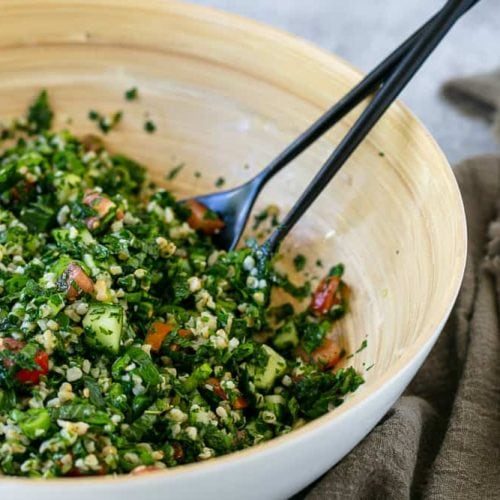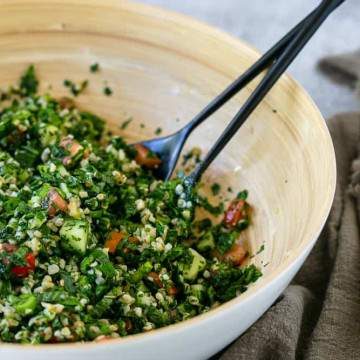 Easy Tabbouleh Salad Recipe
This easy to make, delicious tabbouleh salad recipe is packed with flavour and healthy ingredients.
Ingredients
100

g

bulgur

½

cucumber

2

ripe

tomatoes

2

bn

flat parsley

⅓

bn

mint

1

clove

garlic

3

spring onions

1

lemon

5

tablespoon

olive oil

to taste

sea salt and black pepper
Instructions
Bring the bulgur with 1½ the amount of water to a boil. Reduce the heat to low and simmer for 10-12 minutes covered. When the bulgur is tender, strain the water and set aside to cool.

Meanwhile chop the cucumber and tomatoes in dices and season with salt. Place in a kitchen sieve and let the water drain.

Chop the parsley, garlic, spring onions and mint separately. Cut the lemon in half and squeeze the juice out.

Combine the chopped ingredients except the garlic in a salad bowl. Season with salt and pepper to taste.

Whisk the olive oil, lemon juice and garlic in a measuring cup or bowl. Pour over the salad and toss it well.

If time allows, leave the salad to develop flavours for 15 minutes otherwise you can also serve straightaway or chill in the fridge to serve later.