Freshly shucked oysters presented three ways, baked, classic or with a twist, they make a delicious start to any meal. Whether for Christmas, New Years Eve or a summer BBQ, these raw and cooked oyster recipes are perfect for any occasion.
Are you looking for an easy but impressive appetiser or entrée to add to your festive menu? With Christmas and NYE coming up, oysters are one of the most popular choices. In fact, they are the ultimate canape or entrée for the festive season.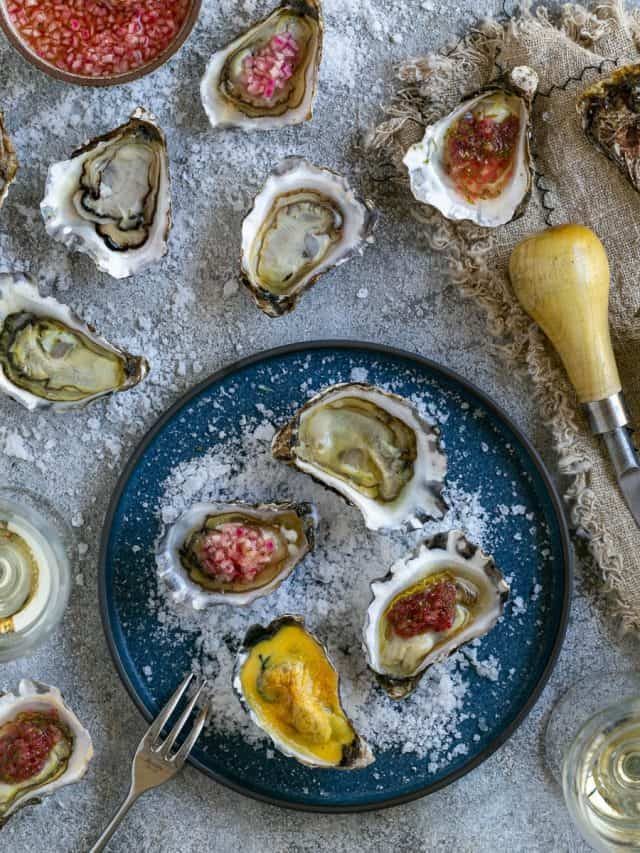 Once considered a luxury, affordable only to the rich, oysters, caviar and champagne are the so called match-made-in-heaven trio. However, nowadays they are on offer all year around, readily available for anyone to buy and no longer something you would get only in fancy restaurants! Just head to your local fish monger and you will be able to buy fresh oysters at a much cheaper price!
Nothing says delicacy quite like a platter of fresh oysters, so why not create your own and impress the shell out of your friends and loved ones!
Jump to:
AN OYSTER PURVEYOR
I have always enjoyed working with oysters and even though I have eaten and served many oysters in my career, I only started learning about them when I moved to Australia. Otherwise, the ones I was interested in, were French fin de claire, belon and gillardeau.
Introduced to oyster sommeliers, I have encountered some of the most passionate people in the food industry. The knowledge they bring along and the desire to educate others are second to none.
Lucy Ashley is one of them. Her company 'Shuck" supplies oysters here in the Northern Rivers, which is the most north-easterly region of the Australian state of New South Wales. She hand selected these native rock oysters from the Nambucca River estuary south of Coffs Harbour. And oh! do they look stunning!!!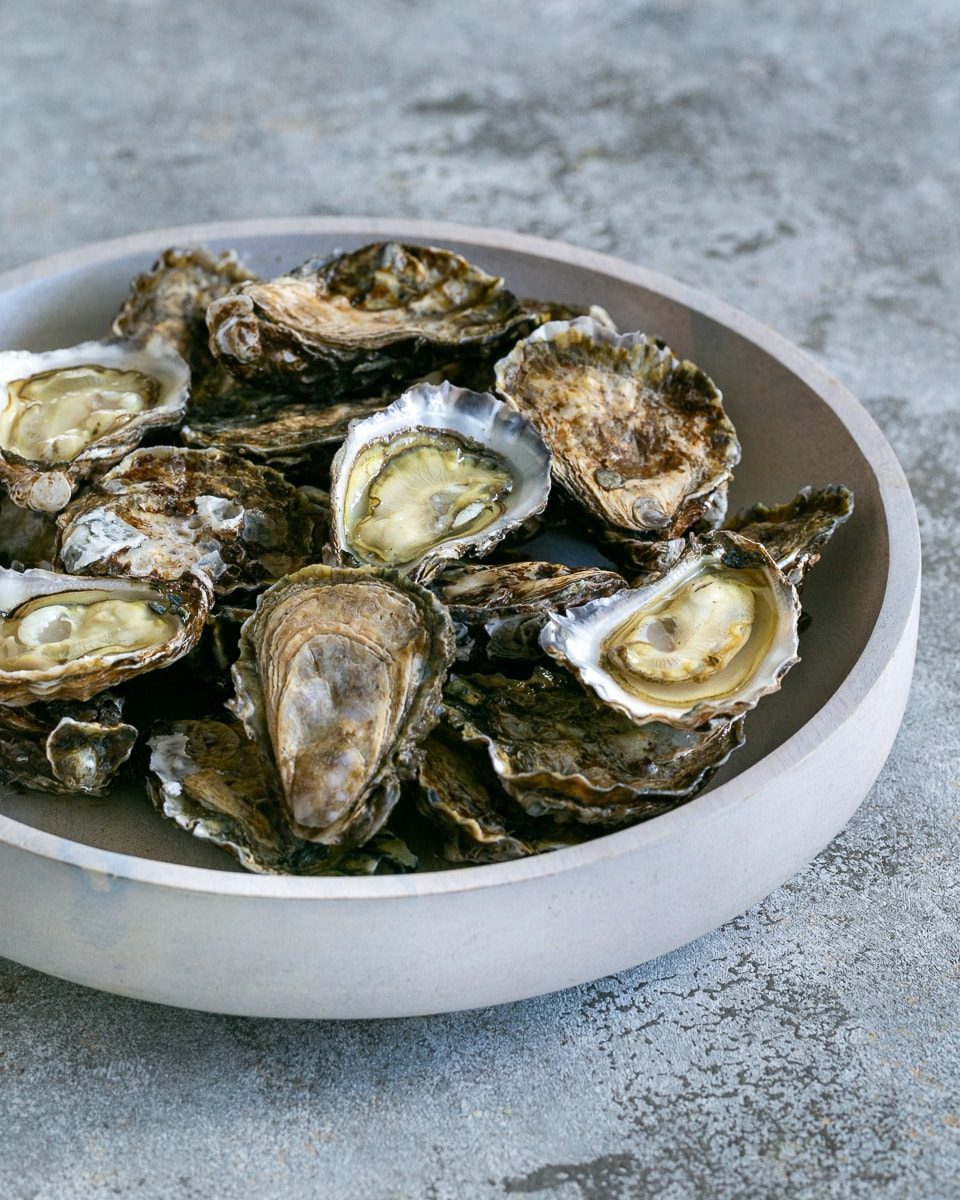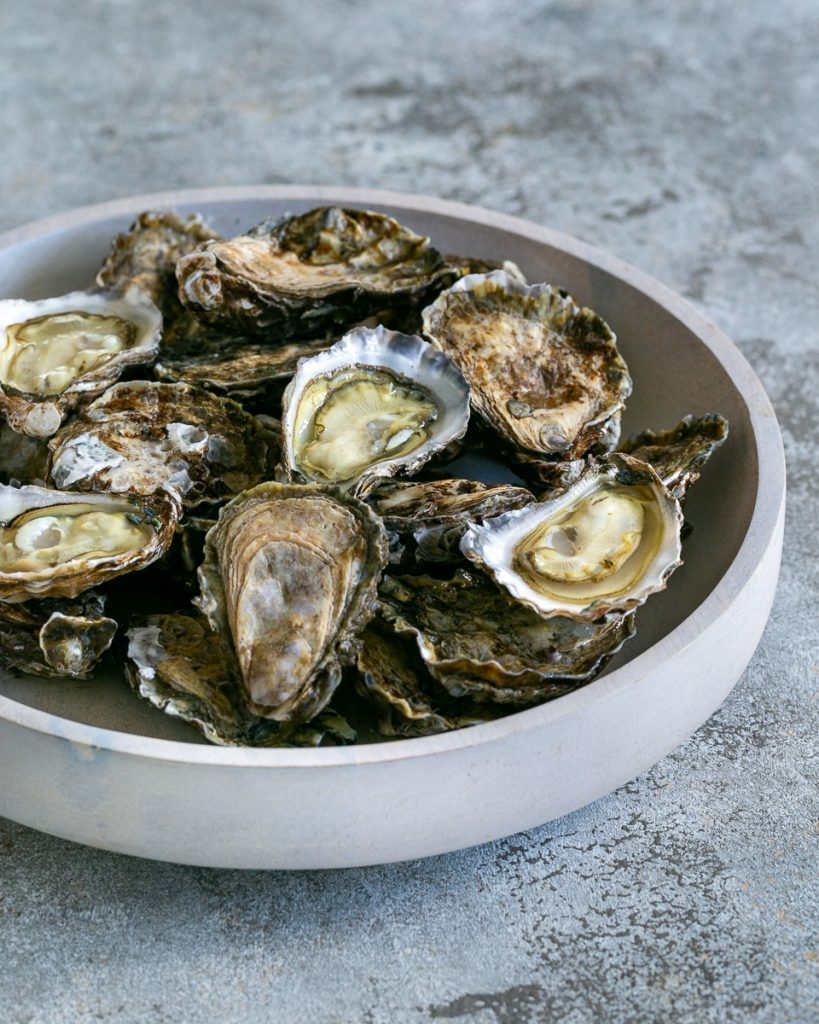 Plump, juicy, a hint of sweetness with that metallic taste from the highly mineralised water - Thank you Lucy for what you do!
HOW TO SHUCK AN OYSTER
Shucking oysters can be tricky. Saying that, there is nothing more delightful than opening an oyster and slurping them straight away. They taste like the ocean, that is when the precious water inside them, hasn't been thrown away.
To save time and keep up with demand in restaurants, oysters are shucked before service and dipped in salt water before serving them. Why? Well, one, to clean the oysters of any debris or broken shells (the last thing you want, is a guest complaining!) and second, to make up for the loss of that ocean water.
When you buy oysters from your fish monger, ask them not to flip them. This makes them loose their freshness and the sea water hence making the oyster look and taste dry. During my time in France, I also learned never to detach the muscle from the oyster so if you are serving it as an appetizer, leave this step for your guests. They can simply do this using their oyster fork.
Now, let's learn how to shuck an oyster!! I will not lie, if you haven't shucked an oyster before it will be a learning curve but as with many things, it's all about practice.
Step 1
Firstly you need a good oyster knife that has a short, dull-pointed thick-blade, used to raise the back hinge open and separate the body from the shell. Don't try to use any other kitchen knife, you can really hurt yourself. Secondly, you need a thick kitchen towel to protect your hand.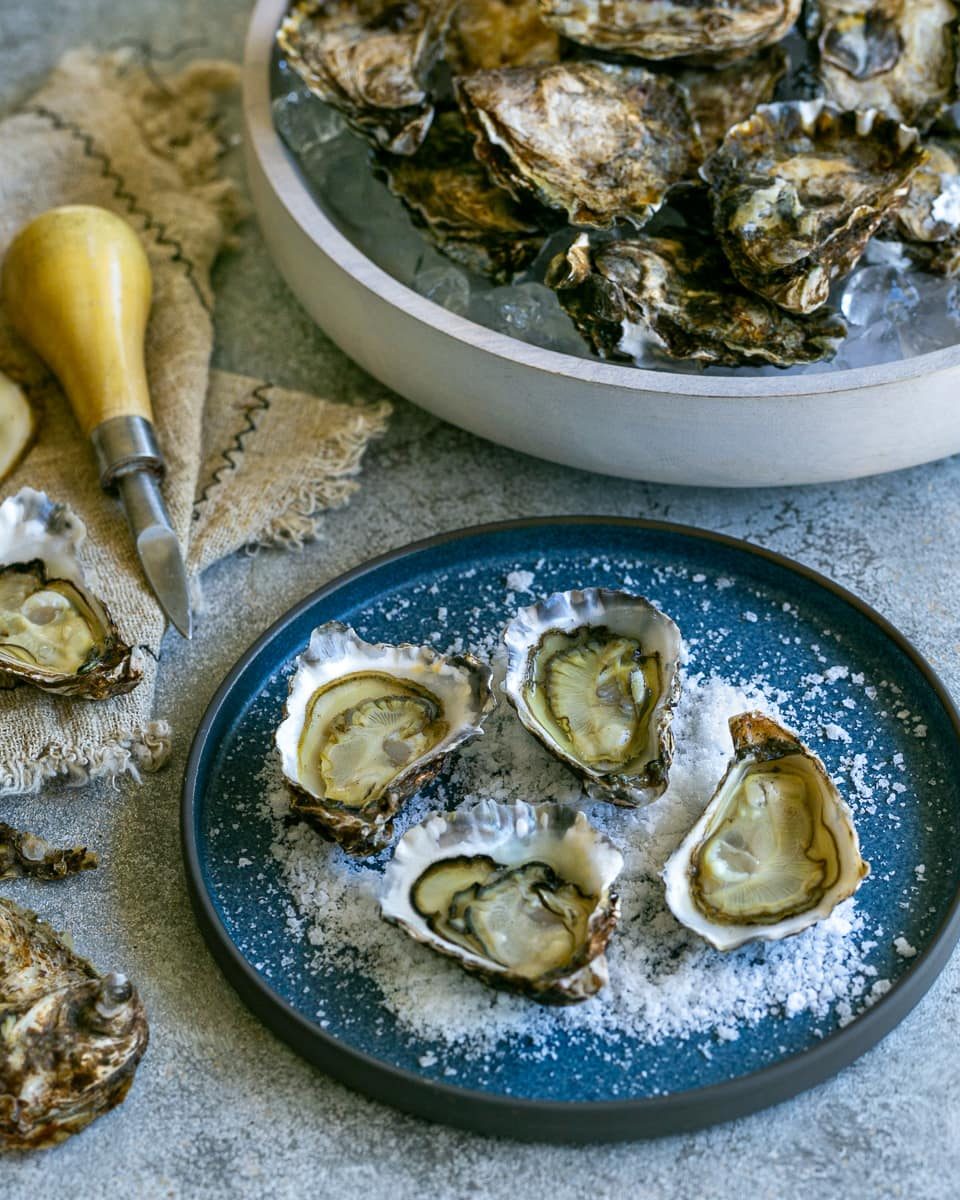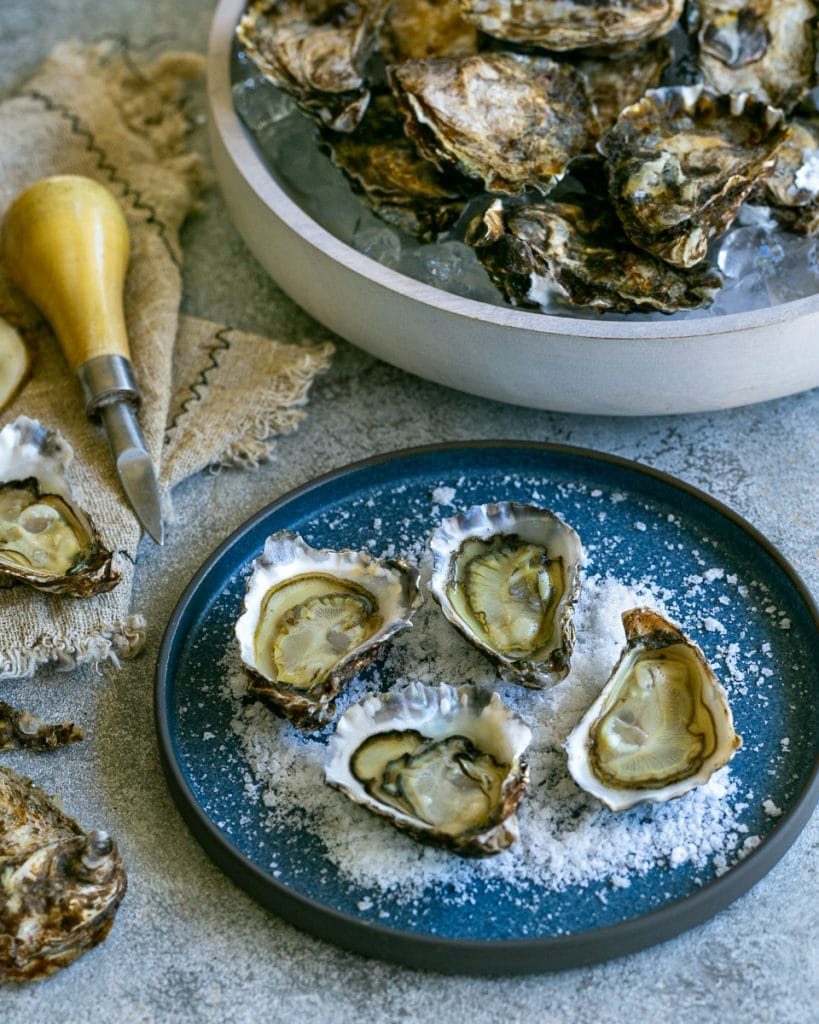 Step 2
Wash the oysters under running cold water before shucking. Make sure to cover the hand holding the oyster, with the kitchen towel. Then hold the oyster steady with the flat shell side up and the pointy part away from your hand.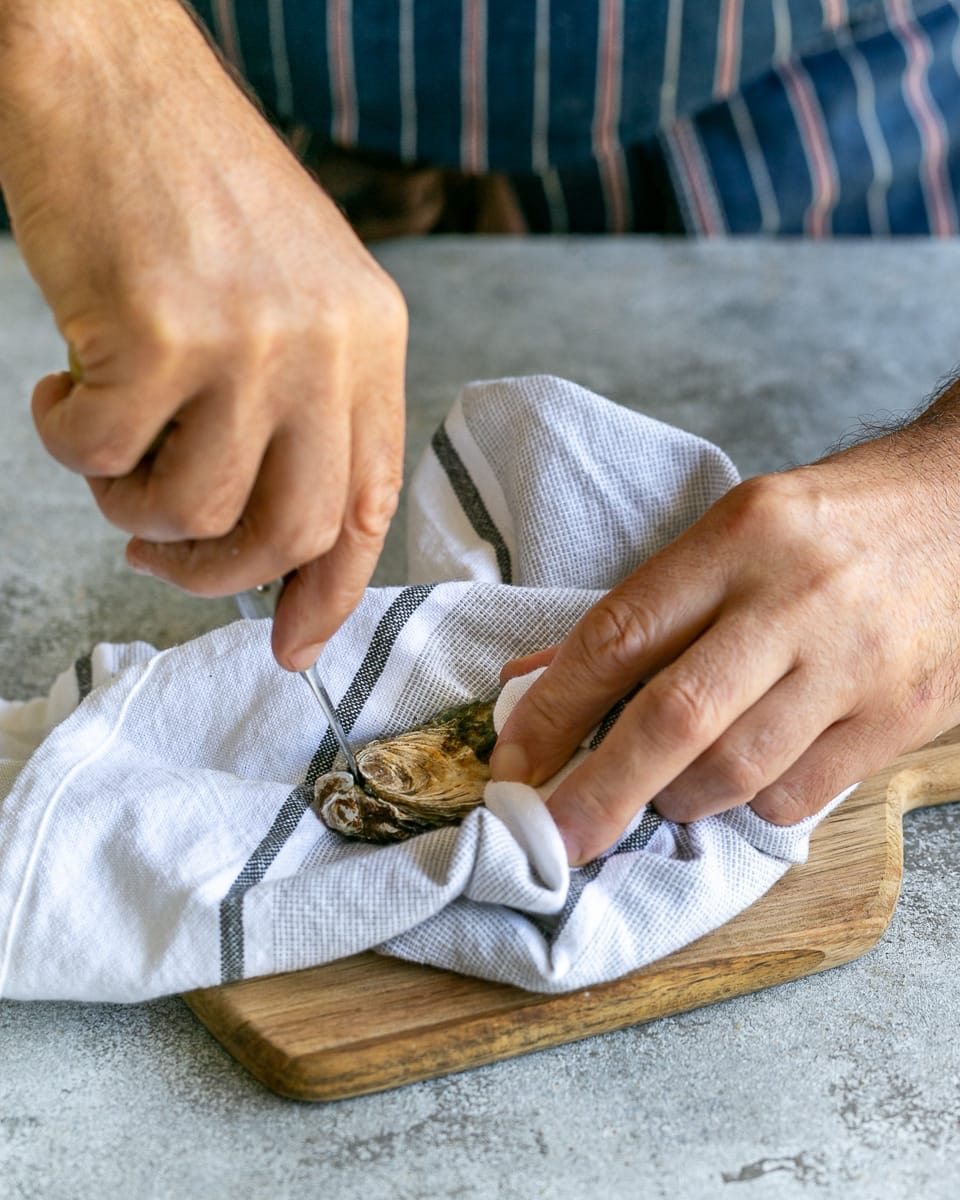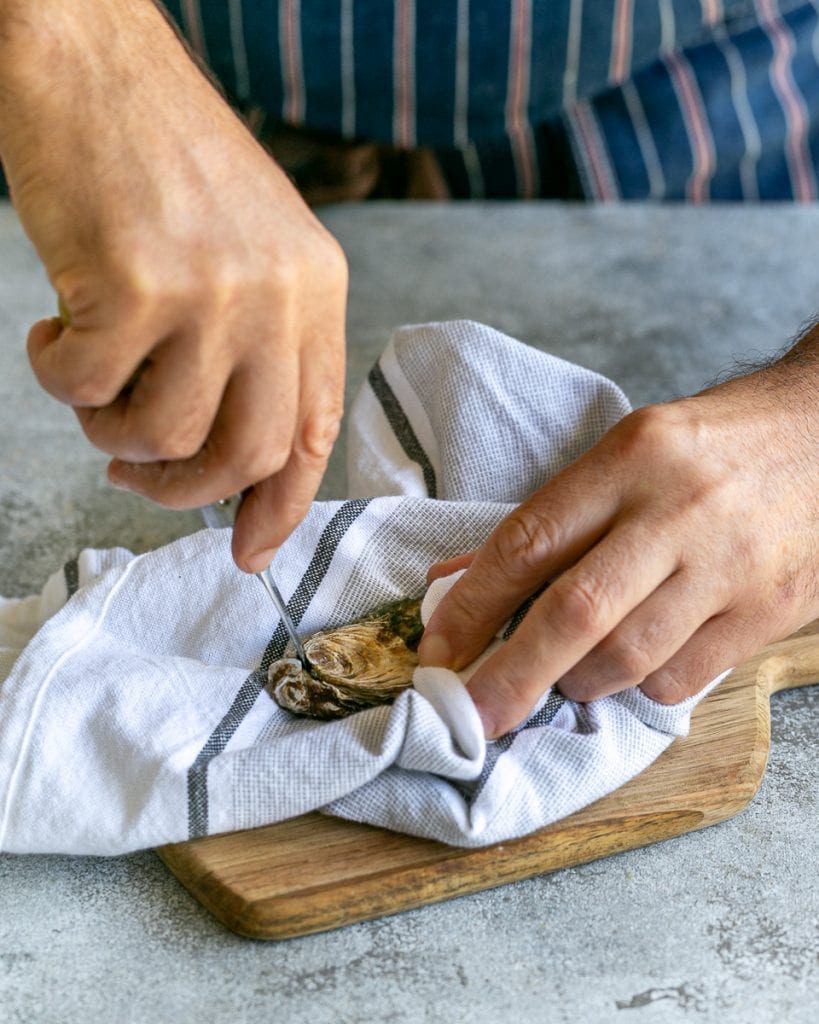 Step 3
Insert the knife into the hinge of the oyster. Press the knife down and twist it. Then slide the oyster knife down the shell, until you can lift up the upper shell completely.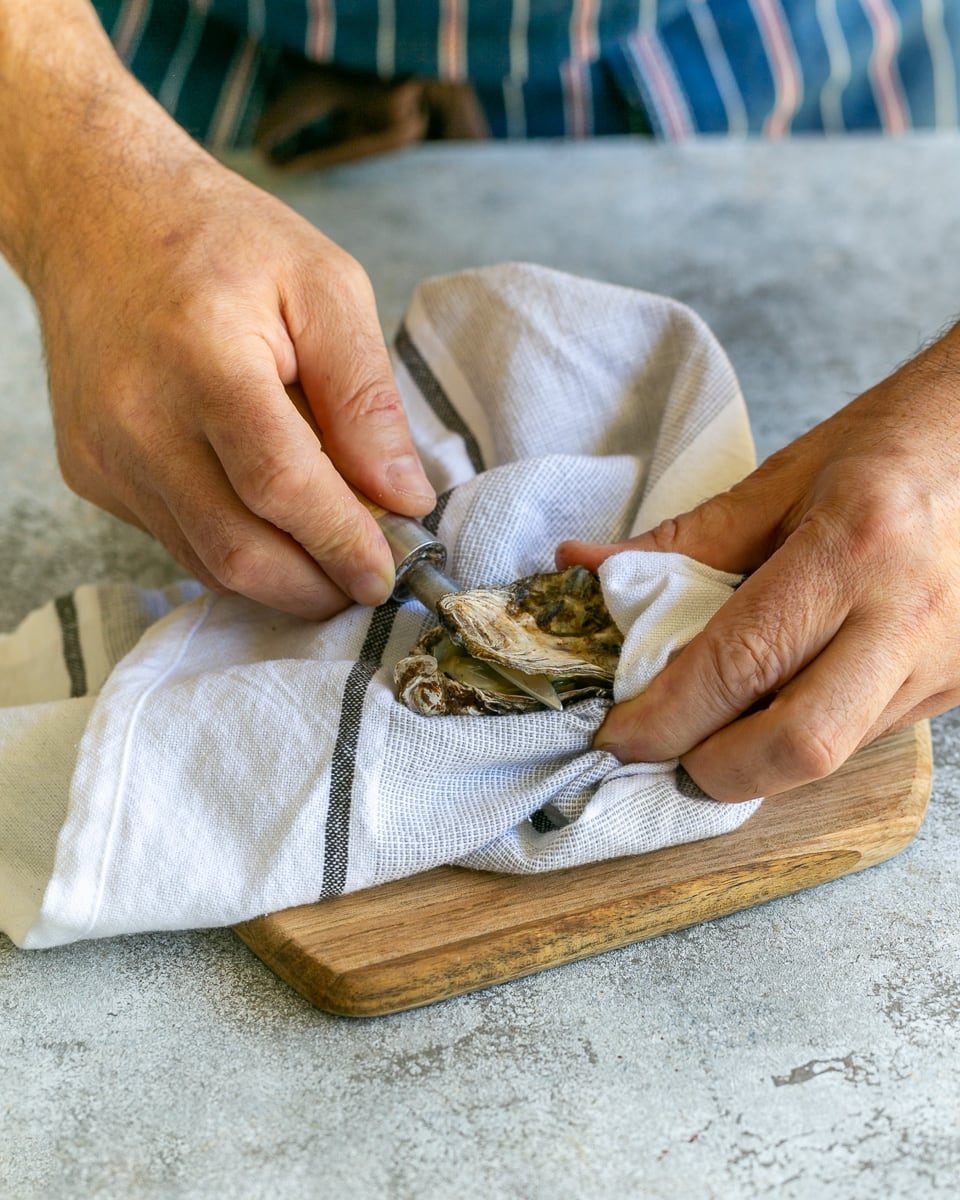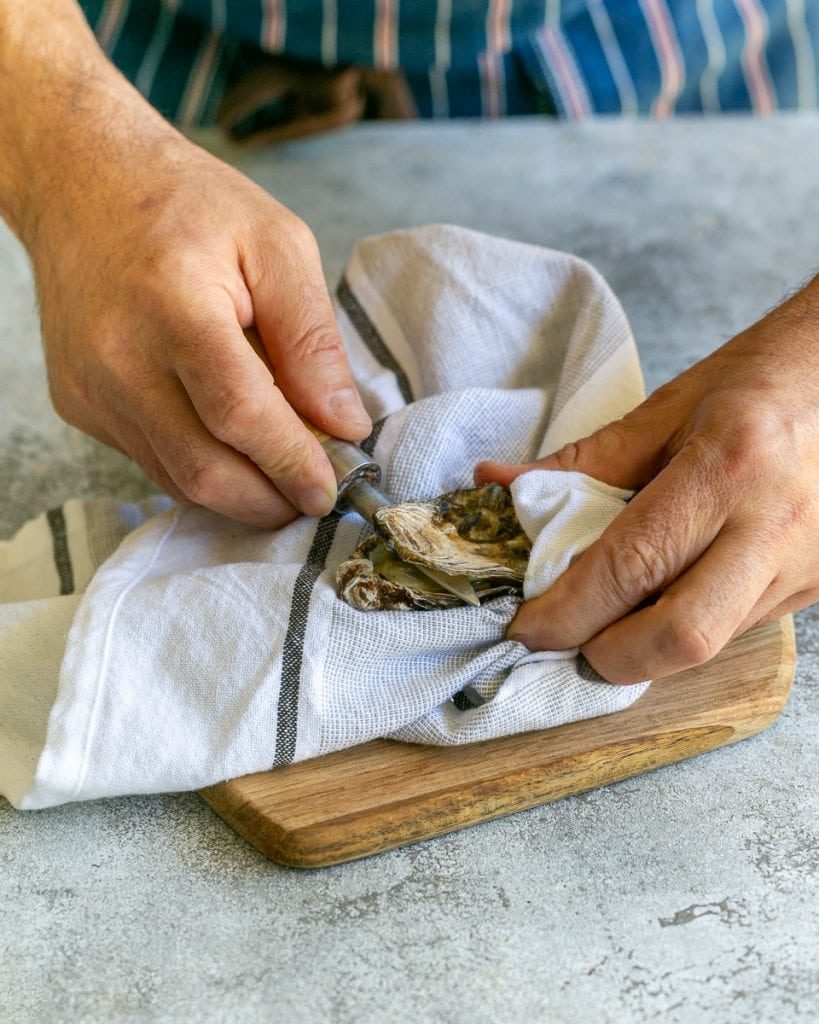 Step 4
Remember to check for any broken shell pieces before eating eating them.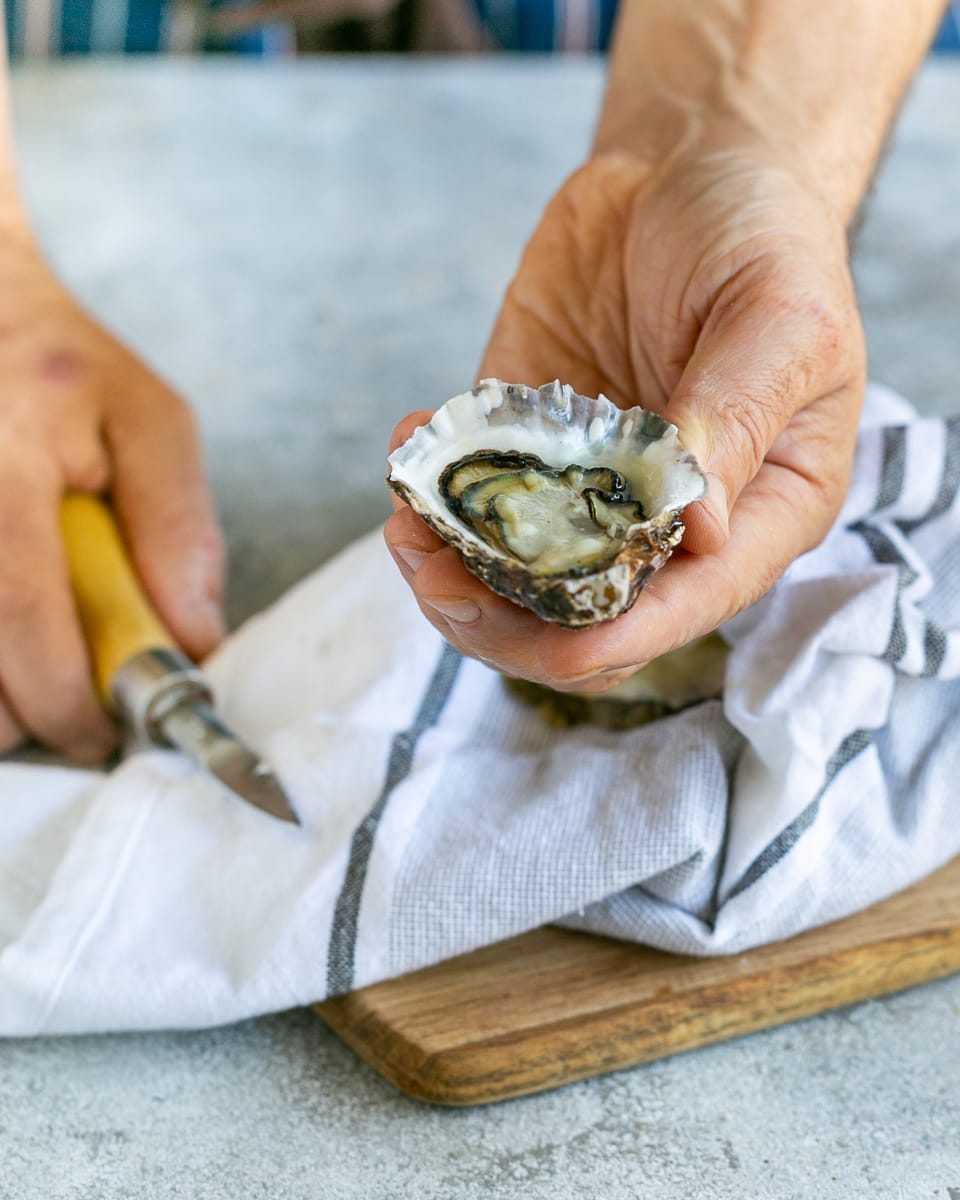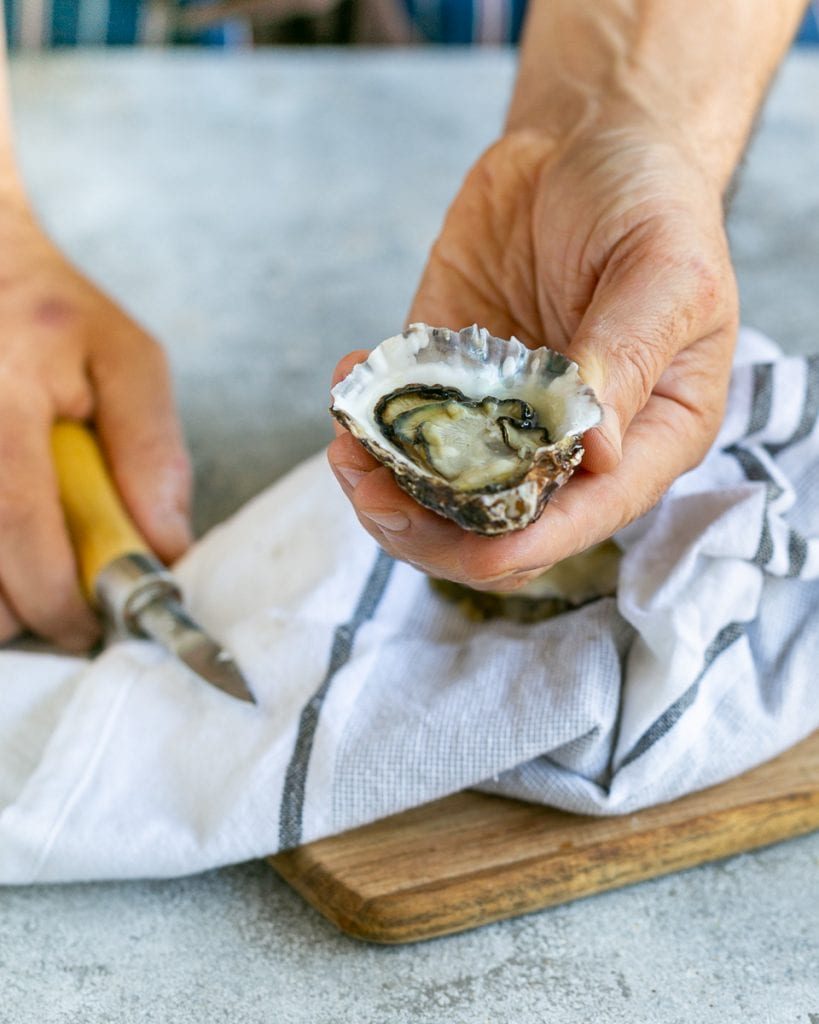 how do I know if an oyster is bad?
When you open a bad oyster you will notice an unpleasant smell, this is a first sign that you should not eat or serve this oyster. Other signs are; the oyster looks dried, withered and seems to be brown or black in colour.
3 OYSTER RECIPES
These gems of the sea have a distinctive, chewy texture and salty, briny, fishy-fresh flavour. You will either love it's texture and taste or maybe you won't. If you're already on board with oysters you know they are best eaten natural or with a squeeze of lemon.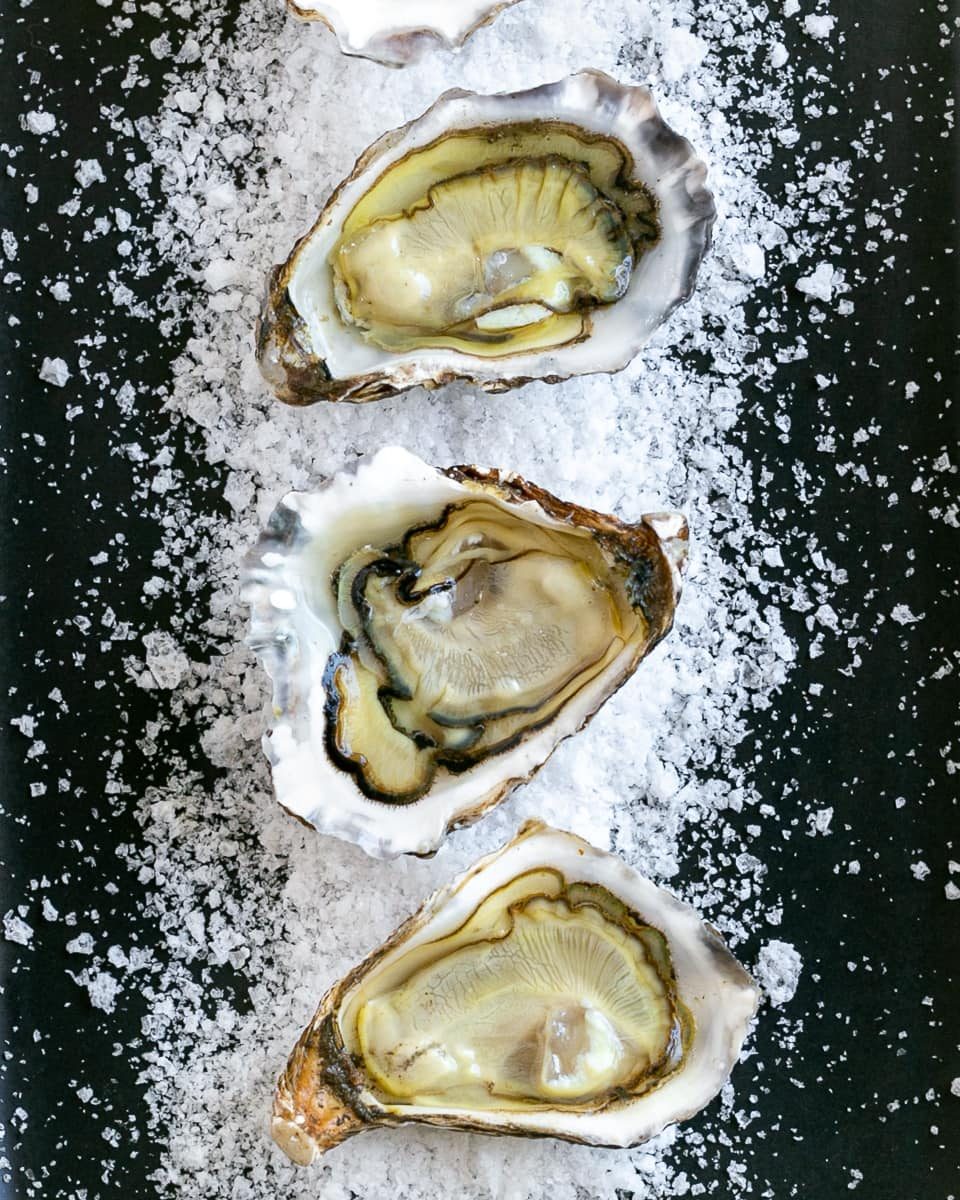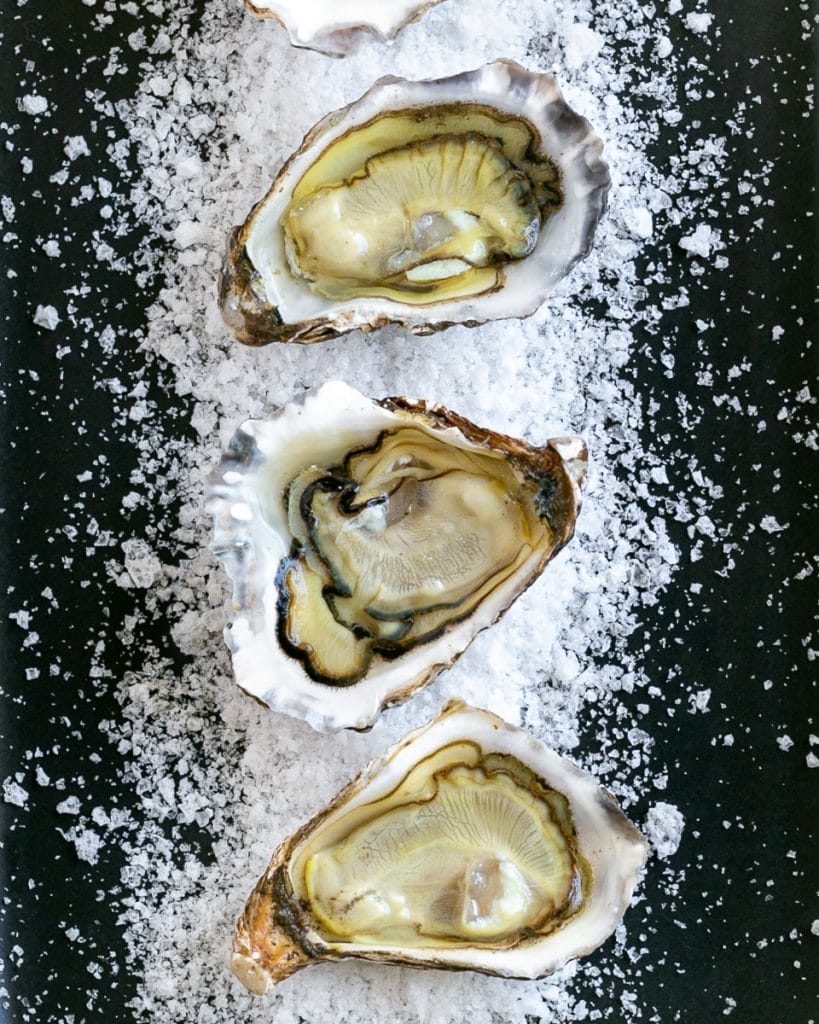 However, some pairings work really well, so let us show you the one's that are crowd pleasers even for those who don't like oysters much! Here are our raw and cooked oyster recipes.
OYSTERS WITH MIGNONETTE SAUCE
Mignonette sauce is a dressing consisting of shallots or red onions cut into very small dices (brunoise) and mixed with a red wine or chardonnay vinegar and cracked black pepper.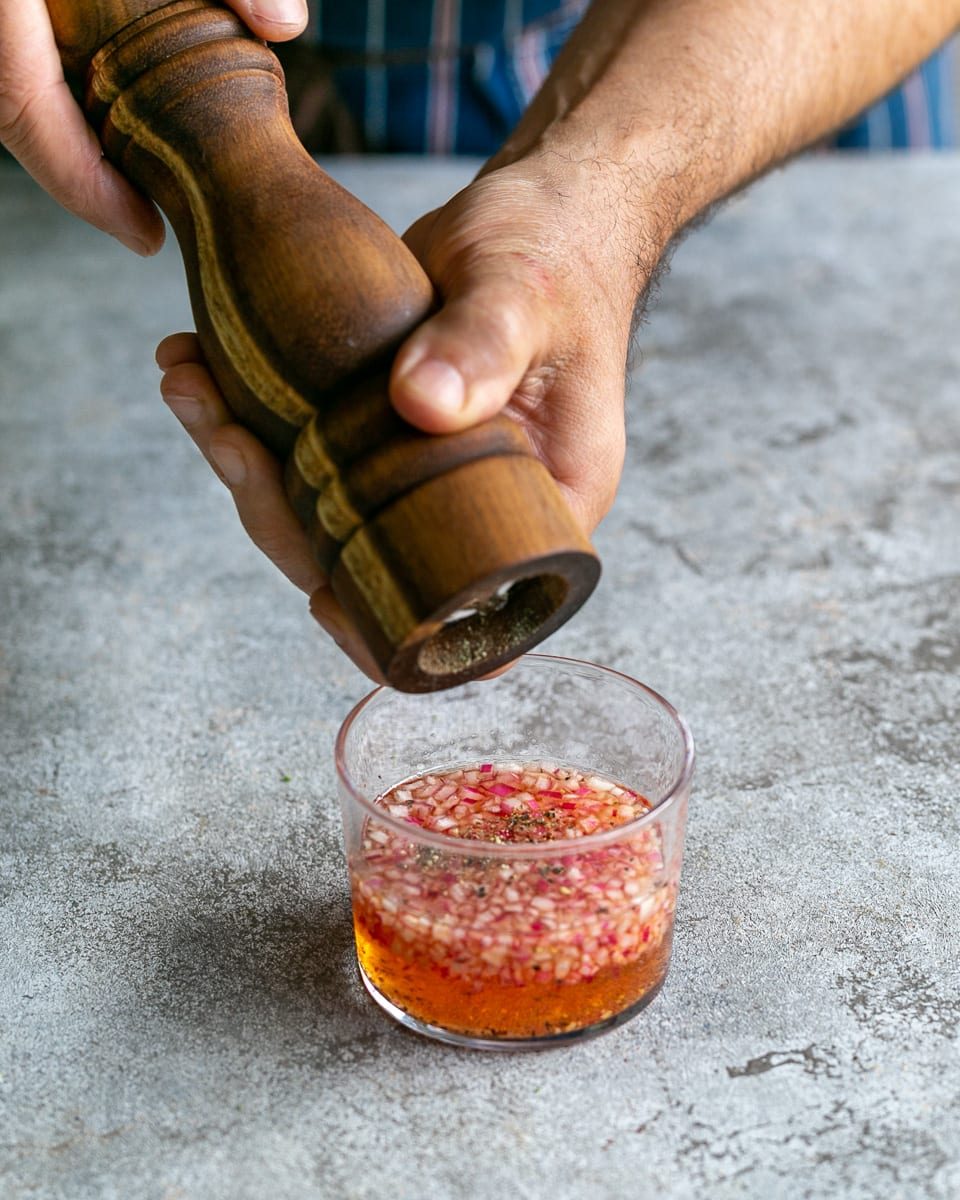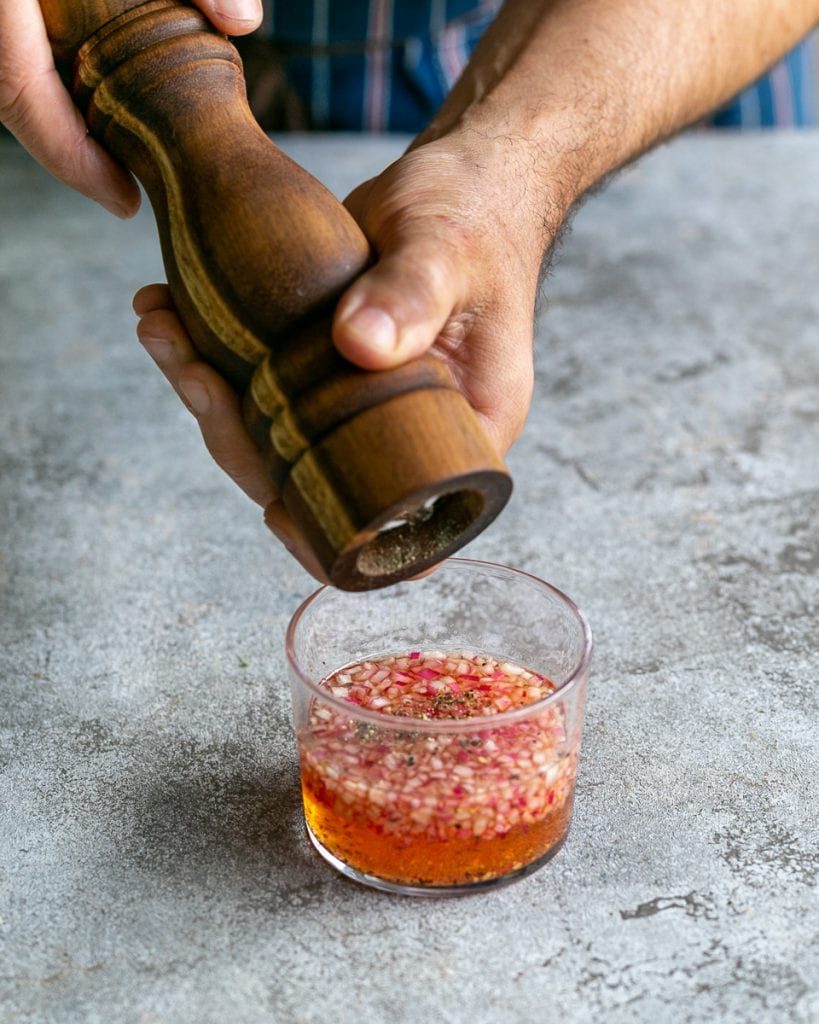 Serving oysters with mignonette sauce is common in France and that's where I learned making this recipe. It can be made beforehand and in fact tastes even better when left for a few hours.
HOW TO MAKE OYSTER ROCKEFELLER
Oyster Rockefeller are oysters sitting on a bed of sautéed spinach, covered with hollandaise sauce and baked in the oven.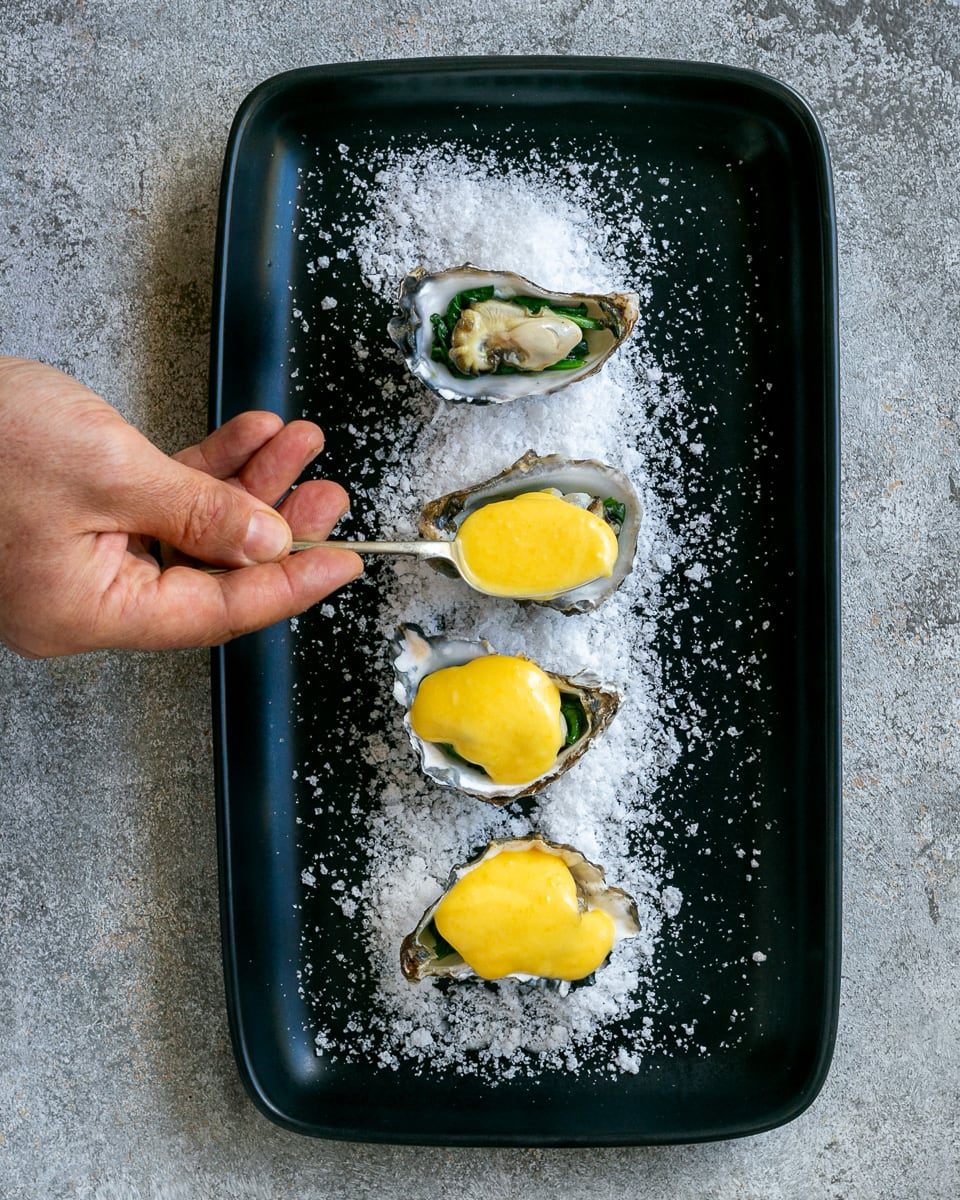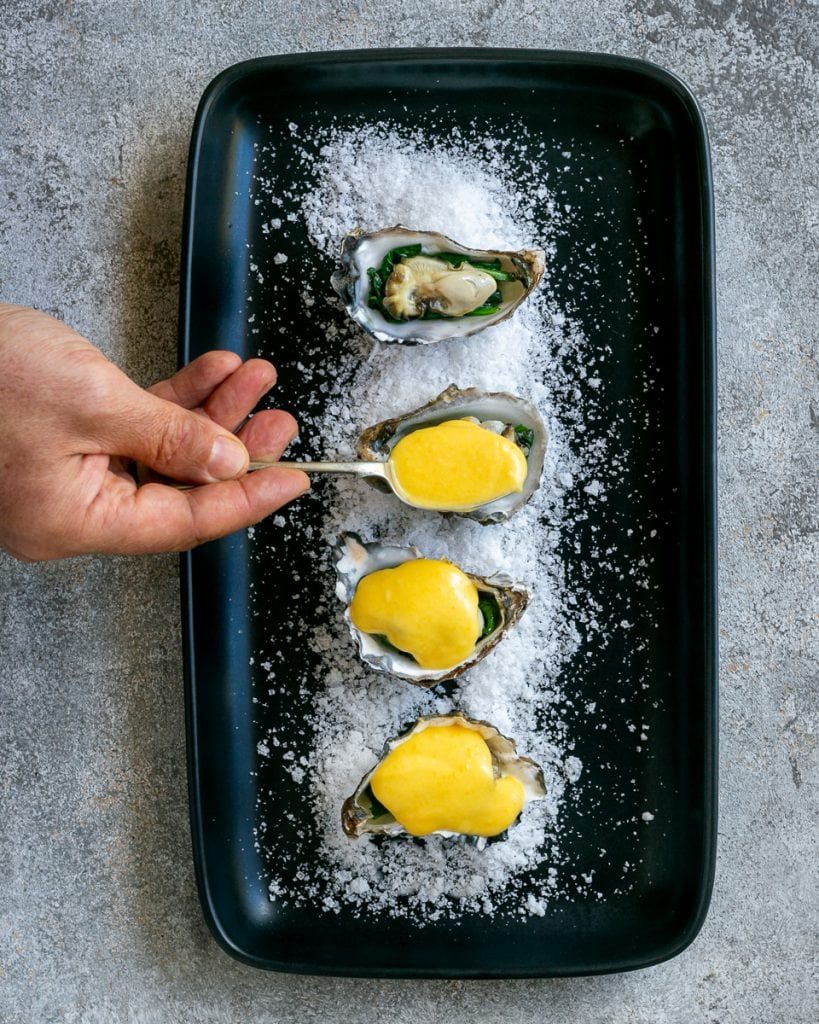 As with most dishes covered in hollandaise sauce, it turns out delicious! Big rich flavours, a perfect recipe for those who prefer cooked to raw oysters. Read our hollandaise recipe and learn how to make this classic sauce.
OYSTERS WITH FINGER LIME
Finger lime is a native Australian ingredient. They are a citrus fruit with a pulp that looks similar to caviar hence some call it lime caviar. The finger lime has a shape of a finger, that's where the name comes from.
To reveal the inside, cut the finger lime in half and scoop out the pulp. If there are small seeds, remove them with tweezers.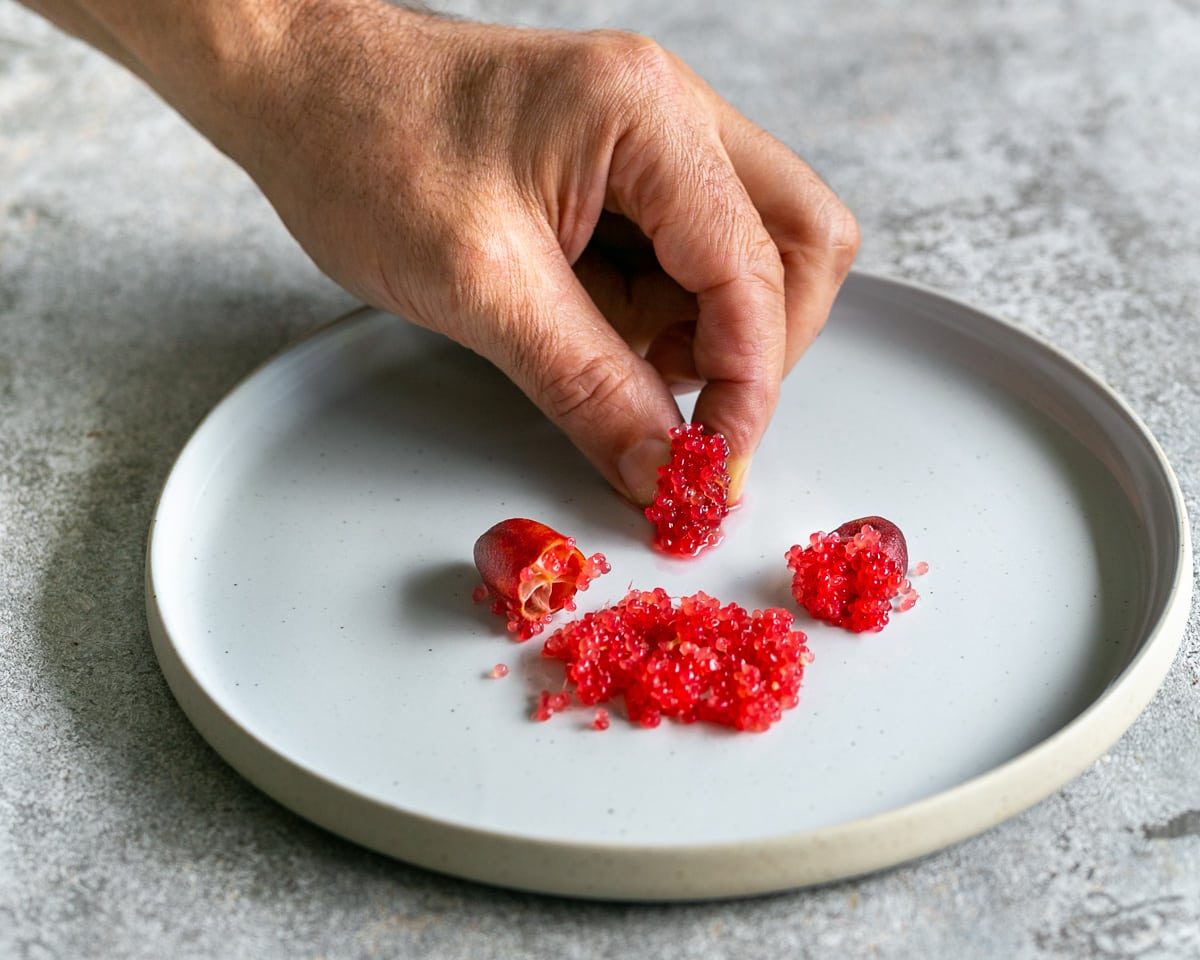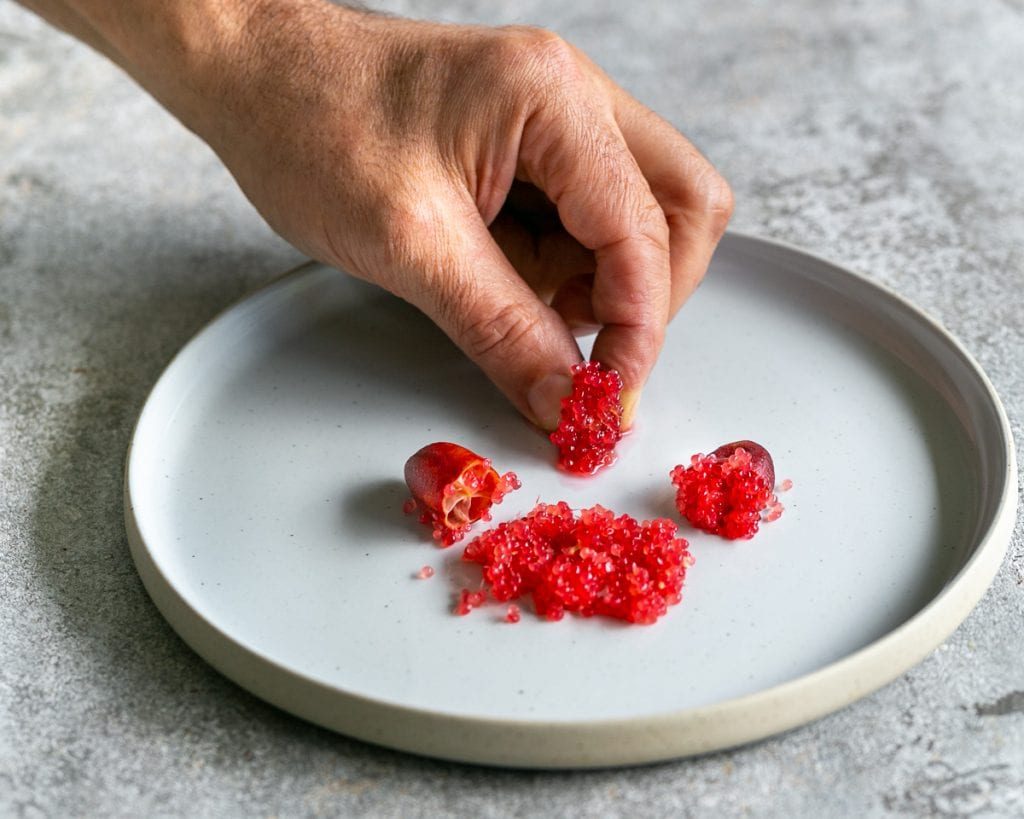 For the finger lime dressing, I mixed the finger lime with lime zest, lime juice, sugar, coriander and mirin.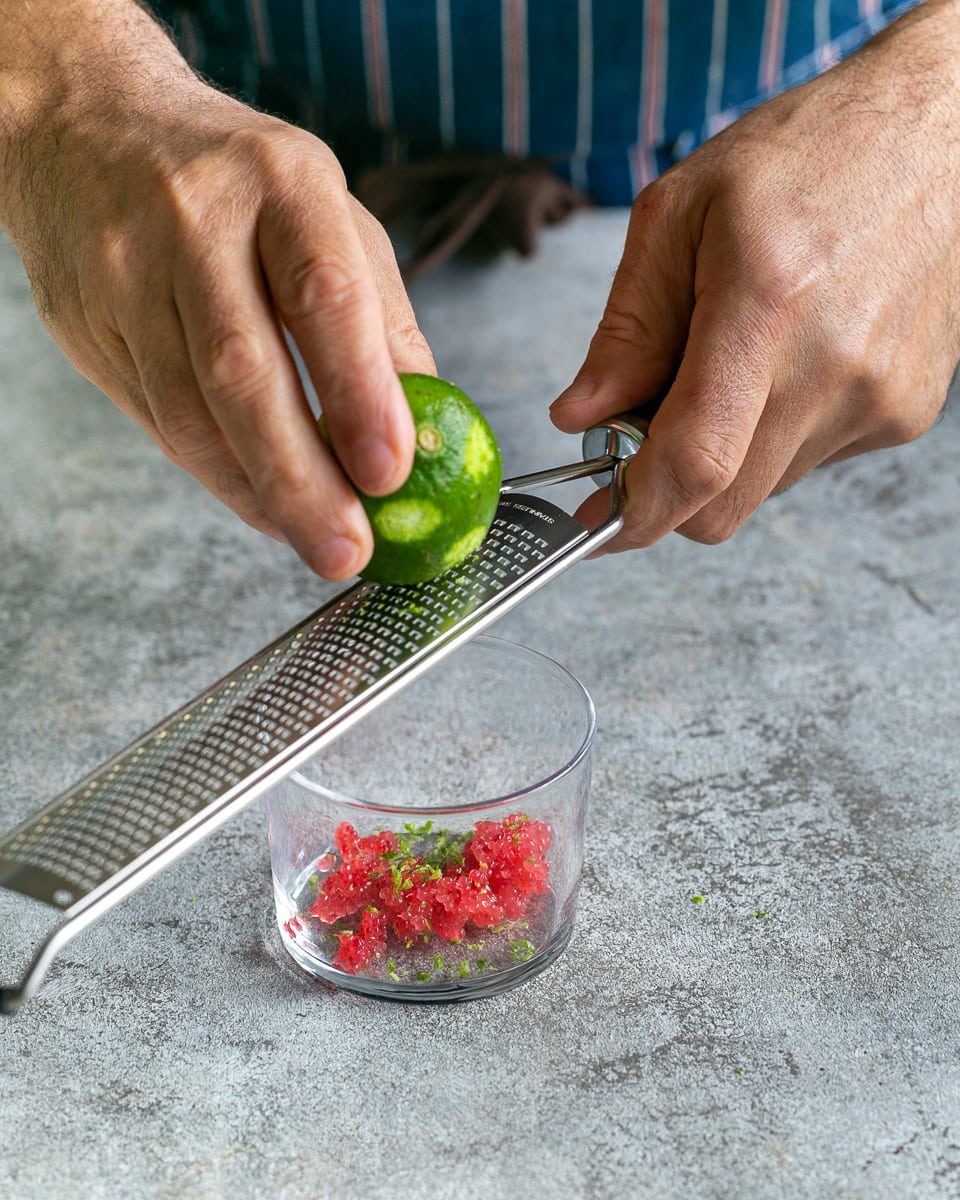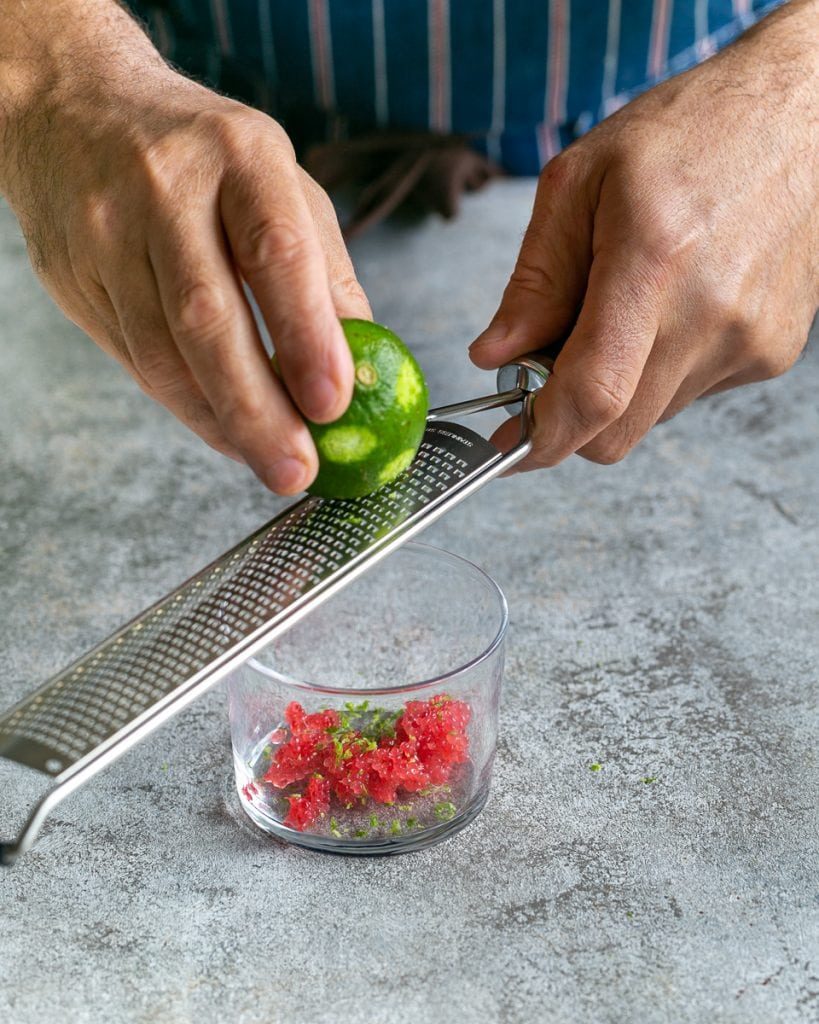 HOW TO SERVE OYSTERS
The best way to serve oysters, is on ice. Not only do they stay cold this way but they also sit well and don't fall over. Another way of serving oysters, is on rock salt. This works especially well if you serve only 2-3 oysters per person.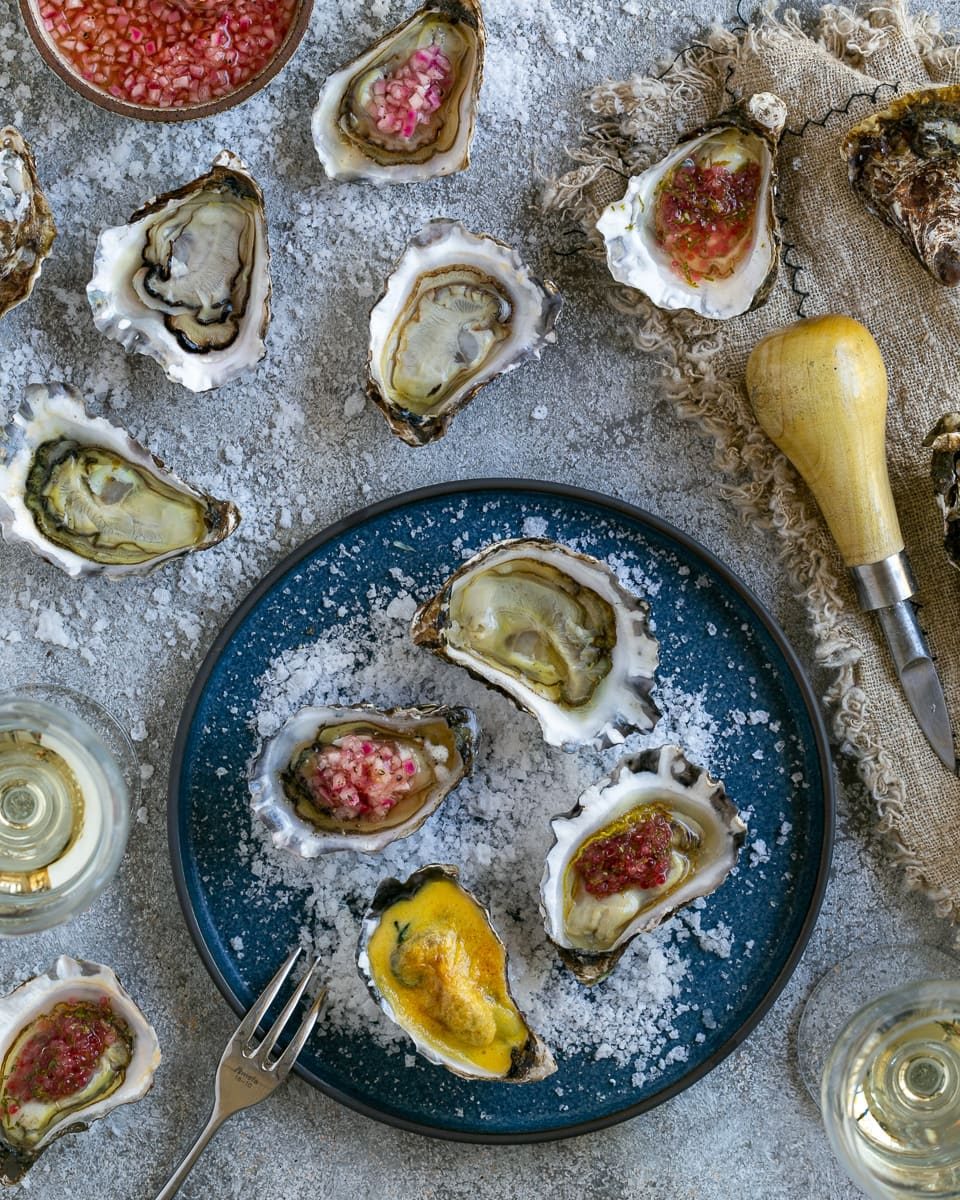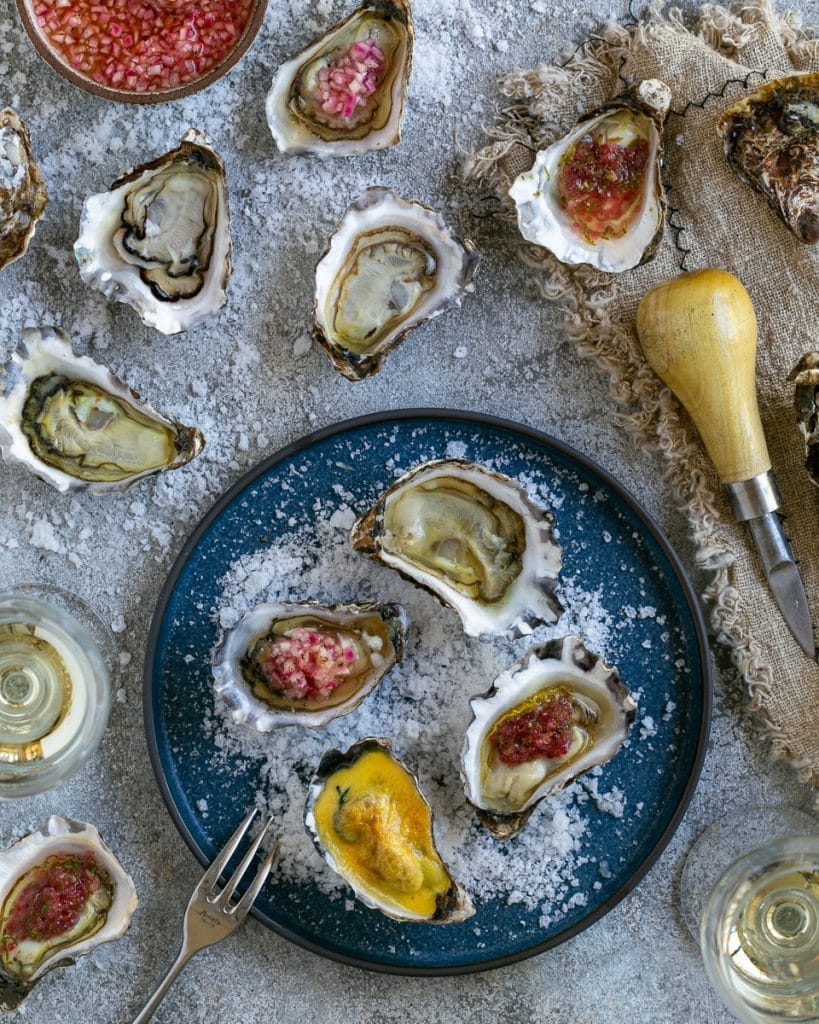 If you serve oysters as an appetizer, place an oyster fork next to them, not everyone is comfortable slurping them down! Alternatively, you can pass them around as a canape. If doing so, you will want to cut through the adductor muscle so they come off the shell easily.
Love seafood? Here are some of our favourite recipes to inspire you:
Whole Baked Fish with Vierge Sauce
Prawn Fregola Sarda with Garlic
Oven Baked Scallops with miso butter and green apple salsa
hamachi crudo with chilli and coriander
If you give these oyster recipes a go, leave us a comment telling us which one was your favourite? Our all time favourite are the oyster with mignonette sauce!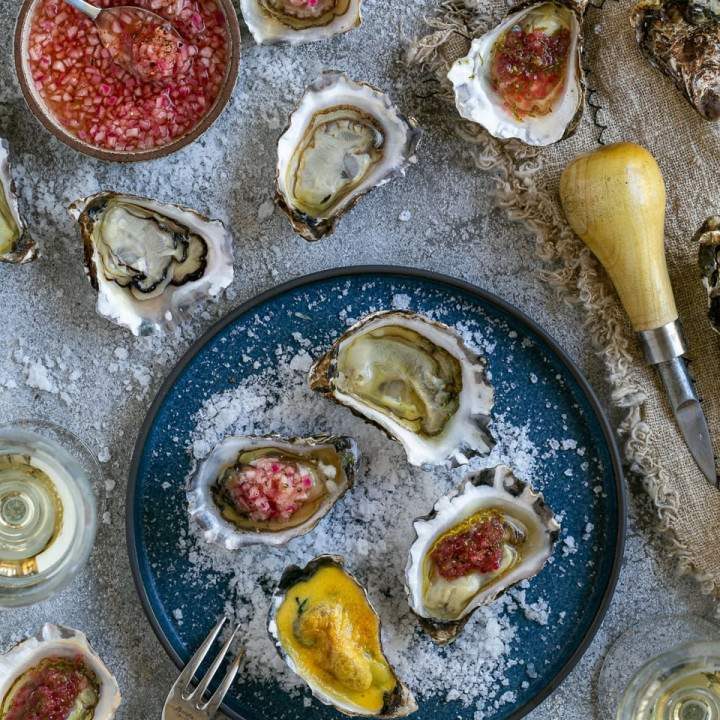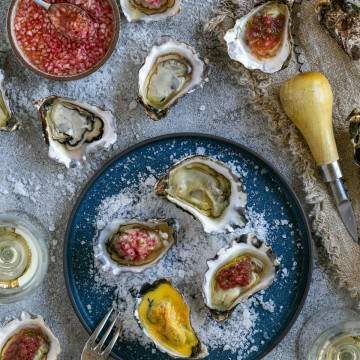 Raw and Cooked Oyster Recipes
Whether for Christmas, New Years Eve or a summer BBQ, these raw and cooked oyster recipes are perfect for any occasion.
Equipment
oyster knife

kitchen towel

microplane or grater

small pan
Ingredients
for the oyster mignonette
1

medium

shallot

115

milliliter

chardonnay vinegar

cracked black pepper
for the oyster rockefeller
for the oysters with finger lime
2

small

finger limes

1

teaspoon

chopped coriander

1

lime

50

milliliter

mirin

½

teaspoon

sugar
Instructions
for shucking the oysters
Wash the oysters under running cold water. Protect the hand you will hold the oyster with by covering it with the kitchen towel. Then hold the oyster steady with flat shell up and the pointy part away from your hand.

Insert the knife into the hinge of the oyster. Press the knife down and twist it. Then slide the oyster knife down the shell until you can lift up the upper shell completely. Check for any broken shell pieces.
for the oyster mignonette
Peel and finely mince the shallot. Combine the shallots with the vinegar and the cracked black peppercorns. Serve on the side or spoon on the oyster.
for the oyster rockefeller
Turn on your oven's upper heating element on maximum. Heat up a pan with olive oil and add the spinach. Reduce the heat to low and cook the spinach for just 1-2 minutes. Season with salt and set aside.

Remove six oysters from their shell. Divide the spinach between the six bottom oyster shells and place the oyster on top.

Cover each oyster with one teaspoon of hollandaise sauce and bake in the oven for just 1-2 minutes until the hollandaise has browned. To avoid them tipping over you can sit them on crushed up aluminium foil or rock salt.
for the oysters with finger lime
Cut the finger lime in half and press on the end of the finger lime squeezing out the pulp. Remove any seeds and place in a small bowl.

Combine the finger lime with the chopped coriander, sugar and mirin. Grate the zest from the lime into the finger lime dressing and add the juice of the lime. Mix well and serve on the side or spooned on the oysters.
serving the oysters
We recommend serving 4 oysters per person. On ice or rock salt add one oyster with mignonette, one oyster rockefeller, one with finger lime dressing and one natural.
Nutrition
Nutrition Facts
Raw and Cooked Oyster Recipes
Amount Per Serving (120 g)
Calories 91
Calories from Fat 54
% Daily Value*
Fat 6g9%
Cholesterol 2mg1%
Sodium 194mg8%
Carbohydrates 8g3%
Protein 1g2%
Vitamin A 1570IU31%
Vitamin C 8mg10%
Calcium 23mg2%
Iron 1mg6%
* Percent Daily Values are based on a 2000 calorie diet.