This popular vegetarian dish from North India, is a much loved family meal in our household. Rajma or Red Kidney Bean Curry are red kidney beans, soaked overnight and cooked in a rich tomato gravy with aromatic spices. Even though making this dish from scratch is time consuming, it is fun to cook and worth the wait.
We eat vegetarian meals at least 2-3 times a week. Eating vegetarian is not only good for our health but also for the environment, plus it also has financial benefits. Nowadays, there are many cuisines offering vegetarian options, but we mostly opt for Indian recipes. I think the variety, flavours and satisfaction that Indian cuisine offers, is next to none.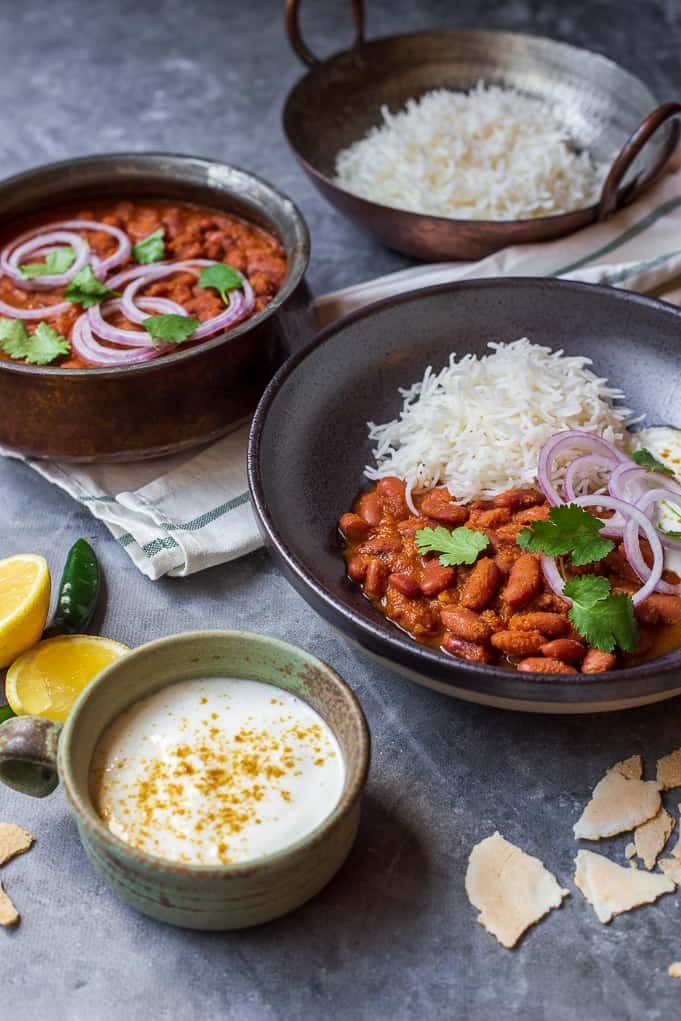 I admit, before i met my wife, i had a very different notion of Indian food. In Germany, Indian restaurants catered to the palette of their clientele. Curries were sweet, creamy and had pineapple in them! When Shilpi heard this, she laughed and couldn't imagine eating pineapple in a curry!

Honestly, my perception about Indian food changed after eating my mum-in-laws home cooked meals. My mum-in-law is vegetarian and loves cooking, so you can imagine how excited i was when i got to spend sometime with her in her kitchen.
She showed me that Indian food cooked at home is not only simple but also healthy. Now when we crave Indian food, Shilpi and i have a date night in our kitchen! We pour ourselves a glass (or two) of wine, put some music on and cook together an amazing Indian meal.
What is Rajma (kidney bean curry)?
For some, it might be surprising that Rajma beans are actually from South America and they came to Asia only through traders. Rajma (Red Kidney Bean Curry) is the quintessential North Indian dish, popular especially in the state of Punjab, where my mum-in-law hails from so you can be rest assured, i have learnt from the best!

Whenever we visit India, Rajma is always one of the meals for lunch. Garnished with fresh coriander, green chillies, raw sliced onions and served with homemade yoghurt and steamed rice. Rajma is a healthy dish but can be not so healthy when some recipes call for addition of cream or butter. I don't think you need either, so just follow our recipe to enjoy a simple, more flavourful and healthier meal.
What do you need to make Rajma?
The most important ingredient to make this Rajma recipe are red kidney beans. There is a large variety available in the market. While all are great to use for Rajma, I try to go for a variety with a red colour. Avoid the ones with a dark purple skin as they take a long time to cook and won't be as soft.

Since we have used dried beans, it is best to soak them for as long as possible, preferably overnight. This not only makes the cooking process faster but it also helps in digestion. The beans hold their shape well so you can boil in advance and store in the fridge until you are ready to cook.

In this Rajma (Red Kidney Bean Curry) recipe, we made our own ginger-garlic paste and used fresh tomatoes for the gravy but you can opt for store bought ready made ingredients, if you don't have time to make them yourself. Same for the red kidney beans, if you don't have time to soak them overnight, then just use canned red kidney beans.

Like in any Indian recipe, spices give the dish its aromatic flavour. We use cinnamon, bay leaf, coriander powder, chilli, turmeric, cumin and garam masala. It is always fascinating to see Indian chefs cook as they never seem to measure or weigh any spices, yet they cook to perfection! I am not an Indian Chef so of course, I have measured my spices and you can always adjust later as per your taste.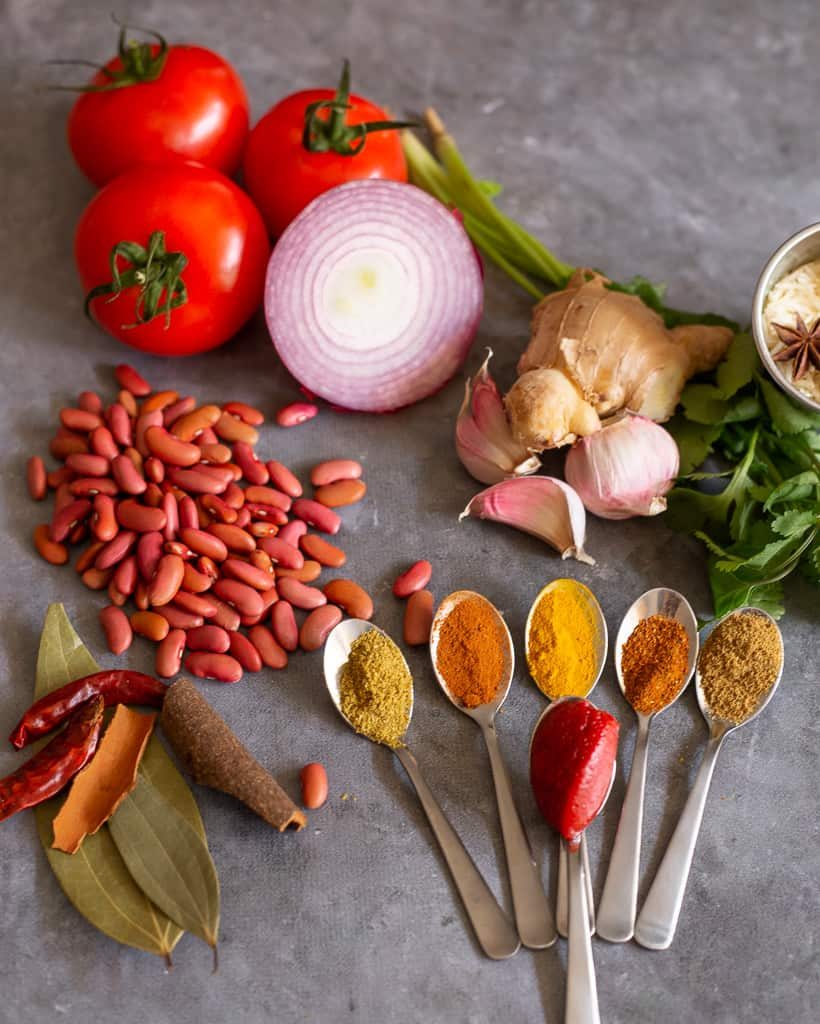 How do you make Rajma?
There are many version of how to make Rajma but the recipe i best know is my mum-in-law's. Boil the Rajma in advance and of course if you have a pressure cooker like my mum-in-law then feel free to use that to cook the Rajma.
I remember mum telling me that the most important aspect to cooking any curry, is to cook the masala properly as that's what gives flavour. So remember It is very important to cook down the onion and ginger-garlic to get rid of the rawness. This process can take sometime, so have patience.
Once the onion, ginger-garlic paste has reached the desired point, add the spices. Saute for 2 minutes before adding the tomato puree and paste. Continue cooking for another 10 minutes till you see the 'masala' leaving oil and coming off the sides of the wok/kadai.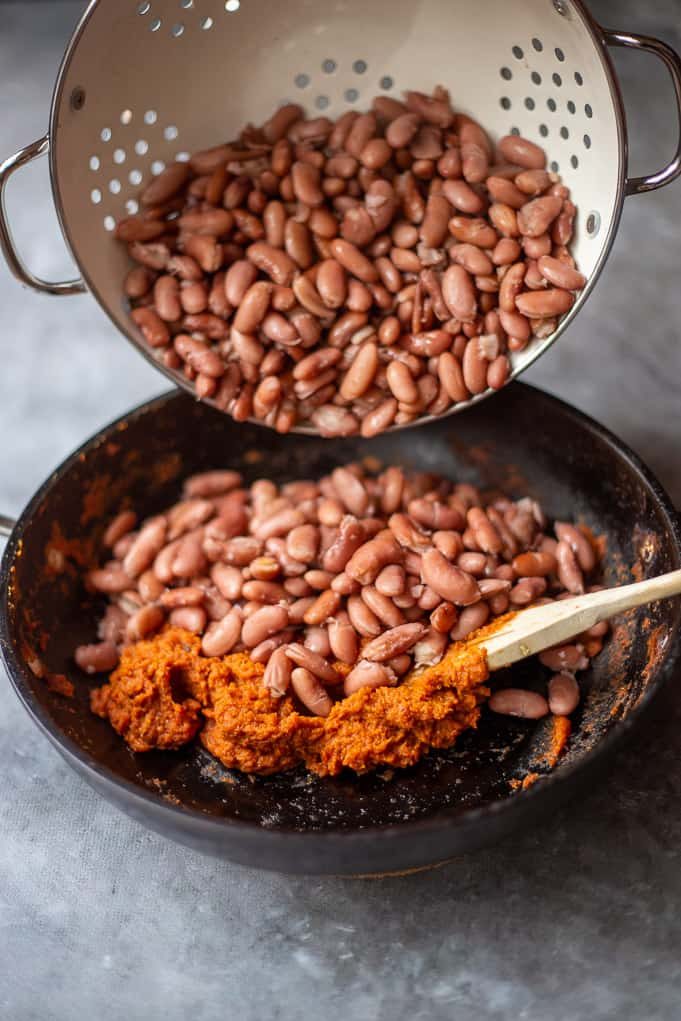 At this point add the boiled kidney beans, cooking water and the garam masala to the 'onion-tomato' masala. Stir everything and cook partially covered for atleast 10 minutes. Check seasoning and adjust accordingly.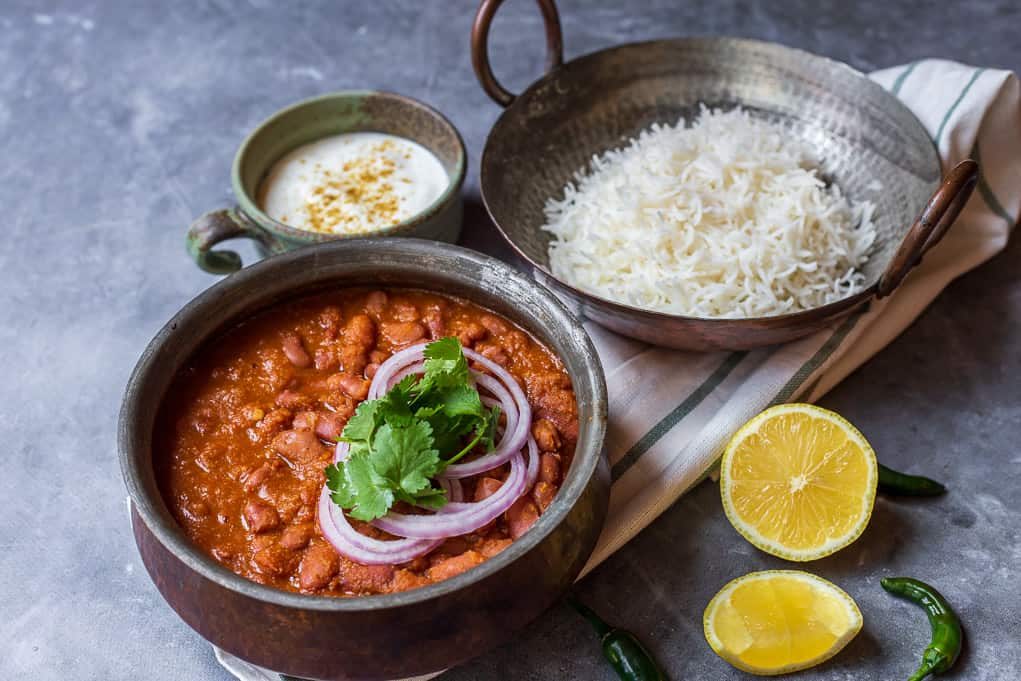 Before serving, garnish with fresh chopped coriander and onion rings (optional). Serve with hot chapatis, Naan bread or steamed rice. In our house we like to eat 'Rajma-chawal' (Rajma with steamed rice) with homemade yogurt on the side! I love eating raw onions with this dish but unfortunately Shilpi detests the onion smell but if this is your first time, i would highly recommend the combo!
Tip: Like most curries, Rajma tastes best the next day so you can cook a day prior and store in the fridge for the flavours to develop!
WHAT TO EAT RAJMA WITH
Rajma is best eaten with homemade yoghurt and rice but here are some more ideas, traditional and non-traditional!
-yoghurt naan bread
-whole roasted cauliflower with herbs and garlic
-baked sweet potatoes with swiss chard
Give this recipe a go and don't forget to leave us comment below!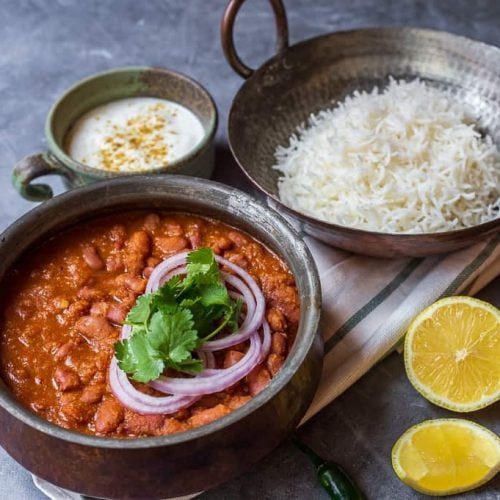 Rajma (Red Kidney Bean Curry)
Popular vegetarian kidney bean dish from north india. Prepared with aromatic spices and cooked in a tomato gravy.
Ingredients
370

g

rajma beans (kidney beans)

3

large ripe tomatoes

1

medium red onion

20

g

peeled ginger

20

g

peeled garlic

3

tablespoon

ghee

1

tablespoon

tomato paste

1

bay leaf

1

cinnamon stick

1

tablespoon

coriander powder

¼

tablespoon

chilli powder

¼

tablespoon

turmeric powder

¼

tablespoon

cumin powder

1

tablespoon

garam masala

1

tablespoon

corn oil

salt
Instructions
Soak the kidney beans for 6-8 hours in plenty water, best to soak them overnight. Discard the soaking water and add in a pot the kidney beans, 1¼ liter water, the peel of the ginger, the bay leaf and the cinnamon stick. Bring to a boil and cook for 10 minutes at high heat to kill the toxins. Reduce the heat to low and simmer for another 10 minutes or until the beans are soft.

Mix the 20g ginger and 20g garlic with 1 tablespoon oil in a small blender. Peel the onion and chop finely. Cut the tomatoes in four and remove the seeds. Mix the tomatoes in a blender, you need at least 350ml tomato puree.

Bring a wok or indian kadai to medium heat and add the ghee. Add the onions and cook until they start browning 8-10 minutes. Add the ginger and garlic paste and continue cooking until they loose their rawness.

Add the coriander powder, chilli powder, turmeric powder and cumin powder. Cook for another 2 minutes and add the tomato paste and tomato puree. Season with salt and cook at medium heat for about 10 minutes.

Add the cooked beans and 500ml of the cooking water. Add the garam masala and cook for another 10 minutes to bring it all together.

Transfer the Rajma in a large serving bowl. You can decorate the rajma with red onions and fresh coriander. Serve with steamed rice and yoghurt.