This restaurant style recipe for oven baked sweet potato, topped with lentils and swiss chard, is truly delicious and easy to make. Give this healthy appetizer a try and it will become your new favourite vegetarian dish to serve when entertaining.
I use sweet potatoes at home all the time, though mostly as a side dish or as a garnish. A simple no fuss preparation, like oven roasted sweet potatoes or wedges, seasoned with rosemary and sea salt are few of our favourites!
But lately, we have been trying to reduce our meat intake and incorporate more vegetables, lentils, beans and the likes, be it in our daily meals or when entertaining at home.
At work, I have used sweet potatoes to make gnocchi, blinis or purees but I really wanted to come up with a dish where the sweet potato is the hero! Roasting sweet potatoes in the oven, brings out their natural saltiness despite them being sweet, so I decided to do that.
Rather than adding the usual unhealthy toppings, I chose to pair it with lentils, stewed swiss chard, crispy onions and a herb labneh to add some freshness.
Jump to:
So how did the dish turn out?
Well, as I had anticipated, this dish came together beautifully!!! The sweet potatoes cooked perfectly and the lentils and sweet chard paired with the fried onions and herb labneh made it a very tasty and comforting dish. I would happily serve this as an appetizer or even as a main in any restaurant.
AS A NOTE: I made this dish as an appetizer using half a sweet potato per serving. You can easily turn it into a main course by doubling the recipe and giving two halves per serving.
What you need
When I am looking for creative inspiration, I head to our local Farmer's market. Seeing all the beautiful fresh produce there, always gets my creative juices flowing!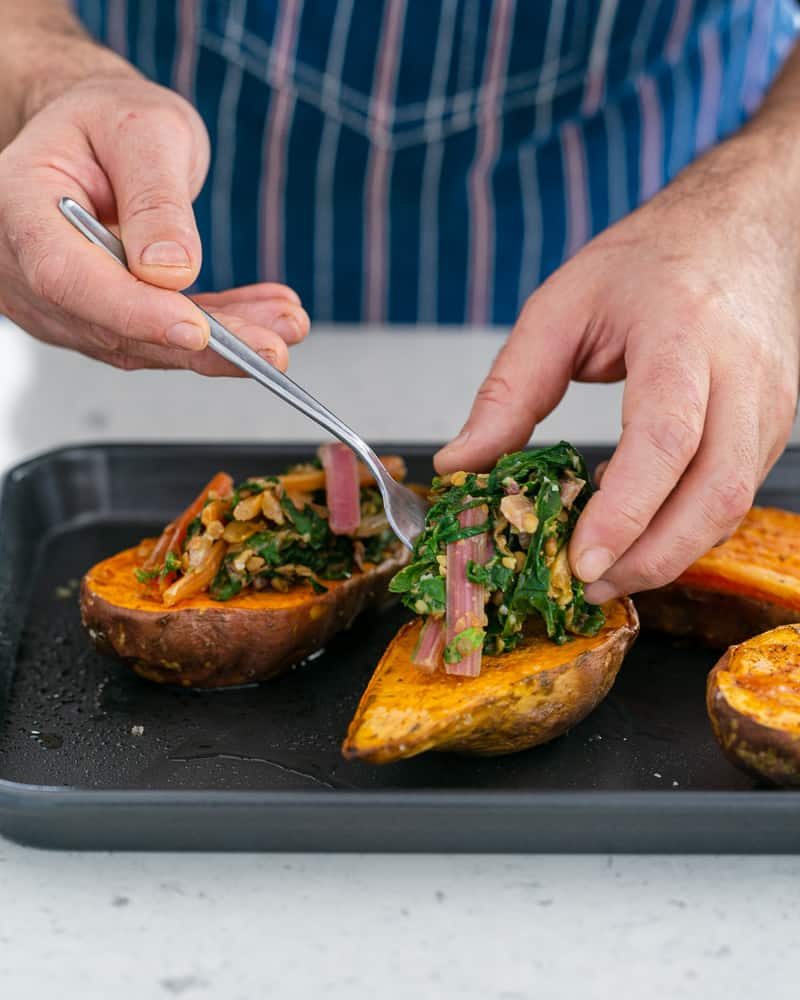 Swiss Chard
On my shopping list I had a bunch of fresh ingredients like swiss chard, otherwise also known as silverbeet or rainbow chard.
This is a colourful vegetable, loaded with vitamins! Similar to spinach and kale, swiss chard is somewhat bitter when eaten raw but when cooked, it turns out to be a bit sweeter.
Sweet Potato
Next on my list were Sweet potatoes - since this is the hero of our dish, I wanted to buy good quality potatoes. Always look for firm medium sized potatoes that have smooth skin and do not have any bruises and cracks. Cooking evenly shaped potatoes will ensure they all take the same amount of time to cook.
Brown Lentils
I chose to add brown lentils to this dish as these are incredibly versatile and a budget-friendly option. Canned or cooked lentils not only make a convenient, tasty and high-fibre addition to any meal but these are an excellent source of proteins too.
Brown Onions
As a Chef, I always look for ways to incorporate texture into my food. For this dish I thought the crispy fried onions would be a great addition. Not only will they add texture and sweetness to the dish but will also make an apt garnish.
Labneh
Lastly, I wanted to bring the whole dish together with a light and refreshing sauce or dip. I instantly thought of Labneh! At the Farmer's market, I had picked up some fresh dill and mint, which I chopped and added to the creamy labneh along with cumin and coriander powder. It turned out to be perfect!
HOW TO ROAST SWEET POTATOES?
Whilst some like to peel the potatoes before baking, I personally like to leave the skin on. For this dish we want a crispy caramelized exterior and a soft irresistible interior. But, if you are not a fan of eating the potato skin, just peel them or remove the peel after baking.
AS A NOTE: If you decide to leave the skin on, make sure you wash the sweet potatoes properly before roasting them in the oven.
Cut the sweet potatoes in half lengthwise as this will make a good base for arranging the stewed lentil and swiss chard on top.
Season with olive oil, salt and pepper and in they go into the oven
Place on a baking tray with skin side facing down
Roast in the oven at 180 degrees for about 35 minutes, depending on their size
Check if the potatoes are cooked by inserting a sharp knife into the thickest part of the potato
HOW TO COOK SWISS CHARD WITH LENTILS?
Swiss Chard is entirely edible, including the leaves and stems but the stems need a little more cooking time than the leaves.
To prepare the swiss chard:
Remove the stems from the leaves first.
Slice the leaves in even stripes.
Cut the stems into little sticks (called batonnets in French)
Cook the stems in salted water for 20 seconds
Refresh in ice cold water to keep their bright colour.
To make the swiss chard and lentil filling for the sweet potatoes:
Heat olive oil in a pan
Add canned brown lentils and then chopped garlic, saute for about two minutes
Next, add the leaves from the swiss chard and cook for 3-4 minutes, then the swiss chard stems
Season with salt and pepper and cook for another 2-3 minutes stirring occasionally.
Finish with a big squeeze of lemon juice and set aside.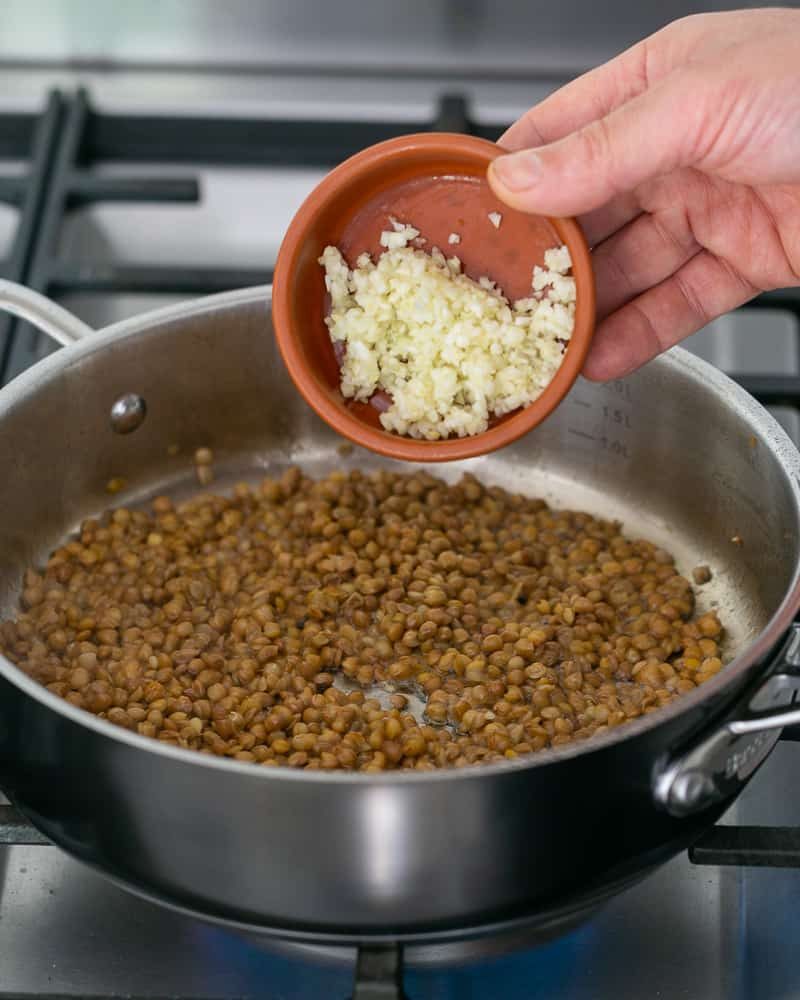 HOW TO MAKE CRISPY FRIED ONIONS?
Crunchy fried onions are a popular topping for many dishes, they go on stews, burgers, biryanis or even end up being a snack by themselves.
I sliced two brown onions to fry but we all know how hard it is to resist eating these fried crispy onions!!! By the time we started plating the dish, half of the crispy fried onions were in our bellies already!
How to make crispy fried onions without a deep fat fryer?
Since we don't have a deep fat fryer at home, we shallow fried the onions. The ratio was for 2 medium brown onions to 125ml (½ cup) vegetable oil. I simply peeled and sliced the onions thinly with a sharp knife.
I then separated the sliced onions in a bowl with my hands, making sure they are not stuck to each other as much as possible otherwise they won't crisp up.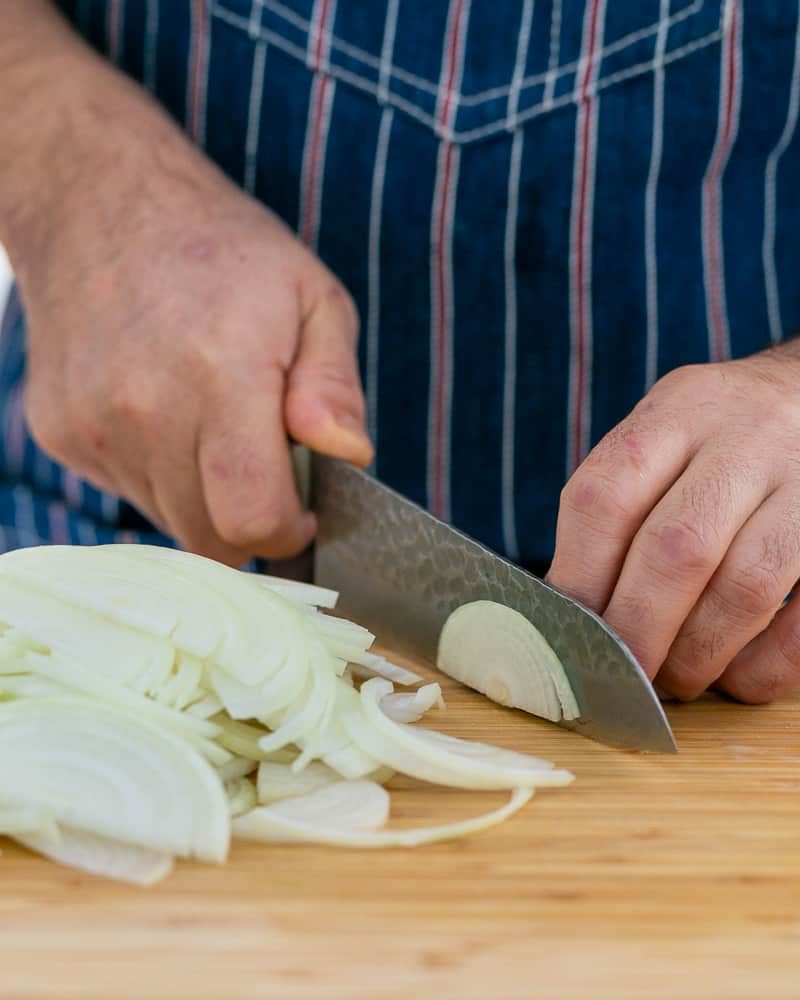 Use a wide, deep pan and let the oil come to a very high temperature, preferably 180 degrees. Fry the onions in batches, if you add too many at a time the temperature of the oil will drop immediately and you will end up with soggy onions.
When the onions are golden brown, remove from the oil with a slotted spoon or tongs. Place on a parchment paper or paper towel to drain the excess oil. Season with salt and keep aside.
HOW TO MAKE HERB LABNEH?
I added coriander and cumin powder to the labneh and seasoned it with salt, pepper and olive oil. I then added chopped dill and mint. This dip is delicious with crudites and crackers too!
What is Labneh?
Labneh is a Middle Eastern style thick yoghurt, also called strained yoghurt, uber simple to make! All you have to do, to make this deliciously creamy spread is to drain the plain yogurt.
Just hang it in a muslin cloth for a few hours until the excess whey has released and you have labneh. It's downright magical how this process transforms plain yogurt into labneh!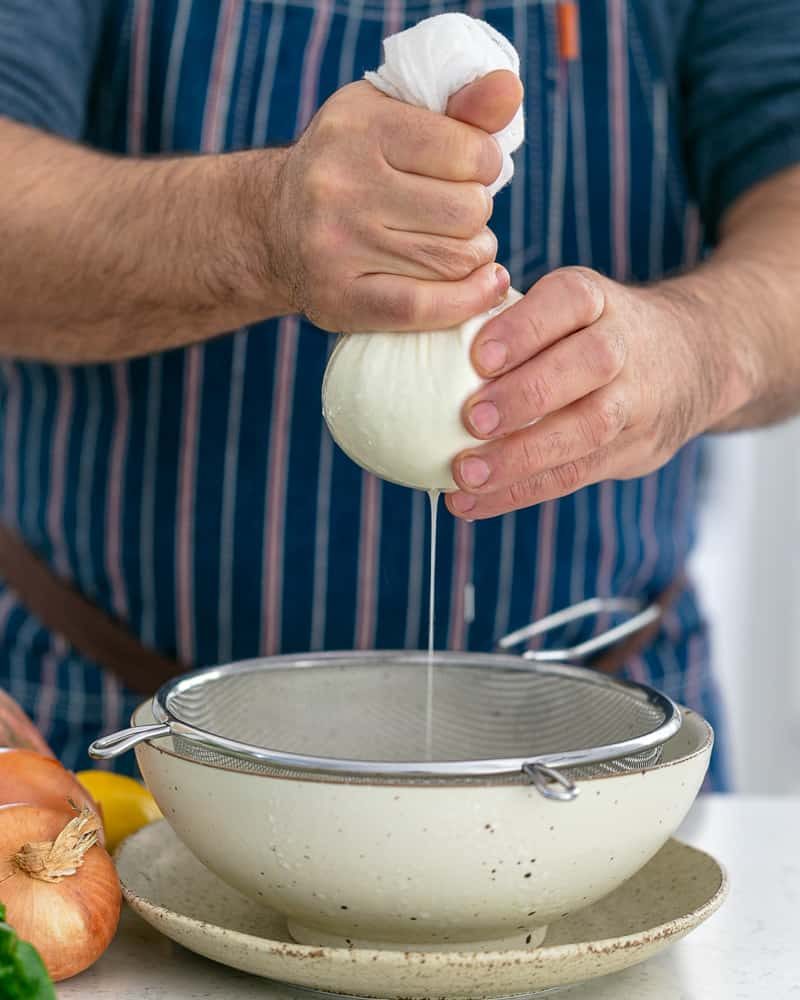 Why not just use yoghurt?
Well, we want the herb labneh to be a condiment to the sweet potato dish. If we add it in form of yoghurt on a warm plate it would be runny making not only the potato soggy but it will also ruin our presentation!
HOW TO PLATE UP LIKE IN A RESTAURANT?
As with any dish, it is important to have all your components ready, especially when you want to plate up a warm dish.
Here is all that you need to assemble this dish in seconds:
Baked sweet potatoes will most likely be still warm but they can be reheated in the oven if required
Lentil and swiss chard stew is what you should prepare last to avoid the greens from discolouring
Fried onions can easily be reheated in the oven too, they will turn crispy again once heated
Herb labneh can be made in advance and stored in the fridge
Fresh herbs for garnish
Now that all your components are ready, start plating up. Add the lentil and swiss chard stew on top of the sweet potato, garnish with fried onions and fresh herbs.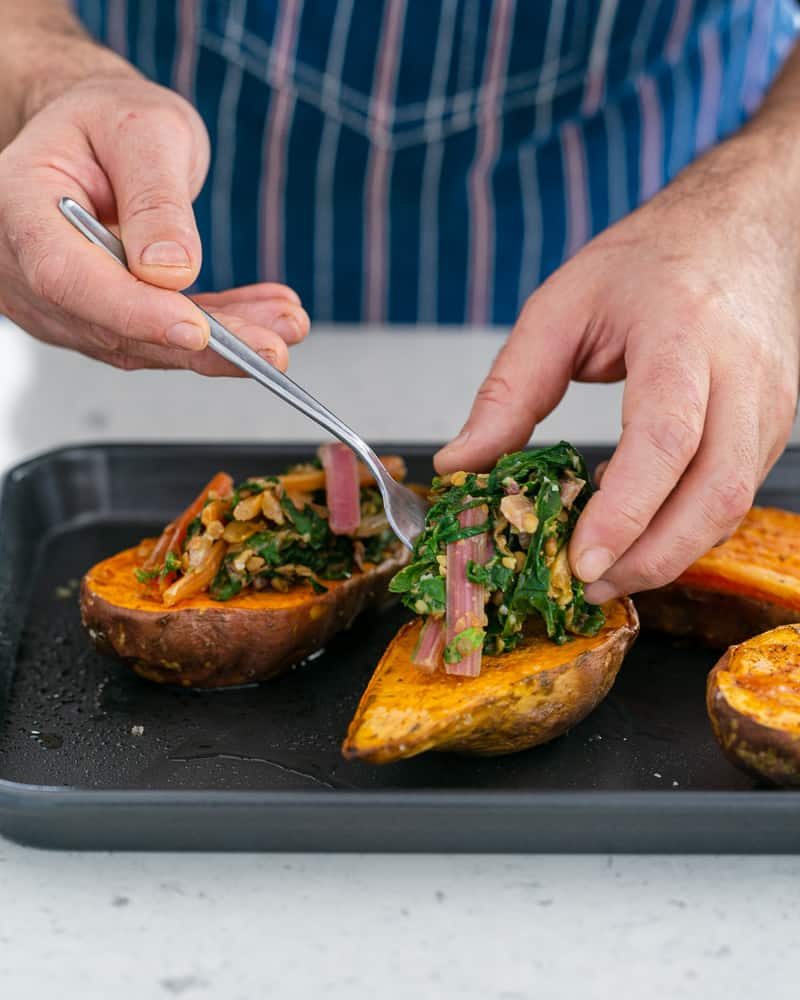 Serve in a large plate to share or make it stand out by plating it individually on a small plate with a spoonful of the herb labneh on the side.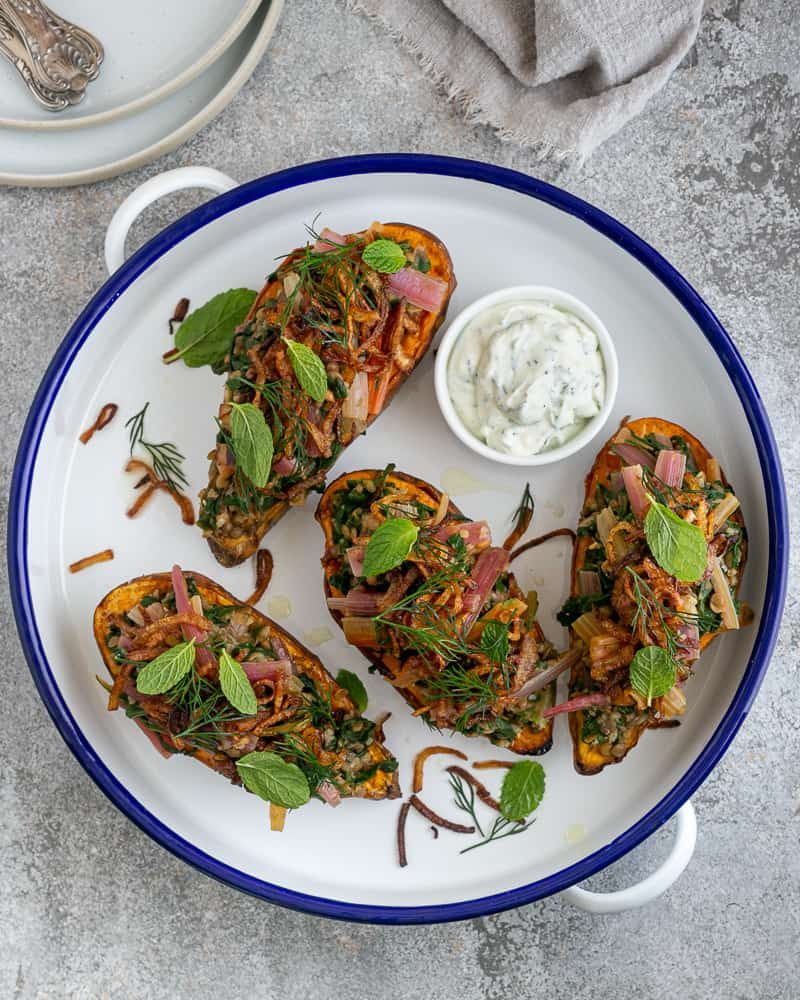 You can enjoy this Baked sweet potato with lentils and swiss chard recipe on it's own, or combine it with other dishes. Here are some of our favourite combo's:

-as a side with a stew like this braised chicken and prunes dish
-with a Lebanese tabouleh salad for a light summer dinner
-with a delicious whole baked fish
-perfect with a hearty dish like our duck a l'orange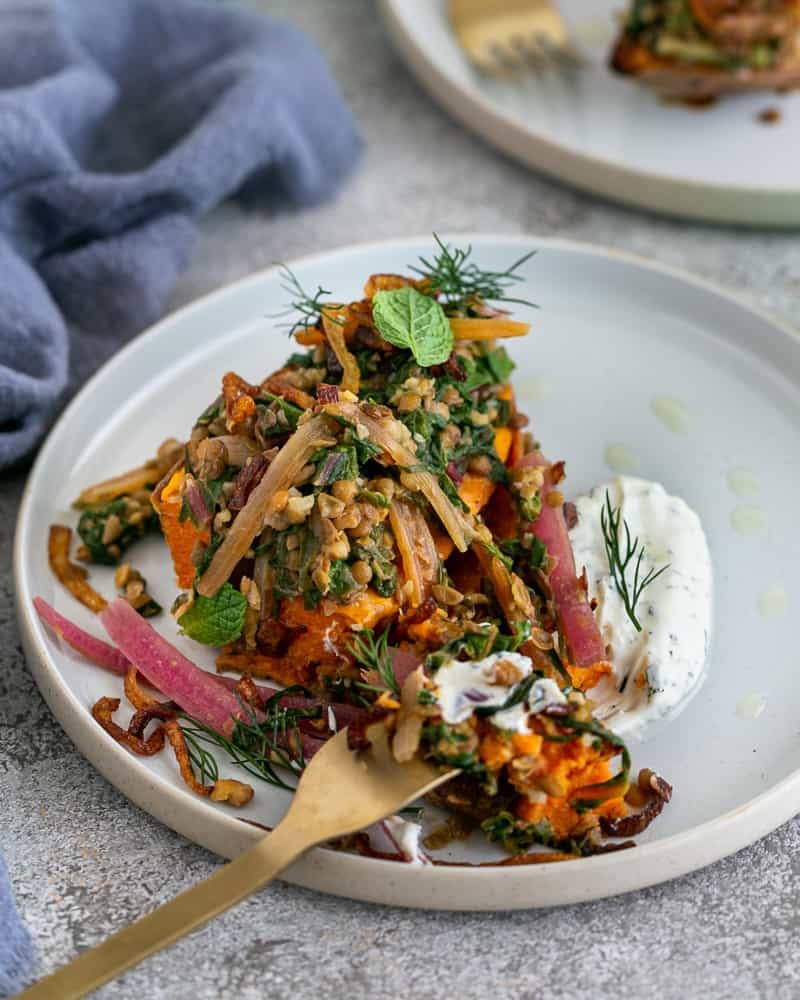 Whether you're a vegetarian or you've just been trying to incorporate more meatless meals into your dinner routine, we all can use some quick vegetarian recipes to make on busy weeknights. If you are into fancy dishes make this sweet potato agnolotti dish, it is flavourful too!
Until then, eat healthy and stay healthy!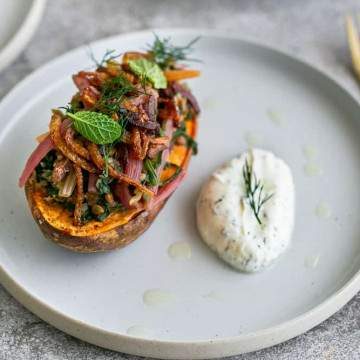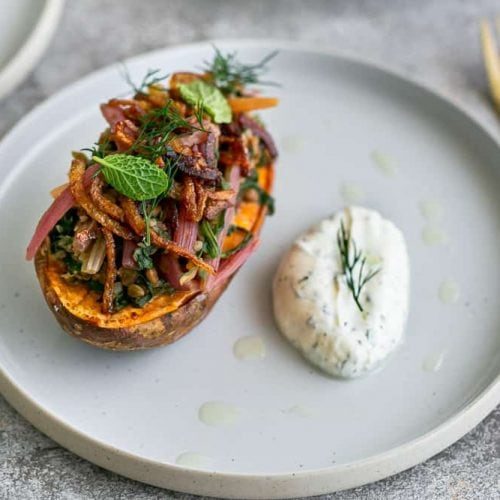 Baked sweet potato with lentils and swiss chard
This restaurant style recipe for oven baked sweet potato, topped with lentils, stewed swiss chard, crispy onions and a creamy herb labneh on the side, is truly delicious and easy to make
Ingredients
for the sweet potato
2

medium sweet potatoes

1

bunch

swiss chard (350g/95oz)

1

garlic clove

peeled and chopped

2

medium brown onions

peeled

½

lemon

250

g

brown lentils

cooked and strained

2

tablespoon

olive oil

125

ml

vegetable oil

mint and dill leaves for garnish

to taste

salt and pepper
for the labneh
250

g

labneh (made from 500g/2 cups yoghurt)

1

tablespoon

chopped dill

1

tablespoon

chopped mint

1

pinch

coriander powder

1

pinch

cumin powder

1

teaspoon

olive oil

salt and pepper
Instructions
for the sweet potato
Wash the sweet potatoes under cold running water and pat them dry. Cut them lengthwise in half and place them in a large mixing bowl. Add olive oil, salt and pepper and mix well.

Place on a baking tray with the skin side down and bake in a pre-heated oven at 185 degrees for 30-35 minutes or until they are soft in the centre.
for the crispy fried onions
Meanwhile cut the onion in half and slice in fine stripes with a sharp knife. Separate the onions with your hands making sure they are not sticking together.

Heat vegetable oil in a deep frying pan on high heat. The oil needs to reach between 160 to 180 degrees. Carefully add the onions in two batches frying them for about 5 minutes until they are golden brown.

Remove the onions with a slotted spoon or tongs and place on a parchment paper or paper towel to drain the excess oil. Season with salt and set aside.
for the lentil and swiss chard stew
Wash the swiss chard and separate the green leaves from the stems. Cut the greens in stripes and set aside. Cut the stems in sticks and blanche in boiling salt water for 20-30 seconds. Refresh in ice cold water and set aside.

In a medium pot re-heat the lentils in olive oil. Add the chopped garlic and cook for 2 minutes. Add the green swiss chard leaves and cook for about 3-4 minutes. Add the swiss chard stems, season with salt and pepper and cook for another 3 minutes. Squeeze some lemon and taste the lentil and swiss chard stew. Adjust the seasoning if needed.
for the labneh
in a small mixing bowl combine the labneh with the spices, herbs and olive oil. Season with salt and pepper. Mix well and serve with the baked sweet potatoes.
for assembling the dish
Place the lentil and swiss chard stew on top of the baked sweet potato. Add fried onions on the top and garnish with herbs. Serve a spoonful of the herb labneh if serving in a plate otherwise it can also be served in a bowl to share.