This recipe for homemade yoghurt Naan comes really close to the perfect naan bread your Indian restaurant serves you. Pan seared or grilled, brushed with a sesame & herb butter might not be your traditional tandoor Naan preparation but these Naan's look and taste just as delicious.
I have travelled to India on a number of occasions. Be it a holiday or visiting family, eating out in a nice Indian restaurant (or two) has always been part of our trip.
This is how I have gotten to try most of the popular Indian breads - Parathas, Roti, Roomali roti, Poori, Bhatoora, you name it! Whilst all these breads are delicious, Naan by far, is my all time favorite Indian bread😋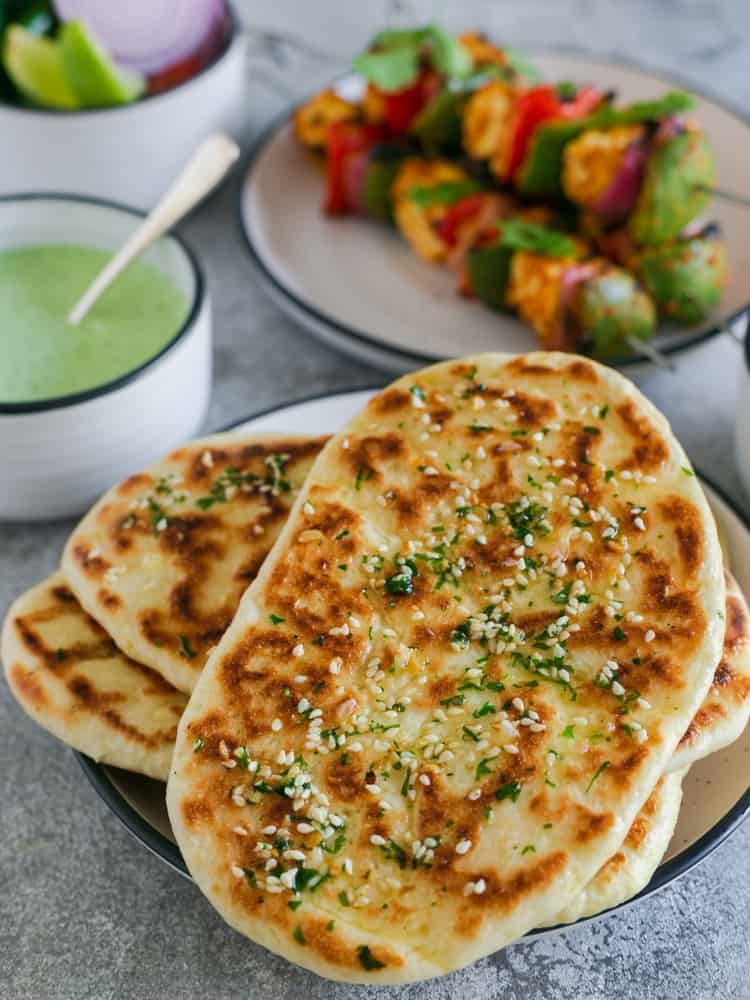 I remember having my first Naan in 2009 at the Bukhara Restaurant in New Delhi (I have a pic to share..that's me yikes!! I know😂). The restaurant was known for their gigantic
Naan's made in the tandoor (clay oven) and finger licking curries, it was a one of a kind dining experience for me. For those who are not familiar with this restaurant , it used to be one of the top 100 best restaurants in the world😀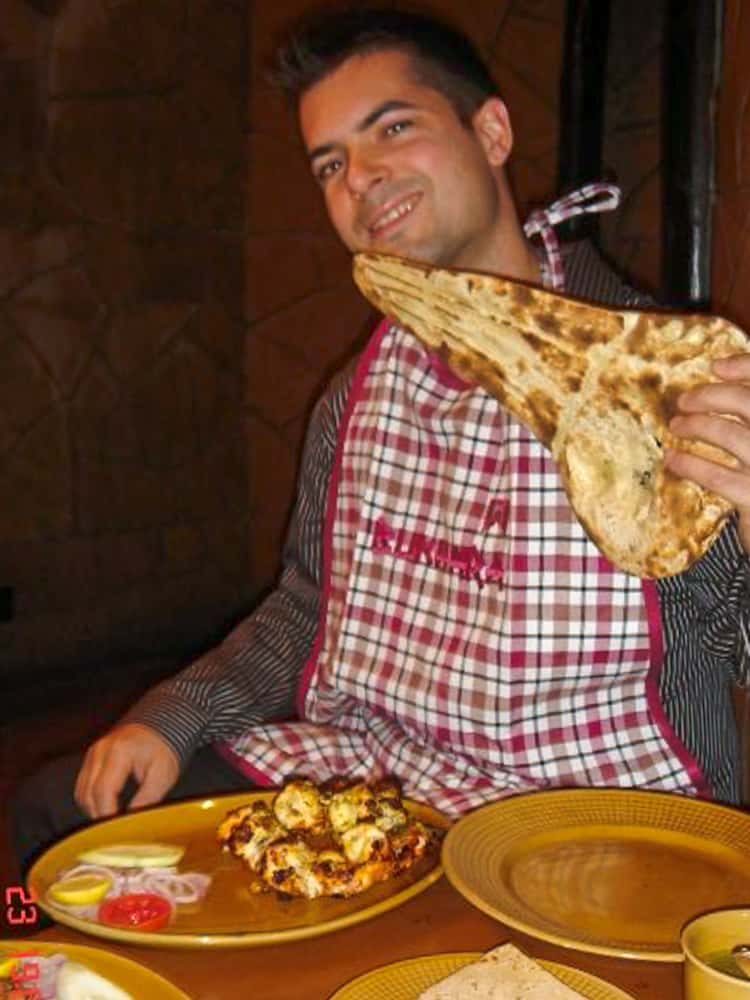 So, craving for Naan bread one day, I decided to try and make my own. After testing quite a few recipes, I found 'the recipe' and that's the one I am sharing with you today😁
Jump to:
How to make Yoghurt Naan
We make these fluffy and delicious Naan's quite often at home. Be it for an Indian meal or a Mediterranean platter, this Naan bread recipe is super versatile and easy to make. A little patience is needed like with any recipes including yeast. The dough needs time to rise as this is necessary to get the perfect texture.
Are you now ready to make this Yoghurt Naan recipe? Let's get into it step by step👨🏻‍🍳
What do you need for Naan Bread?
-All purpose flour is called Maida in India. This is the most commonly used flour in Indian baking.
-Instant yeast - in my recipe I used 7g (1pkt) active dry yeast, those are easily available at your grocery store. Using fresh yeast is perfectly fine, 7g dry yeast equals 17g fresh yeast.
-Plain yoghurt- greek yoghurt works well as it is a bit thicker. If you make your own yoghurt, hang it in the muslin cloth a bit longer. You can learn about yoghurt making here.
-salt and sugar
-Butter, sesame seeds and coriander- these are ingredients needed to make the sesame butter to brush the naan with. I couldn't find any Nigella seeds so decided to use white sesame seeds instead which worked out quite well.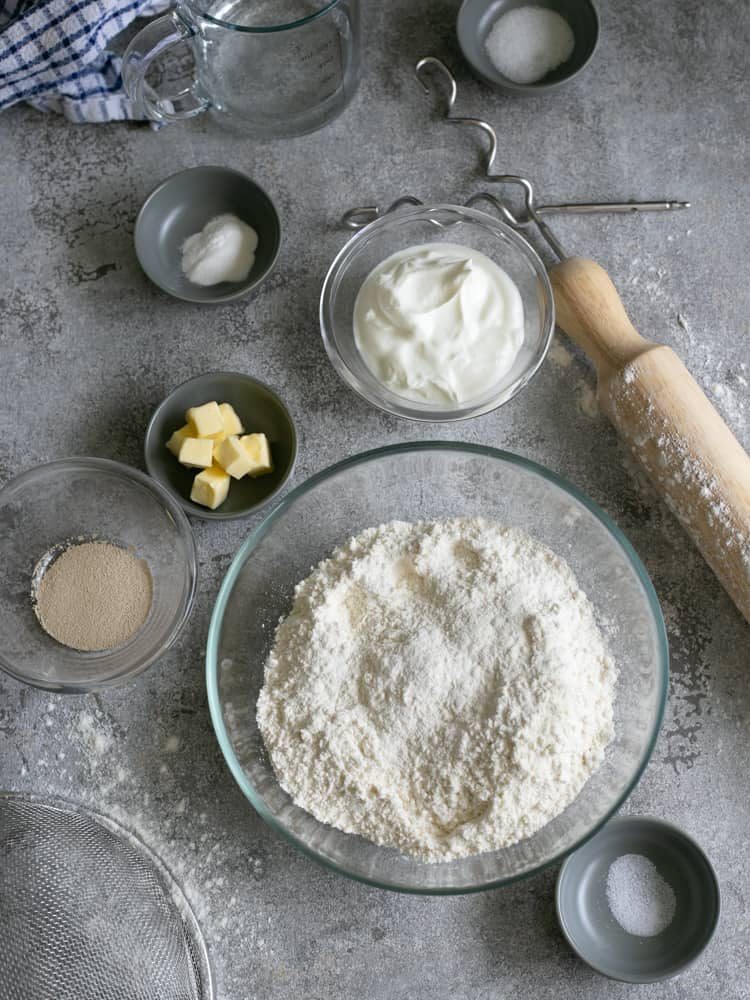 The Naan Dough
For the Dough, mix the dry yeast with warm water and sugar. Leave for 15 minutes.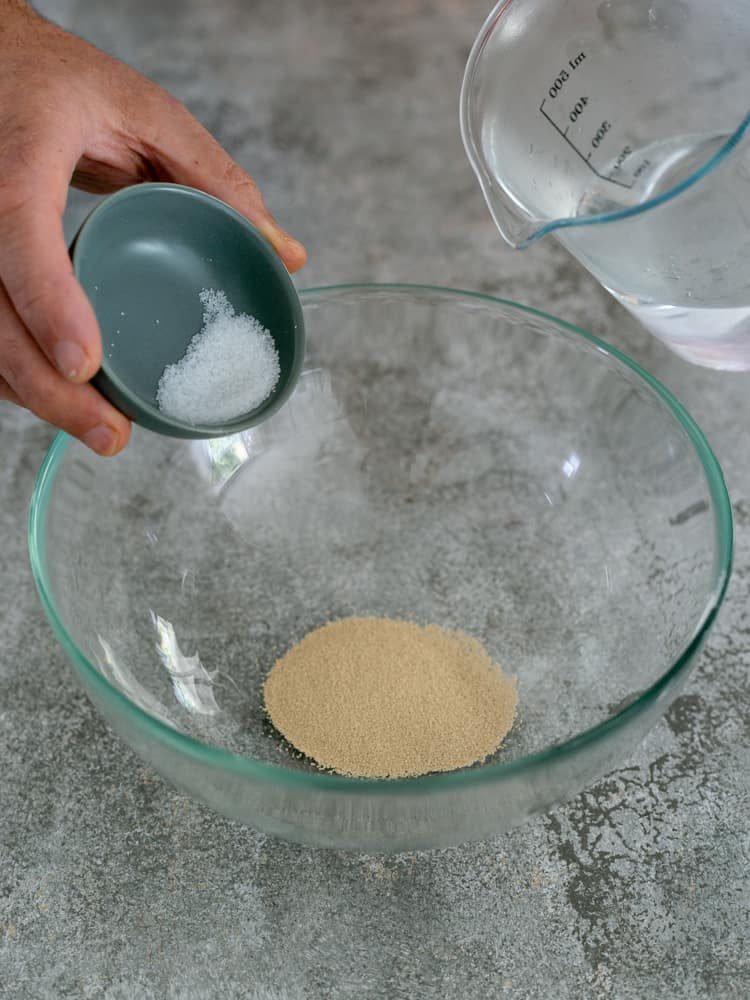 In a bowl mix the flour and salt. Make a well in the centre, add yoghurt and melted butter.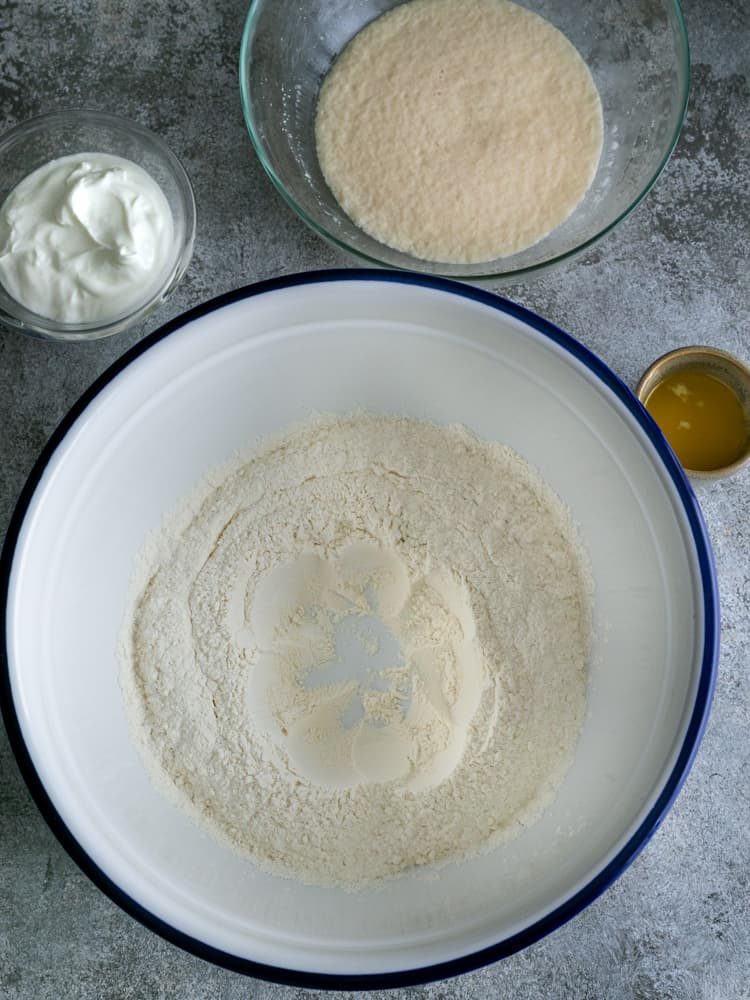 Next, add the yeast mixture. Mix it all with the help of a dough hook attachment of your stand mixer.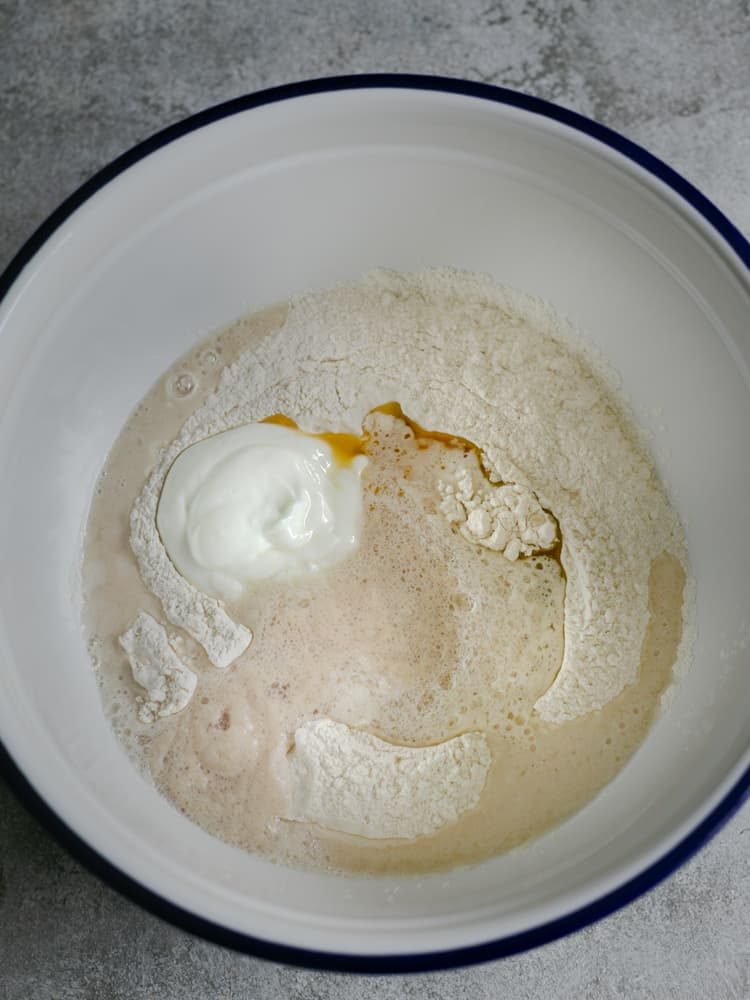 Flour the surface you will use to knead the dough on as it might be a bit sticky. Knead the dough for 5- 10 minutes and place it in a bowl.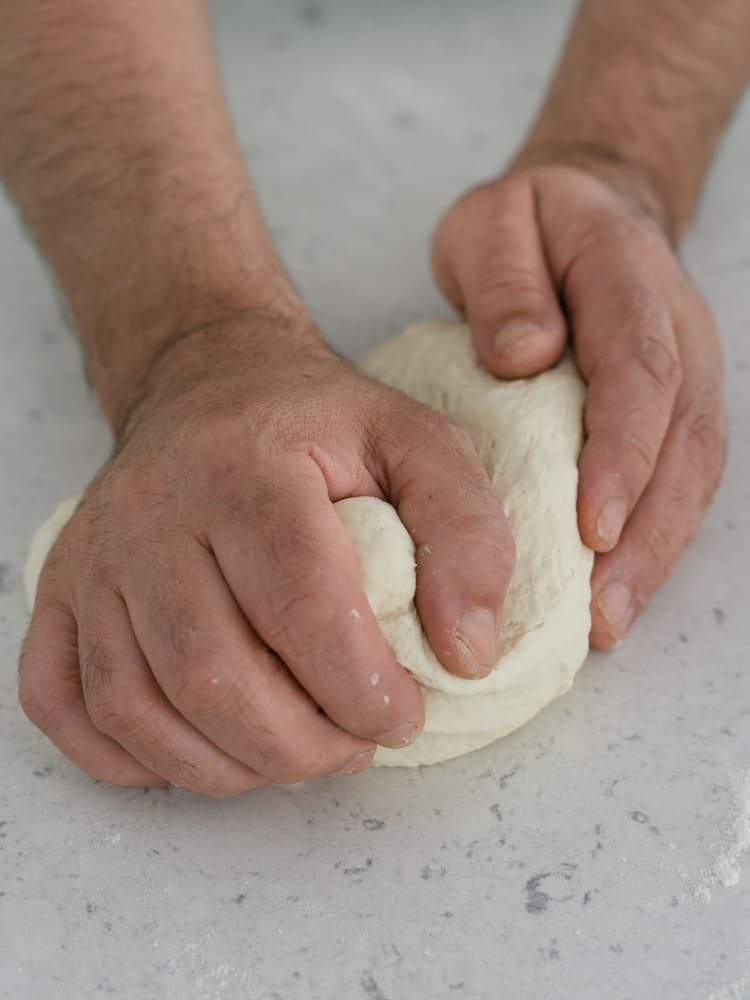 Cover the bowl with a kitchen towel as this will protect the dough from drying.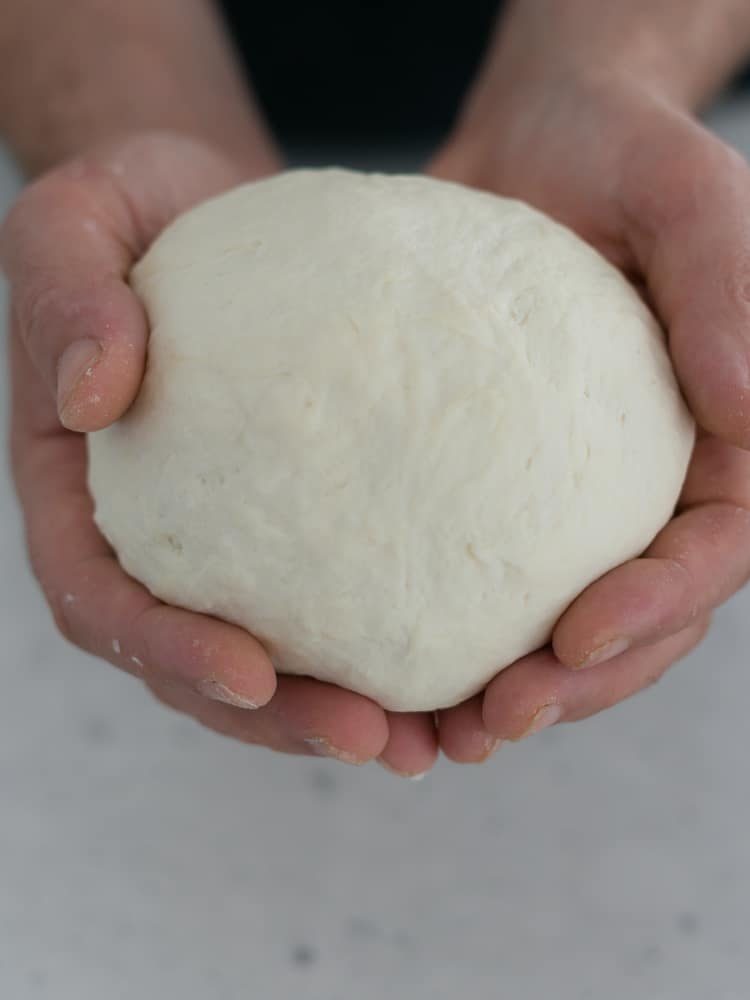 The dough needs to proof for atleast an hour in a warm not hot or cold location. Be mindful higher temperatures might kill the yeast, preventing the dough from rising and if its cold, it will slow down the yeast activity which will result in the dough needing longer time to rise.
I find, the oven to be an ideal place, alternatively you can wrap the bowl with a towel or in a blanket to keep it warm.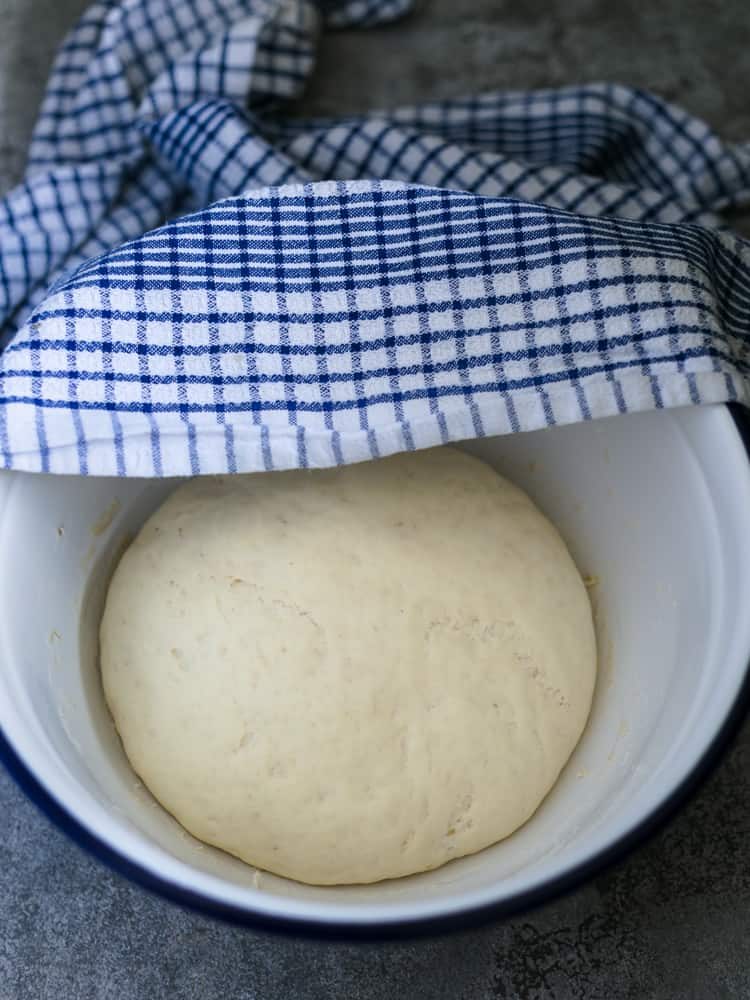 The risen dough should be roughly two thirds of the original size. Take the dough out and punch it lightly to release the air. Hang in there!!! We are almost ready to make some Naan🙌🏻
Rolling the Naan Dough
Now the fun begins! Divide the dough into eight equal round balls and leave to rest for ten minutes. Take the dough ball one by one and roll it into an oval shape on a slightly oiled surface. Grease the rolling pin too as this will prevent the dough from sticking. No need to dust the surface or rolling pin with dry flour.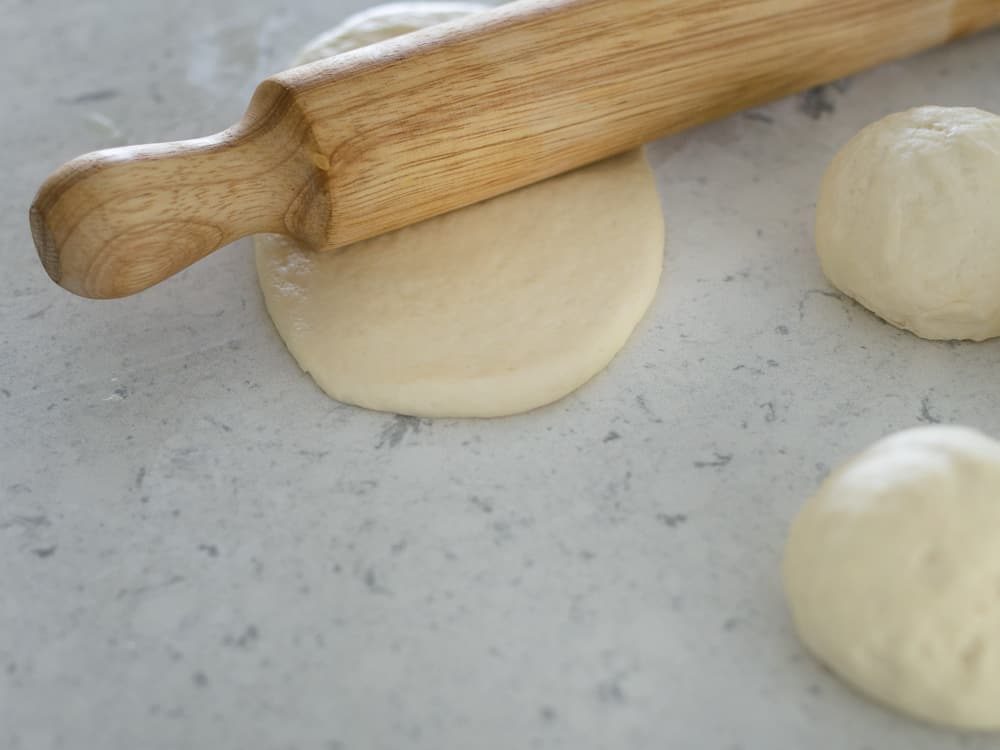 Now we are ready to cook the Naan bread! Pre heat a heavy bottom pan and brush it with some oil. Place the rolled out Naan onto the pan and cook on a medium-high flame for 2 minutes on each side.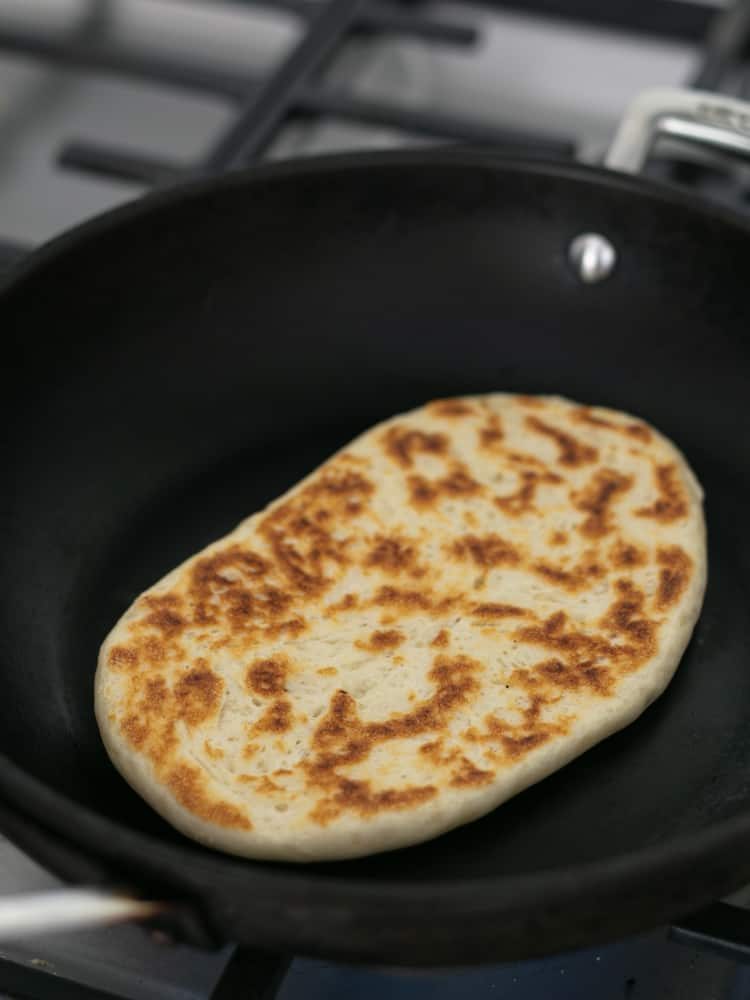 Take the Naan bread off the flame and immediately brush it with the sesame-coriander butter. Serve hot with your favorite curry or vegetable on the side😉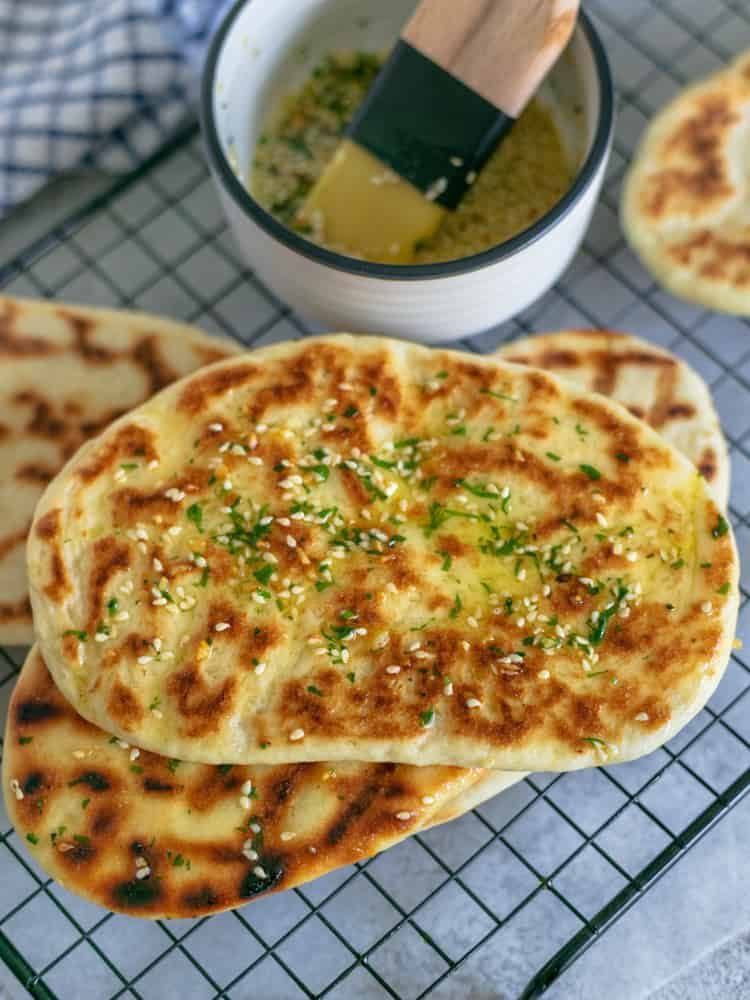 I love to cook the Naan bread on the grill as well, it gives it a more charred flavor, similar to a Naan made in the tandoor.
For the Sesame-Coriander Butter
Toast the sesame seeds in a hot pan for a few seconds and melt butter in the microwave or over a flame. Add the toasted sesame and chopped coriander, to the melted butter. Mix all together.

Here are some other variations for you to try:
Use chopped garlic in the melted butter for a garlic naan
Sprinkle buttered Naan with chopped mint for a "Pudina (Mint) Naan"
Add chili flakes to your garlic butter for heat
Spread hummus and zataar on the Naan for a Middle Eastern version
Or if you are feeling adventurous, why not use the Naan bread as a pizza base 👌🏻 or spread some creme fraiche on the Naan, add smoked salmon and dill and voila! You have an appetizer😃 You get the idea right? The possibilities are endless with this Yoghurt Naan recipe.
What to serve with Yoghurt Naan?
Honestly, you can serve anything with Naan and it will taste good! We made grilled paneer and vegetable skewers, topped with a mint chutney. Our son Damien absolutely loves Naan bread and paneer! Like father like son😉 It's a bit of a tradition every time we make Naan, we have a Naan eating contest!! It's amazing how the little bugger suddenly has the biggest appetite in the world😆 there is no way I can keep up with him lol!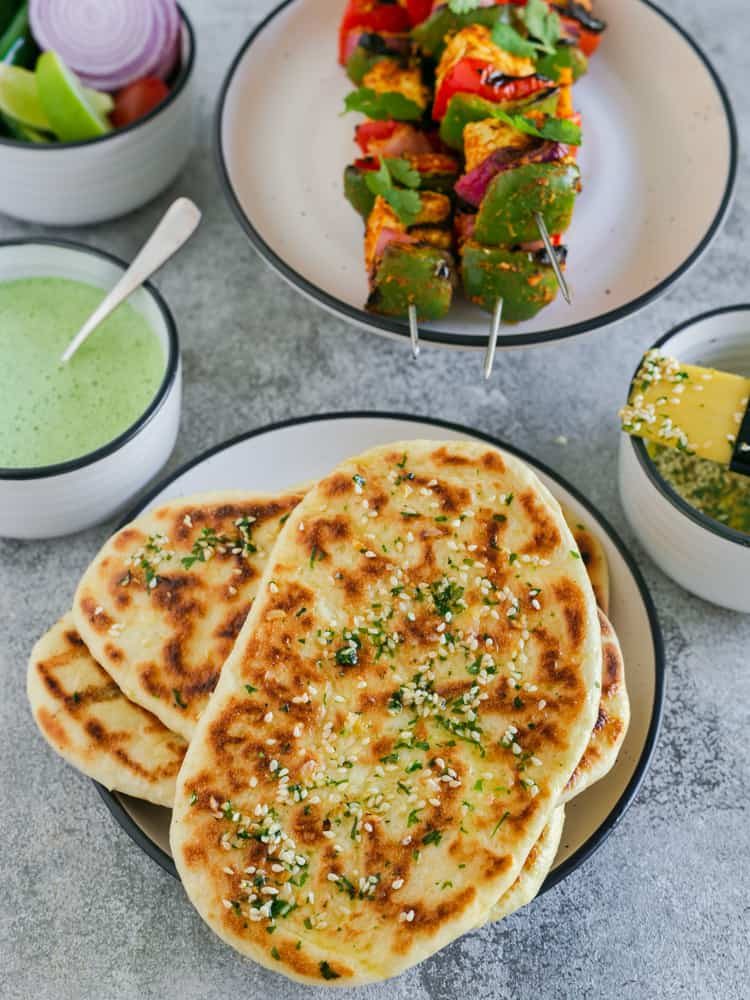 Anyways, here are some more accompaniment ideas to serve with your Naan
Everyone's favorite Indian curry -Butter Chicken, is the perfect accompaniment
For vegetarians, Paneer butter masala is the equivalent
Dal Makhani was one of my favorite dishes until I was introduced to Rajma (we have a fantastic recipe) Super delish with Naan
with a fish curry, perfect to clean the plate
For a Mediterranean touch try the Naan with our Carrot and Cashew Dip with some kebabs on the side
With this easy Yoghurt Naan recipe, you don't have to wait any longer for a special occasion. You can now make Naan any time or day of the week, in the very comfort of your own kitchens😃
If you make this Naan recipe, leave us a comment below and rate the recipe. We would love to know what you think!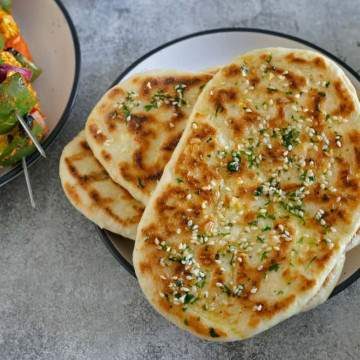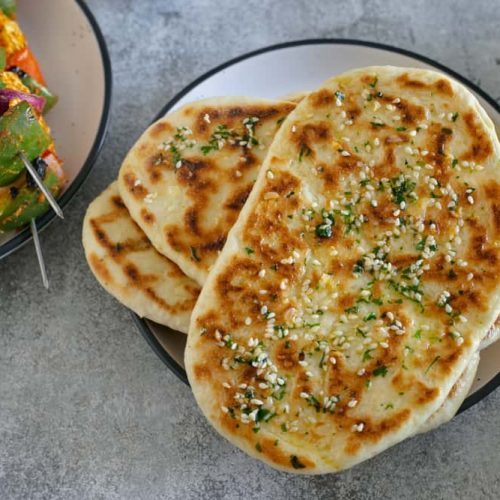 Easy Yoghurt Naan Recipe
This recipe for homemade yoghurt Naan comes really close to the perfect naan your Indian restaurant serves you.
Equipment
hand mixer or kitchen aid

Rolling Pin

frying pan
Ingredients
For the Naan Dough
2

tablespoon

active dry yeast

7g

150

ml

warm water

350

g

all purpose flour

25

g

butter

150

g

plain yoghurt

2

tablespoon

sugar

½

tablespoon

salt
For the Sesame and Coriander Butter
4

tablespoon

butter

unsalted

¼

bunch

coriander

chopped

2

tablespoon

sesame seeds
Instructions
For the Naan Bread
In a bowl mix the dry yeast with sugar and the warm water. Leave for 15 minutes, there should be a froth building on the top which means the yeast is activated.

In a larger bowl mix the flour and salt. Make a well in the centre and add the yoghurt. Add the melted butter, yeast and mix with a dough hook attachment on your stand mixer.

Knead the dough on a floured surface for 10 minutes and then place in a bowl. Cover with a kitchen towel and leave in a warm spot for 1 hour to rise.

Divide the dough in 8 equal balls and let it rest for another 10 minutes.

Roll out the dough on a lightly oiled surface with an oiled rolling pin. The naan should be oval shaped and about ½ cm thick.

Heat up a heavy pan and oil the bottom of the pan lightly. Cook the naan on both sides for 2-3 minutes or cook on the grill for the same amount of time. Brush the Naan immediately with the prepared sesame-coriander butter.
For the Sesame-Coriander Butter
Toast the sesame seeds in a hot pan for a few seconds.

Melt the butter in a pan or in the microwave.

Add the chopped coriander and toasted sesame seeds to the melted butter. Use a pastry brush to spread it onto the naan.
Nutrition
Nutrition Facts
Easy Yoghurt Naan Recipe
Amount Per Serving (56 g)
Calories 204
Calories from Fat 18
% Daily Value*
Fat 2g3%
Cholesterol 4mg1%
Sodium 458mg20%
Carbohydrates 39g13%
Protein 6g12%
Vitamin A 53IU1%
Vitamin C 0.2mg0%
Calcium 62mg6%
Iron 2mg11%
* Percent Daily Values are based on a 2000 calorie diet.