Pan roasted chestnut mushrooms are easy to make, quick and so delicious. Serve as a side, on toast or as a warm appetizer, we show you how chestnut mushrooms are cooked perfectly.
There is nothing more comforting than a bowl of roasted mushrooms on a cold autumn evening! But have you ever tried to cook mushrooms and ended up with soggy mushrooms swimming in their own water? Yes, we all have been there but do you know how to avoid that?
Besides buying mushrooms fresh, it's all about the heat in your pan before you add the mushrooms. If your pan is hot you are half way there. You want a deep, brown roasting colour on your chestnut mushrooms, just caramelised, with a tender, juicy centre.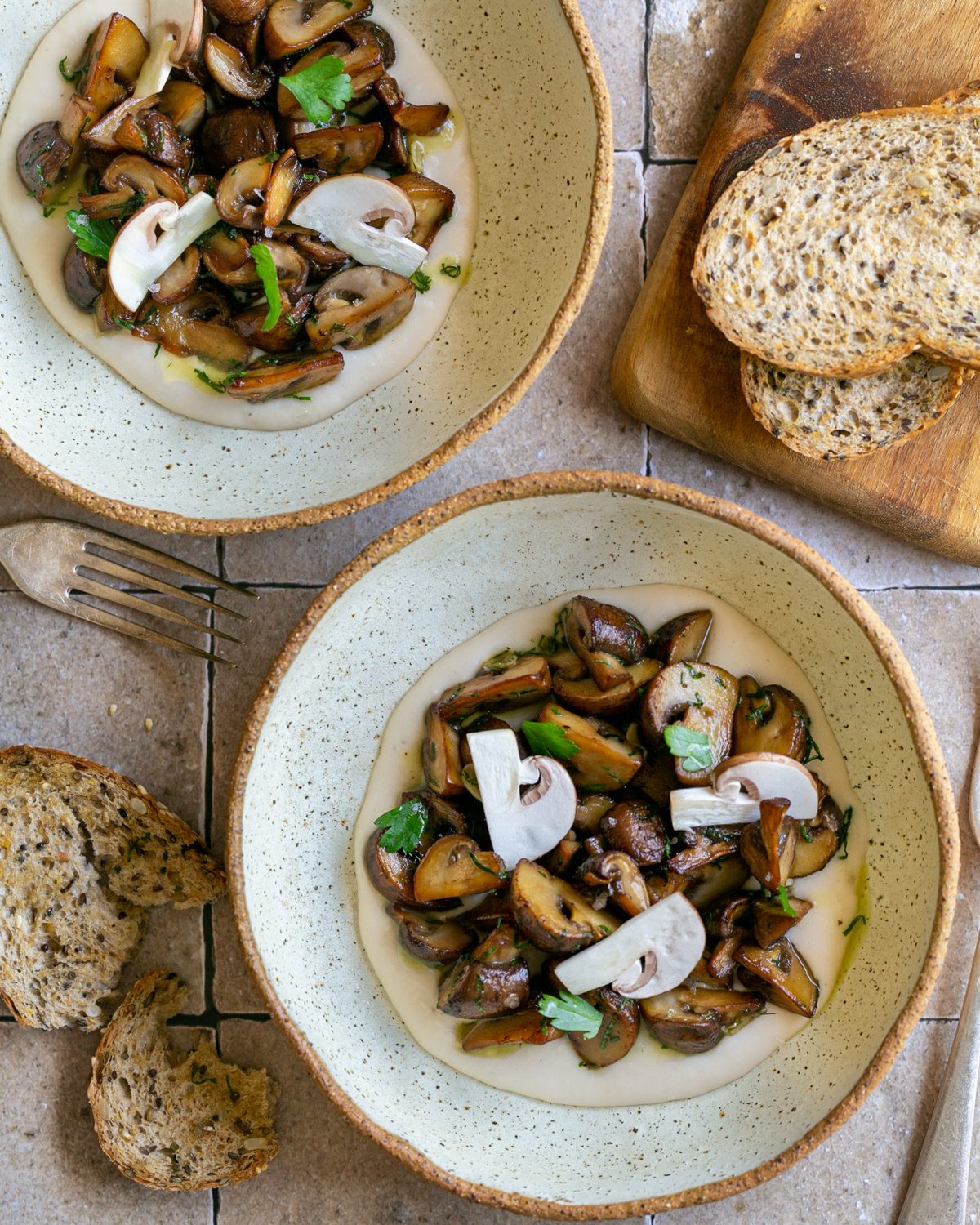 Once cooked, the choice is yours. Use them to stuff omelettes or pies, for sauces or soups or just as an appetizer on a slice of toasted bread, they will be delicious either ways!
Jump to:
What are chestnut mushrooms?
Chestnut mushrooms are actually brown button mushrooms or swiss brown mushrooms. Better in flavour and texture than white button mushrooms which makes them perfect for pan roasting.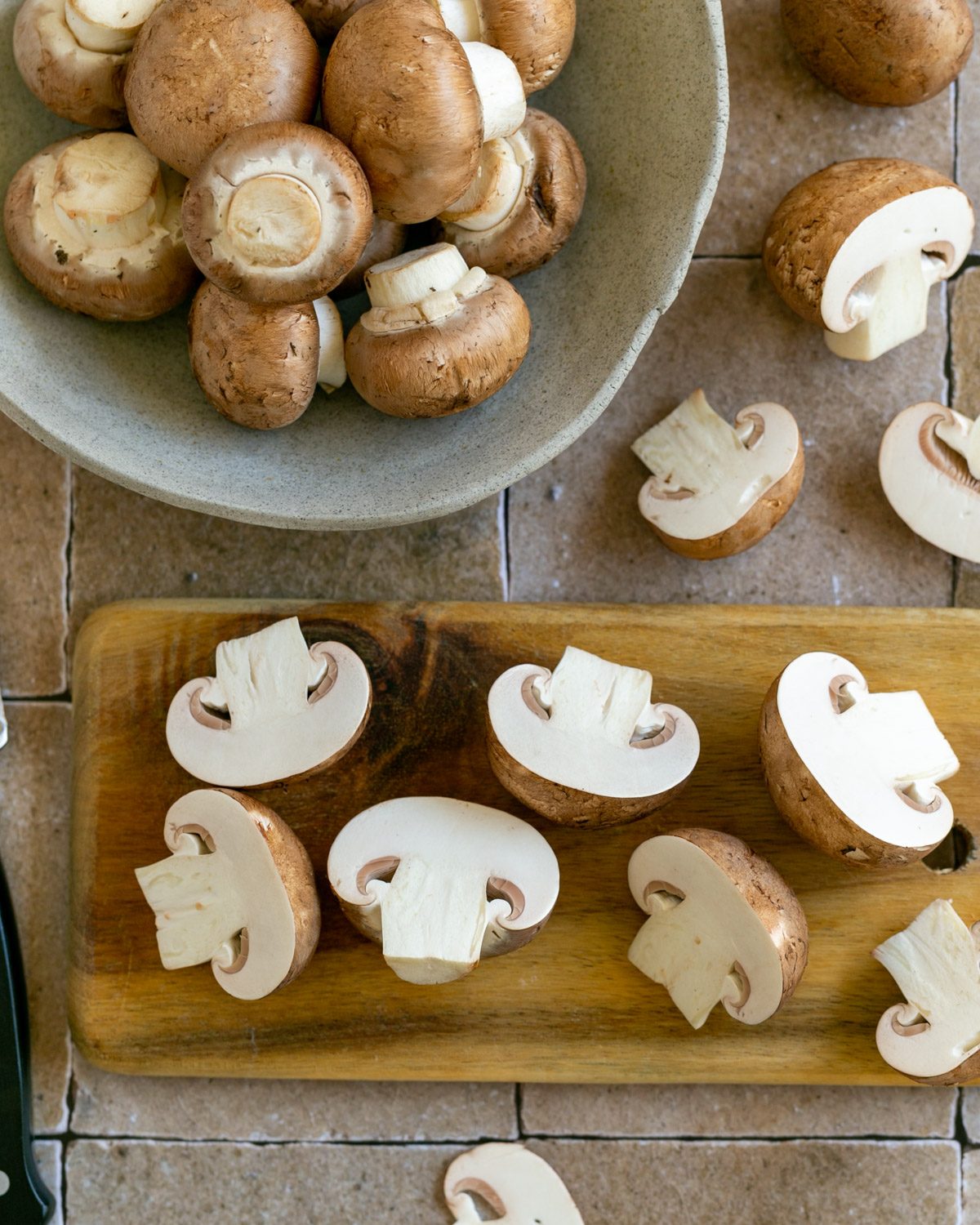 For this recipe however, you can substitute chestnut mushrooms with button mushrooms (if you want), they will cook the same way.
Ingredients needed
Roasted chestnut mushrooms don't need a whole lot of ingredients, just these few that I recommend:
Olive oil & Butter I start roasting mushrooms with olive oil; and then add the butter later for flavour. For a dairy free version, leave the butter out.
Garlic chopped or sliced, will make this dish even more delicious.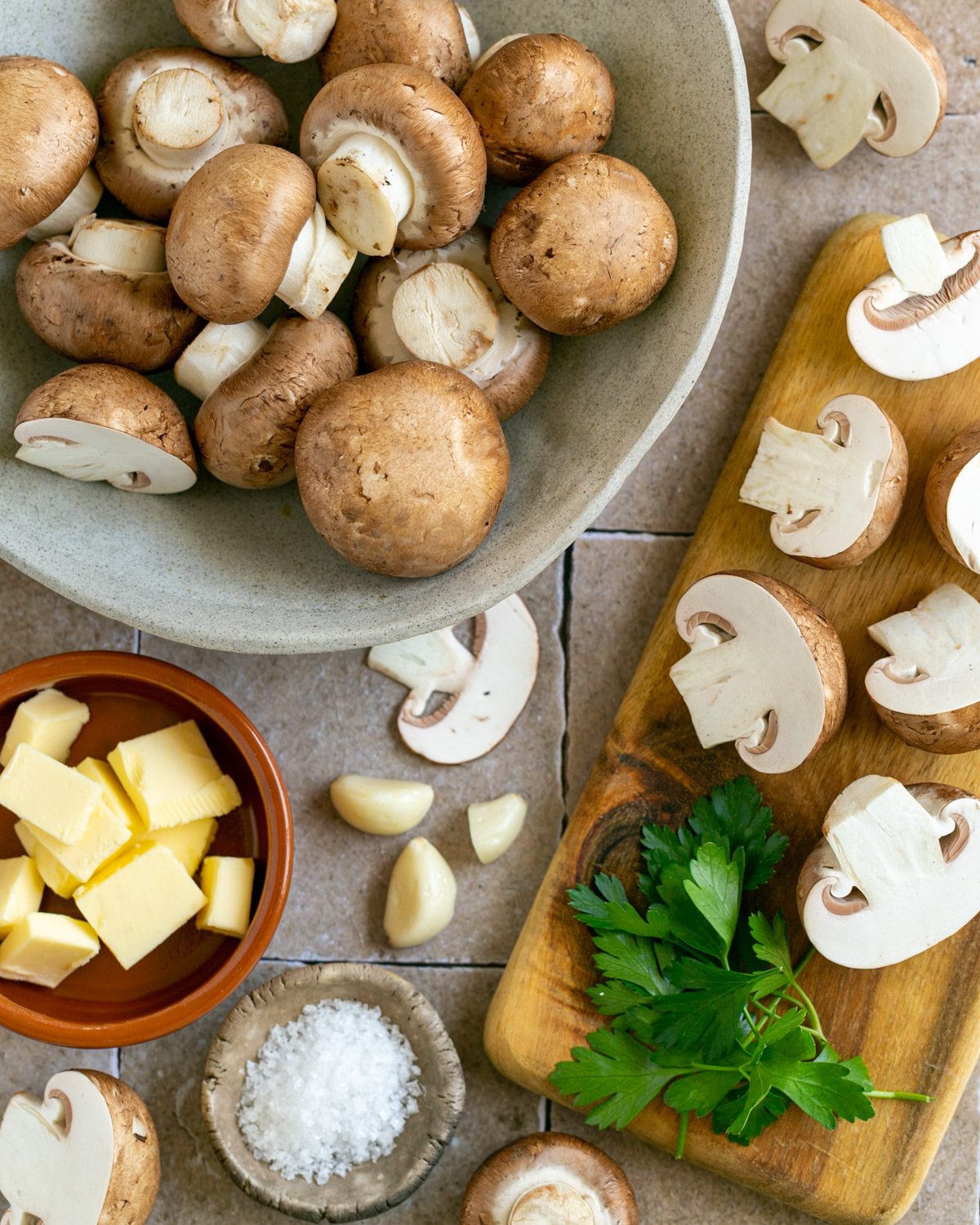 Parsley freshly chopped to finish the mushrooms. You can replace parsley with other herbs like chives or tarragon.
Salt & pepper for seasoning.
How to clean mushrooms
I admit, I don't wash mushrooms ever! I know this might sound weird, as mushrooms are considered dirty since they grow in soil. But did you know, washing mushrooms with water, makes them absorb moisture like a sponge? This makes it difficult to roast them properly hence avoid washing!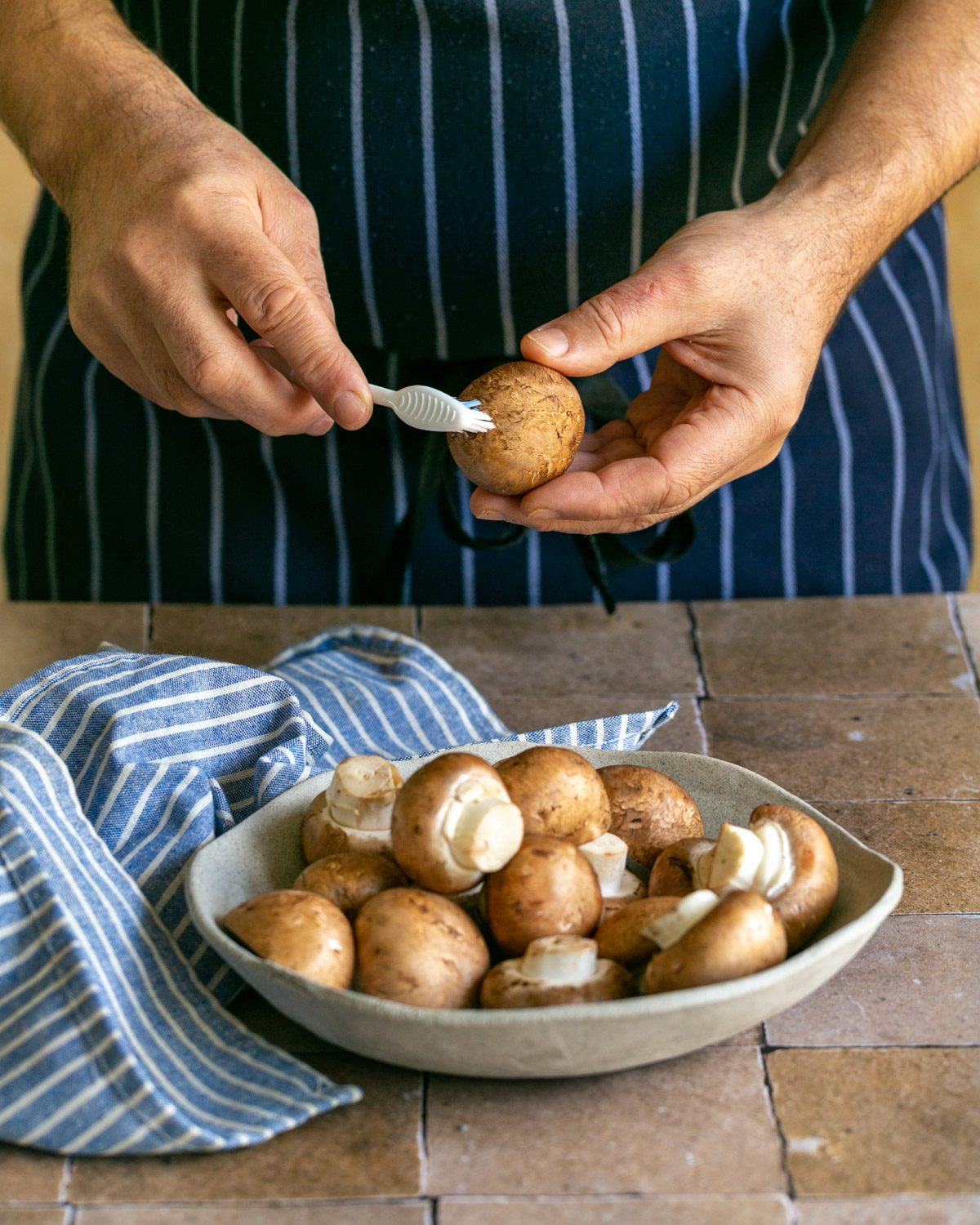 I use a brush to clean them. There are fancy brushes available for mushrooms and truffles but I just use a toothbrush at home. It does the job just fine. If the mushrooms look clean anyway (which most of the time they do) you don't need to clean them at all.
How to prepare chestnut mushrooms
You can cook mushrooms whole as they are or cut them into quarters, wedges or slices. It is important however to use a thin and sharp chef's knife.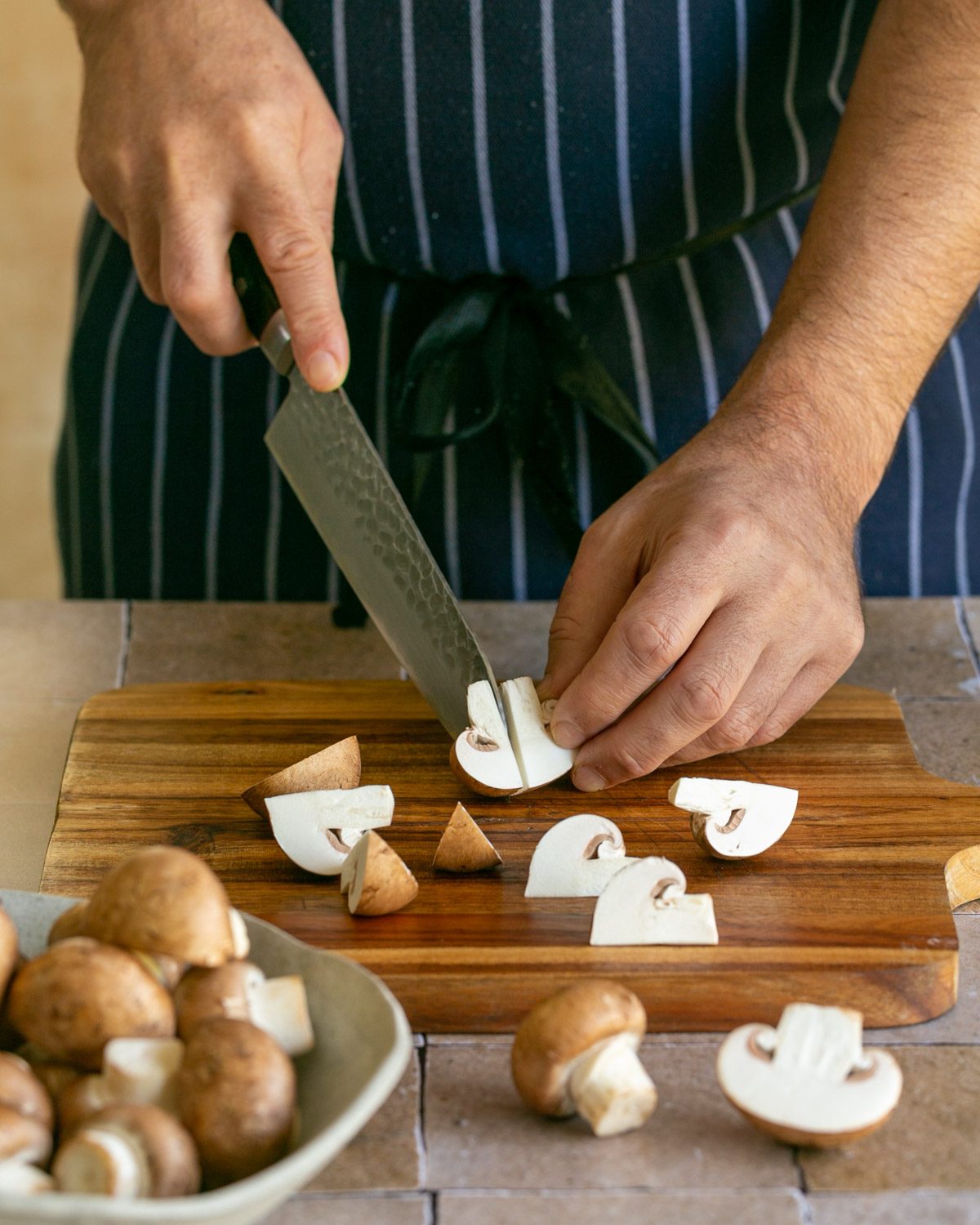 Cut them in half and then each half into three wedges depending on their size. If they are really small, quarters are best.
raw mushrooms?
I love to eat chestnut mushrooms raw in salads or I use them as a garnish for mushroom dishes. But only serve mushrooms raw, if they are firm and fresh looking. I slice them very thin on the mandoline or by hand.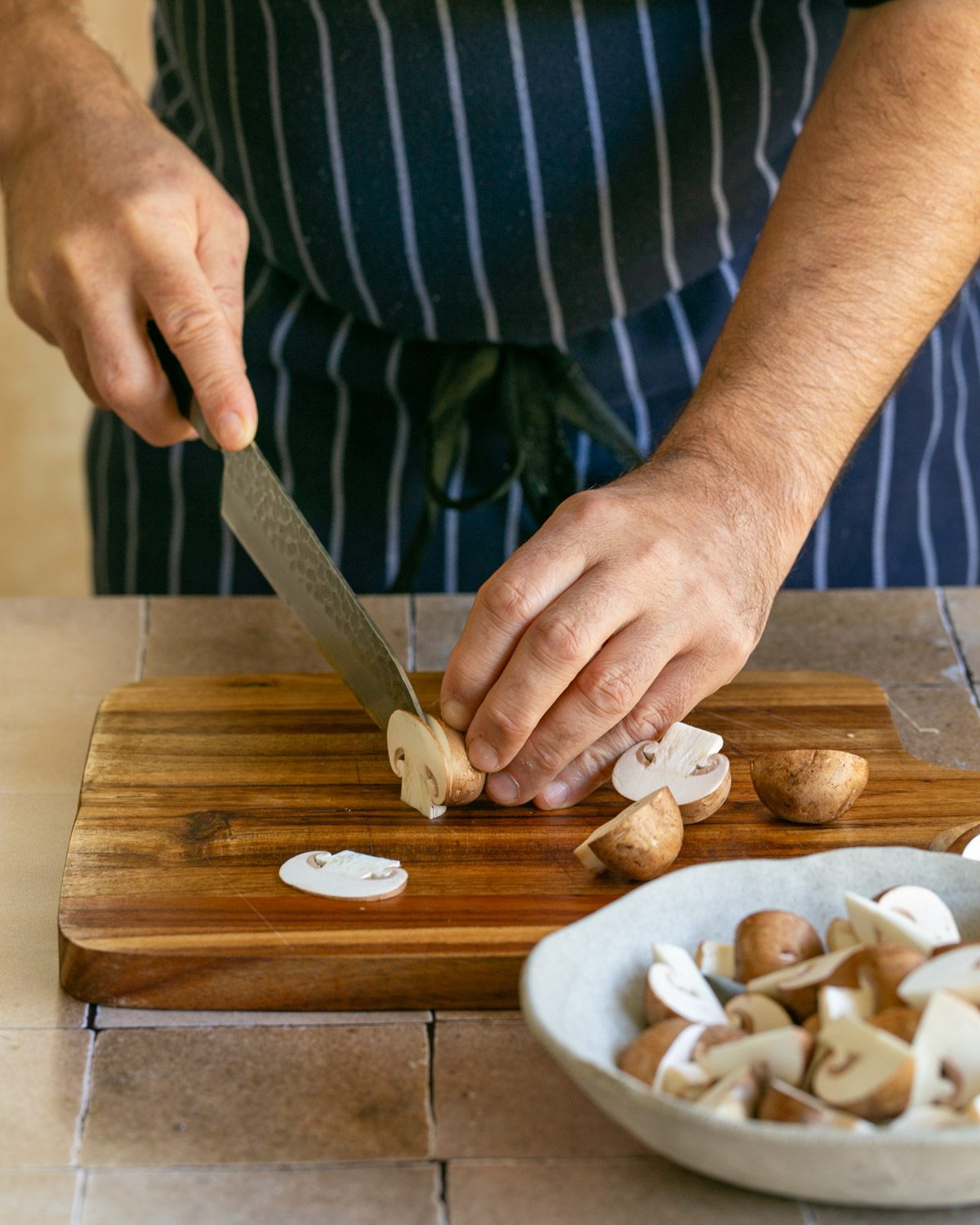 Cooking chestnut mushrooms
As mentioned earlier, chestnut mushrooms need to be browned in a hot pan. I use a non stick pan but a cast iron pan is great too.
Roast the chestnut mushrooms until they take on a brown colour, this might take about 10 minutes.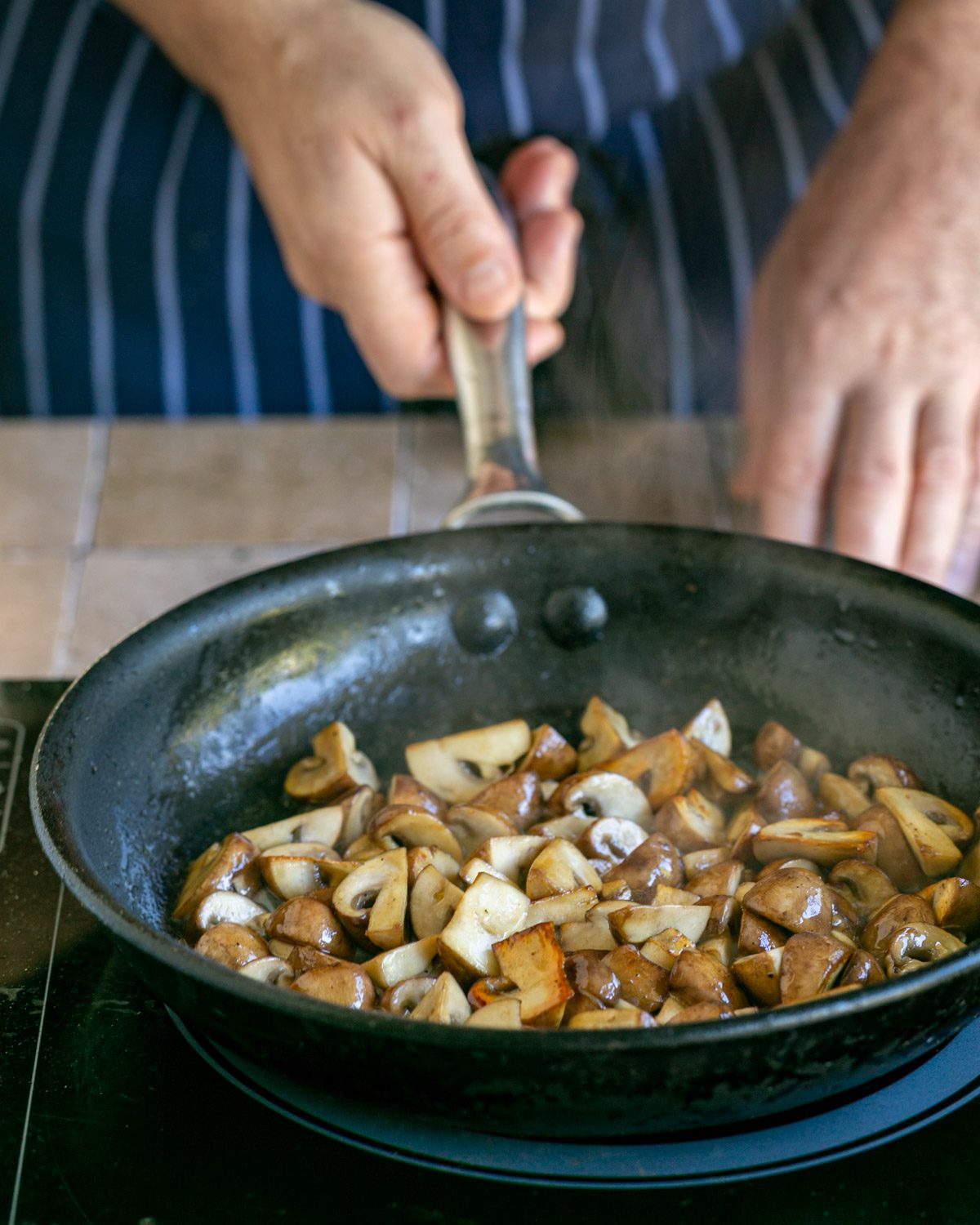 Then add the butter, salt and pepper.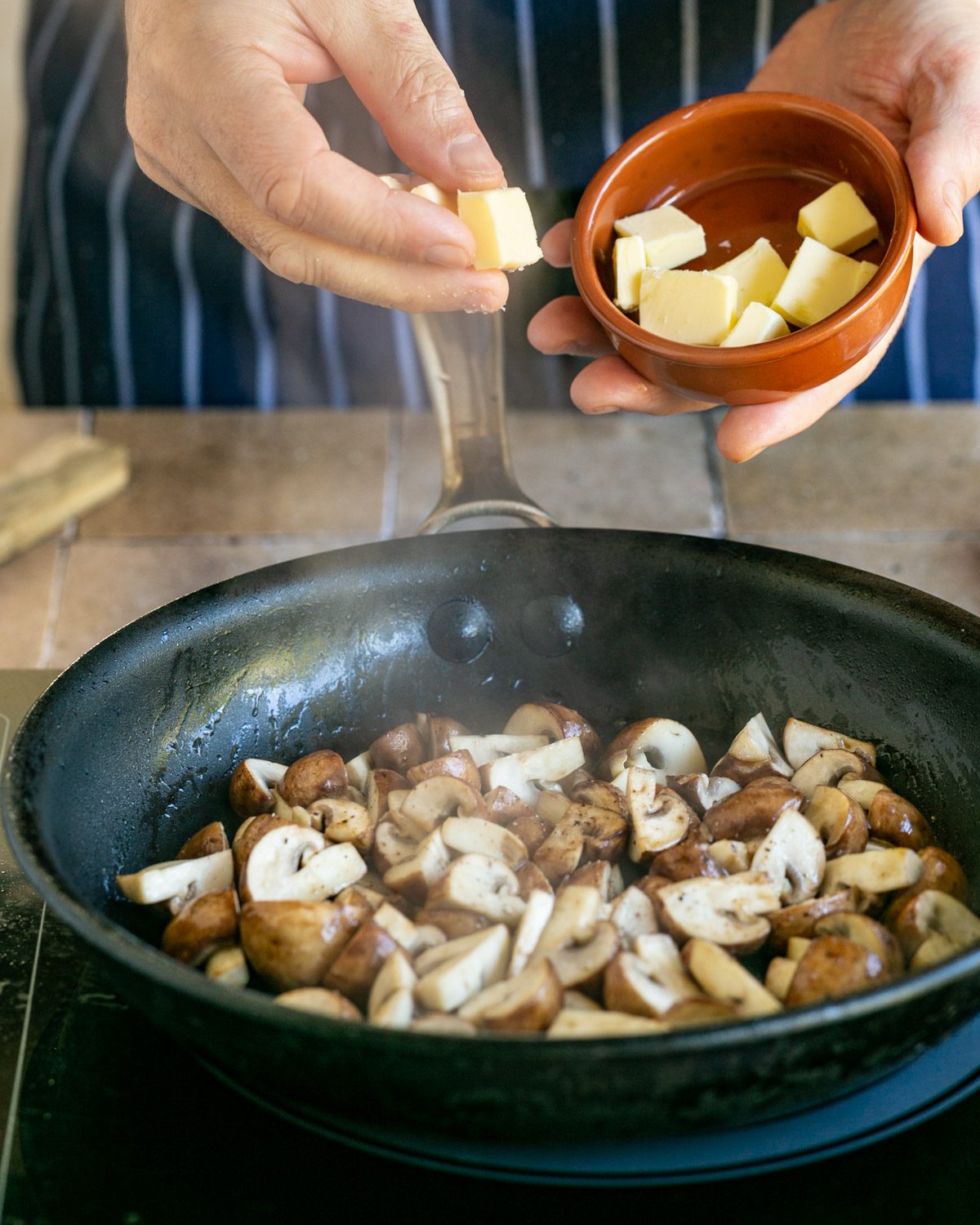 When the butter has been absorbed by the mushrooms, add the garlic and finally chopped parsley.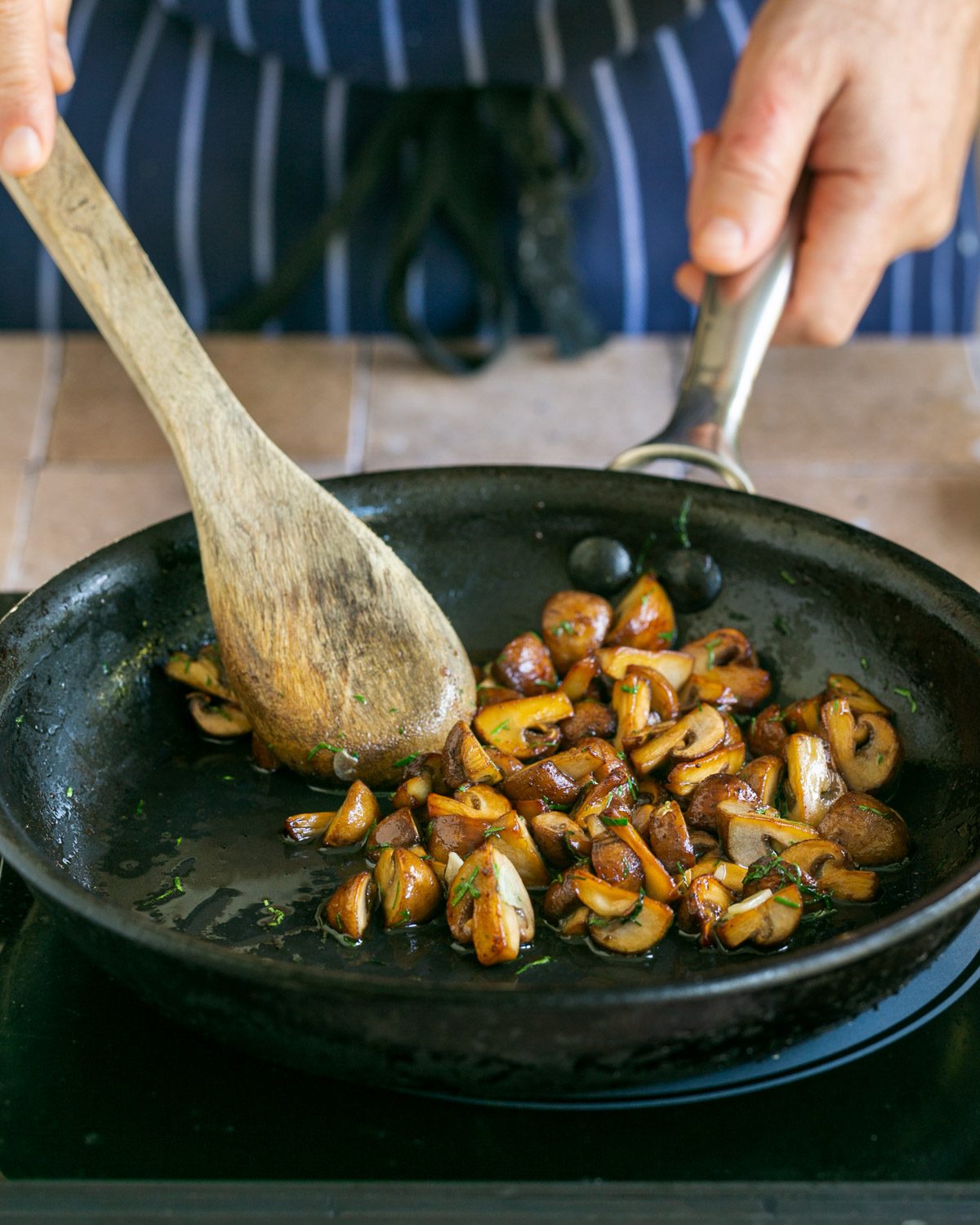 Do's and don't
Wait for the moment the pan is smoking hot and then add the olive oil and mushrooms.
Don't add too many mushrooms at once, you can always cook a second batch.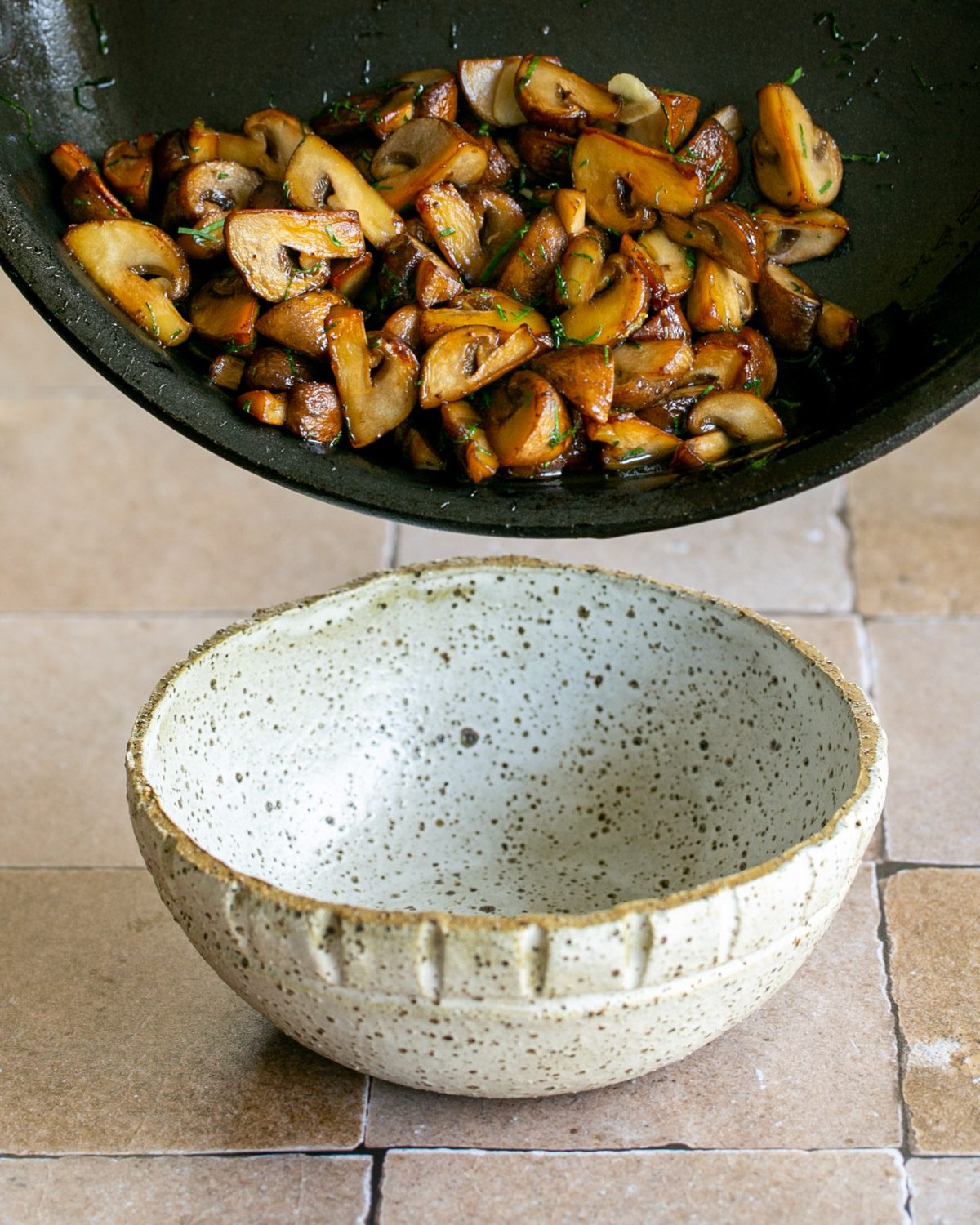 Avoid tossing the mushrooms in the pan. This will make the pan loose it's heat and the mushrooms will start steaming.
Don't add other ingredients too early, they will burn in the roasting process.
FAQ's
can I reheat cooked mushrooms?
Yes, you can roast them ahead of time and reheat them in a pan.
can I roast mushrooms in the oven?
Yes, you can. Again, you need your oven set at a very high temperature. Just add olive oil, salt and pepper to the tray and cook them for 10 to 15 minutes.
How to serve roasted chestnut mushrooms
Beautiful roasted mushrooms can be served as a side but also as the hero. I like to serve them just with a creamy cannellini bean hummus and a few raw shaved mushrooms as a garnish, looks fancy but it is easy to make.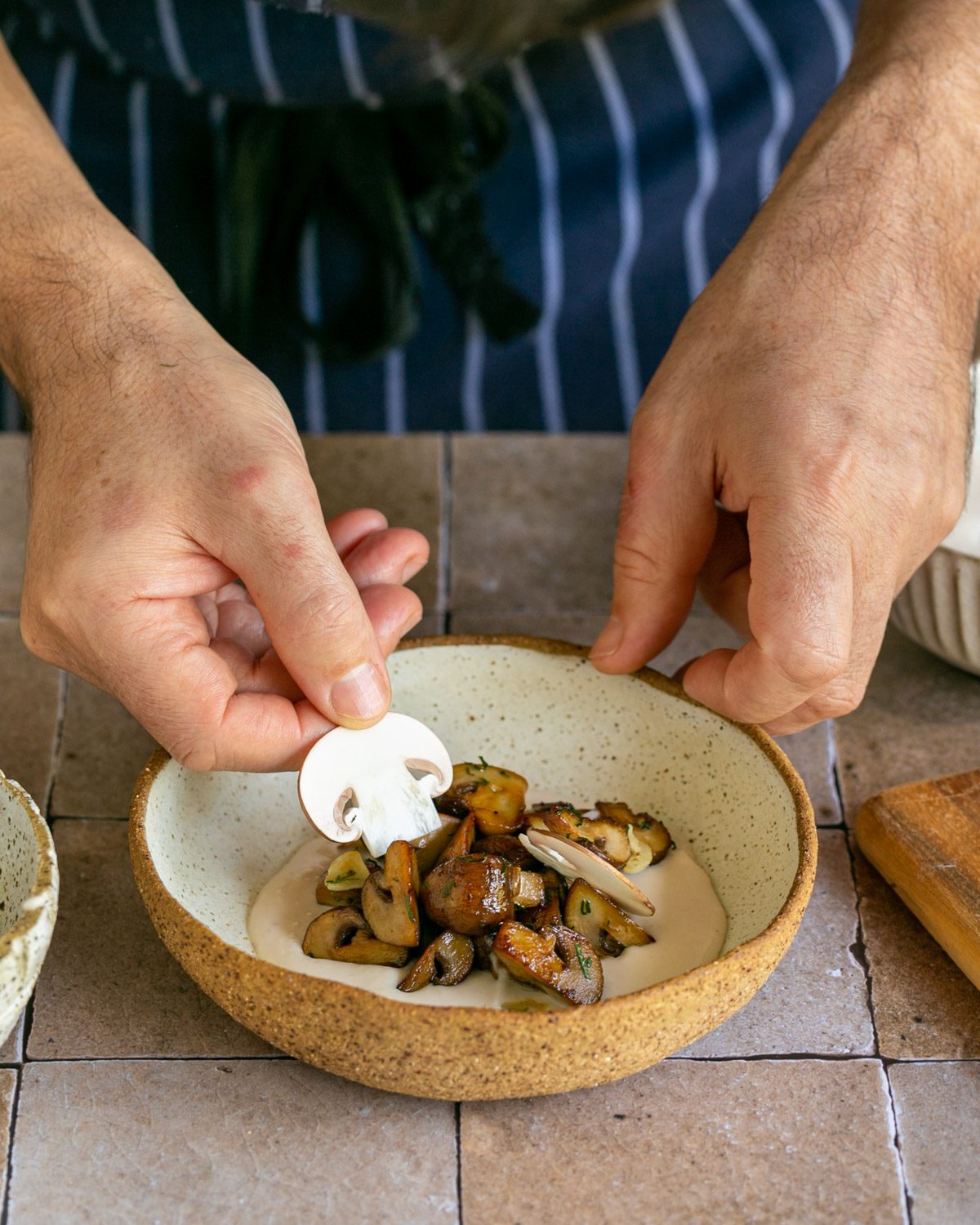 Or serve them warm on toasted bread, bruschetta style, a nice appetizer for a cold evening.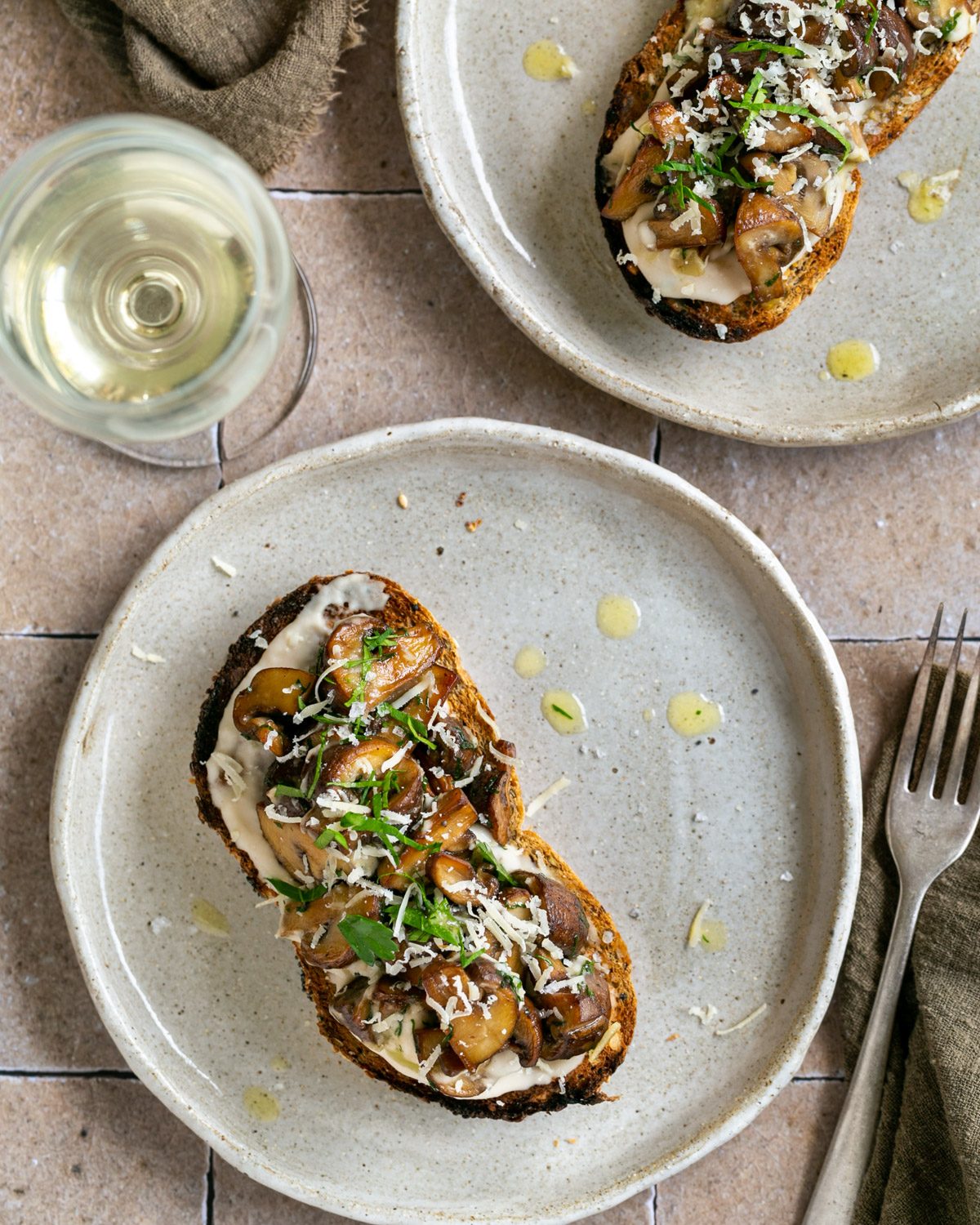 More mushroom recipes
However you serve them, they will be a hit. They are juicy, buttery, garlicky and you are going to love them!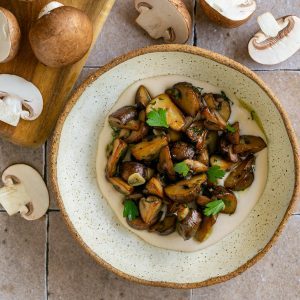 chestnut mushroom recipe
Pan roasted chestnut mushrooms are easy to make, quick and so delicious. Serve as a side, on toast or as a warm appetizer, we show you how chestnut mushrooms are cooked perfectly.
Ingredients
350

gram

chestnut mushrooms

20

millilitre

olive oil

20

gram

unsalted butter

1

garlic clove

1

tablespoon

chopped parsley

salt and pepper to taste
Instructions
Clean the mushrooms with a brush and cut each mushroom into 6 wedges.

Slice or chop the garlic.

Place the pan on high heat. Once the pan is hot add a tablespoon of olive oil.

Add the mushrooms to the pan and roast them for at least 5 minutes without tossing them.

Add more olive oil if required and stir the mushrooms with a spoon without removing the pan from the heat.

Once they have browned, add the butter and season with salt and pepper.

When the butter has been absorbed by the mushrooms add the garlic and cook for another 5 minutes before you add the parsley.

Serve warm on a slice of toast or as a side.
Nutrition
Nutrition Facts
chestnut mushroom recipe
Amount Per Serving (80 g)
Calories 194
Calories from Fat 153
% Daily Value*
Fat 17g26%
Cholesterol 22mg7%
Sodium 13mg1%
Carbohydrates 8g3%
Protein 5g10%
Vitamin A 419IU8%
Vitamin C 3mg4%
Calcium 39mg4%
Iron 1mg6%
* Percent Daily Values are based on a 2000 calorie diet.