German style bread dumplings, aka Semmelknoedel, made with tuscan kale, paired with a creamed mushroom sauce, is comfort food for any rainy day. This hearty dish is a go to recipe when your bread box is overflowing with leftover stale bread.
While strolling through the North Sydney Produce market over the weekend, I came across a stall selling a variety of mushrooms. I looked at the fresh tuscan kale (cavallo Nero) that I had bought earlier and an idea of a mushroom ragout with kale was forming.
But on my way back home, I was struggling to visualise the final dish as I felt something was missing.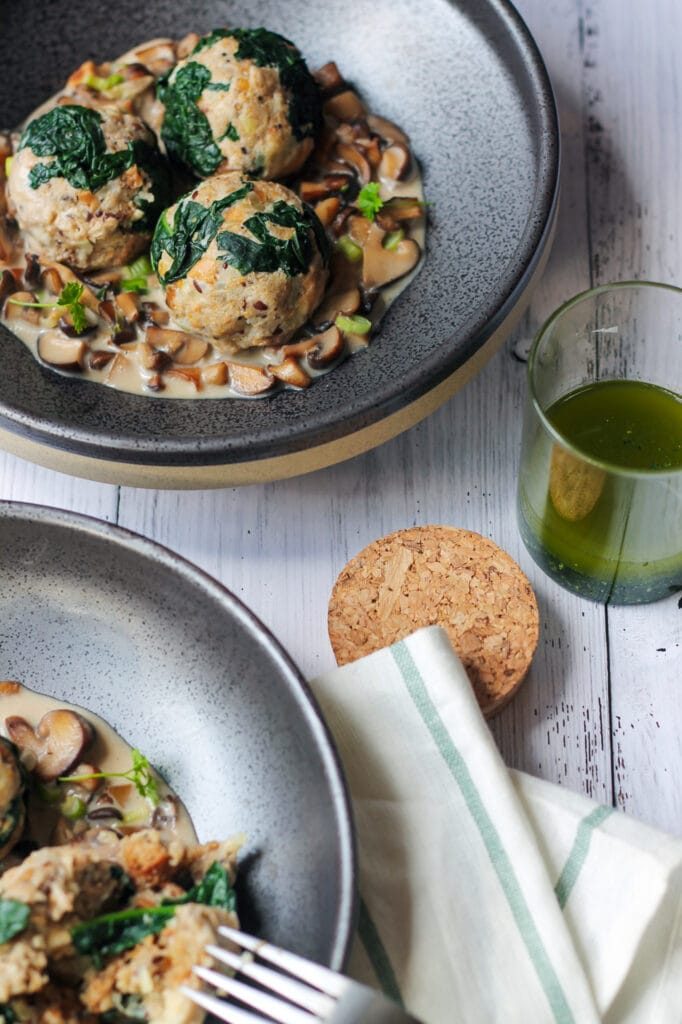 When I got home, I spotted some leftover rye bread and brioche in my kitchen and that's when I knew It had to be German dumplings with kale and a mushroom ragout - a dish I had learnt years ago when I first started cooking.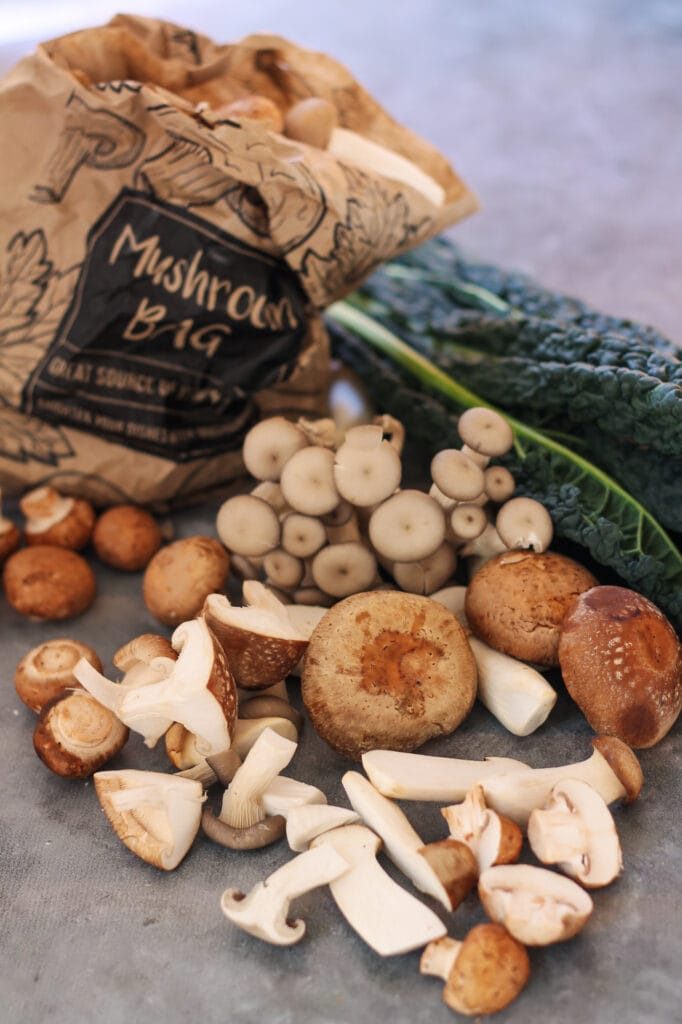 You probably saw this coming, there had to be a German recipe sooner or later on this blog. Well, I learned to make this dish in South of Germany during my apprenticeship at a traditional Gasthaus restaurant.
Jump to:
It came on the menu every year during the wild mushroom season. Served either with creamed cepe or chanterelle mushrooms. I must have made hundreds of these dumplings during busy months as they were so popular!
What are German Dumplings (Semmelknoedel)?
German Dumplings are made from dry bread, milk and eggs. This recipe is perfect to use up your stale bread that has been left out too long. I tweaked the recipe a bit and incorporated tuscan kale, pine seeds and grated parmesan, really happy that all worked out well!
Bread Dumplings make an inexpensive vegetarian dish just served in a mushroom sauce like in this recipe. Traditionally you will find them on the menu in Germany as a side to something saucy like braised meats or stews.
Tip: to make the dumplings tastier try to use different type of breads like bretzeln, pumpkin seed bread or sourdough.
How to make German Dumplings
Making German Dumplings is easy. Just cut the bread into small cubes and place in a large bowl. Milk is heated with the sautéed onions and poured over the bread cubes.
Cooked kale, eggs, salt, pepper and nutmeg are then added and mixed all together. Using wet hands, roll the mixture into small balls and cook them in salty water for a few minutes. Once they float to the top, they are ready to eat once they float to the top.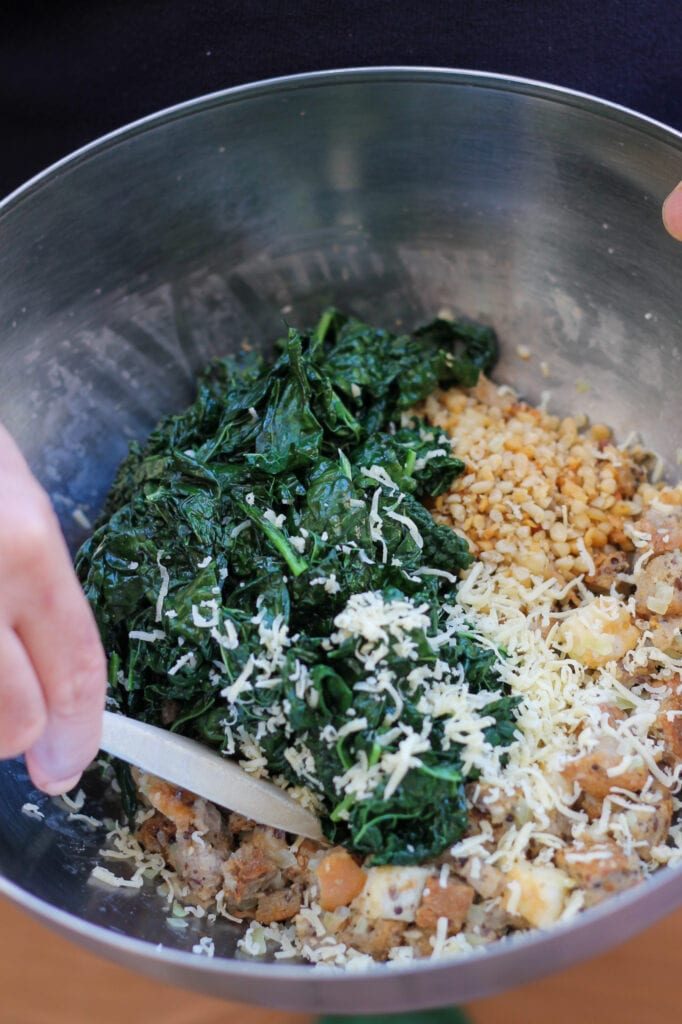 Tip: If you have any leftover dumplings the next day, just roast them in a pan until golden brown. They make a great addition to a salad or even in an omelette.
For the Mushroom sauce you can use any type of mushrooms as long as they are fresh and in season. Their nutty and earthy flavour will add lots of deliciousness to your Bread Dumplings.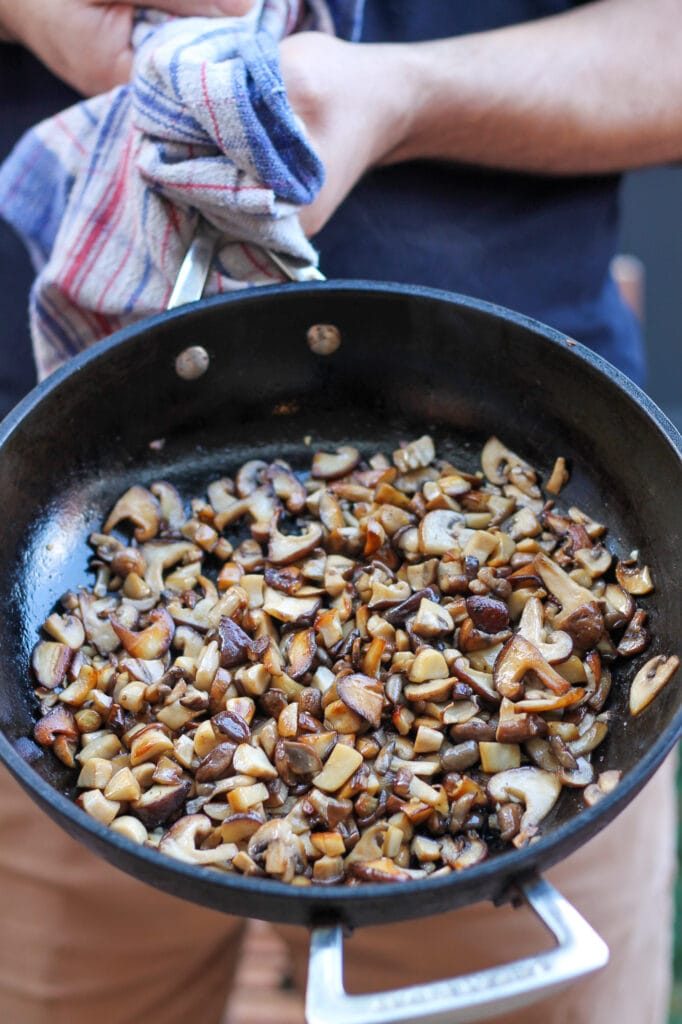 My mushroom selection included chestnut mushrooms, Swiss brown, king oyster, Shimeji and shiitake.
Simply roast these magnificent mushrooms in a hot heavy bottom pan to get the most flavour. Add some chopped garlic and finish the sauce with cream and a splash of lemon.
More mushroom recipes
If you love mushrooms as much as we do find some more recipes below:
Can't wait for the next mushroom season.
German cuisine is surely not the most refined or the most healthy but when it comes to comfort food, we offer some of the best, if you like this recipe you surely will enjoy this black forest dessert with a twist, it is delicious too!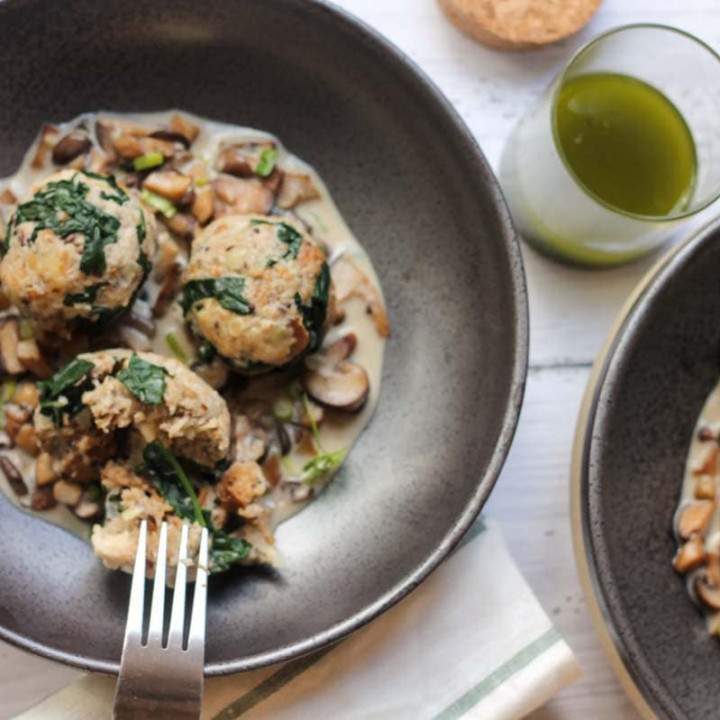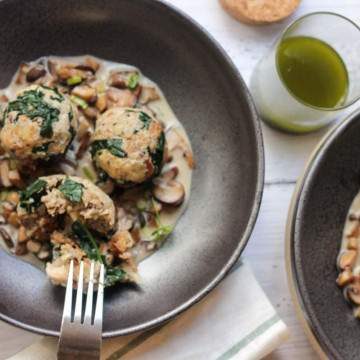 German Bread Dumplings with Kale and Mushroom sauce
German style bread dumplings made with sauteed tuscan kale and served with a mushroom sauce. Ideal comfort food for rainy days.
Ingredients
for the dumplings
400

g

Bread

use any leftover bread, I used rye bread and brioche

150

ml

milk

50

g

parmesan

grated

30

g

pine seeds

can be replaced with walnuts

½

brown onion

200

g

tuscan kale

3

eggs

Nutmeg, salt, pepper, olive oil

for the dumplings
for the mushroom sauce
500

g

seasonal mushrooms

1

small

brown onion

cut into brunoise

2

garlic cloves

chopped

½

lemon

300

ml

cream

salt, pepper, olive oil

for the mushrooms
Instructions
For the Dumplings
Cut the bread in cubes and place in a large bowl. Cut ½ an onion into brunoise (small dices) and sweat in a hot pan with olive oil.

When the onions start to brown, add milk and grate some nutmeg over it. Adjust the amount of nutmerg to suit your taste. Add salt and bring to a boil.

Remove the milk from the heat and pour over the bread. Add eggs, chopped pine seeds and mix together.

Chop the kale (i kept it chunky but realized its better to chop it fine) and saute in olive oil over high heat. Season with salt and pepper and cook for another 2-3 minutes.

Add the kale and grated parmesan to the bread mixture. Mix thoroughly before covering it with a kitchen towel and leaving it to rest for 30 minutes.

Bring a pot of salted water to boil and then reduce to medium heat. Meanwhile take a bit of the dough and roll it into a meatball size ball. Test one before rolling all the Dumplings. Use a slotted spoon to gently place one Dumpling in the cooking water. If it holds its shape, then make more even sized balls (recipe should give you 10 to 12 Dumplings) and cook in the same simmering water. When the Dumplings float on the top, let them sit in the water for another 5 minutes before taking them out with a slotted spoon.
For the Mushroom Sauce
Cut the mushrooms in even quarters. Heat a heavy bottom pan with olive oil. Add the mushrooms and sautee until brown. Then add onion brunoise, chopped garlic, season with salt and pepper and sautee for another 2 minutes

Add the cream and reduce to ⅔. Finish with a splash of lemon.

Place the finished mushroom ragout in a bowl and add the dumplings on the top.