Tasty comfort food recipe with Rigatoni pasta cooked al dente in a creamy basil pesto sauce with brown mushrooms, finished with spinach and grated Parmesan cheese.

Creamy, rich pasta dishes are usually a 'No No' in our household but this dish is an exception as it is one of our favorite lunches. The idea was to reuse the basil pesto I had prepared earlier this week. I want to show you how else you can best use it to create a new dish.
Turns out using this easy to make pesto in a creamy pasta sauce is the way to go. The sauce with brown mushrooms, cream, spinach, pesto, al dente rigatoni pasta and an extra load of grated parmesan is exactly what I am looking for in a meatless dish.
Damien loves pasta. Once he took his portion, we added some red chili flakes to give it a bit of heat and it was Yum (Damien hopefully will be ready for some spice in the next few years)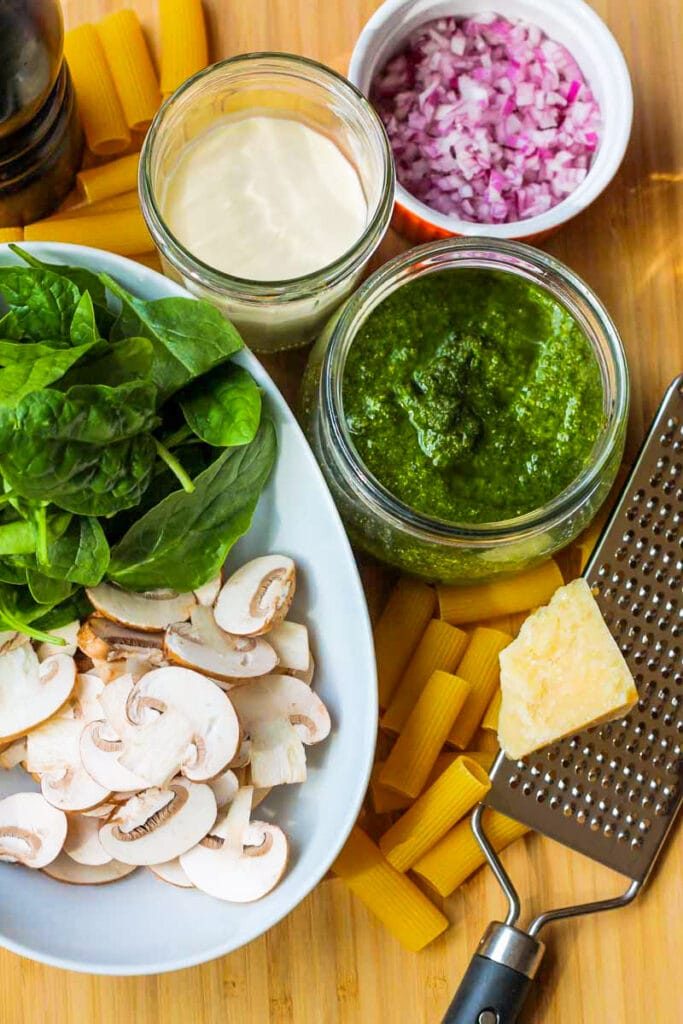 Rigatoni pasta with mushroom pesto sauce
Normally I am a 'spaghetti type' of a guy, spaghetti with anything will do for a quick meal but making this dish with Rigatoni took it to another level! The Pesto cream sauce with mushrooms coated the pasta tubes perfectly; unlike spaghetti, a fork was enough to get me through this dish without making my T-shirt or the dinner table a mess!
I will definitely be using Rigatoni pasta more often.
When making this dish, you need to time it well especially between cooking the pasta and the sauce. Once the Pesto has been stirred in, you should have the Rigatoni pasta almost ready.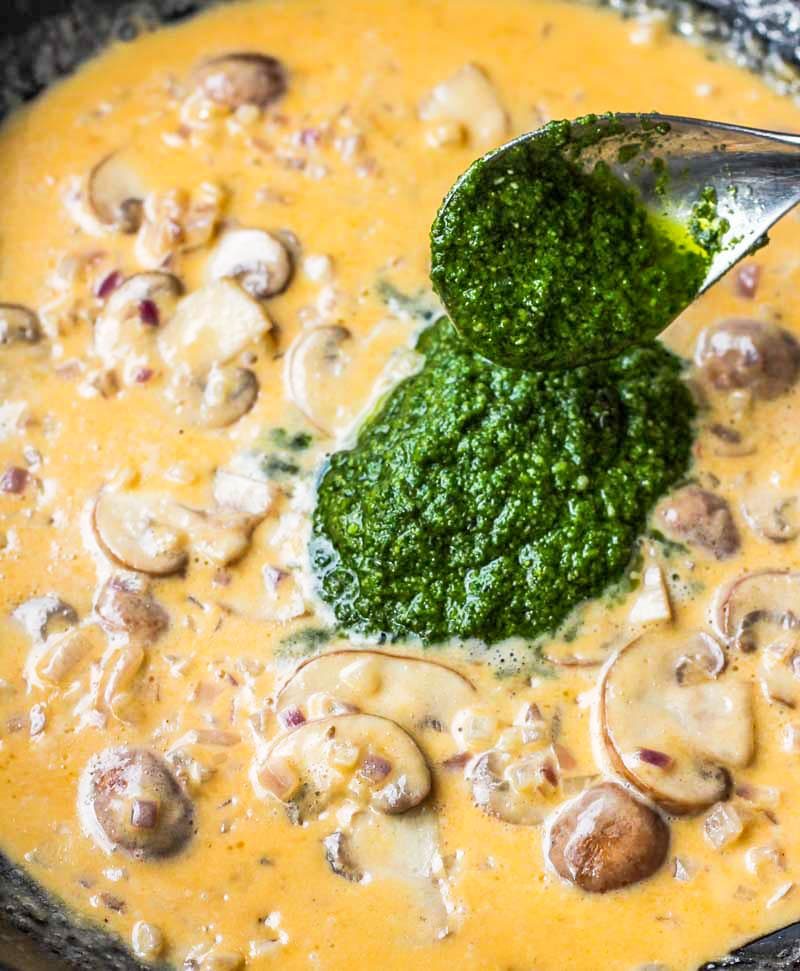 Note, Rigatoni takes a bit longer than most pasta, 8-10 minutes for al dente in boiling water. It is important to keep the ratio of pasta to water 1:3. Plenty of water will make sure the rigatoni cooks properly and don't forget to add lots of salt.
Why keeping the pasta cooking water
When you have the sauce ready and the pasta cooked, add a small ladle of the pasta water to the pan, this helps glue the pasta and sauce together.
Many years ago at the Burj al Arab hotel I worked with an Italian Executive Chef. Usually he would not interfere much when he walked through the kitchens. However I will never forget that day when I heard him scream, standing right behind me while I was straining a bowl of al dente pasta.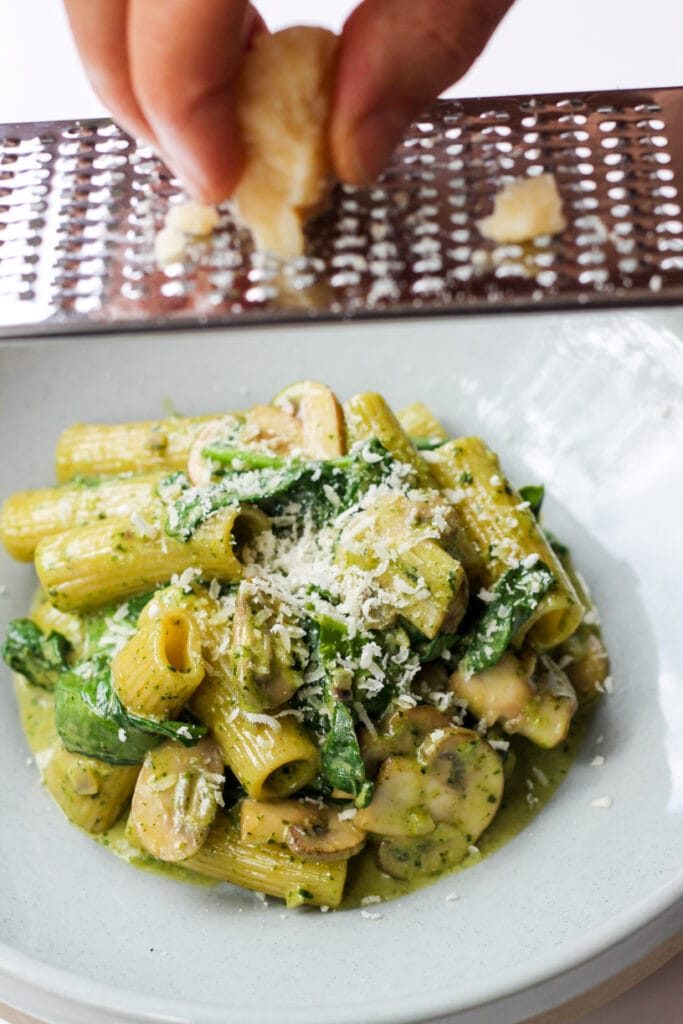 I turned around and saw him fuming because I had drained all of the pasta cooking water. He explained to me the secret of a great pasta sauce. By adding a splash of the cooking water right before finishing the pasta dish magic is created.
The starch is released into the water and it thickens up the pasta sauce and also gives it more flavor. And since then, that's what I have been doing. And so should you, because who doesn't love perfectly cooked pasta!
More Pasta Recipes
If you love pasta as much as we do, try any of these dishes below
Fregola sarda recipe with roasted garlic prawns
Casarecce pasta with asparagus, kale and tomatoes
Sweet potato agnolotti with black garlic and walnut butter
and let us know how you liked them!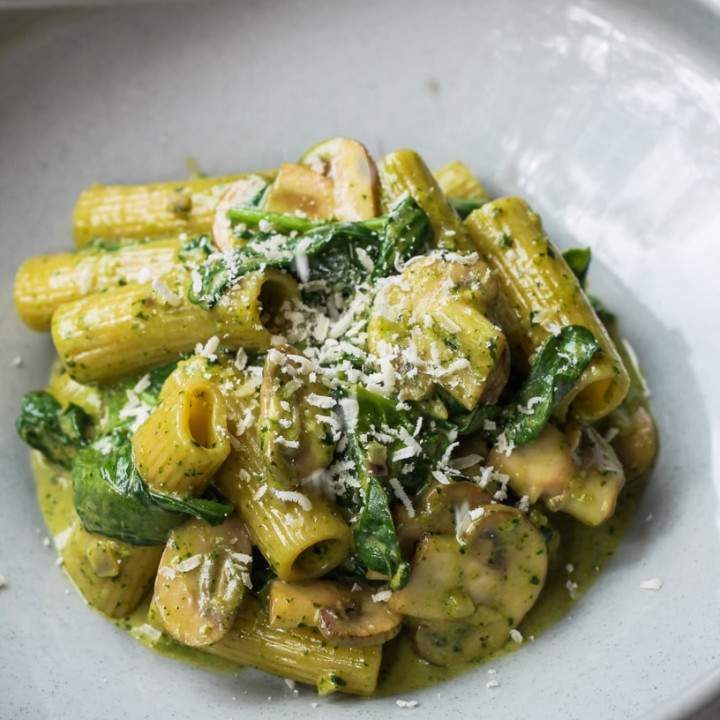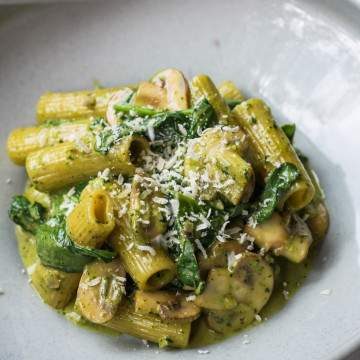 Rigatoni with Brown Mushroom and Pesto Sauce
Tasty comfort food recipe with Rigatoni cooked al dente in a creamy mushroom and basil pesto sauce finished with spinach and grated Parmesan cheese.
Ingredients
250

g

Rigatoni Pasta

1

half

red onion

250

g

brown mushrooms

150

g

baby spinach

200

ml

cream

3

tablespoon

pesto

30

g

parmesan cheese

50

ml

olive oil

salt, pepper to taste
Instructions
Slice the brown mushrooms and cut the red onion into small dices (brunoise).

Bring a large pot of salted water to boil.

Sweat the red onion brunoise in olive oil over medium heat.

Add the brown mushrooms and give them a light brown color.

Meanwhile cook the rigatoni pasta in the boiling salt water for at least 8 minutes, try one to make sure they are cooked al dente or to your liking.

Add cream to the mushroom sauce and reduce to ⅔rd, season with salt and pepper.

Add the pesto, stir and reduce the heat.

Lastly add the rigatoni along with two tablespoon of the pasta cooking water and spinach.

Grate the parmesan over the pasta and add chili flakes to give it a bit of heat.