This creamy porcini mushroom risotto is packed with beautiful earthy and nutty flavours. Topped with pan seared scallops and grated parmesan, the dish is the perfect elegant plate for a special occasion.

I had planned to make a no fuss roasted mushroom risotto but then came across a packet of dried porcini mushrooms while shopping. Oh my! Do I love a good porcini mushroom risotto, paired with seared scallops! Just divine👌
What are Porcini Mushrooms?
Porcini mushrooms, also known as cepe mushrooms, are popular in Italian and French cooking. Mainly cultivated in Europe, North America and parts of Asia only for a short season hence can be pricey. When used fresh, they have a similar taste to other common mushrooms but with a more intense flavour. Best eaten on their own, just cut them in half and roast them in a pan with garlic and herbs.

For this recipe, I have used dried porcini mushrooms since these aren't in season for us. The dried porcini mushrooms worked equally well as they add a rich flavour to the risotto which I absolutely loved! This also means, I can now make porcini risotto all year round😉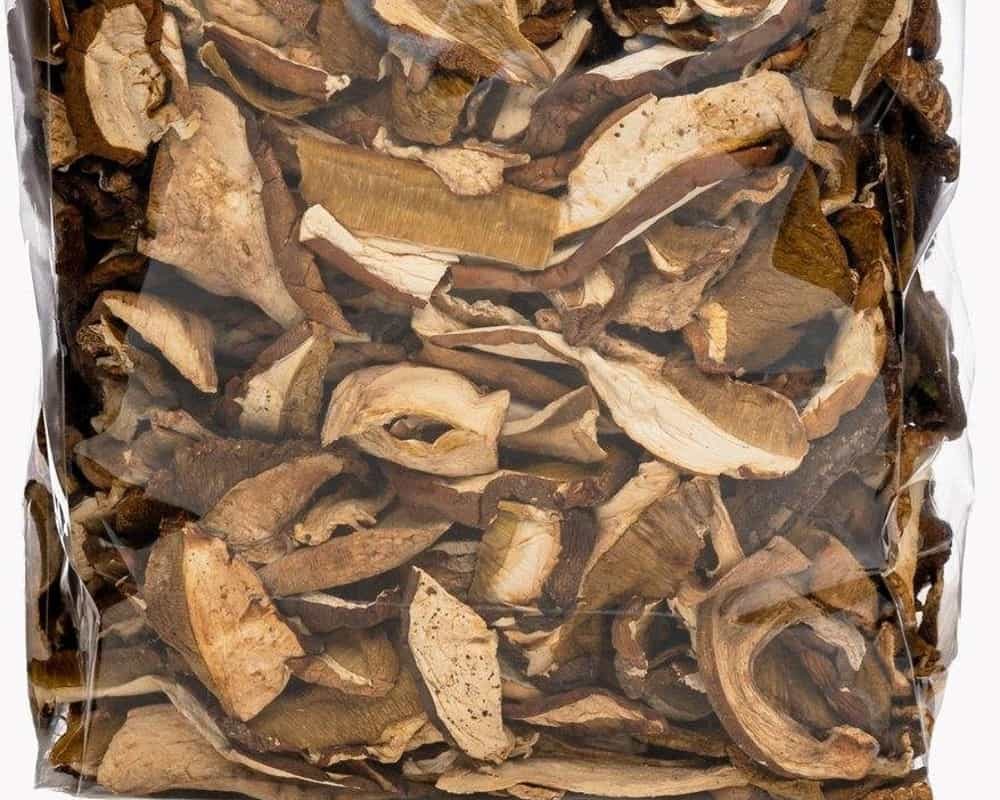 How to make porcini mushroom risotto?
I have cooked the risotto the traditional Italian way, steps of which are outlined in the recipe below. Simply flavoured with garlic, shallots, white wine and dried porcini mushrooms, makes the risotto exactly how I like it and would serve it in my restaurant.

If you use the right tools and have your mise en place done, you just have to pour yourself a glass (or two) of a good white wine while the risotto is slowly simmering away🥂

But before we start, here is a list of the ingredients with some pointers for you:
Buy a good risotto rice , Carnaroli or Arborio are the ones I like to use. Especially Carnaroli is a good rice from Italy that maintains it's shape well while cooking.
Look for a packet of dried porcini mushrooms, these are easily available in many grocery store now a days or use fresh ones if you can get your hands on them.
Make your own mushroom stock using button mushrooms, carrots, leek, onion, thyme, garlic and the soaking water of the dried porcini otherwise you can use chicken or vegetable stock to save time.
White wine, shallots, garlic, thyme and parsley go into my risotto, they add flavour and are part of an authentic risotto.
You need parmesan cheese and butter to finish a great risotto. Always grate the parmesan freshly. Some recipes call for cream and mascarpone which is nice too but only during colder months.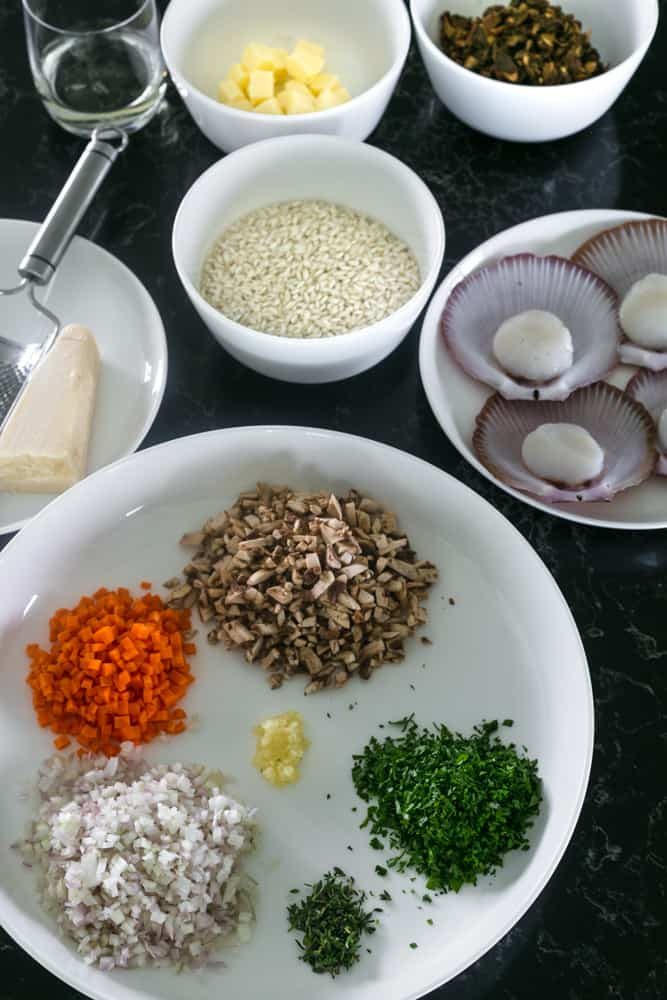 Let's start cooking
Since we are using dried mushrooms, we need to soak them first. Take a bowl and cover the mushrooms in room temperature water. Leave them soaked for 10 minutes. Meanwhile, get cracking on your stock😉 Make plenty of it as you will need to keep adding the stock at least 3-4 times during the cooking process. I aimed for 1.5 litres (6 cup) of finished stock for 200g (1 cup) of risotto rice.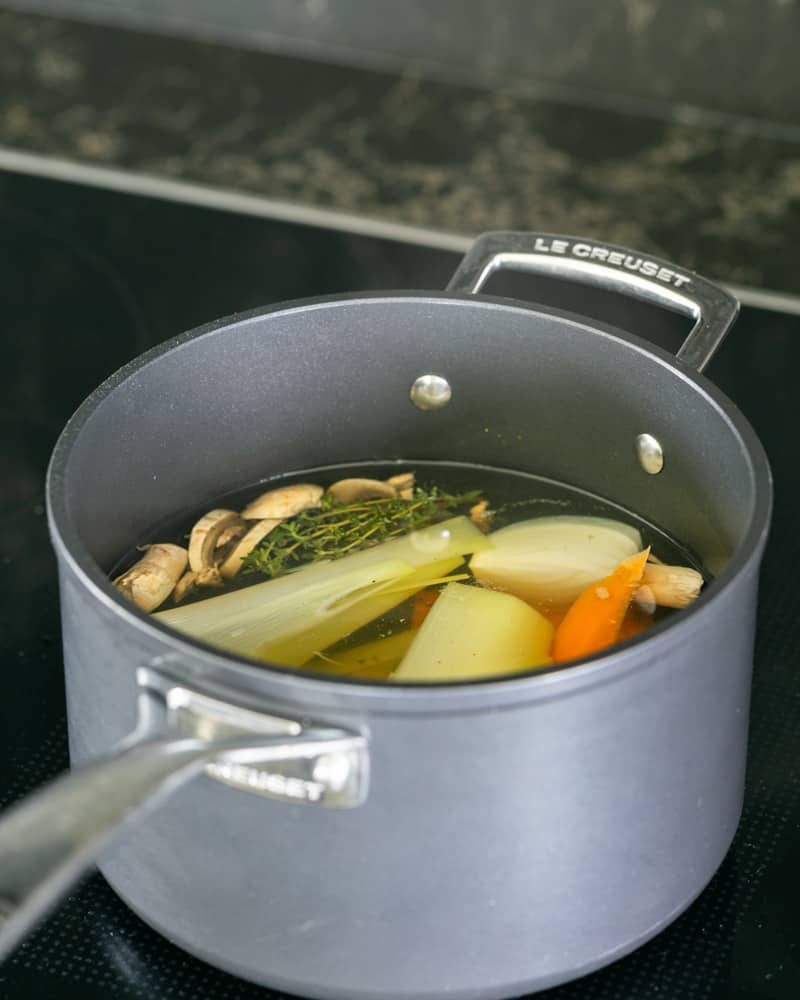 Use a wide pot to cook the risotto as that is important to ensure the rice cooks evenly. First, sweat the diced shallots, mushrooms, carrots, then add the porcini and risotto rice. After, add garlic and deglaze (adding liquid to a hot pan, which allows all of the caramelized bits stuck to the bottom to release) with white wine.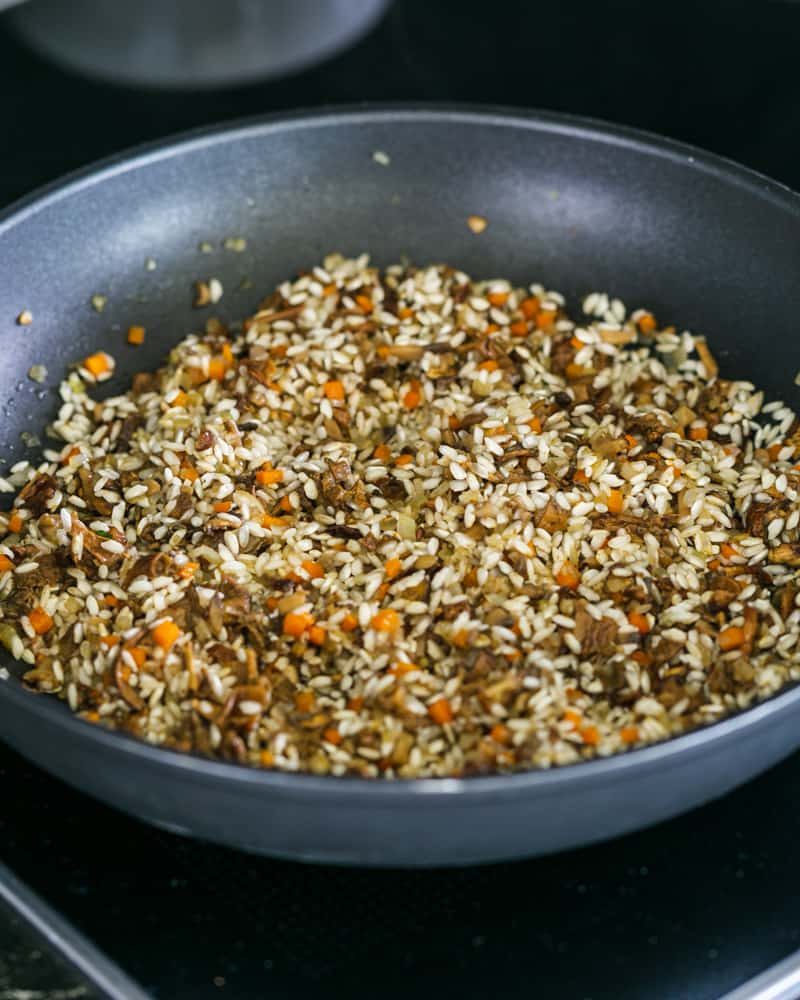 Now add enough stock to the pan to cover the risotto, don't add all the the stock in one go! Add it ladle by ladle whilst continuously stirring the risotto. Add thyme and then let it slowly simmer.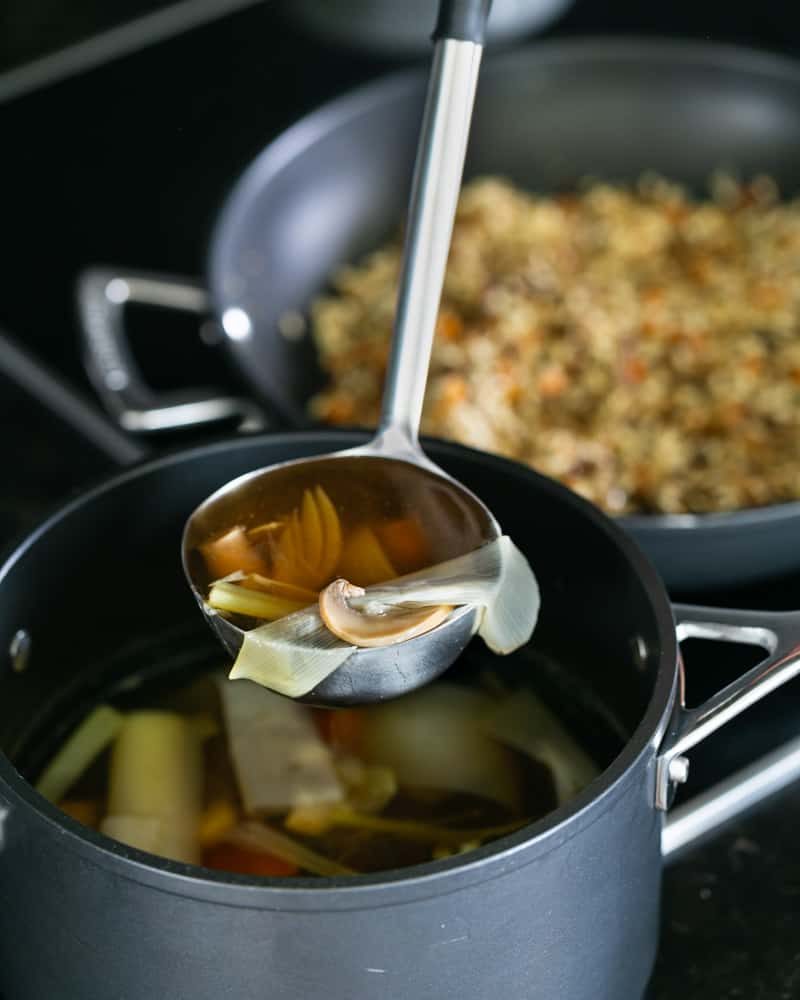 Note, the rice will keep absorbing the stock so keep adding more, just enough to keep the risotto covered. This process continues until the risotto is cooked al dente ("to the teeth", each grain of rice slightly firm to the bite) so be patient😄
To finish the risotto, add diced butter, chopped parsley and grated parmesan.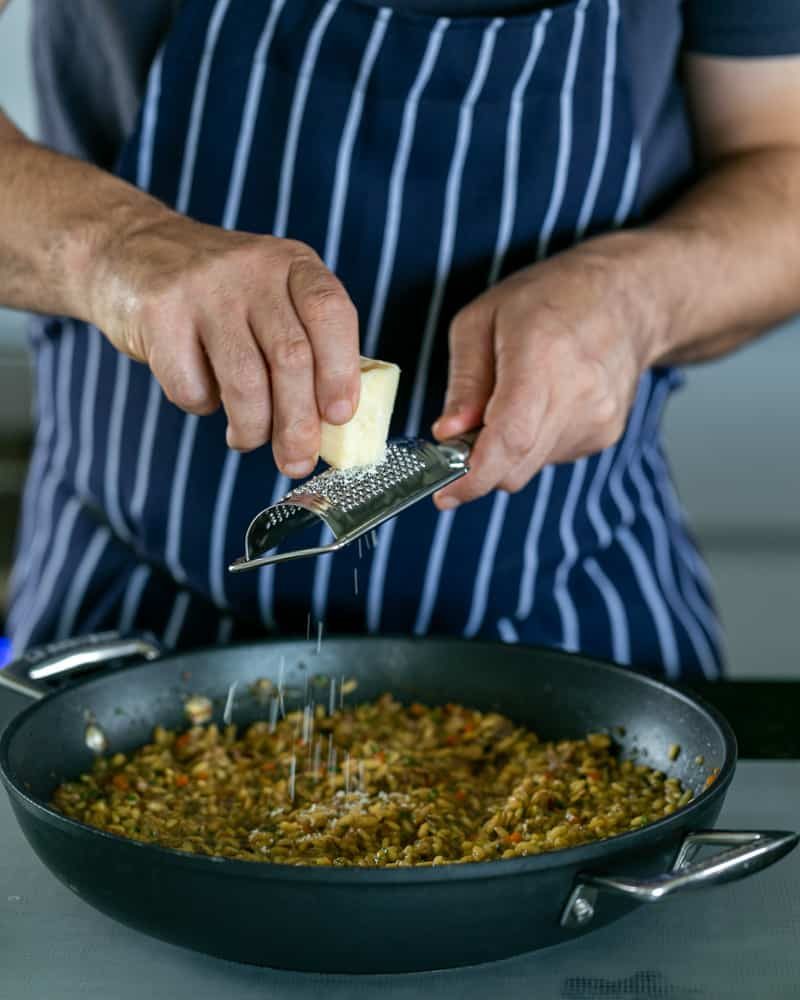 If you are after a vegetarian dish, leave out the scallops and just garnish with rocket (arugula) leaves.
How to make pan seared scallops?
If you swore never to attempt cooking scallops after watching the poor contestants face Chef Gordon Ramsey's wrath on Hell's Kitchen, then let me tell you, that's silly! Scallops are incredibly simple to make at home and much cheaper than dining out.
All you need is a hot pan and good quality scallops. Fresh scallops are best but frozen scallops work well too. We are fortunate to live at the coast so we bought some fresh scallops for this recipe. If you ever wonder how to cook scallops in the shell read our baked scallop recipe for tips and tricks.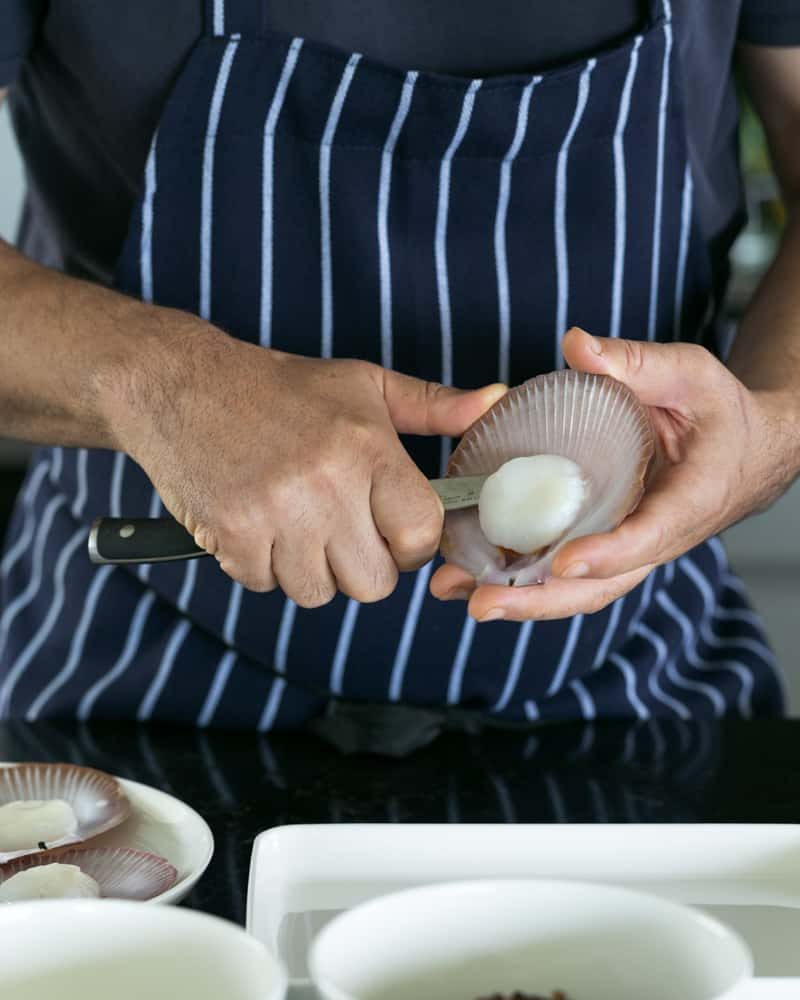 The first thing you want to do when searing scallops is to pat them dry with a paper towel. Next, season the scallops with sea salt. Meanwhile heat a non stick pan with oil and only add the scallops, when the oil is almost at smoking point.
Don't put too many scallops at a time, you don't want them to braise. Cook for 2 minutes depending on the size and turn them over.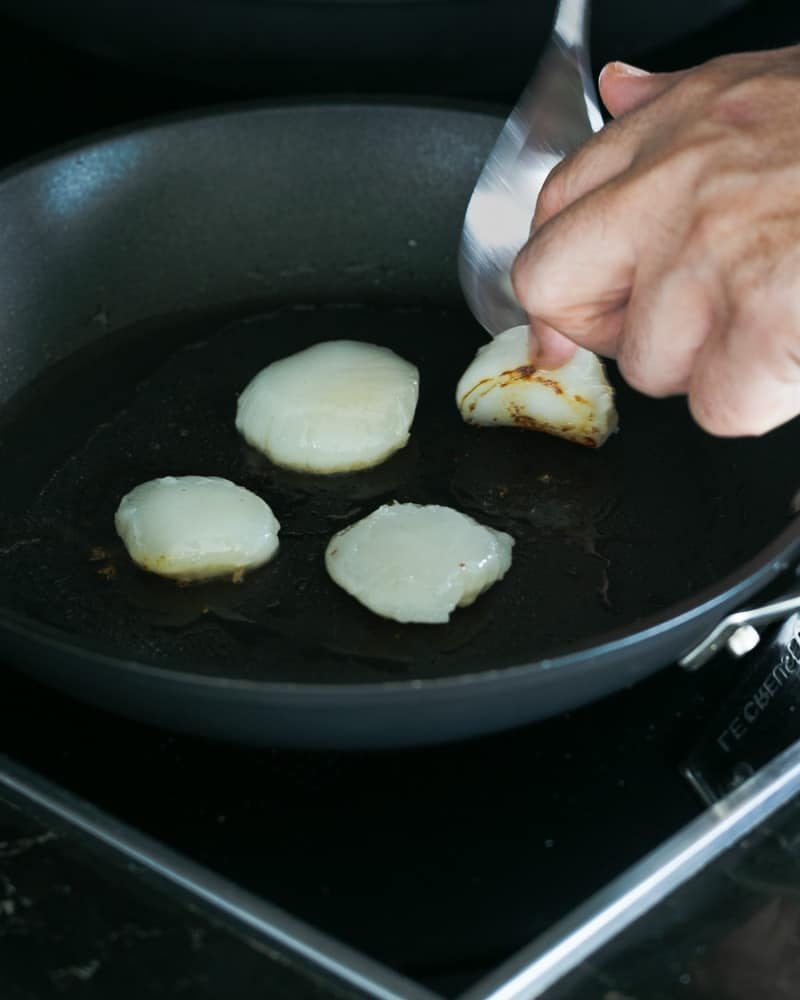 The scallops should have a nice caramelised crust, this will be your presentation side when you plate them up for the final dish😊. Cook the other side of the scallops for 30 seconds and switch off the heat. Leave them for another 30 seconds in the pan before removing them.
Once the scallops are done cooking, make sure your risotto is ready to go as the scallops are best served straight out of the pan! Arrange the scallops nicely on top of the porcini mushroom risotto and serve immediately.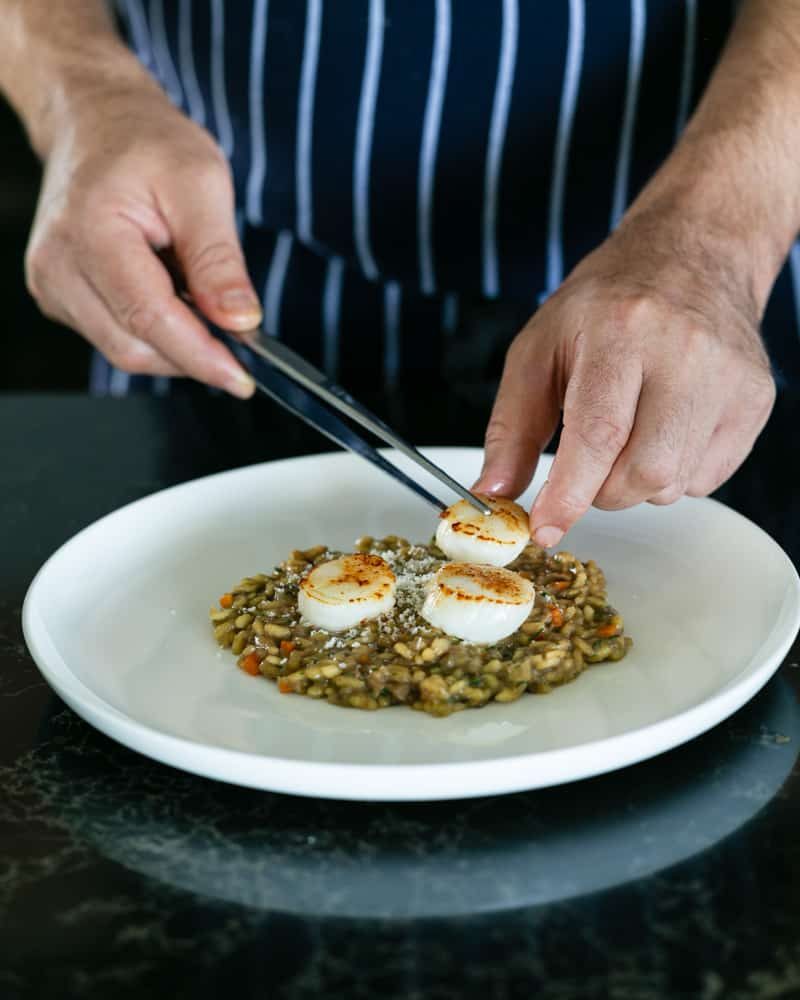 How to present risotto like in a restaurant?
First, you need to decide if you want to serve the porcini mushroom risotto with scallops as an Appetizer, Main course or as a Pass around canape dish for stand up parties (yes! that's possible and actually works very well)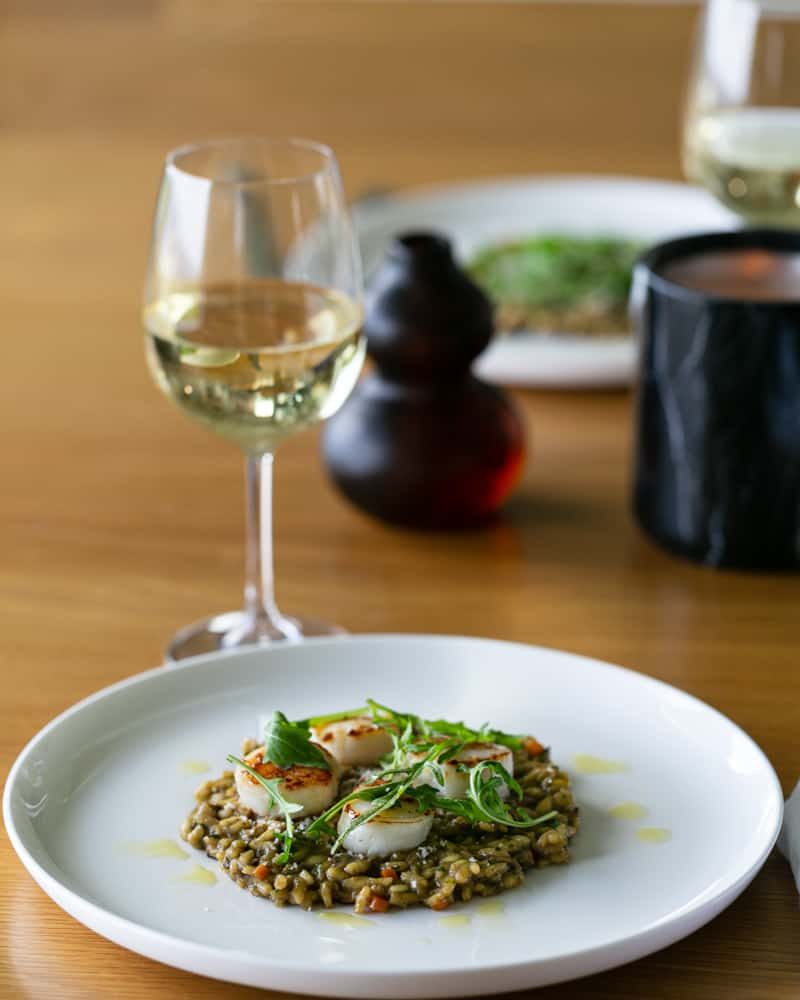 Either way, be reminded that the risotto is quite rich so if you decide to serve it as an appetizer, plate smaller portions with just 1 or 2 scallops.

I served the risotto as a main course that's why I added 4 scallops on each plate and honestly, between all 4 of us, we found the portion size to be perfect. As a garnish, I used plain rocket (arugula) leaves. Besides giving the risotto a wonderful peppery taste, it added some freshness to the dish.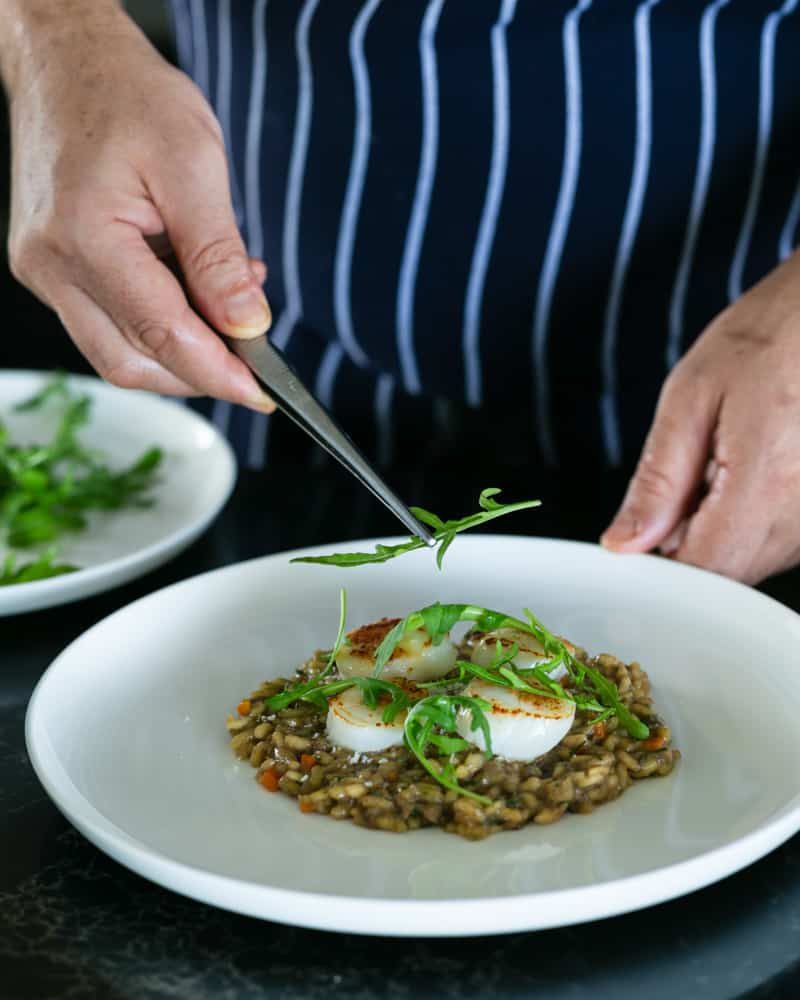 Another version I personally love is risotto served as a substantial canape. Presented in the scallop shells with one seared scallop as the hero, a simple but beautiful way to pass around.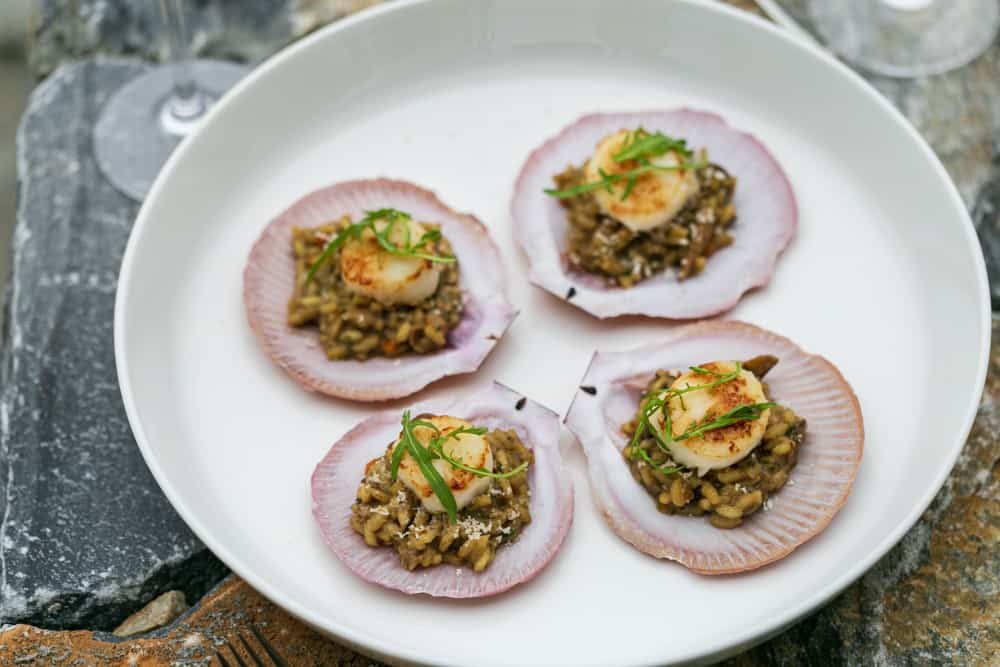 Whichever way you choose to serve the Porcini Mushroom Risotto, it'll be a dish to remember. If you enjoy recipes with mushrooms, then you must try our Rigatoni with Brown Mushrooms recipe. If you are looking for similar recipes make this fregola with prawns recipe, it is cooked like a risotto but with prawn stock instead of mushroom stock.
Enjoy!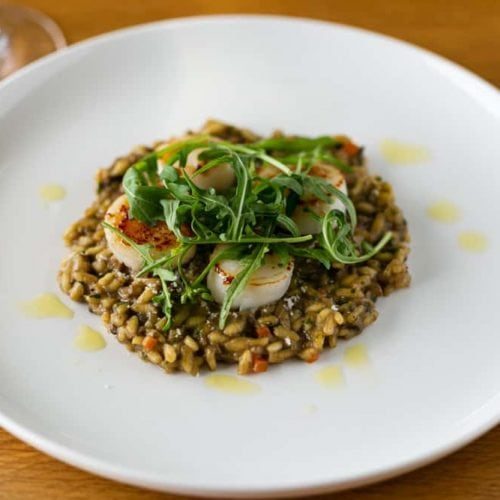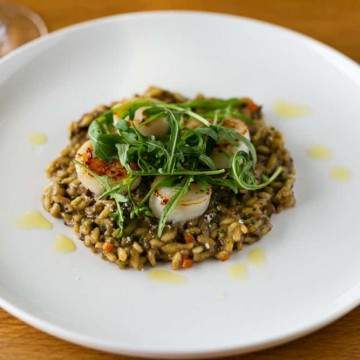 Porcini Mushroom Risotto with Scallops
This creamy porcini mushroom risotto is packed with beautiful earthy and nutty flavours. Topped with pan seared scallops and grated parmesan, the dish is the perfect elegant plate for a special occasion.
Ingredients
For the Risotto
200

g

risotto rice

carnaroli or arborio

40

g

dried porcini mushrooms

3

shallots

peeled and finely chopped

3

clove

garlic

peeled

5

large

button mushrooms

1

carrot

peeled

½

brown onion

peeled

½

leek

white part

3

thyme sprigs

⅓

bunch

flat parsley

50

g

parmesan

freshly grated

50

g

butter

diced

4

tablespoon

white wine

2

tablespoon

olive oil

sea salt, black pepper
For the Scallops
16

scallops

fresh or frozen

2

tablespoon

olive oil

1

large

handful rocket leaves

for decoration

sea salt
Instructions
For the Risotto
Cover the porcini mushrooms with room temperature water to re-hydrate the mushrooms. Leave submerged for 10 minutes and then strain. Press the porcini gently with your hands to remove excess water. Keep the porcini water for the stock.

Make the vegetable stock from the stems of the mushrooms, two sliced mushrooms, ½ onion cut in half, ½ carrot cut lengthwise in half, white part of leek cut lengthwise in half, 2 garlic cloves, 1 thyme sprig, 1 pinch of salt and 2 litre (8½ cups) water. Bring to a boil and reduce the heat to medium. Add half of the porcini water and let it simmer for 10 minutes. Put the pot of stock aside while you start the risotto.

Cut the remaining carrot and chop the mushrooms into small dices. Slice the porcini mushrooms. Heat the olive oil in a large pan. Add the shallots, carrots and mushrooms and cook over high heat for 2 minutes.

Add the porcini mushrooms and one finely chopped garlic clove and continue cooking for 2 minutes.

Add the rice and keep cooking for another minute until it is lightly toasted.

Deglaze with the white wine and add enough mushroom stock through a strainer to cover the rice completely.

Cook for about 5 minutes stirring occasionally until the rice has absorbed almost all of the stock. Add again enough stock to cover the rice and continue simmering.

Meanwhile chop the thyme sprig and parsley. Add the thyme sprig to the risotto and cook until the rice has absorbed the stock. Check the doneness of the rice, it should be almost al dente.

Right before you add the scallops to the pan add another ladle of stock and 2 tablespoon of the grated parmesan (or grate straight into the risotto like I do).

Finally, stir in the butter and chopped parsley, season well with salt and pepper.

The risotto should have a creamy consistency and a glossy shine. The rice should still have a bite feel.

Dish up the risotto in a bowl or flat plate and grate some more parmesan over the top.
For the Scallops
If the scallops come in the shell, remove them from the shell and make sure they are clean. Pat them dry and season with sea salt from both sides.

Heat olive oil in a frying pan until very hot. Add the scallops and cook for 2 minutes

Turn them around (they should have a nice brown colour). Cook for another 30 seconds and remove from the pan

Serve immediately on top of the risotto and garnish with rocket leaves.
Notes
Note: Always keep a small amount of mushroom stock in case you are falling behind with the scallops and need to bring back the risotto to its creamy texture. Avoid serving a dry risotto.