A thin crust, Alsatian style flammkuchen pizza, topped with crème fraiche, onions and bacon is the answer to a quick delicious meal, perfect to be shared with good company.
When I mention Flammkuchen or tarte flambee to people, I mostly get the same reactions - they have never heard of it!! When I share a picture, they tell me it looks like a pizza!
Well, it's not far off as there are a lot of similarities with the Italian National dish but the speciality I'm talking about is: Flammkuchen.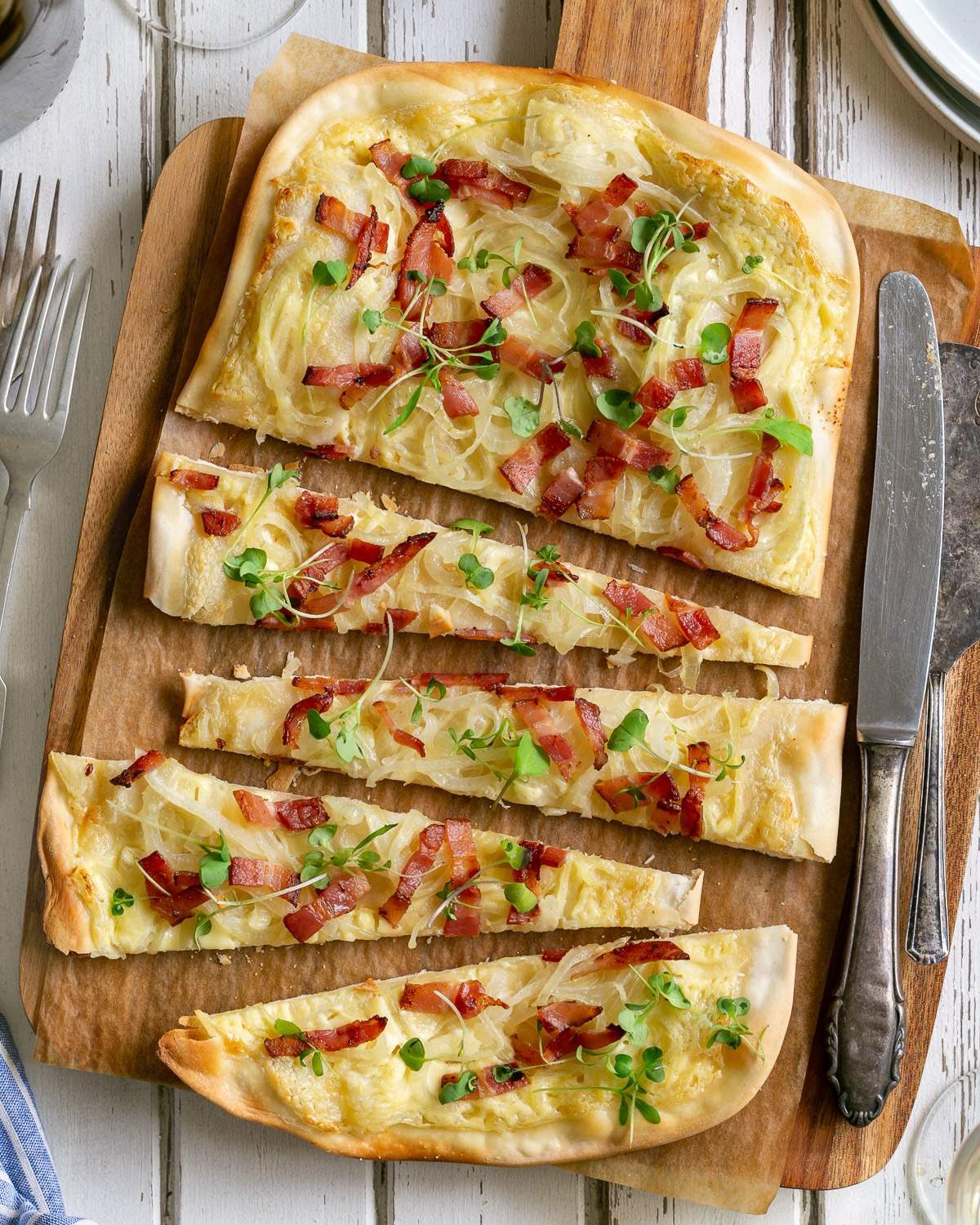 Flammkuchen or tarte flambee (even called German pizza sometimes) is based on a thin dough that can be made with or without yeast, baked in a really hot oven. Traditionally topped with creamy crème fraiche, onions and speck (lardons) however we will show you a few other versions as well!
Jump to:
For those who are not familiar, Flammkuchen is nothing new! In fact it has been around for many years, just waiting to be discovered by you! I'm sure once you make it, you will LOVE IT as much as we do!
ORIGINS OF FLAMMKUCHEN
As with many inventions, Flammkuchen too has a lesser known story to it. The origins of tarte flambee lead to the bread making in the French Alsace region.
Back in the days, when bakers did not have access to thermometers, they had to determine if the oven was hot enough for baking bread. Hence they made these flammkuchen and placed them in the oven.
By watching the tarte (cake) flambee (flame baking) they would know if the oven was hot enough to load the bread or not.
HOW TO MAKE THE DOUGH
There are many recipes for the flammkuchen base and even though my French mother makes hers with yeast, I have adapted a recipe without yeast. The benefits of this recipe are:
The dough needs only 15 minutes to rest
It is much easier to roll out
And the base always turns out very crispy
To make the dough, simply combine the flour, salt, olive oil, water and knead with a dough mixer until all comes together.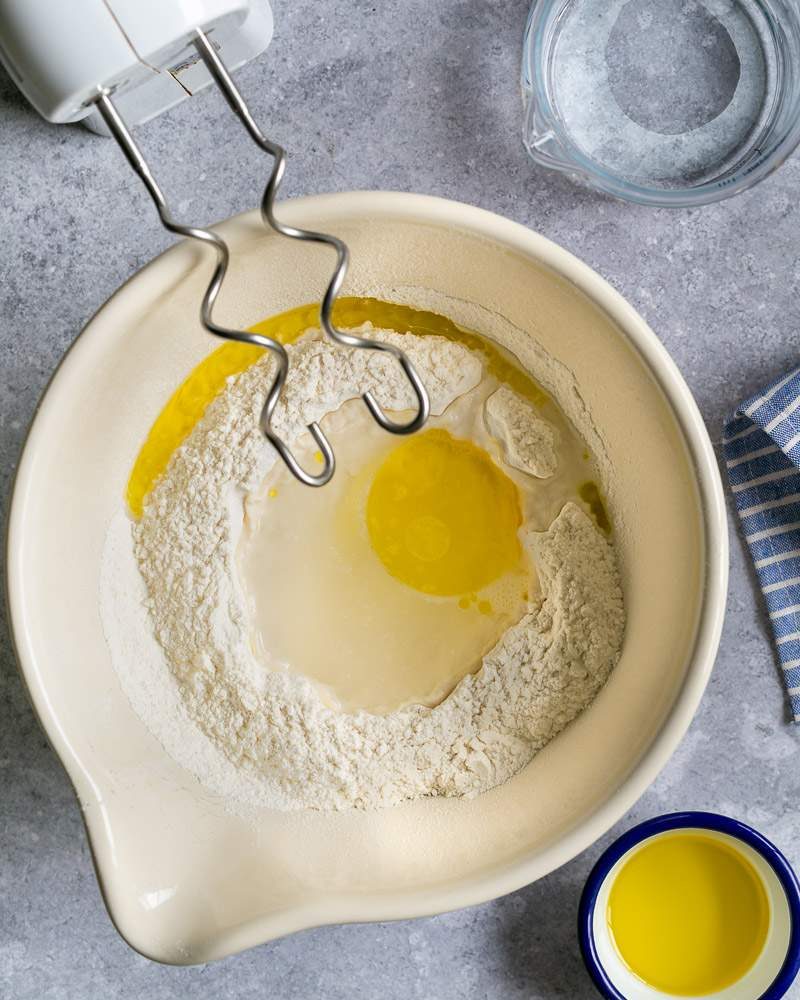 Knead by hand for a further 5 minutes and leave covered to rest for 15 minutes.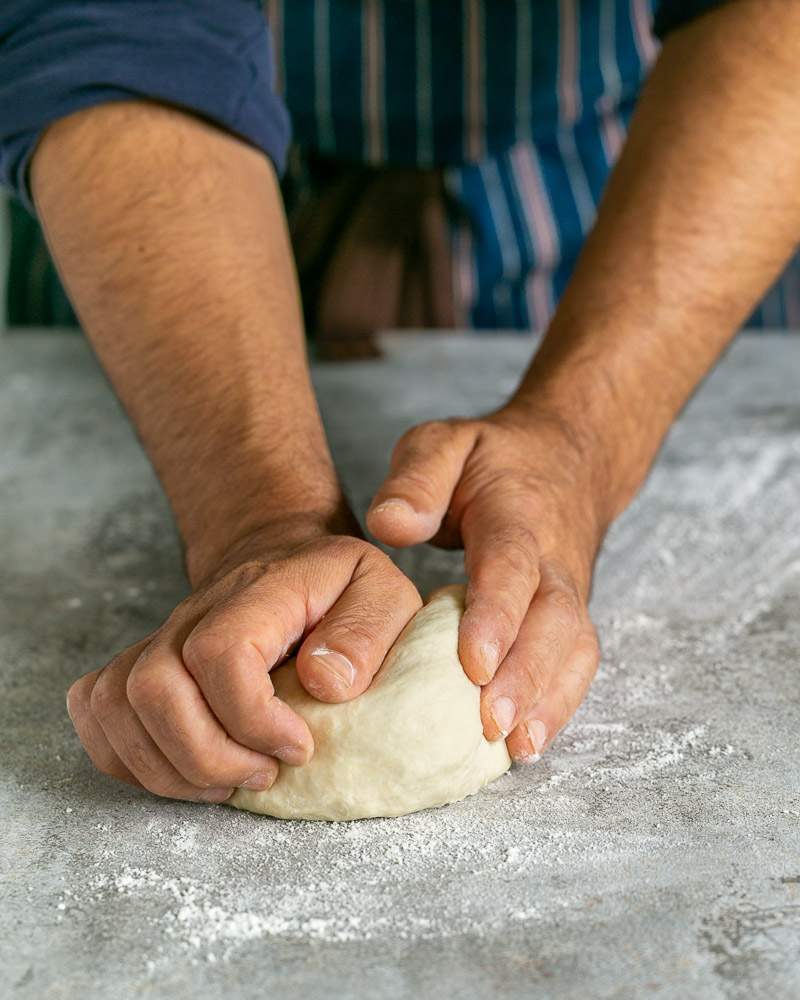 rolling the dough
Once the dough has been rested, cut into 130g (4.6 ounces) pieces and roll out very thin but not paper thin, about 2mm (.1 inch). I sprinkle the baking paper with semolina before placing the dough on top, this helps making it crispy.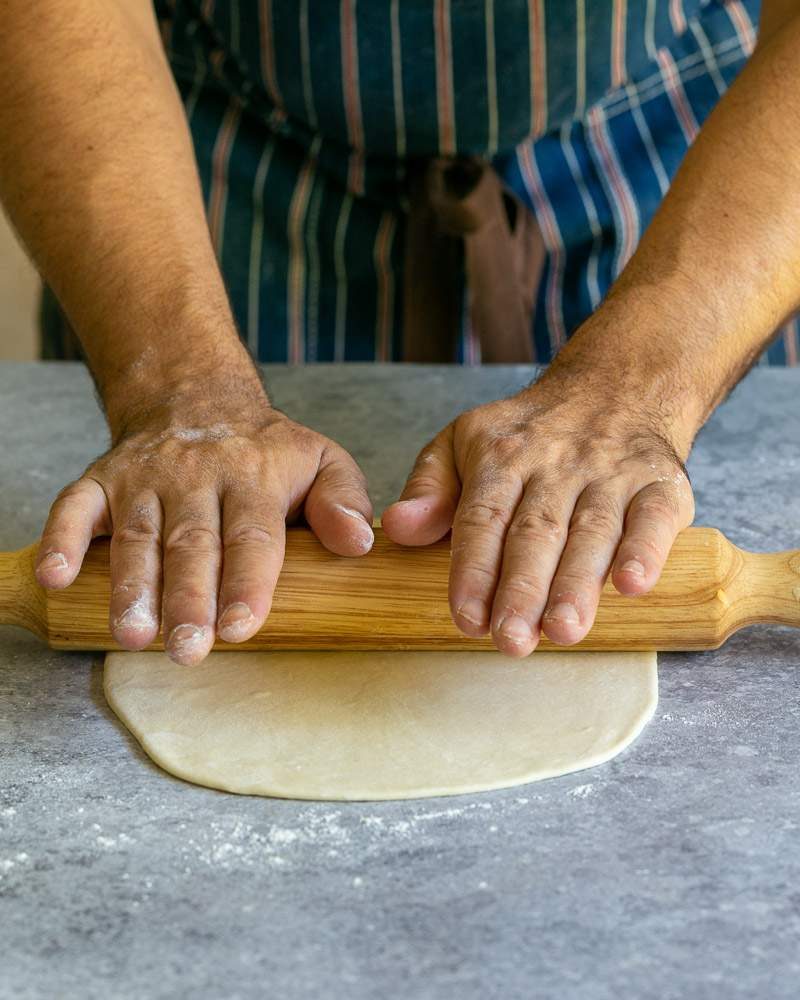 baking the dough
Traditionally this tarte is baked in a woodfire oven and is sort of flamed, hence the name tarte flambee! To recreate this at home is difficult but there are ways around it. One being having a very hot oven!
I turn on my oven well in advance and set it at 220°C (425°F). I find that if you leave the baking tray already in the oven and place the rolled out flammkuchen with the toppings on the same tray, it crisps up the bottom and cooks faster.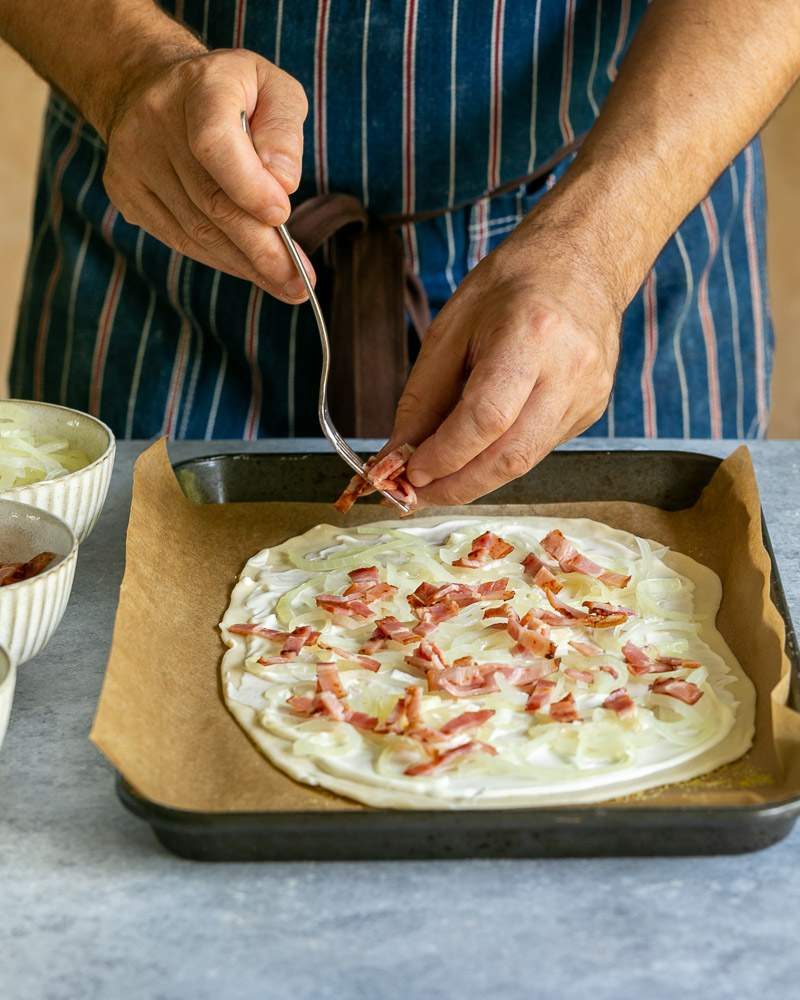 Another great tool is a pizza stone - this will definitely get you the right crispness.
THE CLASSIC TARTE FLAMBEE
Made only with crème fraiche, sliced brown onions and lardon, however lardon is difficult to get in Australia, hence bacon is the best substitute plus it is easy to find.
Now, a few notes about these ingredients.
Crème fraiche is the key ingredient! When it bakes with the crust, it creates a slightly tart, creamy contrast to the crust's crispness. But if you cannot find crème fraiche, use sour cream instead though keep in mind Sour cream has less fat and tastes more sour than crème fraiche.
Onions are traditionally added raw to the flammkuchen and give a nice bite even after baking. However this is not to everyone's liking that's why I like to lightly cook the onions for a few minutes without giving them any colour.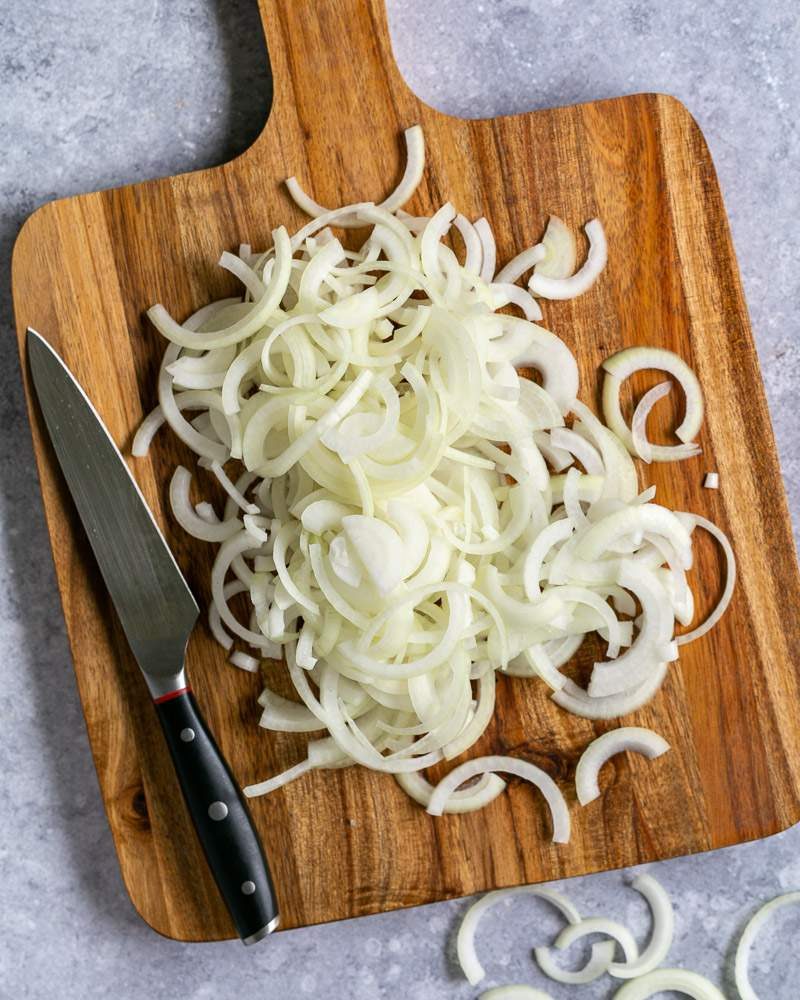 Bacon/Lardons are used as a topping as they are but again, I like to cook the bacon and then cut them into strips.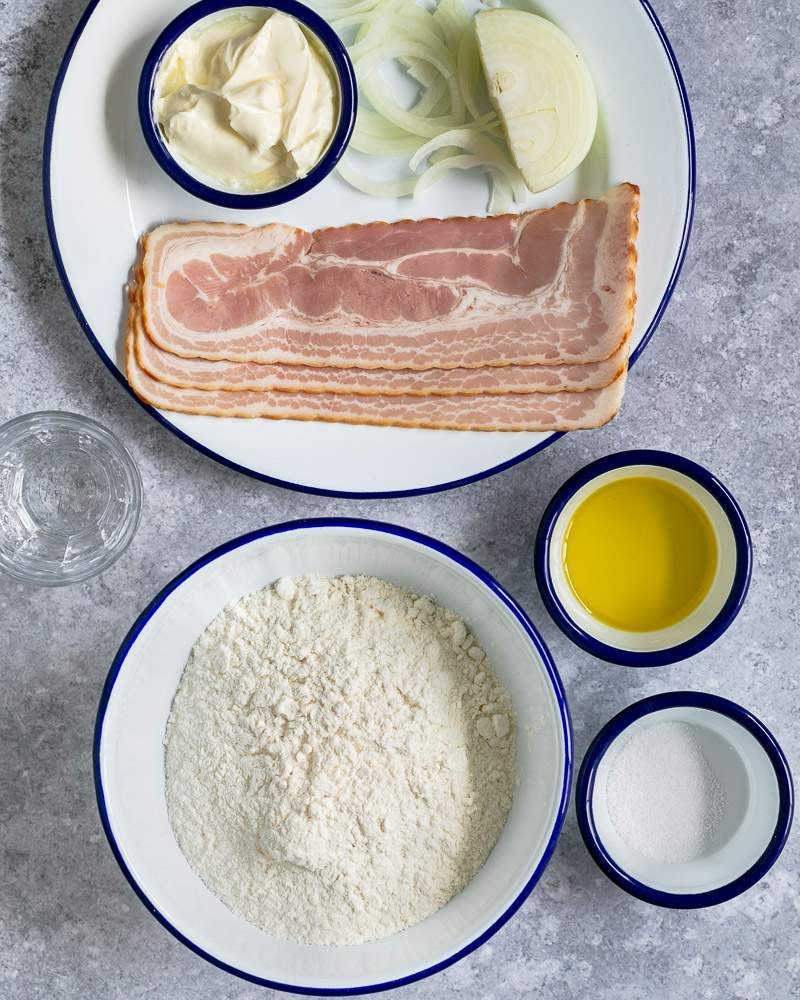 assembling the flammkuchen
Once you have all your ingredients ready, it's time to assemble the flammkuchen! A layer of crème fraiche on the thinly rolled out dough, topped with onions and bacon strips! Baked in the oven... makes simply the most delicious treat!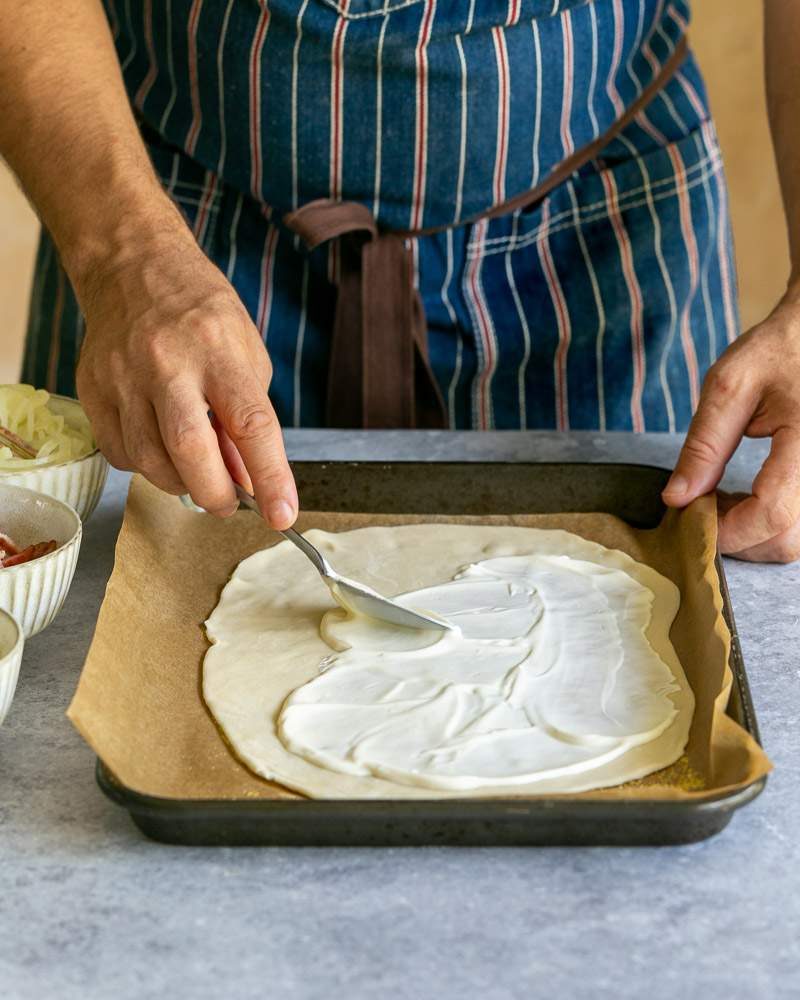 By the way, in most French or German flammkuchen restaurants, these tarts are large and served to be shared while the next one goes in the oven but since we are showing you how to make these tarts at home, we have kept them small;)
SMOKED SALMON AND POTATO TARTE
This is the one my wife, Shilpi loves the most. A layer of crème fraiche, sliced, cooked potatoes and baked the same way as above.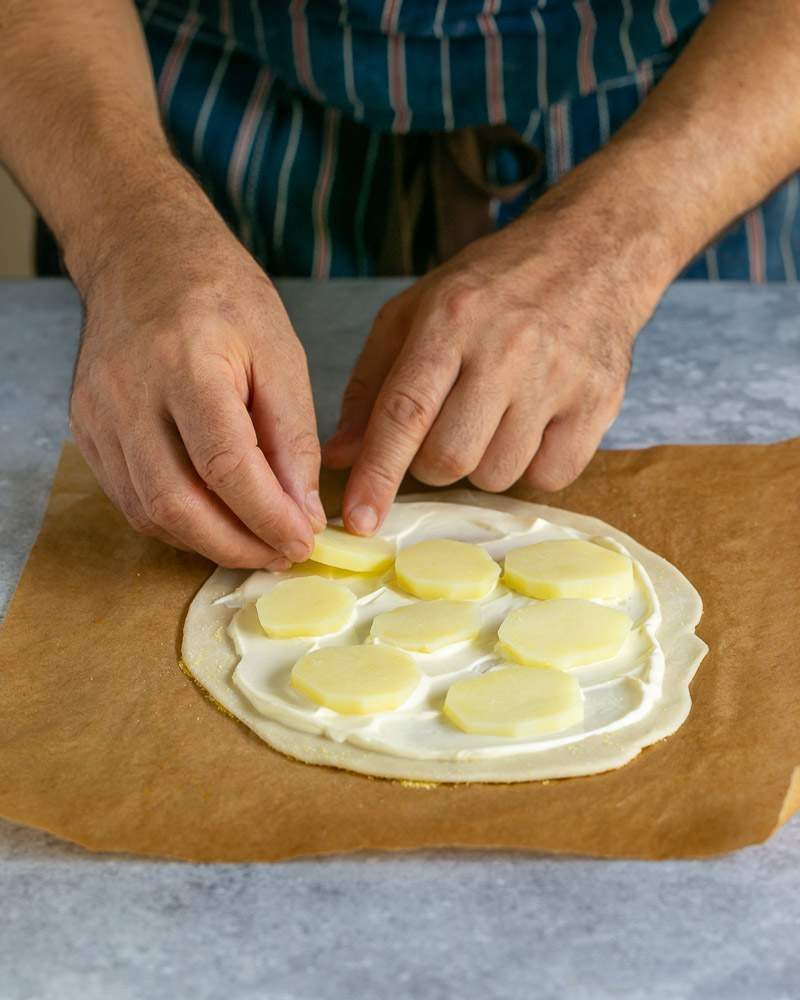 Once baked, cover the tart with slices of smoked salmon, red onion rings and dill. I added leftover caviar from NYE but this is optional. Capers, lemon and horseradish are some other ingredients you could add to this version.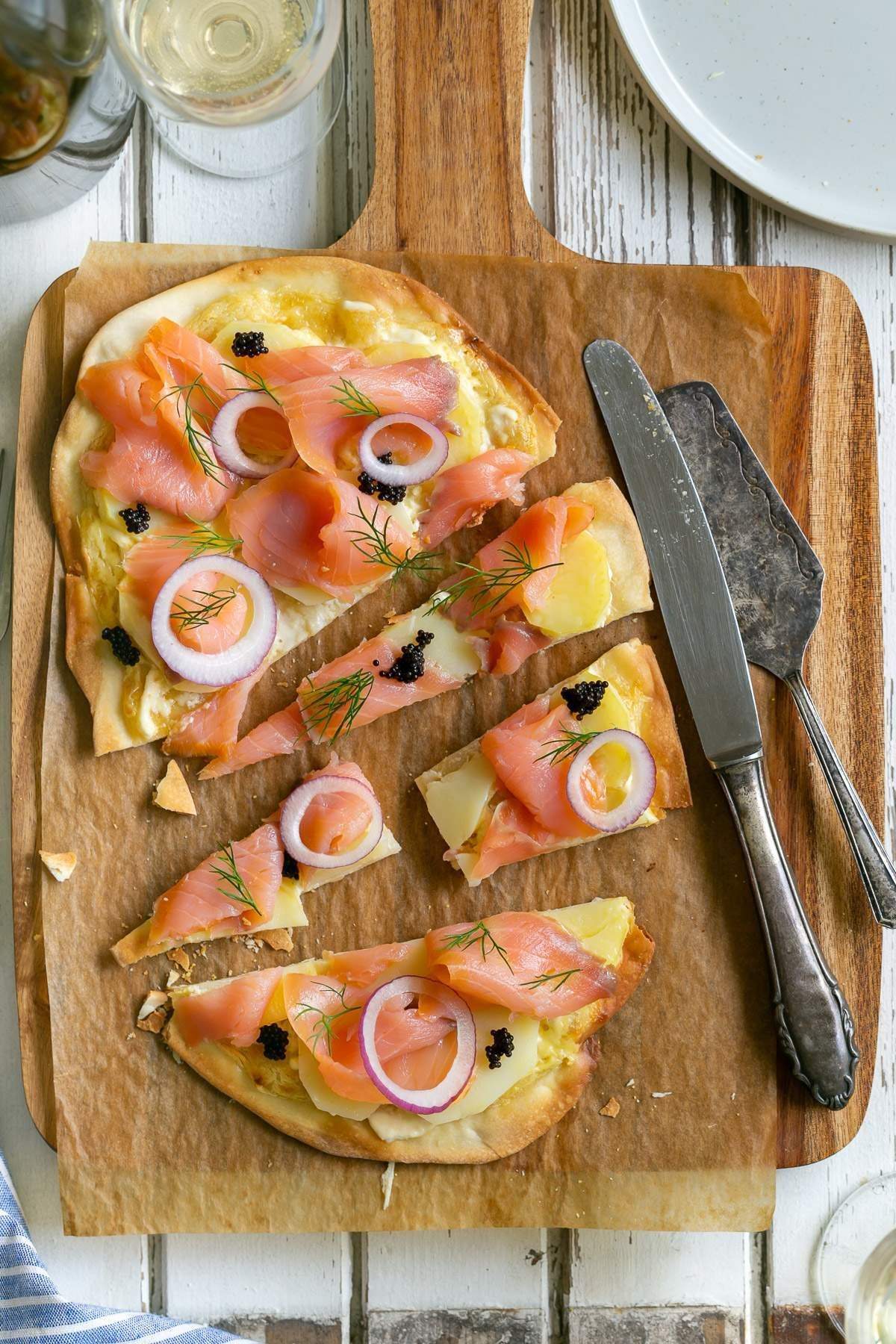 VEGETARIAN MUSHROOM FLAMMKUCHEN
For a vegetarian version, I sliced Portobello mushrooms and sautéed them in the pan beforehand.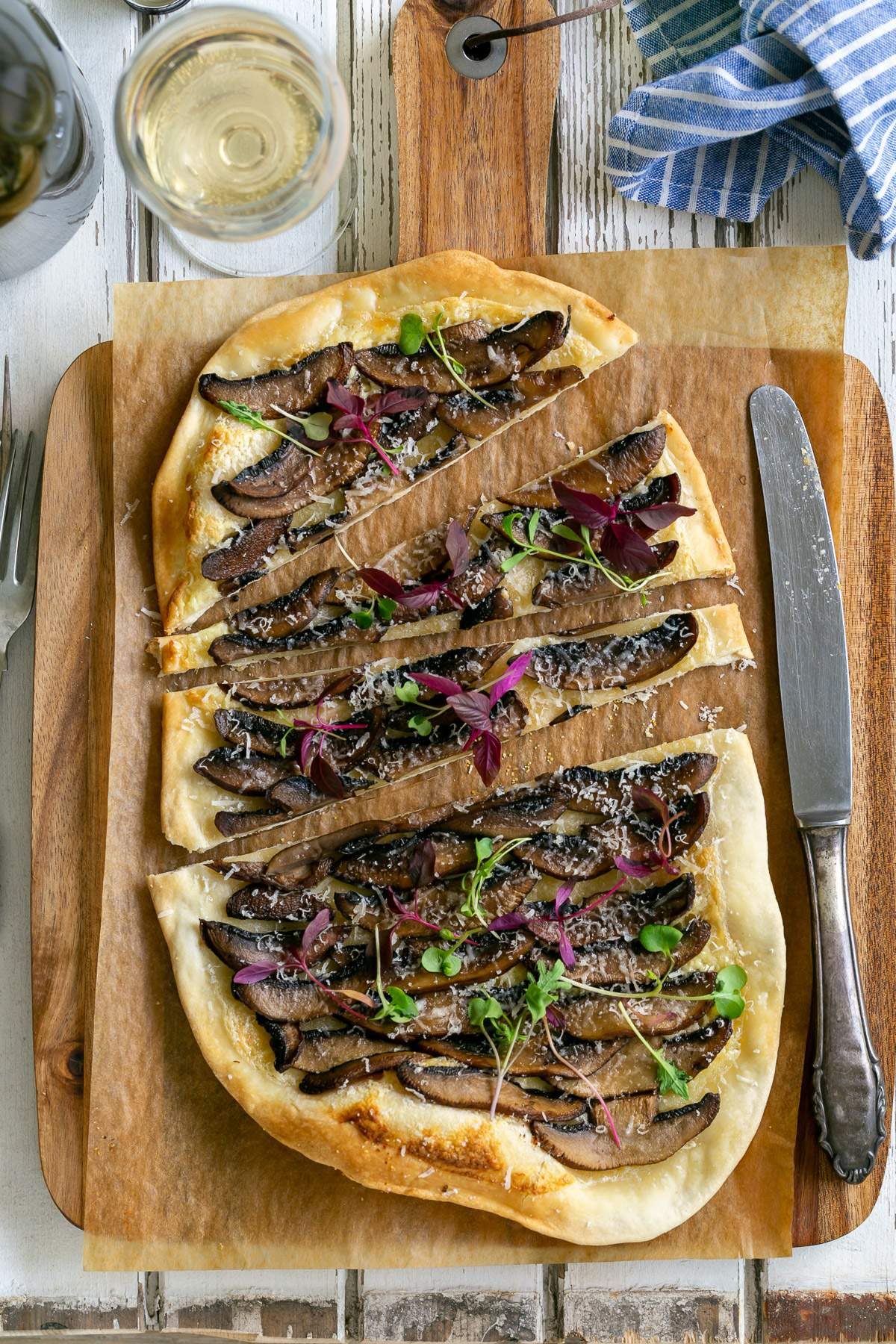 A layer of crème fraiche and Portobello mushrooms baked as above and finished with grated parmesan and truffle oil...honestly, such a treat!!!
Flammkuchen is easier to make than your average pizza! It is delectably delicious, quick and fun to get creative with. Try it, I think you will like it!
More Ideas
Similar to pizza you can add your favourite toppings on flammkuchen too:
Gruyere cheese, leek & ham is a nice combination
Or butternut pumpkin, feta & prosciutto
Or try this vegetarian one with fennel and burrata, looks so great
There is a sweet version too with sliced apples, raisins, cinnamon and brown sugar
If you are looking for similar oven baked tarts savoury or sweet try our asparagus and parmesan crostata, this oven baked french apple tart or this recipe for plum tarte tatin they all are delicious or try this german black forest cake!!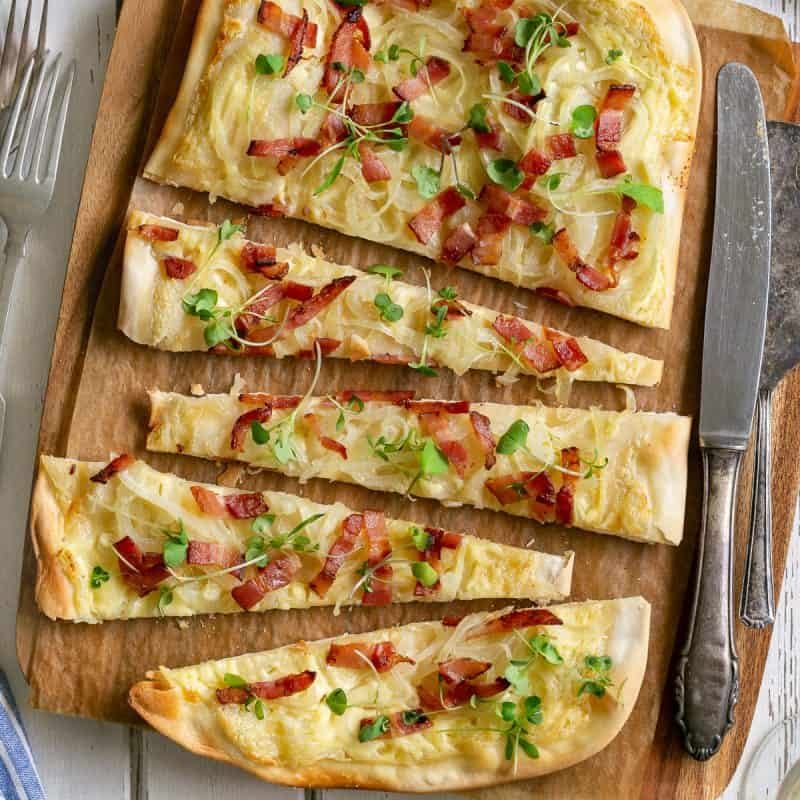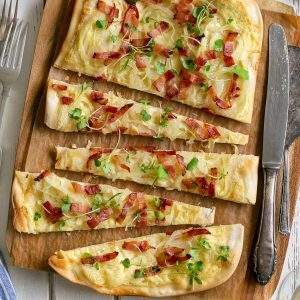 Flammkuchen Recipe (Tarte Flambee)
A thin crust, Alsatian style flammkuchen pizza, topped with crème fraiche, onions and bacon is the answer to a quick delicious meal, perfect to be shared with good company.
Equipment
mixing bowl

dough mixer

Rolling Pin

oven tray
Ingredients
for the dough
300

gram

all purpose flour

½

teaspoon

salt

1½

tablespoon

olive oil

150

millilitre

water

1

teaspoon

semolina (or polenta) flour
for the toppings
200

gram

creme fraiche

5

slices

streaky bacon

1½

brown onions

peeled

1

teaspoon

cooking oil

salt to taste
Instructions
to make the dough
In a mixing bowl combine the flour, salt, olive oil and water. Use a hand mixer with the hook attachment and mix the ingredients together until a dough begins to form.

Place the dough on a floured surface and knead for 3-5 minutes until it is smooth. Cover and keep aside.
for the toppings
Heat a pan and add the bacon in one row. Cook from both sides for 2-3 minutes Place on a sieve to strain off the excess fat. Cut into strips

Cut the onion in half and slice into thin stripes. Add cooking oil to the pan and heat on medium heat. Add the sliced onions and stir while cooking for about 2 minutes. You don't want them to take on any colour.
making the flammkuchen
Cut the dough into 3 even parts (about 130g/ 4.6oz each). Roll out the dough on a lightly floured surface into 2mm (.1 inch) thickness.

Line a baking tray with baking paper and sprinkle with semolina flour. Place the rolled out dough on top.

Spread an even layer of creme fraiche onto the dough leaving the borders. Next spread a generous amount of onions and lastly sprinkle the bacon slices on top.
baking the flammkuchen
Bake the flammkuchen at 220°C (425°F) for 10-15 minutes or until the borders of the tarte start to brown and crisp up.

Slice the tarte into 6-8 pieces and serve on a wooden board.
Nutrition
Nutrition Facts
Flammkuchen Recipe (Tarte Flambee)
Amount Per Serving (160 g)
Calories 380
Calories from Fat 162
% Daily Value*
Fat 18g28%
Cholesterol 15mg5%
Sodium 377mg16%
Carbohydrates 43g14%
Protein 9g18%
Vitamin A 9IU0%
Vitamin C 3mg4%
Calcium 18mg2%
Iron 3mg17%
* Percent Daily Values are based on a 2000 calorie diet.