This homemade basil pesto can be made in 15 minutes with pine nuts, garlic, parmesan cheese, lemon and olive oil. Use this basil pesto sauce for any recipes like your grilled antipasto platter, salads, pizzas, pasta sauces or just as a dip for your crudites.
I use a lot of fresh herbs in my cooking especially when summer is around the corner! They're packed with flavour, make beautiful garnishes and most importantly, they're a great source of nutrients and antioxidants. Basil has got to be one of my favourite herbs to use in cooking! Its sweet aroma and strong flavour adds freshness and it can instantly elevate any dish!
One of the best ways of using basil is to make a pesto! I always keep some in my fridge😉 Here is a simple but delicious recipe for a Basil pesto I learnt to make during my apprenticeship! I can assure you, once you make this recipe, you will never buy Basil Pesto sauce from a store again!
INGREDIENTS FOR BASIL PESTO
Our basic basil pesto recipe consists of basil (of course!), garlic, pine seeds, olive oil and parmesan. Only salt, pepper and maybe lemon juice should be added for seasoning.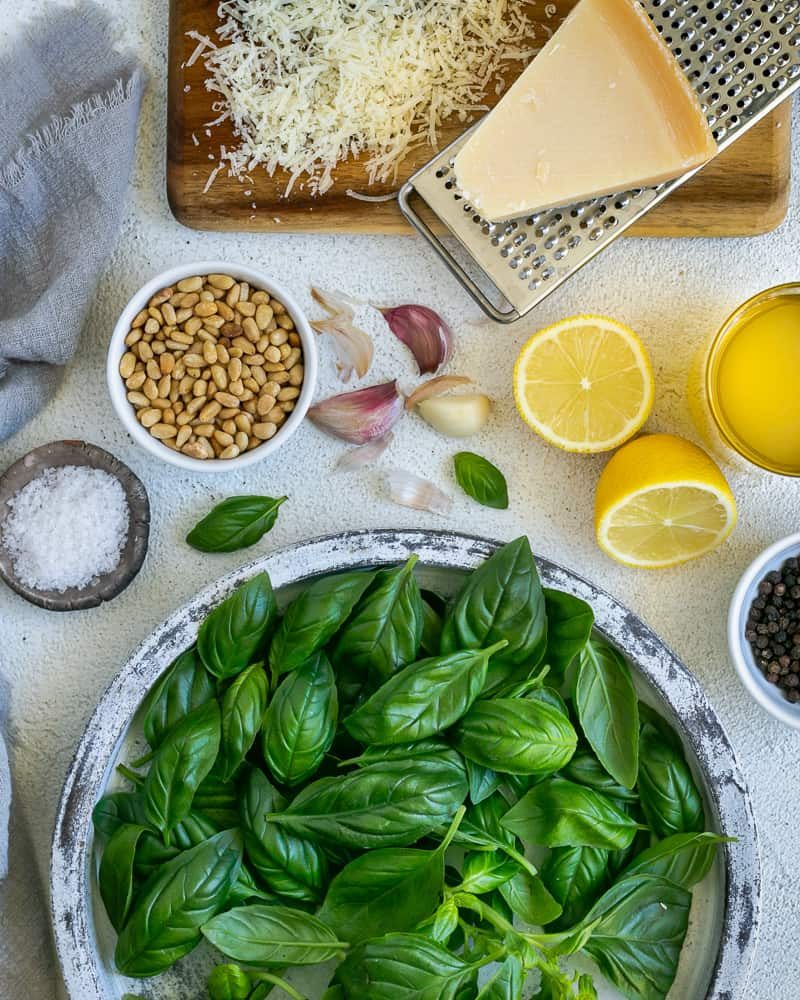 The ingredients are easy to find anywhere and the recipe can be adjusted to suit your taste. Leave the garlic out if you find it too sharp and remove the parmesan if you are dairy free!
The basil pesto will taste just as good! After making a batch of pesto at home, we used it all up within a week. If you wonder what to make with it read this blog post about our delicious rigatoni pesto pasta dish.
HOW TO STORE BASIL PESTO
I stored the pesto in a jar in the fridge and naturally a darker layer formed on the top from oxidation. But once the first layer was removed, the color was the same like the day I made it. However, the taste in my opinion is much more intense after storing the pesto one day in the fridge.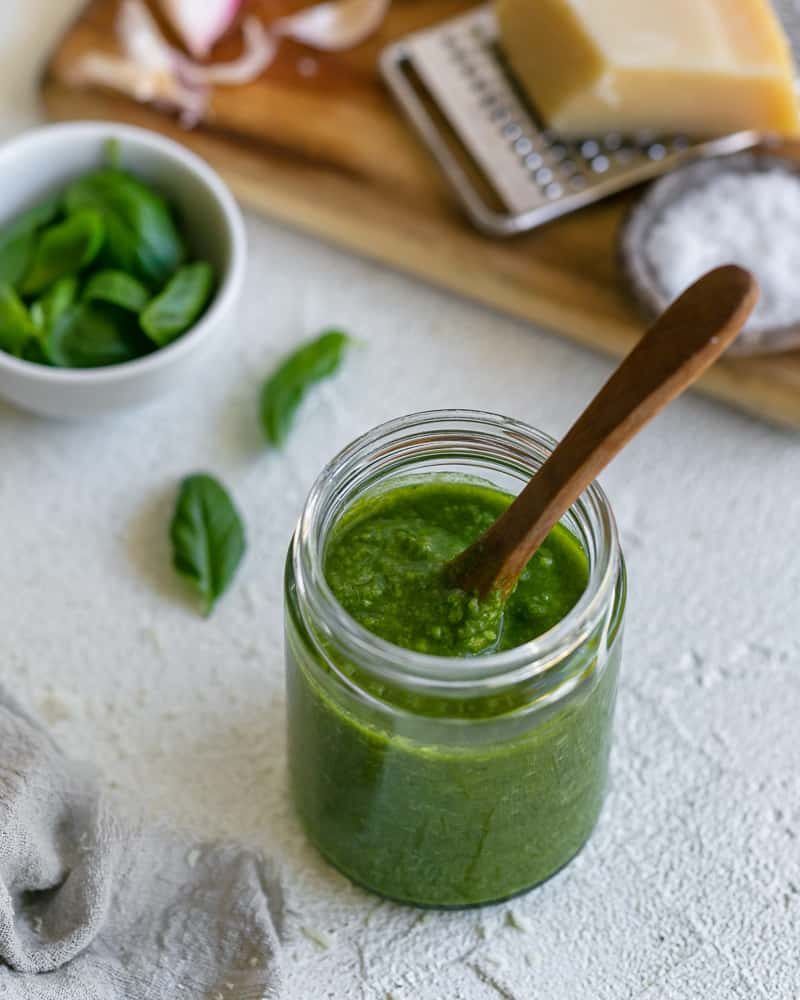 At work we cover the pesto with cling film and then with aluminium foil. This avoids any contact with light and air, that way it stays perfect throughout.
HOW TO FREEZE PESTO
Freezing is possible but not recommended unless you leave the cheese out and add it later after you have defrosted the basil pesto.
To freeze pesto, line an ice cube tray with cling wrap and pour the pesto in each cube. Once the pesto cubes are frozen, remove from the ice tray and store them in a zip lock bag in the freezer.
HOW TO MAKE PESTO
SAUCE WITH BASIL
The process is straight forward! The ingredients can either be mixed or prepared with a mortar and pestle. I learnt making pesto by first mixing the olive oil, pine seeds, garlic, salt, pepper and the lemon juice.
Once they have blended well, add the basil leaves for a bright green color. Add the grated parmesan last.
AS A TIP: Don't use any oil while roasting the pine seeds. Also you don't want to roast the pine seeds for too long in the pan, just toast them lightly for a few seconds which will give you a creamier and nuttier pesto.
This recipe gave us 400g of pesto which we polished off within five days. It ended up in a pasta dish, on a pizza, as a snacks and was even used as a salad dressing. Pesto is a versatile sauce that is easily enjoyed in so many ways!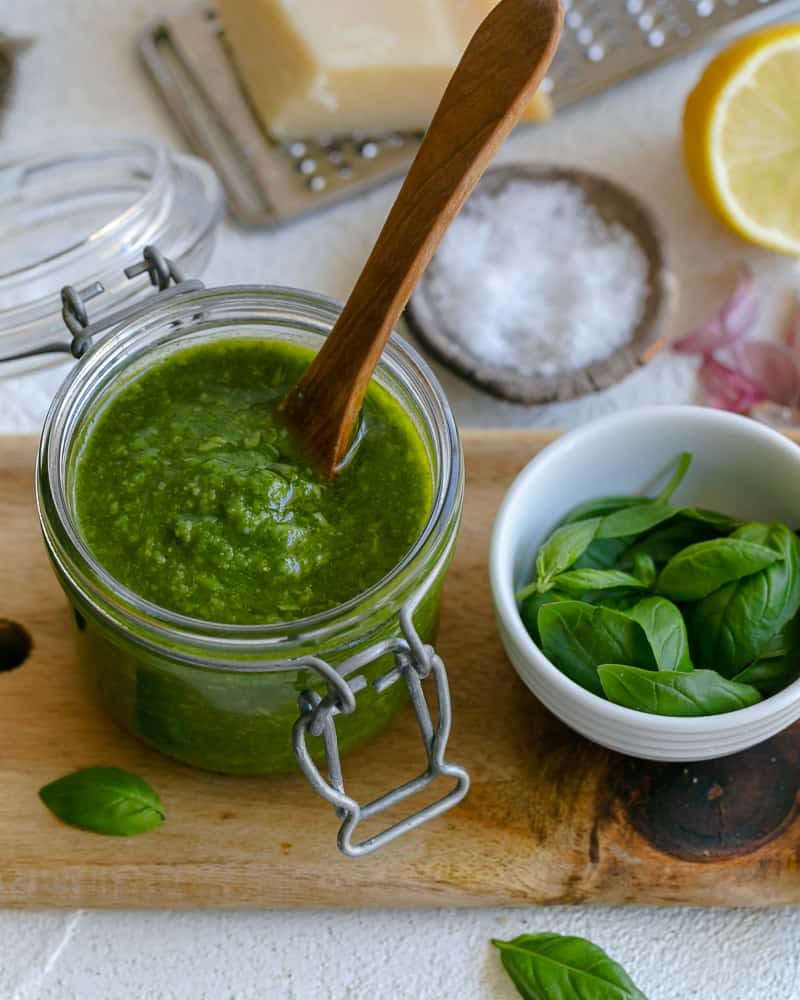 If you enjoy making sauces, then try our recipe for homemade tomato ketchup or mustard and dill sauce. Let us know in the comments below if you enjoyed making and using any of our sauce recipes! We would love to hear from you!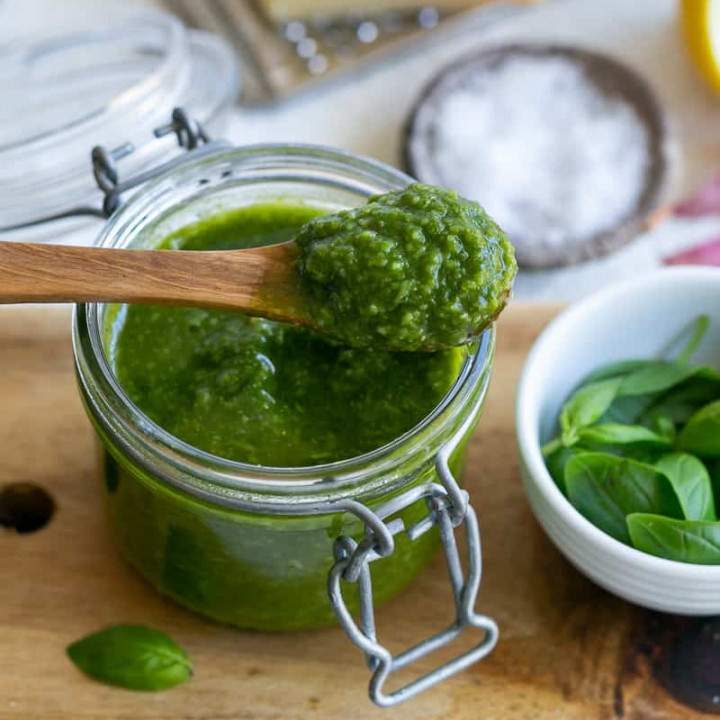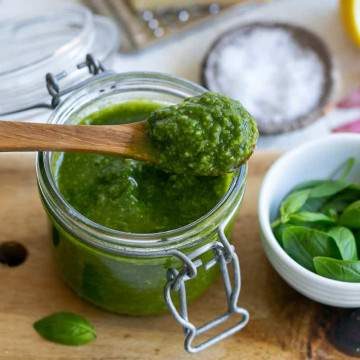 Basil Pesto
This homemade pesto can be used for almost anything like your grilled antipasto platter, on salads or pizzas, in pasta sauces or just as a dip for your crudites.
Ingredients
1

bunch

basil

should give 30-40g of basil leaves

2

cloves

garlic

peeled

50

g

pine seeds

50

g

parmesan

150

ml

olive oil

1

tablespoon

lemon juice

salt and pepper to taste
Instructions
Pick the basil leaves from the stem.

Toast the pine seeds lightly in a pan without oil.

In a food processor blend the olive oil, pine seeds, garlic cloves, salt, pepper and lemon juice together into an emulsified puree.

Add the basil leaves and blend until smooth.

Add the finely grated parmesan and adjust the seasoning with salt and pepper.