All you need is one large pan and 35 minutes of your time to make this tasty vegetarian Casarecce pasta recipe loaded with healthy greens (asparagus, kale and broccolini) ,garlic, shallots and parmesan. This bowl of comfort food is ideal for a family meal or as part of your meal prep for the week!
When I'm back from the markets with a basket full of beautiful vegetables, sometimes I spend hours trying to think what to make. I feel, to respect these ingredients, I need to do my best to make them shine.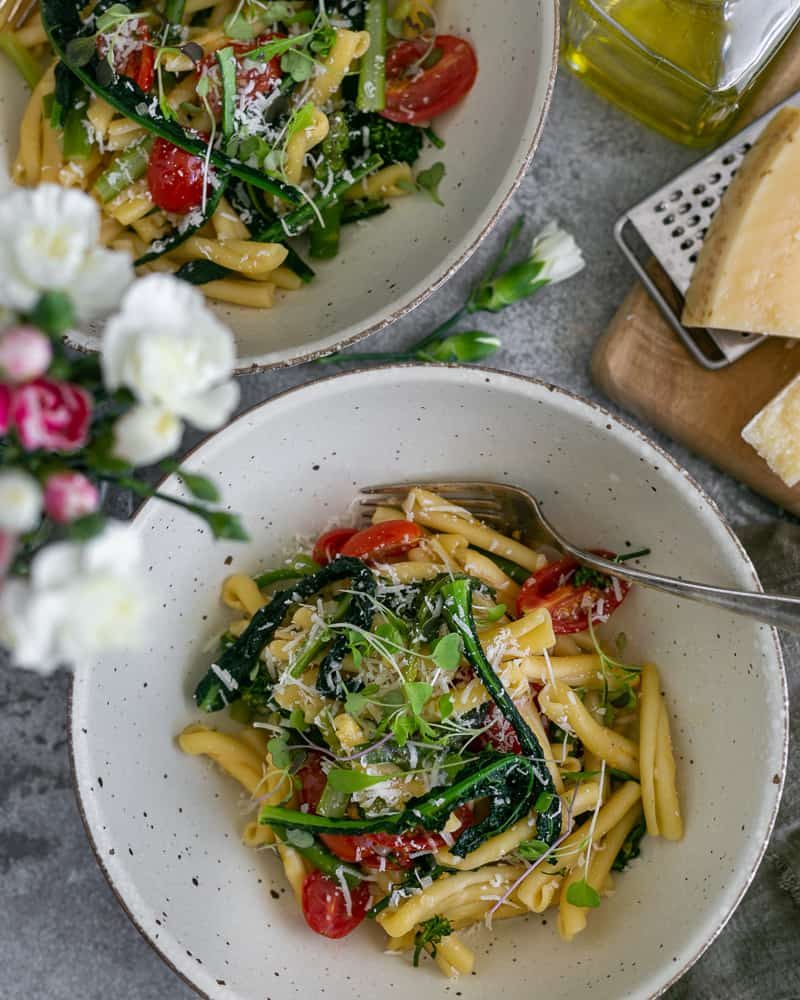 But then again, who wants to stand all day in the kitchen to prepare a lengthy meal. Not me! We Chefs like to "Keep things simple"😉 So, when I served up these vegetables with Casarecce pasta, cooked with garlic and shallots, the dish was an instant hit!!!
Jump to:
How to cook pasta perfectly
This recipe is just that easy to make and can be prepared with any type of pasta. Think penne, rigatoni or fusilli, they all work great in this dish. I used Casarecce which is a twisted shaped pasta. With any pasta dish, the trick is to cook the pasta al dente and to use the pasta water to make a sort of sauce with it.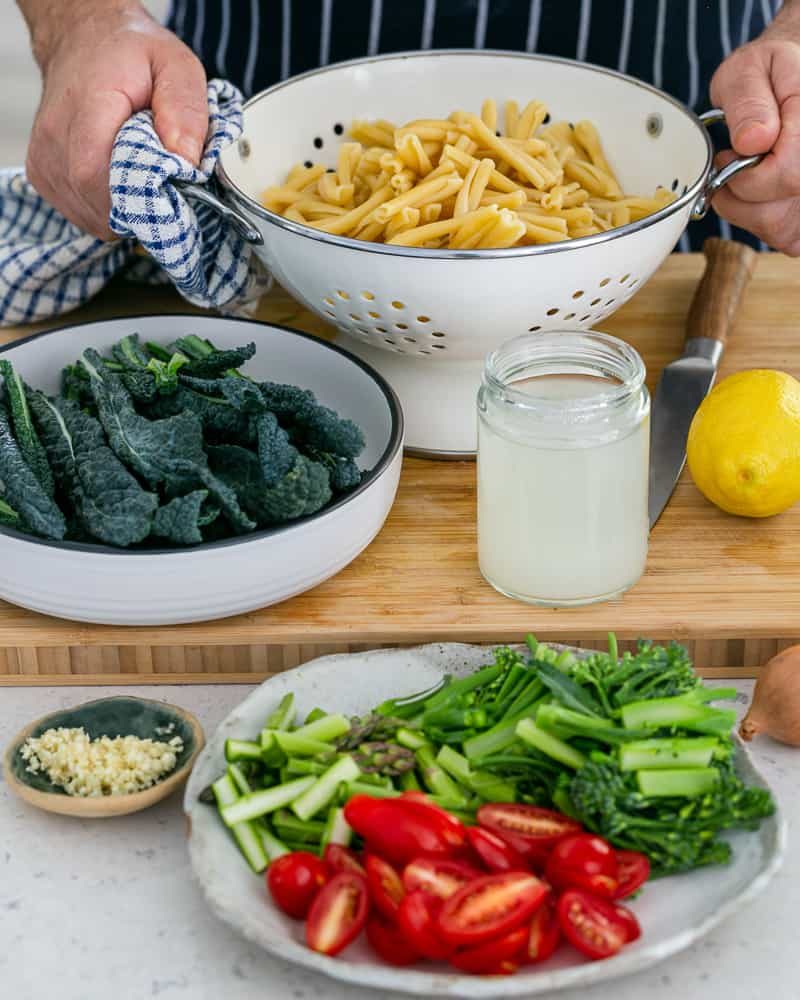 Things to consider while cooking Pasta:
Cook the pasta in plenty of water. As the pasta releases a lot of starch, this will avoid a gluey and sticky pasta. Per 500g dried pasta you need at least 4-5lt water.
Season the water with plenty of salt. To avoid a bland pasta, add a good fist full of salt. You almost want to over season the pasta water.
Add the pasta to boiling water. Wait until the water has boiled and then add the pasta slowly. Give the pasta a quick stir to make sure it does not stick together.
Cook the pasta al dente. It's all about timing. Fresh pasta cooks very fast, 2-3 minutes are enough. Dry pasta cooks in 7-8 minutes depending on size. Whichever type of pasta you cook, look for that typical bite (al dente).
Keep the cooking water. Before straining the pasta, keep a glass of the cooking water. Regardless of which sauce you have in mind, the pasta water adds flavour and binds the pasta together with the other ingredients.
Don't put the strained pasta in cold water. Strain the pasta and add straight to the sauce. If you prepare the pasta in advance, place the strained pasta on a flat tray and drizzle olive oil over it to avoid it sticking. Chill in the fridge.
If you follow these tips, cooking pasta will be a walk in the park for you😊
How can I make pasta without a sauce?
Making a pasta dish without a sauce can actually be tastier than you think. Also, perfect when you can't be bothered to make a sauce or you realize you forgot to buy a jar of pasta sauce.
In this recipe for Casarecce pasta with asparagus, kale and garlic, I added lots of flavour by searing just chopped garlic and finely diced shallots in olive oil.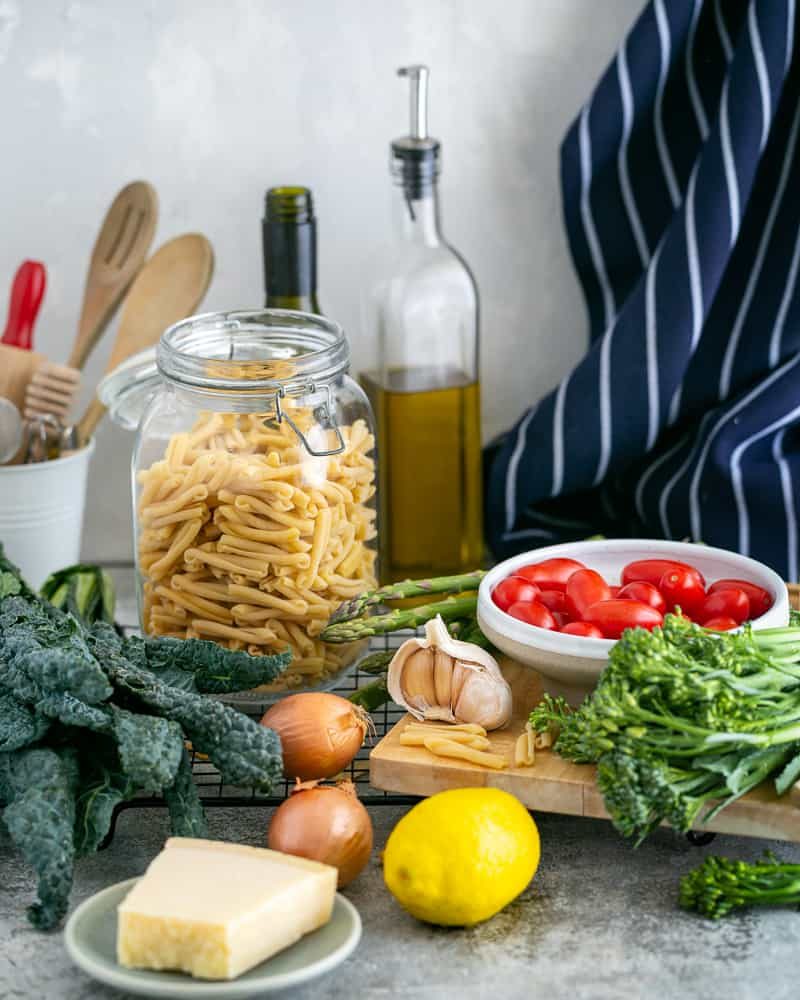 I then added all my green vegetables and finally the cooked al dente Casarecce pasta and tomatoes. Further, I seasoned the pasta with grated lemon zest for that extra zing. You can use chopped preserved lemon peel instead if you like, they are yum too..
Now comes the sauce, I added about 150ml of pasta cooking water (to 500g of dried pasta) and finished it with a few cubes of cold butter.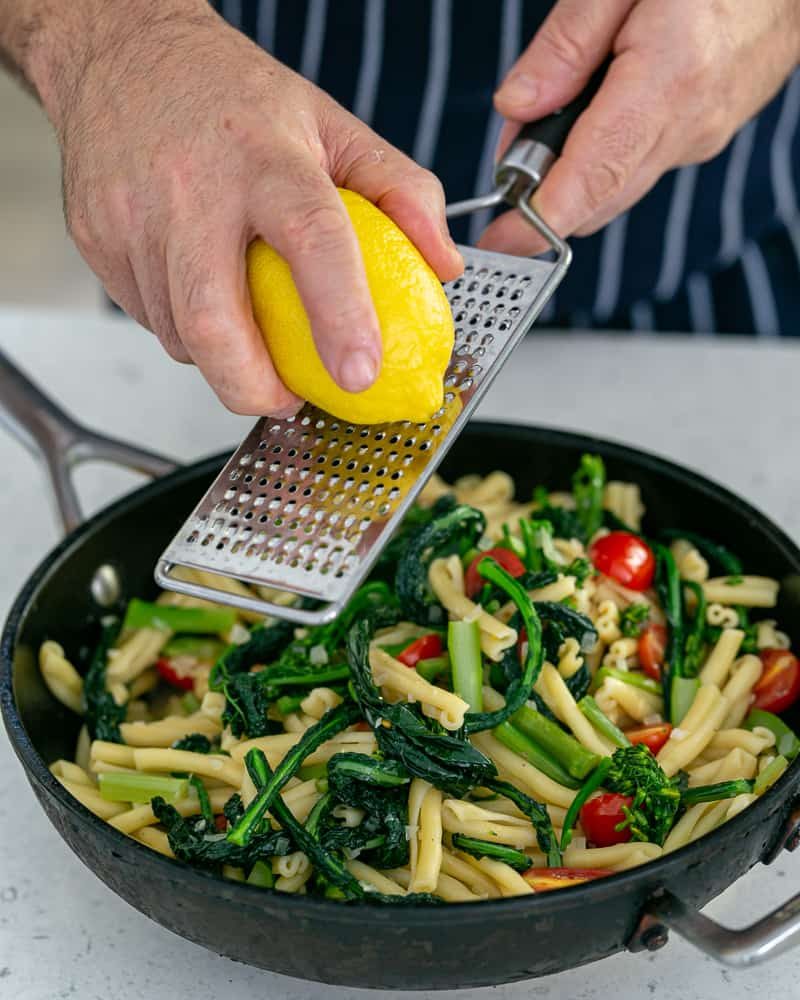 I let it simmer for about 2 minutes and stirred it well. After plating up the dish, I grated parmesan over the top. The end result was a delicious bowl of pasta!!
The Casarecce held the sauce well and the flavour of garlic, shallots and lemon came through perfectly. The parmesan added more creaminess and an umami flavour...just grande!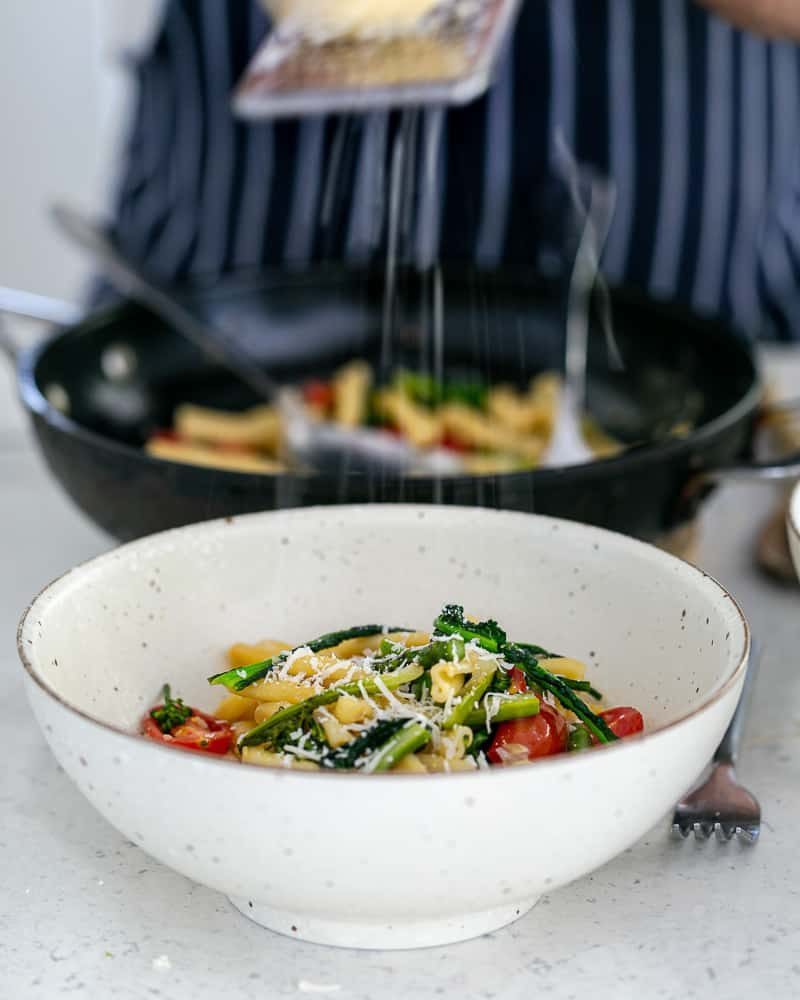 How to keep green vegetables from losing their colour while cooking?
The green vegetables in this dish have been carefully prepared. To avoid overcooking and them losing their vibrant green colour, I blanched the vegetables in salt water. I left them cooking for less than a minute and refreshed them in ice water straight away.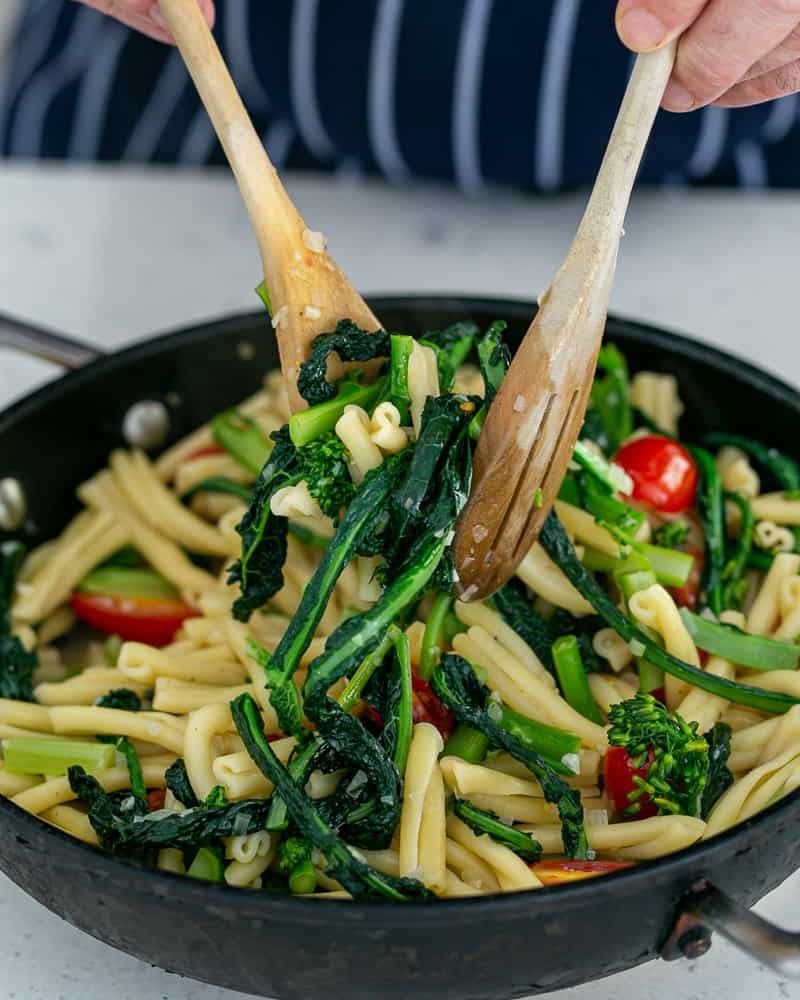 In order to do this, you have to bring a large pot of water to a boil. Season the water with plenty of salt. As you are using a large amount of water, ensure the temperature of the water stays hot enough when you add the vegetables.
Keep in mind we will be cooking the vegetables in the pan again, so only cook them for about a minute.
To stop them from cooking further, have a bowl of water and ice cubes ready so that you can transfer the vegetables straightaway into it. This way, the green veggies not only stay bright green but also keep their crunchiness.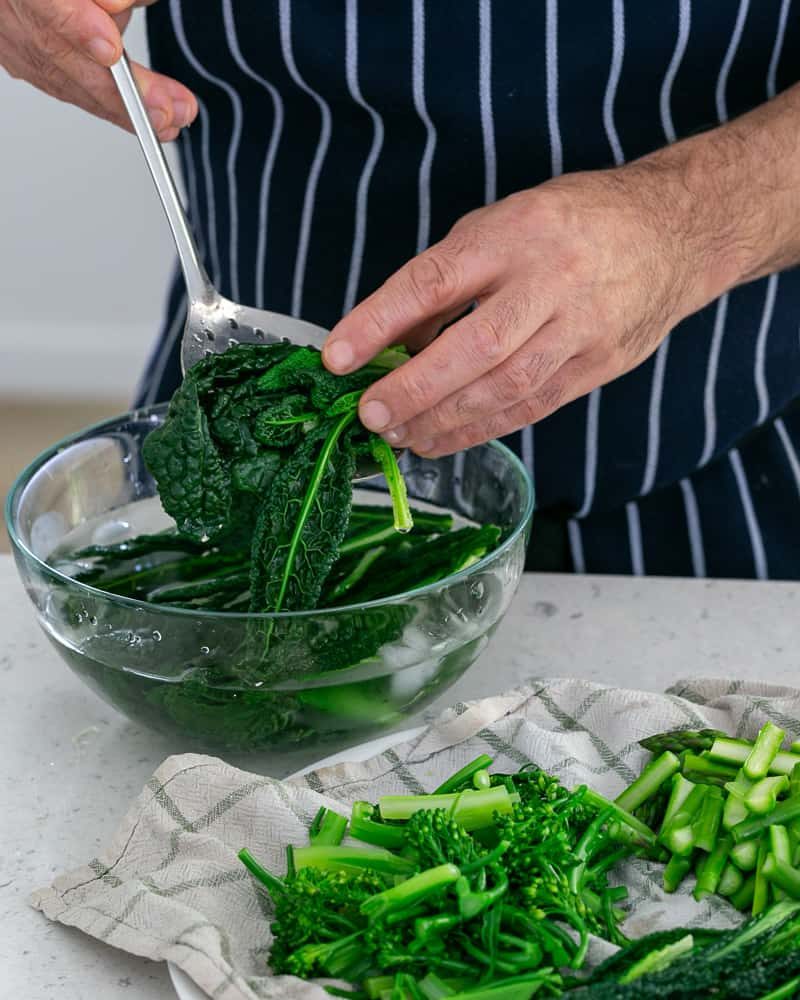 Place the cooled vegetables on a kitchen towel to drain the excess water. For the Casarecce pasta recipe the green asparagus, Tuscan kale and broccolini are sautéed with olive oil, garlic and shallots before the pasta is added.
Can this recipe be prepared vegan?
The only ingredients that are not vegan in this recipe are butter and the parmesan (that is if you are using dried Casarecce pasta). But you can easily swap these with vegan butter (margarine) and any vegan friendly hard cheese.
To add more flavour drizzle some of this crunchy chili oil on top, it will spice it up!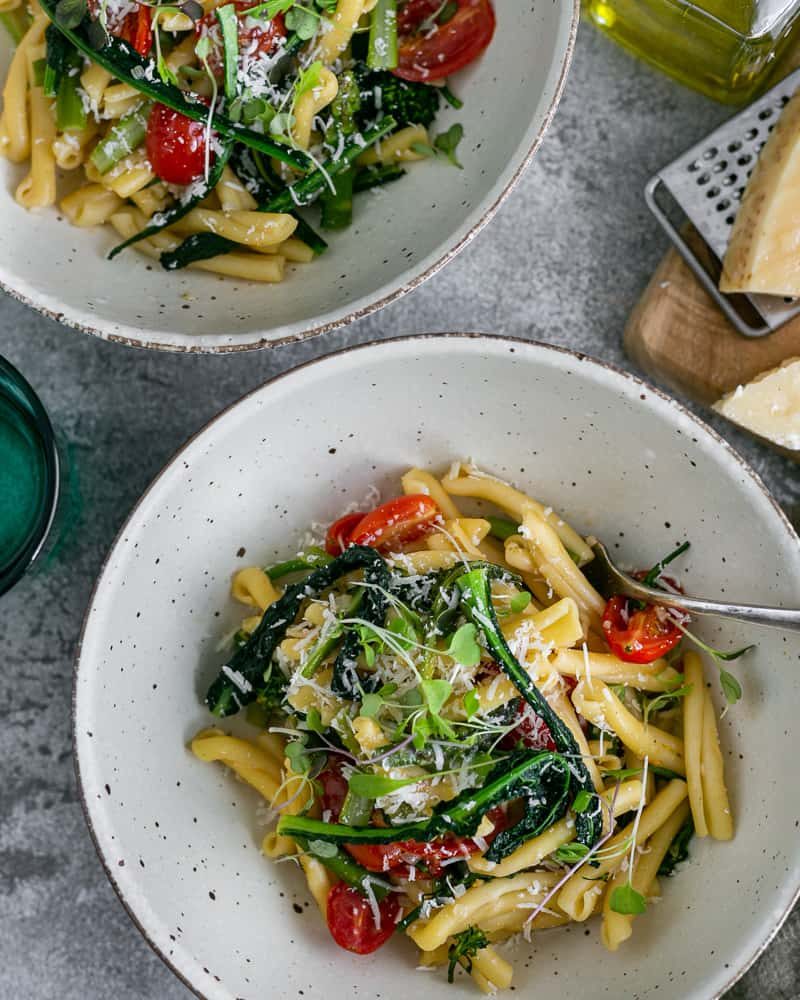 Did you enjoy this recipe? If you are looking for an appetizer or dessert as well to go with this Casarecce Pasta dish, then start with chilled avocado and green apple soup and finish with a pina colada panna cotta with lime and pineapple. Yum! now get cooking this delicious 3-course dinner😋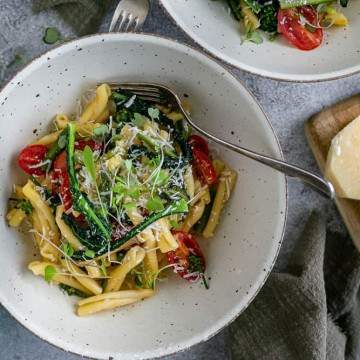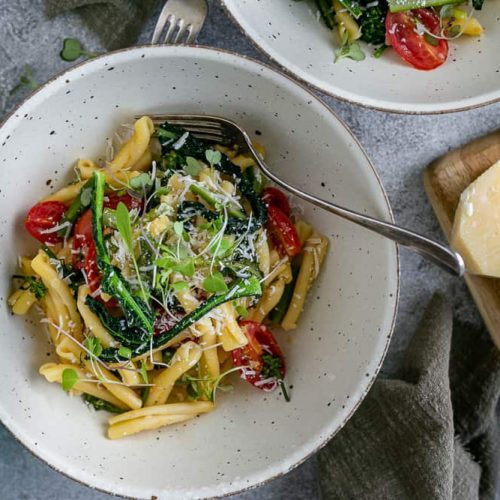 Casarecce pasta with asparagus, kale and garlic
This bowl of comfort food is ideal for a family meal or as part of your meal prep for the week! Eat anyway, this dish will not disappoint.
Equipment
pasta pot

pan

colander

parmesan grater
Ingredients
260

gram

casarecce pasta (dry)

1

bunch

green asparagus

1

bunch

tuscan kale

1

bunch

broccolini

2

medium

garlic clove

finely chopped

2

medium

shallots

finely diced

1

handful

cherry tomatoes

cut in half lengthwise

1

lemon

40

g

parmesan

30

g

butter

3

tablespoon

olive oil

salt and pepper to taste
Instructions
Peel the broccolini stems and clean the green asparagus removing the woody end parts.

Cut both into pieces of 2cm length. Keep the asparagus spears and broccolini tops on the side and cut the stems in half lengthwise.

Clean the kale and trim the kale leaves down to an equal length without wasting too much.

Bring a large pot of salted water to a boil and cook the pasta until al dente. The casarecce pasta should be cooked in 8-10 minutes. Reserve a glass of the pasta cooking water and strain the remaining pasta. Add a tablespoon of olive oil to the pasta and toss well to prevent it from sticking together.

Meanwhile in a large pan add two tablespoon olive oil. Add the chopped garlic and diced shallots. Sweat on high heat until translucent. Add the asparagus and broccolini. Keep cooking on high heat for about 3 minutes. Add the kale and season with salt and pepper. Add the tomatoes and a few spoons of the pasta water.

Grate the zest of a lemon into the pan. Bring to a simmer and add cold butter. Add more pasta water if necessary to create a sauce.

Once the butter is melted into the pasta water, add the Casarecce pasta to the pan. Carefully toss all together with two spoons. Cook for another 2-3 minutes to make sure the pasta has warmed through.

Season to taste. Dish up the pasta in a bowl. Grate parmesan on the top as per your liking and serve hot.
Nutrition
Nutrition Facts
Casarecce pasta with asparagus, kale and garlic
Amount Per Serving (140 g)
Calories 473
Calories from Fat 135
% Daily Value*
Fat 15g23%
Cholesterol 8mg3%
Sodium 217mg9%
Carbohydrates 68g23%
Protein 20g40%
Vitamin A 8532IU171%
Vitamin C 146mg177%
Calcium 315mg32%
Iron 5mg28%
* Percent Daily Values are based on a 2000 calorie diet.