A tasty, complex vegetarian dish with great flavours. These Agnolotti made with sweet potato and fermented garlic and cooked in a brown walnut butter sauce will impress on date nights, wine dinners or any other special occasions.
This restaurant style dish based on our homemade pasta dough recipe, has been so popular that it made it onto my restaurant menu just recently in Byron Bay. Guests at the hotel love this dish and my chefs are enjoying the challenge of learning new skills - you see, these Sweet Potato & Garlic Agnolotti have to be prepared fresh daily!
There is always variety on my menus hence vegetarian options are a must. Lately I have been inspired to create vegan dishes as well since there is a large vegan community here that appreciates vegan food with a twist! I will share some recipes soon😉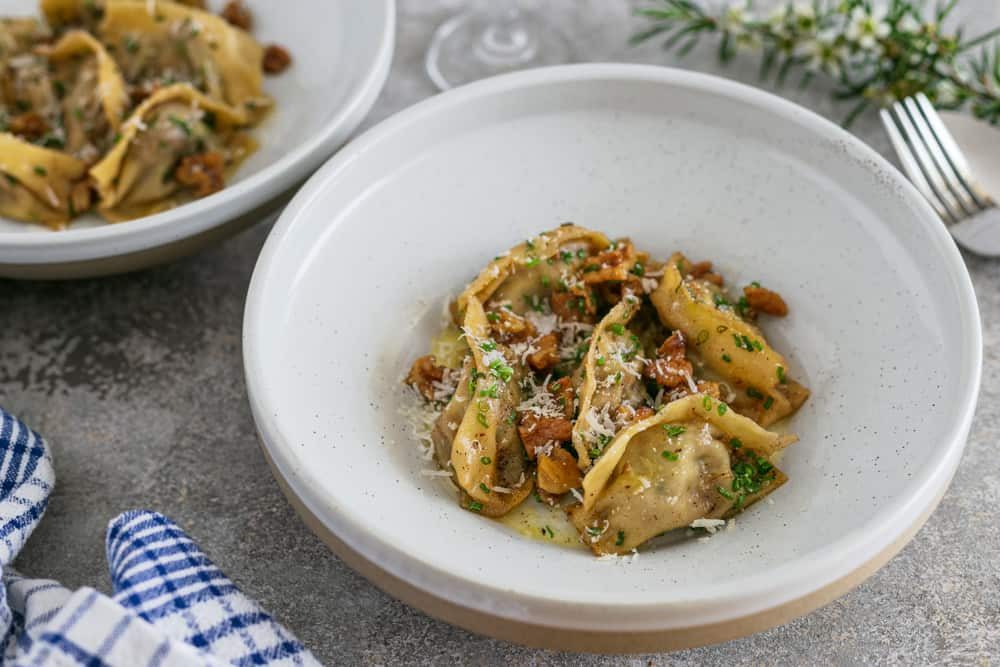 I learnt making Agnolotti long time ago when I worked in Chicago at the Four Seasons Hotel. Thomas Keller had released his Cookbook called - French Laundry in 1999 and right after, every chef was trying to imitate the dish but with their own variation.
They might be time consuming to make but in the end its very satisfying and rewarding to see the dish come together, especially when it's like a stunner out of a cookbook👨🏻‍🍳
Jump to:
What are Agnolotti?
Agnolotti is actually the plural form of the Italian word Agnoloto. Named after its creator in Piedmont, Italy in the 14th century, these are best described as small pasta pillows.
How do they look?
Like Ravioli or Tortellini's, Agnolotti filling can be with meat, seafood, cheese or vegetables. But what makes Agnolotti slightly different is the way the pasta dough is folded.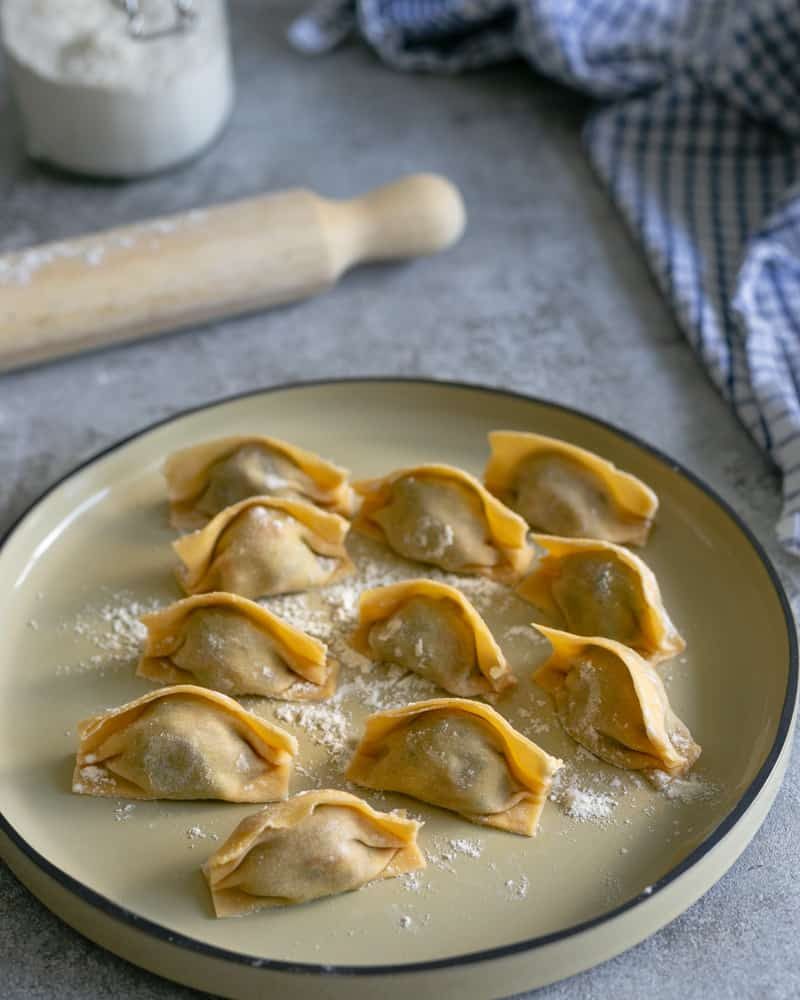 I like to roll out the pasta dough and spoon the filling in a line. I think it is much easier making Agnolotti than making Raviolis or Tortellini's, as you can make a row of ten with a single pasta sheet in just a few minutes.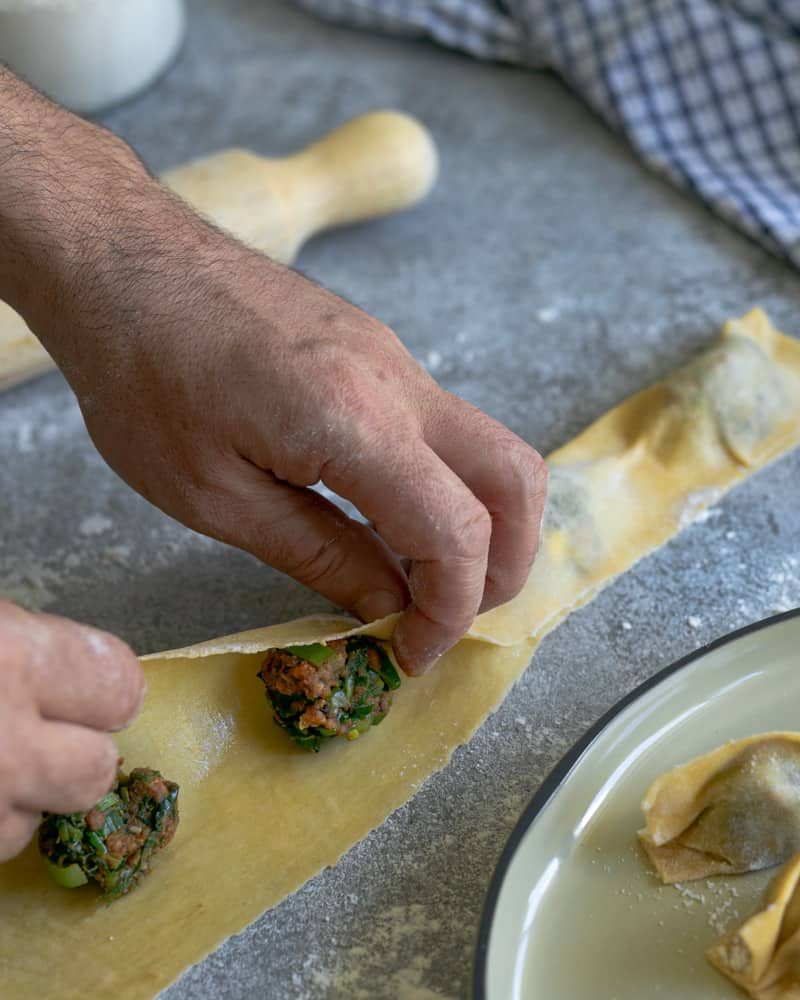 Making Agnolotti Pasta
To make these Sweet Potato & Garlic Agnolotti, we highly recommend following our recipe for a basic homemade pasta dough. Next, you have to work on the filling. We used some beautiful ingredients that we bought at our local farmers market.

If you can't find black fermented garlic, you can use normal garlic instead BUT I recommend sourcing this amazing garlic somehow! The fermentation process it goes through, gives the garlic it's signature colour and an incredible sweet taste.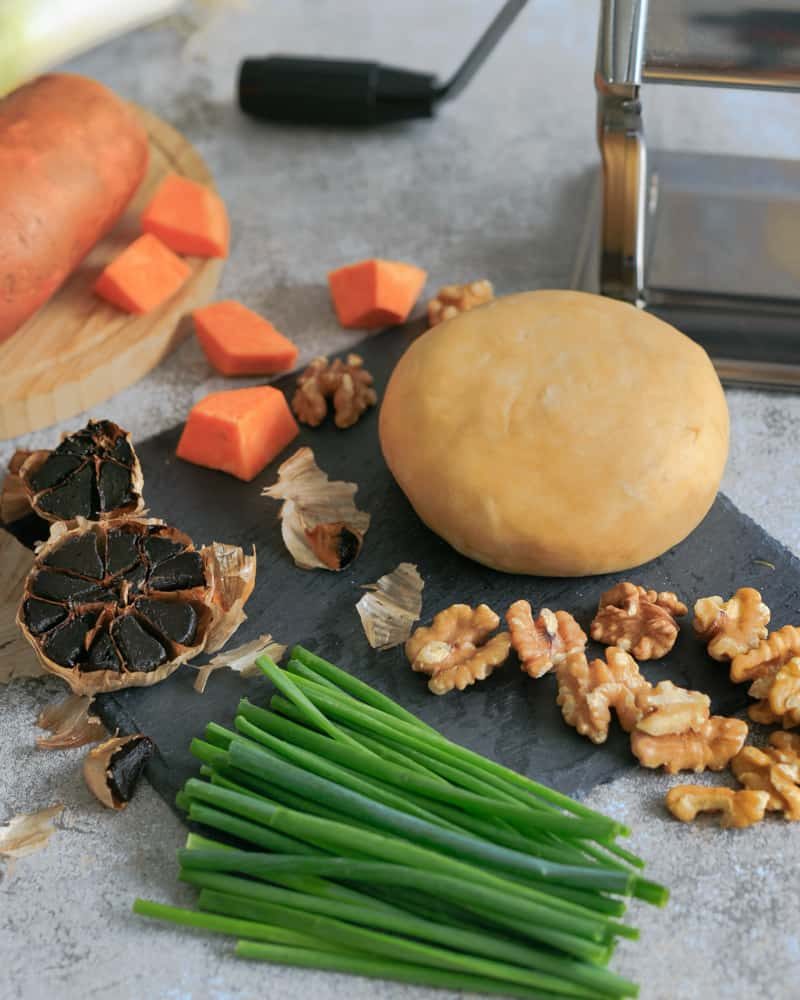 Preparing the filling
Note - buy small to medium sized sweet potatoes, as the the larger they get, the starchier they become. I have outlined steps in the recipe on how to roast Sweet Potatoes in the oven.
Once ready, scoop out the flesh, mix with the cooked green leek, fermented black garlic and grated pecorino cheese.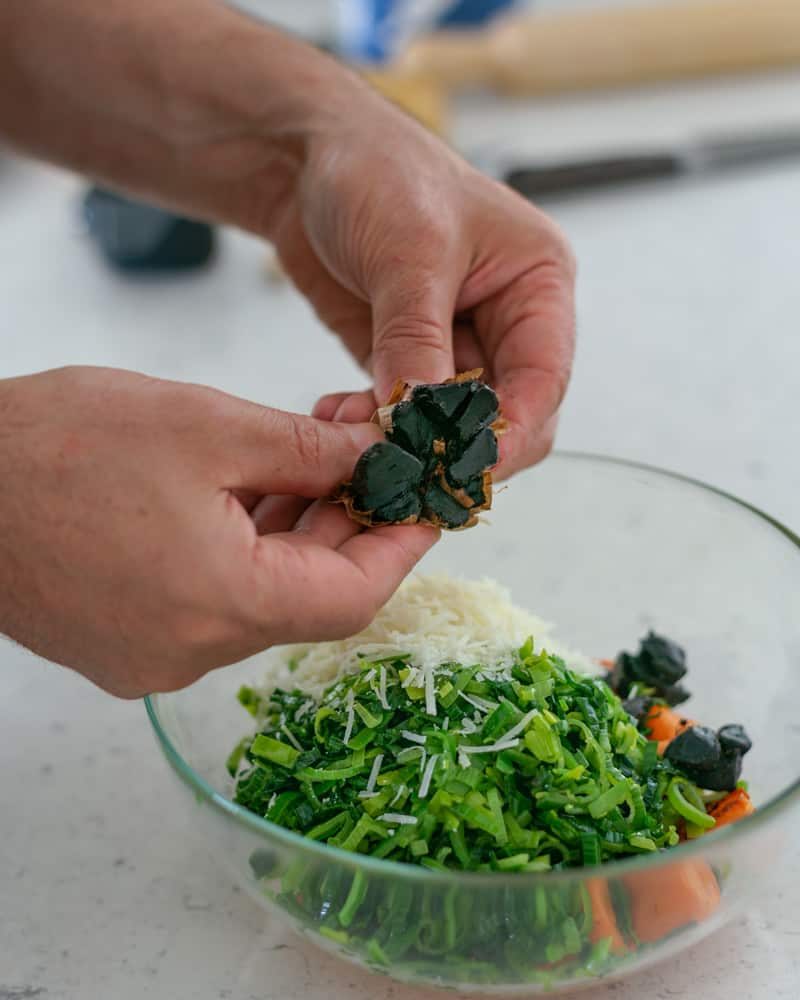 Rolling the dough
When your dough has rested for 30 minutes, roll it out in the pasta machine into 2mm thin sheets. Make sure your dough sheet is no longer than 30cm. Don't forget to put a pot of salted water to boil meanwhile, this will be required to cook the Agnolotti.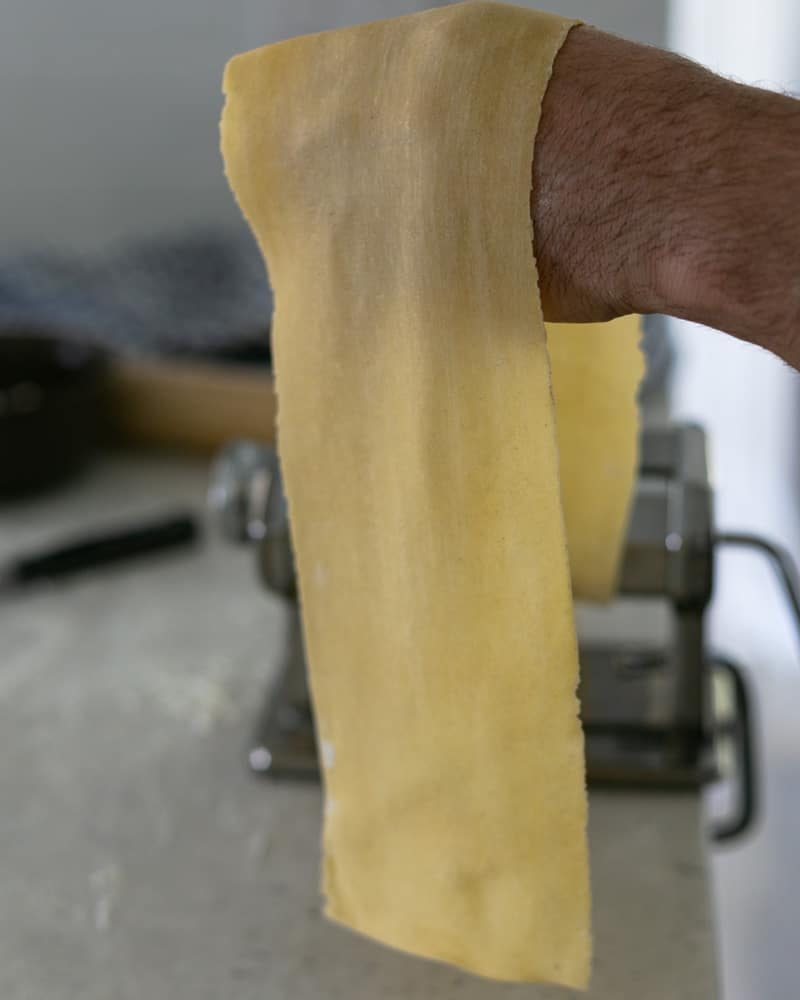 Folding the agnolottis
Layout the pasta sheet on a clean floured surface, using a tea spoon place your filling in 3cm intervals.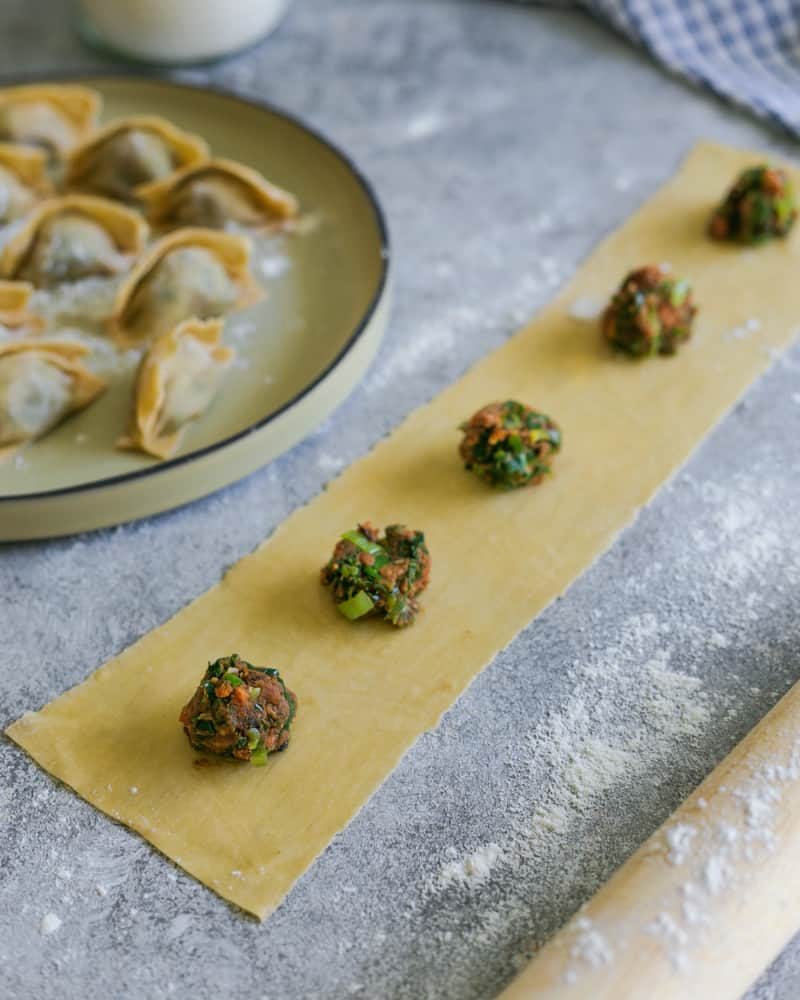 With the egg wash, brush along the sides of the pasta sheet and carefully fold over the pasta. Push down to seal the pasta sheet, making little pillows.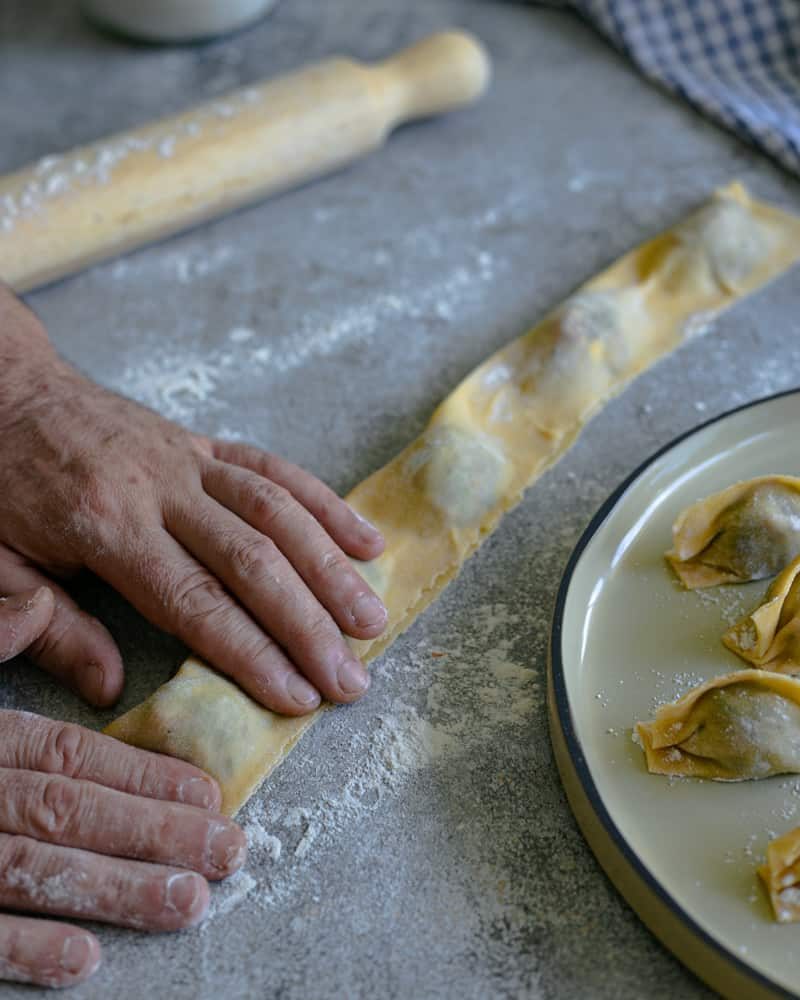 Turn the pasta row in an upright position so that the pillows stand up. With your fingers, press again between the fillings, to seal and perfect those beautiful pillows.
Now, using a knife, separate the pasta pockets and arrange the Agnolotti on a floured tray.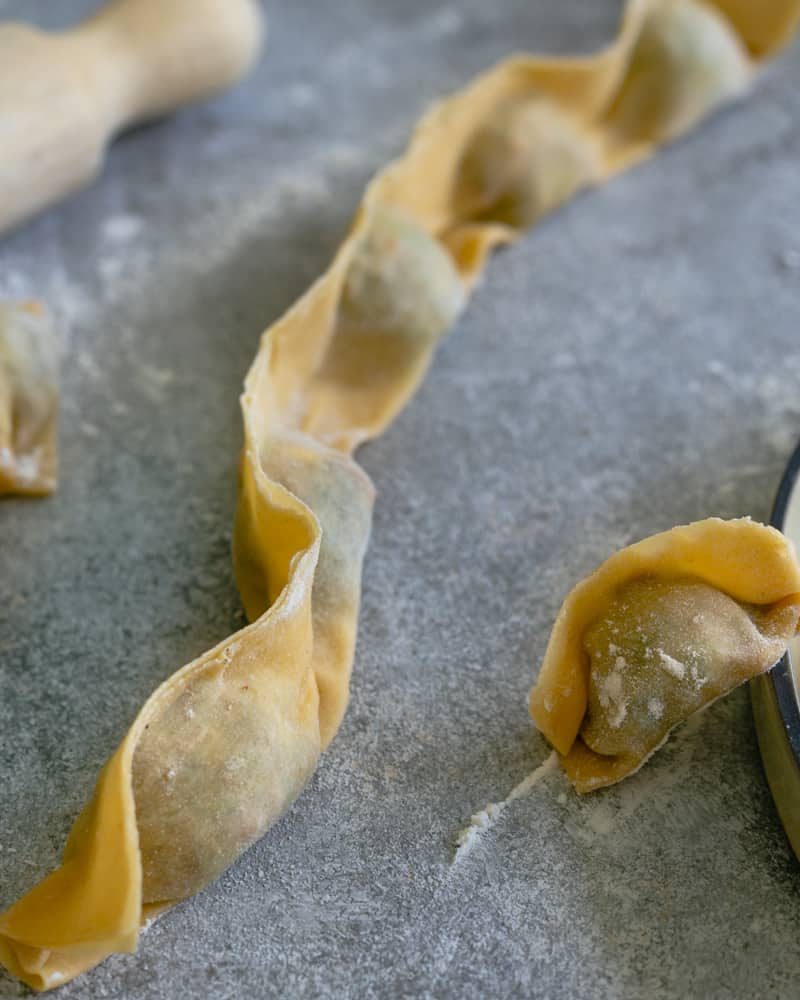 The water should be boiling by now! Add the Agnolotti to the salted water and cook for just 4 minutes.
the walnut butter sauce
Meanwhile, prepare the walnut butter sauce (follow the steps in the recipe) and toss the Agnolotti in it as soon as its ready! The bubbling walnut butter can give a bit of texture (if done right) by making the outside of the Agnolotti slightly crispy😊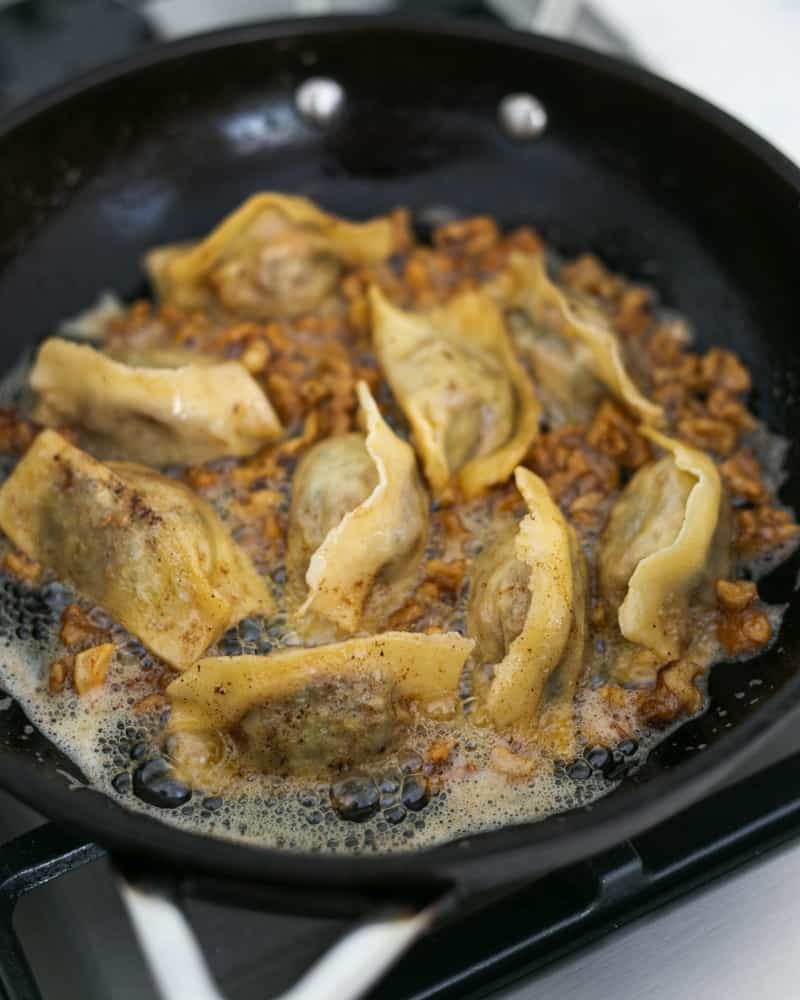 Which Sauce can be served with Agnolotti
Depending on the filling, try to use a sauce that is not overpowering. Agnolotti are delicate and the filling has to shine hence you are looking for a sauce that elevates those flavors and blends in well.
For our Sweet Potato & Garlic Agnolotti Recipe, we wanted the taste of the fermented garlic to come through so we opted for something delicate - A walnut butter sauce with chives and a squeeze of lemon, which worked perfectly and completed the dish that we had envisioned 😋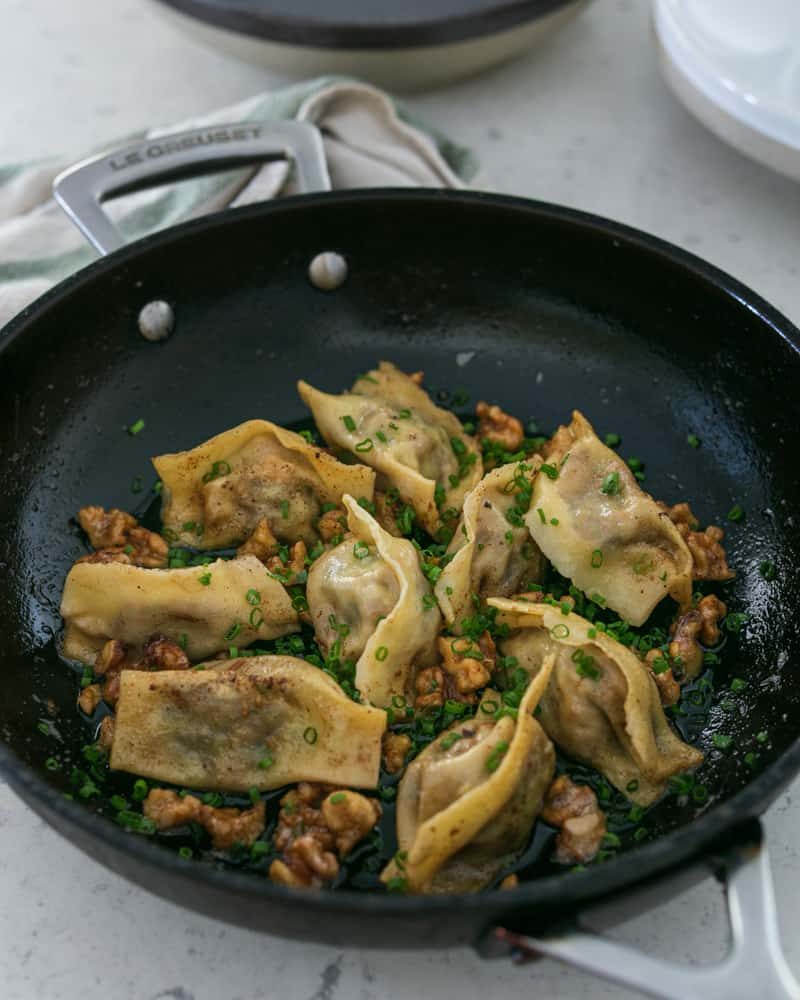 More ideas for fillings
Here are some more Agnolotti pairings we enjoy! Actually you can can use these for any pasta dish😉
Pumpkin Agnolotti with sage butter
Crab Agnolotti with creamed sweet corn
Spinach and Ricotta Agnolotti with cream cheese sauce
Beef Agnolotti with red pepper and tomato sugo
Artichoke Agnolotti with braised beef and red wine jus (yes it's good!)
Other vegetarian main courses
If you are looking for vegetarian dishes that could be a an appetizer or main course, here is a selection:
Hey, if you would like to see a particular recipe, then do let us know! Remember we are here to make cooking at home doable, more enjoyable and exciting for you🙌🏻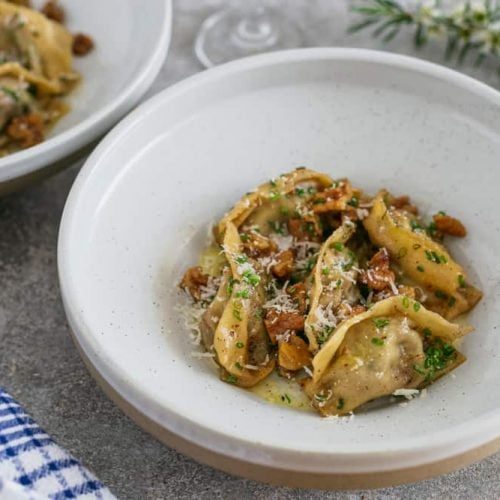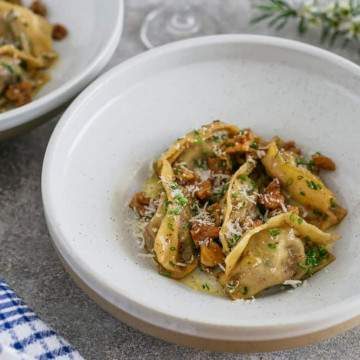 Sweet Potato & Fermented Garlic Agnolotti with Walnut Butter Sauce
A tasty, complex vegetarian dish with great flavors. These Agnolotti will impress on date nights, wine dinners or any other special occasions.
Equipment
pasta machine

mixing bowl

large pot

pan
Ingredients
For the Pasta Dough
300

g

00 pasta flour

2

eggs

2

egg yolks

1

tablespoon

olive oil

1

tablespoon

water

1

pinch

salt
For the Agnolotti
2

medium sweet potato

1

leek

only green part needed

30

g

black fermented garlic

45

g

pecorino cheese

1

egg

2

tablespoon

olive oil

salt, pepper
For the Walnut Butter
45

g

walnuts

1

bunch

chives

½

lemon

120

g

unsalted butter
Instructions
For the Pasta Dough
Add all ingredients in a food processor and mix for 10 seconds until a crumbly dough forms.

Place the dough on a floured surface and knead for 2 minutes. The dough has to be elastic but firm. If it's too wet, add a bit more flour.

Wrap the dough in cling film and rest for 30 minutes in the fridge.
For the Filling
Cut the sweet potato lengthwise in half and roast in the oven with some olive oil and salt. Once cooked scoop out the flesh and use a fork to mash the sweet potato.

Wash the leek before cutting it lengthwise in half. Then cut into thin strips. Heat a pan with olive oil, add the leek, season with salt and pepper and cook for about 5 minutes.

Now add the leek to the sweet potato mix.

Remove the black garlic from the skin and cut into small pieces. Add to the sweet potato mix and adjust seasoning with salt and pepper.

Add the grated pecorino and set aside. Break an egg into a bowl and whisk with a fork until smooth.

Roll out the pasta dough into 2mm thin sheets. Place a teaspoon of the filling in 3cm intervals and brush the outside of the pasta sheet with the egg. Fold the pasta over the filling and press down forming small pillows.

Turn the dough in an upright position so the pillows stand up. With your fingers, press between the fillings, to seal and perfect those beautiful pillows

Cut with a knife between the pasta pillows and place the Agnolotti on a floured tray. Repeat the process to have at least 20 Agnolotti.
For the Walnut Butter
Toast the walnuts lightly in a hot pan and set aside. Once cooled, roughly chop the walnuts into chunky pieces.

Cut the chives into small rings.

Place butter in a pan on high heat. Wait for the butter to reach foaming point, then reduce the heat to low. Once the butter starts browning and turns into noisette butter, add the juice from half a lemon and pop the chopped walnuts into the pan. Set aside.

Cook the Agnolotti for 4 minutes in boiling salted water. Take the Agnolotti out of the pot with a strainer skimmer or a ladle. Straightaway add to the walnut butter. Swirling the pan in circles, cook the Agnolotti over high heat for another 2 minutes.

Add chives and plate the Agnolotti in a bowl with a few spoons of the walnut butter.
Nutrition
Nutrition Facts
Sweet Potato & Fermented Garlic Agnolotti with Walnut Butter Sauce
Amount Per Serving (140 g)
Calories 519
Calories from Fat 459
% Daily Value*
Fat 51g78%
Cholesterol 296mg99%
Sodium 205mg9%
Carbohydrates 7g2%
Protein 12g24%
Vitamin A 1524IU30%
Vitamin C 11mg13%
Calcium 186mg19%
Iron 2mg11%
* Percent Daily Values are based on a 2000 calorie diet.