Turn this rather bland vegetable into a tasty, restaurant worthy dish, with our tips and tricks on how to cook chokos.
You have probably seen chokos, also known as chayote, many times in the vegetable section but have never dared to try them. I can't blame you, this avocado look alike vegetable, can rarely be found in any cookbooks, let alone on any restaurant menus.
But if you are curious about this versatile ingredient or by any chance have a choko tree growing in your backyard but don't know what to do with them, then you are in the right place!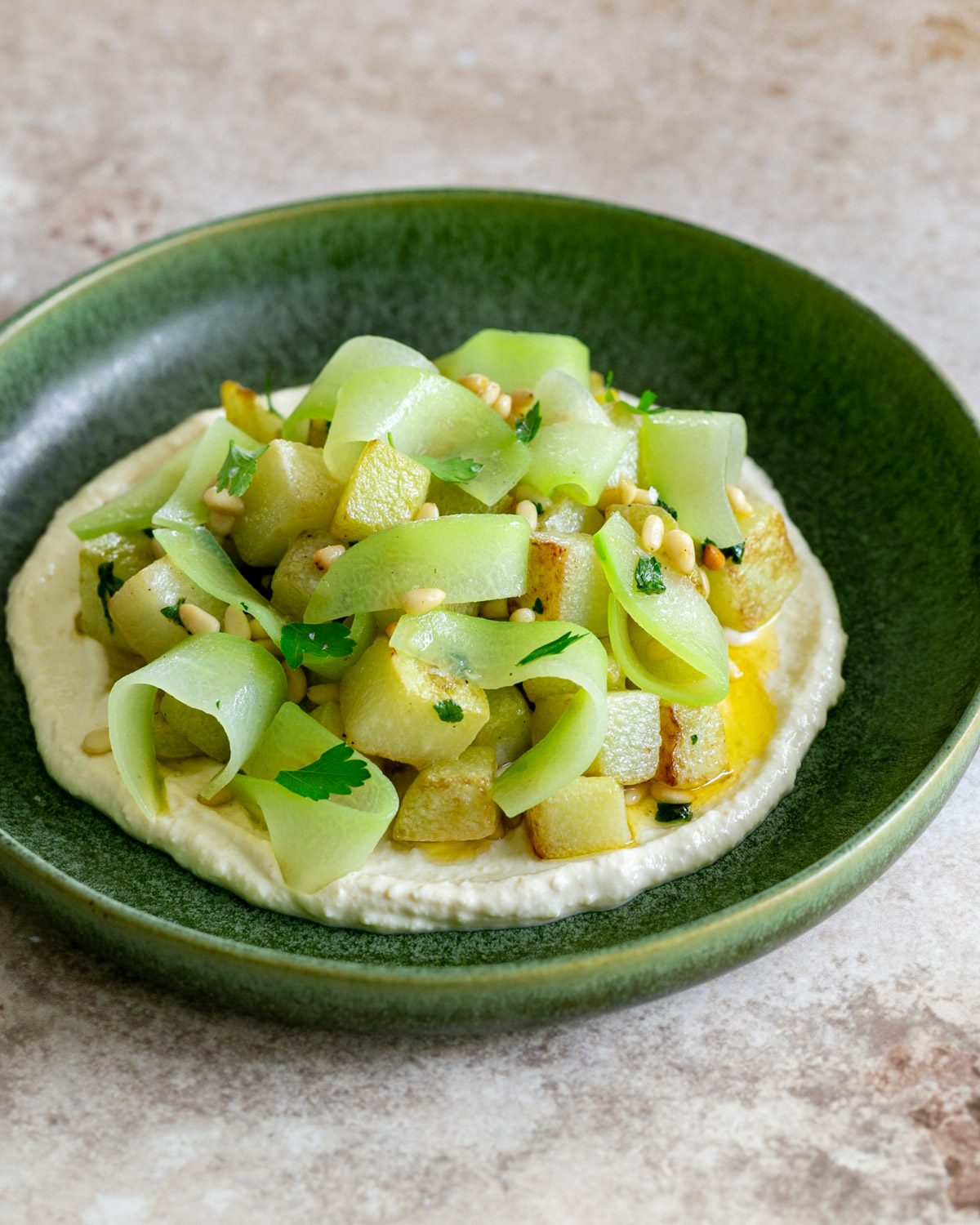 Read on to find out more about this underrated vegetable.
Jump to:
What are chokos?
Chokos belong to the same family like suqash, cucumbers, melons and pumpkins. They originated from Central Mexico, where they call them cho cho.
In Australia, they are mostly harvested during autumn when they reach their size. When buying chokos, select firm, fresh looking ones with lime green skin, about 4-5 inch long (10-12cm). The flesh is pale and crisp.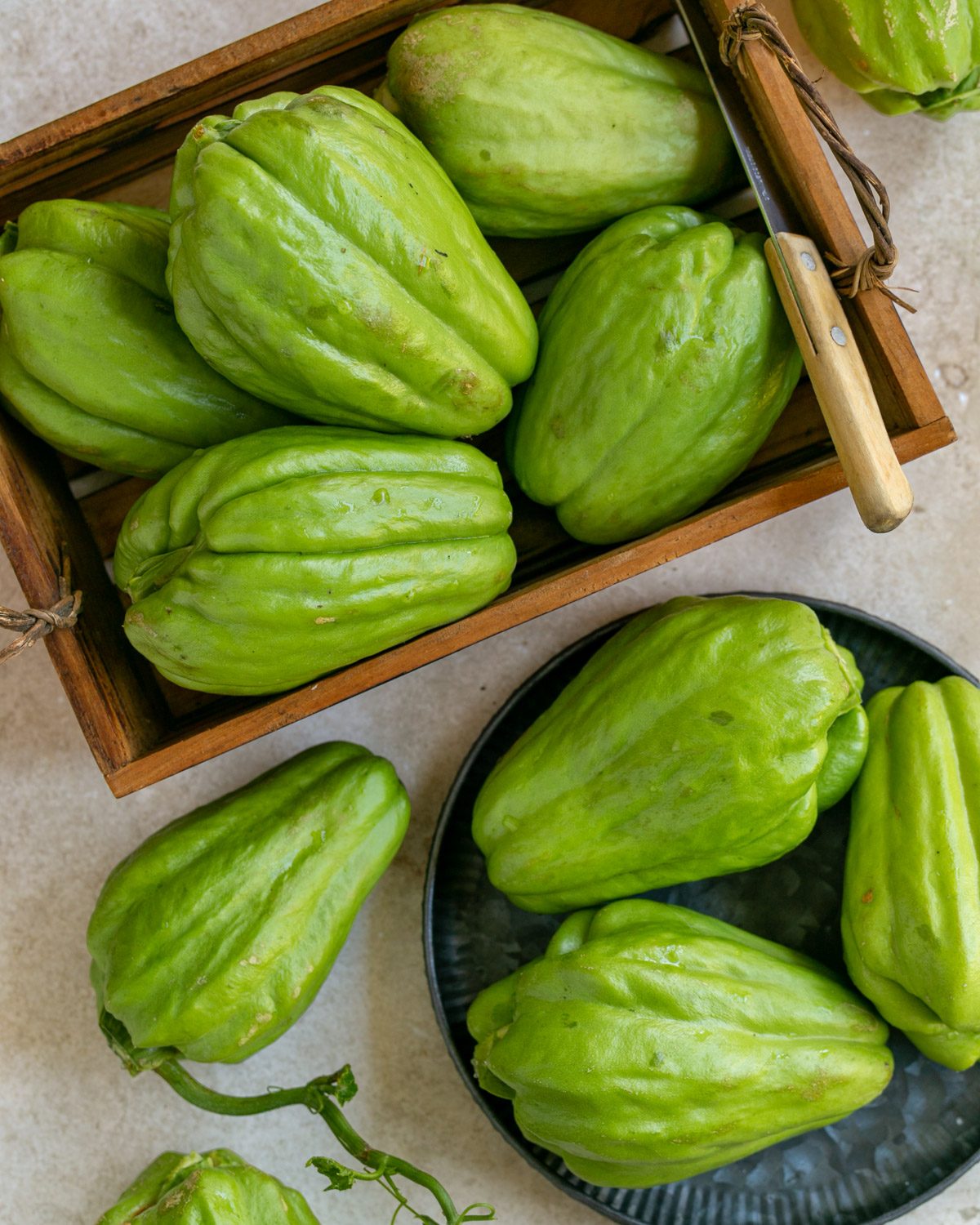 They are not a popular ingredient in modern cooking - do they really taste that bad?
What do chokos taste like?
Well, chokos don't have such a strong taste, the flavour is rather mild. They can be compared to baby marrow (small zucchini) or patty pans (yellow squash) though I am always reminded of cooked cucumbers when it comes to their texture and flavour.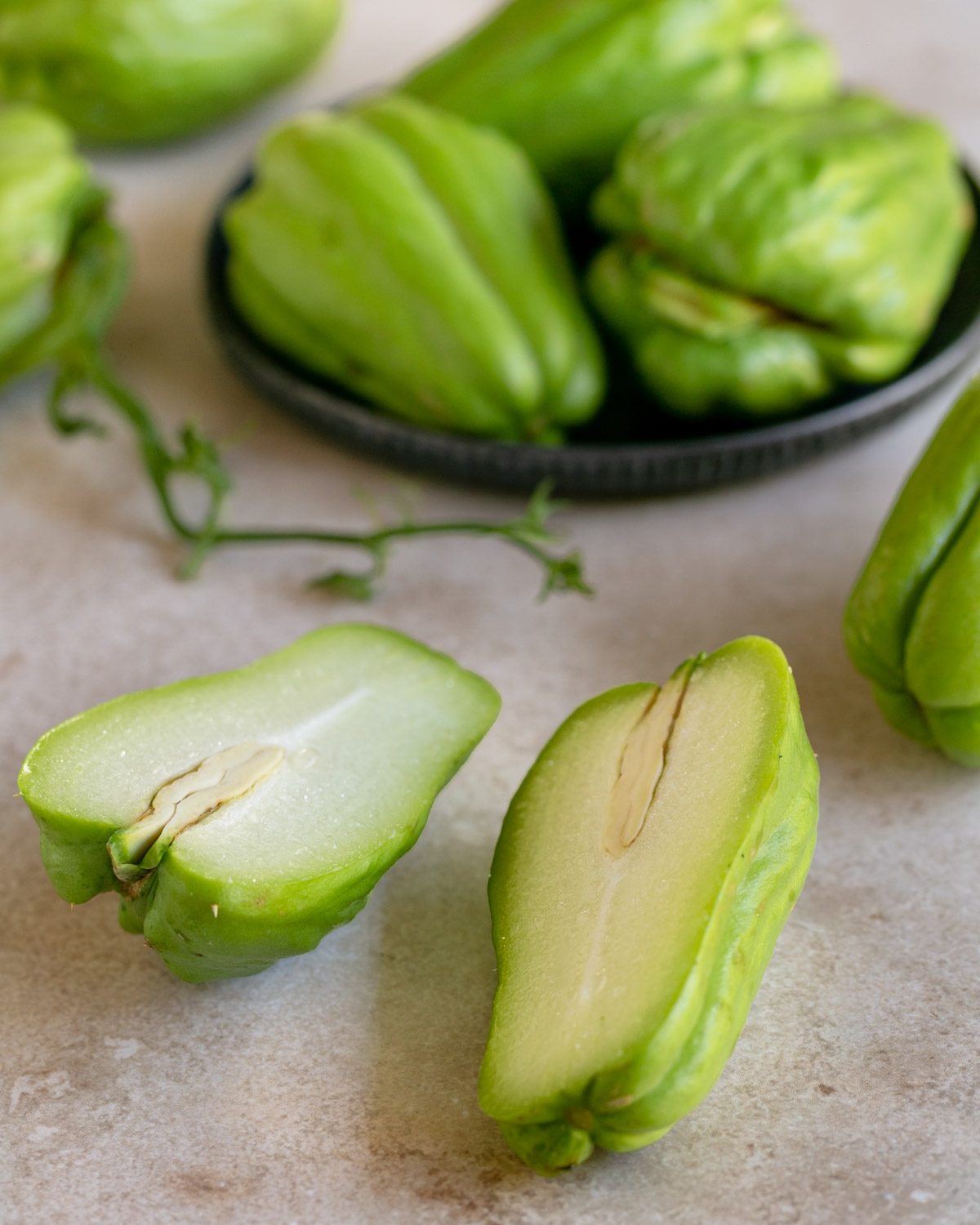 Because of their mild taste, it is important to pair them with flavourful ingredients otherwise you will end up with a bland dish!
How to cook chokos
Chokos can actually be eaten raw and cooked. Peeled and sliced similar to a cucumber they are a great addition to salads. If you want to cook them, I prefer roasting or boiling them. They work well in stir fry's, or roasted as a side dish.
preparing chokos
Chokos can be roasted with the skin on but I prefer to peel them. They peel easily like you would a pear however, there is a catch to masterarbeit schreiben lassen it!
When you peel chokos they release a slimy liquid that sticks to your fingers.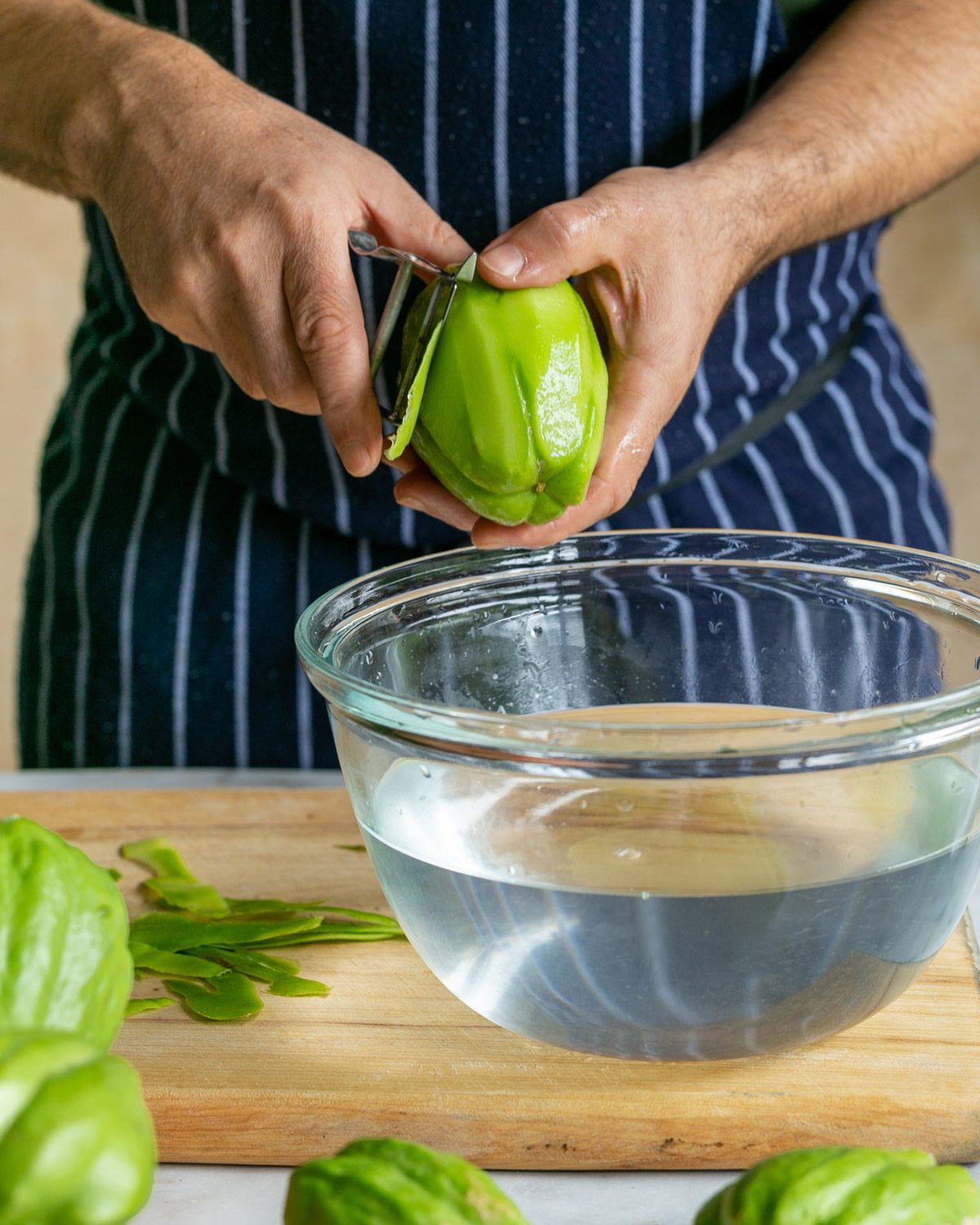 To avoid that, either peel them under cold running water or keep dipping the choko in a bowl of water while peeling. Alternatively wear gloves.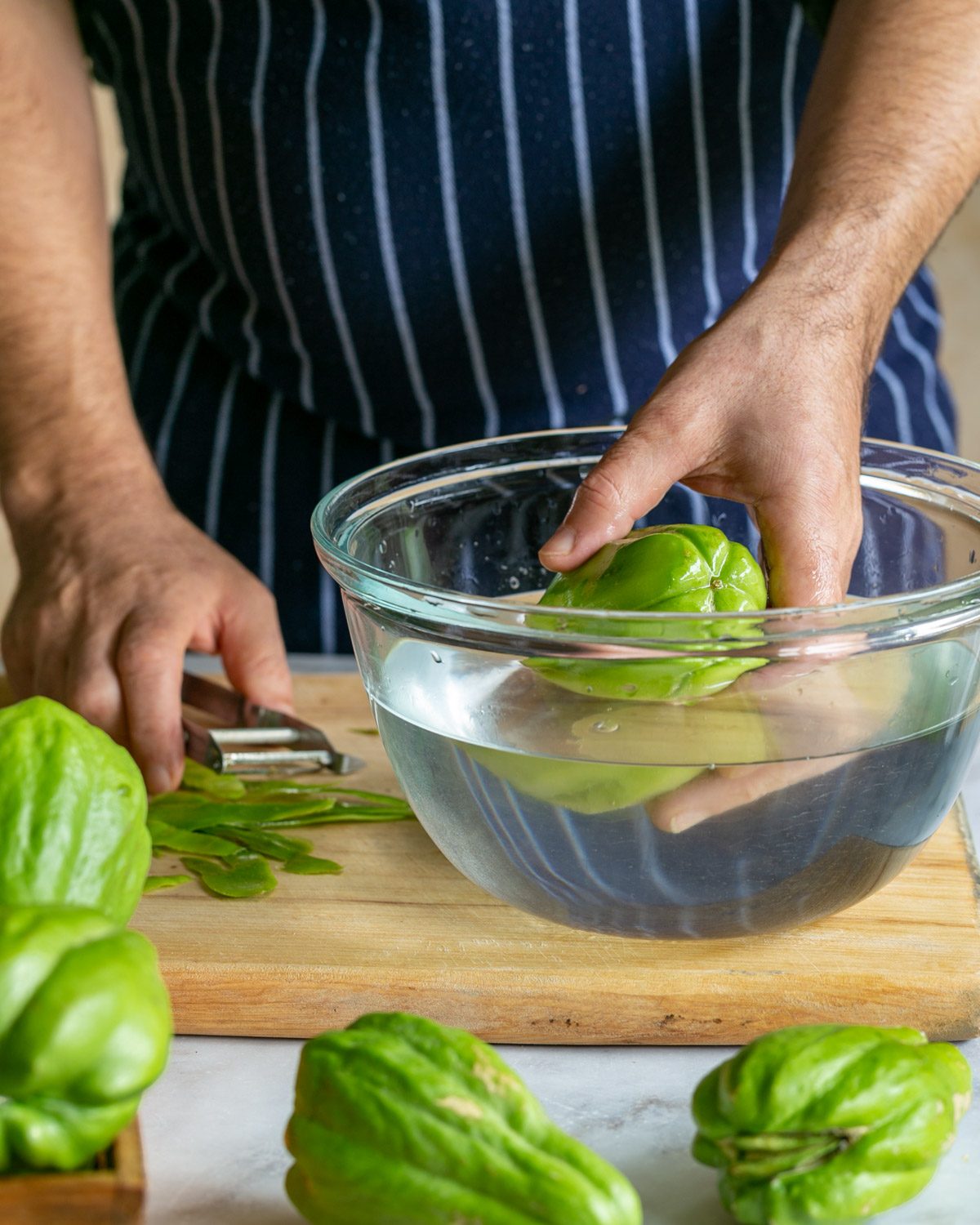 cutting them
Once they are peeled, cut them the same way you would cut a pear, so avoid cutting into the core. Chokos have a seed in the centre that shouldn't be eaten.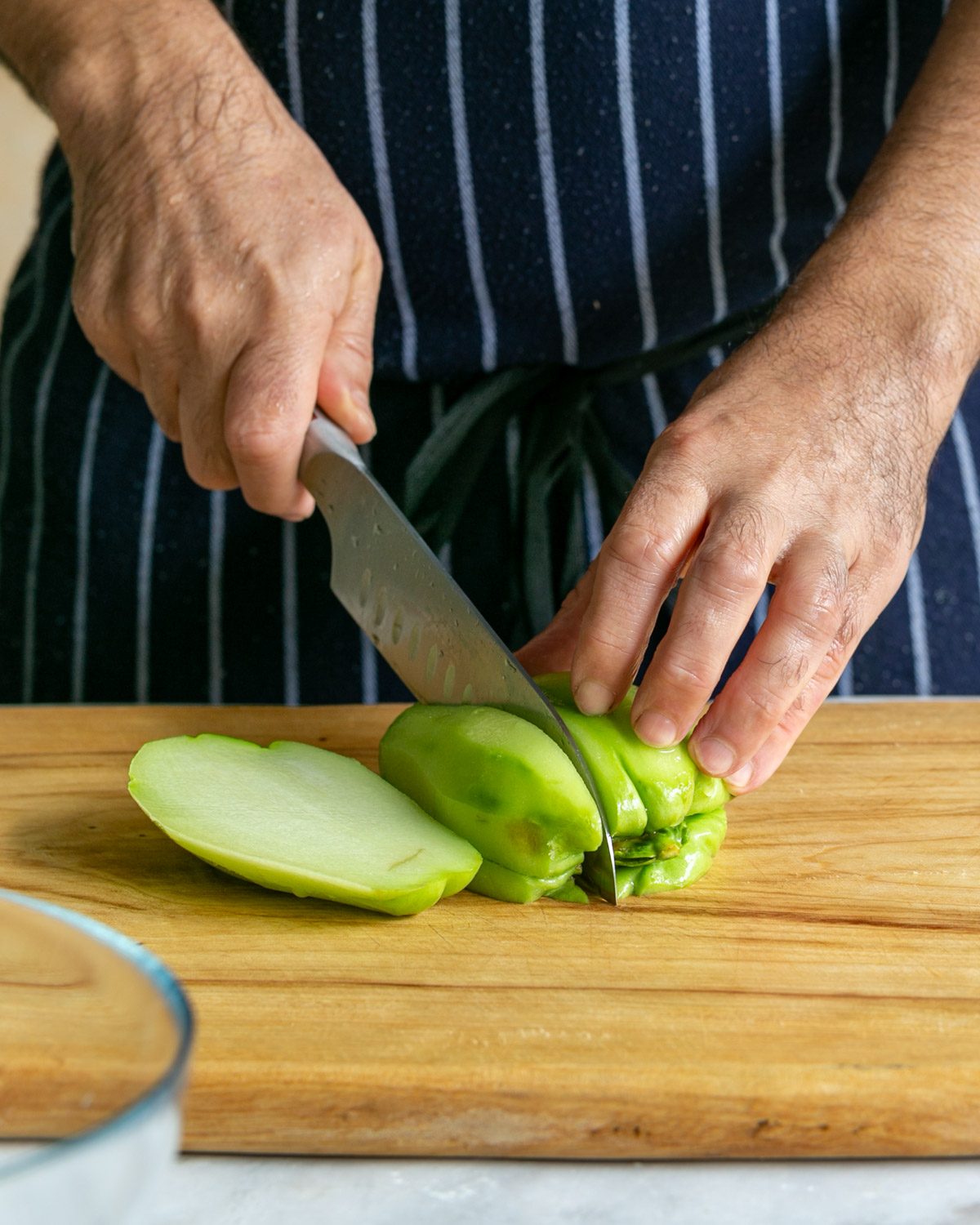 For pan frying or oven roasting, I like to cut them into chunky cubes. You can also cut them into wedges and roast them in the oven or grill them.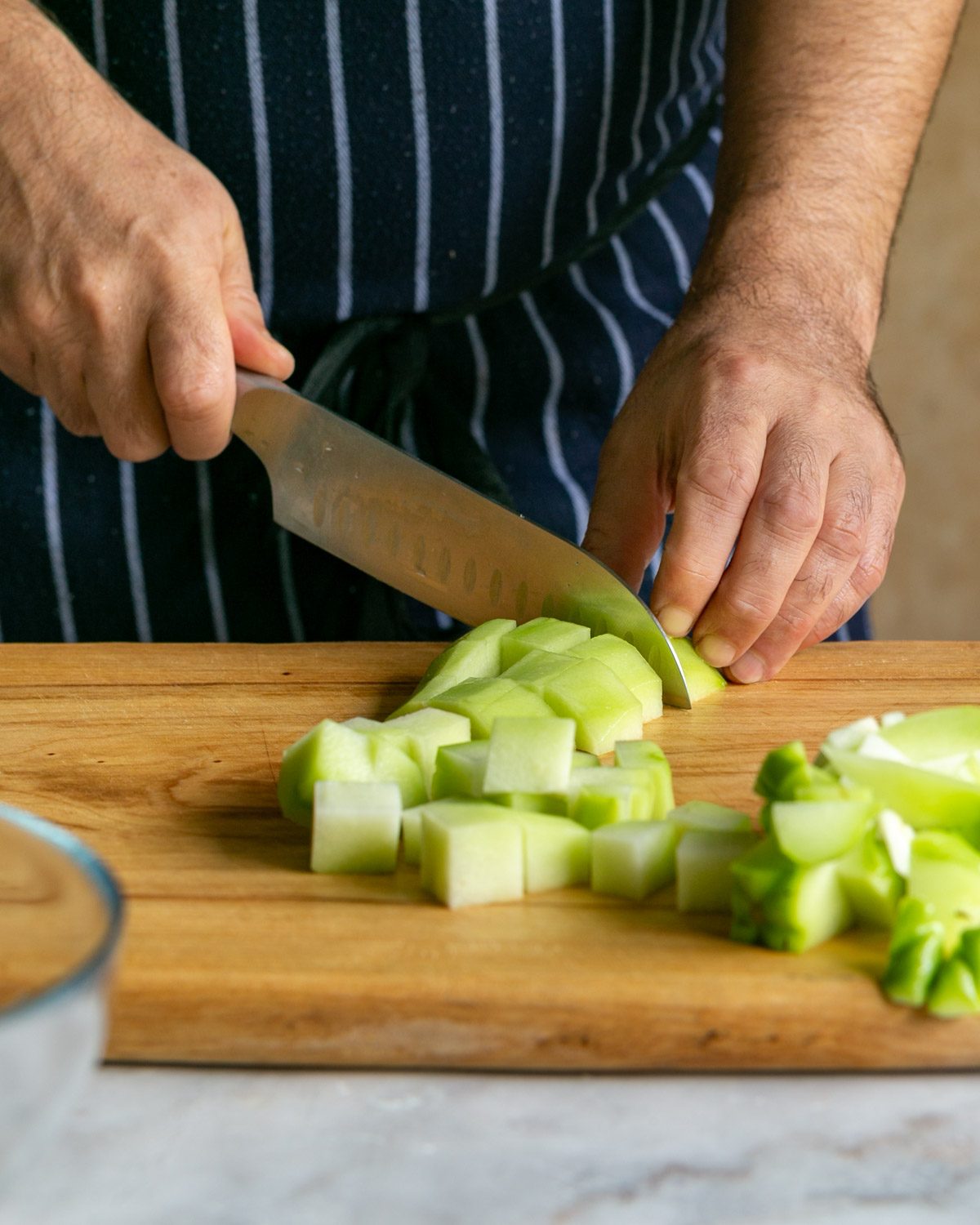 The same can be done if boiling them but for my choko dish, I cut them on the mandoline to get beautiful even slices.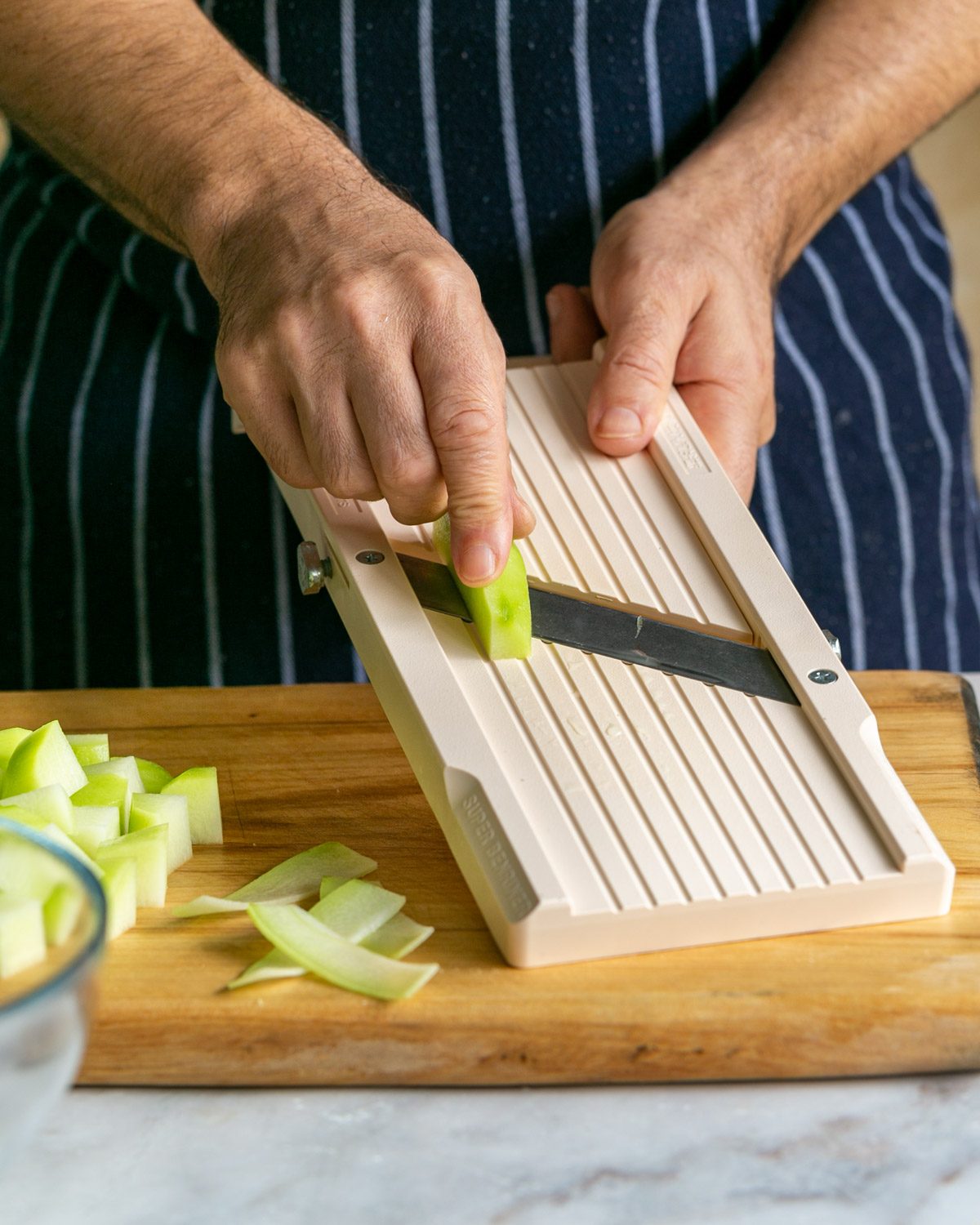 cooking them
I simply roast them in a pan with olive oil and give them a bit of roasting colour from the outside. I find they take on a lot of flavour in about 8-10 minutes.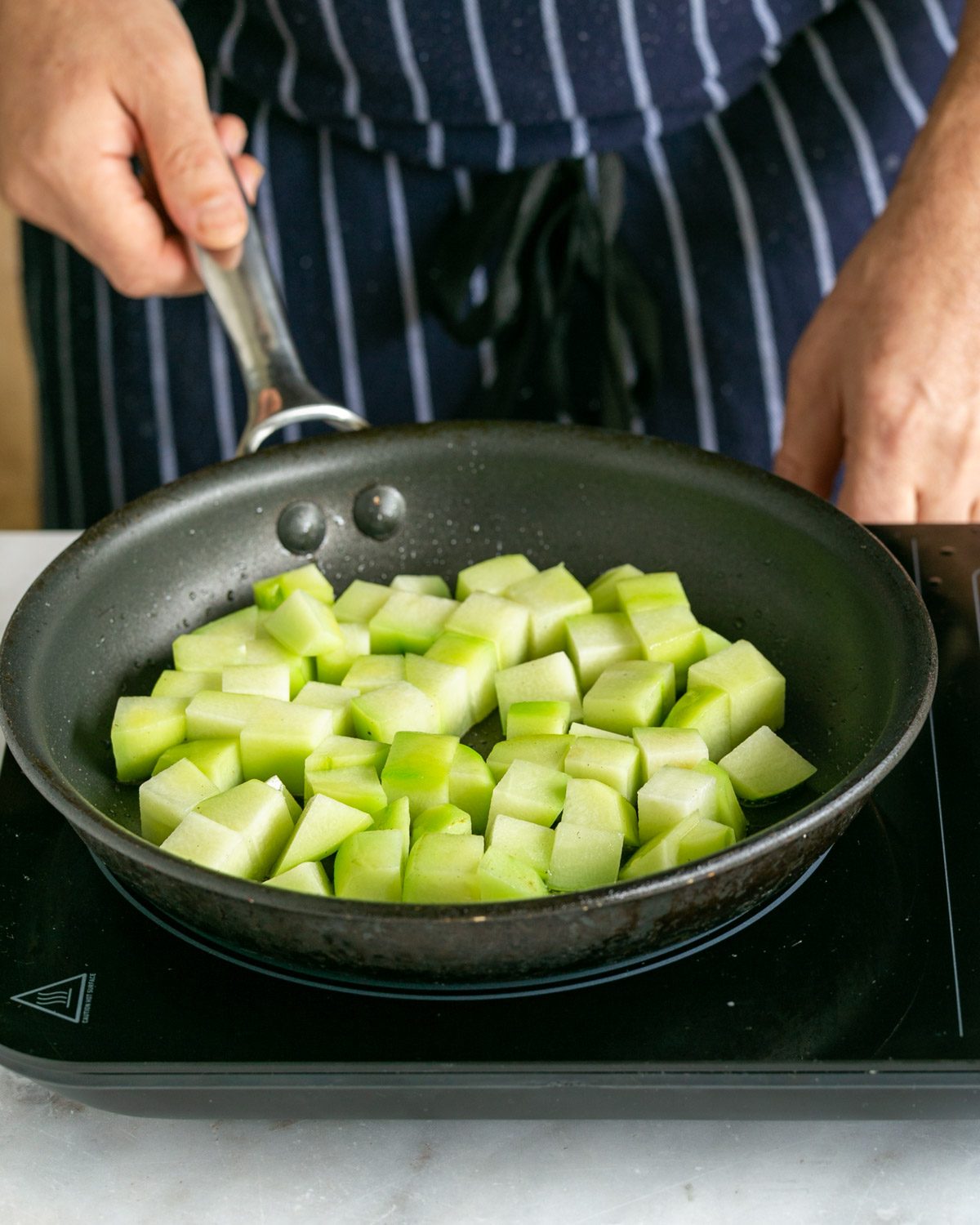 If boiling cubes in salt water, they take about 5-8 minutes but If sliced, they cook within 2-3 minutes.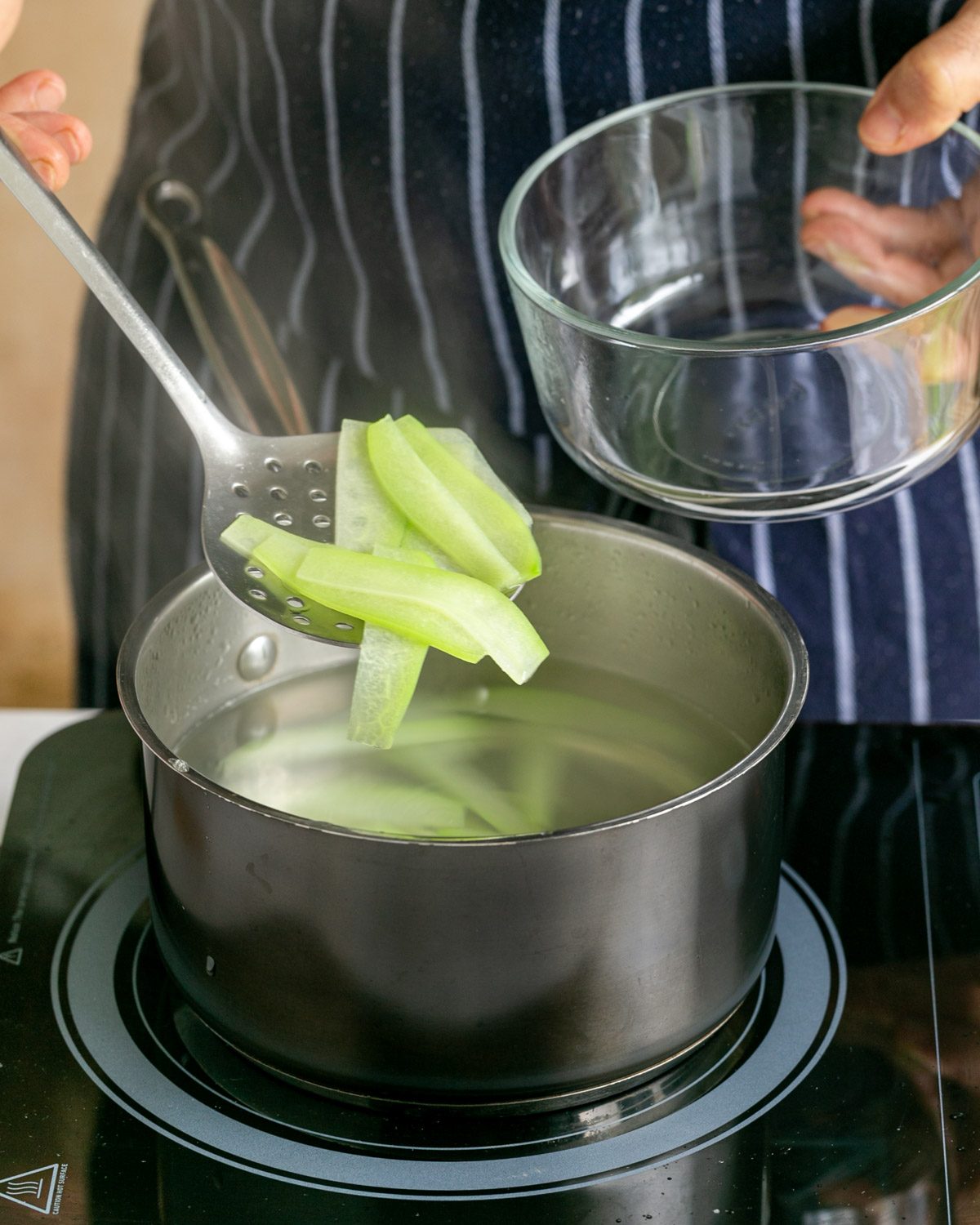 A tasty choko dish
Choko is the hero of the dish and can be tasty like in this Mediterranean preparation. Here is how it is done:
Roast the choko cubes in a pan on high heat with olive oil. Season with salt and toss them through the pan. After 5 minutes, add the pine seeds and butter.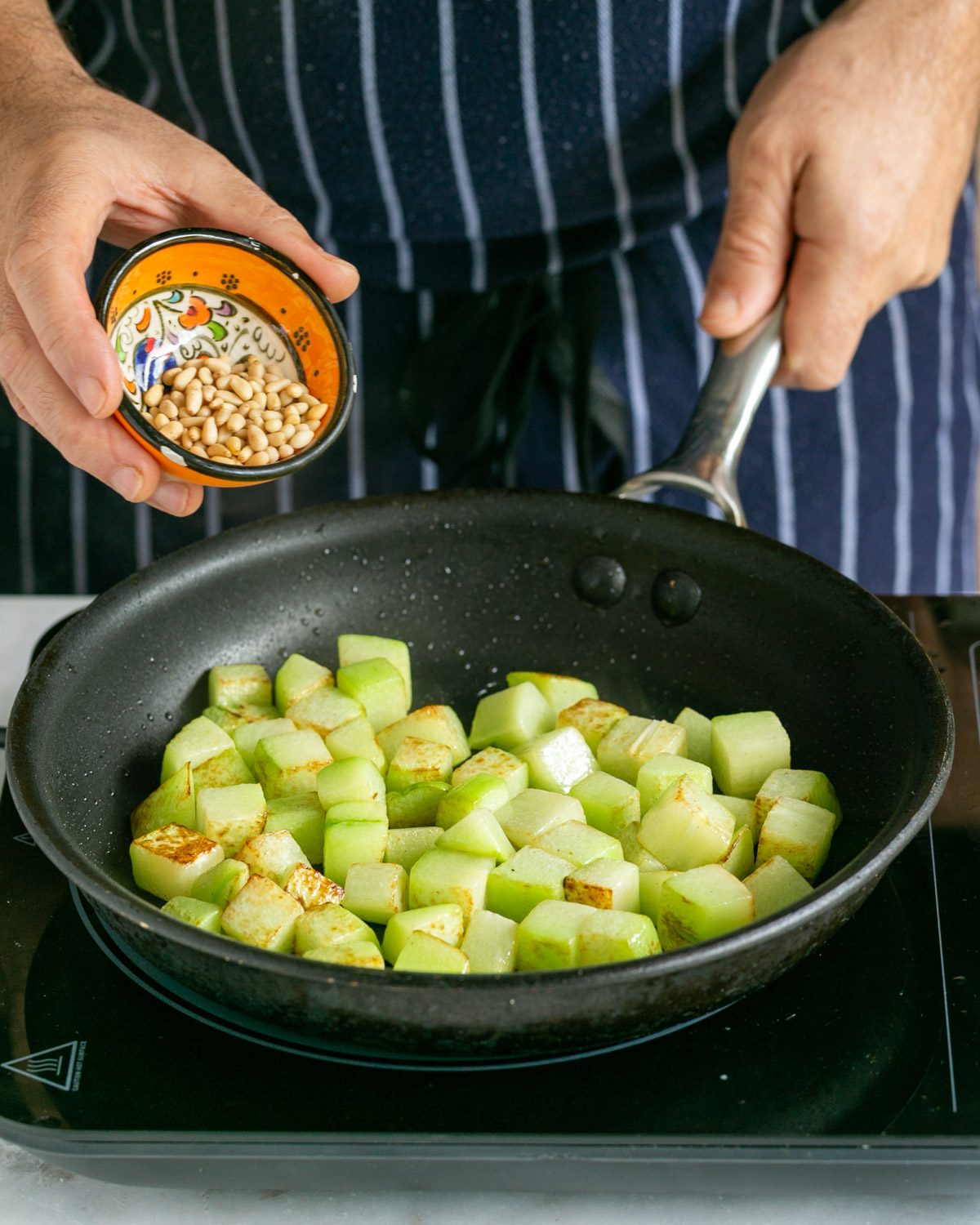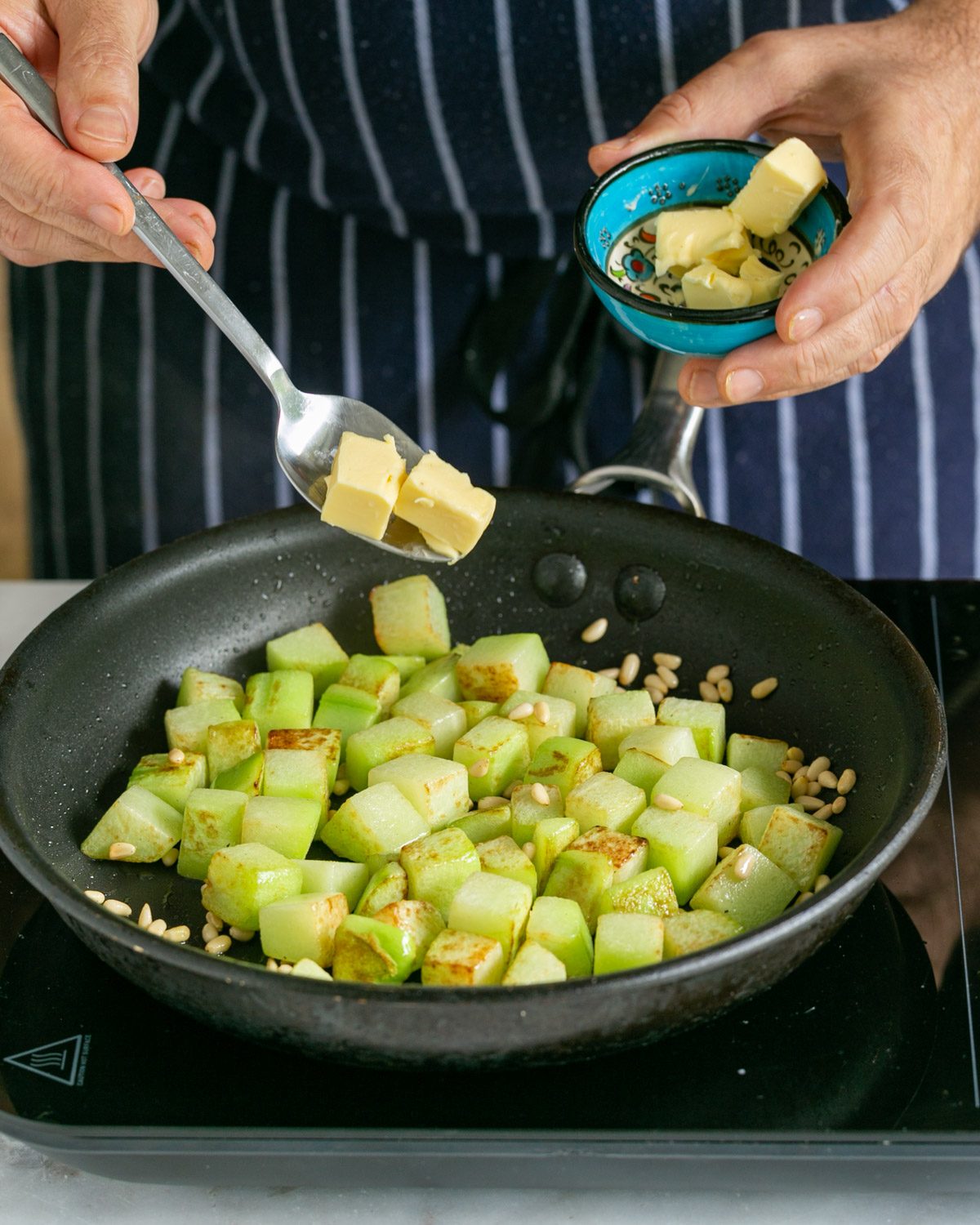 Increase the heat and let the butter start foaming and slightly turning brown. This will add a nutty flavour to the dish. Add a squeeze of lemon juice and grind some fresh black pepper.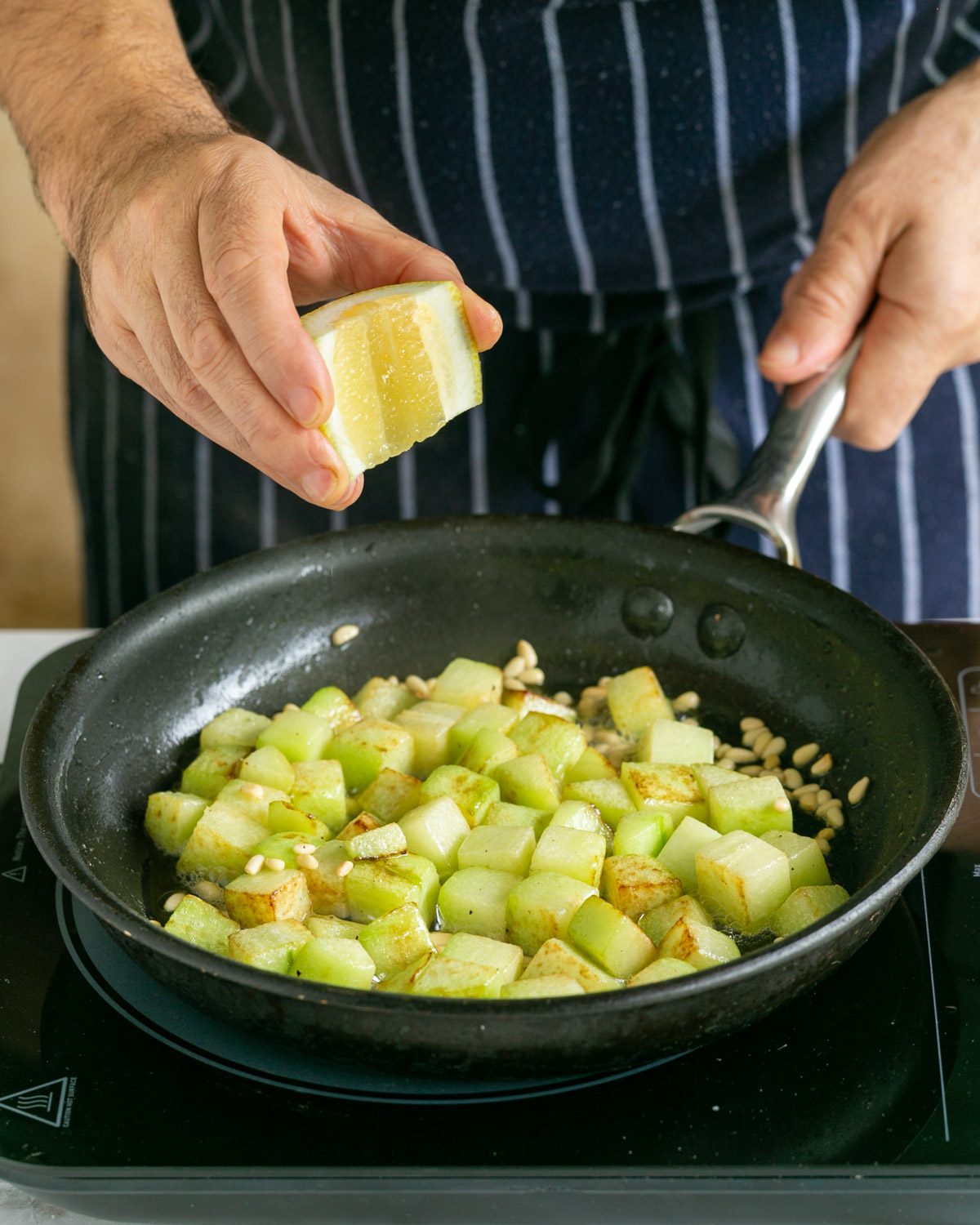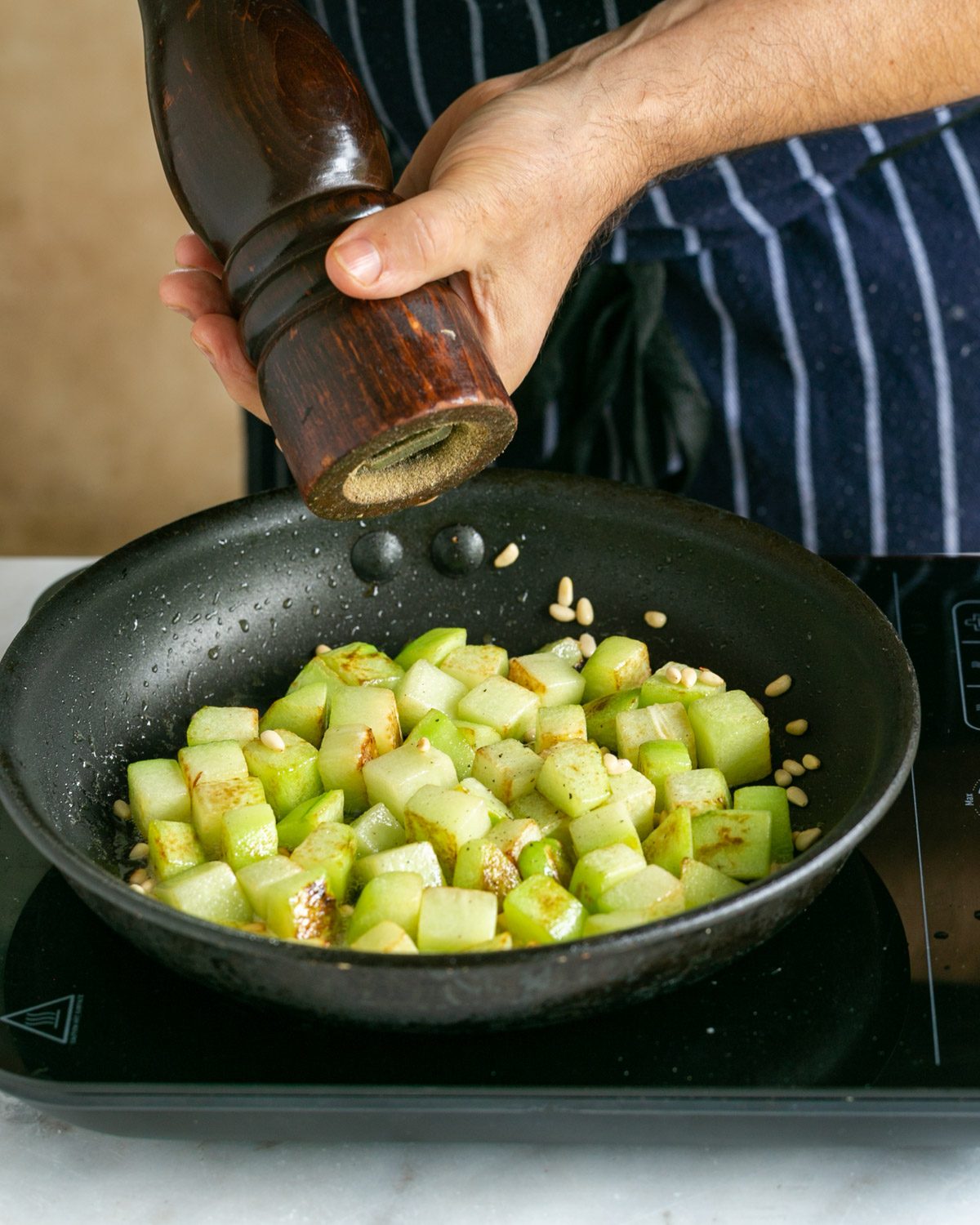 Finish with chopped parsley.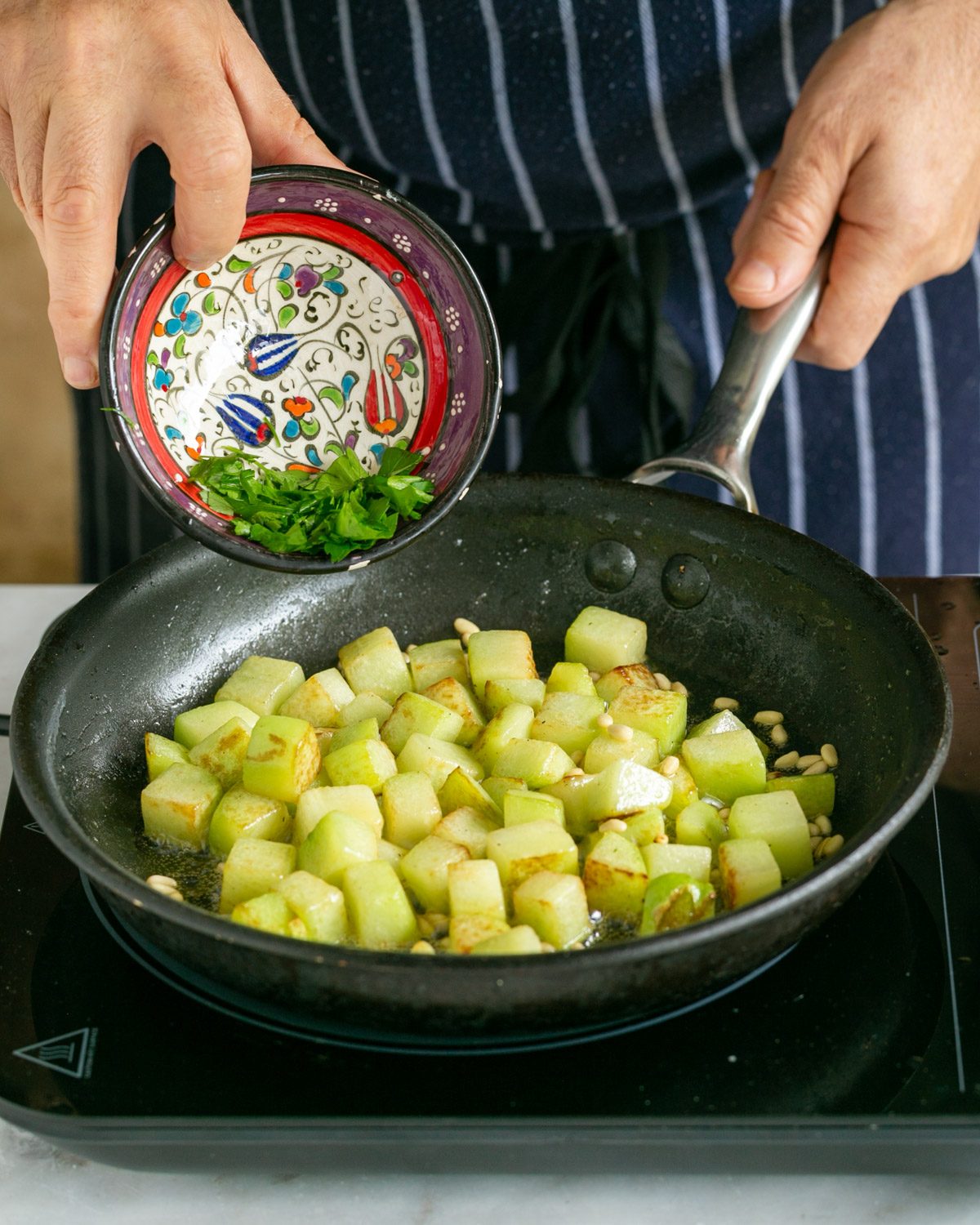 Plate the chokos on a bed of homemade hummus (chickpea, tahini, garlic, lemon juice and yoghurt) and garnish with the boiled choko slices.
And here you go! A delicious choko vegetable preparation, that not only looks good but tastes good too!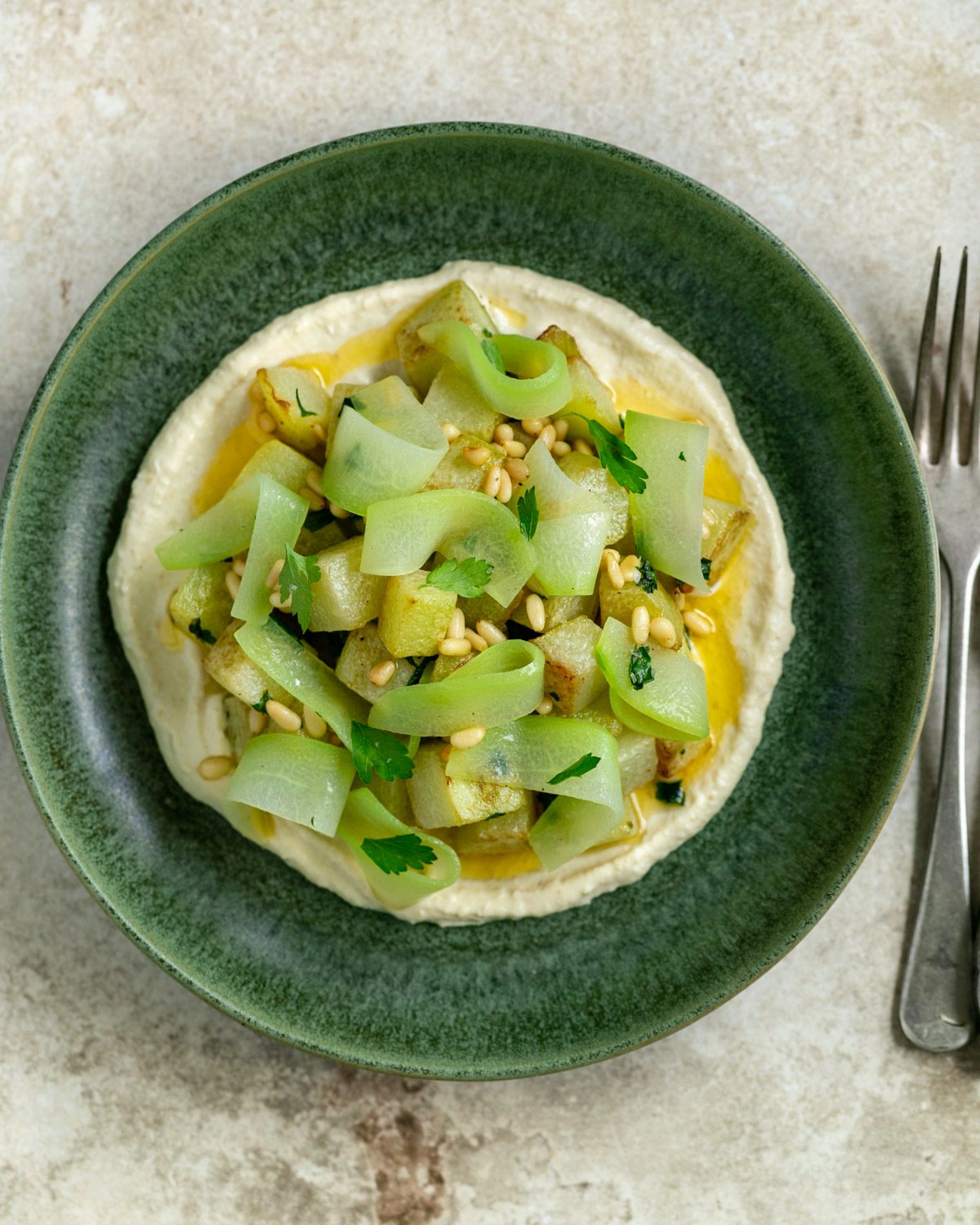 What else can be done with choko
cut into stripes and use in a stir fry paired with asian flavours
make a gratin baked in the oven
cut in half, seed scoop out and baked, filled with bacon and egg, for breakfast
add to a creamy soup with peas or other vegetables
pickled with other vegetables like carrots or cucumber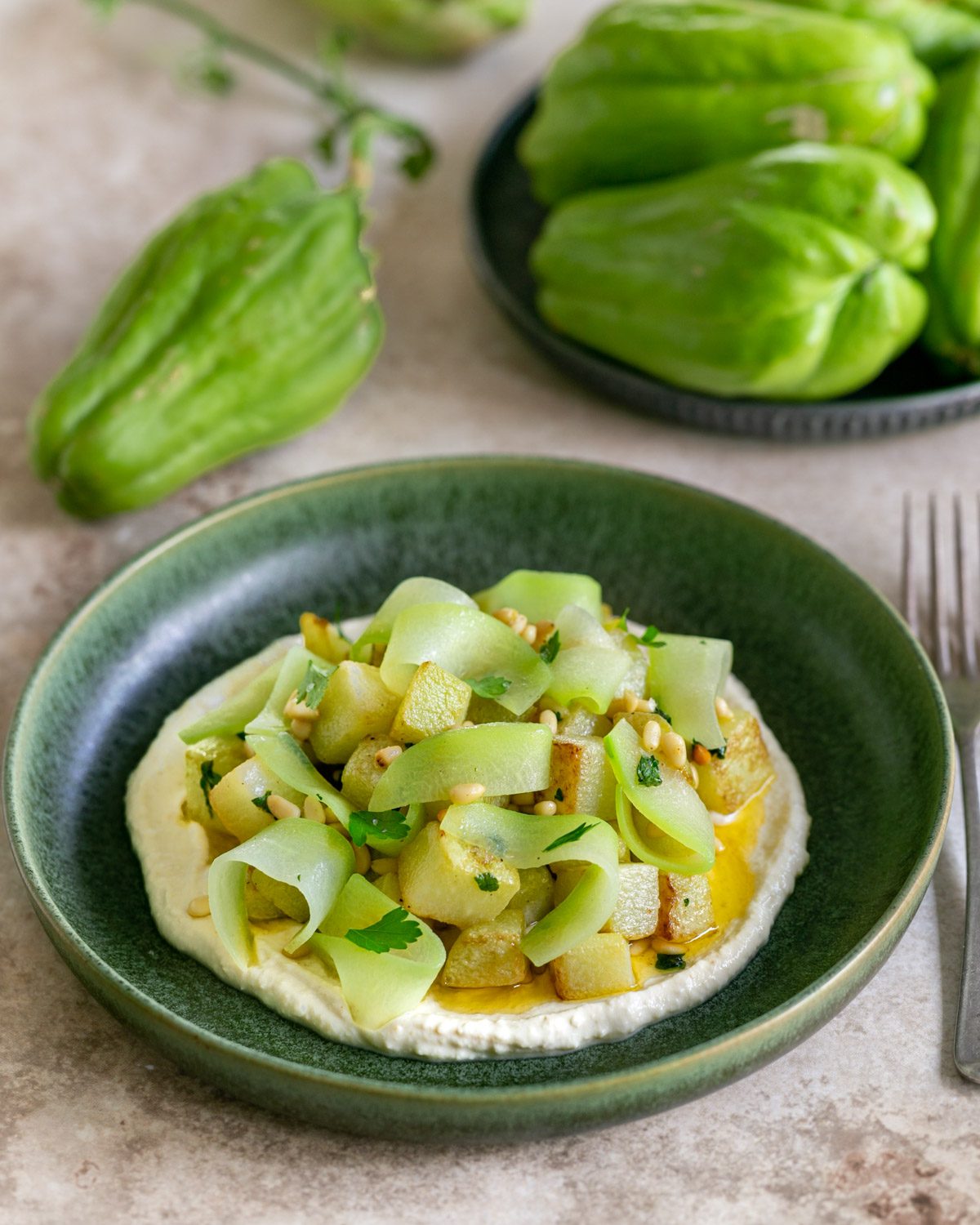 For more inspiration and exciting recipes hop over to ghostwriter cooking with Nana Ling.
Try ingredients you might have never used
If you enjoy cooking, trying out new ingredients, and incorporating them into your dishes can be a very exciting experience. Below are some of my favourite's :
Lemon myrtle, a plant well known in Australia, we used it in this curd and a cheesecake.
Fermented garlic or black garlic is so unique and tasty, we made these agnolottis with them.
Quince, a well known fruit in autumn and winter. But have you used it? Try our quince paste or quince meringue tart.
Finger lime, a citrus fruit with caviar look alike pulp. Great for oysters and raw fish dishes.
Yuzu, another citrus fruit from japan that I love to use for desserts like this yuzu posset facharbeit schreiben lassen with crumble.
Matcha, has become popular over the years. Make this easy matcha panna cotta using matcha powder.
I would love to try out some new ingredients myself so if you have any that you enjoy cooking with, do let me know in the comments below!
Until then leaving you with this quote from Julia Childs - "the more you know, the more you can create. There's no end to imagination in the kitchen"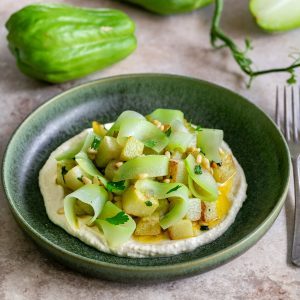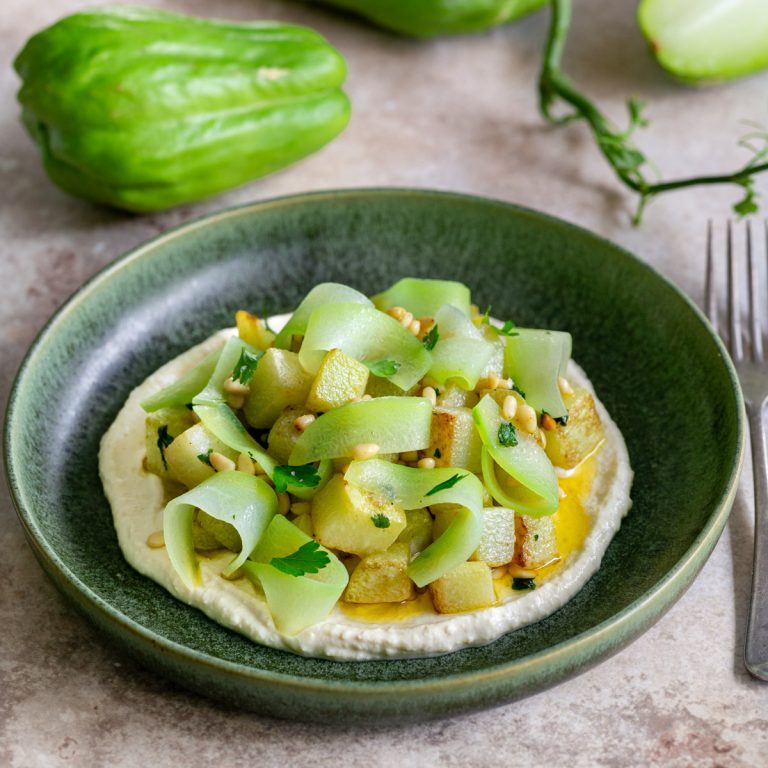 Roasted Choko with Pine Nuts
Turn this rather bland vegetable into a tasty, restaurant worthy dish, with our tips and tricks on how to cook chokos.
Equipment
mixing bowl

peeler

small pot

slotted spoon

frying pan

mandoline
Ingredients
4

chokos (chayote)

2

tablespoon

olive oil

30

gram

unsalted butter

3

tablespoon

pine nuts

¼

lemon

1

tablespoon

chopped parsley

80

gram

hummus

salt and pepper to taste
Instructions
Peel the chokos under cold running water to avoid the slimy liquid sticking to your hands.

Cut 3 of the chokos into 4 sides (cheeks) and discard the core. Slice the chokos into large cubes.

Cut the remaining choko into 4 even sides (cheeks) and slice them on a mandoline into thin stripes.

Place a wide pan on high heat and add the olive oil. Add the choko cubes and roast them for about 5 minutes from all sides. Season with salt and toss them through the pan occasionally.

Add the butter and pine nuts and keep roasting all together. Let the butter start foaming and lightly turn brown. This will add a nutty flavour to the dish. Add a squeeze of lemon juice and pepper.

Add the chopped parsley, combine well. Remove the pan from the stove and keep aside.

Meanwhile cook the sliced choko in a pot of boiling salt water for 1-2 minutes. Drain and serve immediately.

Plate the chokos on a bed of hummus and garnish with the boiled choko slices and some fresh parsley.
Nutrition
Nutrition Facts
Roasted Choko with Pine Nuts
Amount Per Serving (90 g)
Calories 227
Calories from Fat 180
% Daily Value*
Fat 20g31%
Cholesterol 16mg5%
Sodium 80mg3%
Carbohydrates 10g3%
Protein 4g8%
Vitamin A 281IU6%
Vitamin C 15mg18%
Calcium 36mg4%
Iron 1mg6%
* Percent Daily Values are based on a 2000 calorie diet.