A perfectly balanced green tea panna cotta, made with matcha, yoghurt and cream garnished with marinated cherries and a crispy sesame tuile makes for an impressive light dessert to finish off any meal!
Matcha has become popular over the years and besides being a cool looking beverage, it has found it's way in many sweet and savoury recipes.
Personally, I didn't start off on the right foot with the Japanese green tea, I found it to be overly bitter and soapy tasting in desserts.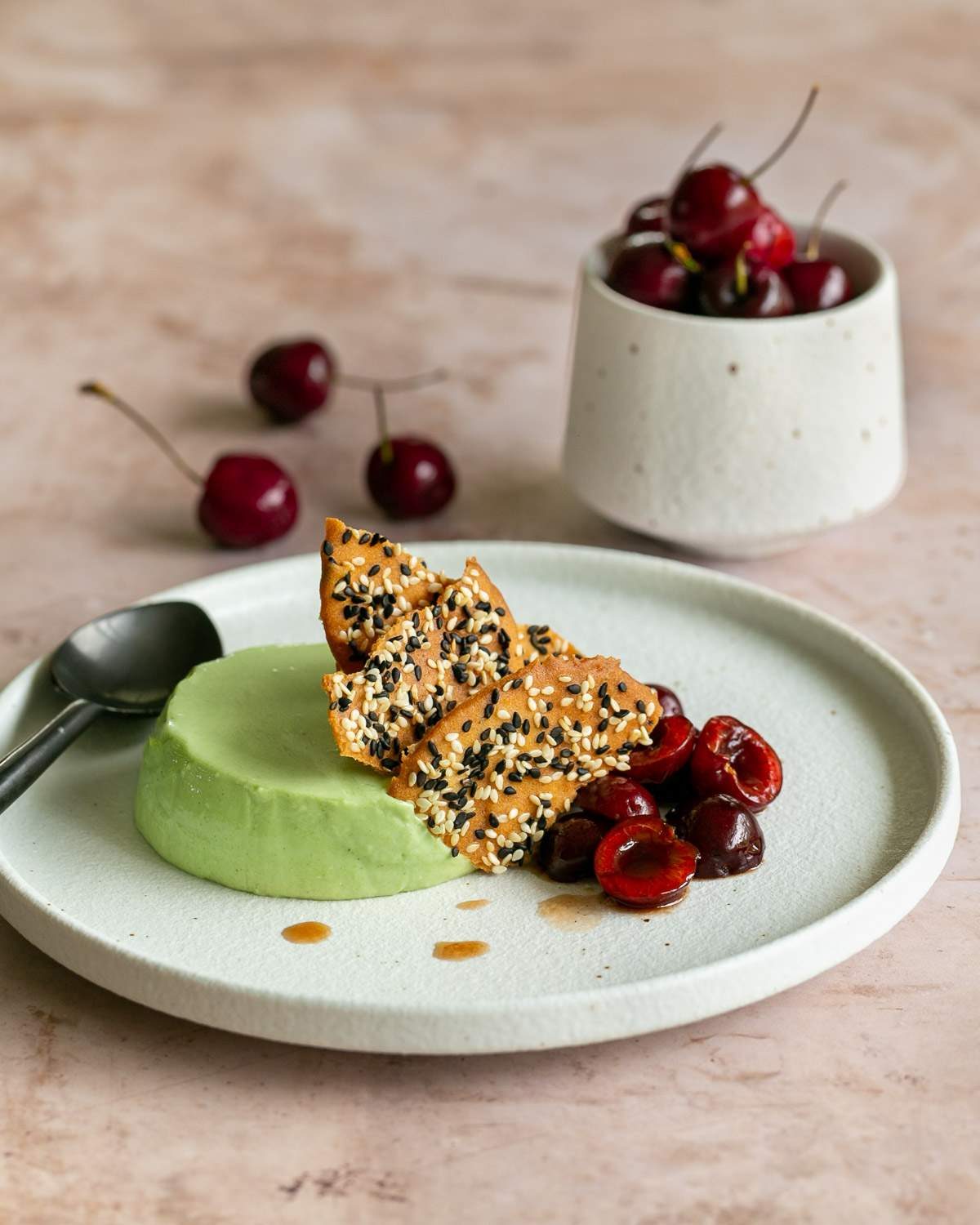 But recently I had to use matcha in a dish at work and I was pleasantly surprised, how much I loved the complex taste of it.
Jump to:
A few tweaks here and there and this green tea matcha panna cotta has become my new favourite dessert, especially when topped with fresh cherries and this crunchy sesame tuile
why you will love it
Matcha panna cotta is quick and easy to make
The silken, creamy texture of the panna cotta and the matcha and yoghurt combination is a winner
Matcha, fresh cherries and sesame is a match made in heaven
The colour of the matcha stays bright green even after setting the panna cotta
The presentation is stunning and with our step by step guide you can easily do it too
WHAT IS MATCHA TEA?
Matcha is a Japanese green tea that has many health benefits. High in antioxidants and metabolism boosting, it also contains more caffeine than regular green tea.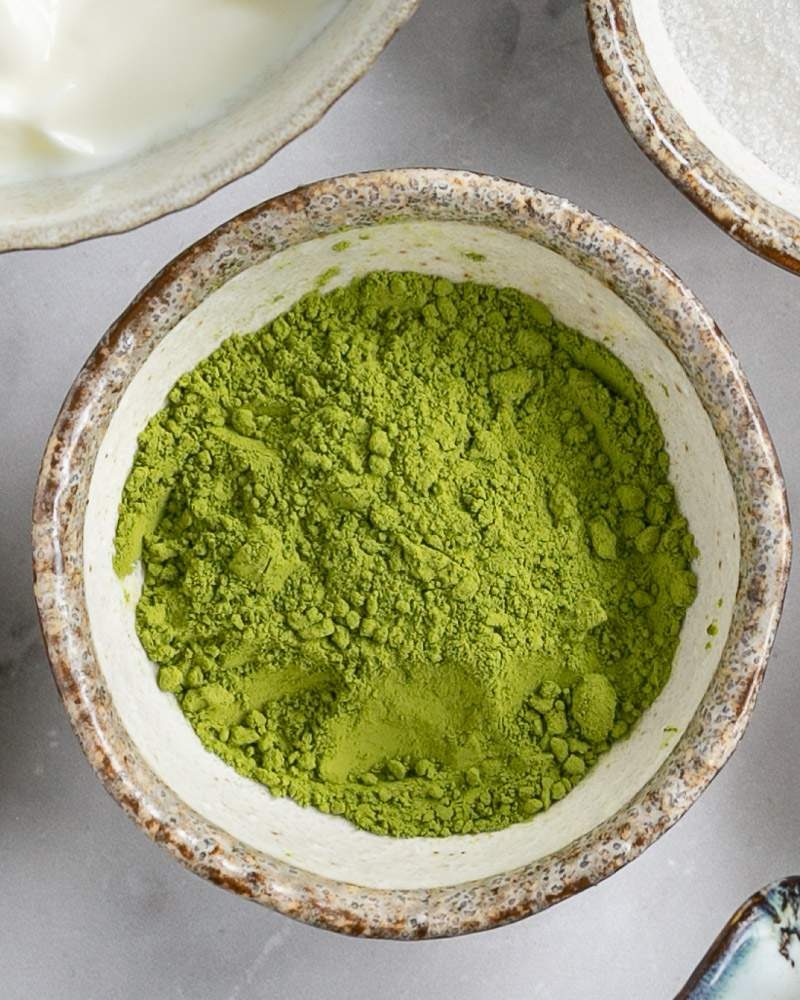 Matcha comes in form of a bright green powder that is made of the entire tea leaf. The taste is described as somewhere umami with bitter notes and a savoury finish.
INGREDIENTS NEEDED
Matcha is the main ingredient for the panna cotta, it can be found in Asian shops or online. You don't need much for this recipe but you can learn how to use the remaining powder as a beverage here.
Yoghurt I have made the recipe with only full fat greek yoghurt so I recommend to use the same.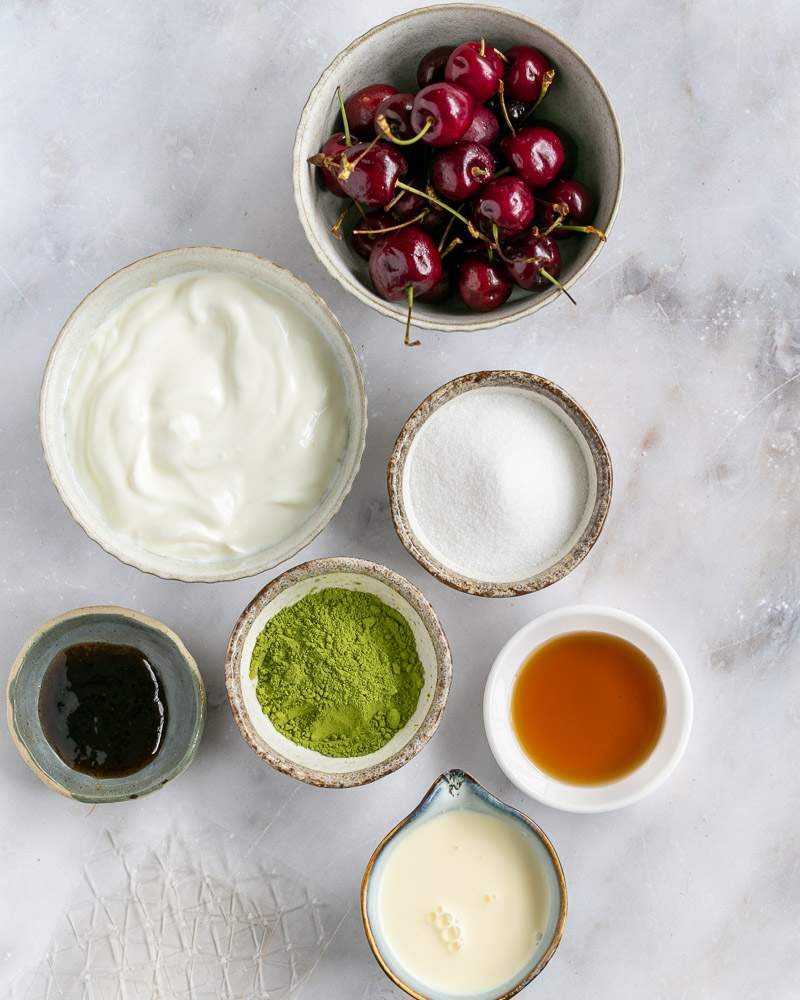 Cream use a light cream for this recipe. In Australia, I use pouring cream.
Gelatine there are many types of gelatine available, I always prefer gelatine leaves instead of powder. Living in Australia, I use McKenzie's gelatine.
Cherries are best when in season hence I recommend fresh cherries for this recipe.
Besides the above ingredients, you need caster sugar, vanilla essence, maple syrup and our sesame tuiles recipe.
GREEN TEA MATCHA PANNA COTTA
Green tea is high in acidity which can make the yoghurt curdle. To avoid curdling, I am not heating up the yoghurt and cream together.
The steps below work out perfectly but in case something goes wrong, check out the FAQ section.
soaking the gelatine
The gelatine needs to be soaked in ice cold water. I usually drop a few ice cubes into the water and then let the gelatine soak for about 5-10 minutes.
You know the gelatine is ready, when it becomes wiggly-jiggly.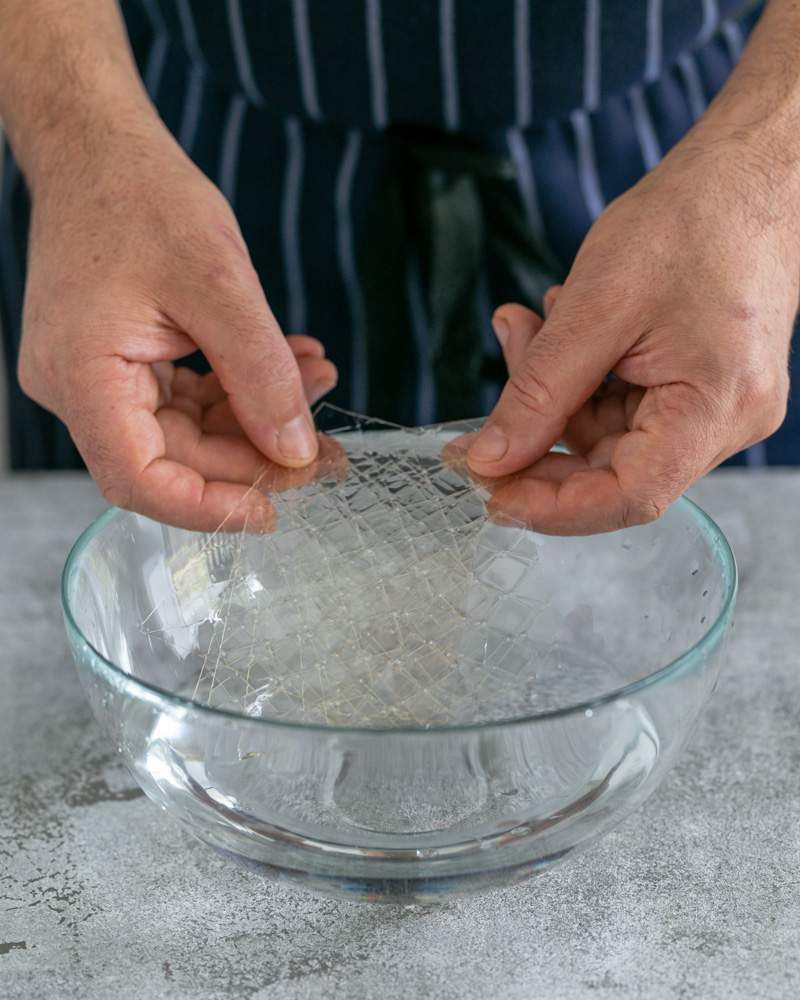 heating the cream
The cream is heated slowly on low flame on the stove, together with sugar. This helps dissolve the sugar plus we need warm liquid for the gelatine. Next comes the green tea powder.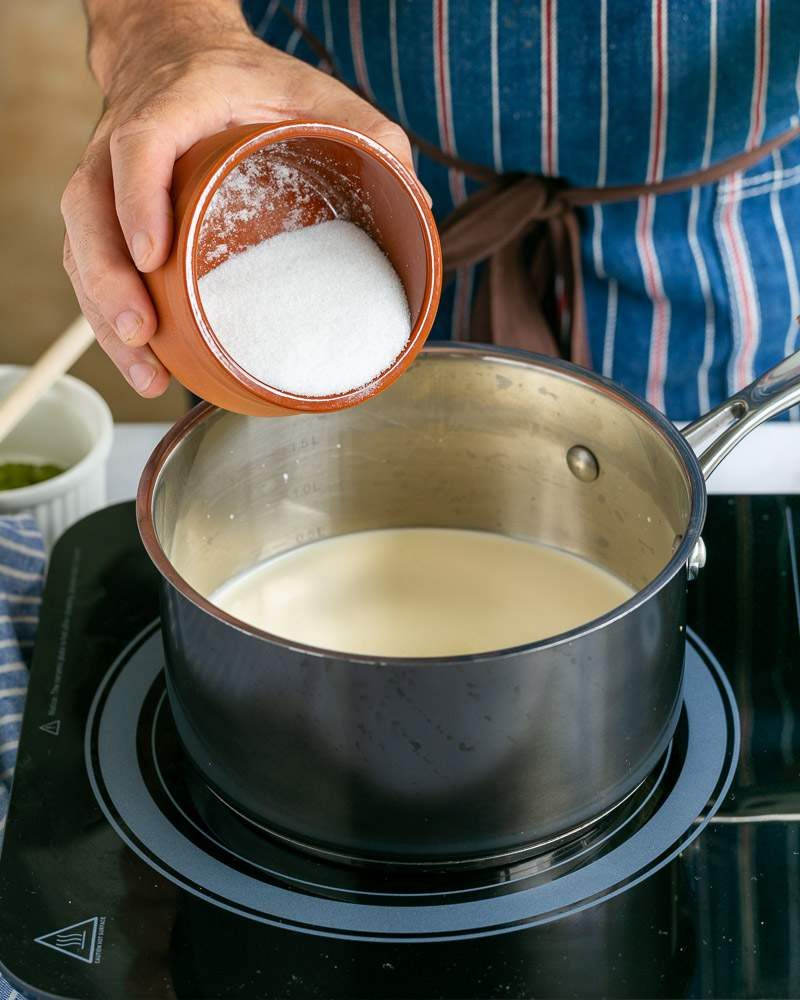 adding the matcha powder
If sceptical, add small amounts at a time but I found 1½ to be the exact right amount for this recipe. The matcha powder dissolved pretty well in the cream but you can pass it through a fine sieve in case you need to break up lumps.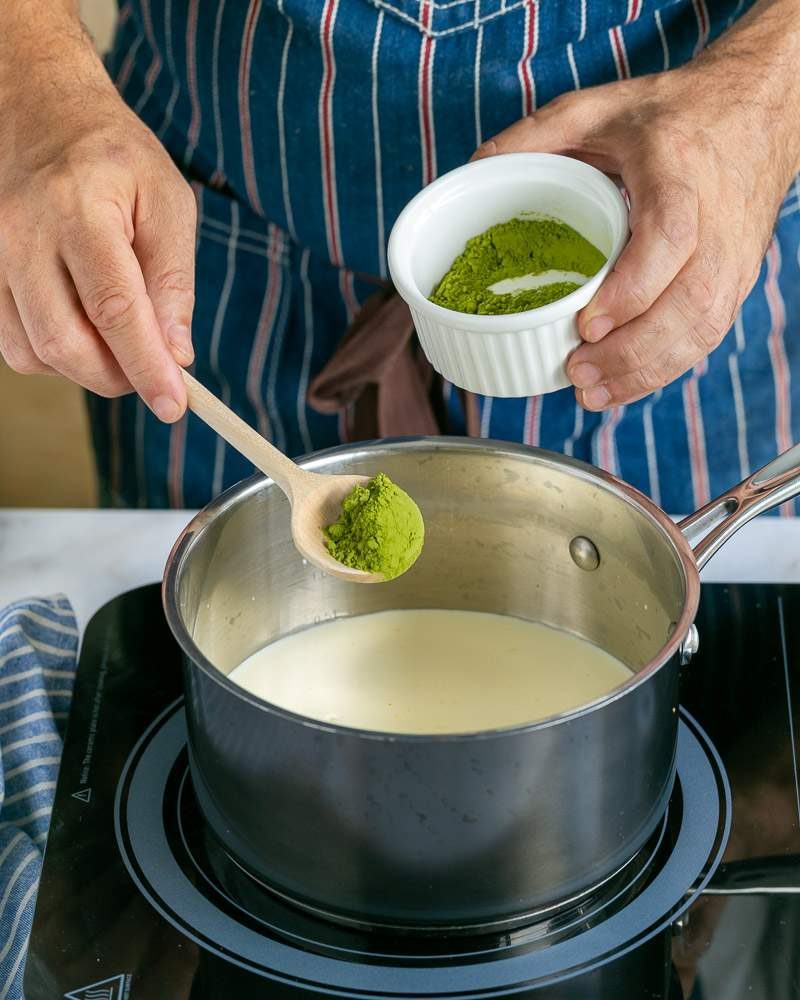 the panna cotta base
When the sugar has completely dissolved and there are no lumps left from the matcha powder, add the gelatine.
Make sure to squeeze out any water from the gelatine before adding it. Whisk the cream for 10 more seconds along with gelatine and your base is done.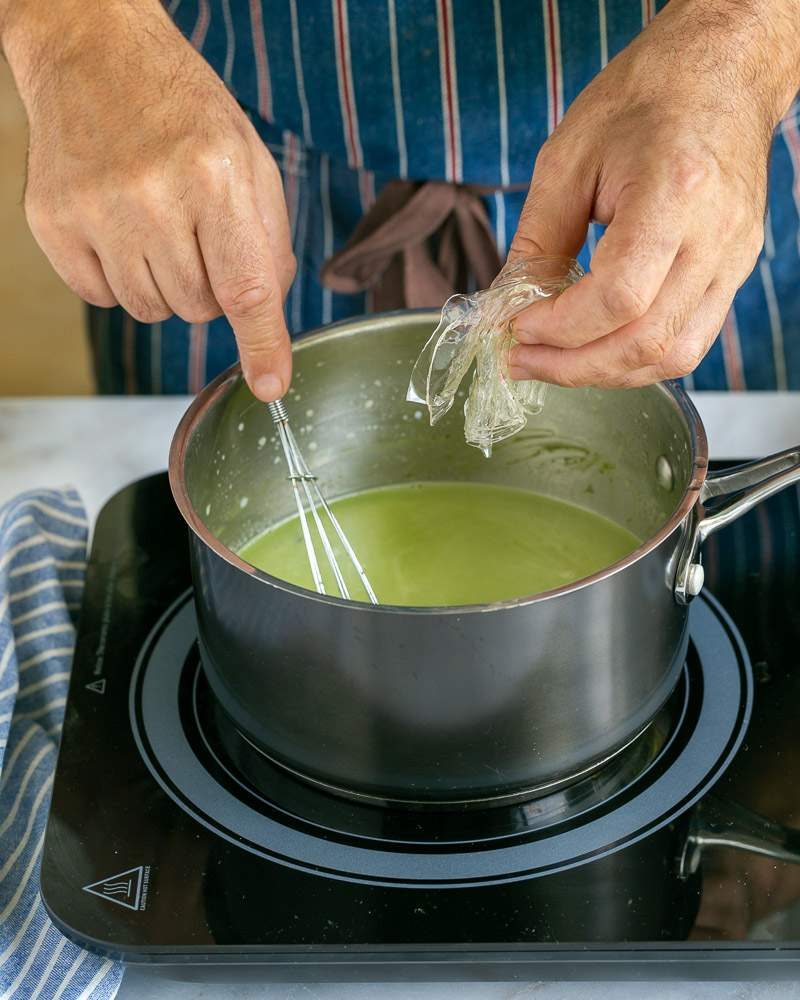 setting the panna cotta
Finally pour the mixture through a sieve onto the greek yoghurt. Make sure you have a large enough bowl. Whisk it all together and set the panna cotta in glasses, ramekins or small bowls.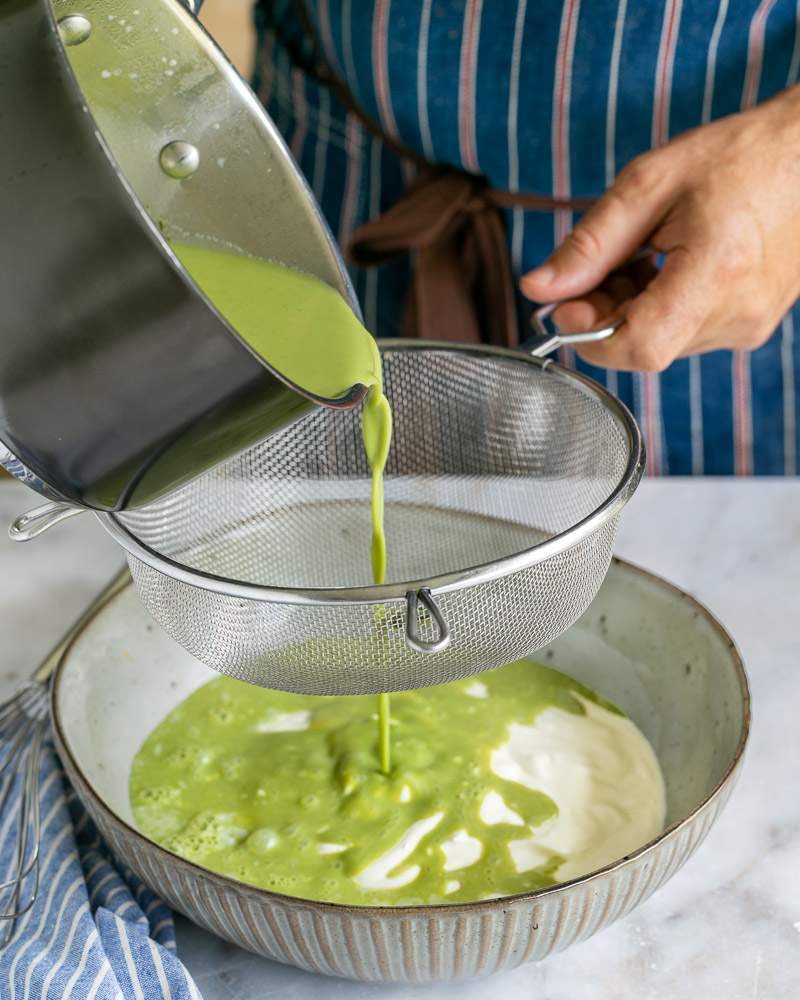 Keep the panna cotta in the fridge for at least 3 hours or until set.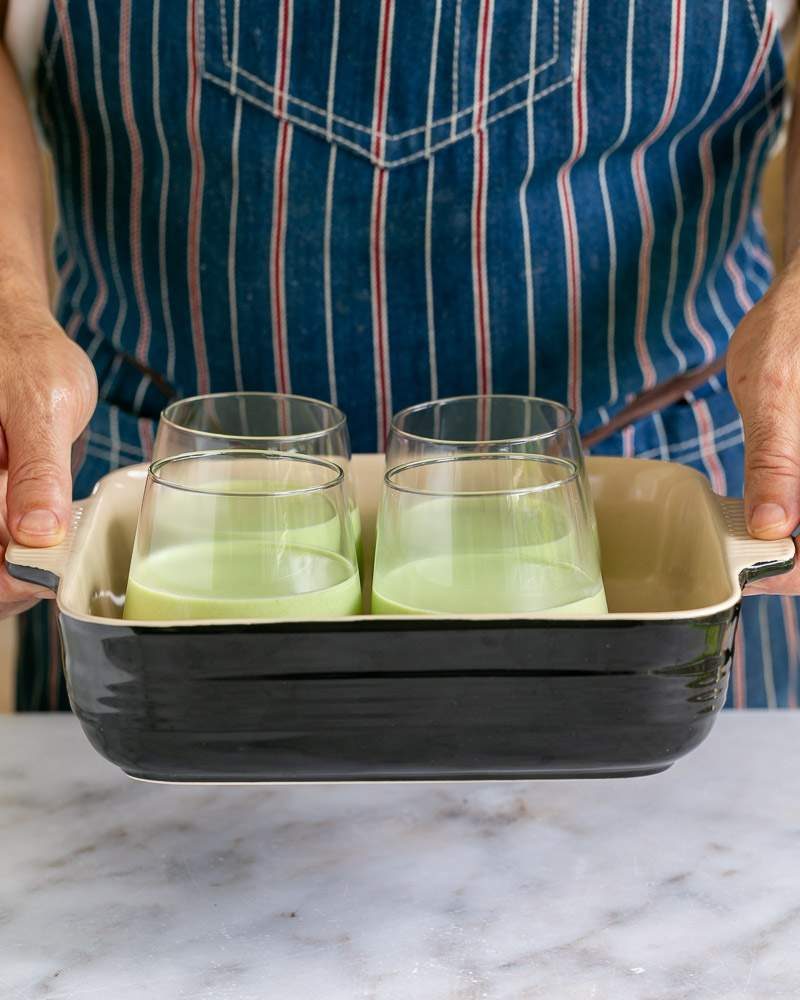 SIMPLE CHERRY MARINATION
Cherries are naturally sweet, especially when they reach the peak of cherry season. For this reason, I avoid adding too much to them. Just a simple splash of maple syrup and vanilla essence is more then enough.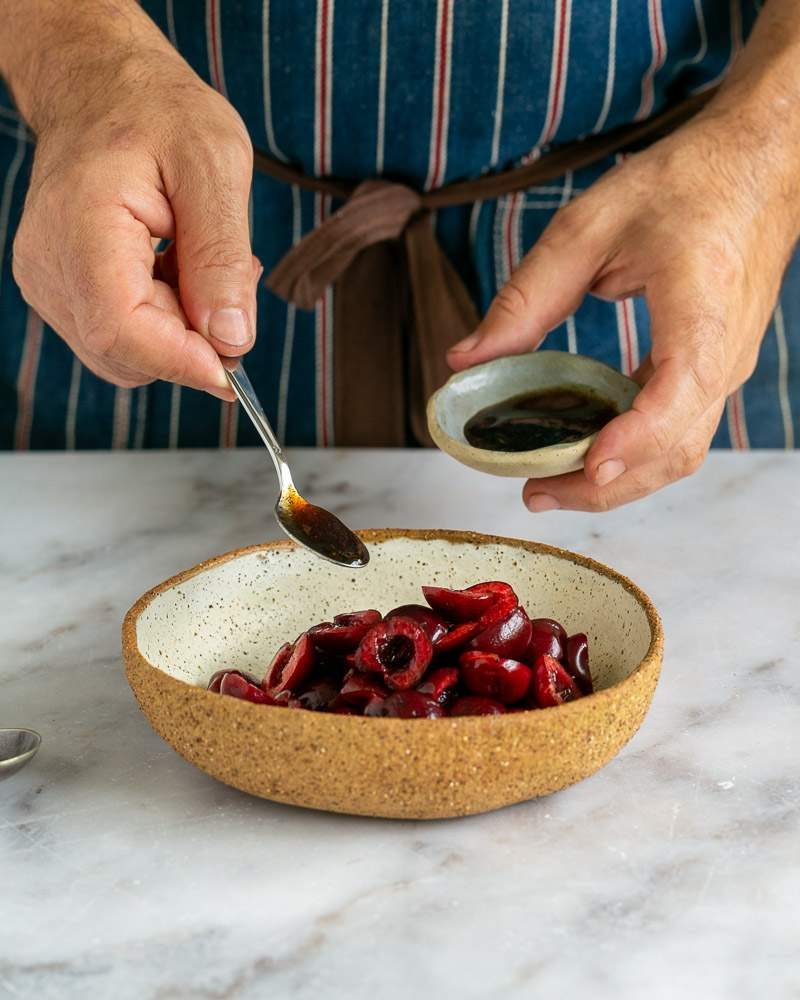 To avoid your guests biting on cherry seeds, make sure to remove them first. Using a small knife go around the seed and then remove the seed.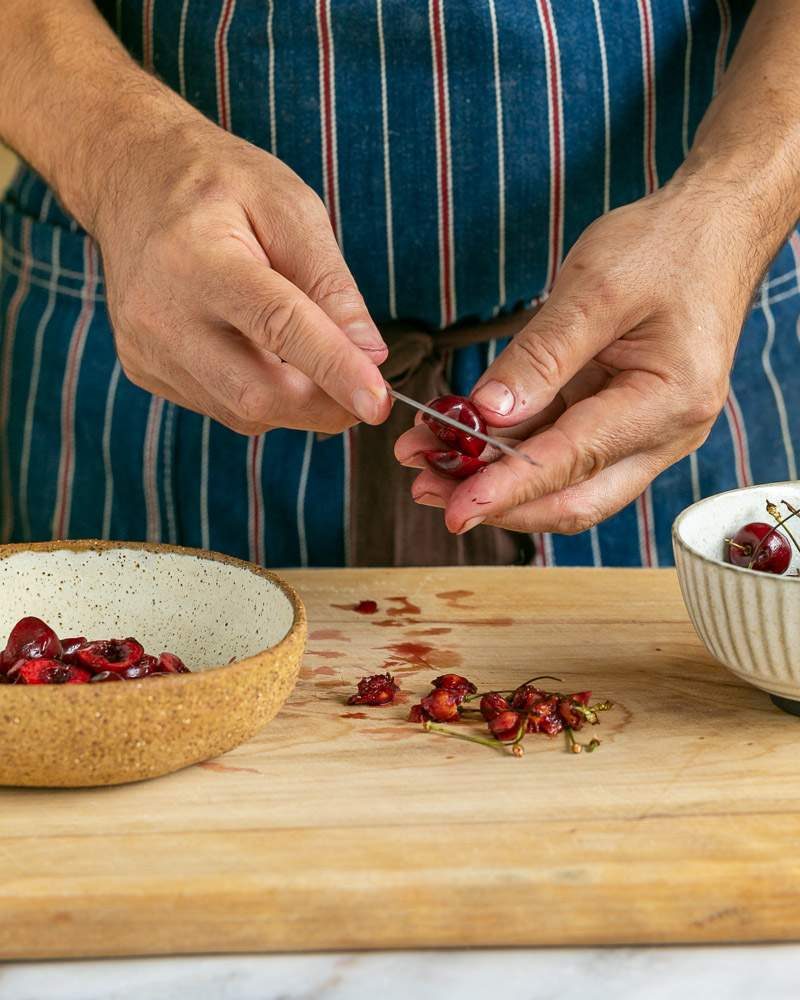 GARNISHING THE PANNA COTTA
Even though panna cotta is a simple dessert, it can easily be made to look like from a fancy restaurant. We love this dessert version in the glass but we also show you how to dress it up if serving on a plate.
the plated version
If you set the panna cotta in a ramekin, go around the edges with a small knife to loosen it. Then place the plate you will be serving the panna cotta in on top of the ramekin and turn it upside down.
For some reason, If the panna cotta does not come out, heat the bottom of the ramekin by rubbing your palm on it and that should do the trick!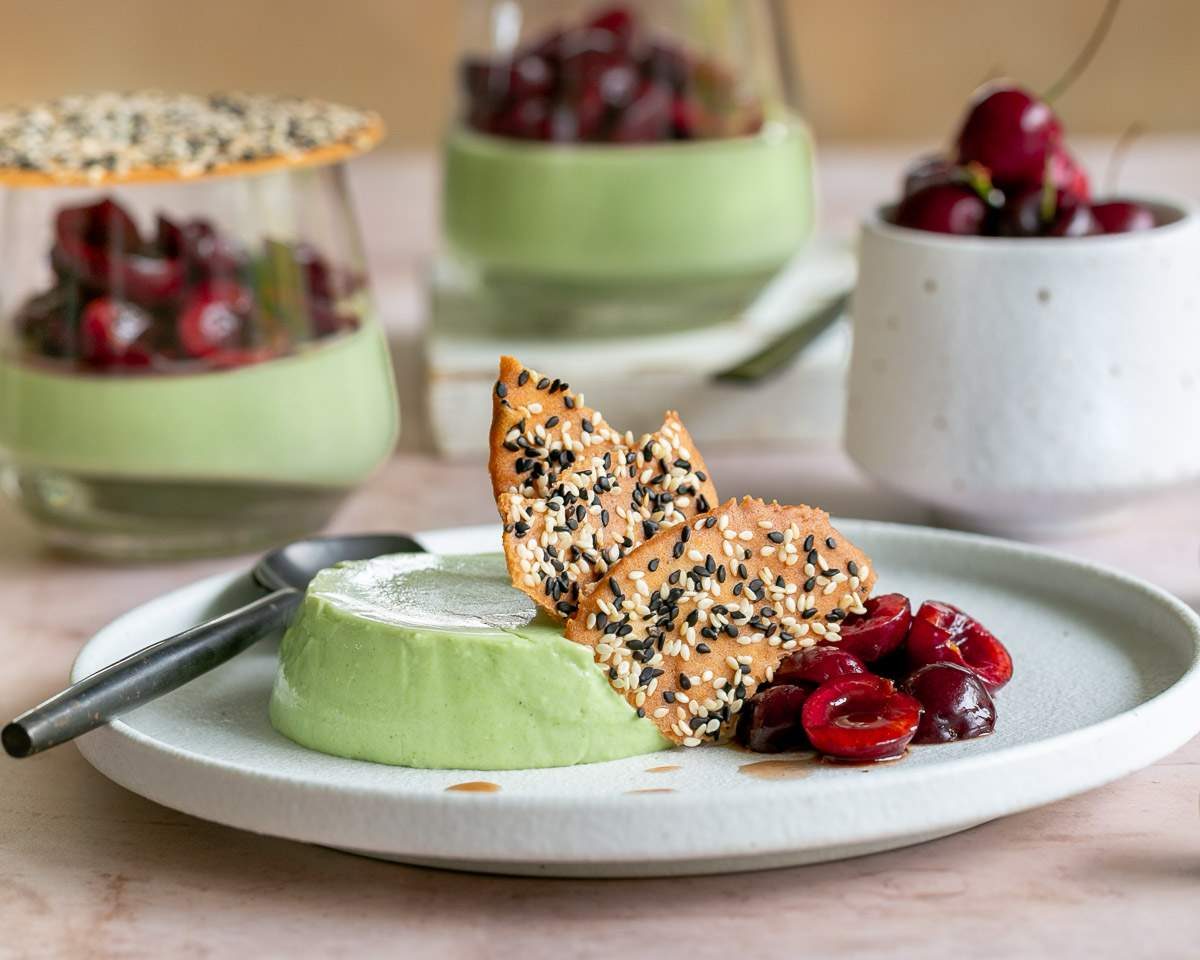 Garnish with the marinated cherries and stick the broken sesame tuiles into the panna cotta (see image above)
the glass version
Setting the panna cotta in a glass, is a great way to prepare the dessert ahead of time. All you need to then do is, assemble it just before serving.
Place a generous amount of the marinated cherries on top of th panna cotta in the glass and place the sesame tuile on top.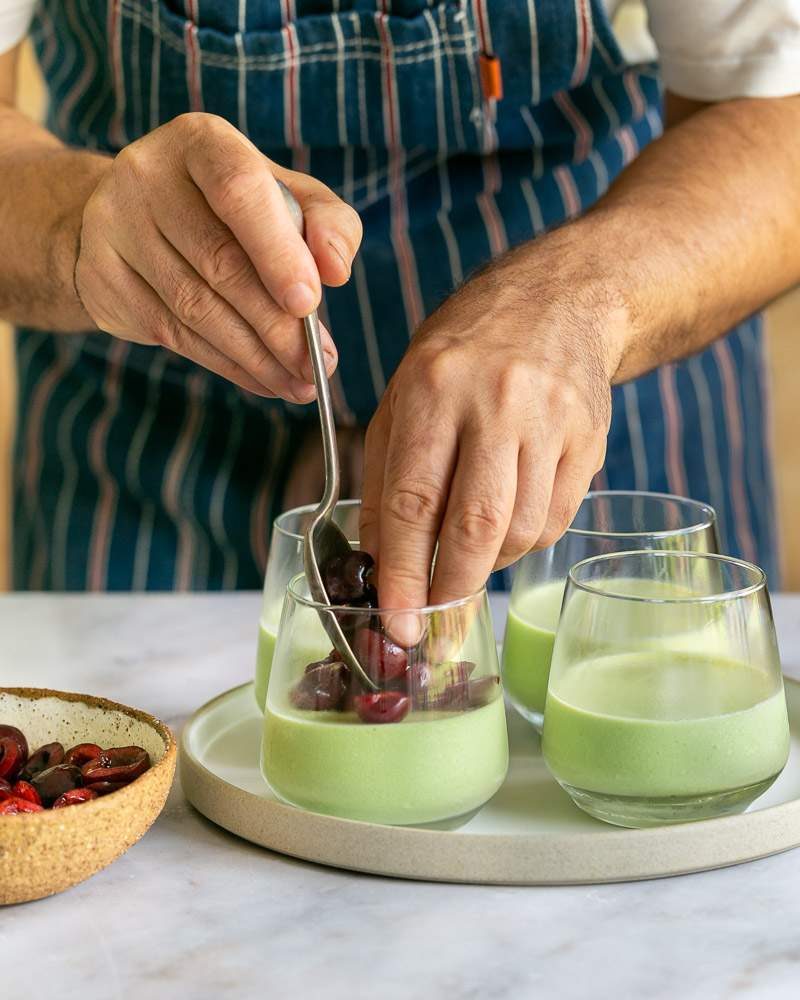 You can tell your guests that there are two ways of enjoying this dessert - one way is to crack the tuile with their spoon while the other is more obvious - they can just pick up the tuile with their hand and eat!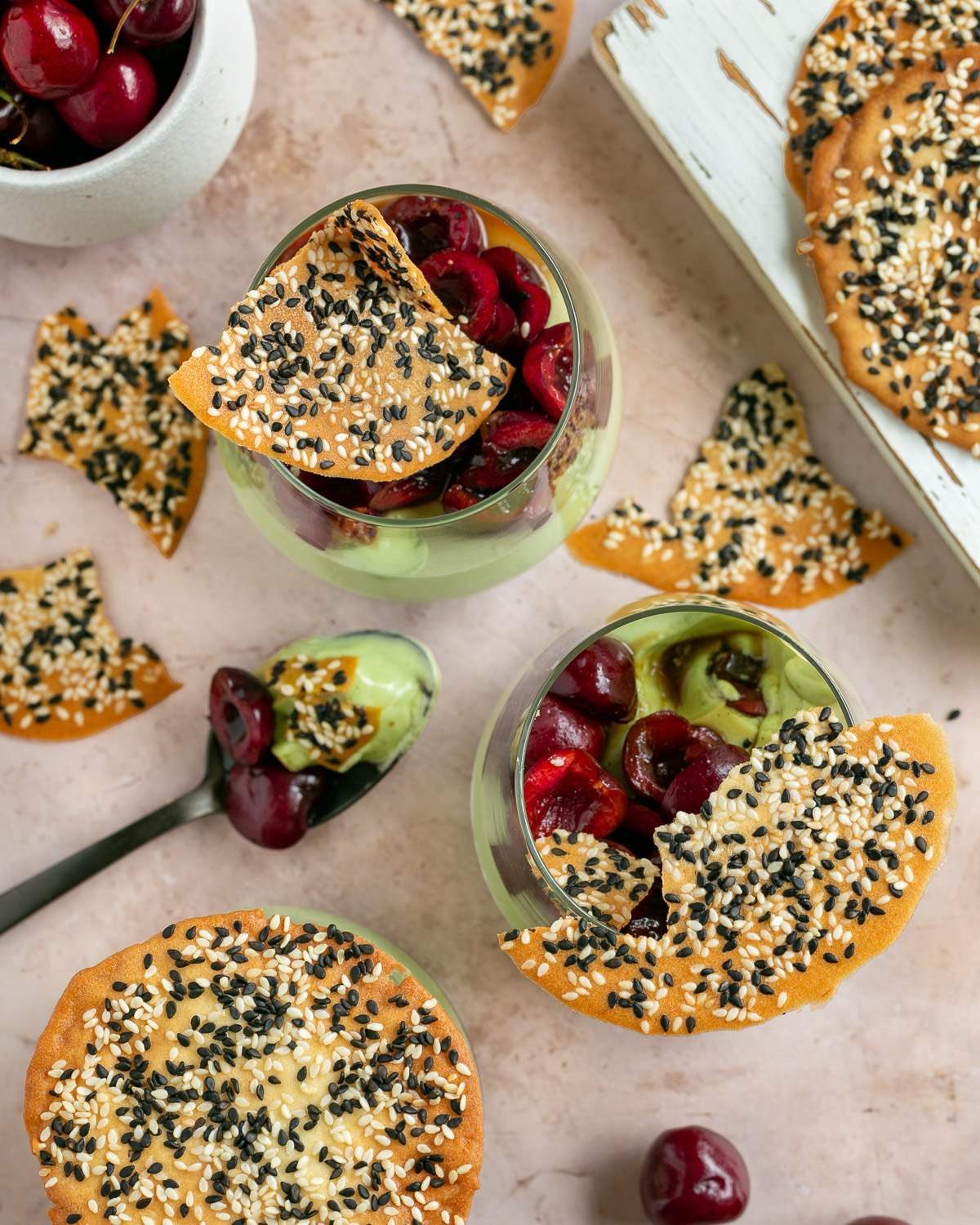 FAQ's
the panna cotta mixture has split
If the yoghurt was too warm, it could happen that the acidity from the matcha powder split the panna cotta. To bring it back, heat up the panna cotta mixture slowly in a pot and add a small amount of cream to it. When the mixture comes back together set in glasses or ramekins straight away and chill.
can you make panna cotta ahead of time?
Yes, panna cotta is a great make ahead dessert. You can prepare it up to 3 days in advance. You can even keep it for longer but it will loose it's flavour after that.
what can I substitute cherries with?
Cherries are very seasonal but you can replace them with blueberries, raspberries or blackberries. Fresh or tinned lychees or even kiwis are a great substitute too.
can matcha go bad?
As with most types of tea, matcha has a long expiration date hence will be fine to use even after the tea has expired. But in saying that, even though matcha tea cannot go bad, it does loose it's quality and intensity so perhaps its best you don't store it for too long.
I hope you are excited to give this recipe a try! Be sure to tell me how much you loved it by leaving me a comment below!
If you enjoyed this panna cotta recipe then perhaps you will also like this Pina Colada Panna Cotta with Lime & pineapple or Caramel pots with poached pears Whichever you choose to make, I can guarantee you will have a tough time deciding on a favourite!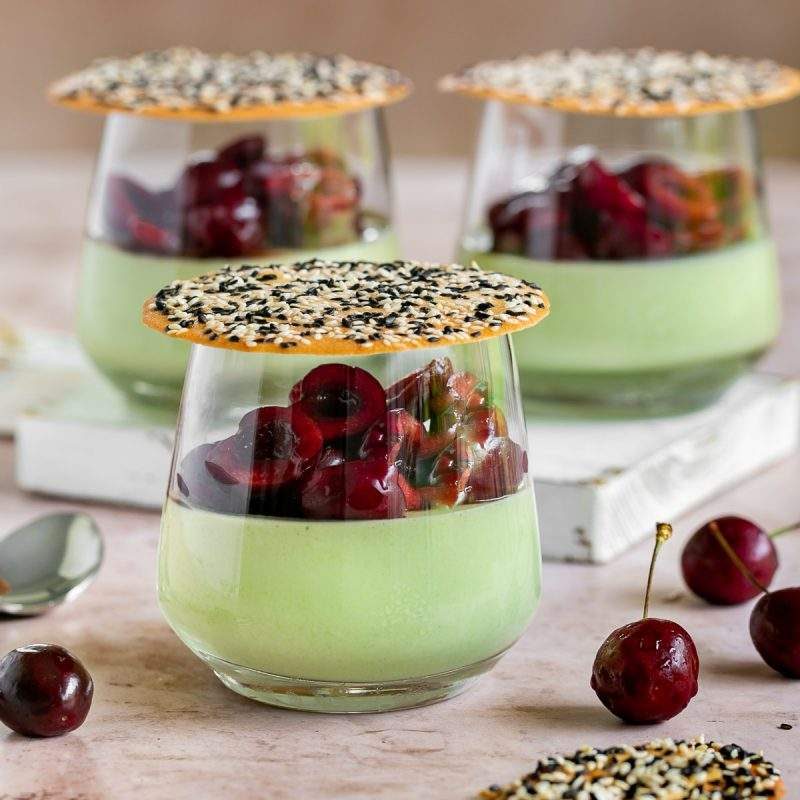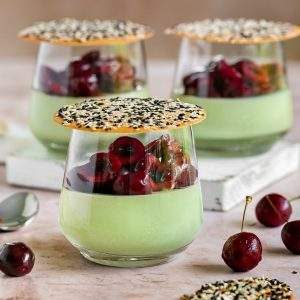 Green Tea Matcha Panna Cotta with Cherries
A perfectly balanced green tea panna cotta, made with matcha, yoghurt and cream garnished with marinated cherries and a crispy sesame tuile makes for an impressive light dessert to finish off any meal!
Equipment
small pot

whisk

mixing bowl

strainer or sieve
Ingredients
for the panna cotta
4

sheets

gelatine (McKenzie brand in Australia)

300

ml

cream (light or pouring cream)

100

gram

caster sugar

1½

tablespoon

matcha powder

400

gram

greek yoghurt
for the cherries
150

gram

fresh cherries

1

teaspoon

maple syrup

⅓

teaspoon

vanilla essence
for the garnish
Instructions
for the panna cotta
Add the sheets of gelatine to a bowl of ice cold water and let it soak for 5-10 minutes. Meanwhile add the greek yoghurt to a large bowl and set aside.

To make the panna cotta mixture, pour the cream into a small pot and add the sugar. Heat on a low flame and add the matcha powder. Whisk well to combine and bring to a simmer and remove from immediately from the heat.

Squeeze out any excess water from the gelatine and add to the milk-matcha mixture. Whisk until completely dissolved.

Strain the milk mixture through a sieve into the bowl with the yoghurt and whisk well to combine. Fill up the mixture in glasses or ramekins/bowls and set to cool in the fridge for at least 3 hours.
for the cherries
Cut the cherries in half and remove the seed. Mix the cherries with maple syrup and vanilla essence and set aside in the fridge until needed.
for the plate up
Take out the glasses from the fridge and add the marinated cherries on top of the panna cotta.

Place the sesame tuiles on top of the glass and explain the guests they can either crack the tuile with the spoon or eat it with their hands.
Nutrition
Nutrition Facts
Green Tea Matcha Panna Cotta with Cherries
Amount Per Serving (150 g)
Calories 467
Calories from Fat 252
% Daily Value*
Fat 28g43%
Cholesterol 108mg36%
Sodium 69mg3%
Carbohydrates 38g13%
Protein 17g34%
Vitamin A 1412IU28%
Vitamin C 3mg4%
Calcium 167mg17%
Iron 1mg6%
* Percent Daily Values are based on a 2000 calorie diet.