Quince is in season for only a short time of the year, so next time they are available in the market, make sure to get your hands on a few. You can transform these into a year's supply of delicious quince paste – perfect for a fancy cheese board or just as an after meal sweet.
One of my favorite accompaniments with cheese is quince paste. In the restaurant we serve every cheese plate with condiments like dried muscatels, pecan nuts, truffle honey, lavash crackers and of course this beautiful homemade quince paste.

Cheese was part of every meal when I grew up. As children we disliked the smell, especially when mum opened the Tupperware box to set up her cheese board but we learned to appreciate eating good cheese later in life.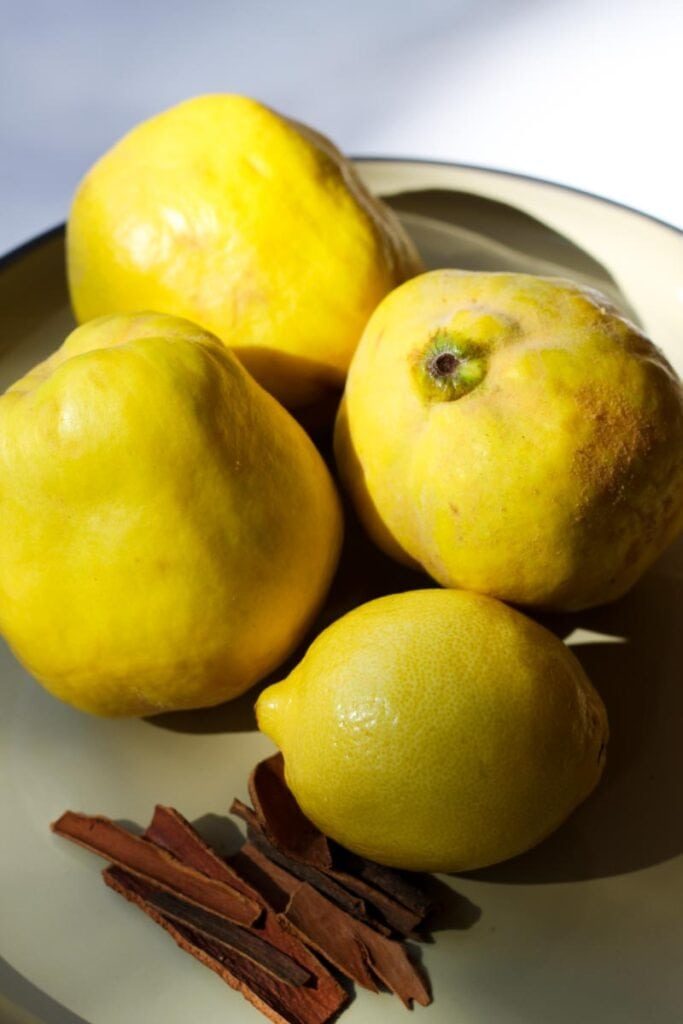 PREPARING QUINCE FOR QUINCE PASTE
Quince is seasonal in autumn, in Australia you find them around April and May. Unlike a pear or apple, to eat a quince you have to cook them first. Preparing quince for any recipe is tricky as they oxidize quickly unless kept in acidic water. In the restaurant we use citric acid to keep them white.

The riper the quince are the tastier your paste will be, if you want to get more flavor out of them you can wrap the peels and core in a cheese cloth and squeeze the quince juice trough the cheese cloth into your puree.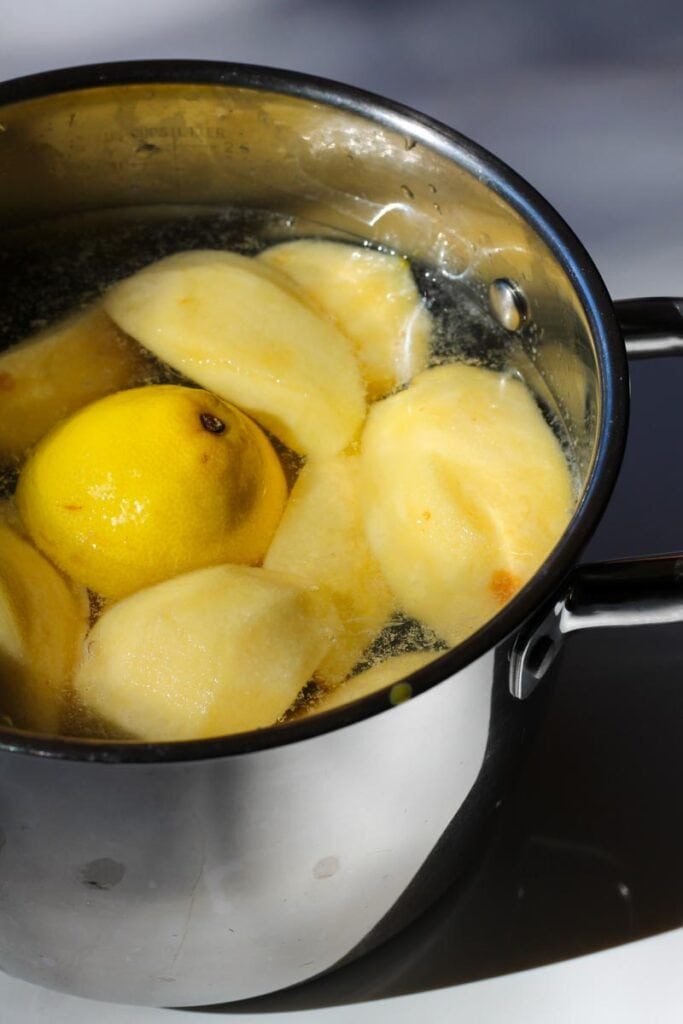 HOW TO MAKE QUINCE PASTE
I have mostly used quince in savory dishes paired with more gamy meat like venison, pheasant or duck but they are also great for baking and stewing – mostly used in sweet dishes. I recall mum making an amazing quince and meringue tart, I will ask her for the recipe and try it out next time.
Another famous quince paste is the "Dulce de Membrillo", the quince is cooked with a large amount of sugar, blended and then dried in the sun or in an oven for up to 12 hours.

If you follow my recipe step by step, making the quince paste will be not be as time consuming. It took me less than 1 hour and it was ready to be sliced after being chilled in the fridge for 4 hours (chill in small batches).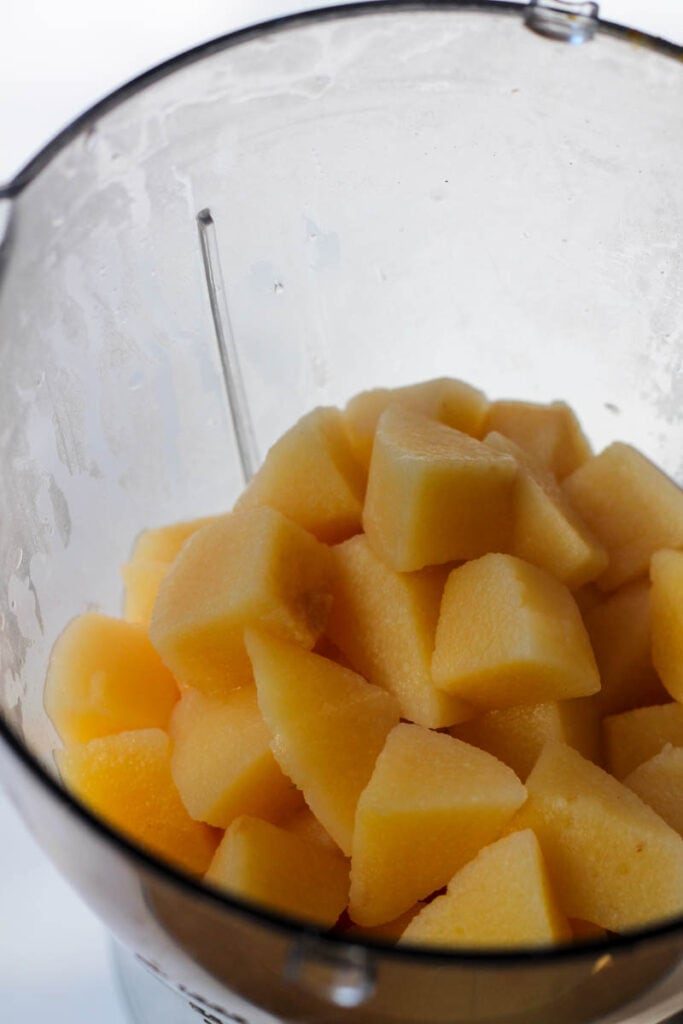 Organize all the ingredients and cooking utensils before you start peeling the quince to avoid them from coloring.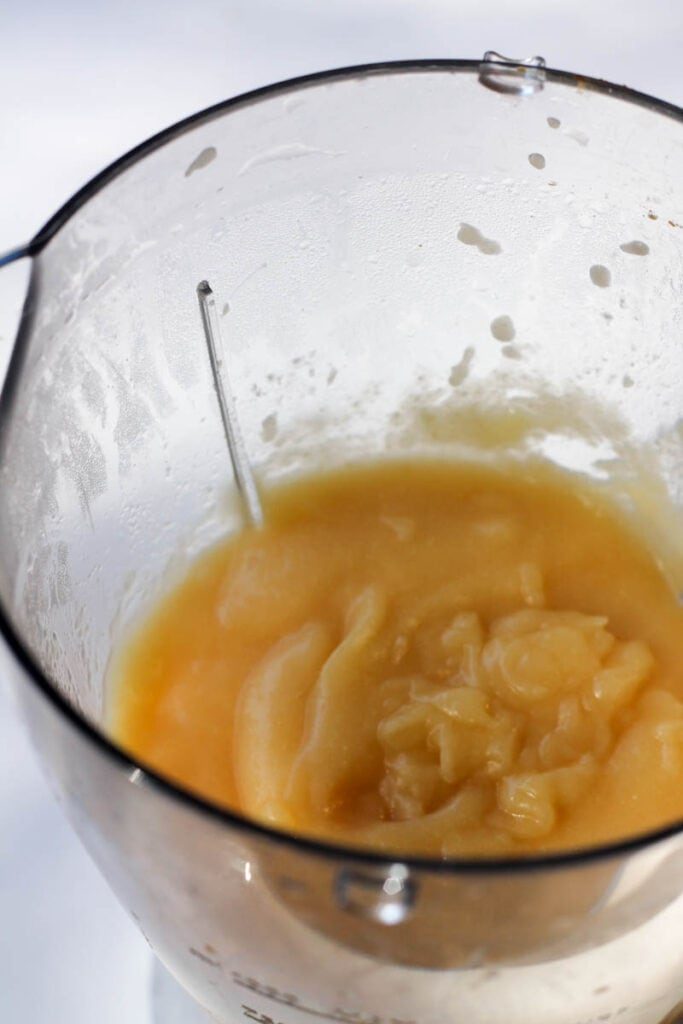 Once you have cooked the quince for about 25 minutes, using a food blender turn it into a fine puree. Add the sugar, lemon juice and then cook the puree down to a sticky caramel like consistency.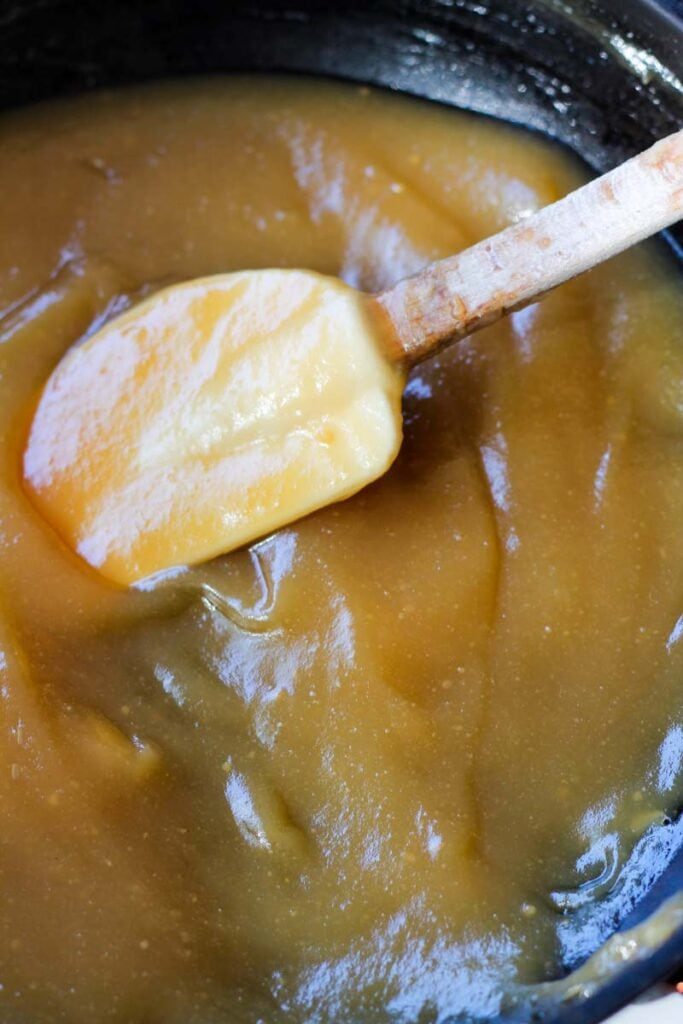 You don't have to do anything more if you want the same quince paste I have made. But if you want a darker color, you can take it a step further by drying the paste for a few hours.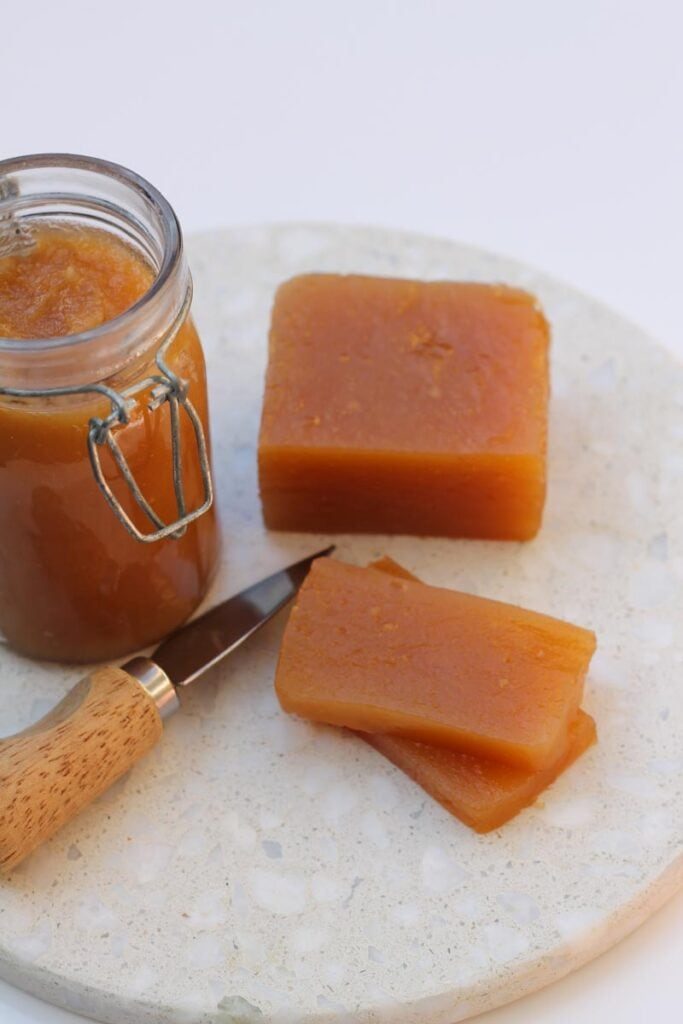 AS A NOTE: For this homemade quince paste recipe I used less sugar than in most recipes, usually 1:1. For 450 gram of quince puree, I only added 300 gram of sugar, still sweet and tasty – a winner on your cheese board.
Enjoyed making this recipe? Try our recipe for caramel pots with poached pears.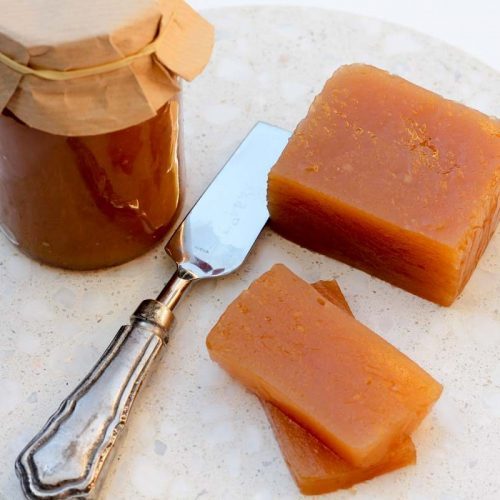 Quince Paste
Making the quince paste with this recipe can be done in less than an hour if you follow the recipe step by step. The quince paste can be sliced after chilling it in the fridge for 4 hours.
Ingredients
3

whole

Quinces

1

lemon

2

sticks

cinnamon

300

gram

sugar
Instructions
Cut the lemon in half and mix the juice of one half in 2 liters of cold water.

Peel the quince and cut in large cubes discarding the core.

Place the cut quince in a pot with lemon water, ensure all pieces are submerged to keep them from discoloring

Add the cinnamon sticks and cook at medium temperature for about 25 minutes until the quince is soft.

Once cooked, add to a food blender to make a fine puree. Pour the puree into a large pan and place back on the stove.

Add sugar and juice from the left over lemon and reduce the puree on medium heat while stirring for about 12 to 15 minutes.

The puree should now be sticky with a caramel like consistency.

Transfer the puree in small containers to chill or for next day usage, pour the puree into one large container, if you prefer one slab of quince puree.