Make any of our easy to follow Easter Recipes, from beautiful appetizers, to share style main courses, quick side dishes to creative desserts, Easter baking and natural egg dyeing - our list has got you covered!
Easter is one of the most beautiful festivals of the year and it should be enjoyed with family and friends. However, putting a menu together for this festive period, can be daunting.
If you still haven't decided and don't know where to start, we have put together a list of our best Easter recipes to inspire you in the kitchen. Be assured, there is something for everyone! Fancy for the gourmets or quick and easy for a busy household, just go on and pick your favourites!
Decorations
Decorating the dining table or even your entire living room with coloured Easter eggs can be heaps of fun. They are fairly easy to prepare and can be made ahead of time.
dyeing Easter eggs the natural way
If you haven't tried dyeing your Easter eggs the natural way, then this time you must! Get the kids involved and show them the power of using natural ingredients!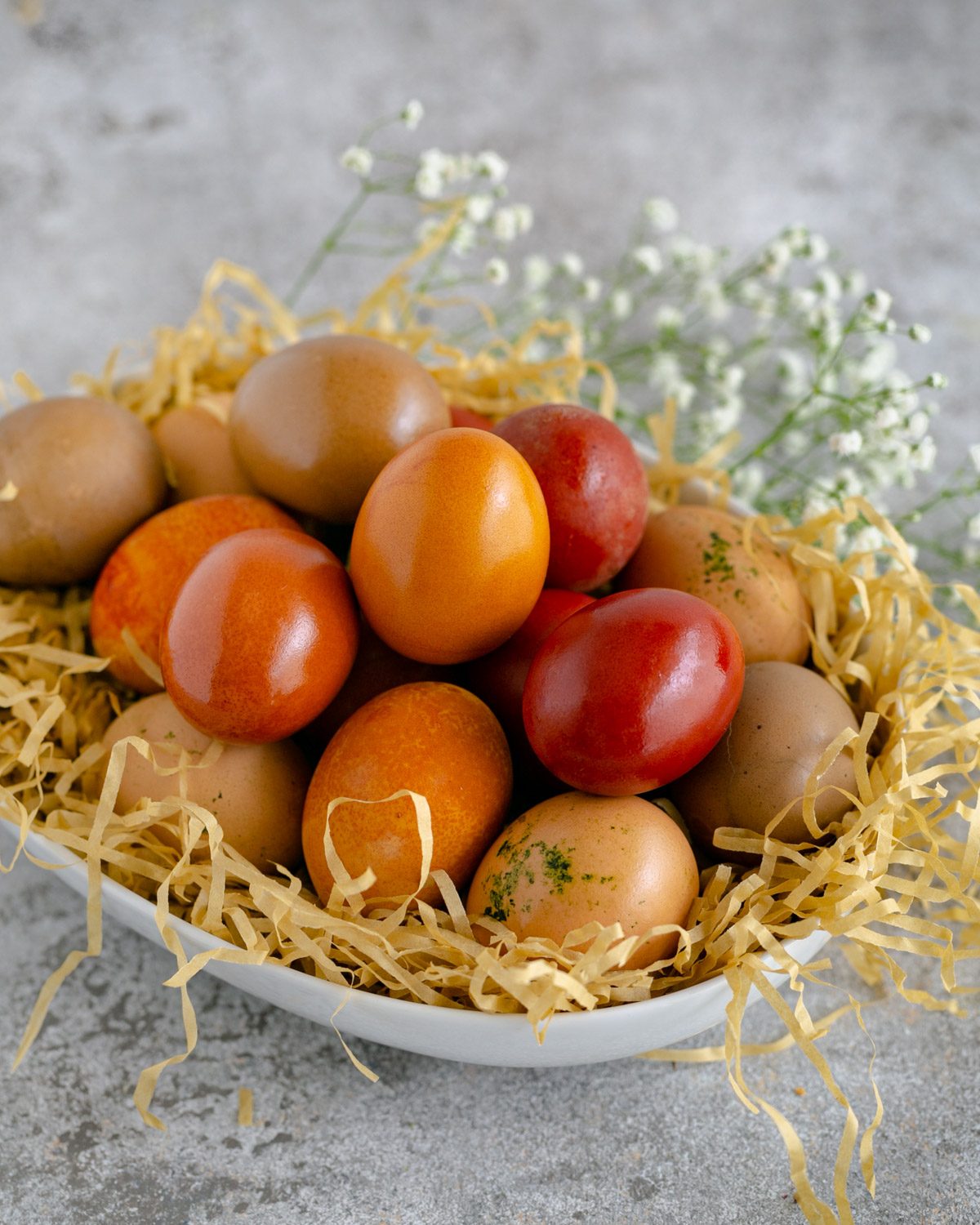 Easter traditions
This Easter Zopf should be part of every Easter brunch. Best when baked on Sunday morning or the night before, it will fill your kitchen with the sweet buttery scent of freshly baked Easter Zopf, made with raisins and a lemon glaze.
German Easter Zopf with raisins and lemon glaze
This delicious bread can be eaten for breakfast, as a snack or even with your afternoon tea or coffee.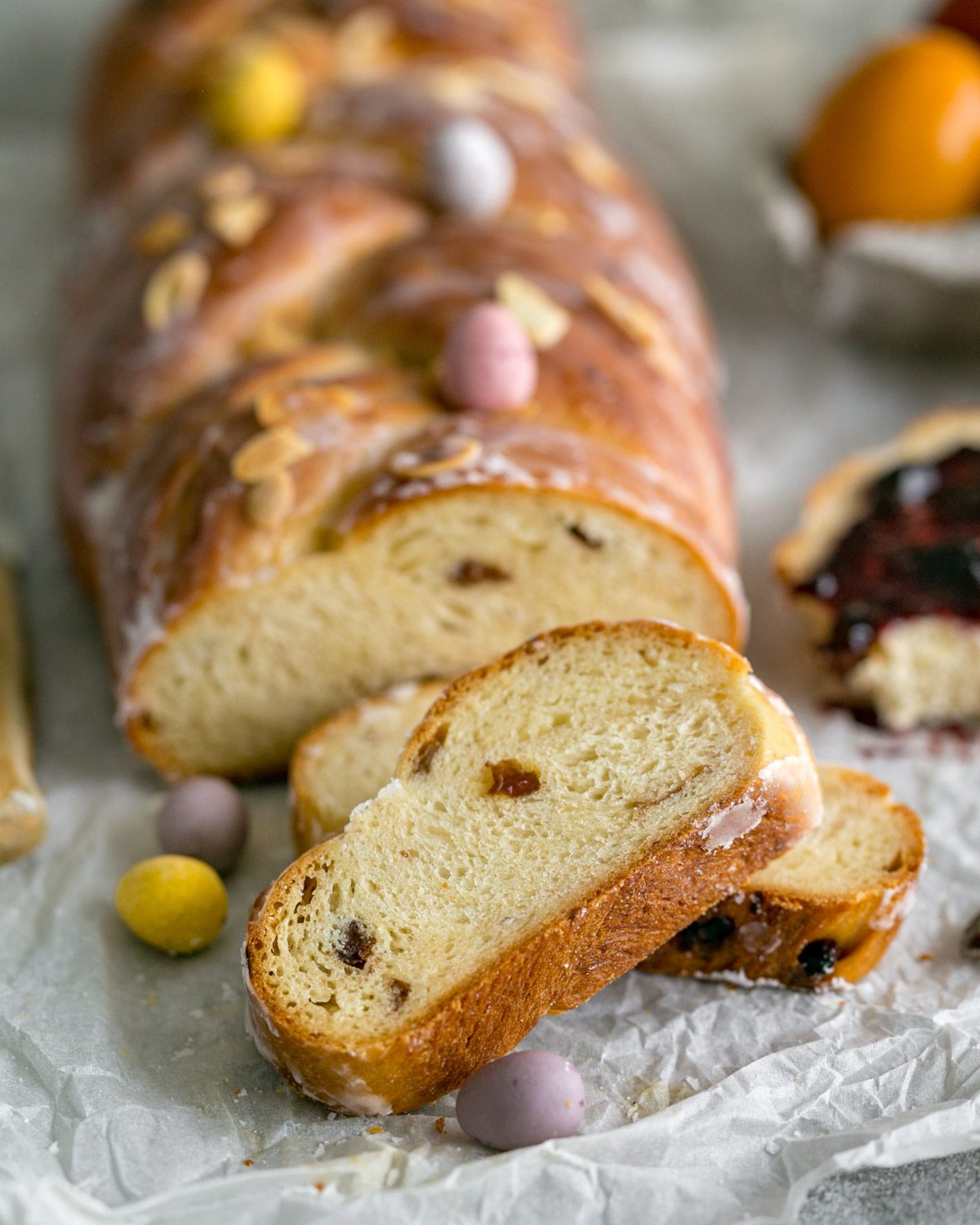 Share style or pre-plated
Whichever way you're planning to celebrate Easter at home this year, let's just make it an awesome one! We've come up with some fun and creative Easter dishes that won't disappoint.
Some are great for plated meals, while others are better for a share style table spread - It's totally upto you!
Easter dishes to start
You have probably eaten blinis on many occasions, they're a favourite when it comes to pass around finger food! Topped with caviar or smoked salmon, these blinis look impressive and taste delicious.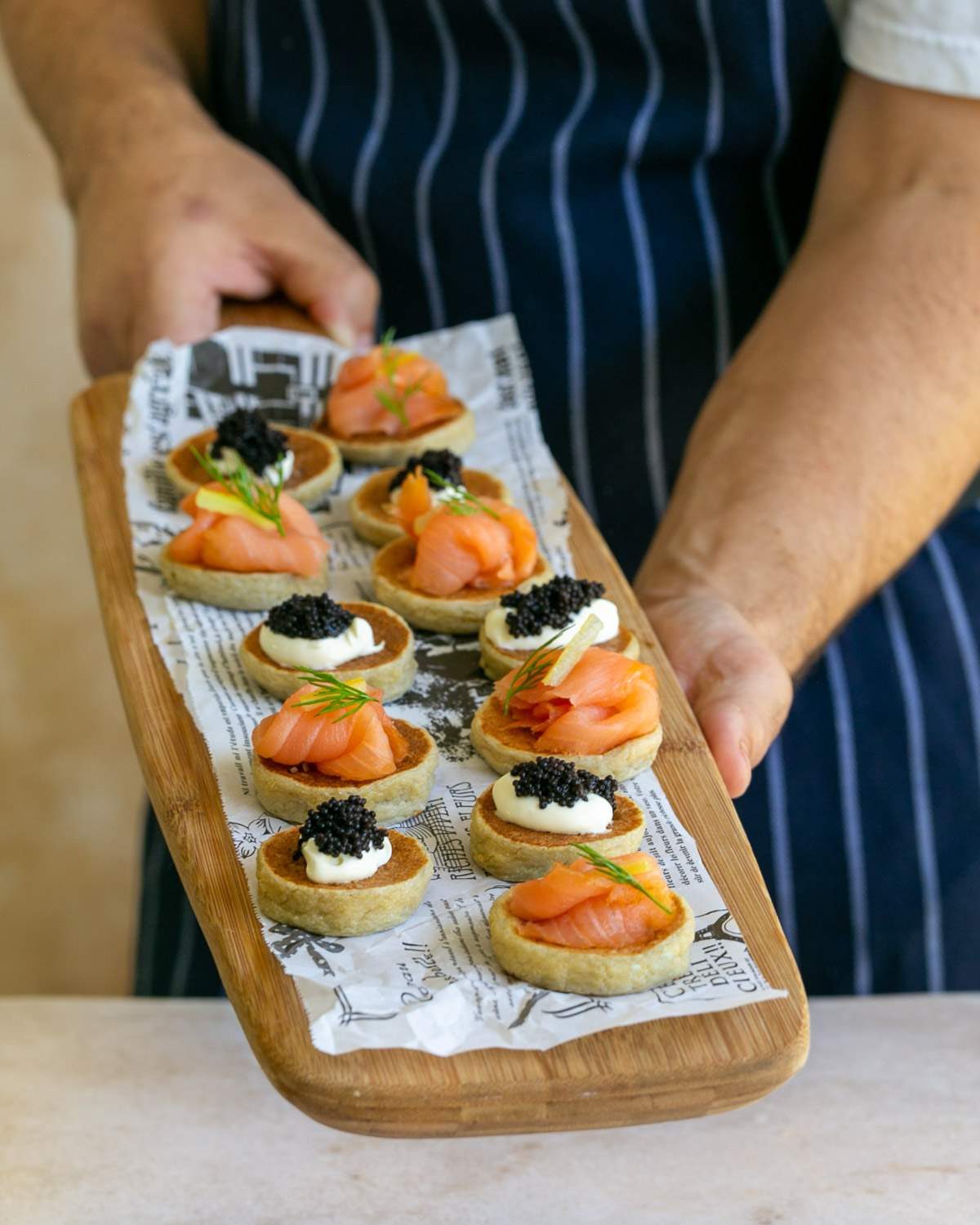 poached tiger prawns with green apple soup
This refreshing, delicate chilled soup, simply made from green apple, avocado, coconut cream and lime and served with poached tiger prawns, is a beautiful dish that can be made ahead for Easter.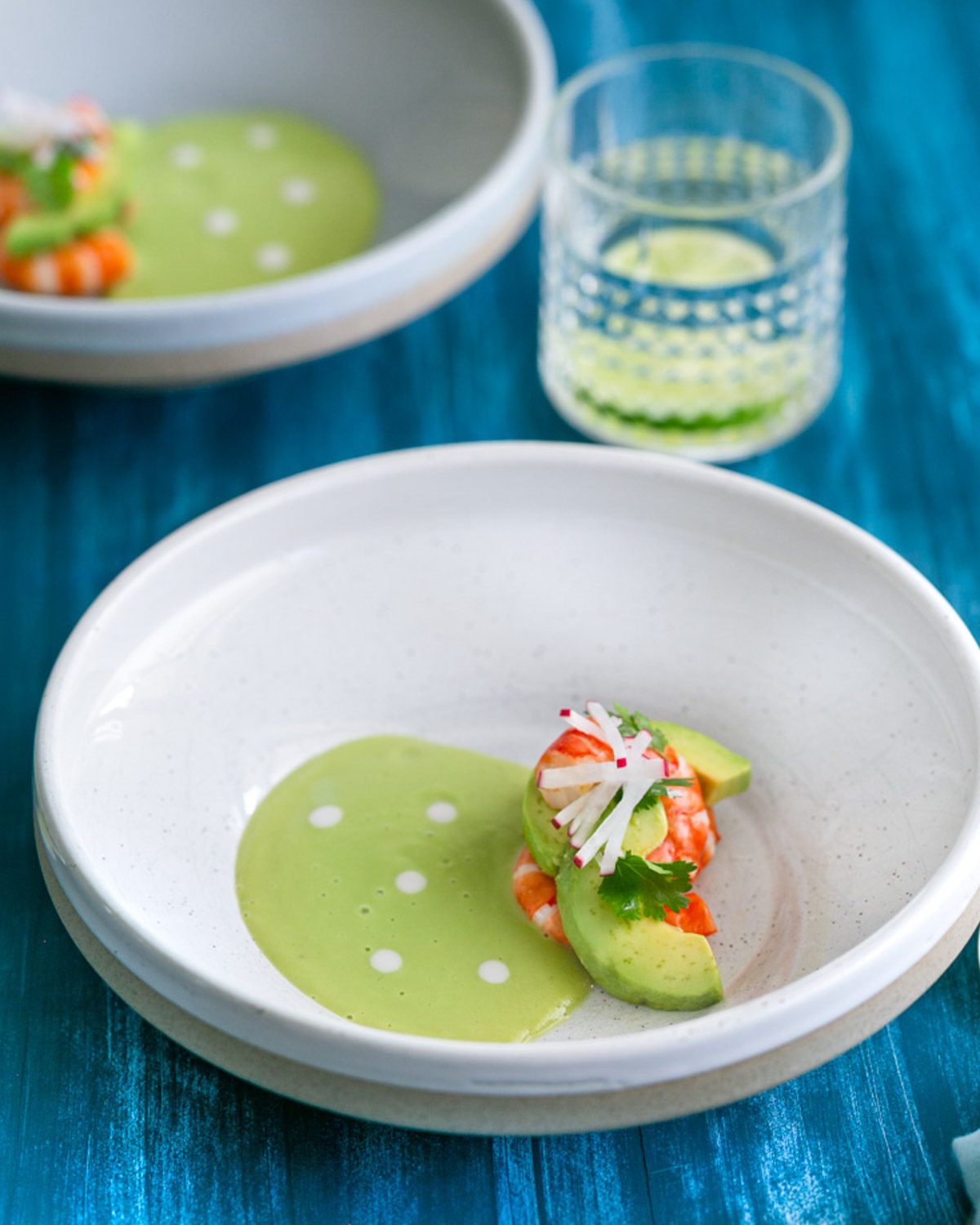 asparagus and parmesan crostata
Celebrate Easter with this Asparagus and Parmesan Crostata made from-scratch. Thyme roasted green asparagus baked in a flaky crust, sitting on a bed of caramelised onions, makes for a perfect vegetarian appetizer that can be shared.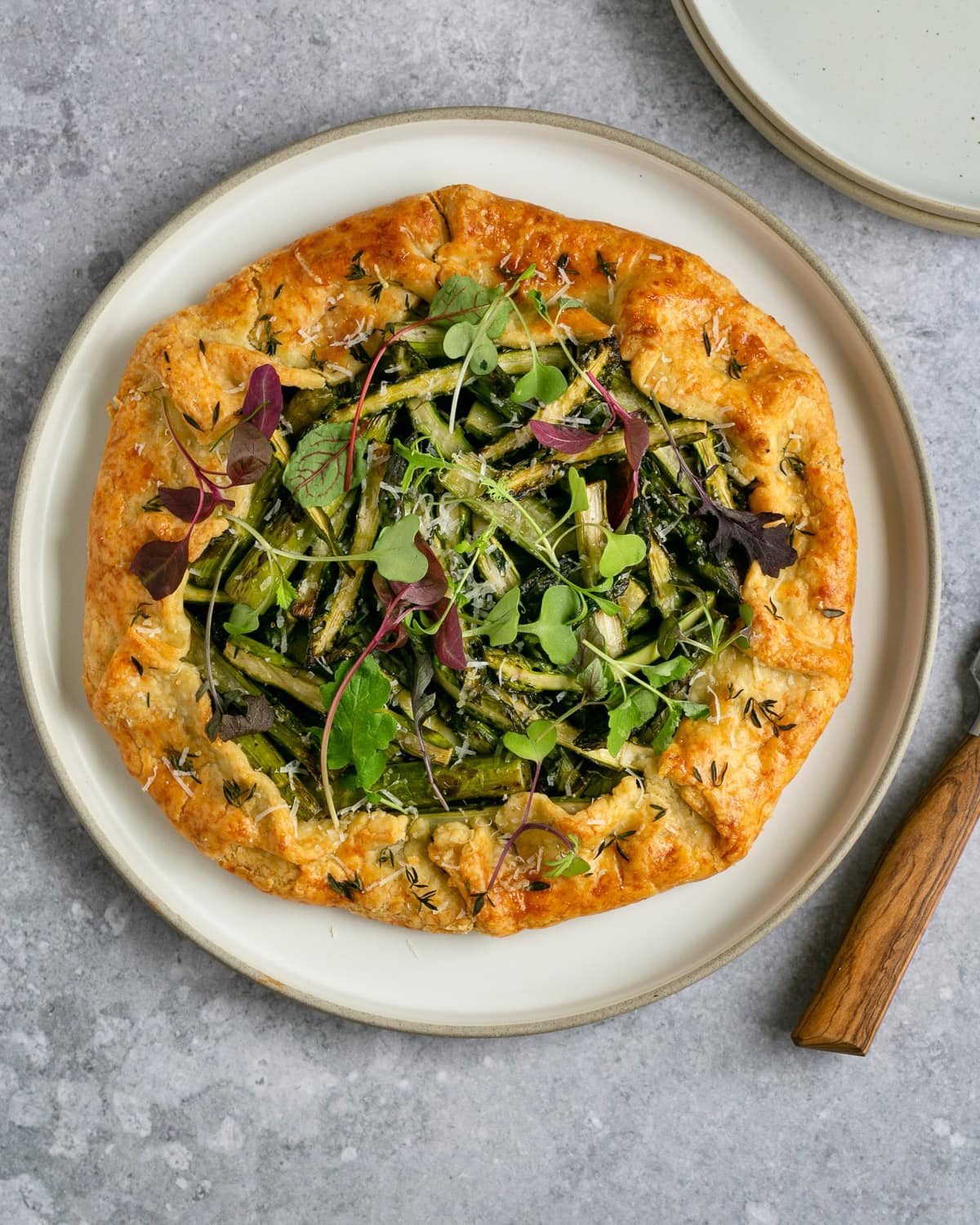 scallops with garlic herb butter
An uncomplicated recipe for juicy, tender scallops baked with homemade garlic herb butter in their own shells. Make this impressive appetizer, perfect for a BBQ with friends this Easter.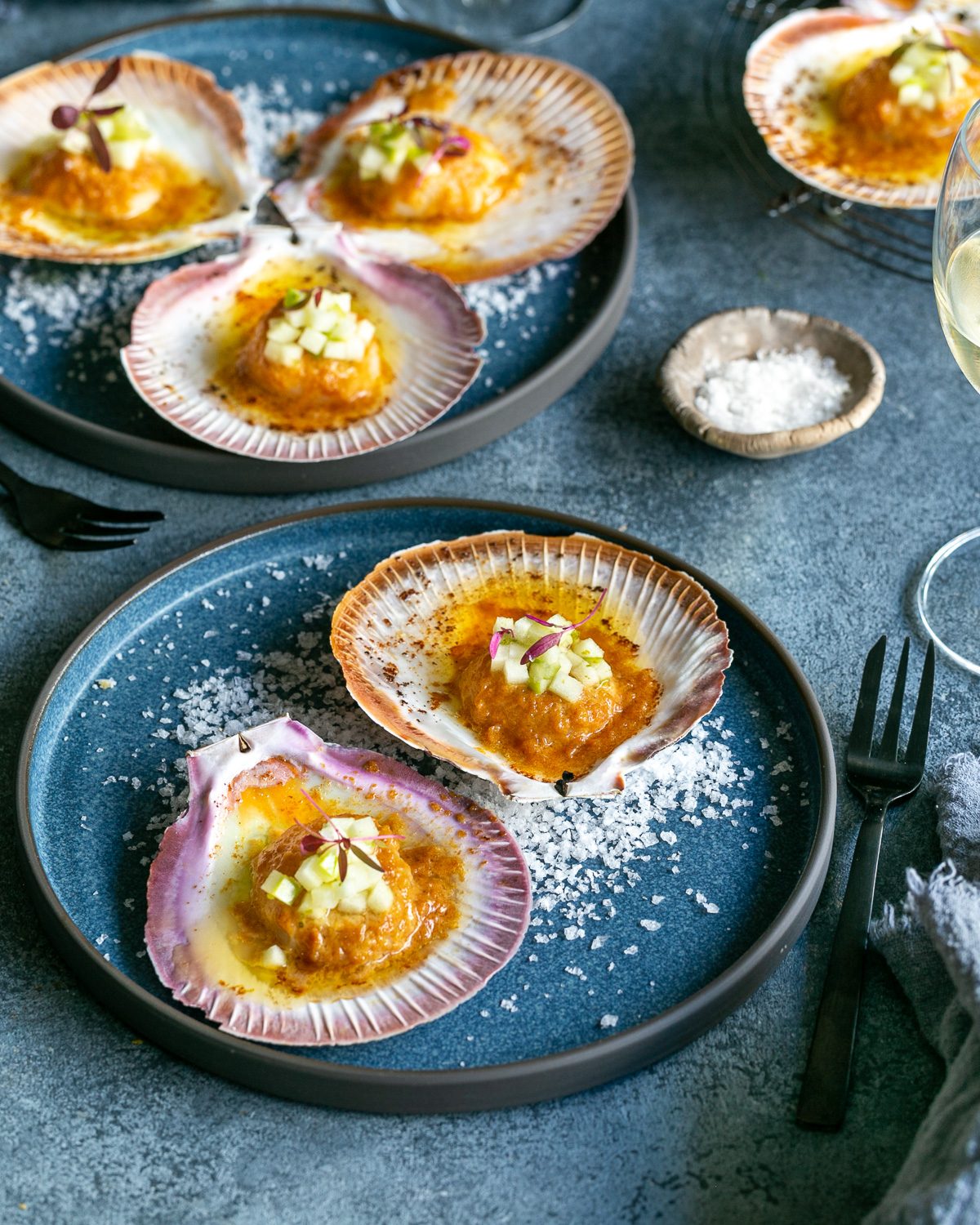 Sliced fennel, onion and radish salad, tossed in a mustard dressing and garnished with blood oranges and creamy feta, is perfect for sharing and great if you are looking for a healthy option.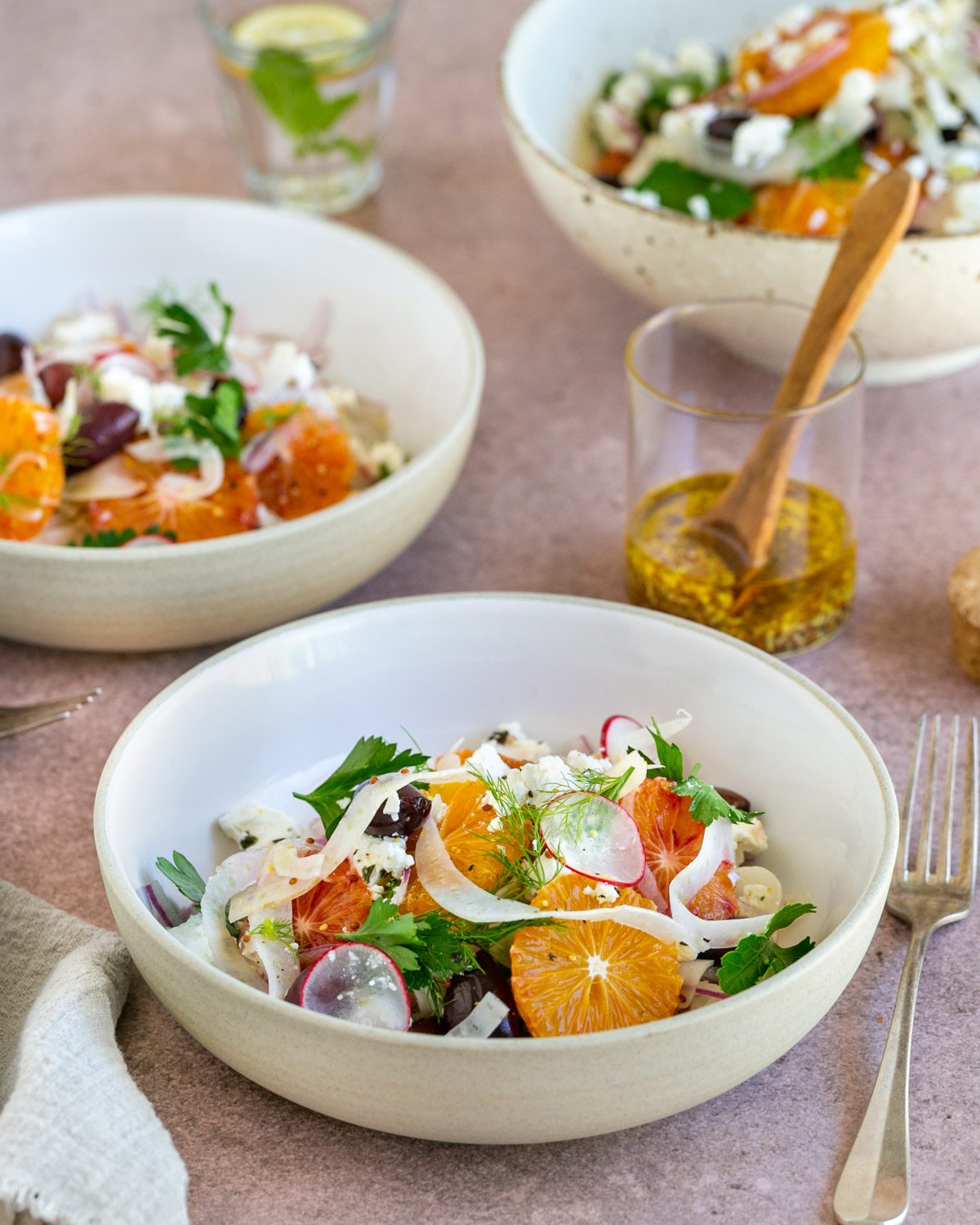 garlic roasted prawns with fregola sarda
Our recipe for Garlic Roasted Prawns with Fregola Sarda is everything you could want in a typical Italian dish. Prepared with simple but high quality ingredients, this dish is a must try and perfect to show off your cooking skills.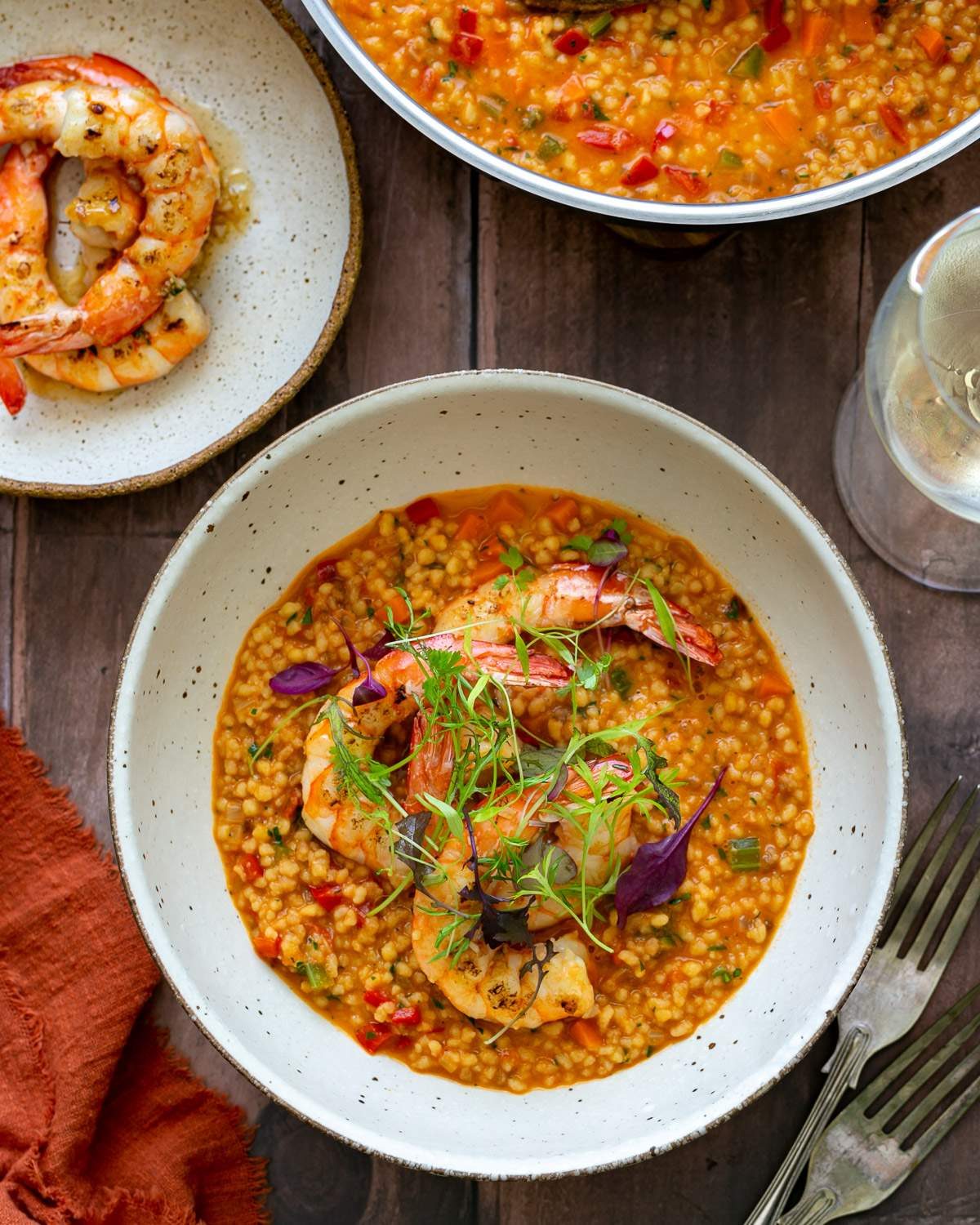 beetroot cured salmon with mustard dill sauce
A Nordic dish that consists of Beet cured salmon gravlax in a salt, sugar and dill marinade. Served with a Mustard Dill sauce and paired with a refreshing cucumber salad, this dish is surely going to be the one, your guests will want a recipe for!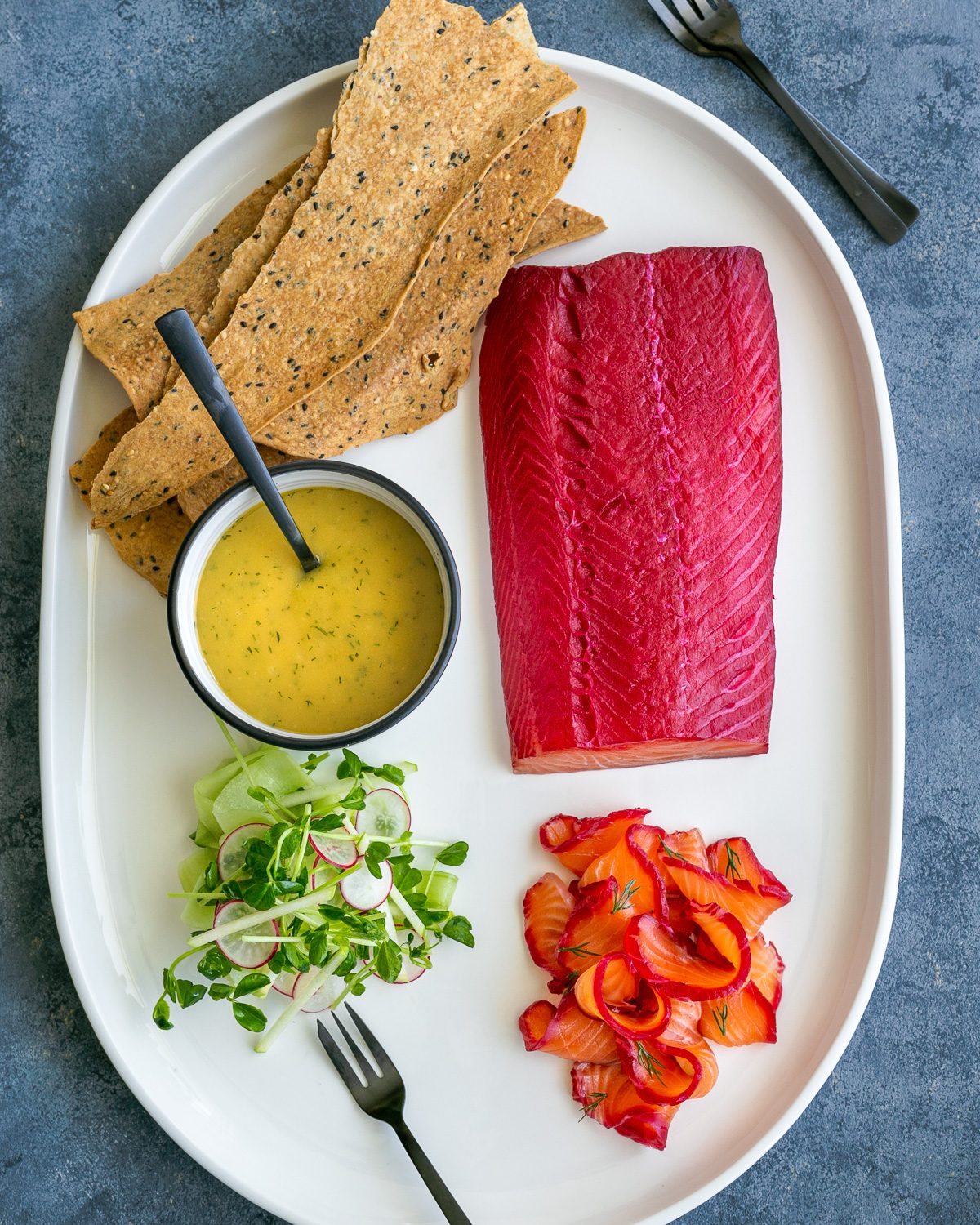 Easter main courses
slow cooked lamb shoulder roast
If you are looking for Easter main courses, and have Lamb on your list, then this incredibly tender lamb shoulder roast is your solution. It has been flavoured with spices and herbs and slow cooked in the oven for over 3 hours for juicy perfection!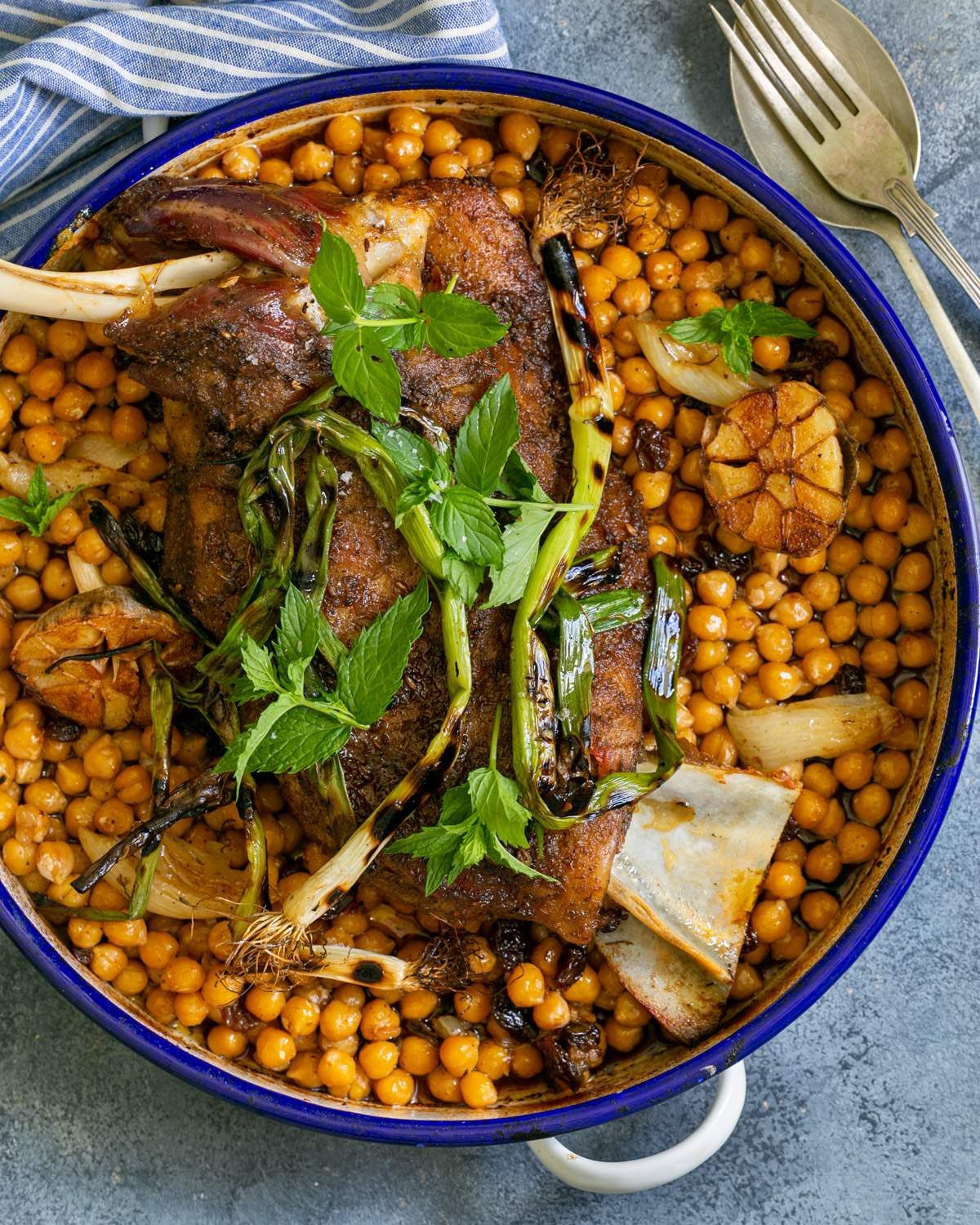 oven baked trout fillet with celeriac remoulade
Garnished with a creamy horseradish and celeriac remoulade and topped with crispy croutons, this elegant looking oven baked trout fillet is a real show stopper. Follow our step by step recipe to make this spectacular and easy share style dish.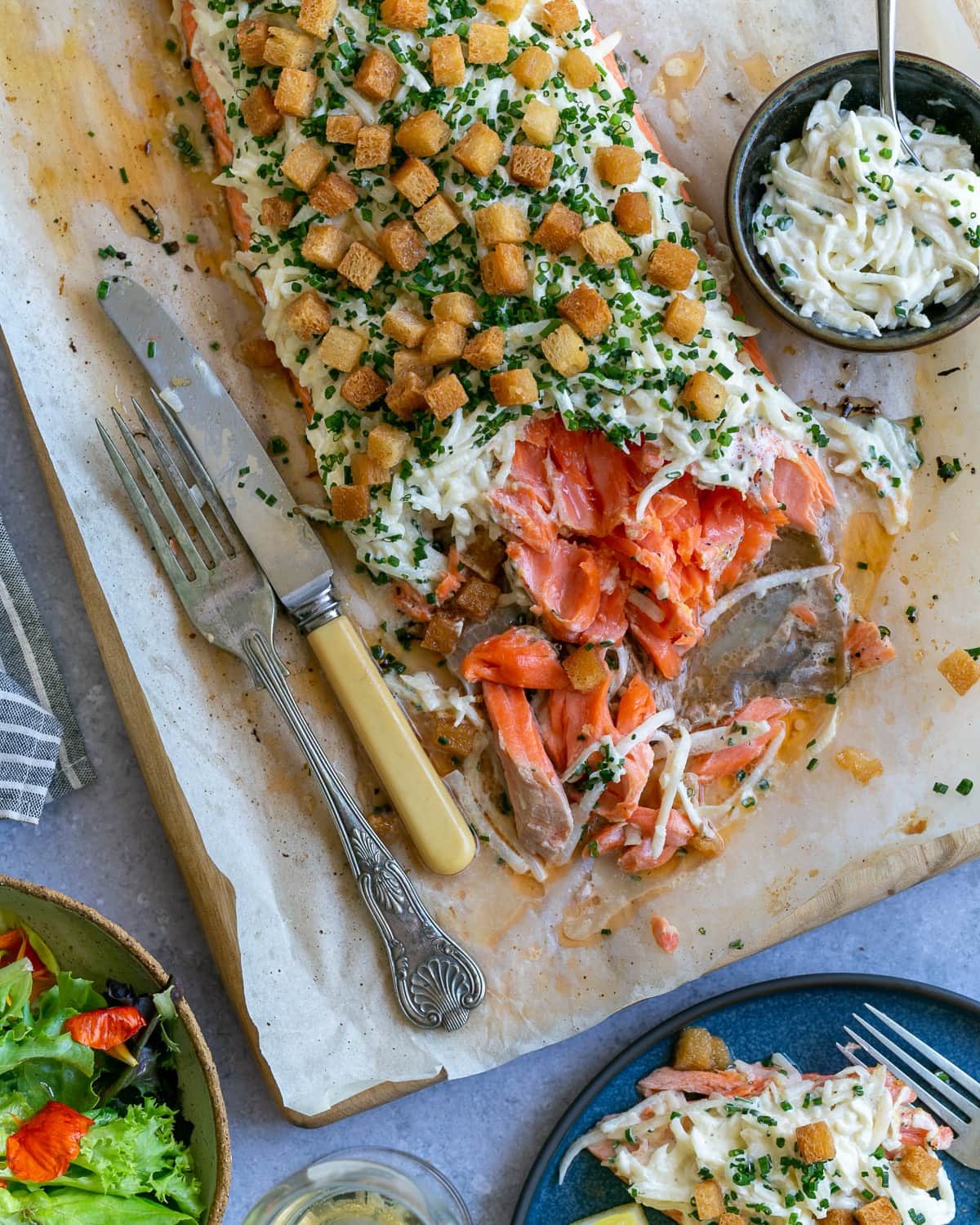 sweet potato and fermented garlic agnolotti
A tasty, complex vegetarian dish, packed with great flavours. These Agnolotti, made with sweet potato and fermented garlic, are cooked in a brown walnut butter sauce! So delicious, they will impress even the stringest of carnivores!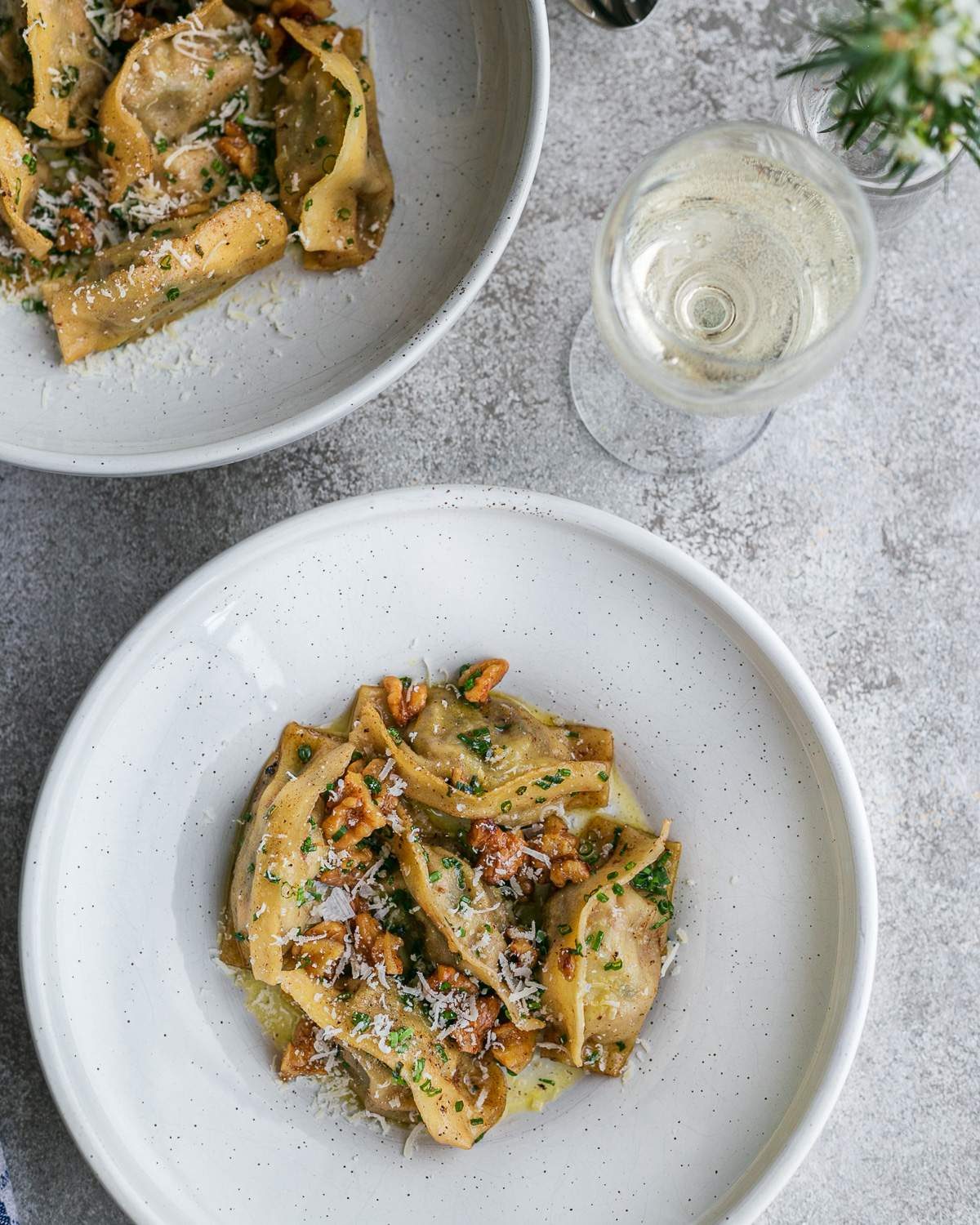 braised beef cheeks with shallot jus
Braised beef cheeks are great for making ahead! As with most braised meats, they taste even better when re-heated. Juicy, meltingly tender beef cheeks, slow braised in red wine and served with a sweet and sour shallot jus. A real delicacy, one that will surely tick all boxes of a gourmet meal.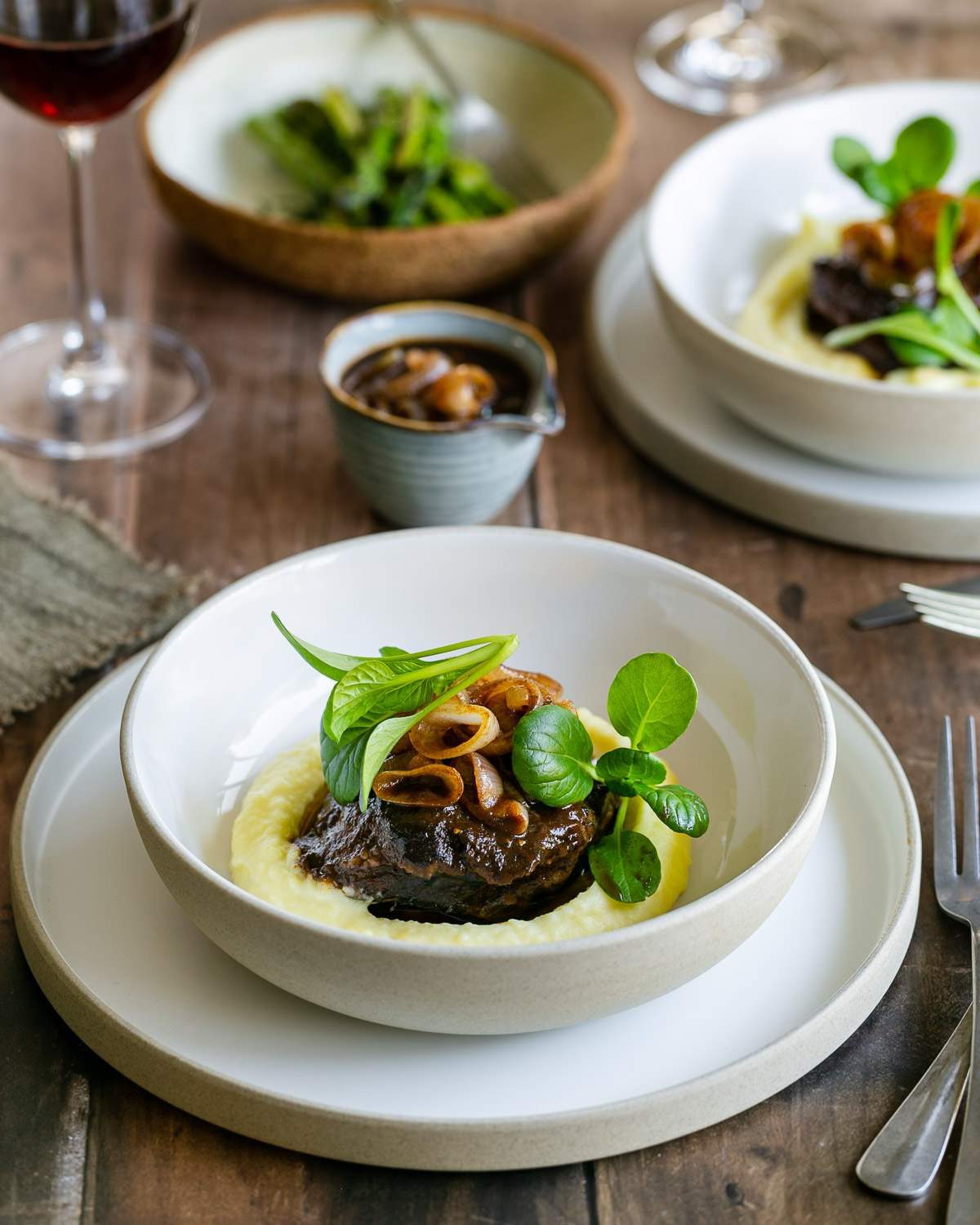 zucchini, pea and ricotta fritters
An easy recipe to make zucchini, pea and ricotta fritters. Healthy and kid friendly, these tasty and nutritious fritters can be made ahead, perfect for a light Easter family meal.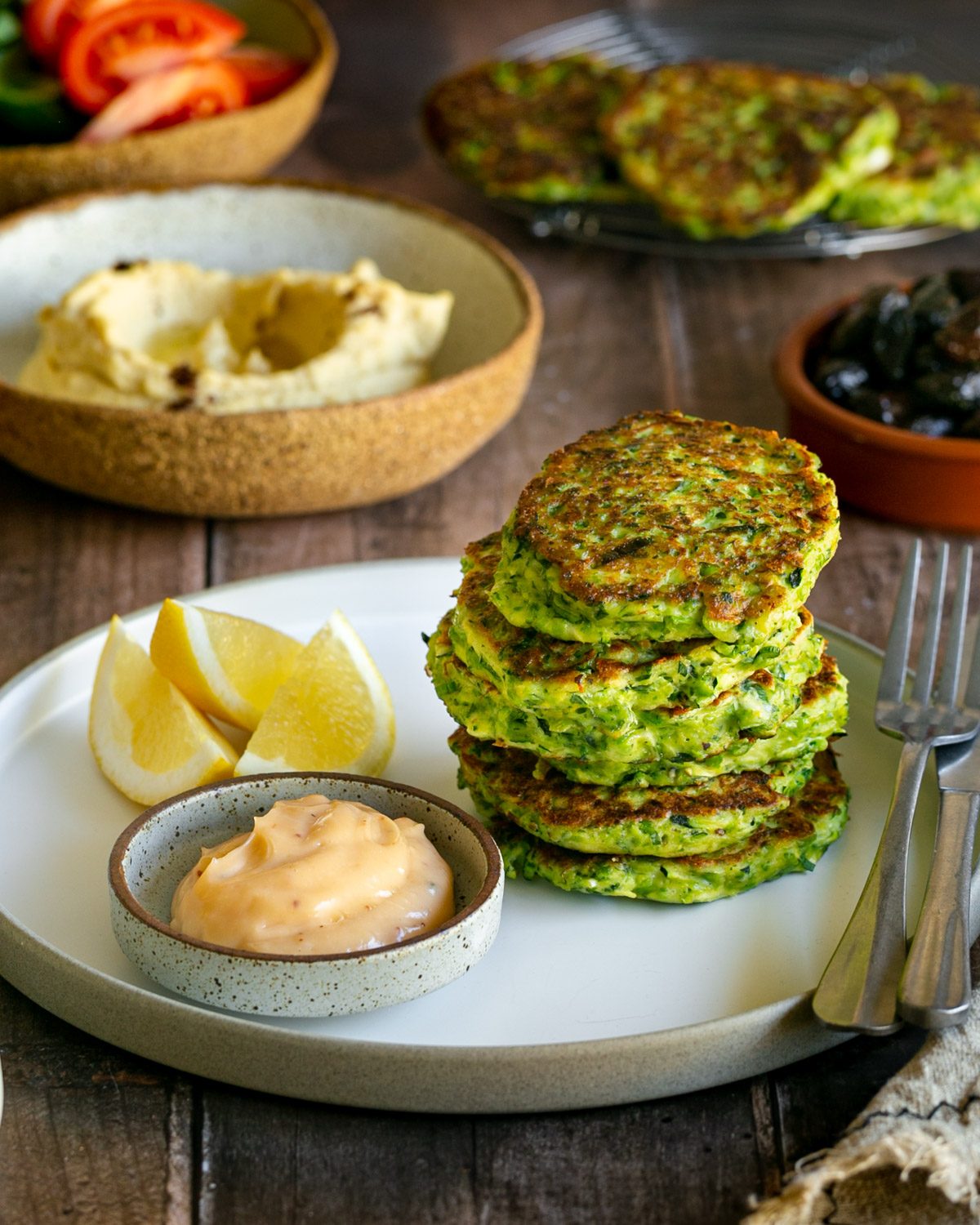 whole baked fish in salt crust with salsa verde
A beautifully cooked whole fish, perfectly seasoned and juicy all the way through. Baked in a salt crust and served with a salsa verde, this baked whole fish has and will leave your guests astonished!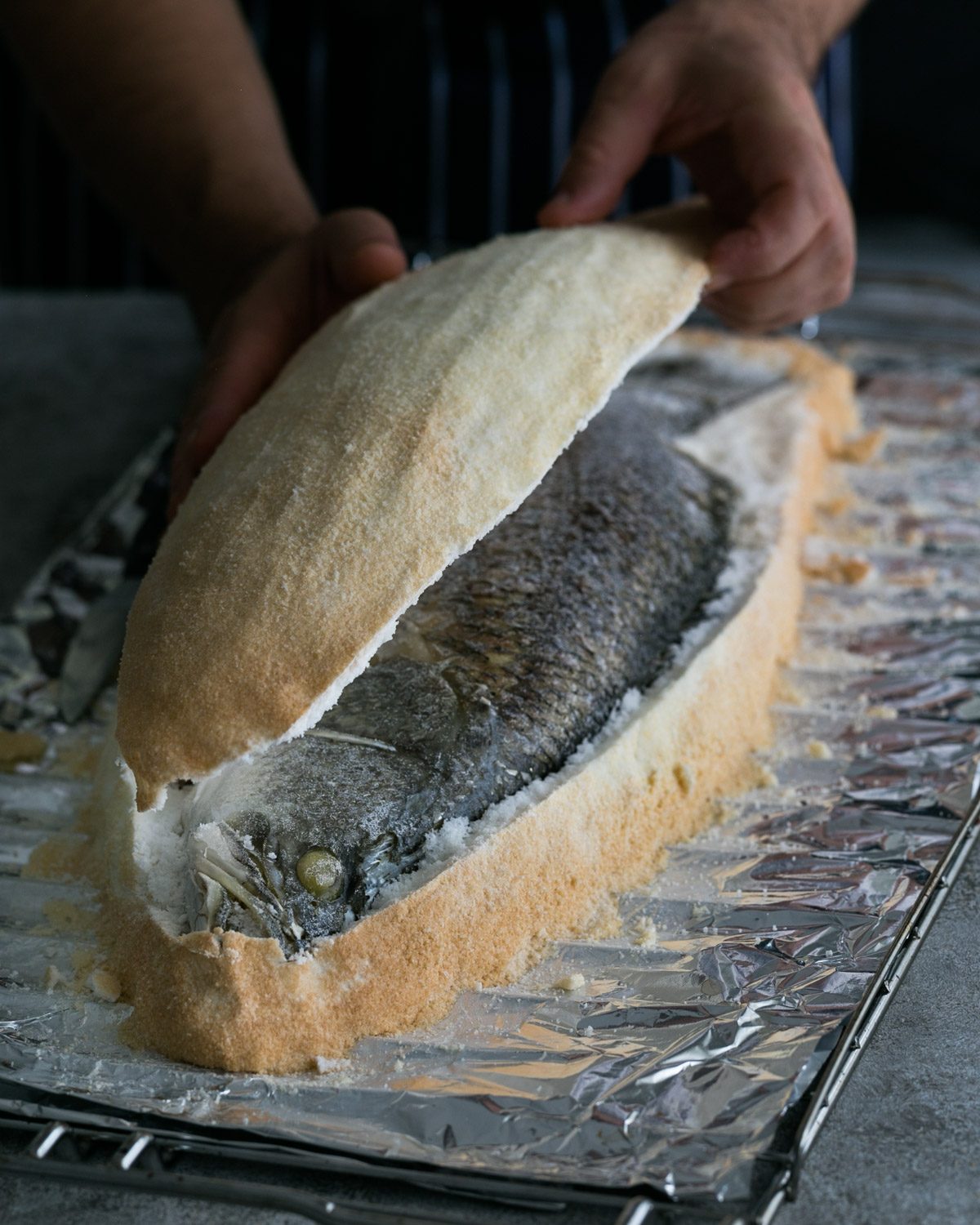 Easter side dishes
An easy to make layered vegetable gratin, a healthier option to the usual creamy potato bake. Serve this Mediterranean style dish with a salad, steamed fish or braised meat for a delicious Easter meal.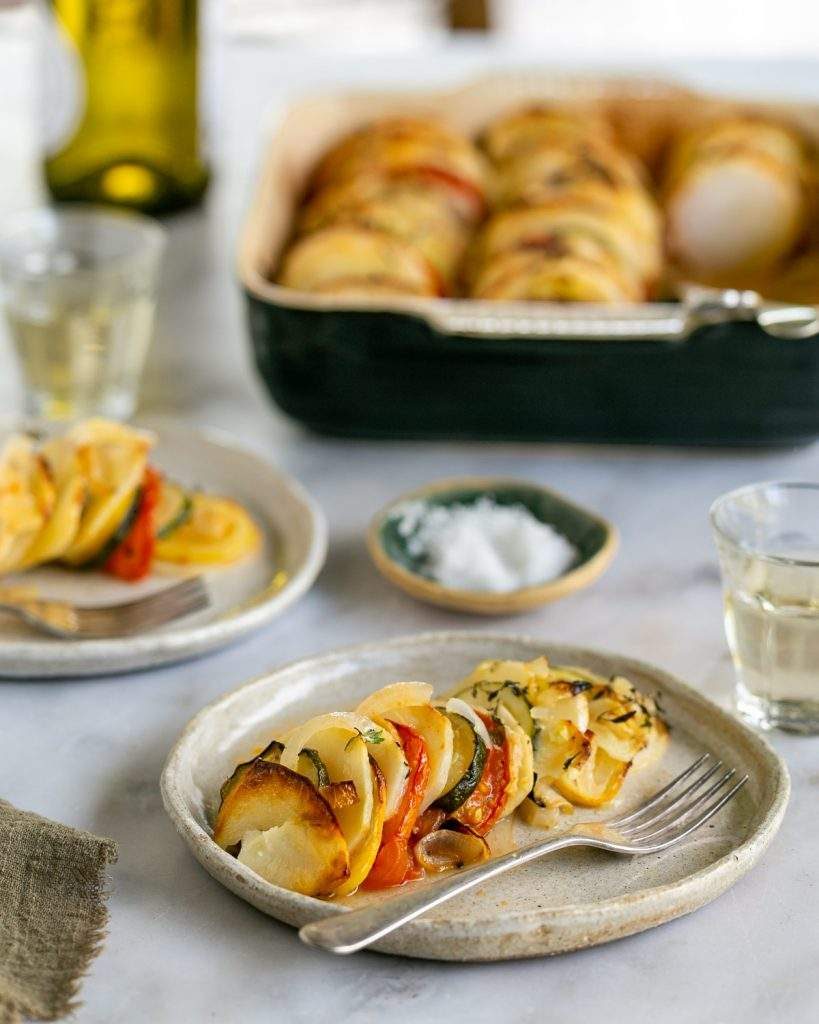 cos heart salad with buttermilk dressing
This cos heart salad is simple but oh so tasty! Dressed in a creamy buttermilk dressing, garnished with grated parmesan and crispy bacon lardons, makes it a light and flavourful salad.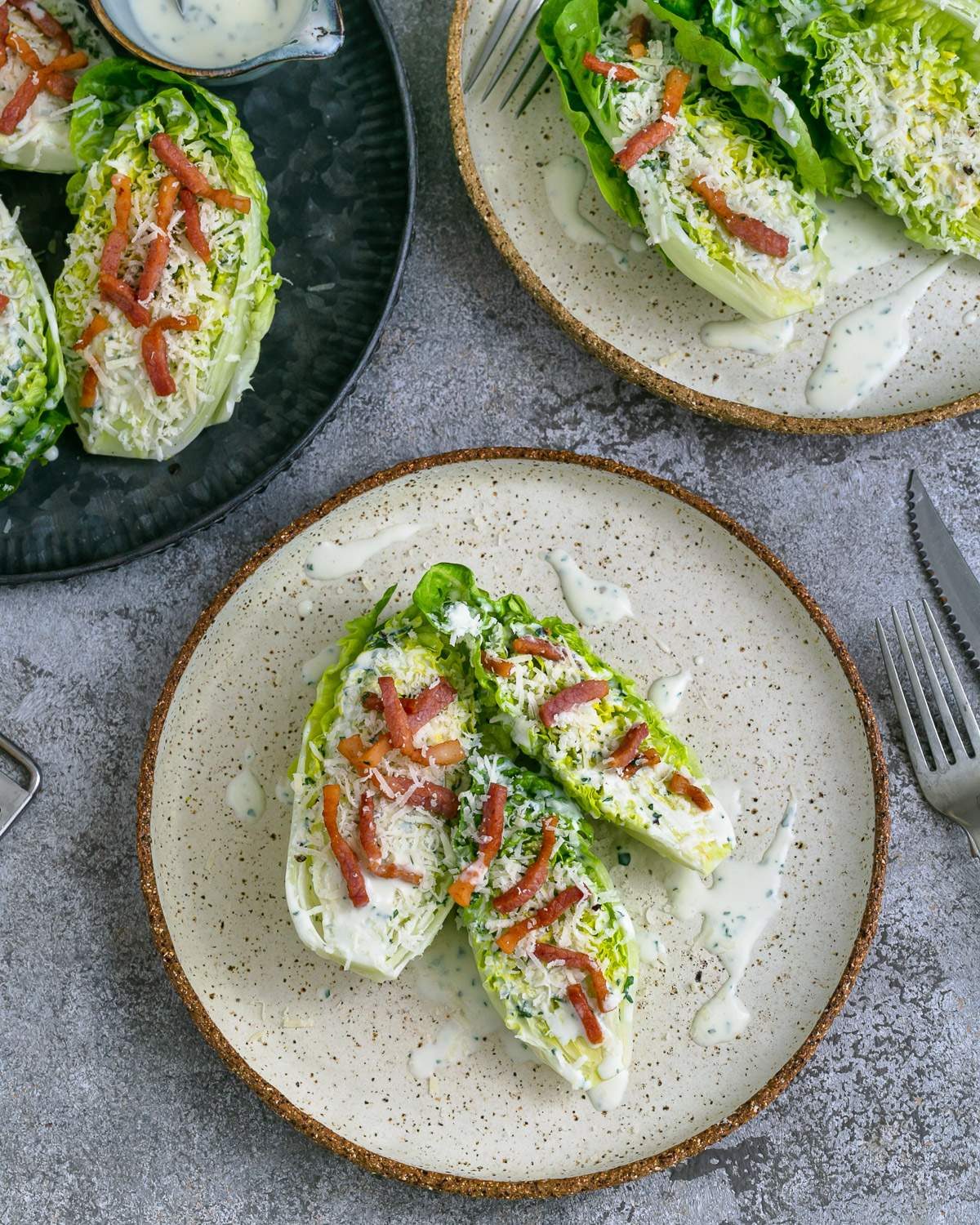 baked sweet potato with lentils and swiss chard
This restaurant style recipe, for oven baked sweet potato, topped with lentils, stewed swiss chard, crispy onions and a creamy herb labneh on the side, is wholesome, delicious and easy to make.
roasted parsnips with hazelnut gremolata
A simple recipe for beautifully oven roasted parsnips, served with a flavourful hazelnut gremolata sauce, makes this a fancy side dish otherwise also delectable served on it's own.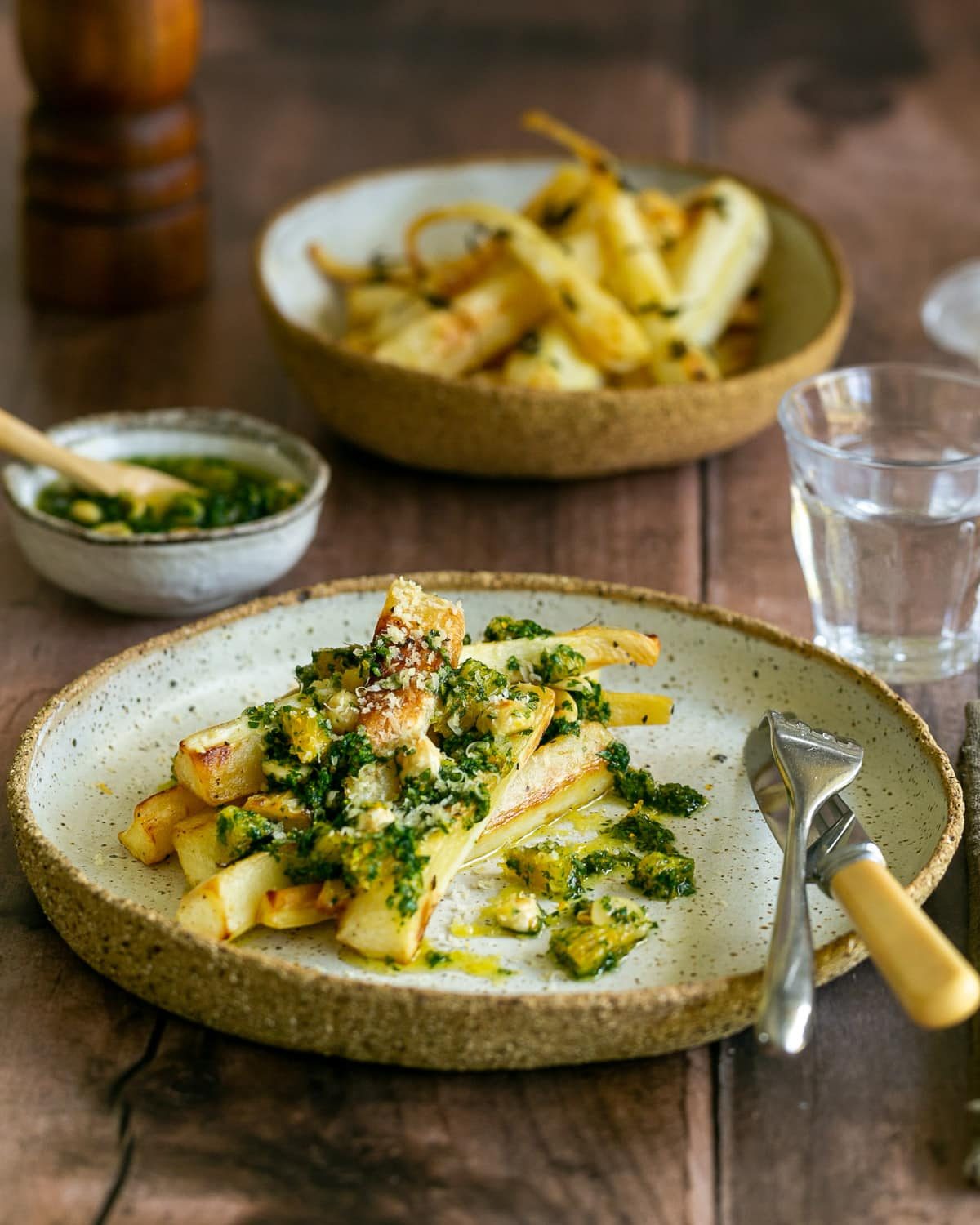 Easter desserts
green tea matcha panna cotta with sesame tuiles
A perfectly balanced green tea panna cotta, made with matcha, yoghurt and cream, garnished with marinated cherries and a crispy sesame tuile, makes for an impressive light dessert to finish off a great meal!
french raspberry charlotte cake
This beautiful French Charlotte, filled with a creamy raspberry and pistachio bavarois, is an elegant cake to show off in style.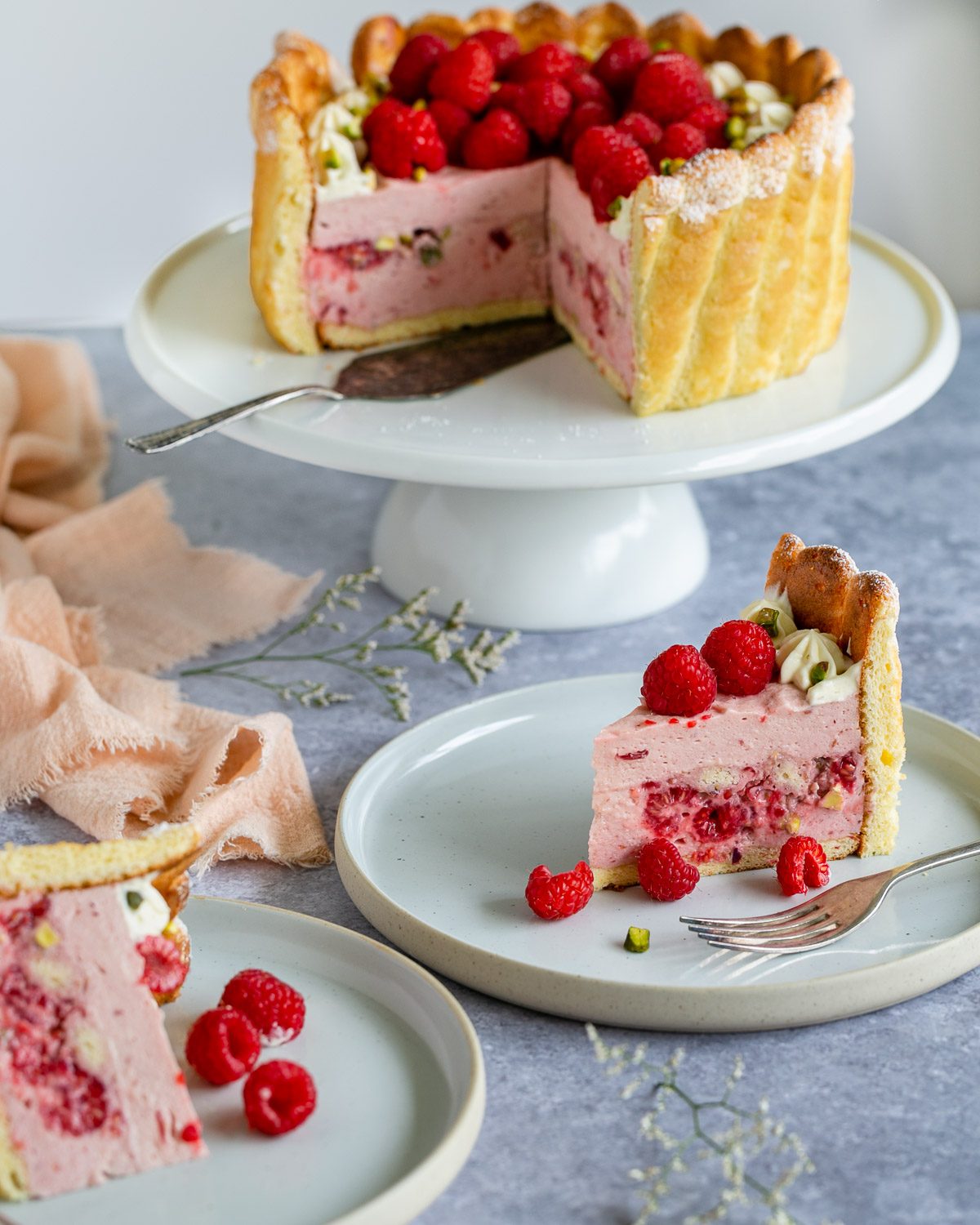 A refreshing ice cream cake recipe, perfect to impress your guest with. Create this easy, make-ahead, elegant lemon curd semifreddo dessert, ideal for Easter entertaining but can also be enjoyed any time of the year.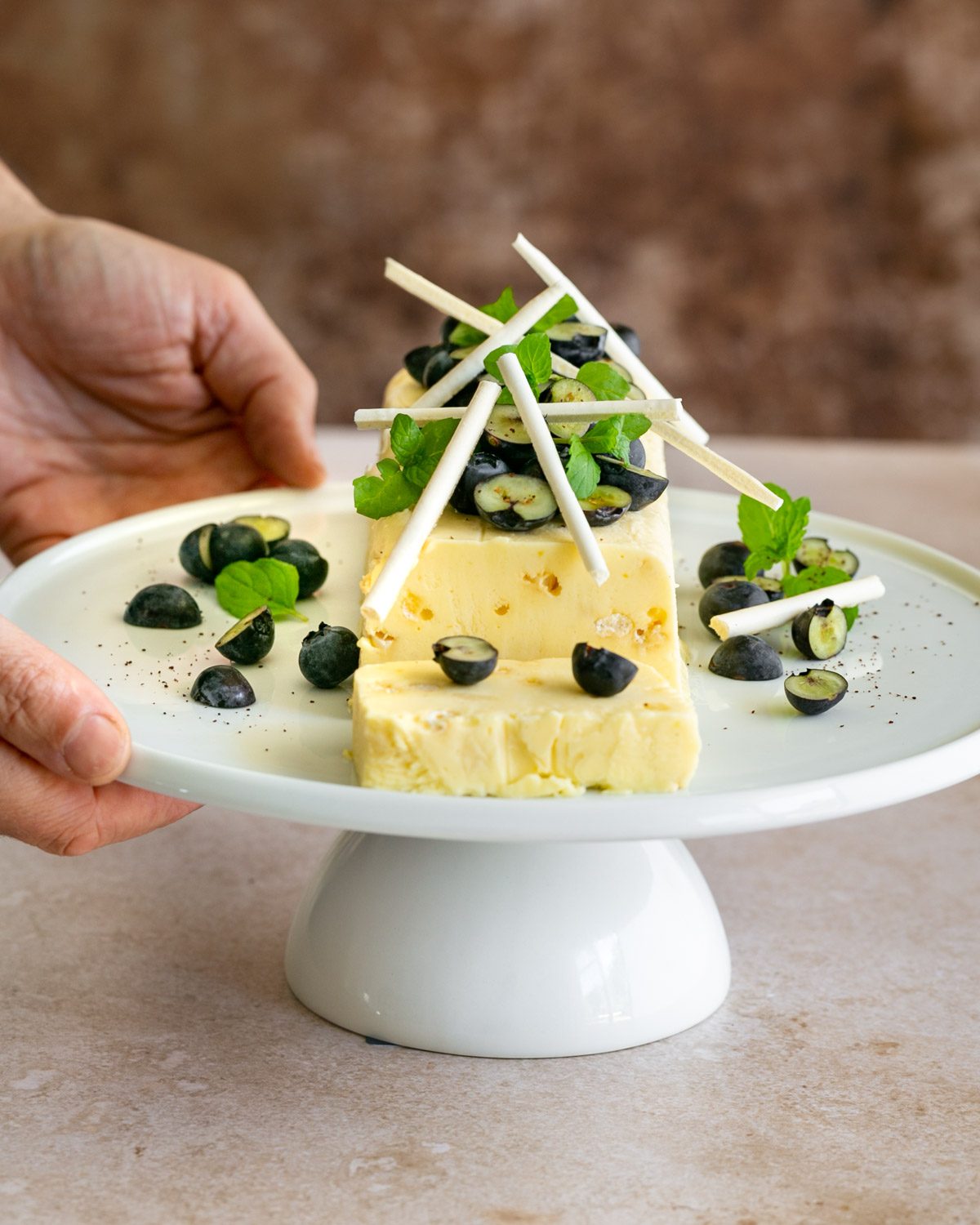 This irresistible chocolate ganache tart is a great do-ahead dessert that keeps well in the fridge. It is a simple and elegant tart, ideal for dinner parties, holiday celebrations and special occasions.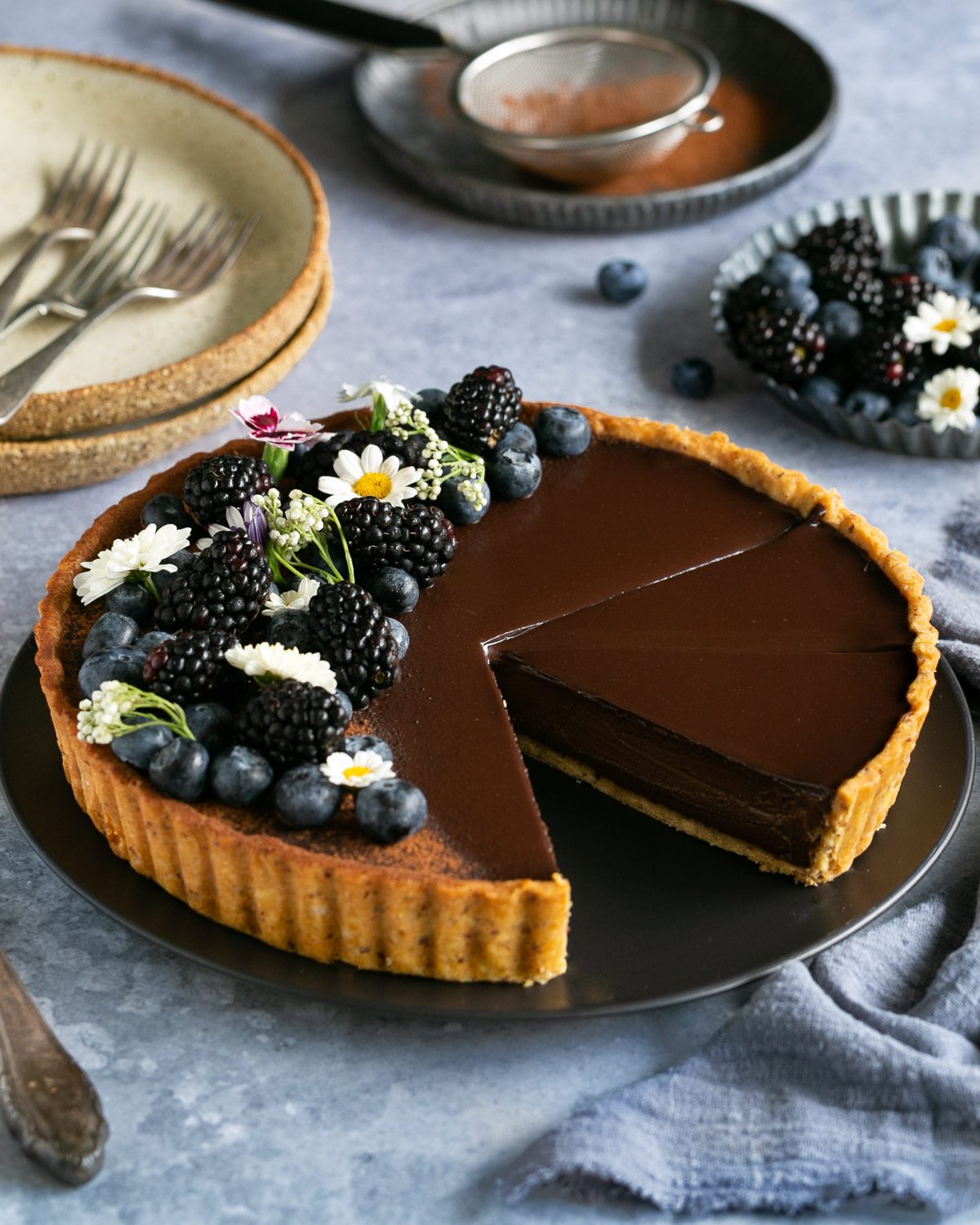 ricotta cheesecake with maple syrup
A baked Ricotta Cheesecake recipe with a twist. The sophisticated look might be intimidating but trust me, it is easy to make. Paired with fresh figs, pecan nuts and a final drizzle of maple syrup, this baked ricotta cheesecake can be eaten at any time of the day.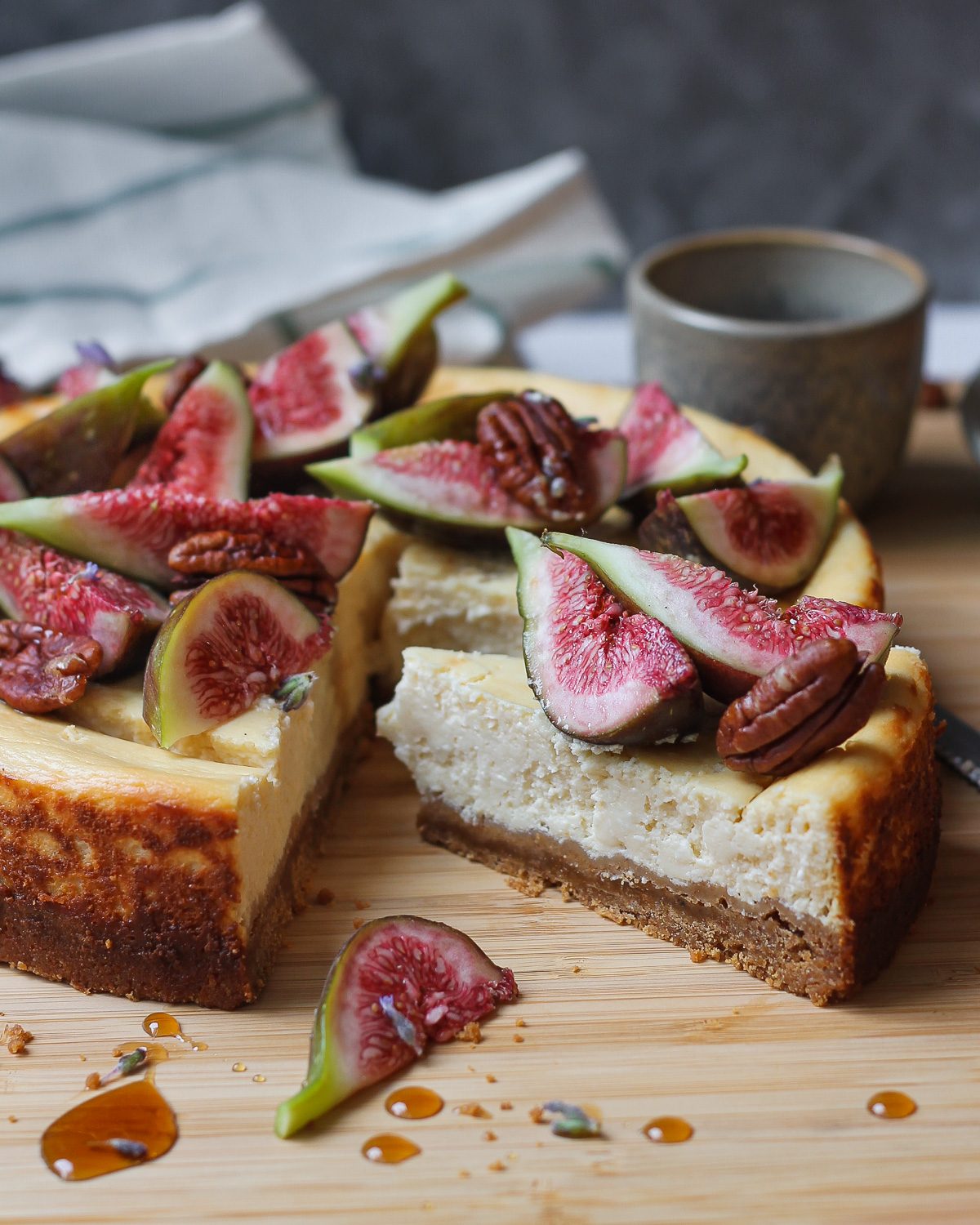 I hope this roundup has given you some ideas of what to cook for Easter this year! One can be flexible when it comes to the menu so mix it up a bit to enjoy more variety this Easter or for that matter, any time of the year!
If and when you make any of these Easter recipes, I'd love to hear from you in the comments below!
Until then, wishing you a Happy Hoppy Easter🐰