A baked Ricotta Cheesecake recipe with a twist. The sophisticated look might be intimidating but trust me, it is easy to make. Paired with fresh figs, pecan nuts and a final drizzle of maple syrup, this baked ricotta cheesecake can be eaten at any time of the day.
Ricotta and Figs are no stranger to a kitchen. You can use them in a salad or dish them up as a delicious dessert. I personally like them topped with maple syrup and almonds but how about we bake a cheesecake instead?
Just imagine, a cheesecake with ricotta and lemons, garnished with fresh figs, a drizzle of maple syrup, a few pecan nuts...so creamy, so tangy, so tasty, yum!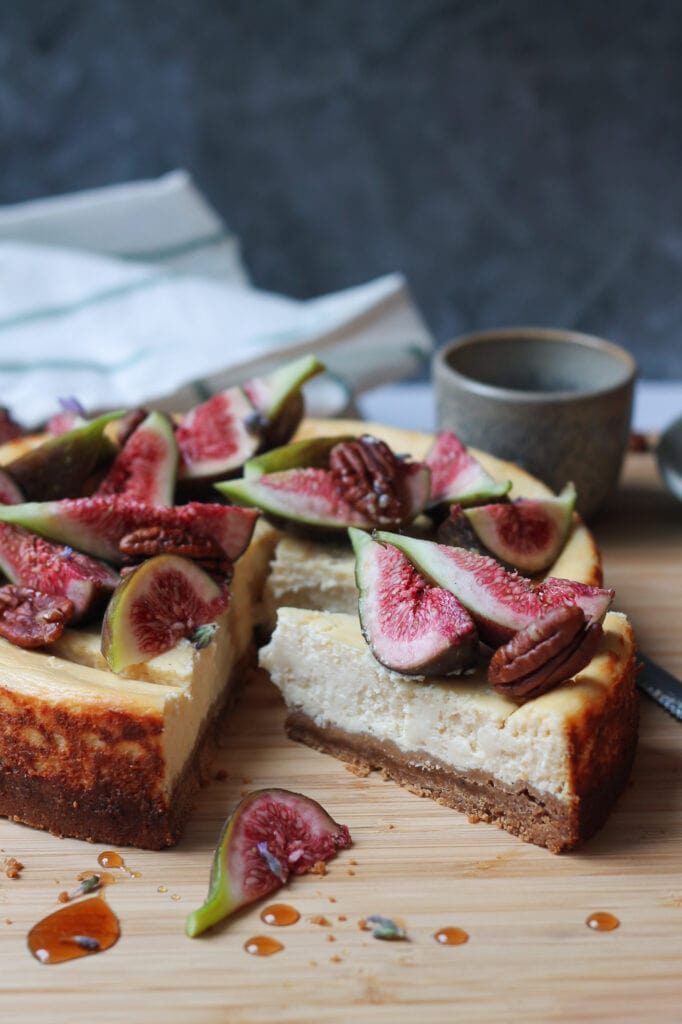 Figs in Australia are seasonal, they are on the market for a short time, only between summer and mid autumn.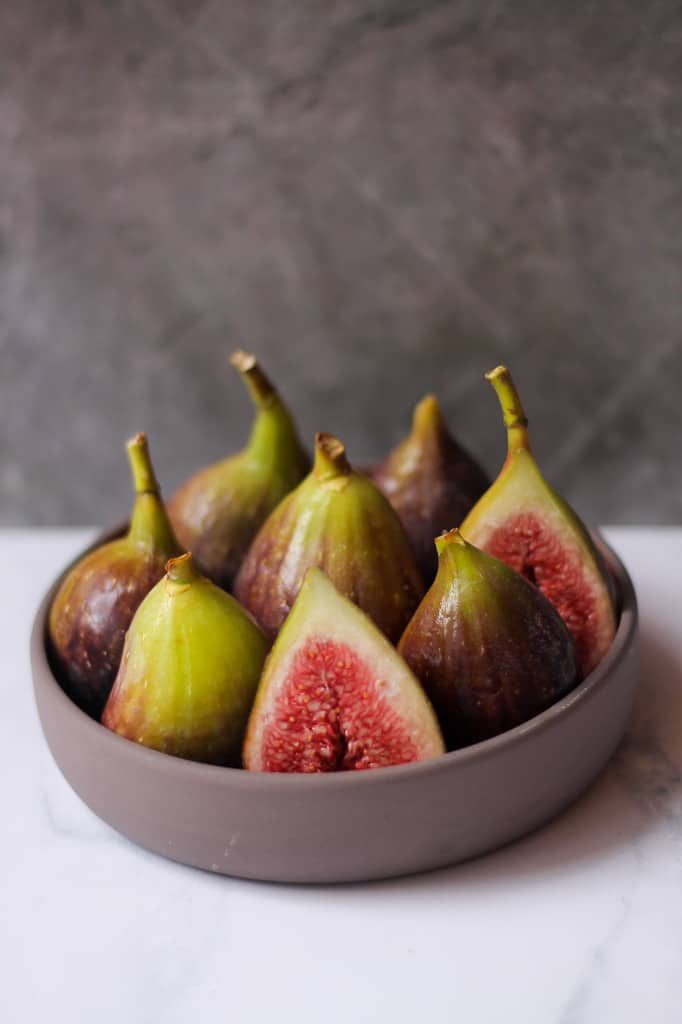 We were lucky enough to get our hands on them as they went sold out shortly after.
Jump to:
Why is this Baked Ricotta Cheesecake easy to make
Let's face it, I used to be one of those chefs who never touched desserts. I stayed in my comfort zone and let the pastry chefs do their magic. At home it's a bit different. I occasionally get my hands on all the sweet stuff and love to make desserts like this one.
I have made this cheesecake probably a dozen times and it has always worked out perfectly. Besides my basque cheesecake recipe, this one is the one I most often whip up for friends and family and they always love it.
Yes, here and there you have a few cracks, or you are missing the caramelised marble on the outside...but that's ok as all this can be hidden under a beautiful garnish. As long as it tastes great, that's what matters!
Tips for making the Cheesecake
To make the base, i have used crushed digestive cookies and melted butter. The trick is to press the mixture as firm and as even as you can. The better you do this, the neater is your end result. There is no kneading or rolling required so you save yourself a lot of time!
You can put together the cake batter in minutes. Just make sure your ingredients are at room temperature, this helps the ingredients to blend better thus giving you a smoother cheesecake. I made use of my trusty kitchen helper, the hand blender! If you use homemade ricotta like I do, make sure you use a rather firm texture for this recipe to work best.
Baking the cheesecake
All ovens are different, with different thermodynamics. If you bake the cheesecake on low heat, you can avoid cracks on the surface. My oven unfortunately is not very reliable but my recipe is! The cheesecake goes in my oven for 45 minutes.
I usually start with high heat and then gradually reduce it when the cheesecake starts getting a beautiful golden brown colour.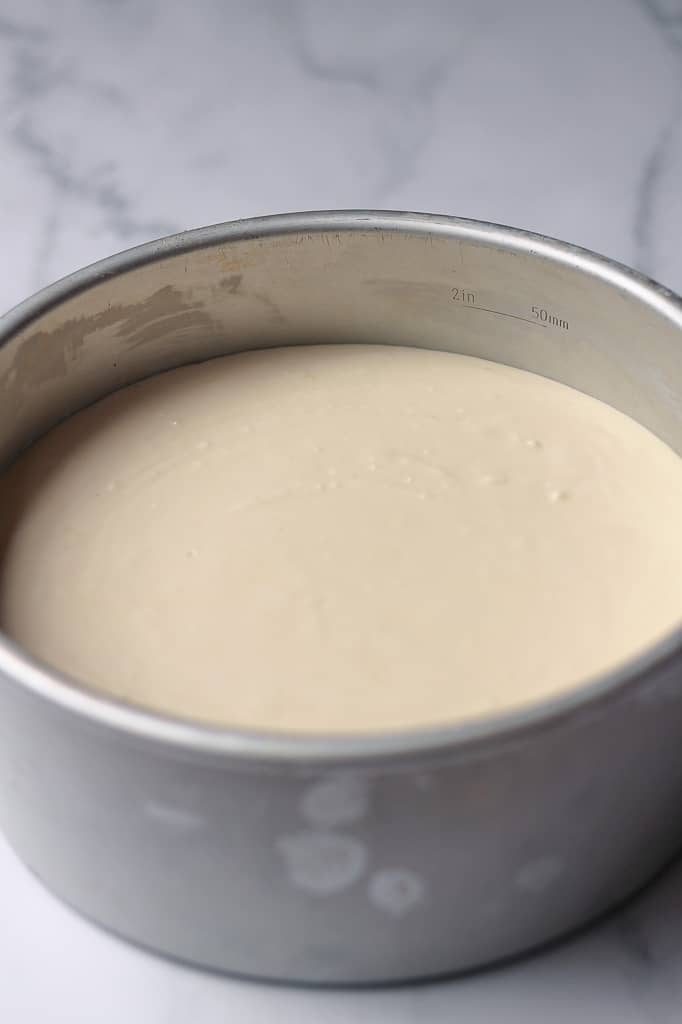 However the trickiest part when baking a cheesecake, is how to tell if its cooked or not. I check by inserting a wooden skewer in the center of the cake.
If it comes out clean, then the cheesecake is cooked but if there is batter stuck to it, then i know the cake needs a bit longer in the oven.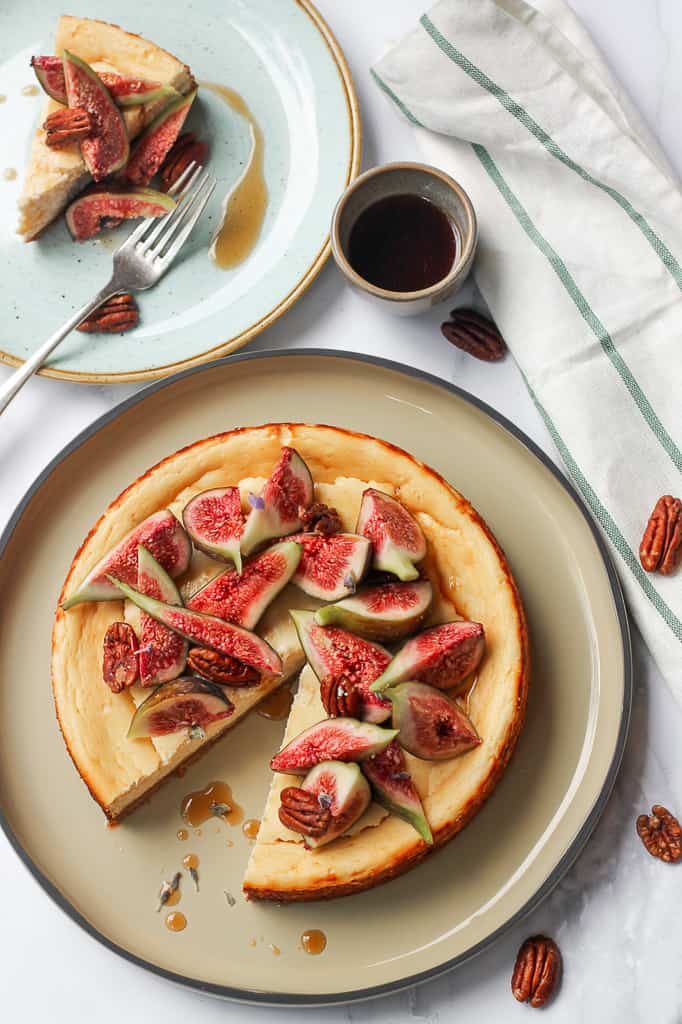 When it's time to serve, you don't have to worry about the filling or base falling apart, as it just never does! Follow this recipe for success and i would love to know if you try it!
If you enjoyed it as much as we do, try our recipe for german plum cake, Baked Quince Tart, lemon myrtle cheesecake and our French Style Apple Tart, they are easy to make too.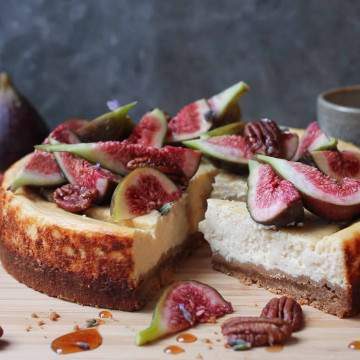 Baked Ricotta Cheese, Fresh Figs and Maple Syrup
Cheesecake recipe with a twist, easy to make, works each time. Can be eaten anytime of the day.
Ingredients
250

grams

digestive biscuits

125

grams

unsalted butter

200

grams

cream cheese

200

grams

ricotta cheese

100

grams

Greek yogurt

100

grams

white granulated sugar

1

teaspoon

vanilla essence

1

grated lemon rind from a small lemon

2

teaspoon

lemon juice

3

medium eggs

6

fresh figs

30

grams

pecan nuts

1½

tablespoon

maple syrup
Instructions
For the Base
Grease a 6cm-deep, 22cm round (base) spring form cake pan. Process biscuits until mixture resembles breadcrumbs. Add melted butter to the crushed biscuits and process again until all combined.

Press the mixture over the base and sides of the pan. Refrigerate for at least 20 minutes for the base to set.
For the Cheesecake
Preheat the oven to 180°C

Mix the cream cheese, ricotta, yogurt, sugar, vanilla essence, lemon rind, lemon juice and eggs with a hand blender to combine.

Pour the mixture into prepared pan and spread evenly with a spatula. Bake the cheesecake for 5 minutes at 180°C for a golden brown colour and then reduce the heat to 160° for the remaining 45 minutes.

Bake until set. To check insert a wooden skewer in the center of the cake. If there is batter stuck to it then cook a bit longer. Take the cheesecake out of the oven and allow to cool for atleast two hours. Can be stored in the fridge for upto 5 days but i really doubt you will have any leftovers to store!
For the Garnish
Wash the figs and cut into four. Decorate the cheesecake with figs and pecan nuts. Finally drizzle some maple syrup and decorate with fresh lavender if available at hand.