Show that special someone how much you love them by cooking a special meal for them this Valentine's day! Choose dishes from our Valentine's day dinner ideas, follow the step by step recipes, and learn to plate up like a pro to create a romantic dinner experience at home.
No matter how long you have been with your better half, there is always an expectation to do something special on Valentine's day! So, instead of getting stressed about making a Restaurant Reservation, especially when you know the menus will be totally overpriced, why not plan a romantic date night at home instead?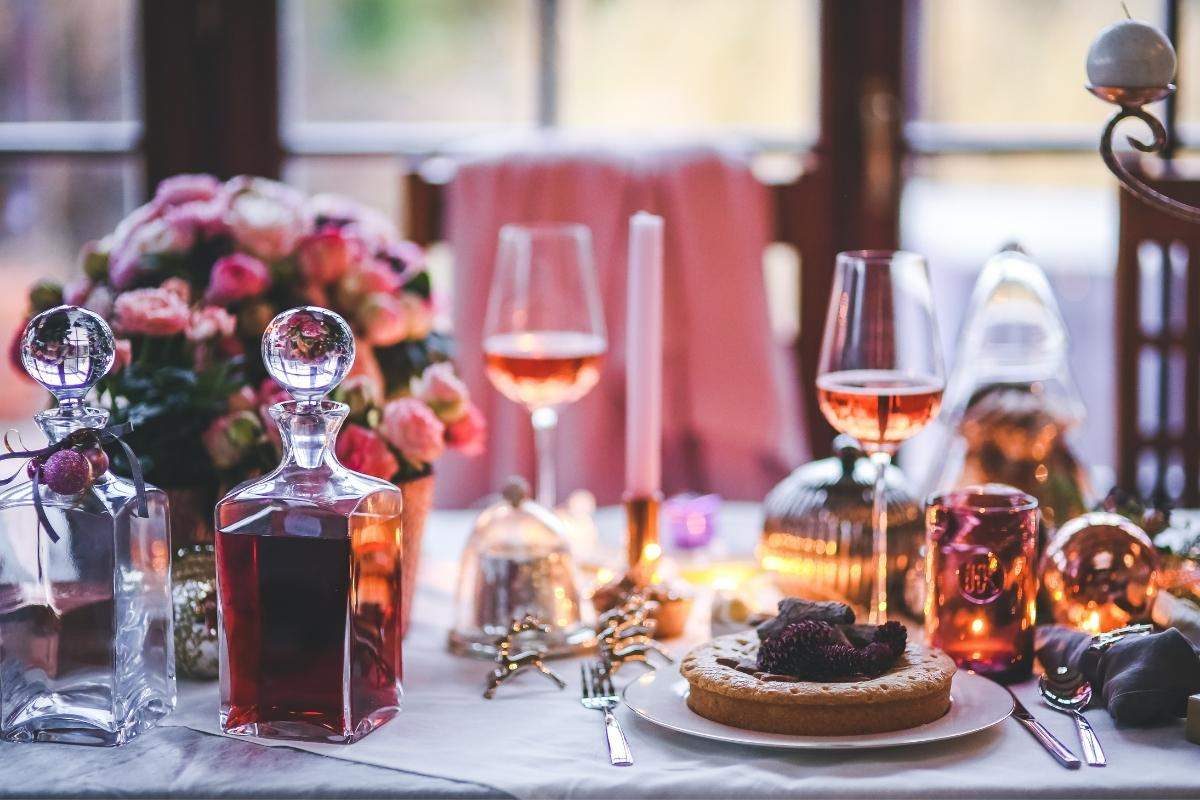 It's more affordable, personal plus it shows just how special that someone is! You just need to plan ahead so that you can have a relaxing evening with your sweetheart!
Here is a list of Valentine's Day dinner ideas to ensure your meal is anything-but-ordinary.
Jump to:
3 course valentine's meal ideas
For whatever reason you're having dinner at home this year, let's just make it an awesome one! We've come up with some fun and creative 3-course valentine's meal ideas that won't make you miss eating in a restaurant. But feel free to cut it short to a 2-course or even a 1-course meal - totally upto you!
appetizers
The appetizer is the beginning of the meal hence you should start on a high to impress the person you are cooking for. Seafood is what I recommend but we also have ideas for vegetarian appetizers. Go on... pick your favourite!
This recipe for oven baked scallops can be prepared well in advance. It takes only 5 minutes to bake in a pre-heated oven. The scallops are garnished with a refreshing apple salsa.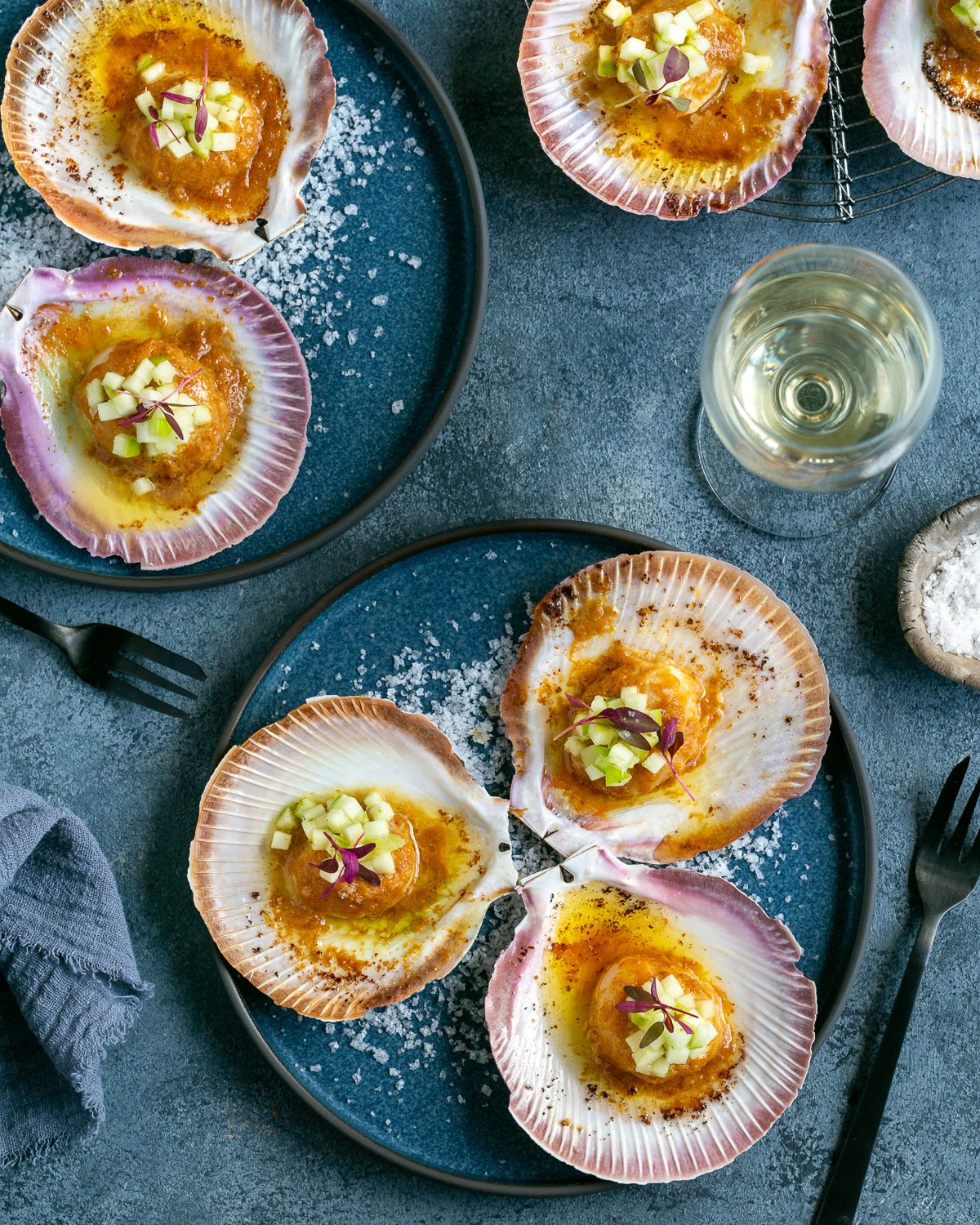 These Agnolotti made with sweet potato and fermented garlic and cooked in a brown butter sauce will impress your love.
Making Agnolotti may be time consuming but it is so satisfying and rewarding to see the dish come together in the end. Otherwise, what about bringing romance into the kitchen and cooking together this Valentine's Day instead?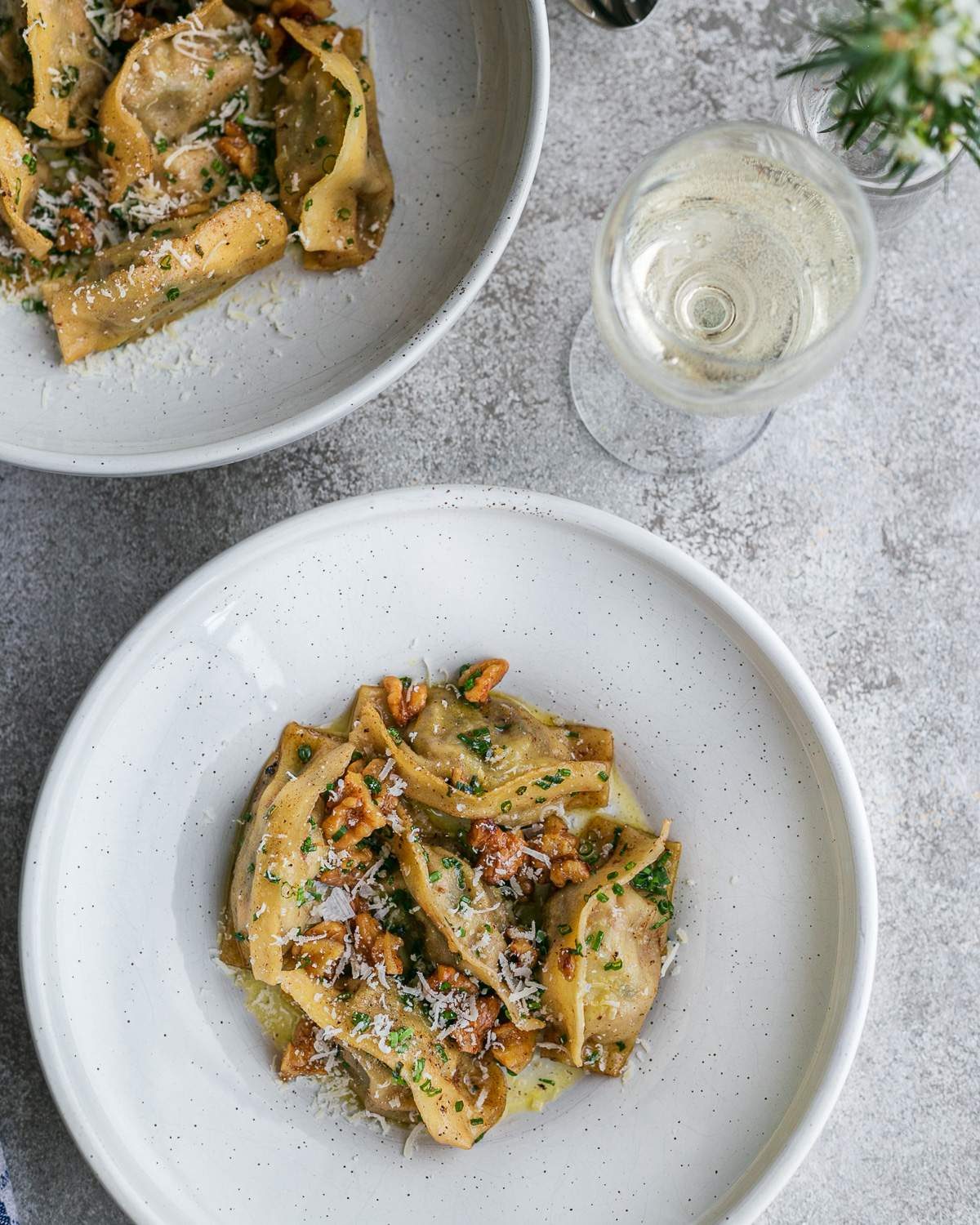 Set the tone right for your date night, with this delicate salad made with crab meat, lime and coriander. It makes for a restaurant style dish that can be easily created in your kitchen. The chilled watermelon gazpacho is flavoured with vanilla and lime - colorful, romantic, and full of flavour!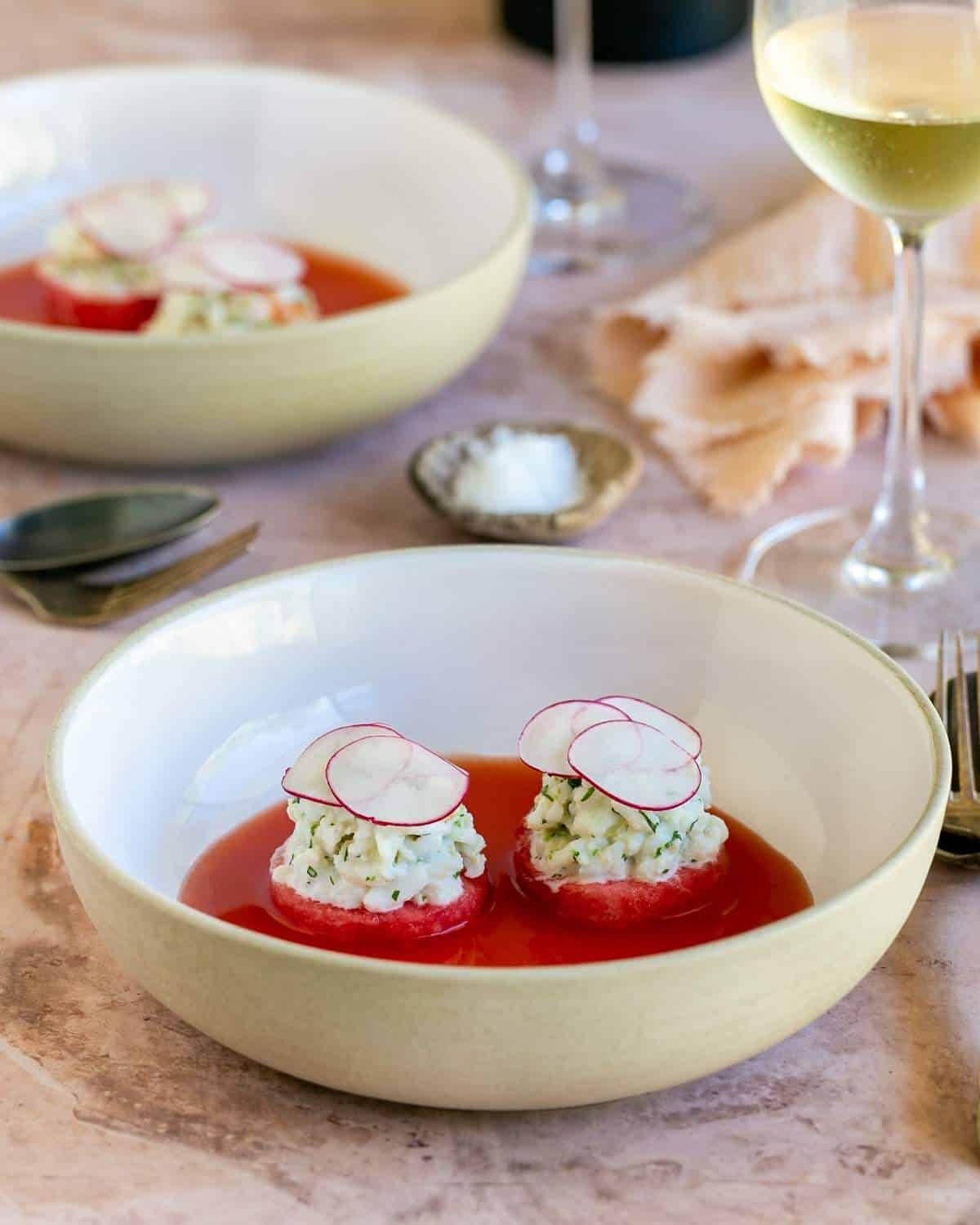 An excellent appetizer that's delicate and delicious. Best of all, it's so easy to make! Made with marinated Salmon cubes in a tangy Asian dressing, paired with fresh mango, coriander and finished with a homemade creamy avocado-wasabi sauce, make it an impressive restaurant style dish!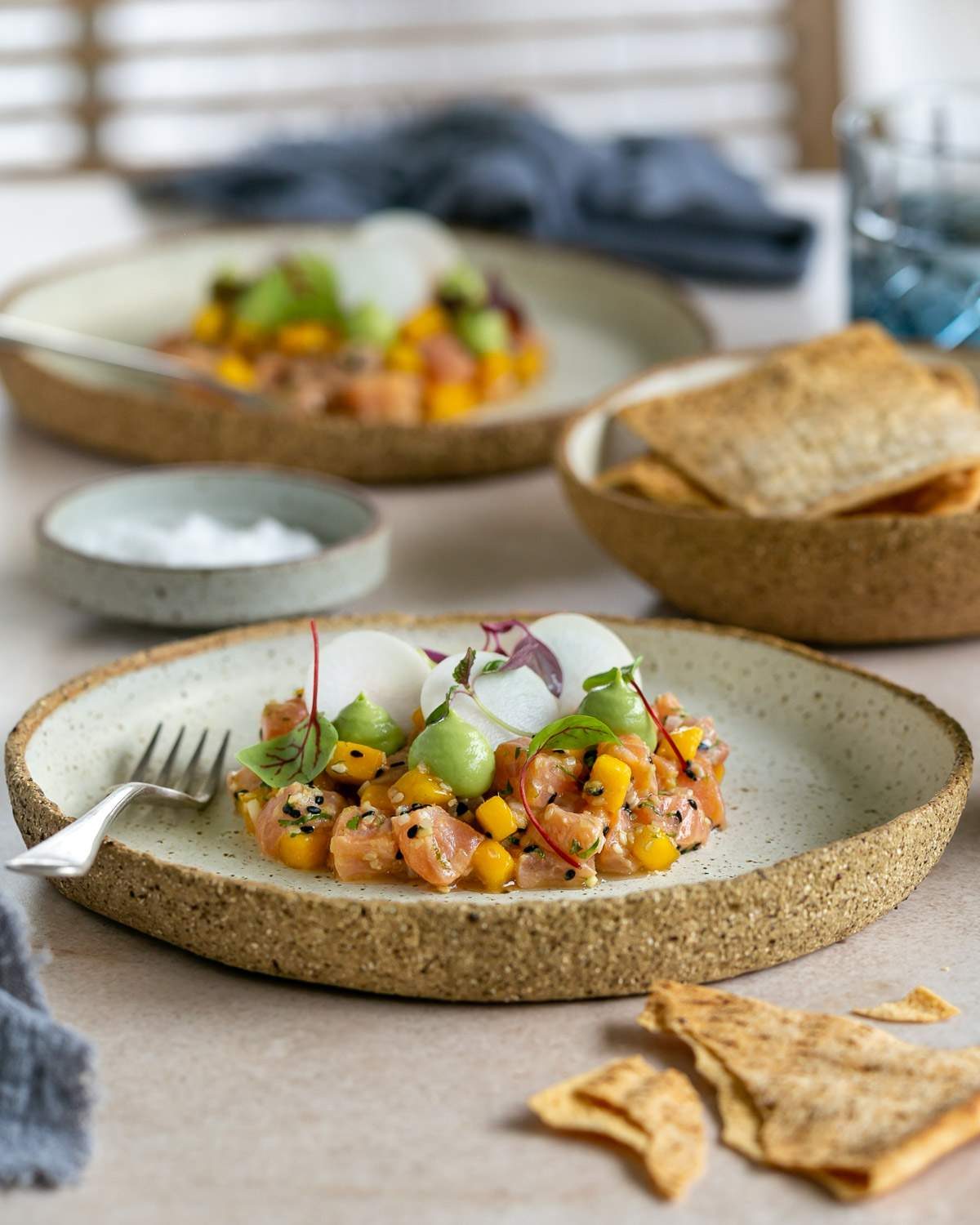 Combining traditional Indian flavours with modern cooking makes this tasty paneer (cottage cheese) dumpling recipe with spinach sauce stand out. A vibrant vegetarian dish, that's flavourful and beautifully presented.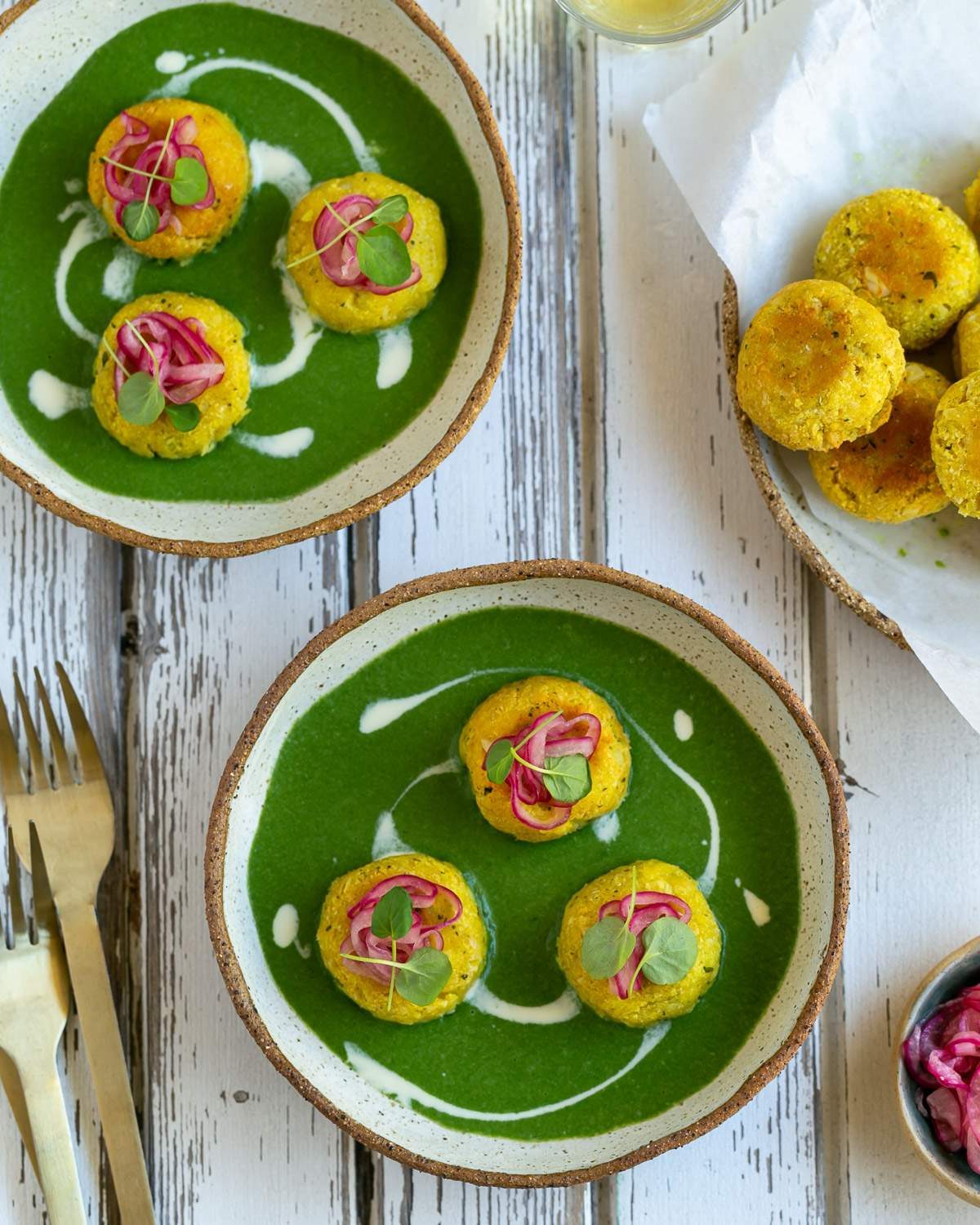 Oysters are one of these special ingredients that are easy to prepare but elegant looking. This oyster dish can be prepared well ahead and is quick to plate up. Bonus, we even show you how to shuck the oysters!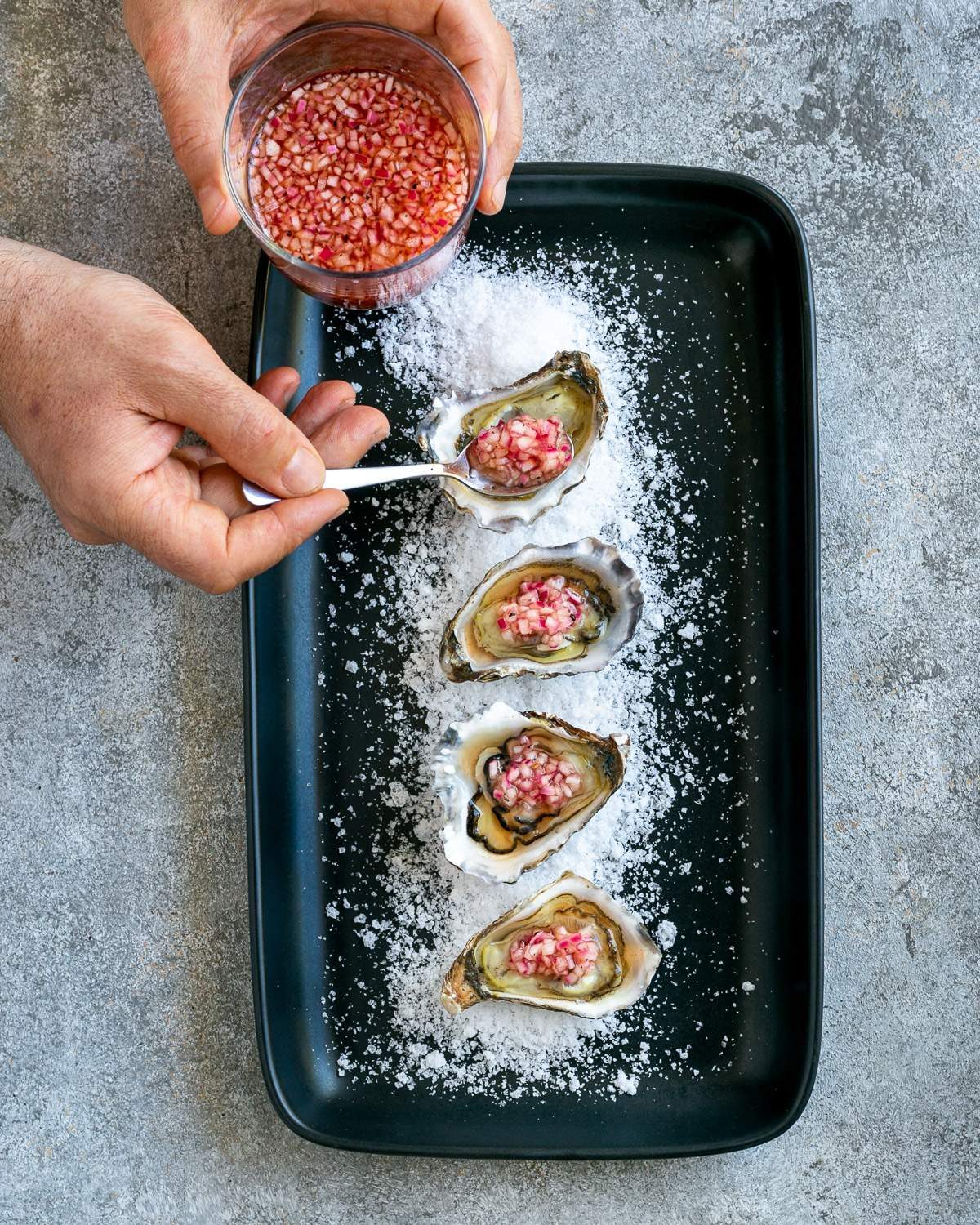 main courses
Main courses can be plated up or served as a share style meal. Best you choose a dish you are comfortable cooking and most importantly, one that can be prepared well ahead of time. The last thing you want to do is spend time in the kitchen unless you are cooking together with a glass of wine!
Braised beef cheeks are great for making ahead! As with most braised meats, they taste even better when re-heated. Juicy, meltingly tender beef cheeks, slow braised in red wine and served with a sweet and sour shallot jus. A real delicacy, one that will surely tick all the boxes.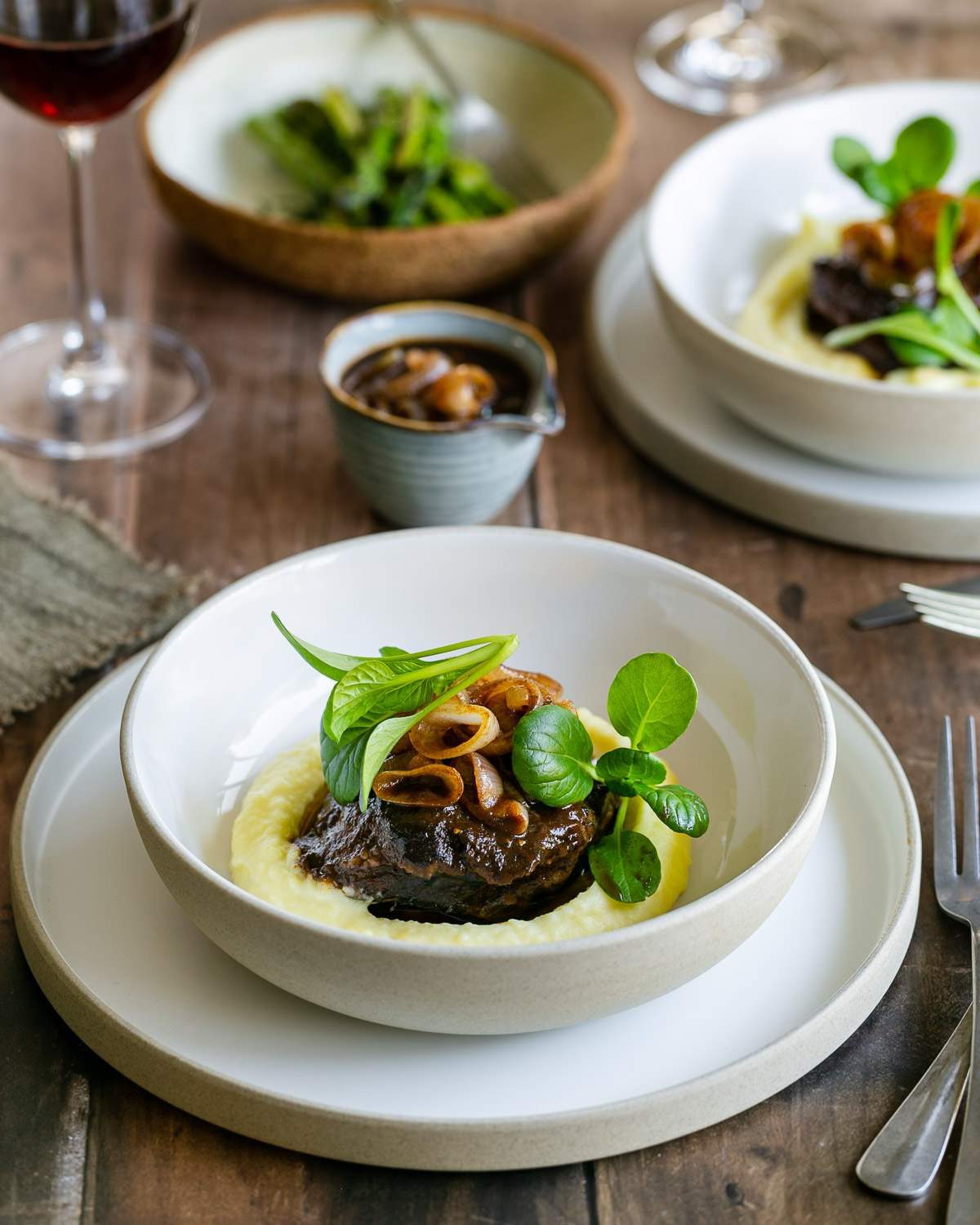 A recipe with flavour packed ingredients. Lemongrass, ginger, chilli, tamarind, coconut cream and curry leaves take this exotic coconut curry sauce to the next level.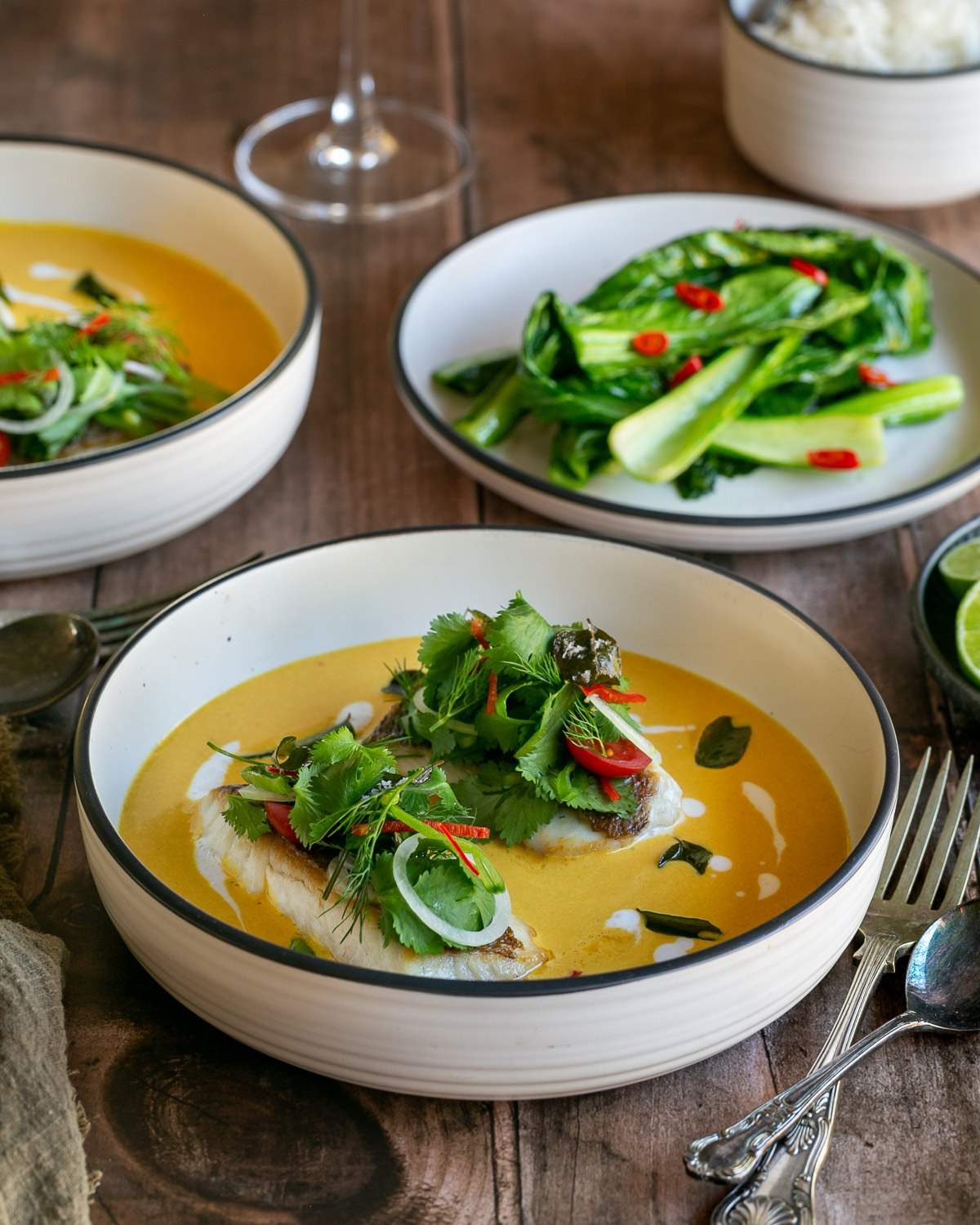 Our recipe for Garlic Roasted Prawns with Fregola Sarda is everything you could want in a typical Italian dish. Prepared with simple but high quality ingredients, this dish is a must try! Also, perfect to show off your cooking skills when you want to impress someone.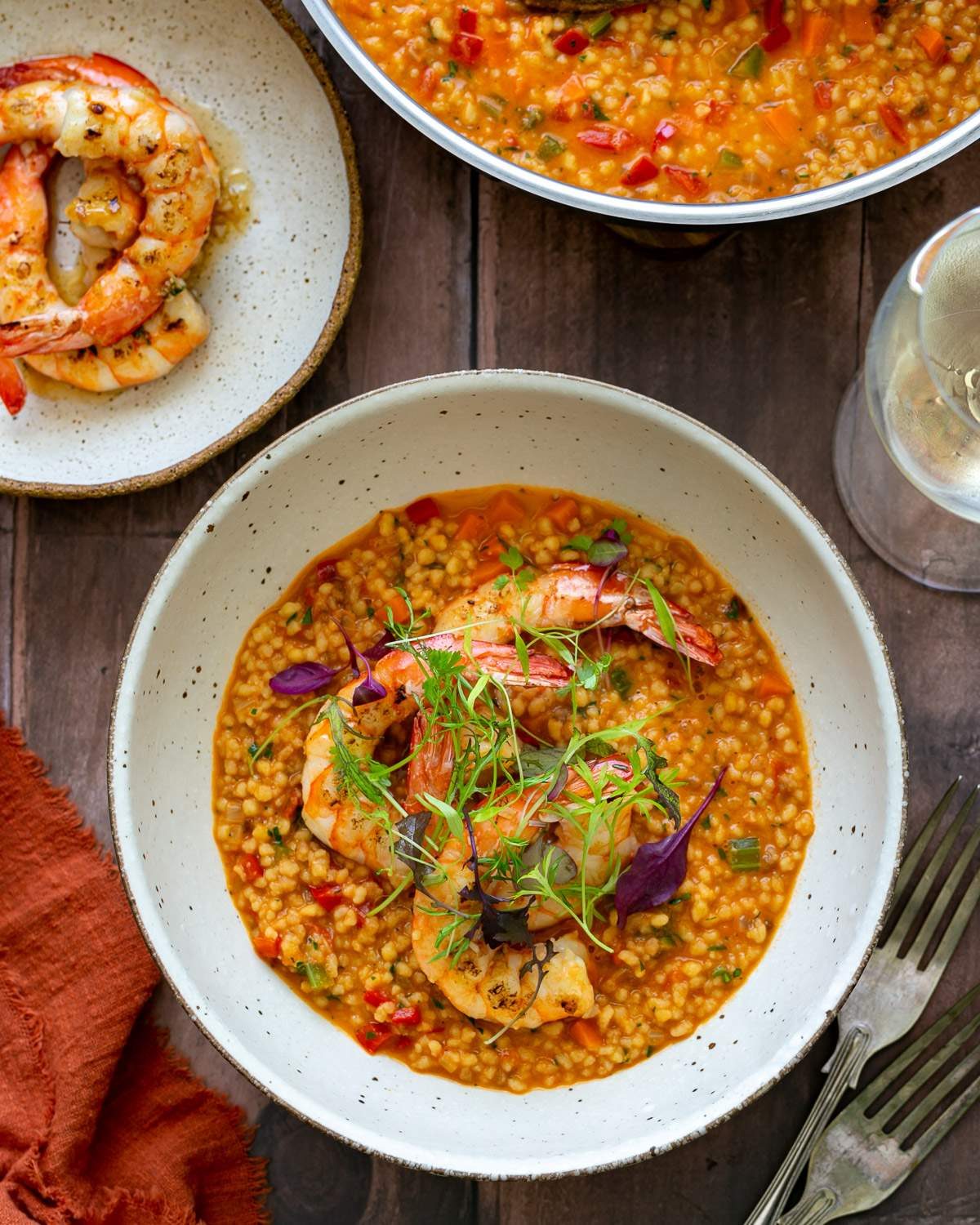 A flavourful combination of roasted duck breasts, zesty oranges and the classic sauce Bigarade, all in one dish. For an elegant meal, this duck a l'orange recipe is a must try.
These feather light gnocchi are made with ricotta and parmesan instead of the traditional semolina and potatoes. Served in a sugo of tomatoes this easy vegetarian dish will stand out for any special occasion.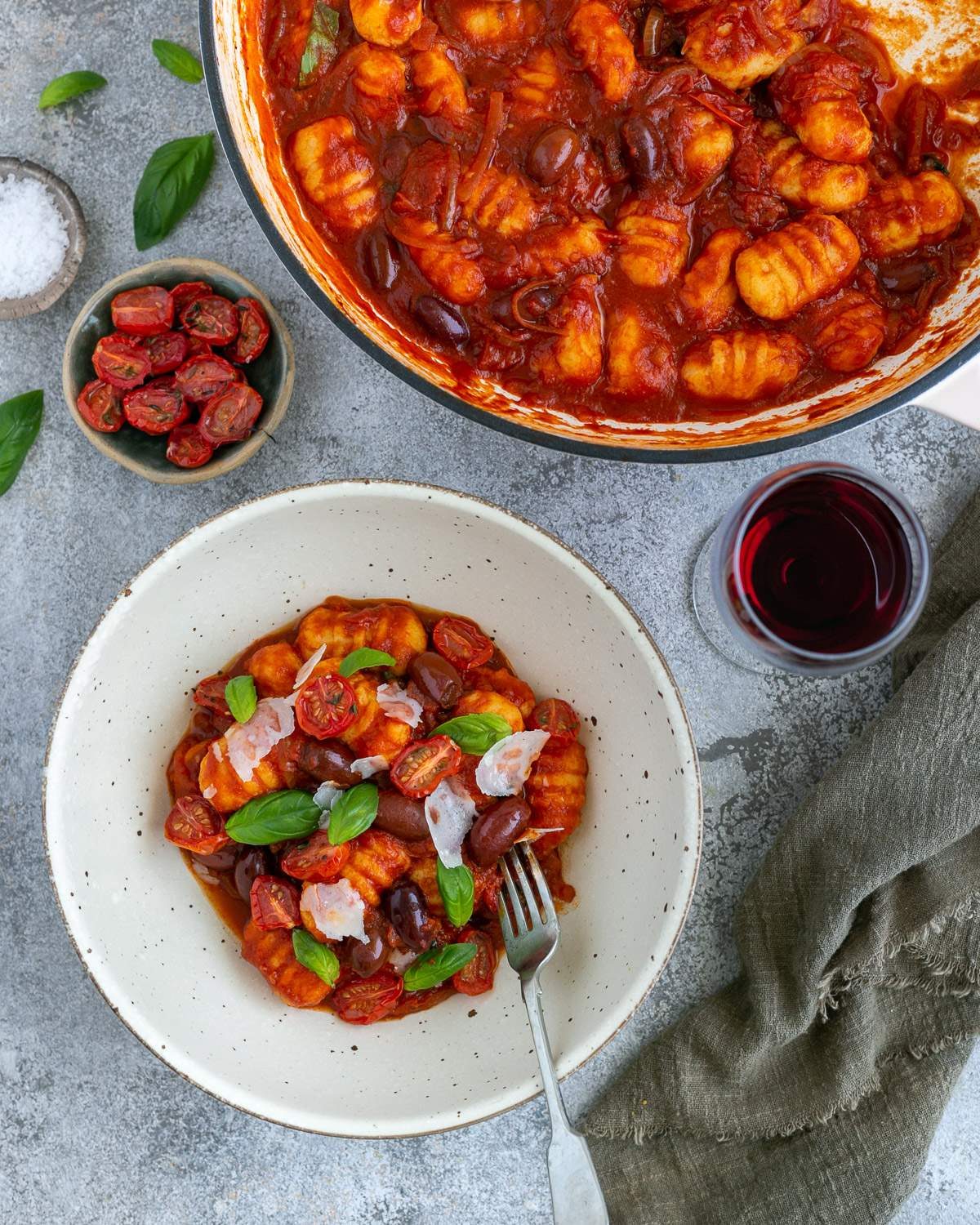 side dishes
Side dishes are not a must but are easy to dish out and are meant to be shared. Our collection of side dishes will be perfect for your dinner for two.
An easy to make layered vegetable gratin that is a healthy and perfect to prepare ahead.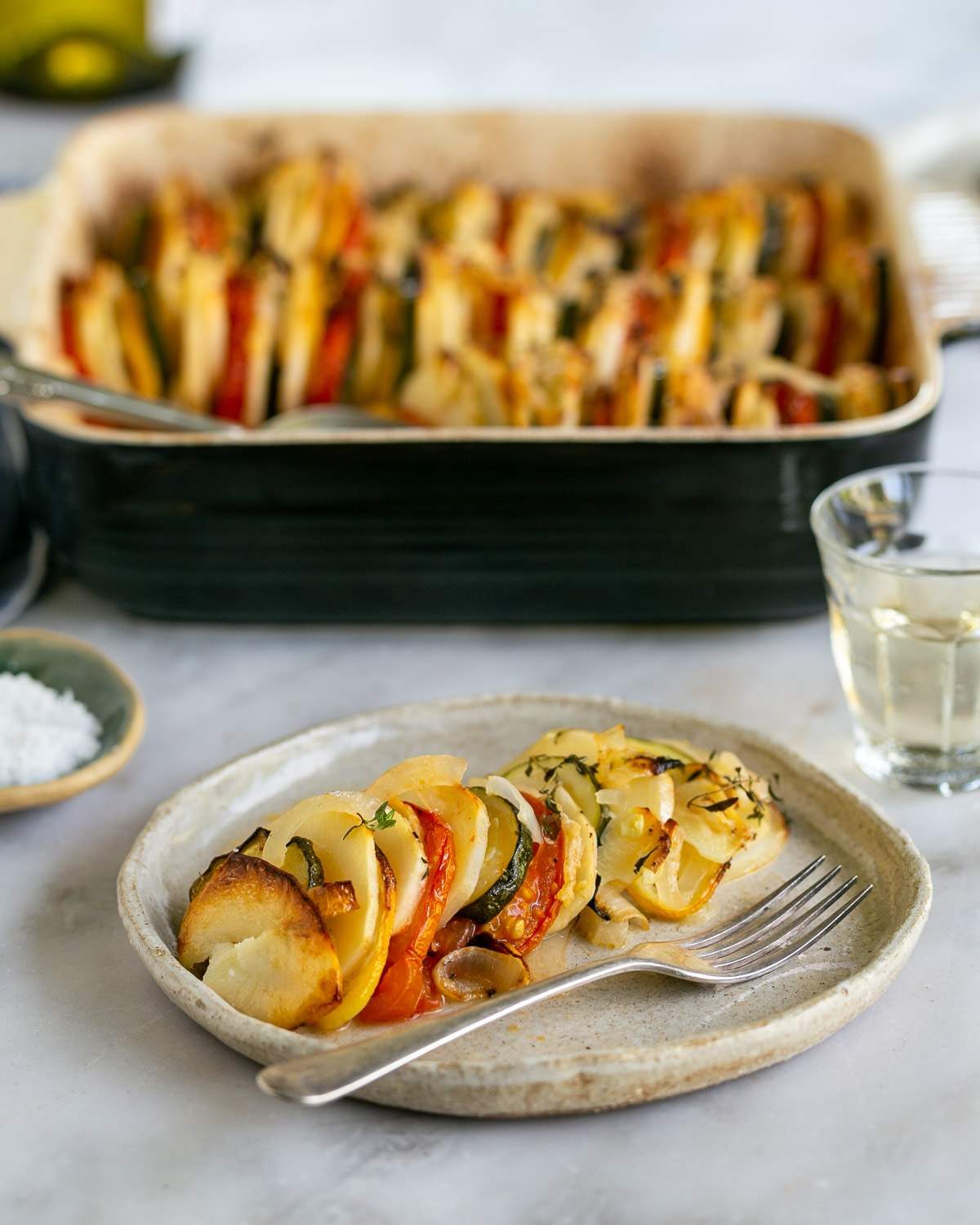 Dressed in a creamy buttermilk dressing, garnished with grated parmesan and crispy bacon lardons, it ticks all the boxes for a light and flavourful salad.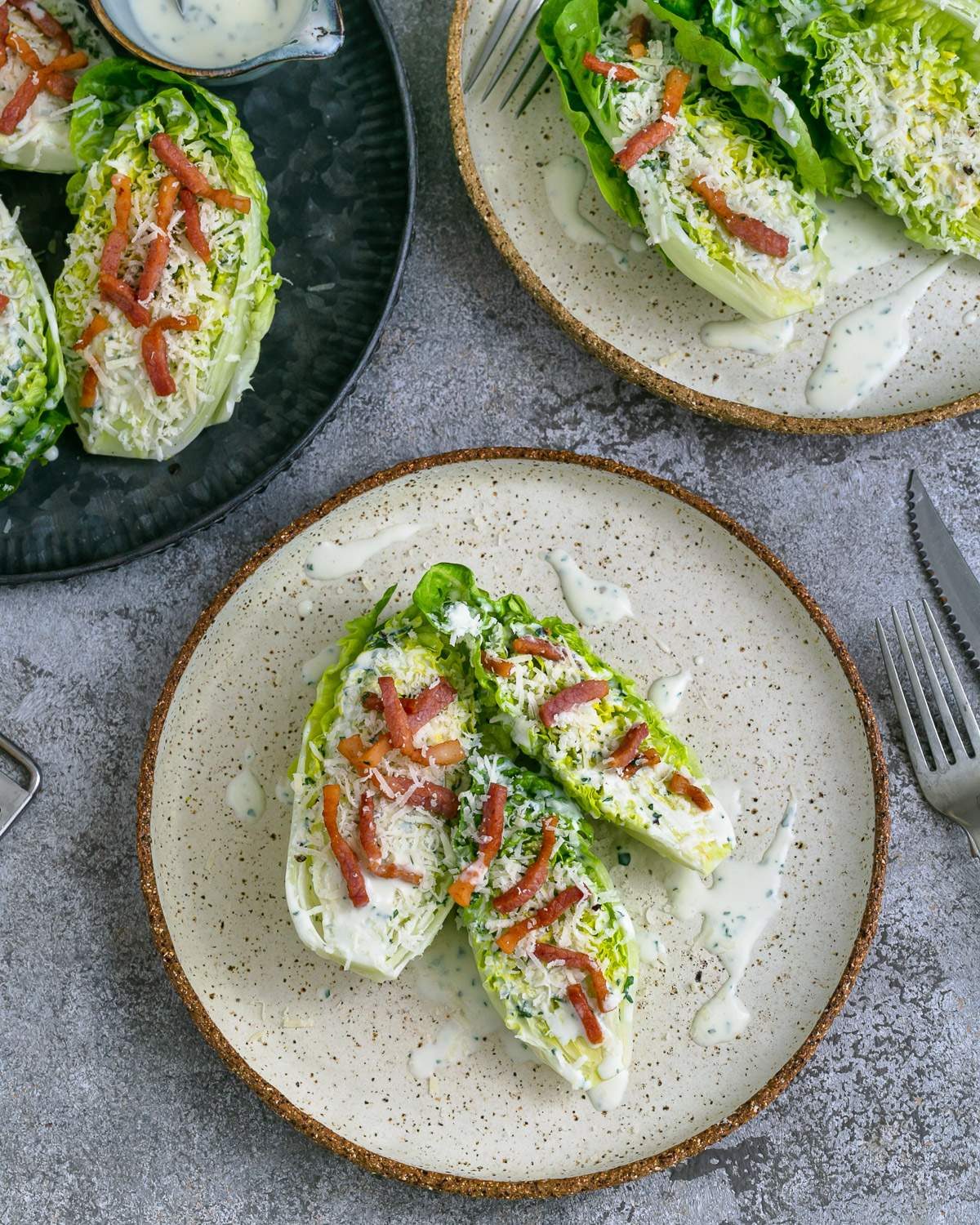 Classic restaurant style mashed potato, perfectly creamy and easy to make.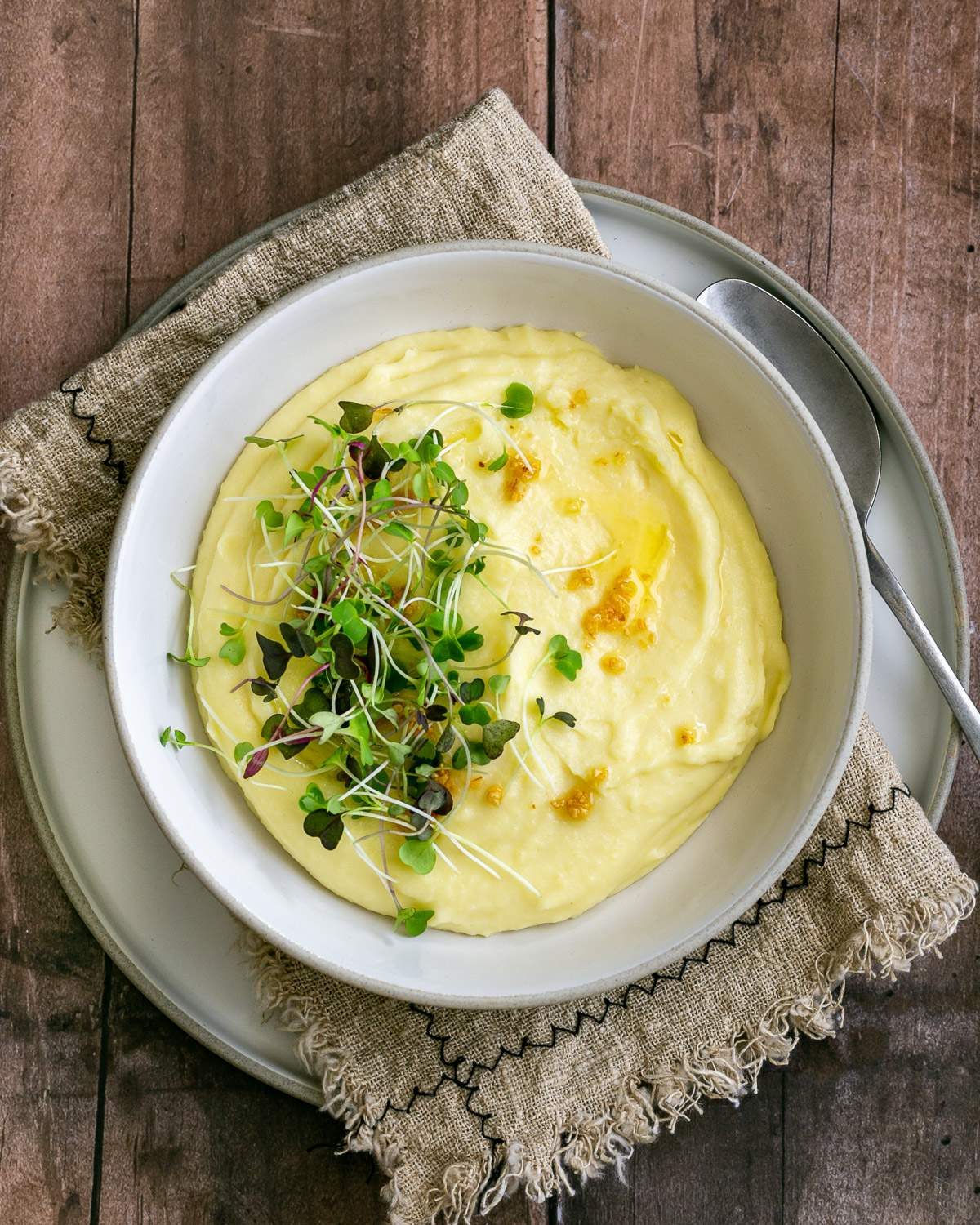 This recipe, for beautifully oven roasted parsnips with a flavourful hazelnut gremolata sauce, makes for a fancy side dish.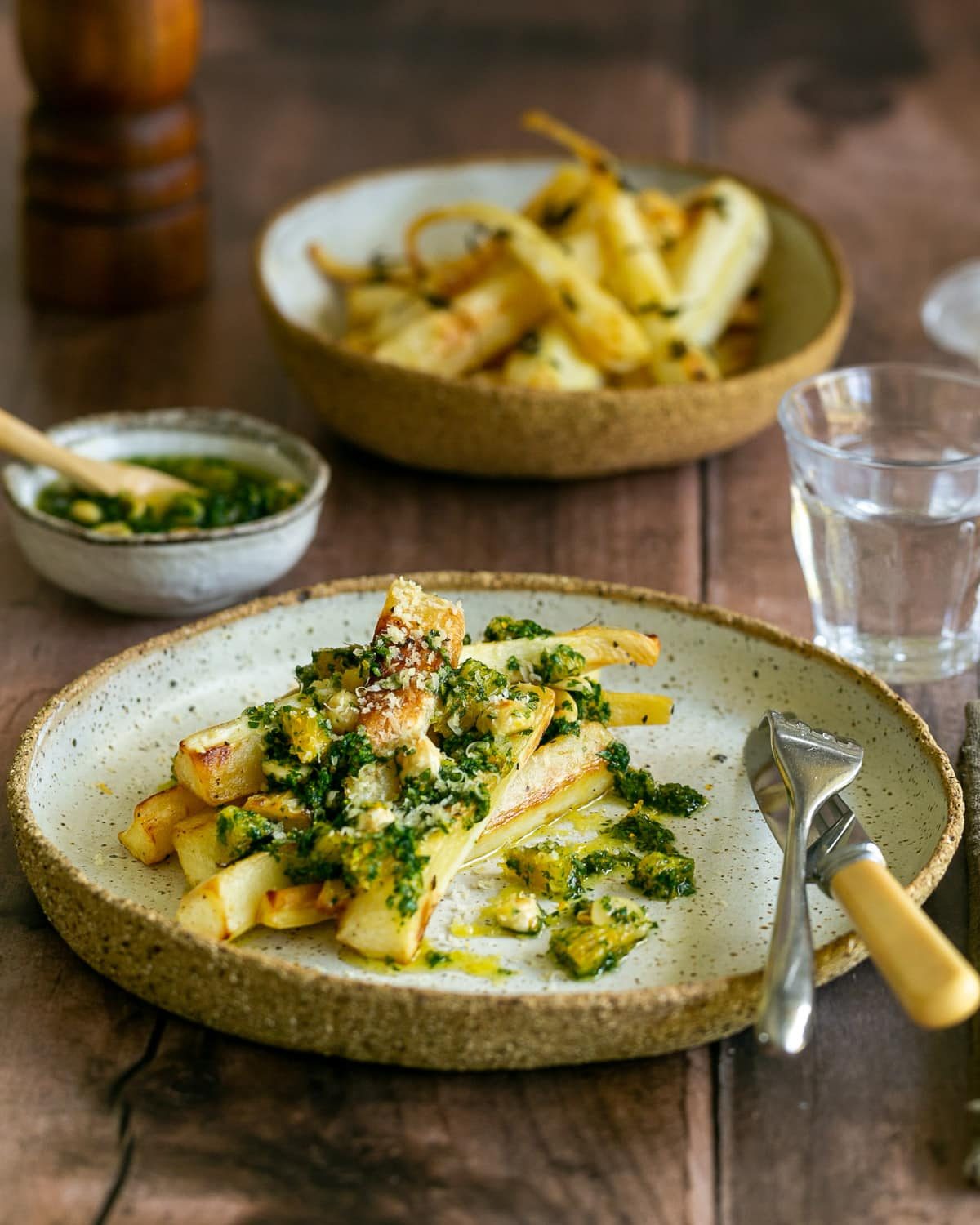 desserts
This is the most important course, one you don't want to mess up! So let's get you prepped with ideas so that you can dish up a beautiful dessert to end your Valentine's Day Dinner with. We have our favourites below ranging from simple and classic, to unique and creative. It is now for you to choose!
Light to eat and easy to make this citrus-packed lemon yuzu posset recipe comes with a crunchy white chocolate crumble adding that special texture.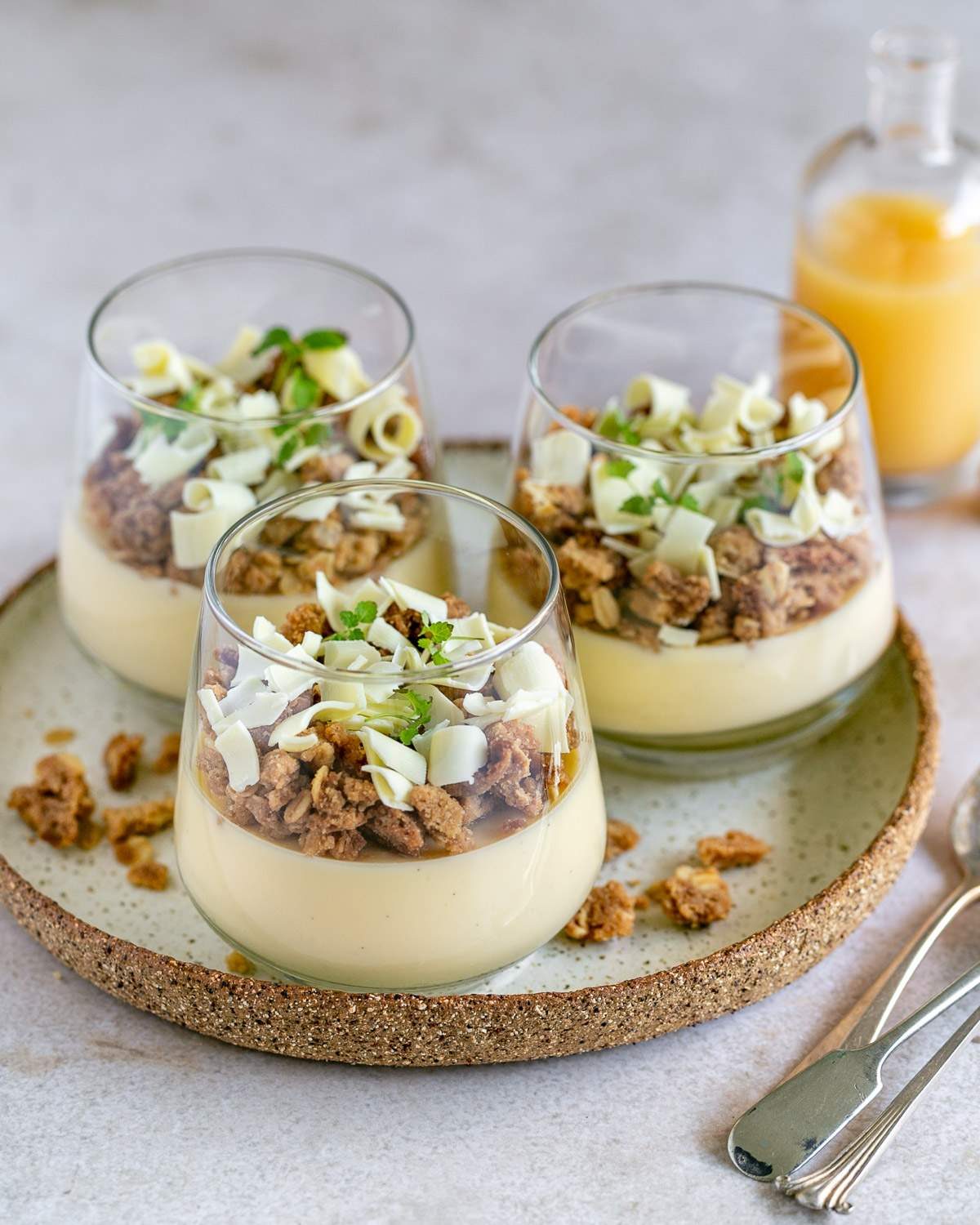 This irresistible chocolate ganache tart is a great do-ahead dessert that keeps well in the fridge. The good news is, there will be leftovers the next day!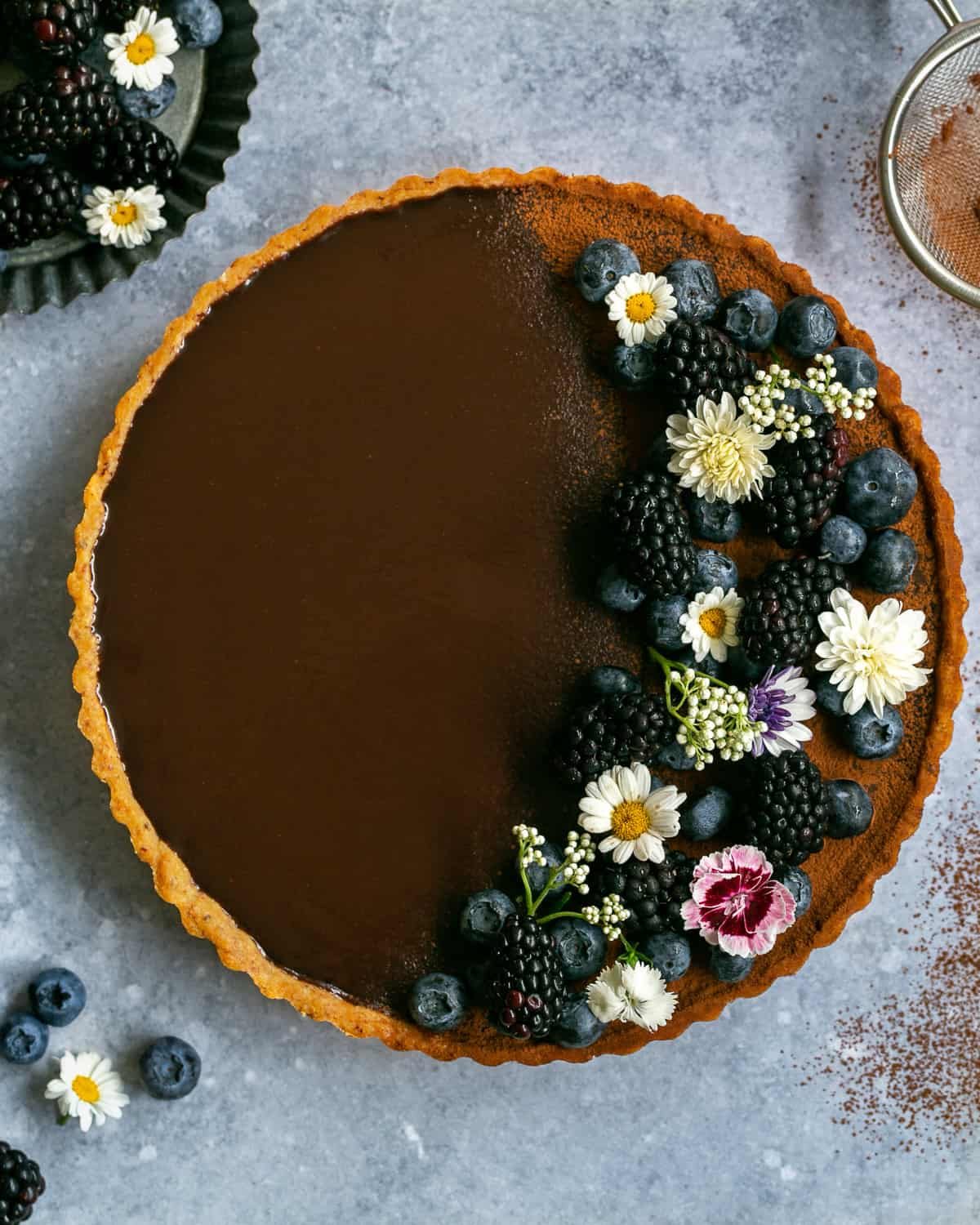 This exotic combination of rum, coconut milk, lime and fresh pineapples turned into a Pina Colada dessert, tastes everything like the classic cocktail. Sweet and creamy, finished with a hint of lime and toasted coconut flakes, makes it a match made in heaven.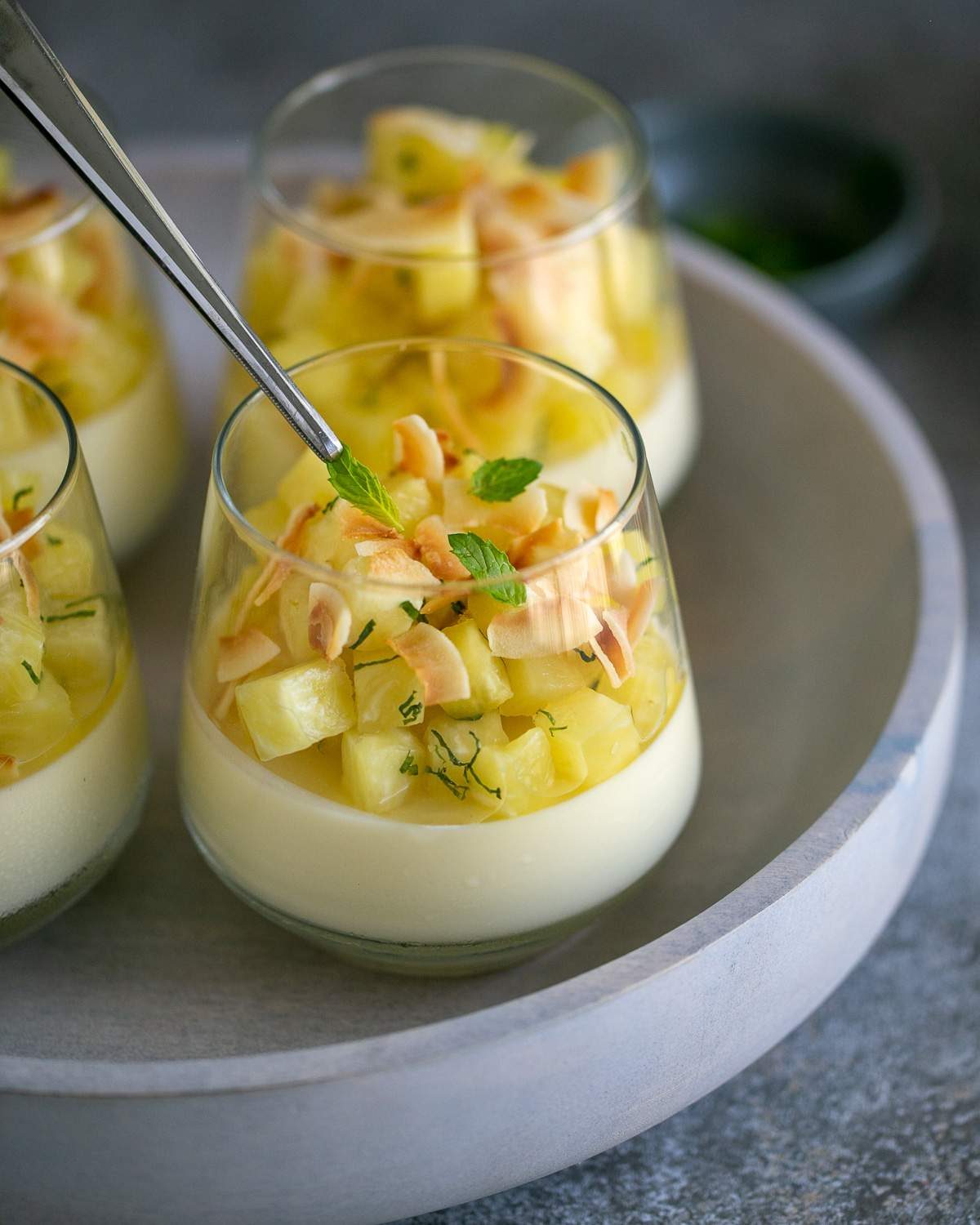 A coffee flavoured Italian dessert which literally means 'pick me up' or 'cheer me up'. This recipe is a winner and should be shared out of one bowl.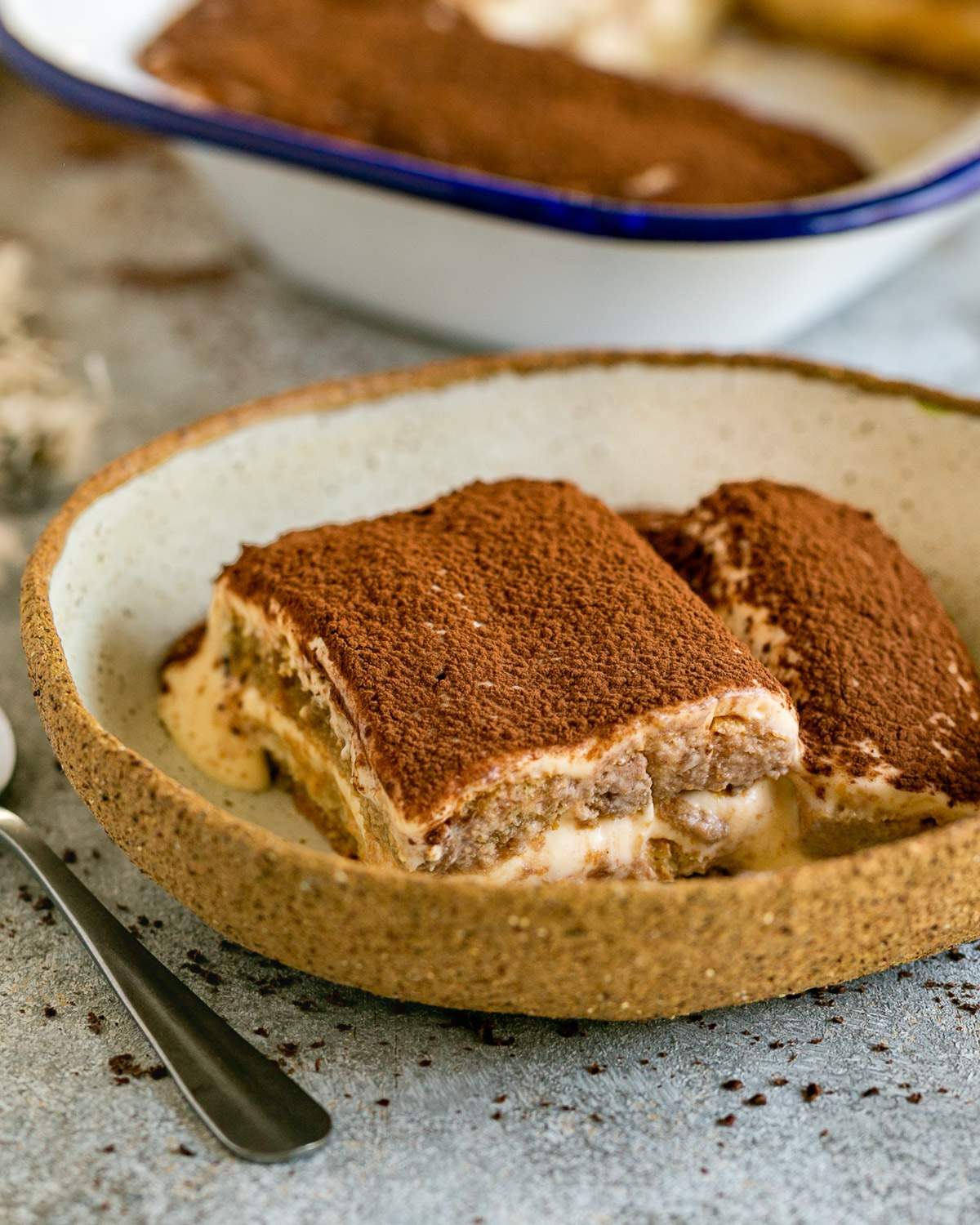 This elegant white chocolate pavlova with mixed berries, finished with a refreshing berry soup makes for a spectacular dessert.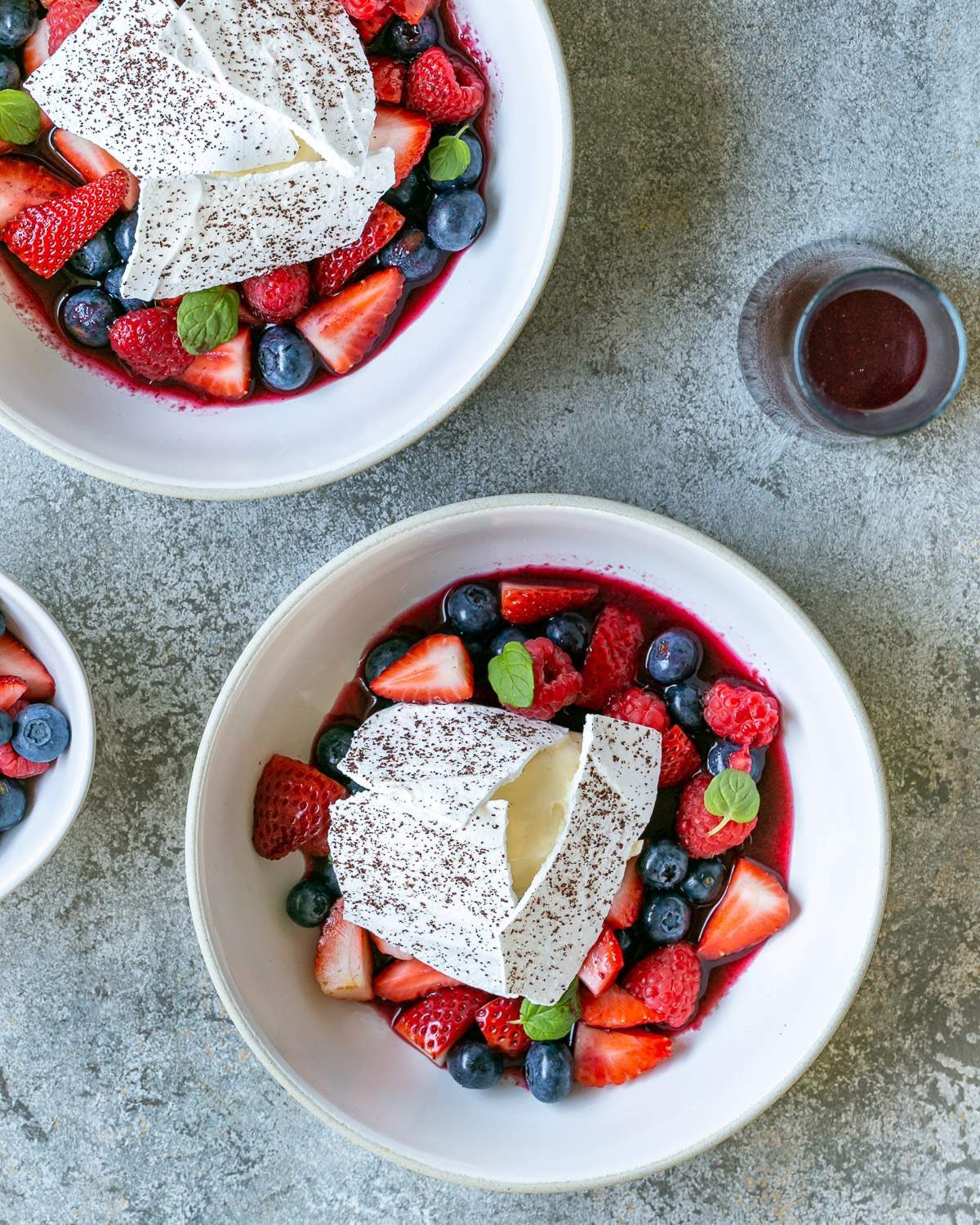 A delicious dulce de leche caramel layered in a verrine with whipped cream, chocolate and caramelised banana. Tasting like a de-constructed banoffee pie, this dessert is truly amazing!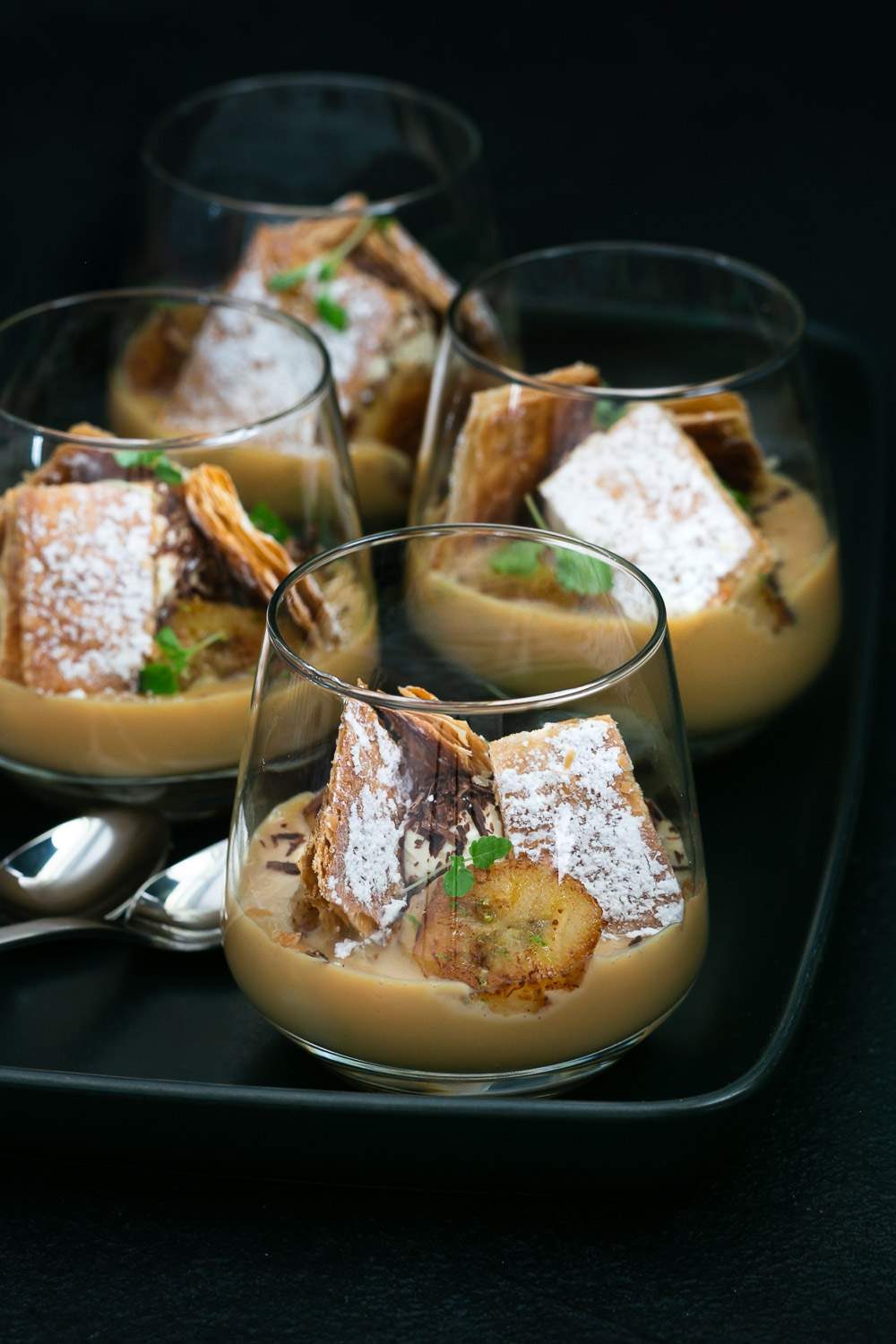 romantic dinner at home
It wouldn't be Valentine's day without chocolate, would it?
End your night on a high, just like you would if you were in a fancy restaurant. Make these simple, irresistible grand marnier chocolate truffles with our easy to follow step by step recipe. A delicious, rich and decadent treat to make your date night extra special!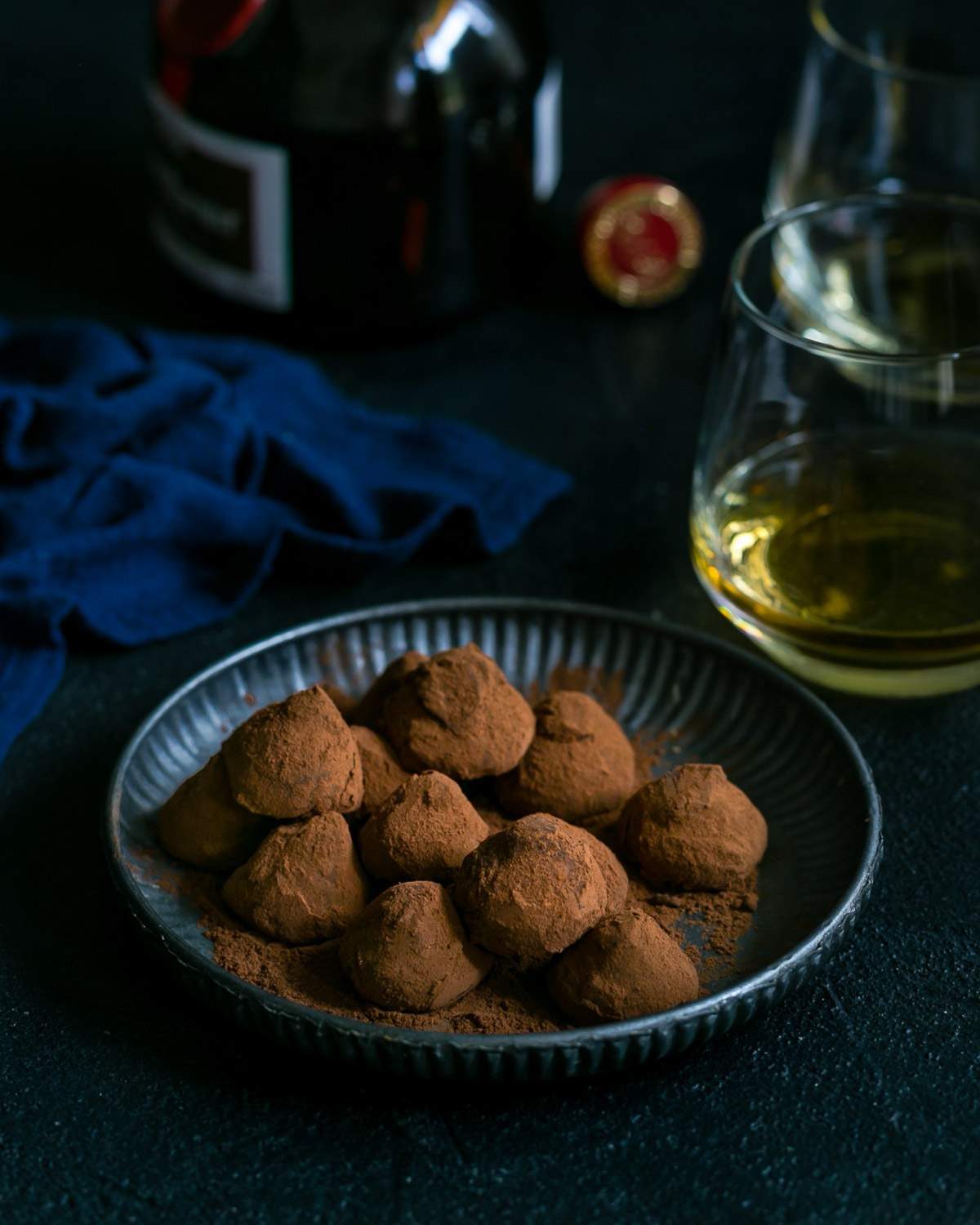 We hope our romantic dinner at home ideas inspire you to create a wonderful meal to enjoy together this Valentine's day! And if you need some decor inspiration to set the mood, maybe these ideas for table set ups will get your creativity going!
"People who love to eat are always the best people." — Julia Child❤