An authentic Italian Tiramisu recipe as you would expect at your favourite local Italian diner. A coffee flavoured Italian dessert which literally means 'pick me up' or 'cheer me up', made of ladyfingers (savoiardi), coffee, whipped mixture of eggs, sugar, mascarpone and finished off with cocoa or dark chocolate.
My Tiramisu recipe has been a hit at dinner parties for years. I love seeing the disappointed faces at the start, when everyone sees the dessert brought out. I bet they are thinking, another baking dish dessert.....boring!! But I don't lose heart, because I know what's coming next!

After they have had a few bites, I see the look on their faces change instantly! Everyone seems to be eyeing the remaining Tiramisu on the table whilst trying to empty their bowls as fast as they can, just to secure seconds of this creamy bowl of heavenly tiramisu.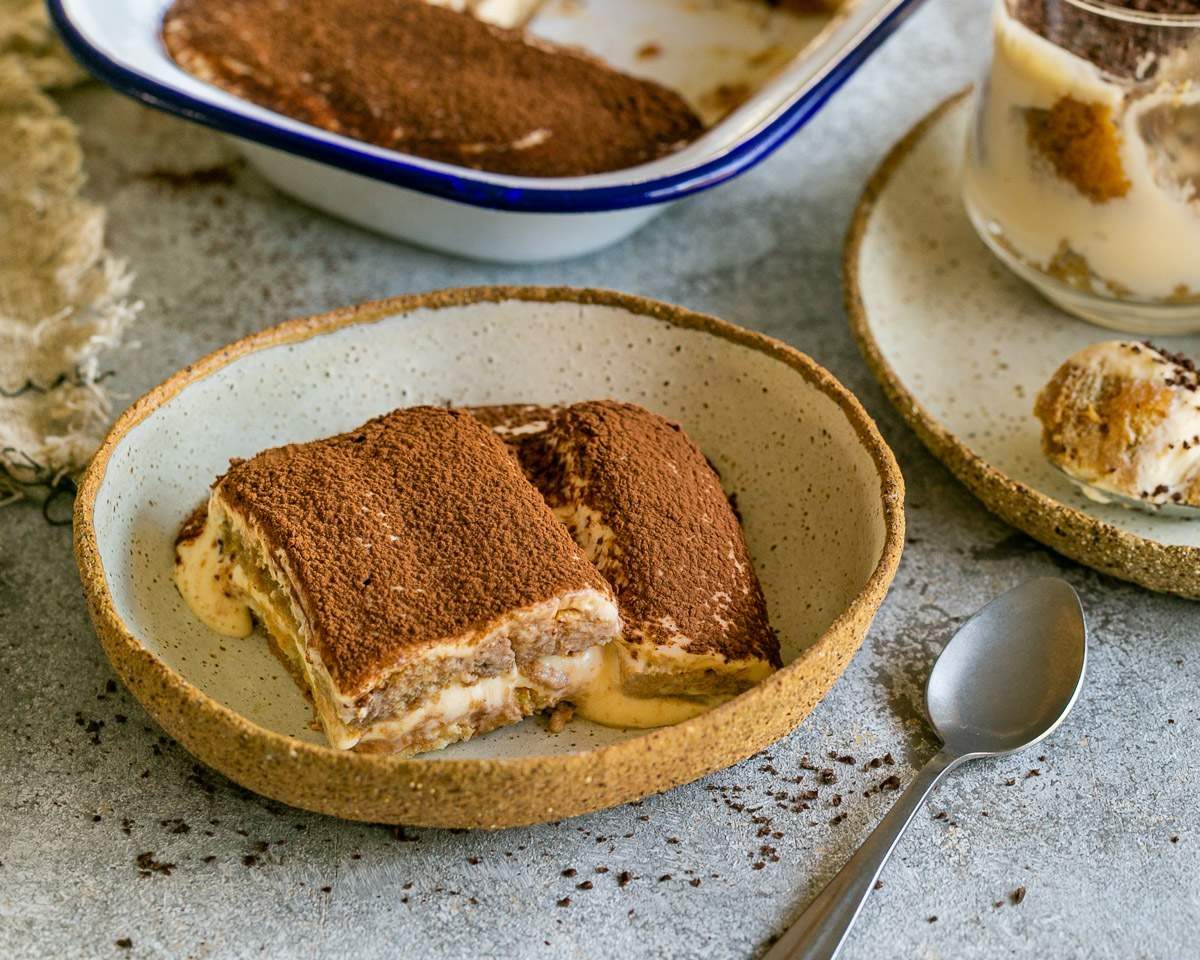 Like always, there are requests for the recipe afterwards which makes me super happy! I know, I have smashed this authentic italian Tiramisu recipe yet once again!
Jump to:
AUTHENTIC ITALIAN TIRAMISU RECIPE
I must have found this recipe in an Italian cookbook years ago. If you have ever wondered where Tiramisu really comes from, read this brilliant article to find out more.

Now let's get to my tiramisu recipe that I am so excited to share with you! If you are thinking how this recipe will be different from the other million Tiramisu recipes online, the only way to find out is to make it yourself!
My recipe is simple, authentic and done right so just follow the step by step recipe to make this authentic Italian Tiramisu at home!
INGREDIENTS NEEDED
The ingredients for this Tiramisu recipe are very easy to find. You should look for quality products but no need to break the bank! Fresh eggs are a must as we are only whisking the eggs over a bain marie to partially cook them.

Besides eggs, you will need some good Italian mascarpone, full cream and white sugar. The typical Tiramisu taste comes from the coffee. You can use a few shots of espresso but if you don't have an espresso machine, filter coffee is perfectly fine - that's what I normally use!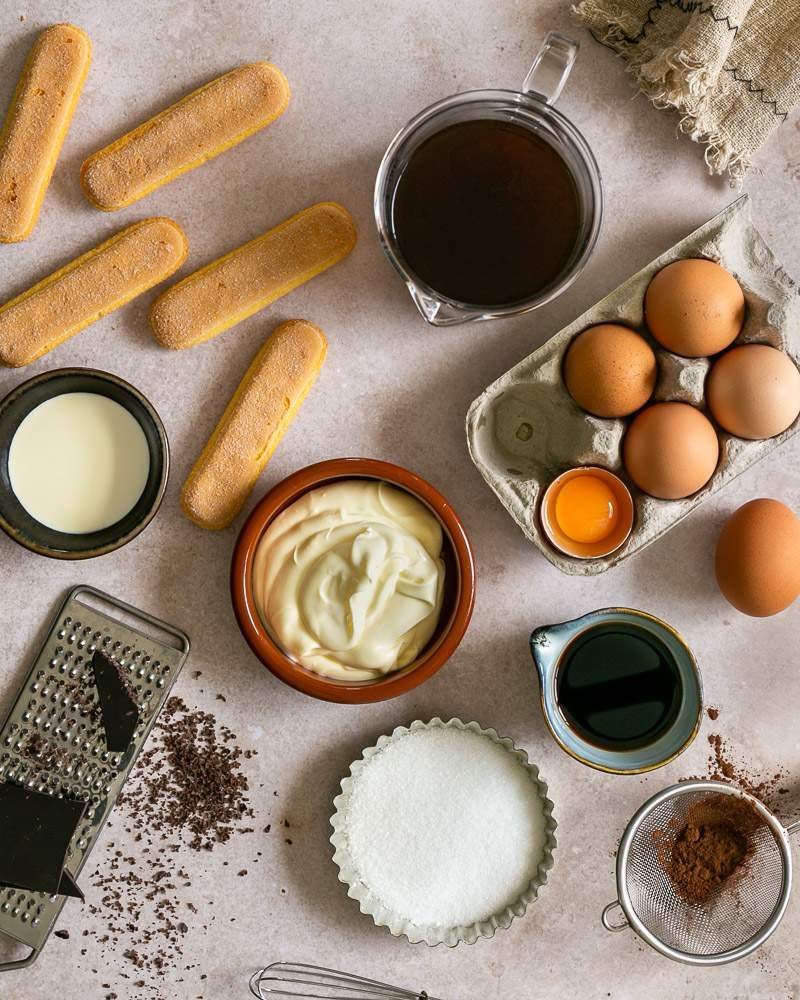 Ladyfingers or savoiardi biscuits are important, they are dry and crispy but turn into a wonderful spongy texture when dipped correctly. Did you know you could make these fingers from scratch at home?
Well, If you want to give it a go, follow the steps in this charlotte recipe, they are not that difficult to make.
To enhance the coffee flavor, I mix the coffee with kahlua. Kahlua is a coffee liquor with a hint of sweet vanilla, hence perfect for Tiramisu or this coffee granita dessert.
As a tip, keep the mascarpone at room temperature to make the mixing step between beaten eggs and mascarpone smoother.
STEPS TO MAKING TIRAMISU
How difficult is it to make tiramisu? Pretty easy, there are not too many steps involved and if you keep all your ingredients at room temperature it is a breeze.
beating the eggs
First you need to separate the egg yolks from the white as we only need egg yolks for this recipe. Beat the yolks with sugar over a bain-marie (a pot with simmering water).
It might seem difficult at first but it gets easier once the eggs become fluffier. You know the eggs are ready when they hold well to the whisk.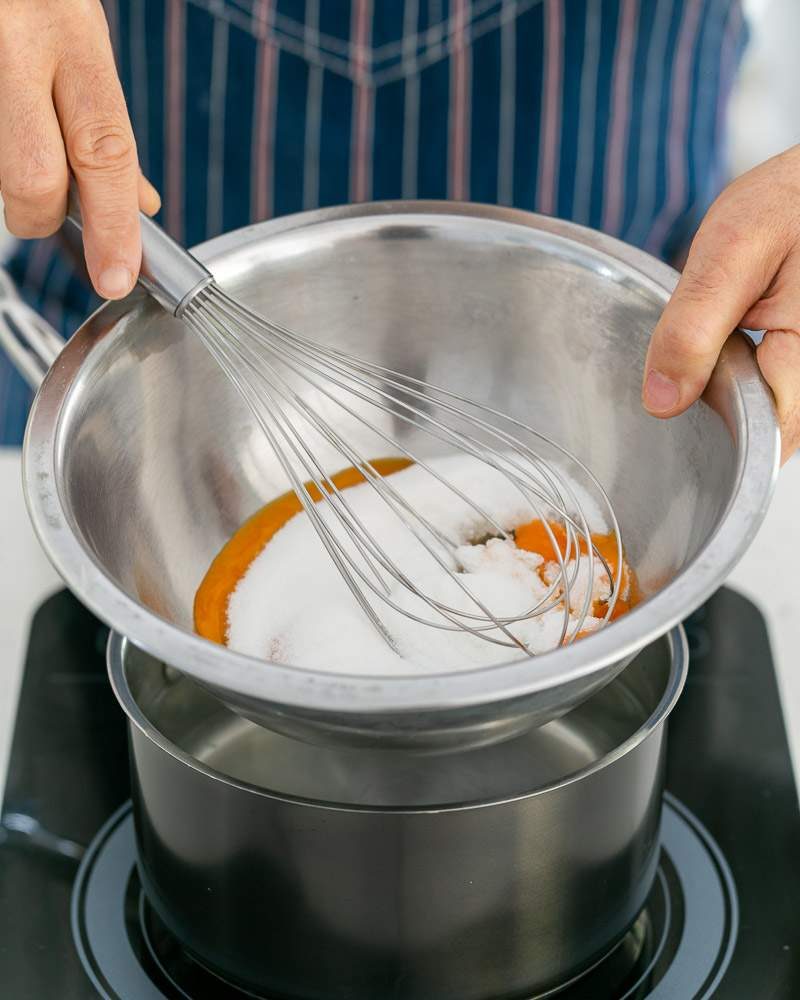 To check simply raise the whisk with some of the mixture and observe the drip. If the drip is smooth and firm then you are good to go!
adding the mascarpone
Incorporate the mascarpone slowly into the egg mixture with a whisk. If the mascarpone is already at room temperature, this step will be easier. I recommend doing this by hand instead of using an electric mixer to control the speed.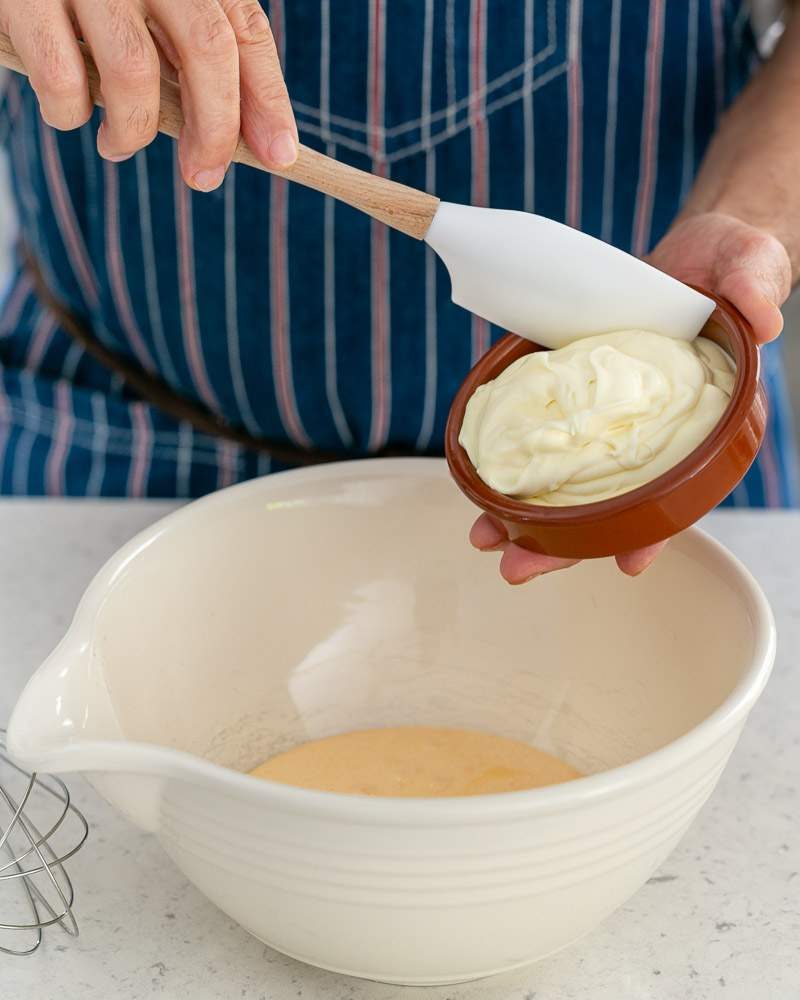 whipping the cream
Now it's time to whip the cream. If you use an electric mixer, make sure sure its on a slow setting. Why? Because slowly whipped cream holds up longer in the fridge without it becoming runny.

Add the whipped cream into the mascarpone mixture. To keep the texture light and airy make sure you execute this step very carefully.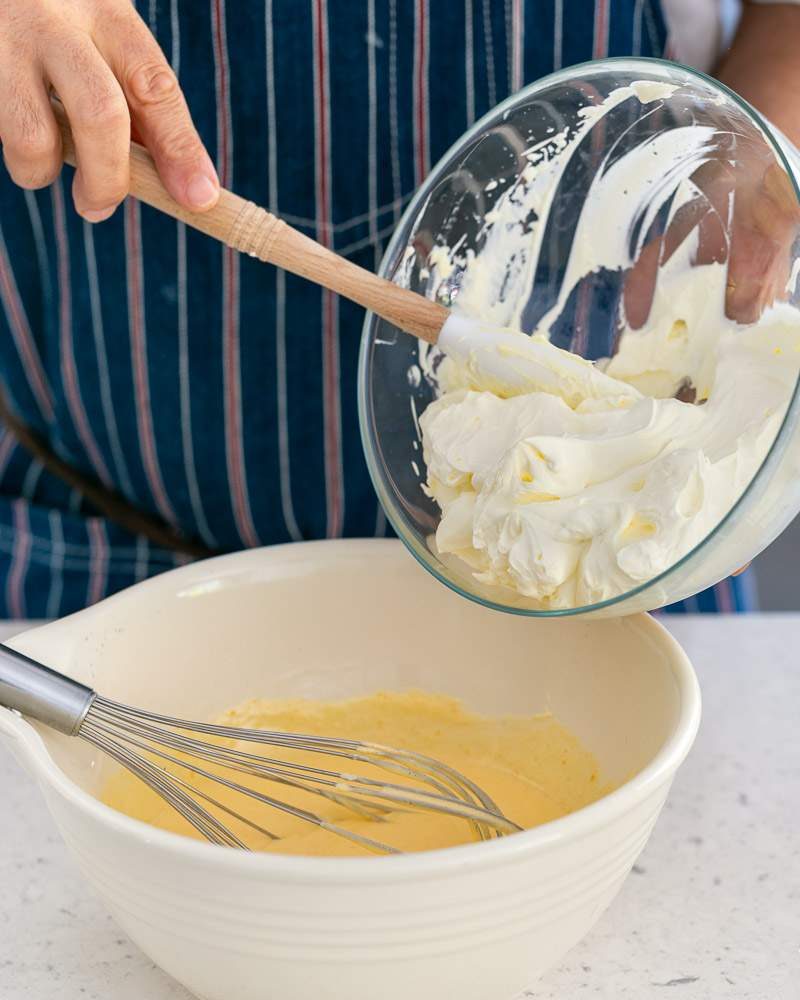 assembling the tiramisu
To assemble the Tiramisu, dip the ladyfingers in the coffee & kahlua mixture. Don't leave the fingers in it for too long, otherwise they will fall apart.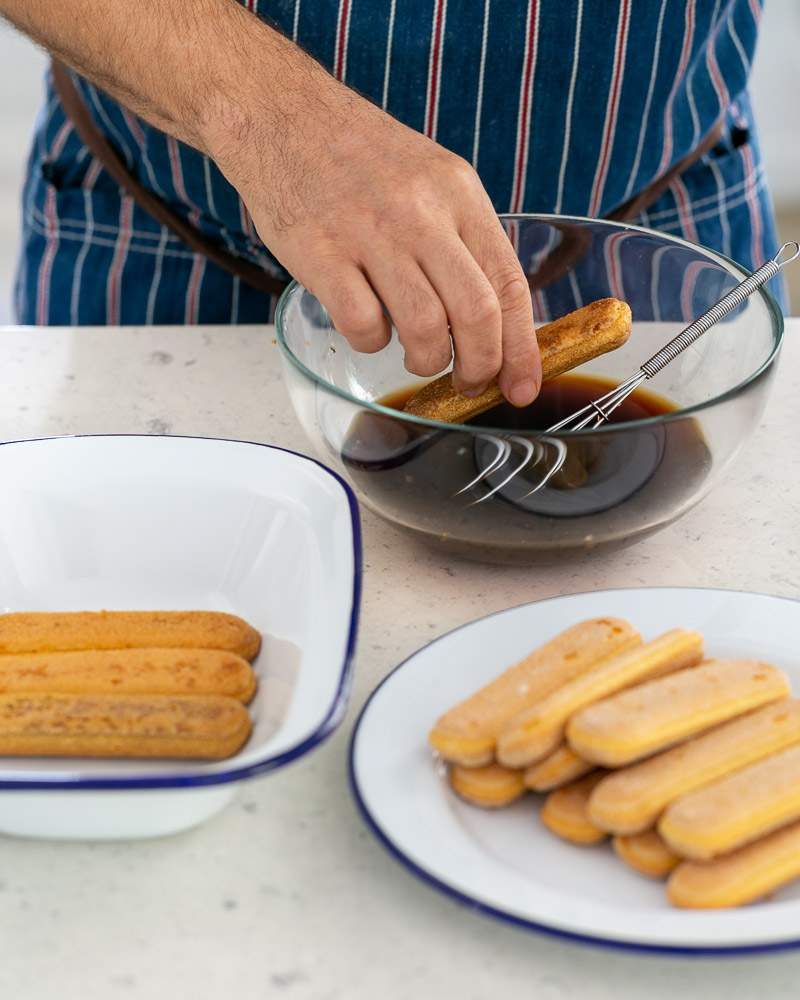 Start layering your Tiramisu dish with the ladyfingers. Cover it with a layer of the mascarpone mixture and spread evenly. Add the next layer of ladyfingers and repeat the process one more time.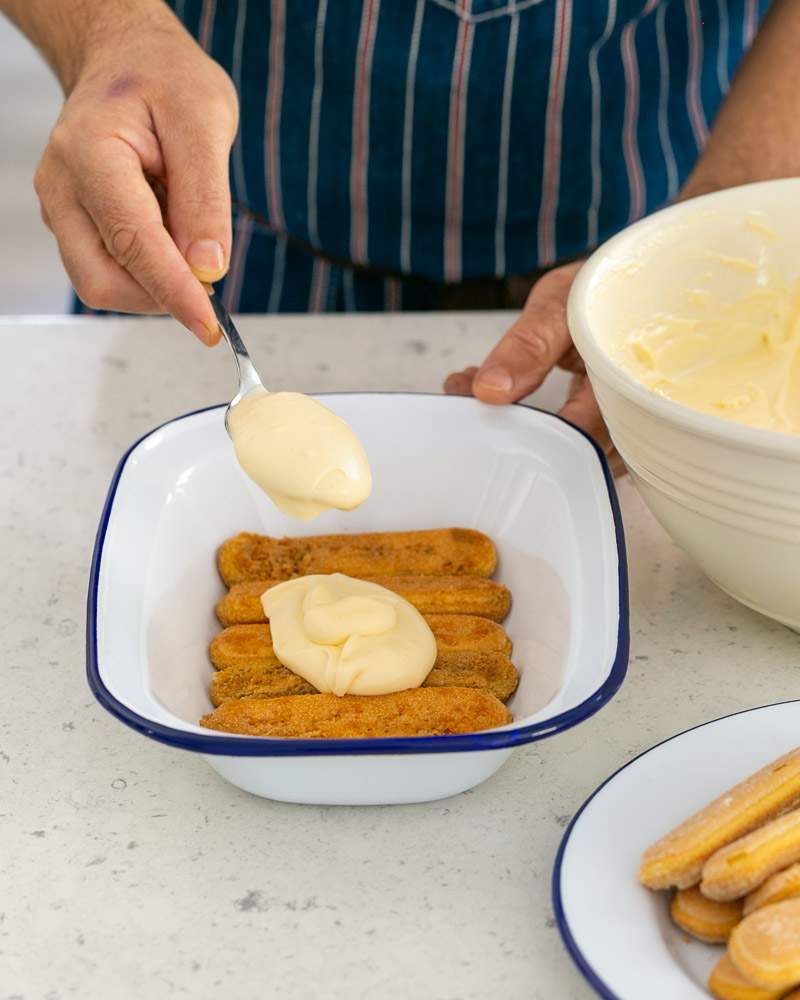 Cover the top layer of the mascarpone mix with cocoa powder or grated dark chocolate.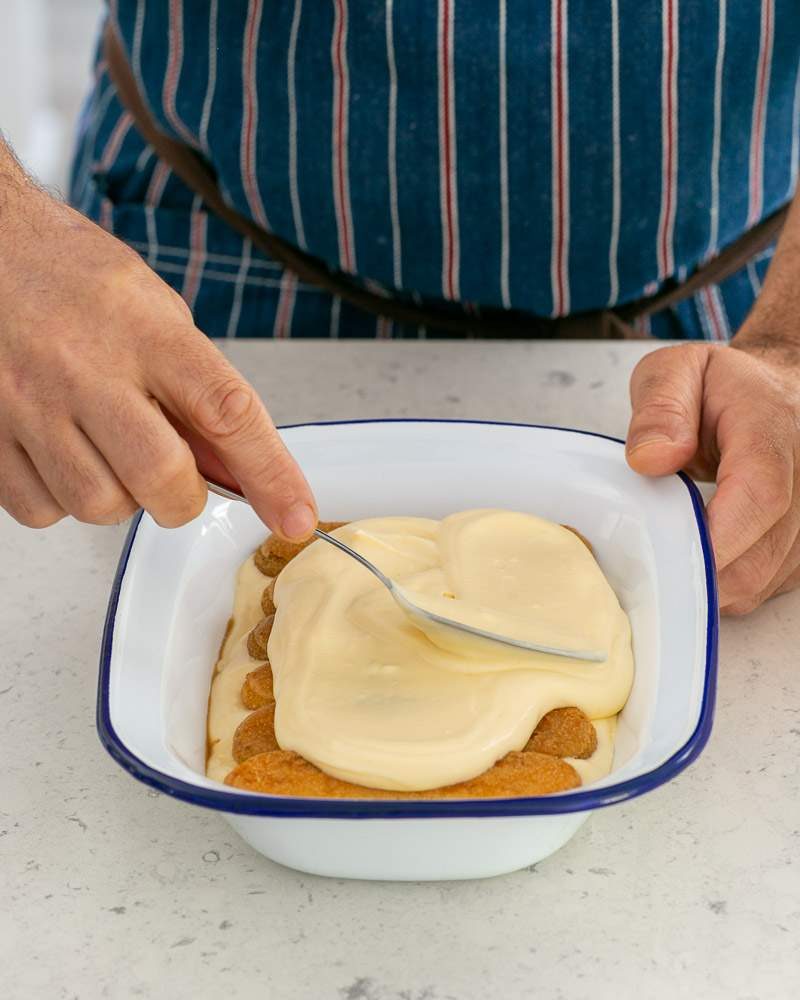 setting the tiramisu
Eccoci Qui! The tricky part now is to wait for at least 6 hours before eating the Tiramisu. I warn you, it will be super tempting to taste but don't give in and best you leave it overnight to set in the fridge.
Shilpi and I love this Tiramisu so much that many a times we have shamelessly eaten it for breakfast!!! It's no secret that Tiramisu tastes better the next day so again, try not to eat it right away!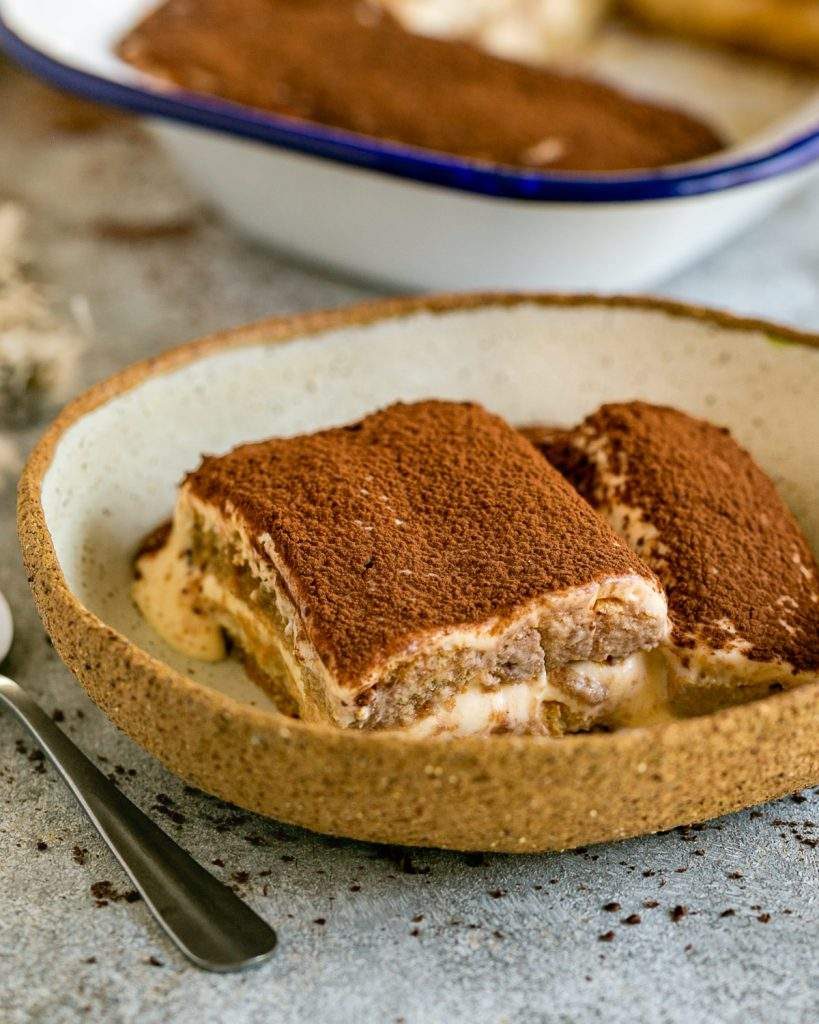 Another great way of serving this tiramisu is as individual portions in a glass. Just like you layer the tiramisu in a pan, layer the same way in a glass and leave to set overnight in the fridge.
Before serving, add cocoa powder or grated chocolate on the top. For more glass dessert ideas take a look at our Dessert section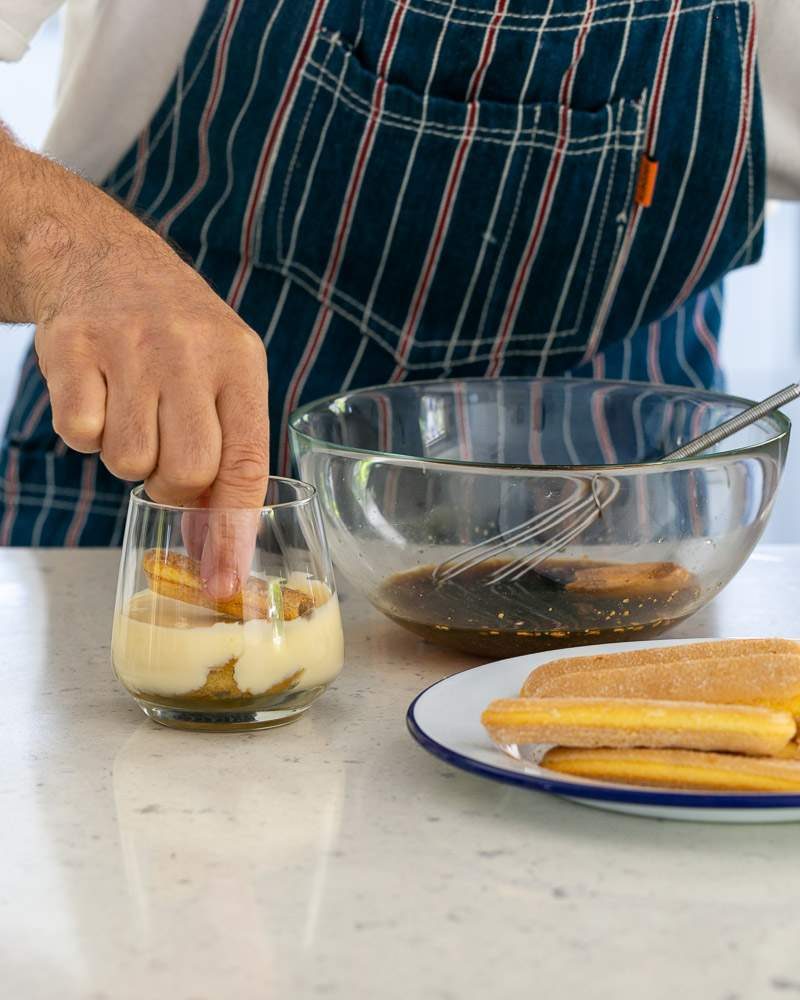 FAQ's
how long can I store tiramisu
Well, even though it has raw eggs, you can keep this Tiramisu in the fridge for 5 days max (we have tried and tested it!!).

Once I doubled the recipe and made too much Tiramisu (I know..too much Tiramisu?? is that even a thing lol) which had us eating dessert after each meal for the rest of the week so we know it can last that long! In normal circumstances though, I very much doubt this Tiramisu will last any longer than a day in your house😉
can I make tiramisu ahead of time
Yes, in fact tiramisu tastes better the next day as the flavours start to blend in. Setting the tiramisu overnight will lead to a better result.
can you make tiramisu without alcohol
Yes you can. Leave out the kahlua and simply replace with more coffee. Adding more coffee to the tiramisu will make it stronger which is better in my books!
If you enjoyed making this authentic Italian Tiramisu Recipe, then you will also enjoy making our pina colada panna cotta, baked ricotta cheesecake or even this French inspired ile flottante!
We would of course love to hear from you so do leave us a comment telling us about your experience making these desserts!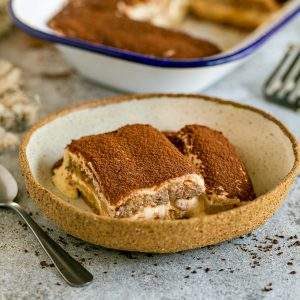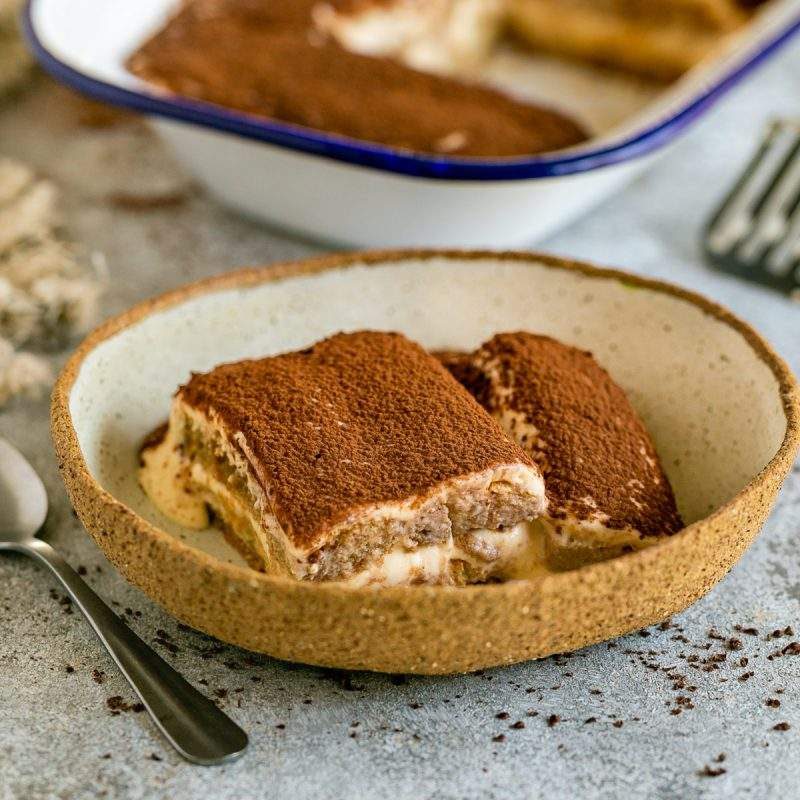 Authentic Italian Tiramisu Recipe
An authentic Tiramisu recipe as you would expect at your favourite local Italian diner.
Equipment
electric mixer or kitchen aid

whisk

mixing bowls

small pot

large baking dish or glasses
Ingredients
6

large eggs

140

g

white sugar

300

ml

heavy whipping cream

250

g

mascarpone cheese

20

ladyfingers

200

ml

coffee

150

ml

kahlua

100

g

cocoa powder or dark chocolate slab
Instructions
In a stainless steel bowl combine egg yolks and sugar to whisk over a bain-marie ( a pot with simmering water). Whisk continuously until the egg mixture becomes thick and fluffy. This should take no longer than 10 minutes. Set aside to cool at room temperature.

Using an electric mixer, whip the cream in a separate bowl until it's stiff.

Add the mascarpone to the whipped egg yolks, mix using a whisk until well combined.

Next, gently fold the whipped cream into the mascarpone mixture and set aside.

Combine the cold coffee and kahlua. Dip the ladyfingers in the coffee-kahlua mixture no longer than 2 seconds. Arrange a layer of ladyfingers on the bottom of a dish or divide into individual portion size ramekins.

Cover the ladyfingers with a layer of the mascarpone mixture and repeat the process with another layer of ladyfingers.

Add the final layer of mascarpone mixture and keep in the fridge to set.

Leave to set for at least 6 hours, though best results are overnight. Grate the dark chocolate with a fine grater over the set tiramisu before serving or dust with cocoa powder.
Nutrition
Nutrition Facts
Authentic Italian Tiramisu Recipe
Amount Per Serving (120 g)
Calories 590
Calories from Fat 270
% Daily Value*
Fat 30g46%
Cholesterol 292mg97%
Sodium 139mg6%
Carbohydrates 61g20%
Protein 12g24%
Vitamin A 1015IU20%
Vitamin C 1mg1%
Calcium 84mg8%
Iron 2mg11%
* Percent Daily Values are based on a 2000 calorie diet.