This incredible looking vegetarian appetizer is our version of paneer kofta with spinach sauce. Combining traditional Indian flavours with modern cooking makes this tasty paneer and potato dumplings with spinach sauce dish stand out.
We wanted to share our love for Indian food with this classic recipe for paneer and potato koftas with spinach curry sauce but with a modern twist! We use the word 'Modern' in a superficial sense, just meaning presenting food in an elegant and refined way to match our concept of making and presenting Restaurant Style meals at home.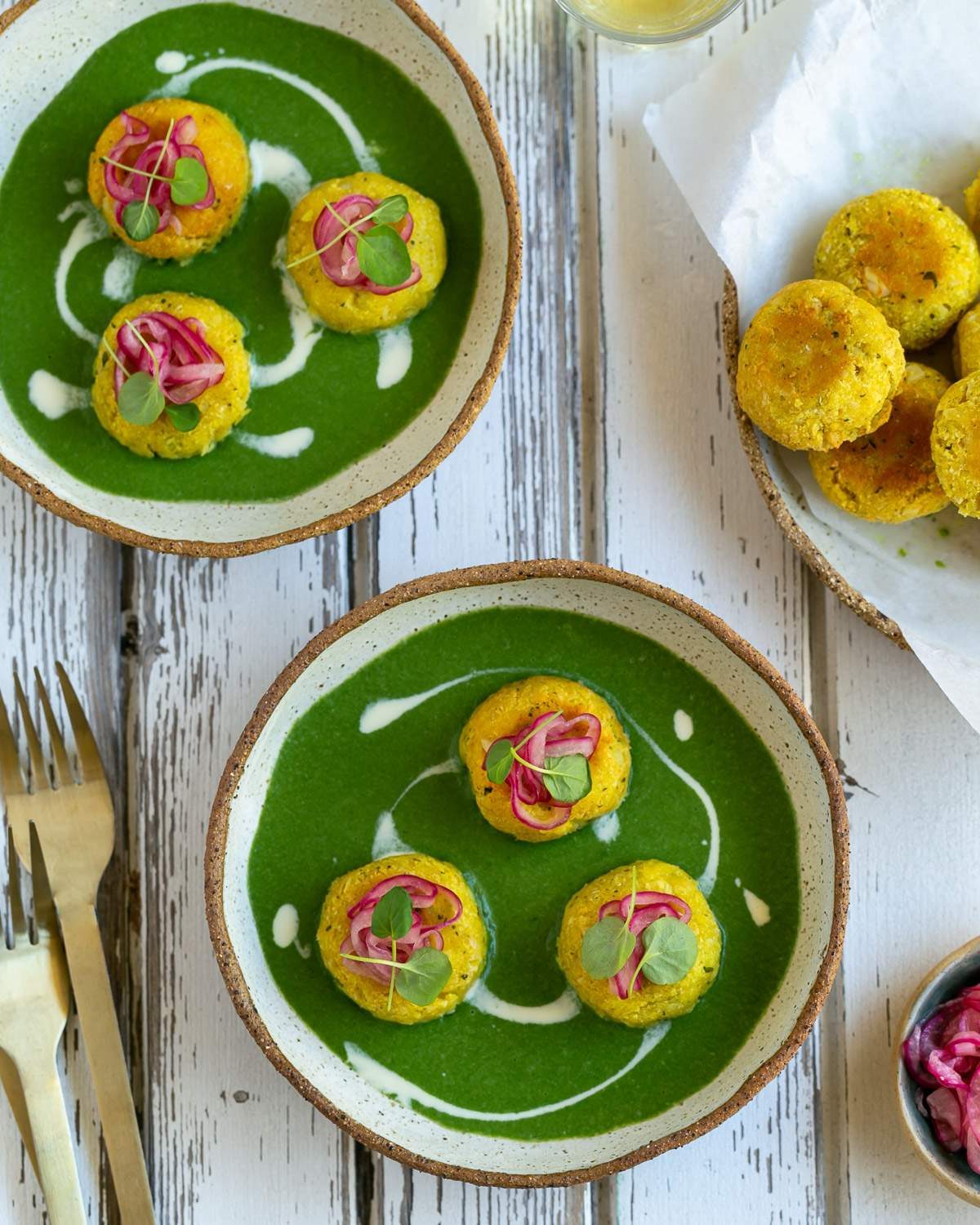 Shilpi & I put on our creative hats and came up with this exciting recipe for fluffy paneer and potato koftas, with a lightly creamed spinach sauce. We topped it with refreshing pickled red onions for texture and flavour and finished it with some crunchy cress leaves!
The dish turned out to be a stunner! Perfectly well balanced! We couldn't be happier with the outcome! So without any further ado, let's show you step by step how to make this ultimate vegetarian appetiser!
HOW TO MAKE PANEER AND POTATO DUMPLINGS WITH SPINACH SAUCE
First we need to work on the mixture for the paneer and potato dumplings. Ingredients are similar to that of an Indian kofta recipe, using paneer, potatoes and chickpea flour (besan).
Here is the list of all you need to make these dumplings:
Paneer (Indian cottage cheese) is the most important ingredient for this recipe. This cheese is a common ingredient in India and always of the highest quality, if not made at home. Having reached a point of frustration, buying hard and rubbery paneer from the store, we decided to make our own! Thanks to mum-in-law we have now mastered the art of how to make Indian Cottage Cheese paneer at home! We are absolutely loving the creaminess and milky taste of homemade paneer which in fact is perfect for this recipe!
Potatoes together with the paneer and chickpea flour, make the base for the dumplings. I used Dutch cream potatoes as they are great for mashing and easily available.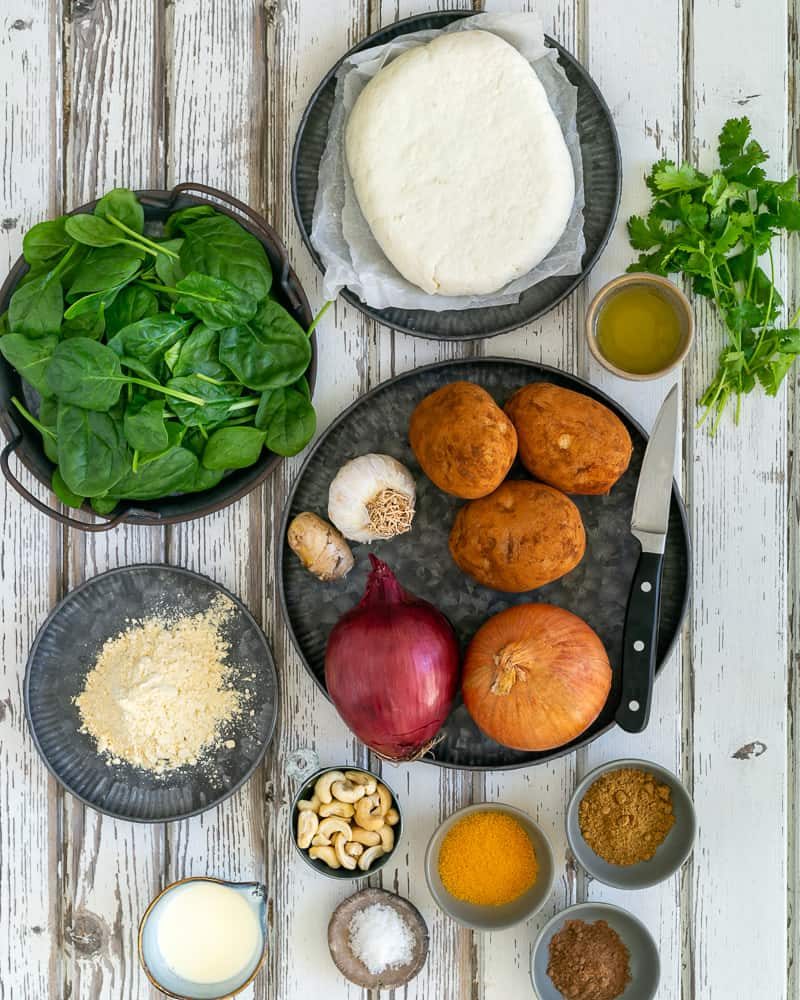 Chickpea flour or besan flour is made from ground chickpeas and is gluten free. While it is a common ingredient in India it might not be available everywhere. If you need to substitute chickpea flour with all purpose flour, use only half the amount in the recipe.
Freshly chopped ginger, garlic and coriander for taste.
Chopped cashew nuts for texture. These can be replaced with other nuts like almonds or pine nuts.
In addition to salt and pepper, we used Turmeric and garam masala powder to give flavour and colour to the dumplings. You can also add a bit of chilli powder, if you want to make it a bit spicy.
For deep frying we used sunflower Oil but you can use any oil that has a high smoking point like corn oil, canola oil for example
Making the dumplings (Koftas)
Making these dumplings is an easy process. Let's begin with boiling potatoes on the stove. Once they have cooked and cooled down a bit, you can peel them.
Next we grate paneer and potatoes (while still warm) and mix together with a spoon. The ratio between potatoes and paneer is 1:1.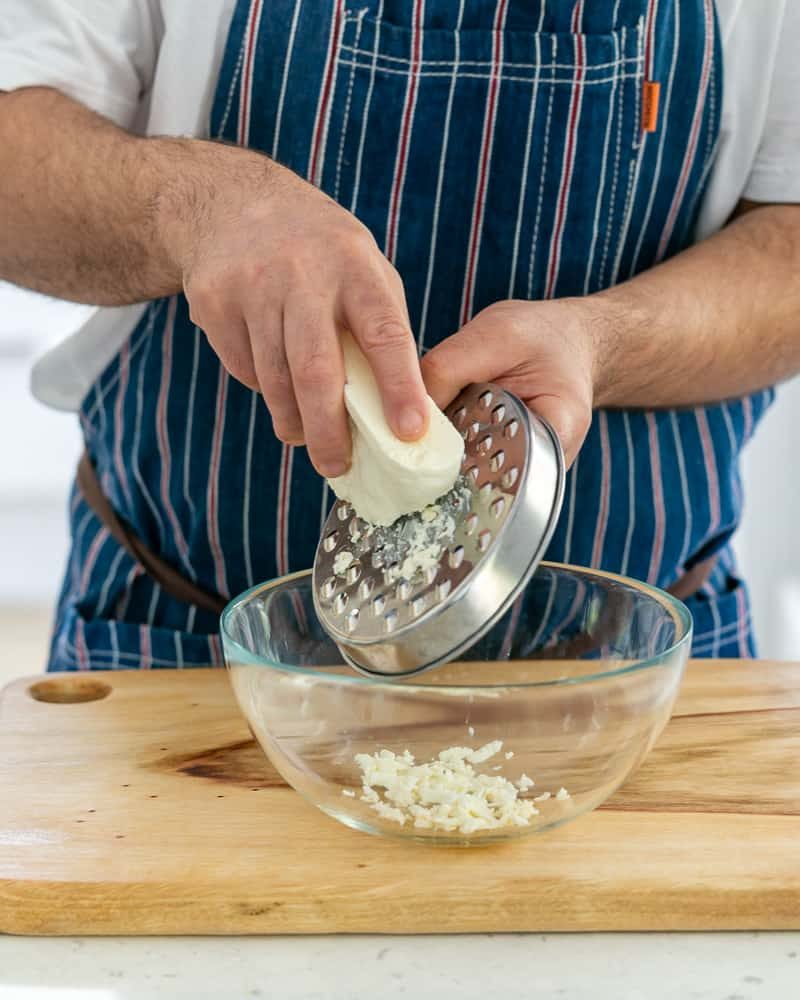 Then, goes in the Chickpea flour, chopped ginger, garlic, coriander, cashew nuts and all the spices. Again, mix all together with a spoon.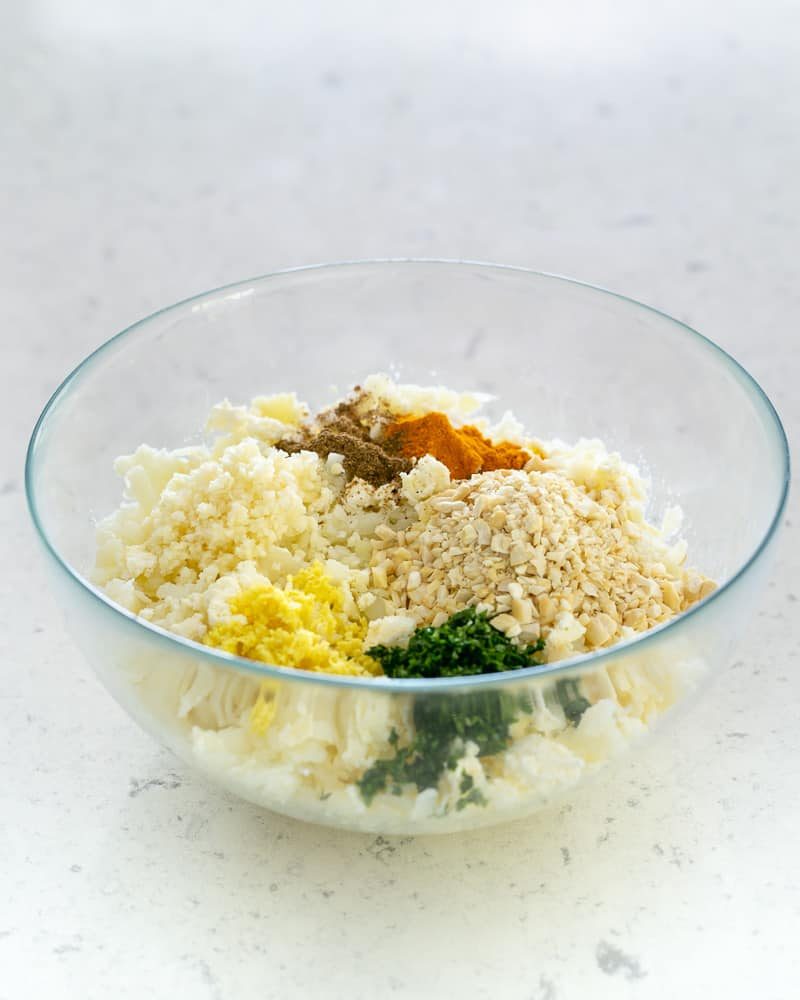 Now shape into small balls weighing 32g (1.1 oz) each using your hands.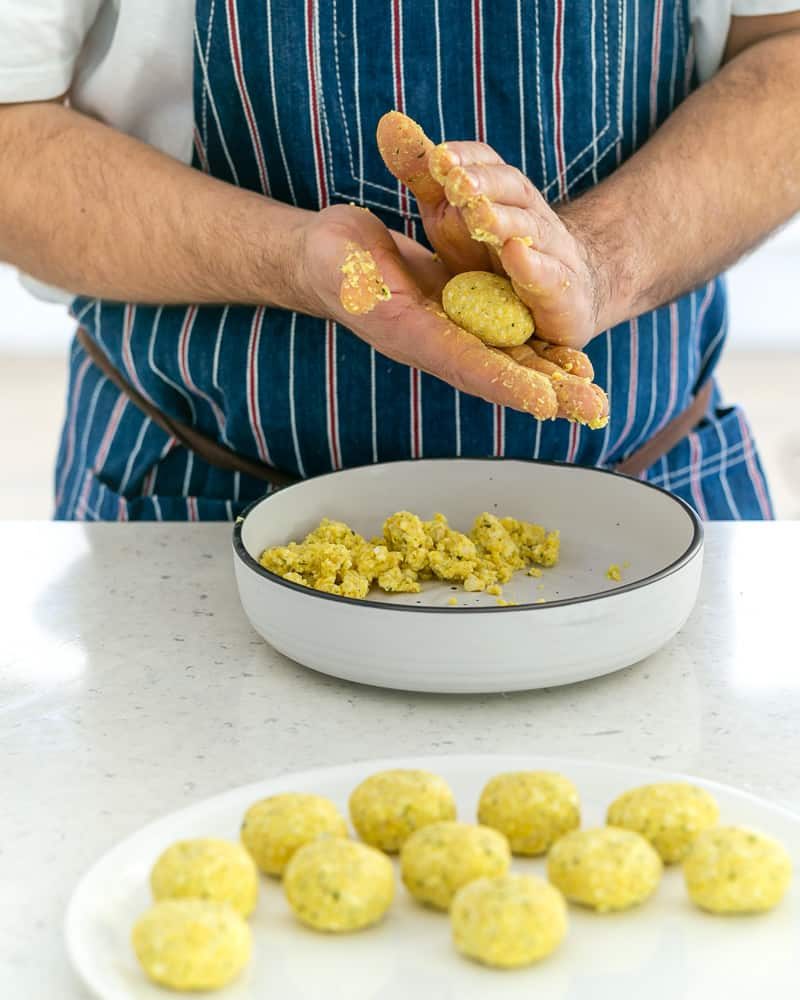 The dumplings are ready to be fried in 160-180°C (320-350°F) hot oil for about 6-8 minutes. Make sure you constantly keep moving them around with a slotted spoon so that they do not stick to the bottom and brown evenly.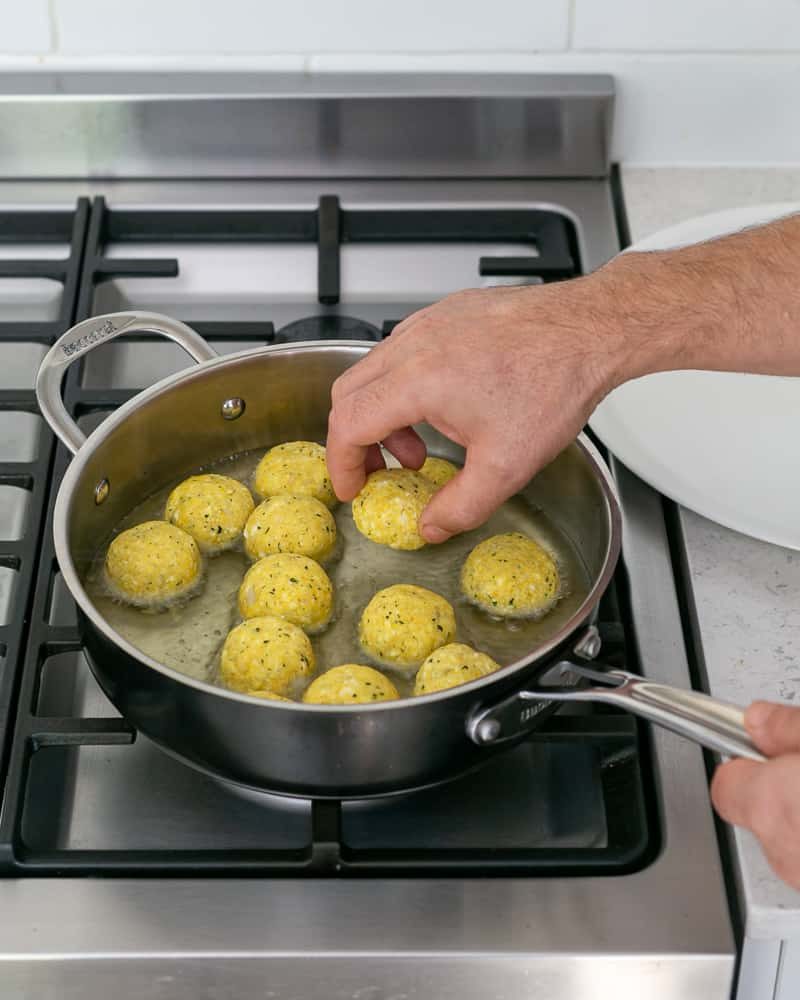 Once done, transfer the fried dumplings to a paper towel lined plate.
AS A NOTE: If you are making dumplings ahead of time, you can re-heat them in the oven before serving.
HOW TO MAKE QUICK PICKLED RED ONIONS?
This recipe for pickled red onions comes handy when you need a quick garnish and only have your usual pantry staples at hand.
Simply slice red onions with a kitchen mandoline or by hand. Mix in a bowl with sea salt, cover the bowl with cling film and keep in the fridge for 10 minutes.
When you take out the onions from the fridge, squeeze the onions in between your hands to drain excess water from the onions. Transfer the squeezed onions back to the bowl, add red wine vinegar and you are done!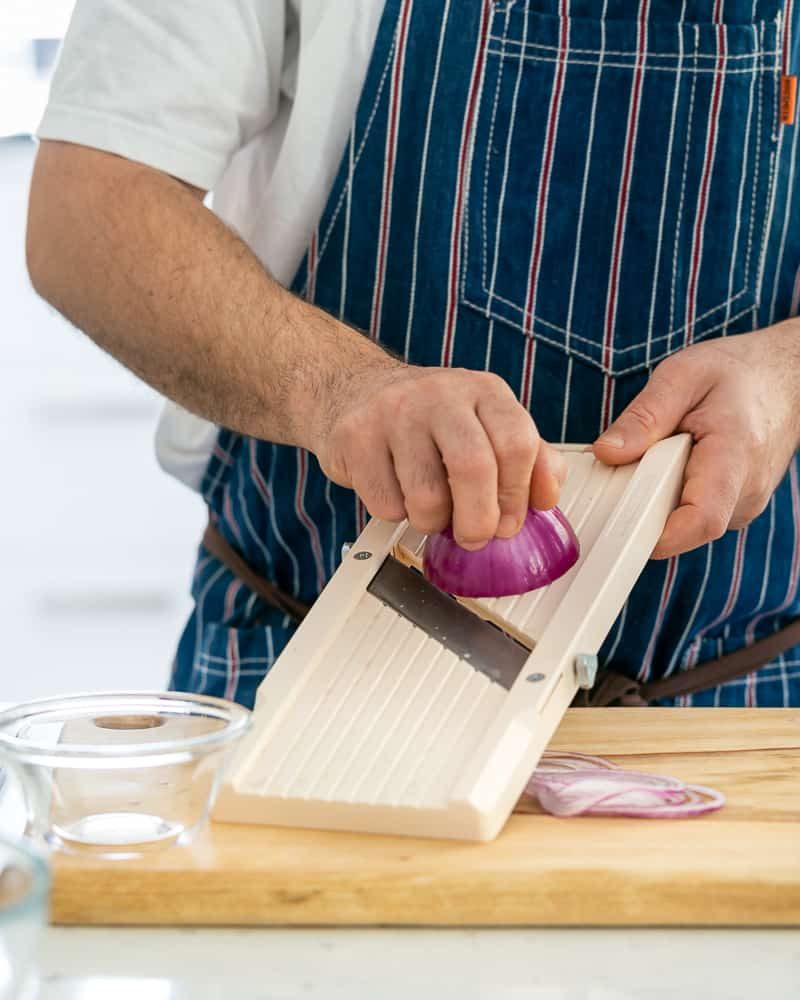 Needless to say the longer you keep them in the fridge, the better they will pickle but hey even with just 10 minutes these onions are so good!
Freshly made are the best, using them as a garnish gave the right amount of tanginess to the paneer and potato dumplings with spinach sauce.
AS A TIP: Use left over pickled red onions in your salad, sandwich or as a topping for your favourite curry. These pickled onions will last you for a good few months in the fridge!
Making the spinach sauce
This vibrant green spinach sauce is creamy and light with a soup like consistency. The ingredient list is simple; sliced brown onions, chopped garlic, vegetable stock, cream, baby spinach, salt and pepper for seasoning. Sounds like a classic French soup recipe doesn't it? I think it will be pretty delicious to eat on it's own too!
The onions and garlic are gently sautéed in olive oil for 4 minutes and then deglazed with vegetable stock. Bring to a boil before adding in the cream. Continue cooking until the the sauce has reduced to ⅔. Lastly add fresh spinach and cook for another 1-2 minutes.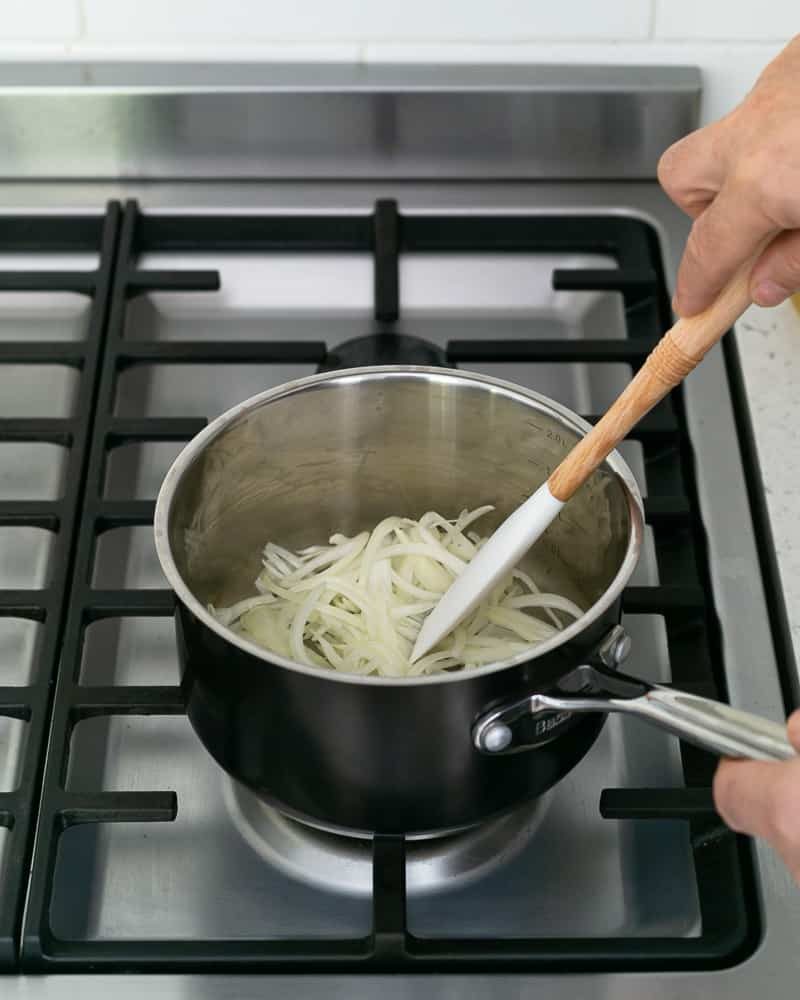 Take the pot off the heat and transfer the spinach sauce to a blender to turn it into a smooth sauce.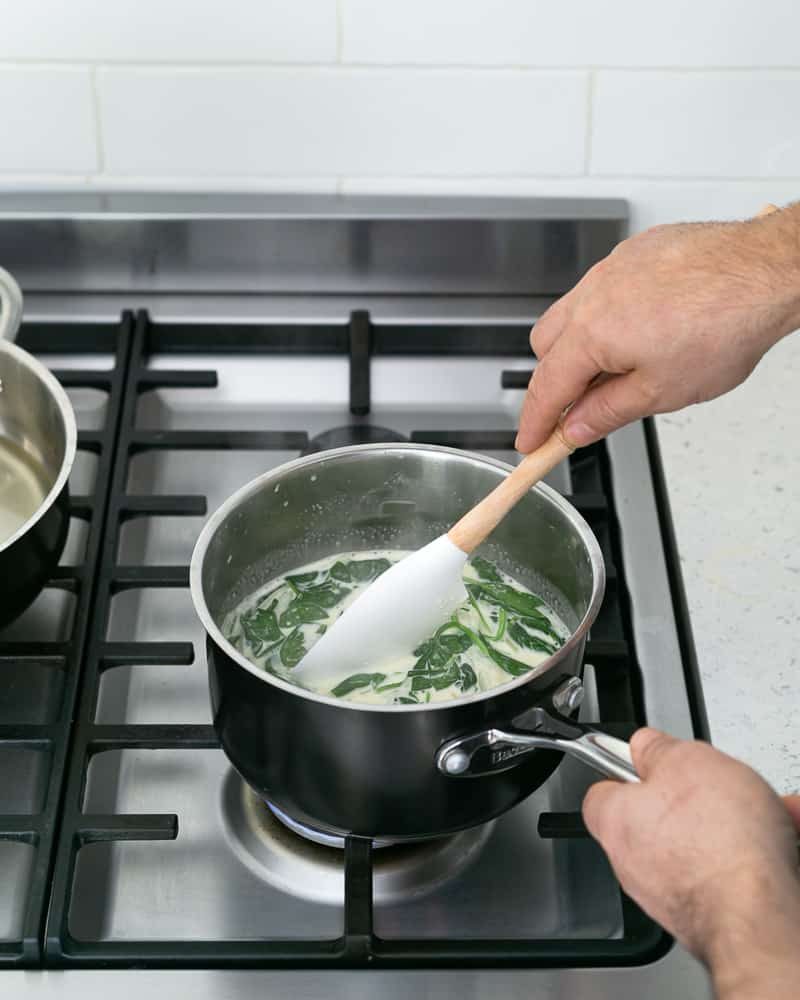 Serve immediately to not loose the stunning green colour. But if you are making the sauce ahead of time, then chill it uncovered in the fridge and when ready to serve, just reheat it as required.
AS A NOTE: If the soup turns out too thin, add any remaining leftover potatoes (from the dumpling recipe) for thickening it up. Just add into the blender and blitz it once more!
HOW TO PLATE UP PANEER AND POTATO DUMPLINGS WITH SPINACH SAUCE
To plate up the dish, use a wide soup or salad bowl which is not too deep. Presentation is key for this dish as you want all components to shine.
Start with the soup. Add a ladle of soup to the bottom of the plate. Add a swirl of cream to the dish (optional)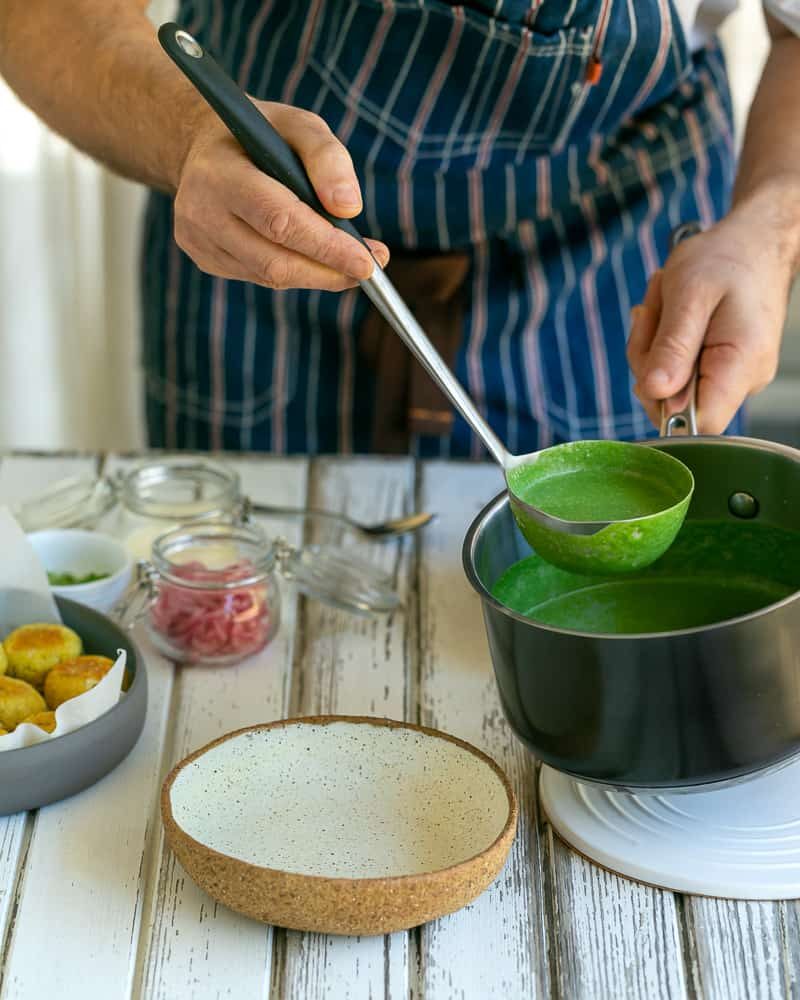 Place three fried paneer and potato dumplings in a triangle and garnish with the pickled red onions and cress leaves.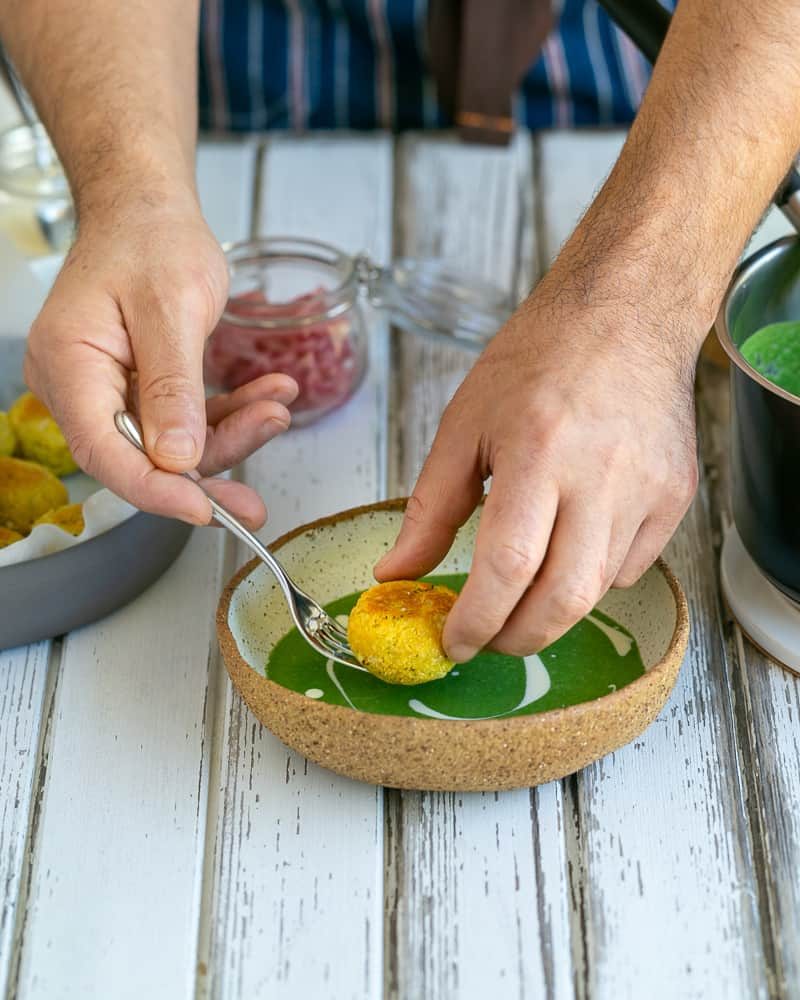 Serve immediately and place the remaining soup and dumplings on the table to share.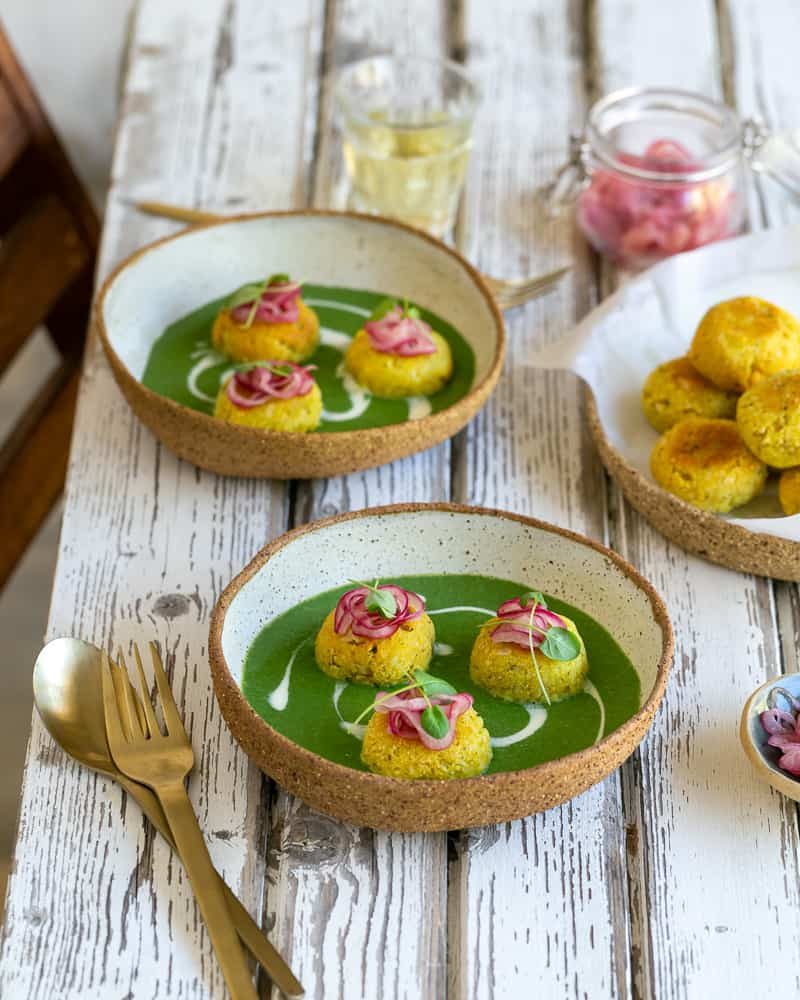 AS A NOTE: If you want to serve the appetizer hot, like in a restaurant, place the serving bowl in the oven for a few minutes before plating up. Use a napkin or kitchen towel to serve the hot bowls.
Whether you are throwing a party or treating your family and friends to a special meal, make your dinner the talk of the town by serving this delectable appetizer!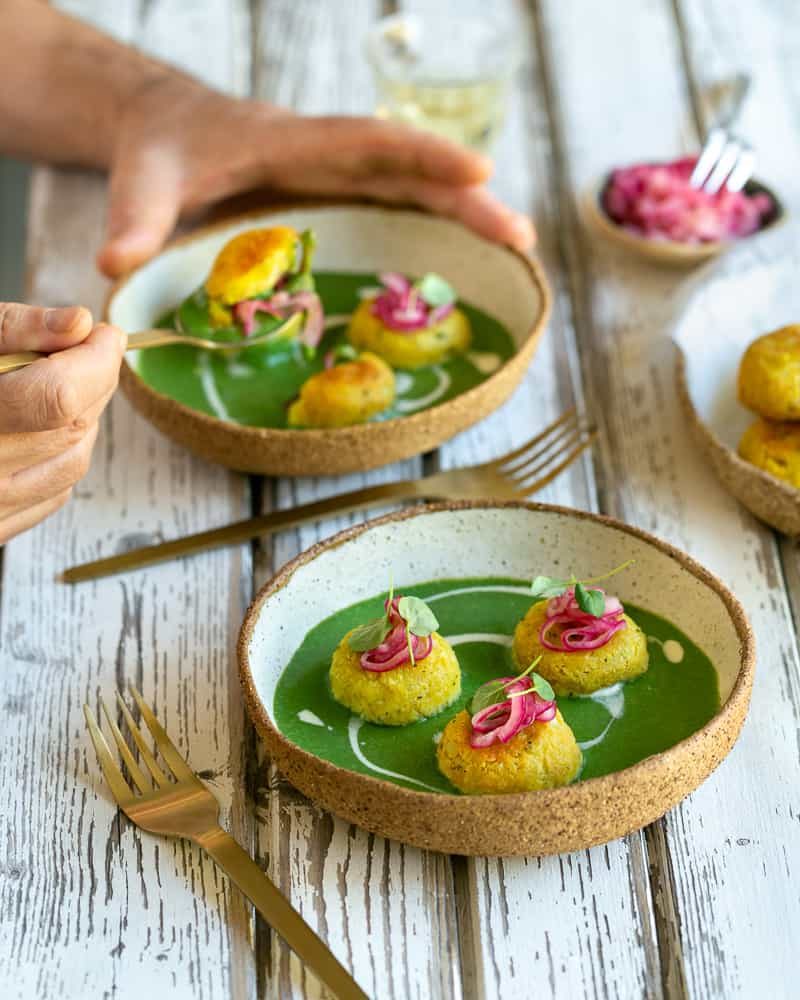 For more delicious recipes be sure to try our:
If you try this recipe for paneer and potato dumplings with spinach sauce (which we really hope you do!), tell us what you thought of it! Hearing back from you makes all this effort worthwhile😉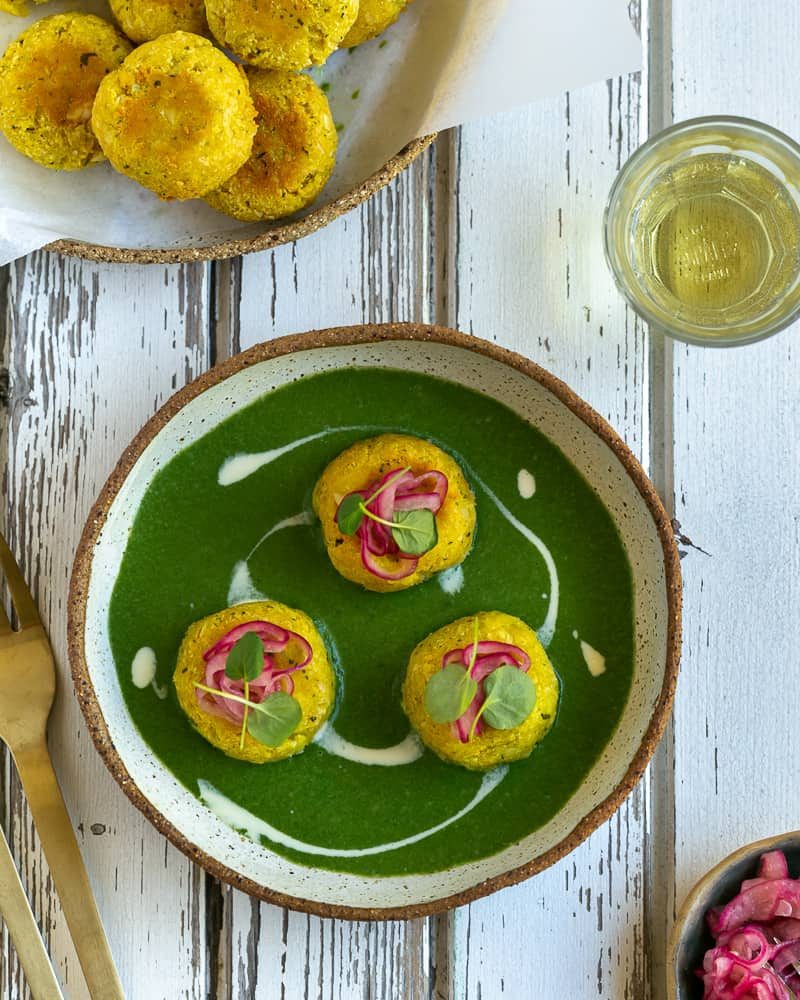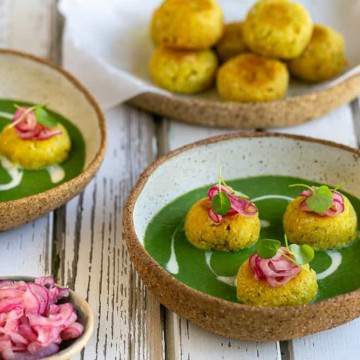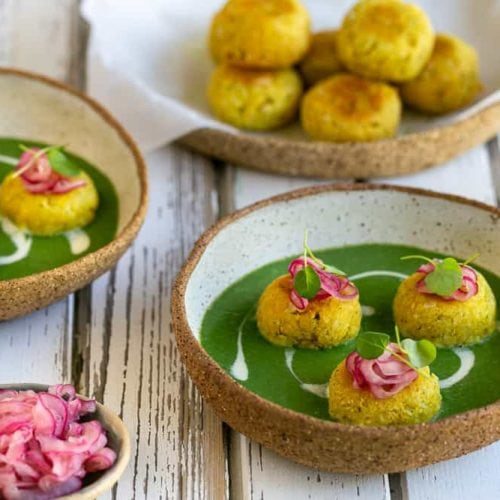 Paneer and Potato Dumplings with Spinach Sauce
This vegetarian appetizer is a new version of paneer kofta with spinach sauce. Combining traditional Indian flavours with modern cooking makes this tasty paneer and potato dumpling dish stand out.
Ingredients
for the potato and paneer dumplings
2-3

medium

potatoes

225

g

paneer (Indian cottage cheese)

1

tablespoon

ginger

peeled and chopped

1

tablespoon

garlic

peeled and chopped

1

tablespoon

coriander

chopped

2

tablespoon

cashew nuts

chopped

¼

teaspoon

garam masala powder

¼

teaspoon

turmeric powder

30

g

chickpea flour

225

ml

frying oil

salt and pepper to taste
for the spinach sauce
½

medium

brown onion

peeled and sliced

1

medium

garlic clove

peeled and sliced

200

g

spinach

250

ml

cream

300

ml

vegetable stock

1

tablespoon

olive oil

salt to taste
for the pickled red onions
½

medium

red onion

peeled

60

ml

red wine vinegar

1

tablespoon

sea salt
Instructions
for the paneer and potato dumplings
Cook the potatoes in boiling water until they are soft. Remove them from the water and set aside. Once they have cooled enough, peel the potatoes.

Use the kitchen grater to grate the paneer and potatoes. The ratio is 1:1, this recipe is based on 225g grated paneer and 225g grated potato, you can use any remaining potato for the spinach sauce.

In a bowl combine the grated paneer, grated potato, chopped ginger, chopped garlic, chopped coriander, chopped cashew nuts, garam masala powder, turmeric powder and chickpea flour.

Combine well and season with salt. Roll small balls weighing about 32g (1.2 oz) each. You should get 12-14 pieces out of this recipe.

Heat the oil in a wide pan to 160-180°C (320-350°F). If you don't have a thermometer, add 1 paneer dumpling to the oil for testing. If the dumpling starts frying and sizzling the oil is hot enough

Cook the dumplings for 8-10 minutes or until golden brown from the outside and cooked in the middle. Place them on a plate lined with a kitchen towel.
for the spinach sauce
In a medium size sauce pot heat the olive oil. Add the onion and garlic and cook gently on medium heat for about 4 minutes without giving any colour.

Deglaze with the vegetable stock. Add the cream and bring to a boil.

Reduce the sauce to ⅔ and add the spinach.

Cook the spinach for just 1-2 minutes. Season with salt.

Mix the sauce in a kitchen blender into a fine soup like consistency. If the sauce seems to thin, add any remaining potato pulp and mix again.

Serve the sauce immediately or cool down and keep in the fridge.
for the pickled red onions
Slice the onions on a kitchen mandoline or with a sharp knife.

In a bowl combine the onions with salt and leave in the fridge for at least 10 minutes.

Squeeze any remaining water from the onions and add the red wine vinegar.

The onions are ready to use but taste even better, if pickled for longer.