This breakfast recipe for soft poached eggs on a toasted sourdough slice with crushed avocado, ricotta and a spiced dukkah is delicious and healthy. If you are planning a Sunday brunch for the family, try our version of this popular brekkie worth getting out of bed for.
I usually don't eat breakfast at work. Just a bowl of cereal or a banana at the most. Though I can't say the same about coffee 😁 I need at least 2 cups of coffee to start my day and even more at times to keep me going!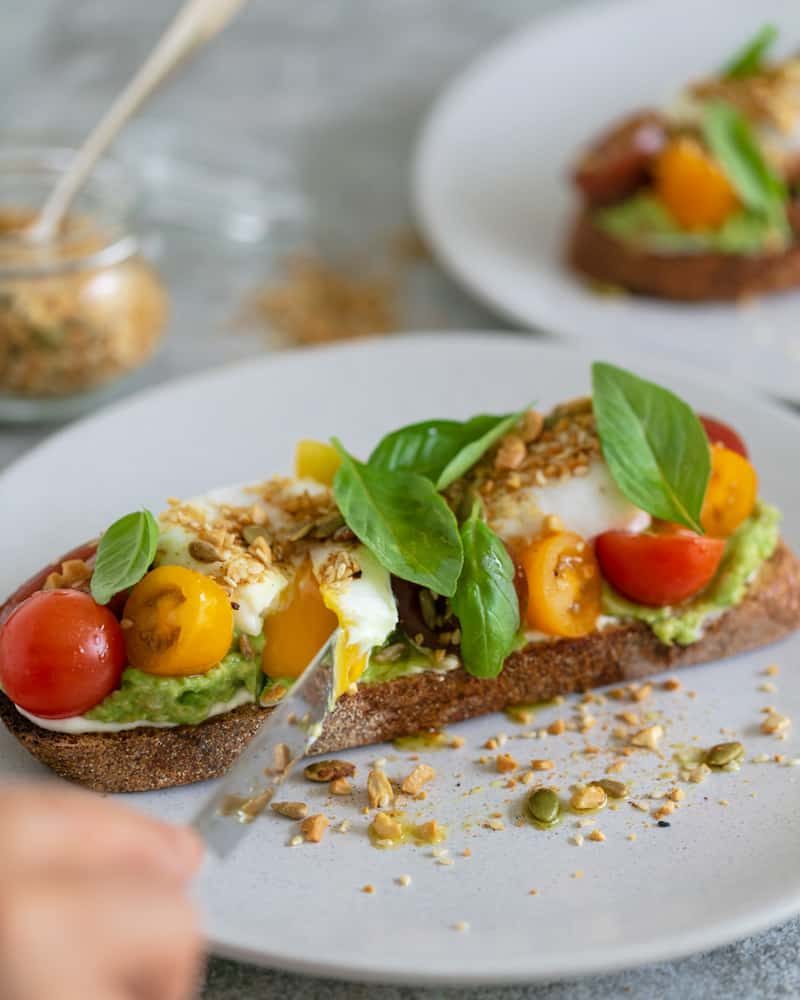 Things are different on my day off however. I love to get up early and whip up a fancy breakfast at home for the family.
I love cooking early morning in the kitchen and setting the table for breakfast, before my family wakes up. They too deserve a special breakfast once in a while🤗
In Australia, breakfast is a thing! Its a known fact that you get to eat some of the best breakfast dishes in Australia! Every cafe and Restaurant is busy for breakfast be it a weekday or weekend.

One dish I discovered only after moving here, was Poached Eggs with Avocado on Sourdough or Smashed Avo on toast as the Aussies like to call it.
There are so many versions of it but my favorite is got to be with Poached Eggs. This dish is also on my Restaurant menu and it is definitely one of the most popular breakfast item.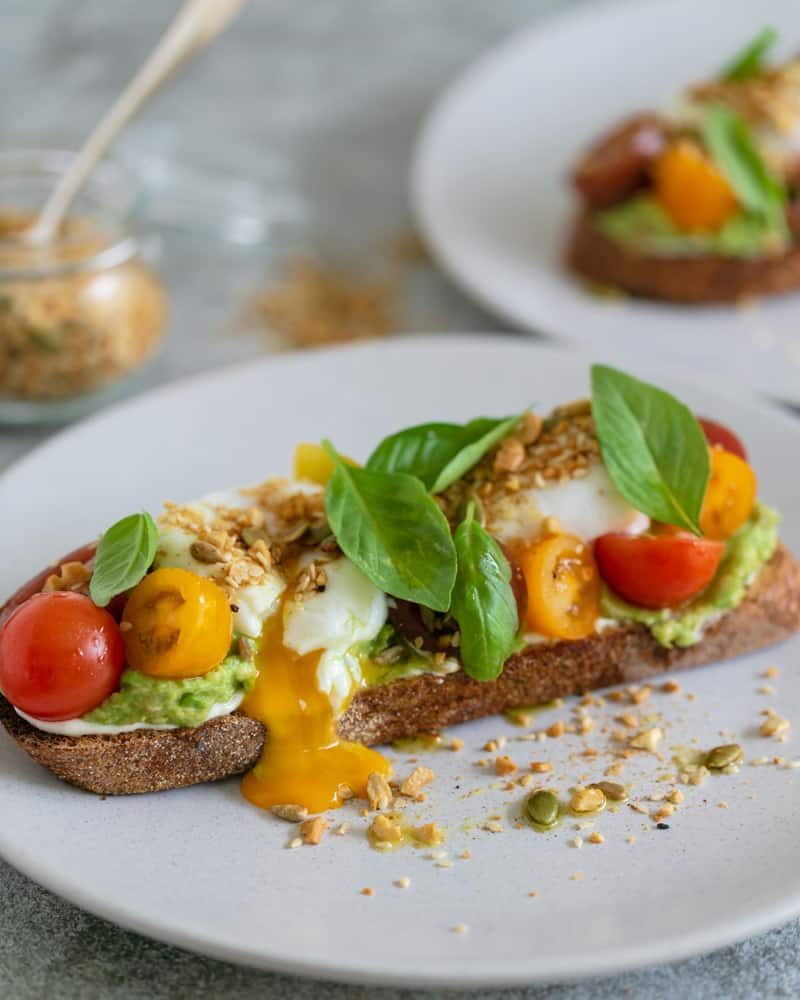 The version we have made today for this recipe, is with Ricotta and Dukkah, simple, flavorful and so easy to make.
What is Dukkah?
Dukkah is an Egyptian blend of toasted nuts, seeds and spices. There are many varieties of Dukkah - some spicy, some mild, there is no right or wrong.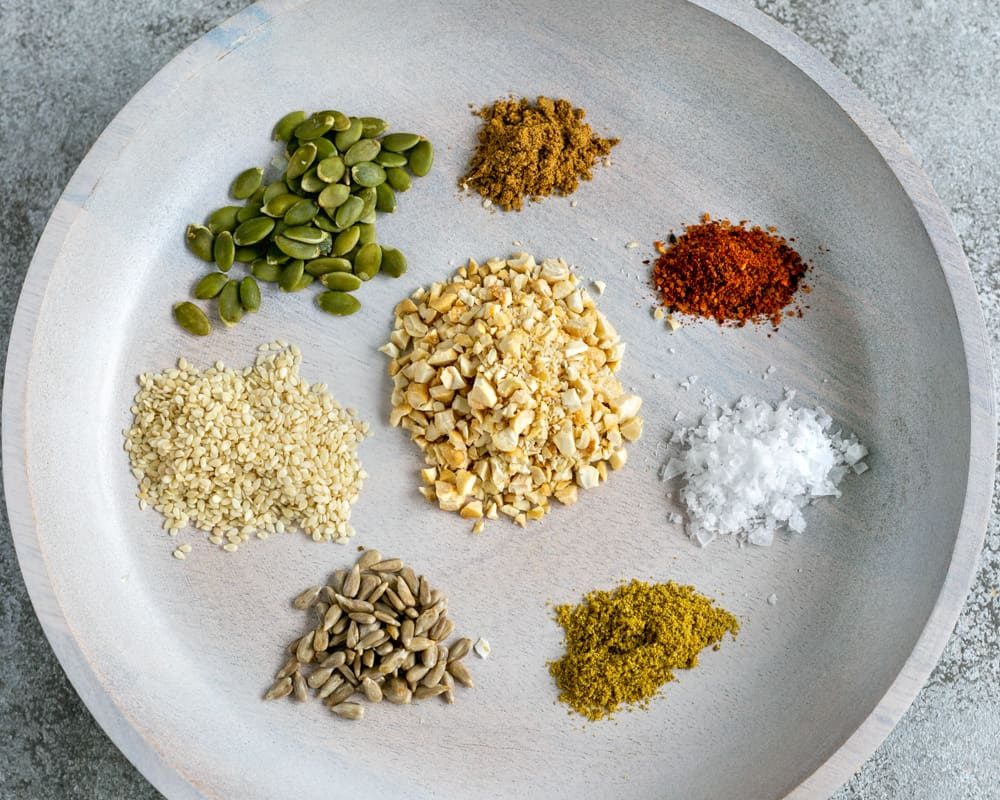 Dukkah is like a seasoning, it is great for salads, soups, grilled meat, fish and vegetarian dishes. Packed with flavor when made fresh, it has the ability to transform the most boring dish into something exciting!
How to Make Dukkah
The process of making Dukkah is very simple.
We are using a mix of nuts, seeds and some spices. If you are making a small portion then you can chop the ingredients by hand but if making a larger batch then best to use a blender.
For the Dukkah in this recipe, I have used ingredients suitable for breakfast, like Pepitas and sunflower seeds. Loaded with vitamins and minerals, these are great additions to the first and most important meal of the day! When toasted with chopped cashew nuts and sesame seeds, they make a tasty combo.
I also used Cumin powder, Coriander powder and a bit Togarashi chili to give the Dukkah a mild kick. Add some sea salt and just toss it all together in a hot pan for 3-4 minutes.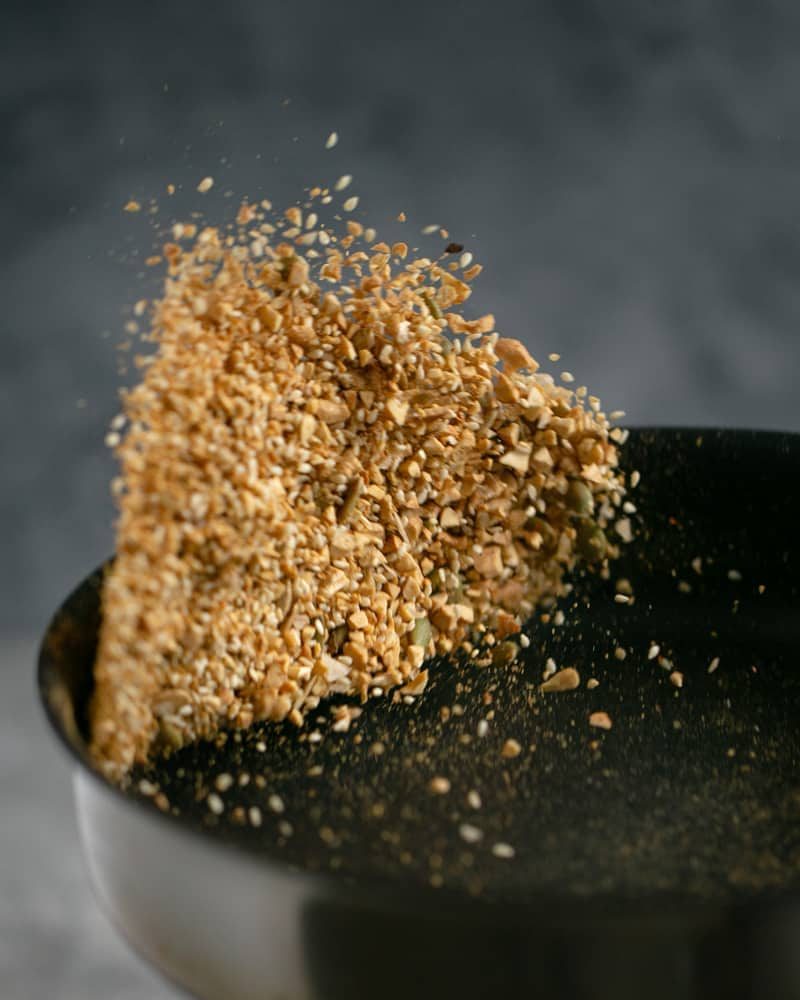 Tip: The best thing about Dukkah is, if stored in a air tight container, it stays fresh for a good week or two.
How to Poach Eggs
Poaching eggs can be a frustrating exercise but don't give up! Practice, Practice, Practice.
At work we have a trick to cook poached eggs😉 We pre-cook the eggs in their shell at 63 degrees in a steamer. Doing so ensures all eggs look the same and are perfectly cooked. At home I don't have a steamer so I use the swirling method.
What is the Swirling Method?
Bring a deep pot of water to boil and add a spoon of white vinegar. Reduce the heat to low and using a whisk, swirl the water.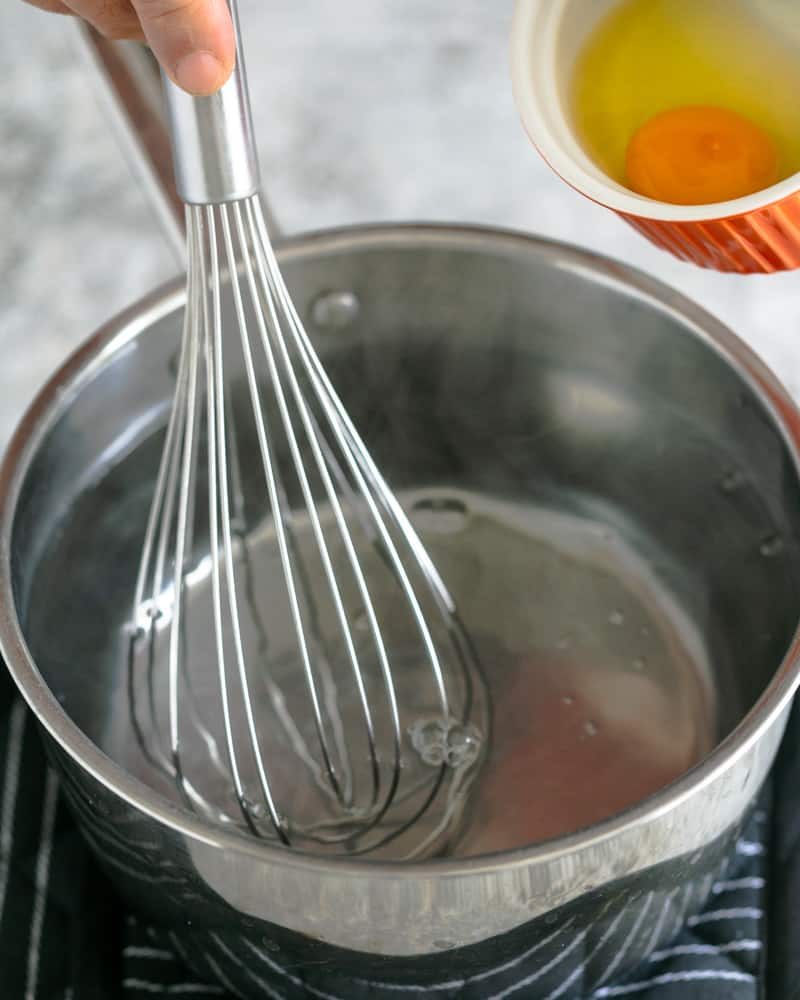 Next, crack the egg into a bowl or ramekin. Pour the egg out of the bowl/ramekin into the swirling water. That way the whites swirl around the yolk and the egg takes a nice shape. Once the egg has cooked for about 3-4 minutes, place it carefully in a bowl of ice cold water.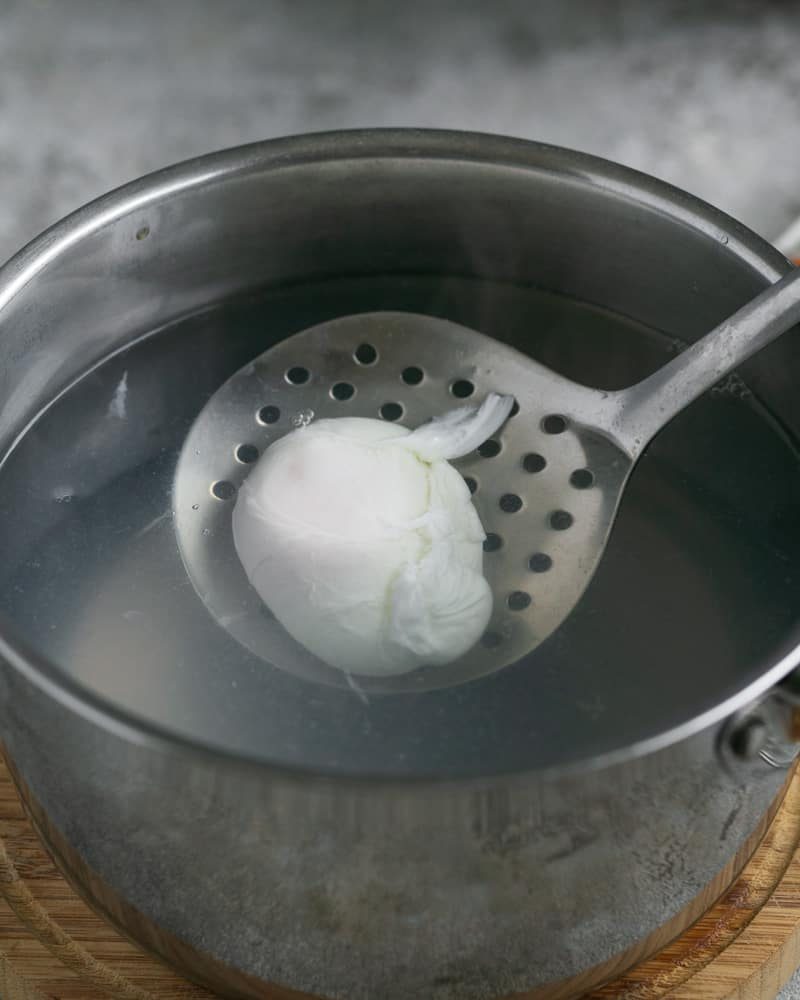 After you have poached four nice eggs, then start preparing the rest of the breakfast dish.
Tip: When everything is ready to be assembled, heat the eggs up in hot, salted water for a few minutes and drain them on to a kitchen towel until ready to plate up.
How to plate up a cafe style breakfast at home?
Follow our step by step plating idea to put together your very own cafe style brekkie at home! Just make sure all your ingredients are ready before hand and your poached eggs on sourdough with avocado is ready in minutes.
Bread: sourdough, rye bread or spelt bread are good options when you have a lot of toppings, alternatively serve it on spelt bread. Cut the sourdough into nice thick slices and then pop them into a toaster.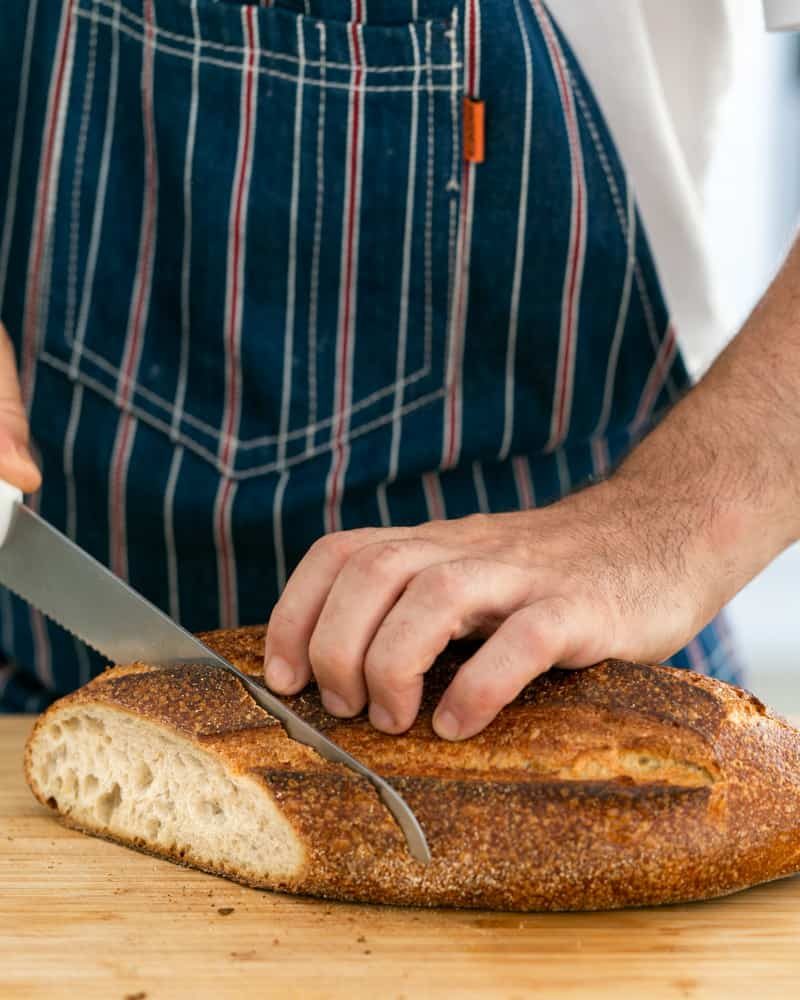 Ricotta: A lighter alternative to heavier creams and cheeses, it has a smooth, creamy consistency which makes it ideal as a spread. Alternatively you can use crumbled Fetta cheese as a topping too. Or why not make your own?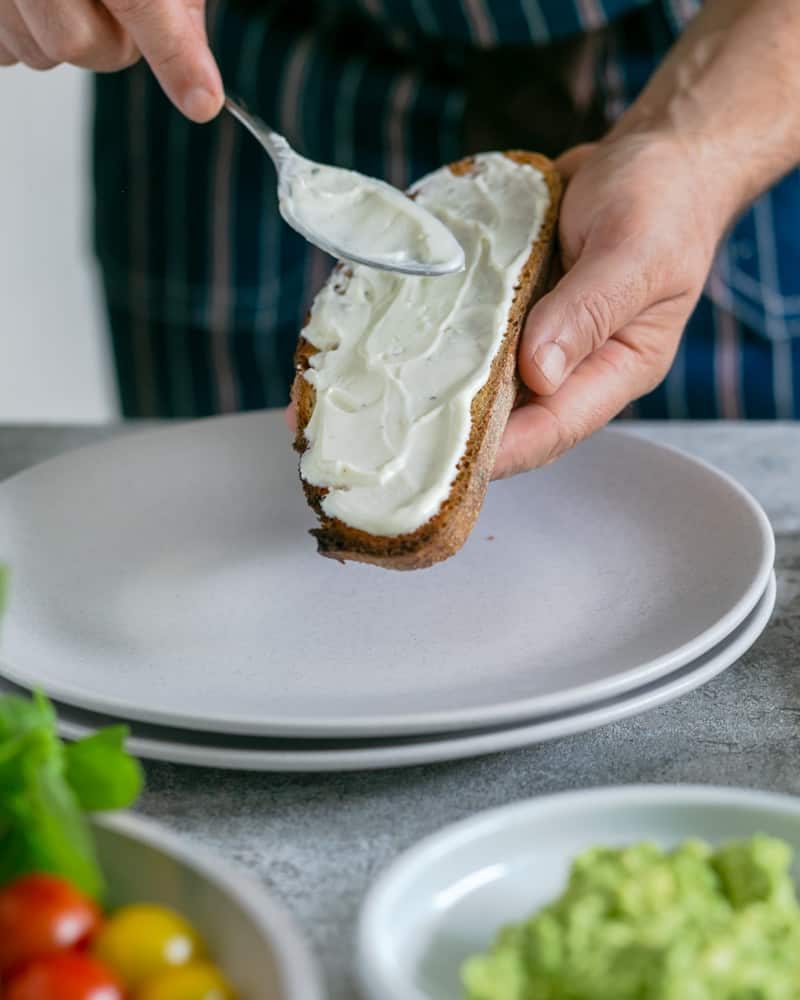 Avocados: You can use any type of Avocado but we prefer the Hass variety as these are readily available here in Australia. Just make sure your avocados are ripe and firm.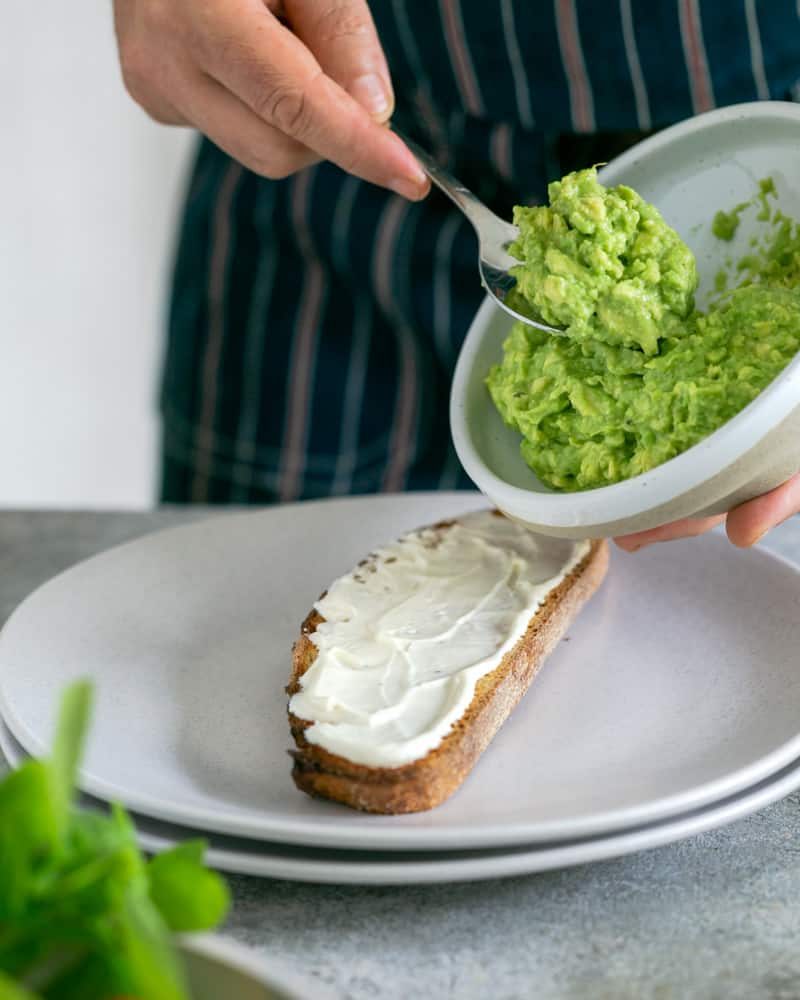 Lemon/Lime juice: Citric acid in lemon/lime juice is a strong antioxidant that dramatically slows down the browning process. Once you have crushed the avocados, add a generous amount of lemon/lime juice.
Eggs: I love my poached eggs but Shilpi cannot stand the yolk. So feel free to opt instead for a fried egg or scrambled eggs or for a vegan option, just completely skip the eggs (and the Ricotta)!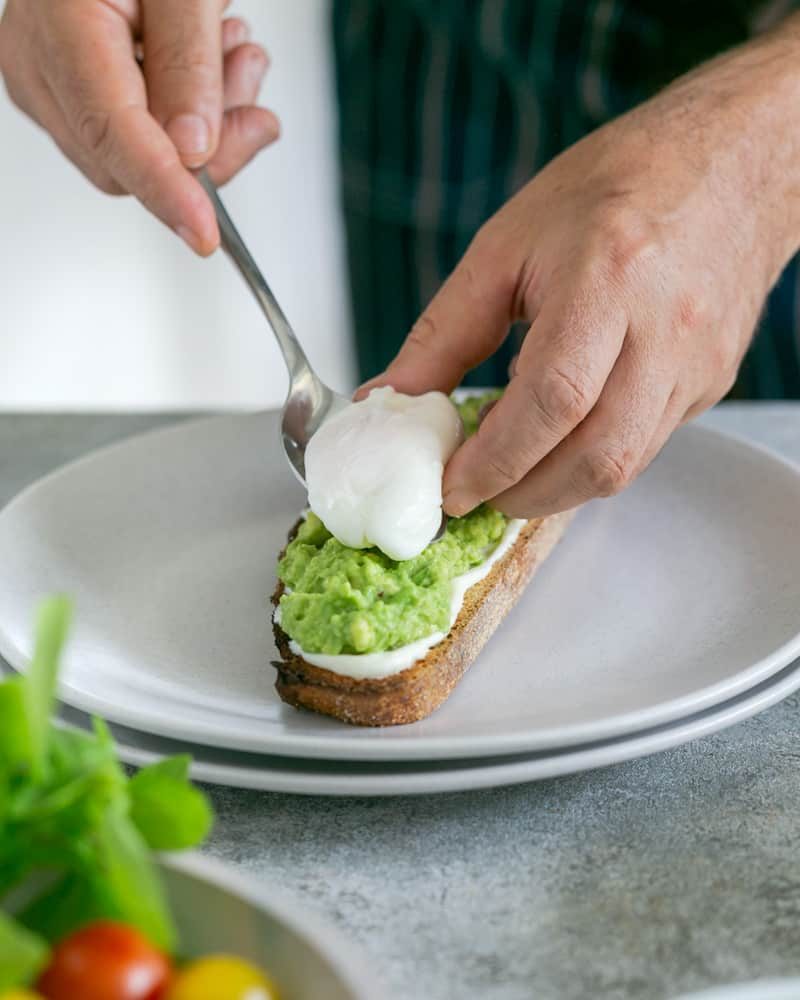 Tomatoes: I prefer to use mixed medley tomatoes as the different colors makes this dish look vibrant and colorful! If unavailable you can use regular cherry tomatoes.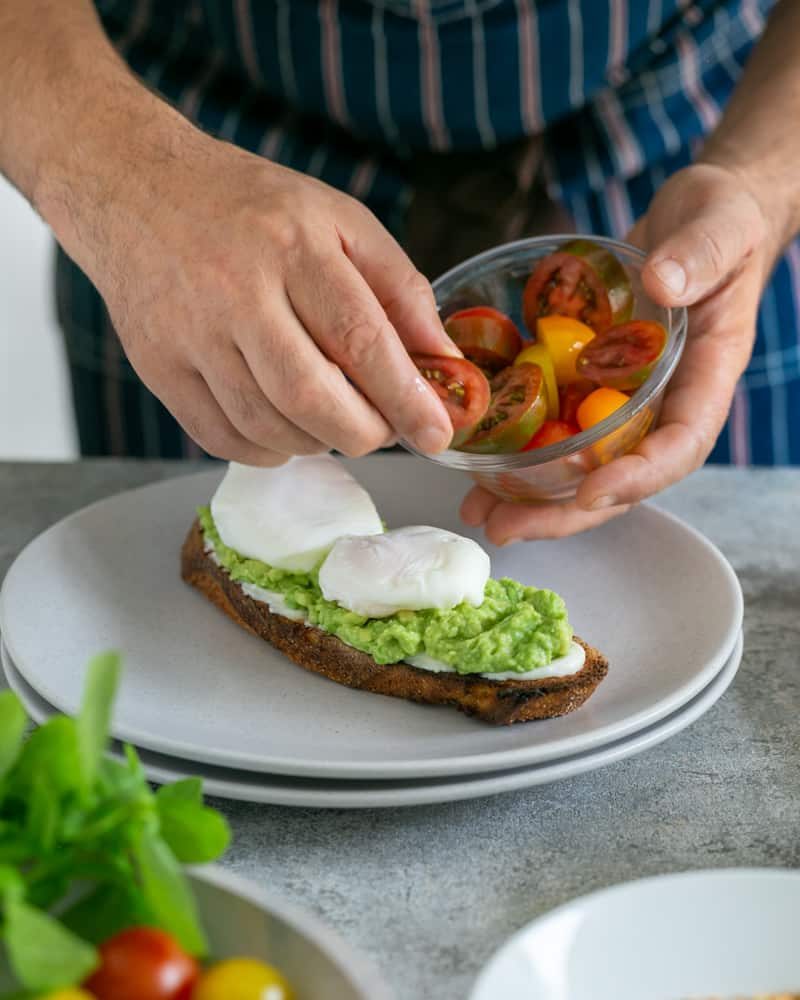 Dukkah: We love to use this smoky, salty, nutty spice mix over just about everything! Pretty sure you will love this blend too but if you feel these flavors are not for you, just add a generous drizzle of good quality extra virgin olive oil with a balsamic glaze or reduction.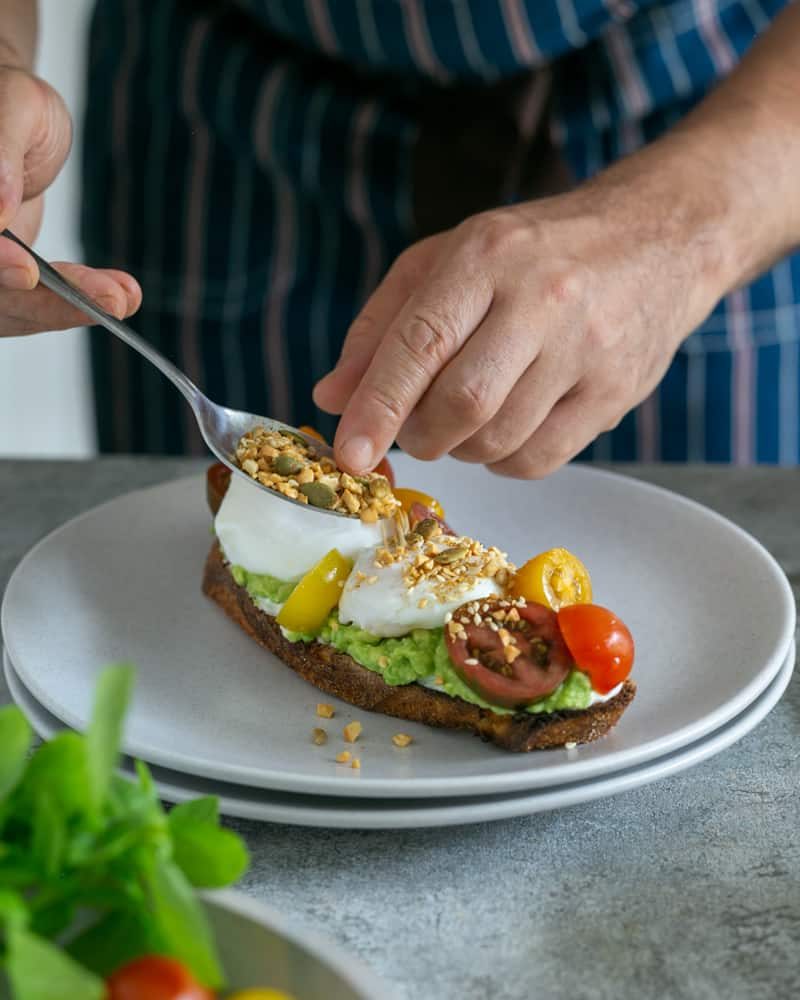 Basil: You don't need a huge amount, just a few leaves. Besides adding color, it gives freshness to this dish. Some people also use coriander/cilantro but for brekkie I think, basil is a more subtle option.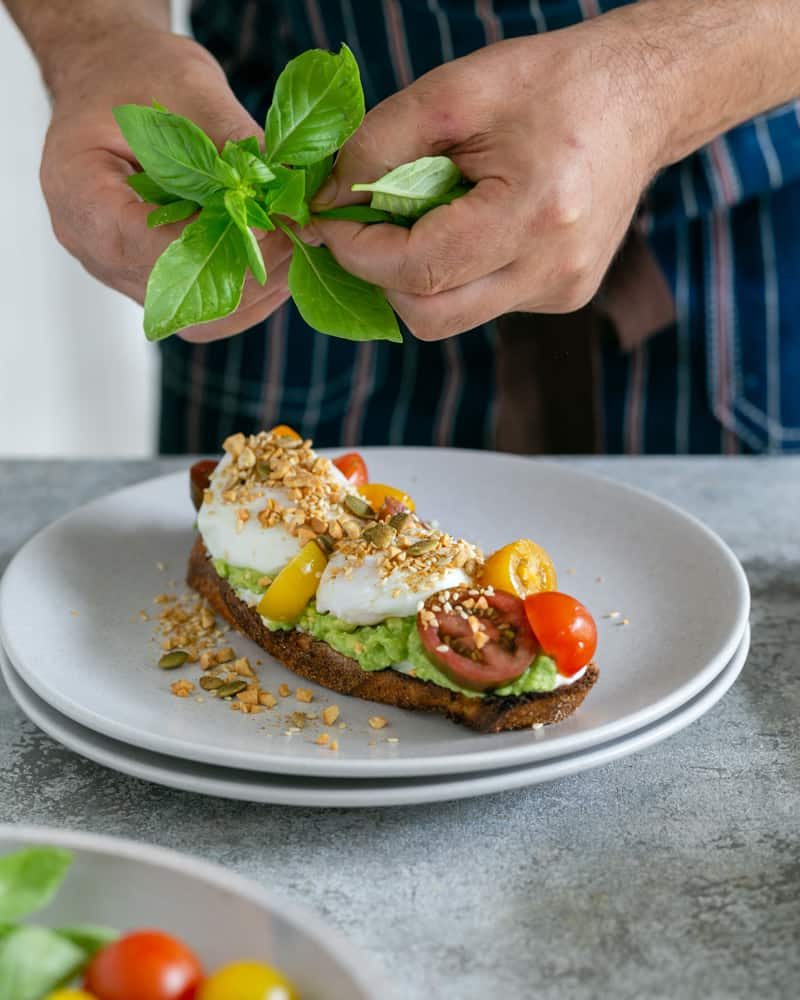 Olive oil: As this is a simple dish, use good quality extra virgin olive oil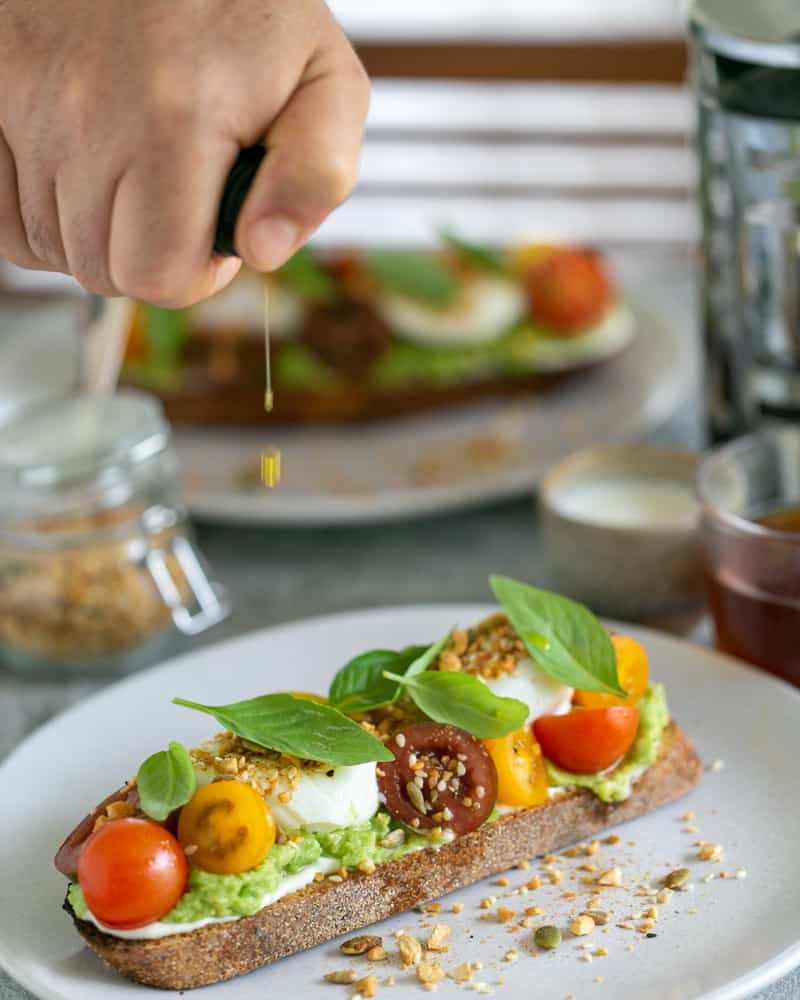 more breakfast dishes
here are some of our favourite breakfast dishes on our blog:
I hope you enjoy them as much as you enjoy this recipe for poached eggs on sourdough!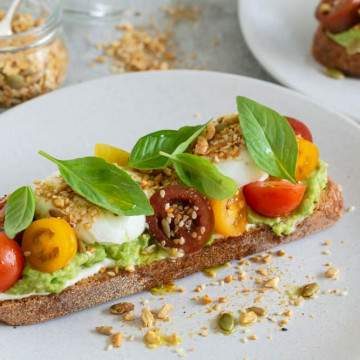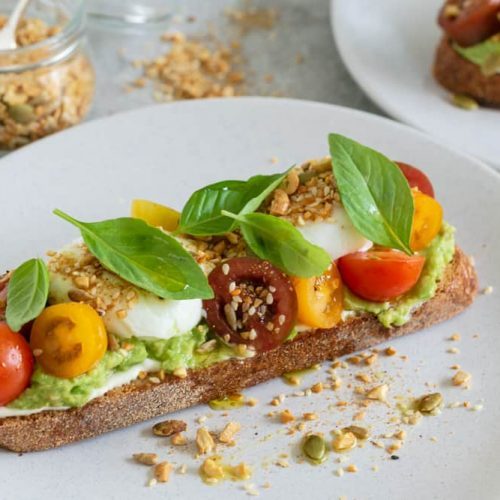 Poached Eggs on Sourdough with Avocado, Ricotta and Dukkah
This breakfast recipe for soft poached eggs on a toasted sourdough slice with crushed avocado, ricotta and a spiced dukkah is delicious and healthy.
Equipment
mixing bowls

small pot

pan

slotted spoon
Ingredients
For the Poached Eggs on Sourdough
4

fresh eggs

2

slices

sourdough

2

ripe

avocados

½

lemon

1

bunch

basil

100

g

cherry tomatoes

2

tablespoon

ricotta

1

tablespoon

white wine vinegar

2

tablespoon

olive oil

salt and pepper
For the Dukkah
3

tablespoon

cashew nuts, chopped

1

tablespoon

pepitas

1

tablespoon

sunflower seeds

1

tablespoon

sesame seeds

1

teaspoon

sea salt

½

teaspoon

cumin powder

½

teaspoon

coriander powder

½

teaspoon

togarashi chilli
Instructions
For the Avocado, Tomato mix on Sourdough
In a bowl season the ricotta with salt and pepper and set aside.

Cut the avocados in half and remove the stone.

With a spoon scoop out the flesh and place in a bowl

Add a tablespoon of olive oil, the juice of ½ a lemon and salt and pepper. Crush the avocados with a fork and set aside.

Cut the tomatoes in half and season with a tablespoon olive oil, salt and pepper.

For the Poached Eggs

Heat up a pot with water and add 1 tablespoon white wine vinegar. Crack the egg in a ramekin or a bowl.

Once the water has boiled reduce the heat to low and us a whisk to swirl the water.

Add the egg and cook for 3-4 minutes. Place the egg in a bowl with ice cold water and repeat the process with the remaining eggs.

Meanwhile pick a few nice basil leaves and toast the slices of sourdough.

To assemble

Reheat the poached eggs in hot salted water.

Spread the ricotta on the sourdough and then add the crushed avocado.

Gently place the poached eggs on top pf the crushed avocado.

Finish assembling the dish by adding cherry tomatoes, sprinkling dukkah and adding fresh basil leaves on the top
For the Dukkah
Place a pan on medium heat.

Add the cashew nuts, sunflower seeds, pepitas and sesame seeds to the hot pan.

Toss for a few minutes and add the remaining ingredients. Keep tossing the spices, seeds and nuts together until they are well toasted.

Store in an airtight container for up to one week.
Nutrition
Nutrition Facts
Poached Eggs on Sourdough with Avocado, Ricotta and Dukkah
Amount Per Serving (120 g)
Calories 257
Calories from Fat 207
% Daily Value*
Fat 23g35%
Cholesterol 8mg3%
Sodium 1189mg52%
Carbohydrates 9g3%
Protein 6g12%
Vitamin A 540IU11%
Vitamin C 27mg33%
Calcium 105mg11%
Iron 3mg17%
* Percent Daily Values are based on a 2000 calorie diet.