Making ricotta at home is a much simpler process than you might have thought. With just a few ingredients, half an hour's time for making and 10 to 15 minutes straining you will end up with a delicious, creamy ricotta that is tastier and fresher than from the grocery shop.
WHY YOU SHOULD MAKE YOUR OWN RICOTTA
Firstly there are many advantages making this cheese yourself. Personally I find there is something satisfying making an ingredient from scratch. Transforming milk, cream and lemon juice into a soft cheese is magical and once perfected it will be hard for you to go back to buying it.
Secondly, you are the one controlling the ingredients you are using for your recipe. Hence I am hoping you will only use natural ingredients, anything that is good for your body. Further I noticed the end product was less watery. This makes the ricotta better for using in fillings for raviolis, cheese cakes or ricotta gnocchis for example.
Lastly not only is making dairy from scratch healthier, it will cost you just half the price.
Oh, and did I mention how easy it is to make too? Trust me, this recipe takes no special skills and it is foolproof too!
INGREDIENTS NEEDED FOR THIS RECIPE
To make this recipe you will need the following ingredients:
milk-full fat milk is best, low fat milk is fine, but be careful when choosing the milk you use, never use ultra-pasteurized milk, it will not work, check the label.
cream-cream adds this beautiful rich, creamy texture you want in a ricotta, this is optional but we never leave it out.
lemon juice-is the acidity needed to make the milk curdle. White wine vinegar works too, you can add the same amount of vinegar instead of lemon juice in the recipe.
Salt-is important to add to the milk from the beginning. Salt will make your cheese tastier.
Special tools required
Tools you require besides a pot and a large bowl are:
cheese cloth- a clean kitchen towel will work too
strainer-any strainer will do, doesn't have to be too fine, the cheese cloth will do all the work
slotted spoon-to remove the curdled cheese from the whey
These should be easily accessible.
HOW TO MAKE CREAMY RICOTTA CHEESE
The most important step is turning the milk into curd. In order to make the milk curdle you have to add acidity like lemon juice or white vinegar. This process is similar to making yoghurt or paneer cheese for example
While the amount of lemon juice used in this recipe seems a lot, I can guarantee you that you will not taste the lemon in your final cheese, there is only a hint if at all.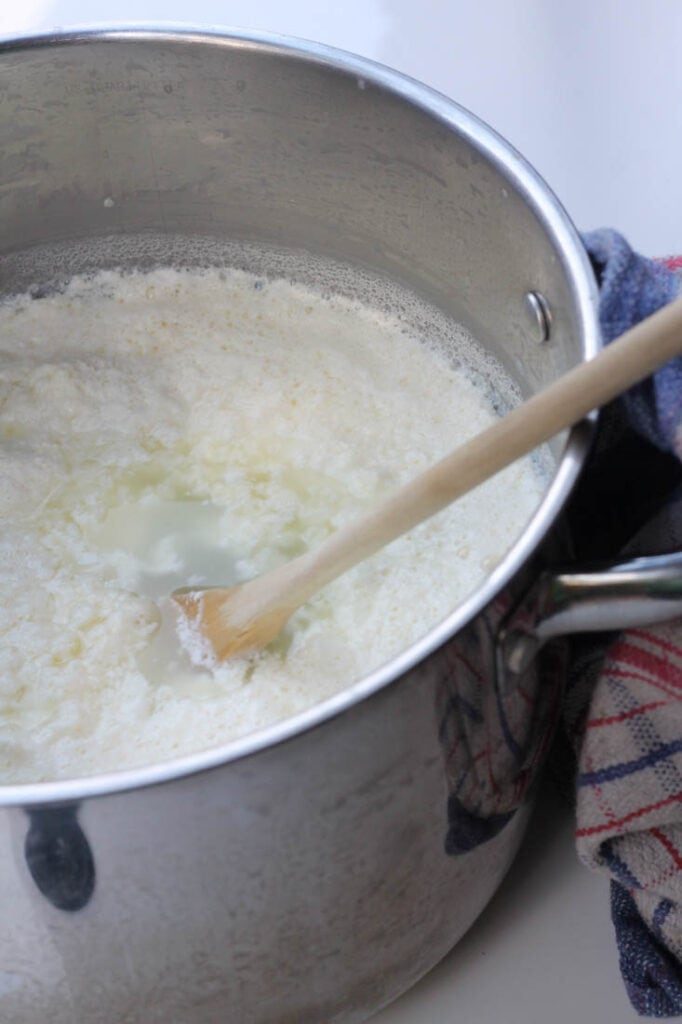 The draining part is important too! You will notice the difference between a ricotta which is strained for just 20 minutes and one that is strained for an hour.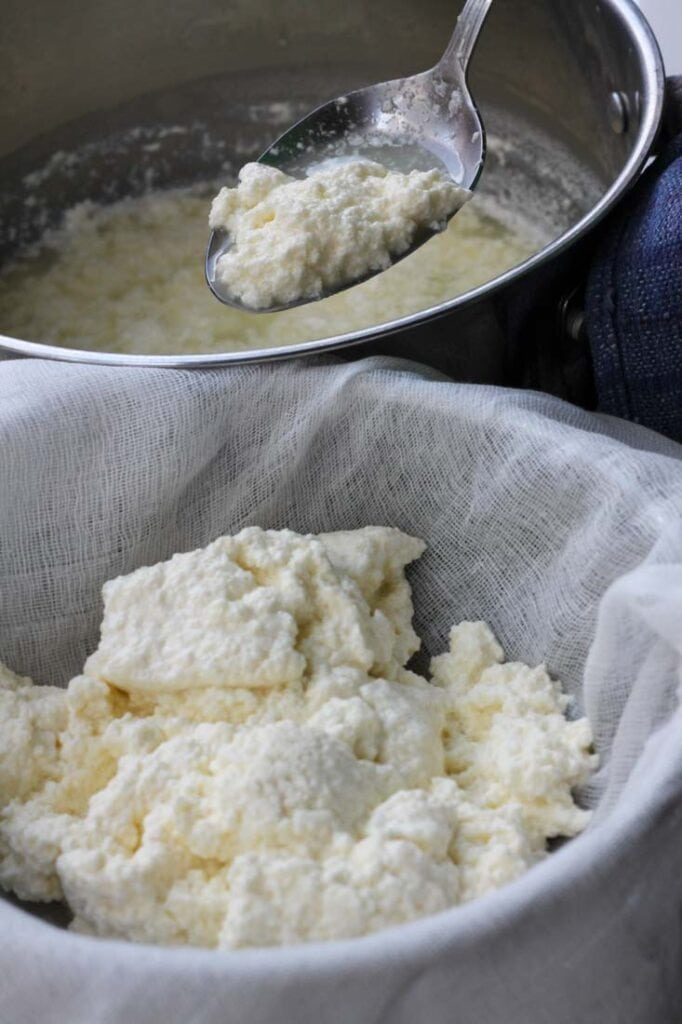 The longer you leave it hanging the firmer will be your ricotta. The one I had prepared for this recipe was left for about 30 minutes. While I think in the end it was a touch too long, it was still perfect for making these amazing ricotta gnocchis. There are some great reads about the 101 of making ricotta cheese.
Following week I made the recipe again and left it for 15 minutes hanging. The result was a cheese with creamier texture, perfect for our homemade ricotta & fig cheesecake.
AS A NOTE: The yield was 420g (14oz) of fresh cheese. You can keep it in the fridge for up to a week. Alternatively freeze the ricotta for up to a month.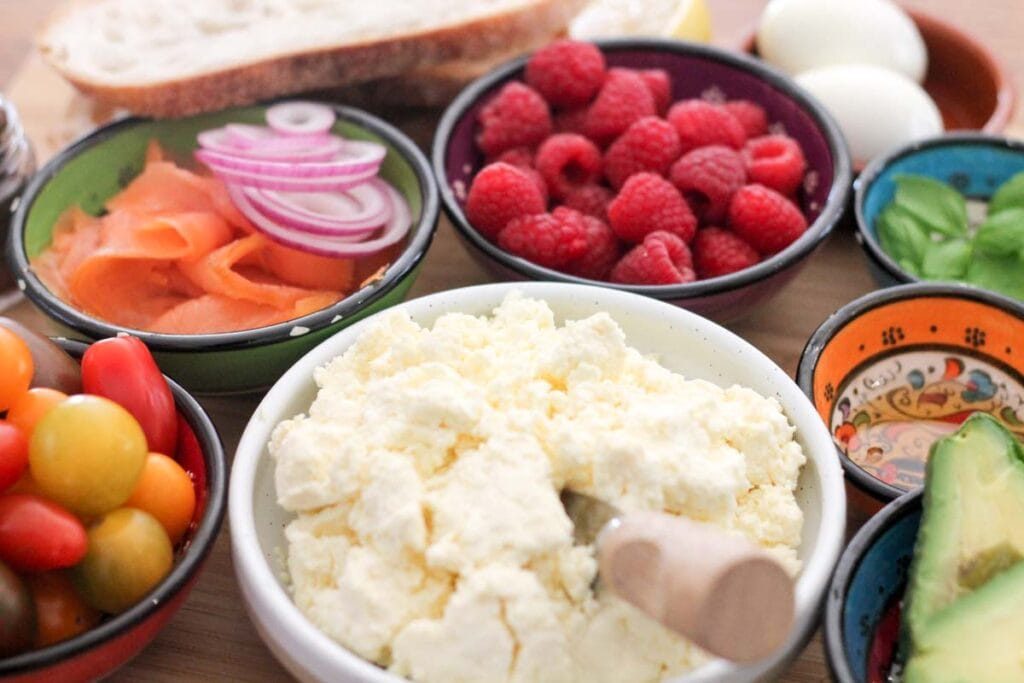 After you have strained your ricotta, the liquid you will have left is called the whey. Whey is used most commonly in doughs for bread or pizzas.
Traditionally ricotta cheese is made from whey left over in the making of other cheeses but nowadays its mostly made from whole milk.
WHICH MILK CAN YOU USE TO MAKE RICOTTA?
Even so most ricotta is made from cow's milk, the traditional Italian one is typically made from sheep, goat or buffalo milk. So yes this recipe can be made with different milks. I sure like the sound of it, for my next ricotta I will try this recipe with goats milk.
WHAT TO MAKE WITH THIS RECIPE
We love using ricotta in our recipes. While we try to use a homemade one most of the time, sometimes a good quality store-bought ricotta will do the job too.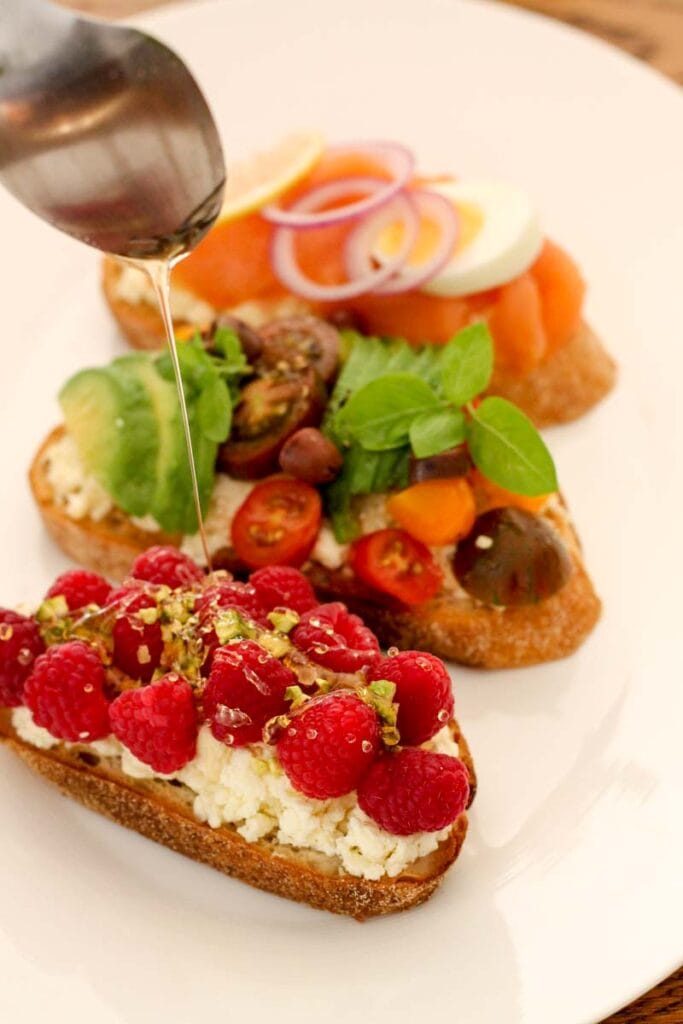 One of our favourite dishes to eat for late breakfast or early sunday lunch are these pea and zucchini fritters and of course poached eggs with avocados on sourdough with dukkah.
After making this ricotta recipe, wee had ours for breakfast the next morning. I added salt and pepper to mine and it was simply delicious on a slice of toasted sourdough with my favourite garnish of smoked salmon, red onion and horseradish.
Shilpi had hers with avocado, tomatoes and basil. Our son Damien liked his sweet with fresh raspberries and honey. Other ways to eat ricotta for breakfast is with these poached peaches, just divine!
Let us know how you have yours!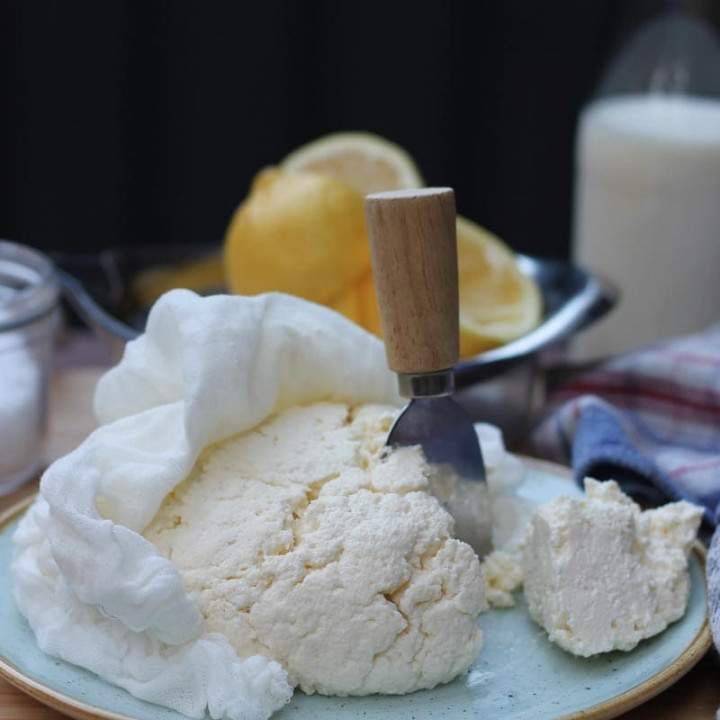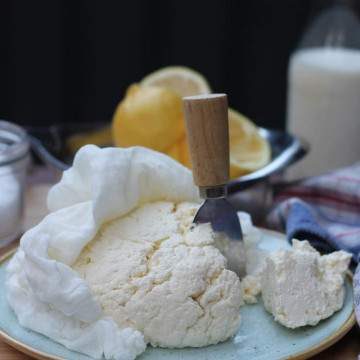 Making Ricotta Cheese
Home made ricotta cheese not only tastes fresher, it is easy to make and you can control how creamy you want your Ricotta to be. Follow this simple recipe to make your own ricotta with just a few ingredients.
Ingredients
1.8

liter

whole full fat milk

not UHT

200

ml

pouring cream

3

tablespoon

lemon juice

1

teaspoon

salt
Instructions
Pour the milk and cream in a large pot and place on medium heat.

Bring the milk slowly to a simmer, not higher than 90 degrees, the milk should be foamy.

Add the lemon juice and salt, stir gently to combine.

Keep the milk at around 90 degrees for another 5 minutes without stirring.

The milk should have separated by now. Remove the pot from the heat and let sit for another 10 minutes.

Set a strainer over a bowl and line the strainer with cheese cloth.

Scoop the the curd out of the pot and into the strainer, let sit for another 10 to 15 minutes.

For soft ricotta strain no longer than 10 minutes. For fillings and firmer ricotta strain up to 30 minutes.

You should be left with around 420 grams of Ricotta cheese.
Notes
AS A NOTE: The yield was 420g (14oz) of fresh cheese. You can keep it in the fridge for up to a week. Alternatively freeze the ricotta for up to a month.