These fluffy souffle-style pancakes with orange flavour have whipped egg whites folded under the batter that make them light and airy. Served with fresh ricotta, toasted almonds and maple syrup, these pancakes are the type of breakfast you want to be pampered with on a weekend.
We love making pancakes on weekends for breakfast and always follow a basic recipe. But recently, I came across Bill Granger (the God of hot cakes) lemon soufflé pancake recipe. It sounded so good that I had to give it a try.

Unlike pancakes, adding beaten egg whites to the batter to these soufflé-style pancakes made all the difference. They came out fluffy and airy with a lovely citrus flavour. We absolutely loved them!
The following weekend, our son asked for Pancakes again which was not surprising at all. In fact I was delighted since I wanted to try another version of the recipe.
I tweaked the recipe around and paired it with an orange flavour this time! Needless to say it was a hit at our Breakfast table!! Leftovers were even served as Dessert after dinner!
So here I am sharing my orange flavoured Soufflé-Style Pancakes with fresh ricotta and almonds breakfast recipe with you! I hope you enjoy it as much as we did.
What goes into Soufflé-Style Pancakes?
Similar to any pancake batter, the ingredients required for these Soufflé-Style Pancakes are the same:
Plain flour
Baking powder
Buttermilk
Caster sugar
Eggs
Butter
Salt
Besides these basic ingredients, you can add any citrus fruit into your batter.
I used Oranges but they can be replaced with Lemons, Grapefruits, Limes or Mandarins.
What is the difference between Pancakes and Soufflé Pancakes?
The main difference is, that instead of using whole eggs, the eggs are separated into yolk and whites. To give the batter an airy texture, the whites are whipped until stiff peaks form. Then the whipped egg whites are carefully folded under the base batter.
Egg whites folded in the batter will give the mixture a soufflé like consistency. Pancakes will be fluffier and feather light unlike a pancake, that is rather flat.
If you enjoy trying out different pancake recipes, then you must be familiar with the Japanese Soufflé Pancakes! These apparently have taken pancakes to a whole new height! So while cooking my pancakes, I decided to incorporate the Japanese Soufflé-Style of cooking them.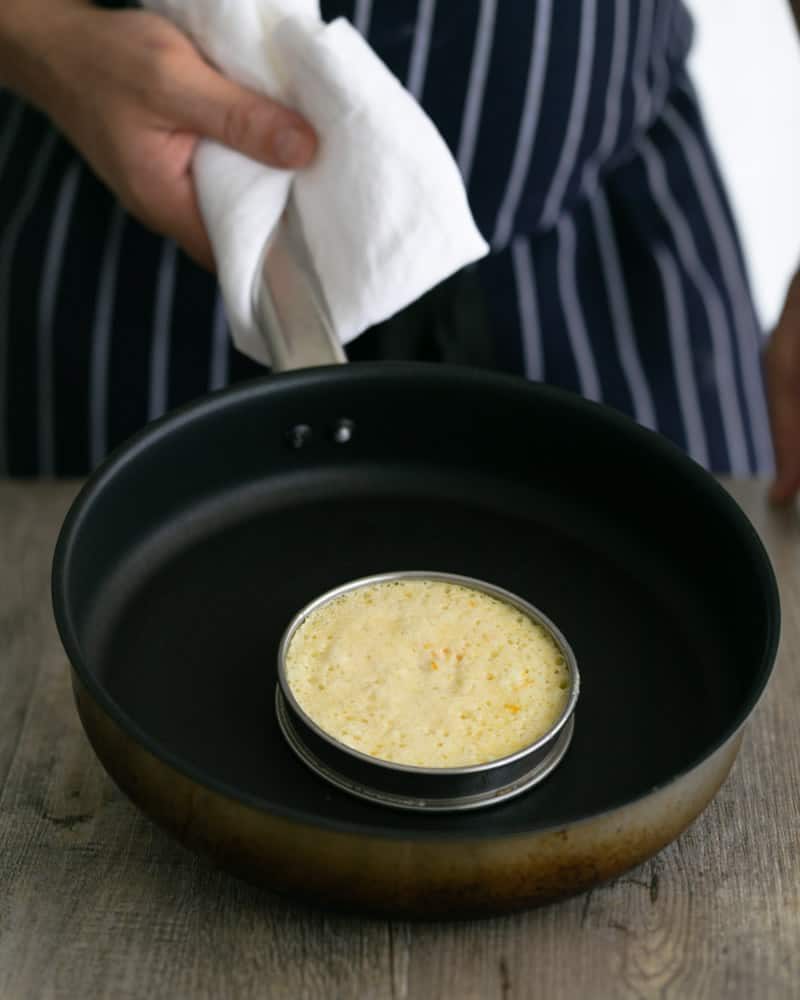 Something different for our son, Damien! Kids always like a bit of show and I love to try new things! So, I made these small round pancakes with a ring mould. I placed the mould in a hot pan and then poured the batter into it.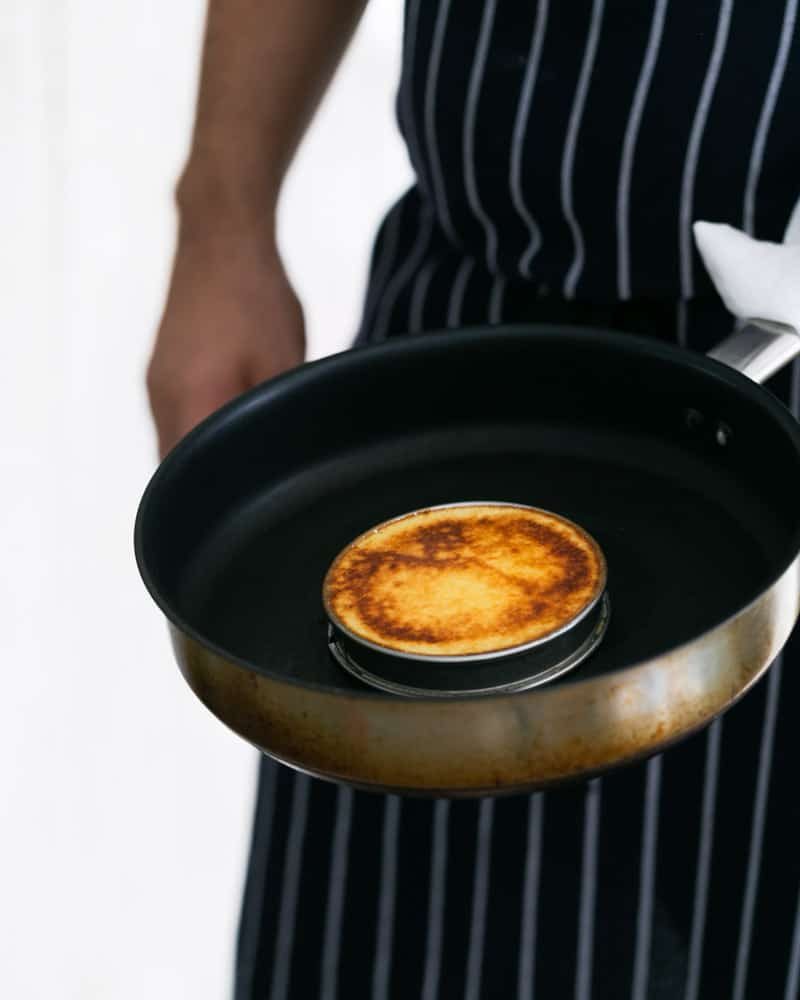 Remember the cooking temperature is crucial, so always cook pancakes on medium heat. For these small ones however, I cooked them on low heat. I wanted to give them a few minutes in the oven just before turning them around.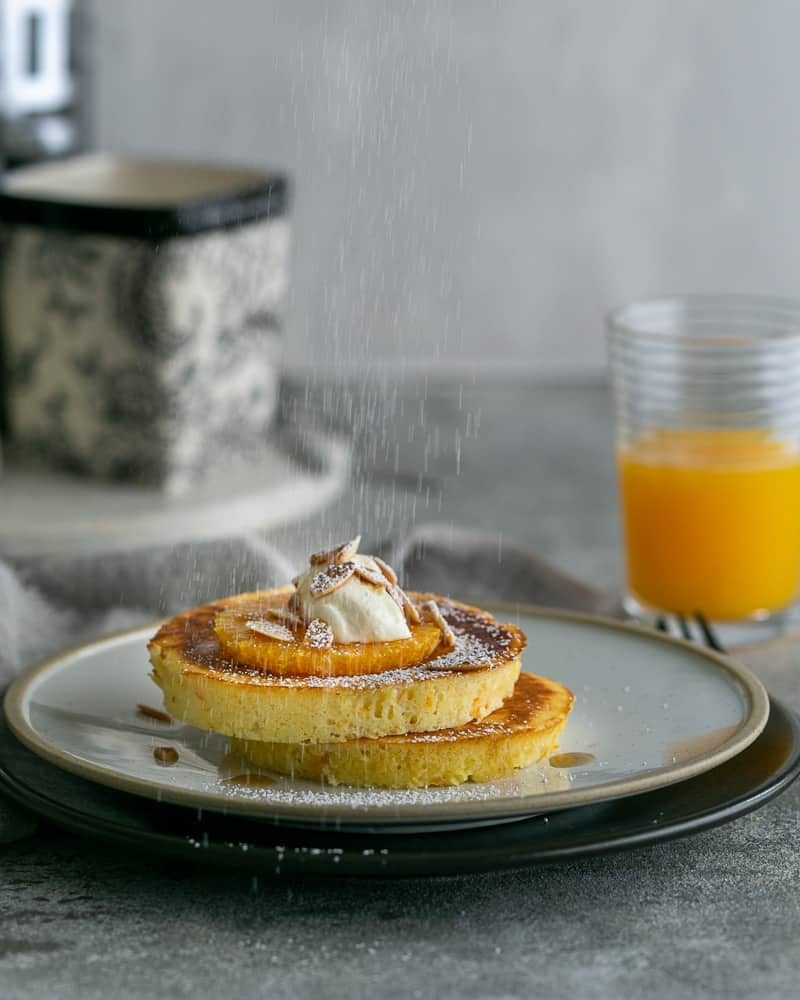 The pancakes came out pretty nice but honestly I thought it wasn't worth the hassle! But perhaps an idea to make your little ones feel a bit more special!
How to make perfect Pancakes for breakfast
There is no secret for making perfect pancakes! But by following some simple and basic rules, you can make those perfect fluffy souffle-style pancakes with ricotta and almonds we all love! Here are a few tips which will be helpful for you: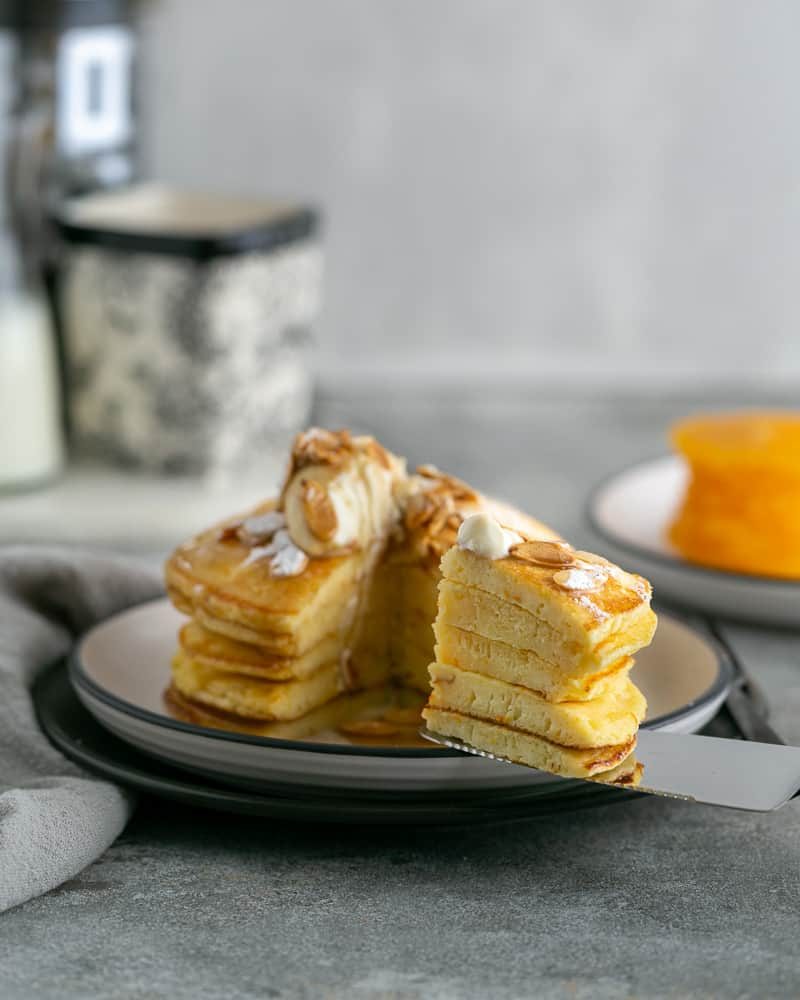 Always mix dry and wet ingredients separately in bowls
If you have always wondered why, I am happy to explain.
To get an even batter, it is important that raising agents, spices, sugars etc are evenly dispersed in the mix. This will not be the case if you mix the dry and wet ingredients already in the one bowl. Another reason is to avoid over mixing.
Over-mixing of batters will toughen and strengthen the gluten in the flour which will give you a densely cooked pancake and not a light and fluffy one, like you want .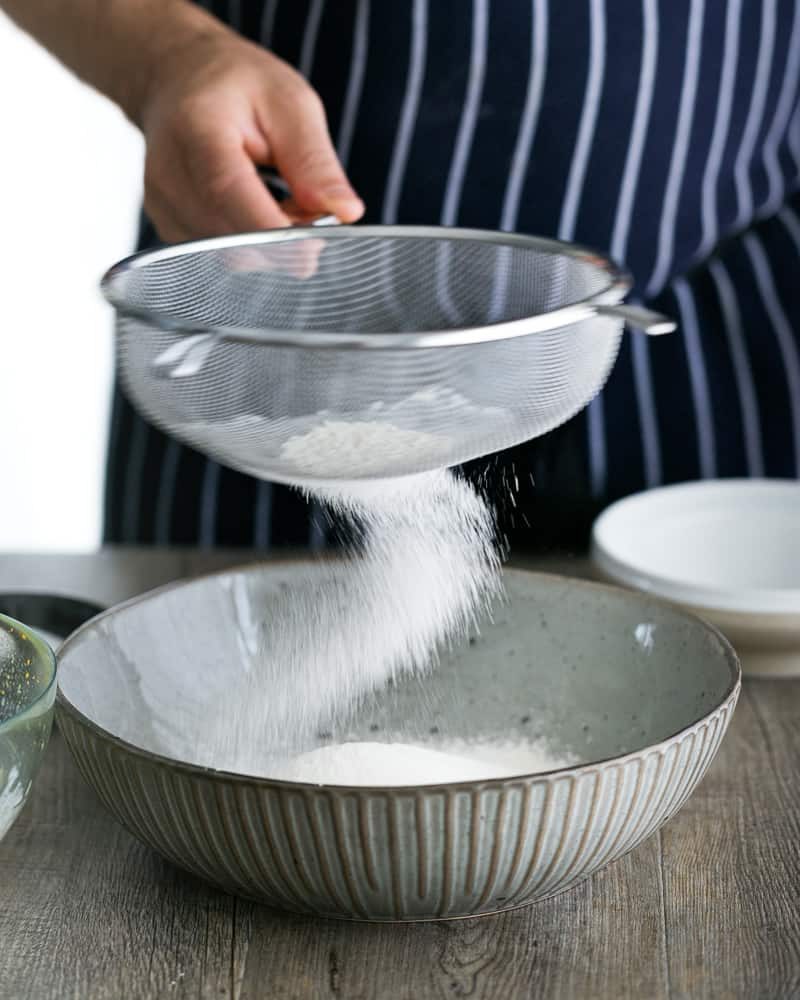 'Resting' the Pancake batter gives better results
Allow the pancake batter to rest for atl east 10 minutes as this will allow time for the flour to hydrate. In your attempt to not overmix the batter, you might overlook a few lumps of flour which may later cause the pancake to be chewy and dense.
But resting the batter allows the liquid , in this case buttermilk, to soften the flour and dissolve any remaining lumps. This will give the pancakes a lift without making them tough.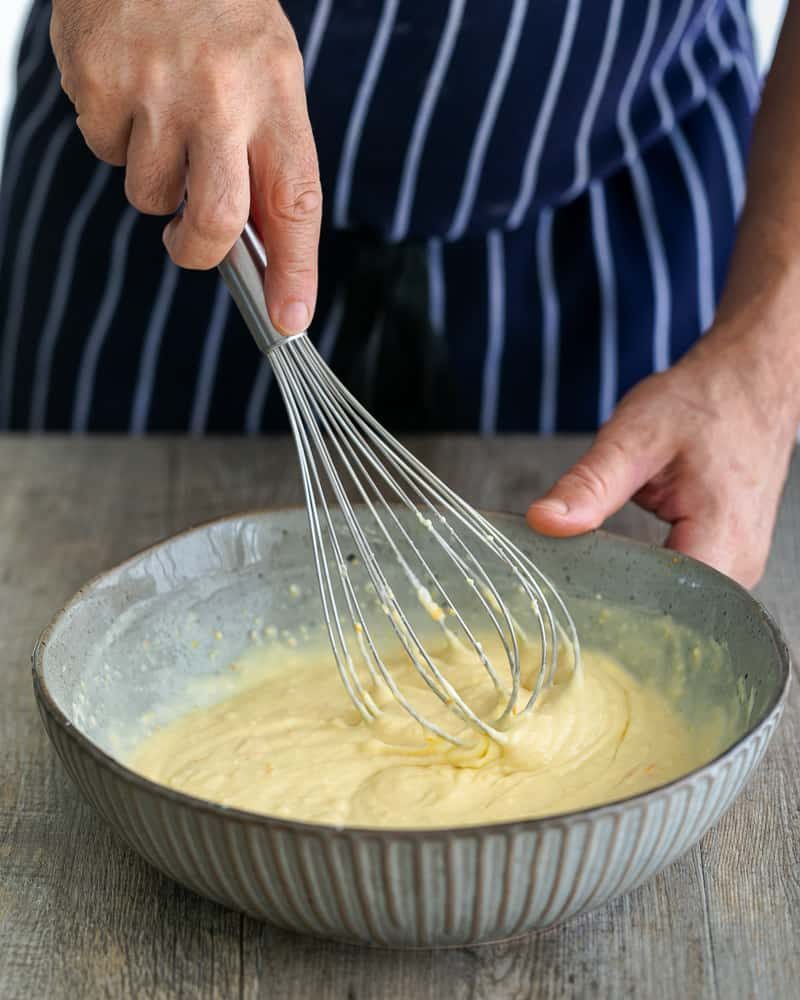 Secondly, resting will allow the leavening to distribute evenly throughout the batter irrespective of whether you are using baking powder or whipped egg whites to give it that lift. Ultimately those air bubbles are responsible for the puffing of the pancakes while they cook. This will result in pancakes rising more evenly with a tender crumb.
When to flip the pancake is important
Look for bubbles on the top that pop and form holes that stay open. Before flipping over the pancakes, look for light browning around the edges. If you flip earlier, chances are it will be a sloppy flip meaning your batter will not hold and hence splatter. If the browning is happening earlier then you need to turn down the heat.
Temperature plays a very important role in making perfect pancakes. If you cook them on high heat, you will end up with unevenly cooked pancakes and burnt sides. Yes the pan needs to be hot but not smoking hot that's why cooking pancakes on Medium to Medium low heat is best.
Test Batch
There is no need to be embarrassed if the first few pancakes turn out looking like your two year old cooked them. Its normal! The first few are meant to be 'not perfect'. Doing a test will make you aware of any hot or cold spots in the pan, this way you can rotate the pan if required while cooking the pancakes. Also you can test the amount of batter you are using per pancake and of course the cooking time.
Experiment with your toppings
When it comes to pancake toppings, syrup isn't the only sweet treat! There are so many possibilities! Of course nothing beats a classic maple syrup but adding toppings like fresh fruits, berries, whipped cream, nuts, ice cream (my favourite!!) syrups, sauces, jams makes any pancake more exciting!
Our favourite pancake toppings
We topped these yummy orange soufflé breakfast pancakes with fresh homemade ricotta, toasted almonds and maple syrup and Oh my God!! Were they to die for!! Absolutely loved every spoonful! Some other great toppings are: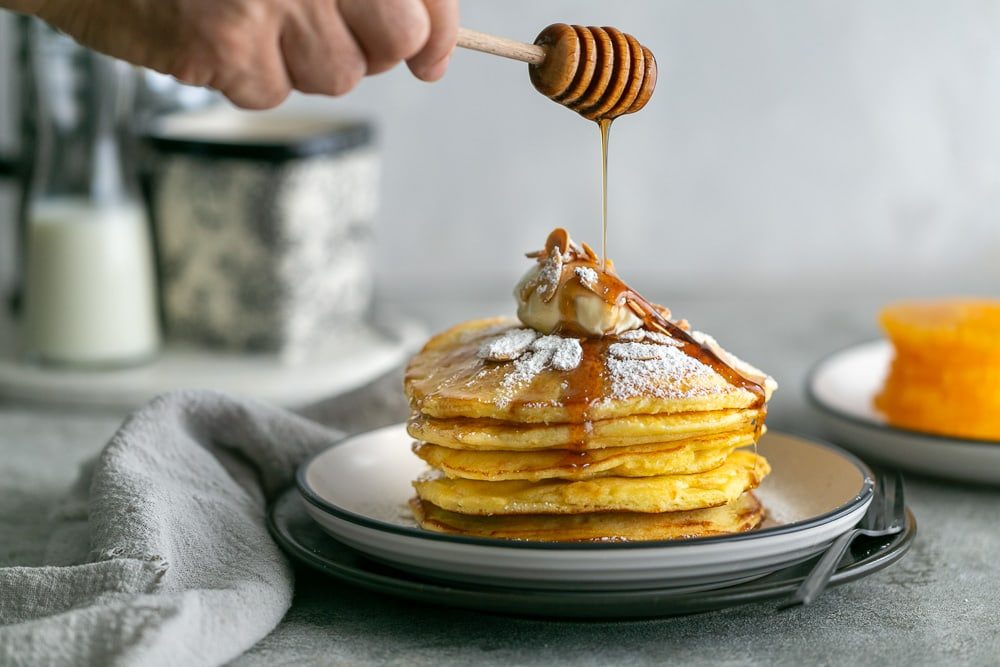 Bananas, salted caramel and whipped cream
Mascarpone, honey and macadamia nuts
Nutella and vanilla ice cream
Or even better, try these soufflé-style pancakes with berries and our home made passionfuit curd recipe.
Until then "Have a Flippin' Great Day"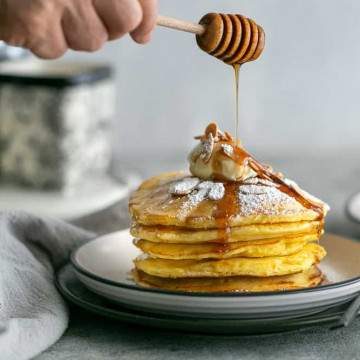 Soufflé-Style Pancakes with Fresh Ricotta and Almonds
These fluffy souffle-style pancakes with orange flavour have whipped egg whites folded under the batter that make them light and airy. Served with fresh ricotta, toasted almonds and maple syrup, this is the type of breakfast you want to be pampered with on a weekend.
Ingredients
For the Pancakes
100

g

plain flour

170

ml

buttermilk

1

tablespoon

baking powder

2

eggs

1

orange

50

g

unsalted butter

3

tablespoon

caster sugar

1

pinch of salt
For the Topping
4

tablespoon

ricotta

2

tablespoon

toasted almonds

4

tablespoon

maple syrup
Instructions
For the Pancakes
Separate the eggs. Melt half of the butter.

In a bowl combine the buttermilk and egg yolks. Add grated zest of an orange.

Cut the orange in half and squeeze the juice out. Add 2 tablespoon of the orange juice to the mixture. Whisk well and add the melted butter. Set aside.

Sift the flour into a large bowl and add baking powder, sugar and salt.

Slowly add the buttermilk mixture into the flour mixture. Be careful not to overmix.

In a clean bowl whisk the egg whites until soft peaks form. Gently fold the egg whites into the batter using a kitchen spatula.

Cooking the Pancakes

Melt a small amount of the remaining butter in a non stick pan and heat over medium-low heat.

Add ¼ cupful (or a ladle) of the batter into the hot pan.

Cook for about 4 minutes over medium heat until the pancake is cooked halfway. The pancake should be golden brown on the underside and dry at the edges. Flip and cook the other side for another 2 minutes

Cook the remaining pancakes whilst keeping the others in a warm oven until its time to serve
For the Toppings
Dress the pancakes with a spoonful of fresh ricotta and sprinkle toasted almonds. Dust some icing sugar and finally drizzle maple syrup over the top.