A perfect combination of sweet oven roasted baby carrots and a tangy carrot top chimichurri sauce, make this flavour packed vegetarian dish, an ideal entrée or a side dish for your next restaurant style dinner experience at home.
Have you ever bought a bunch of carrots or baby carrots from the market with the greens attached and wondered what you could do with them instead of throwing them away?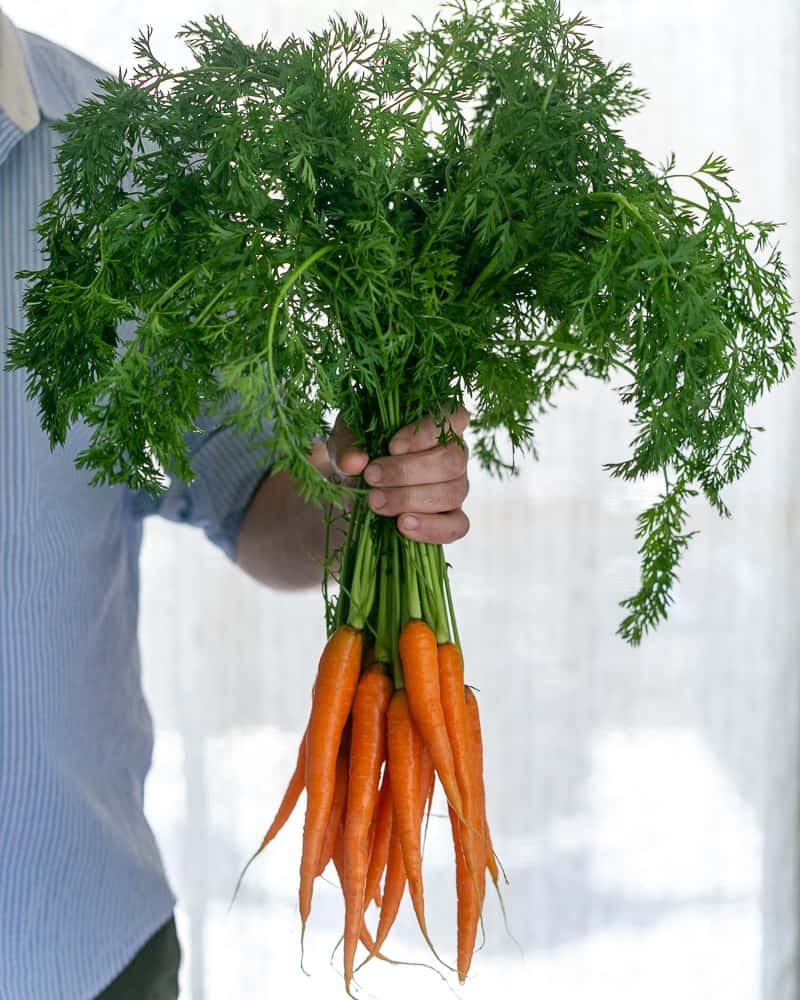 Well, I am here to tell you, don't discard those carrot tops and greens! Instead use them to replace herbs in dishes, as they are packed with nutrients and vitamins. One of my favourite ways of using these are in a delicious chimichurri sauce, served along with carrots. This is not only a wonderful way to use every part of the carrot but it also reduces food wastage!

Now, how does this sound? "Oven roasted baby carrots seasoned with garlic and thyme, topped with a tangy, fiery chimichurri"? Sounds like a dish that you would order in a restaurant right!! I have made this dish a number of times and it's always been a crowd pleaser!
Jump to:
You can serve this dish as an entrée or as a side dish for a Sunday roast at home. By the way we received a lovely write up about this dish from the lifestyle magazine Imprint House. Here is the article.
What is Chimichurri Sauce?
Chimichurri is an Argentine herb sauce, mostly used as a condiment for grilled meats or fish. The authentic chimichurri is based on chopped parsley. There are two versions, green and red (red chimichurri has roasted red pepper and smoked paprika added).
With every recipe, comes various versions to the original! Some use coriander and oregano, others use lemon juice instead of vinegar and some add dried herbs like rosemary or thyme. A recipe I personally like is this authentic chimichurri recipe. That is if you are not using carrot tops.
In contrast to pesto and salsa verde, chimichurri is more tangy and it has a kick to it from the chilli.
How to use Carrot Tops?
Traditionally, chimichurri is made in a mortar and pestle but to save time, we will use a food processor to chop the carrot tops. Once you have all the ingredients prepared, it is fast and easy to combine them into a sauce.
Here is what you'll need to make this refreshing chimichurri recipe:
Carrot tops or other herbs like parsley or coriander
Jalapeno peppers can be replaced with red chilli flakes or fresh red chilli
Shallots or use red onions instead
Garlic is added raw to the chimichurri but can be left out if required
Red wine vinegar vinegar is part of a classic chimichurri, you can use balsamic or white wine vinegar too
Lemon or replace the amount of lemon juice with more red wine vinegar
Dried oregano if you have fresh oregano even better
Olive oil or other oils like grape seed oil or avocado oil
Salt and pepper
The first step is to pick and wash the carrot tops. Once done, just blend them in a food processor together with the olive oil. Meanwhile have all other ingredients chopped and ready in a bowl. Transfer the carrot tops from the food processor to the ingredients in the bowl and combine all together. Season with salt and pepper.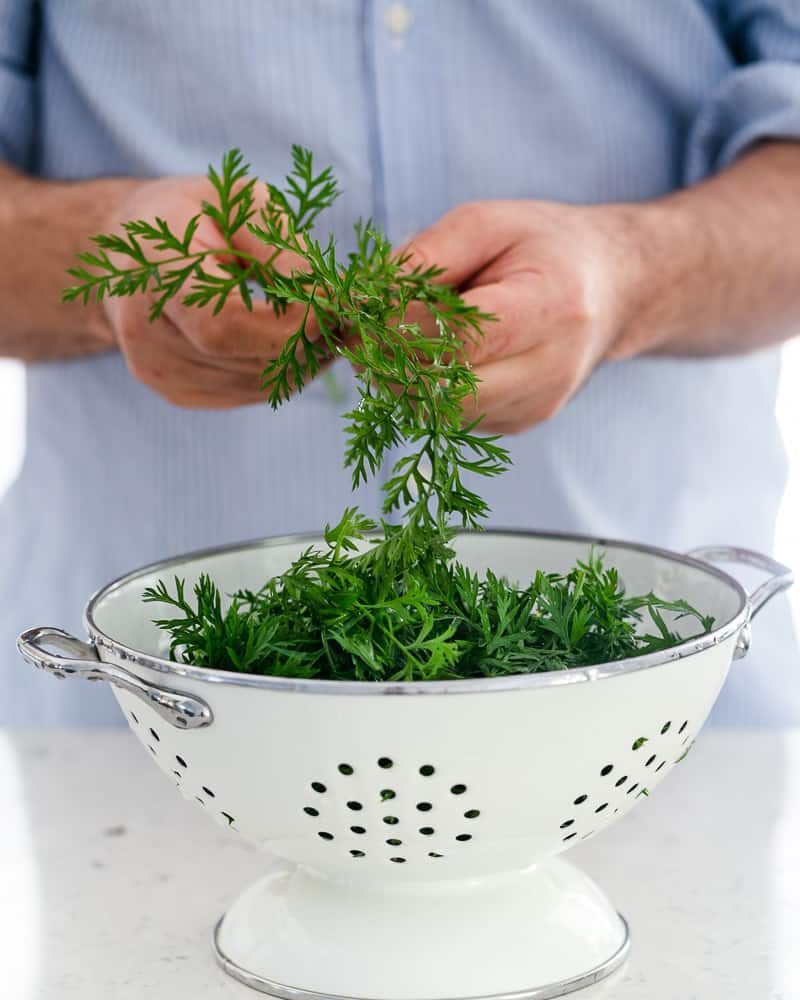 What does carrot top chimichurri taste like?
The carrot top chimichurri should taste tangy, zesty, and fragrant with just a hint of spice from the jalapenos. Since the tops have a slightly bitter flavour, using other herbs, lemon and vinegar counterbalances it.
As with any sauce, adjust the taste as required. This sauce can be prepared ahead of time, actually the flavour of chimichurri develops and comes through even more when it has been left for a few hours.

AS A NOTE: The carrot top chimichurri keeps well refrigerated for a week or can be stored in the freezer for up to 3 months.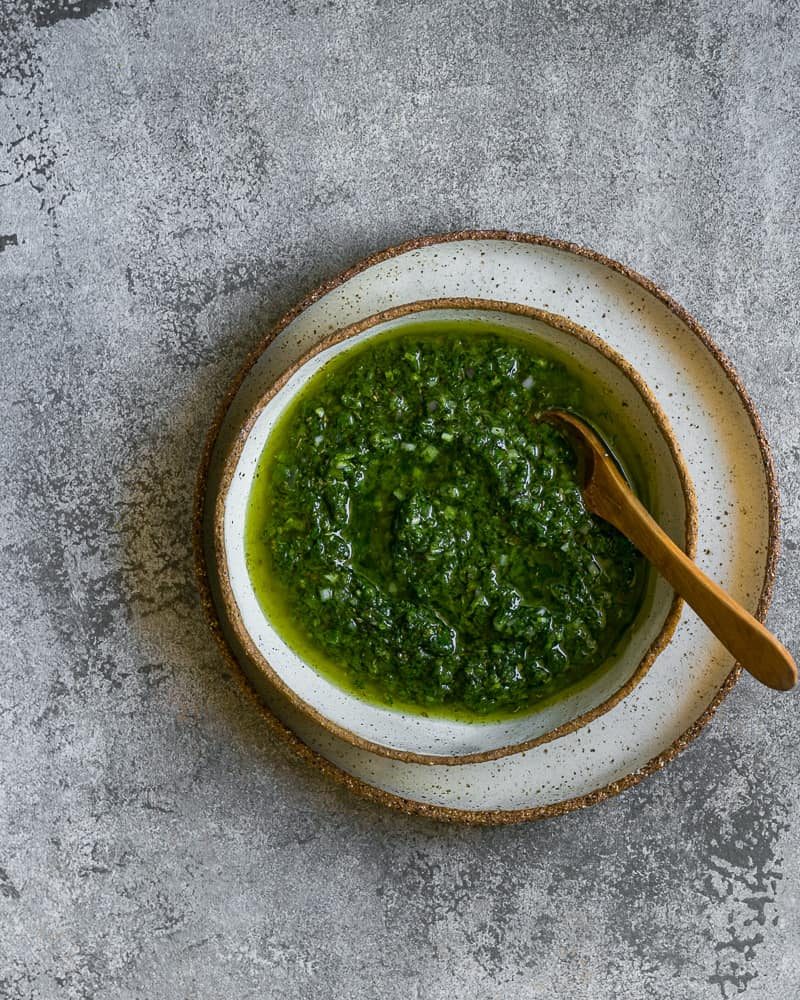 What can you use Chimichurri on?
The most common way to use chimichurri is with meats and seafood. But you can also use the leftover chimichurri from this recipe as a marinade or in pasta or simply served with a bruschetta.
If you are looking for more creative ways to use this chimichurri, we recommend serving it with vegetarian dishes like a whole roasted cauliflower or grilled eggplant. We in fact drizzled some leftover chimichurri the next day, on the pumpkin soup we made and it was delicious!
How to make roasted baby carrots
The easiest way to roast baby carrots are in the oven. This method will bring out the natural sweetness of carrots and it gives a lovely roasting flavour and colour.
Here is a step by step guide to roasting carrots:
Prep the carrots - Being a Chef, I personally prefer to peel the carrots before roasting as it gives them a cleaner look however this step is not a must. Alternatively, you can scrub the carrots under cold water to remove any dirt. If your carrots are large, cut them in half or increase the roasting time.

Season the carrots - Simply add olive oil, thyme, salt, pepper and crushed garlic cloves and toss well.

Roast the carrots - Roast the carrots in a pre-heated oven at 180 degrees. Depending on their size, they may take anything between 15 to 20 minutes to cook. After about 15 minutes, keep checking the colour and doneness. Stick the tip of a small kitchen knife inside the largest carrot to ensure they are tender.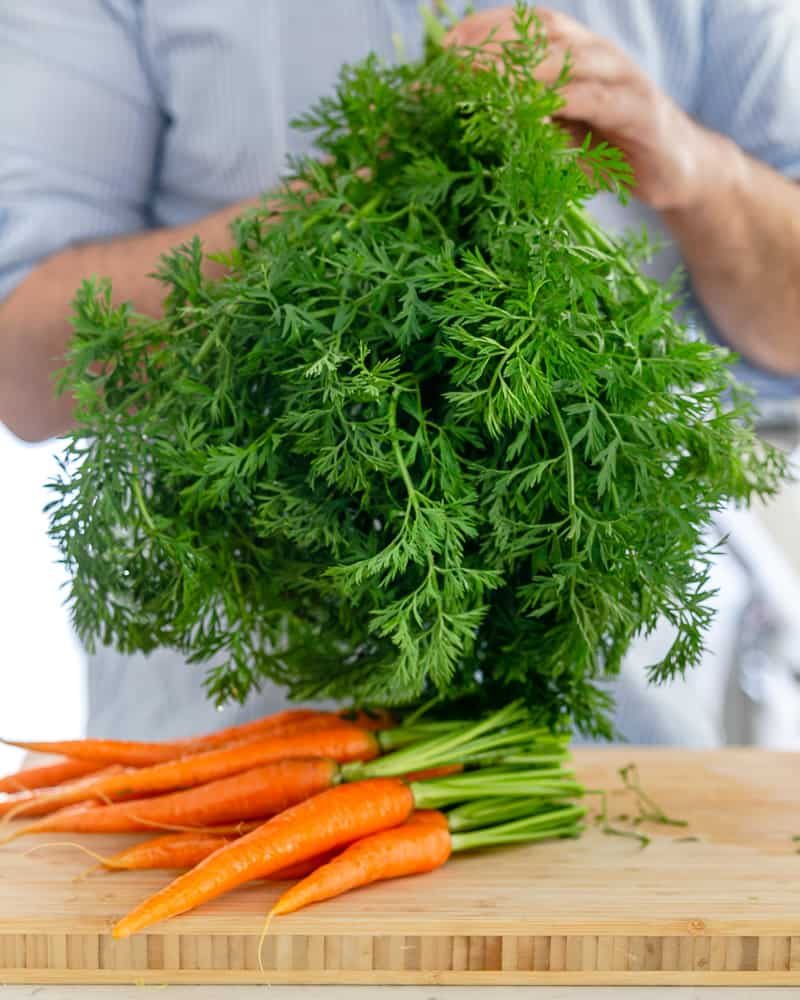 AS A NOTE: While the carrots are roasting in the oven, you can prepare the carrot top chimichurri. This will save you time in the kitchen.
How to serve roasted baby carrots with carrot top chimichurri
Serve this flavour packed dish like a restaurant style appetizer. I prepared a simple hummus using white beans, tahini, garlic, lemon juice and olive oil. I then spread a spoonful of the hummus on the plate and arranged the oven roasted baby carrots on top.
Next, I drizzled the carrot top chimichurri over the carrots and lastly garnished the plate with toasted almonds and some fresh carrot top leaves.
The dish not only looked appetising but it smelled wonderful too.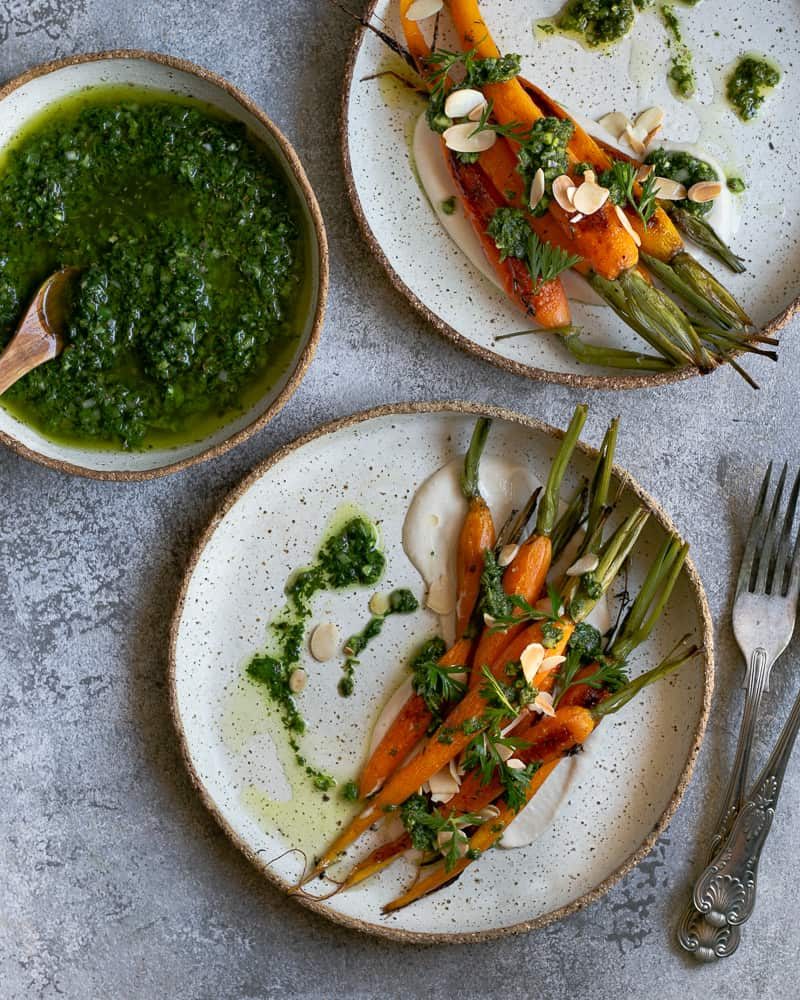 Some other ways to serve these roasted baby carrots are:

-lamb shoulder roast
-roasted pork belly with apple caramel
-with a whole oven roasted fish
-with braised beef cheeks
- as a side dish with braised chicken, duck a l'orange or a grilled steak

This dish is simple and easy to prepare so nothing should stop you from giving it a go. We would love to know how you used your chimichurri so do leave us a comment below!
Until then, think wise, act wisely, and repurpose food!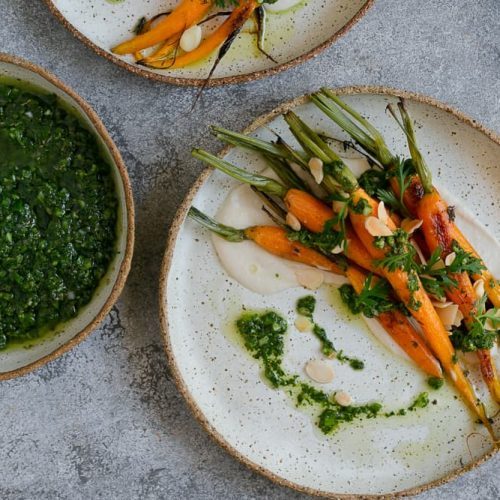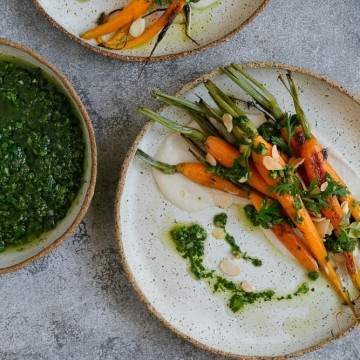 Roasted Baby Carrots with Chimichurri
A perfect combination of sweet oven roasted baby carrots and a tangy carrot top chimichurri sauce.
Ingredients
For the Baby Carrots
2

bunch

baby carrots (makes 5oogm peeled) with greens

4

tablespoon

olive oil

3

garlic cloves

crushed

2

thyme sprigs

salt, pepper to taste
For the Carrot Top Chimichurri
2

bunch

carrot tops

2

medium jalapenos pepper

diced

2

medium shallots

diced

2

garlic cloves

chopped

1

tablespoon

dried oregano

1

medium lemon

juiced

2

tablespoon

red wine vinegar

250

ml

olive oil

salt and pepper to taste
Instructions
For the Baby Carrots
Cut the green leaf stems from the carrots, leaving about 2cm of the thick green stem attached at the bottom. Keep the carrot tops aside. Peel the carrots and wash the greens to remove any debris.

In a bowl, toss the carrots, olive oil, salt, pepper and thyme sprigs until evenly coated. Spread the carrots on a roasting tray and add the crushed garlic cloves.

Roast in a pre-heated oven at 180 degrees for 20 minutes or until tender. Use the tip of a small kitchen knife to check the doneness.
For the Carrot Top Chimichurri
Remove the seeds from the jalapenos and chop finely. Peel the shallots and garlic and chop finely. Grate the zest of the lemon and juice the lemon.

Pick the green part from the carrot tops discarding the stems. Keep some green sprigs on the side as a garnish. In a food processor mix the carrot top with the olive oil to a roughly chopped green mixture.

In a bowl combine the jalapenos, shallots and garlic. Add the chopped carrot top mixture and combine well.

Grate the zest of the lemon into the bowl and add the juice of the lemon. Add the oregano, red wine vinegar and season with salt and pepper. Mix well and allow to sit for at least 10 minutes for the flavours to develop.