Learn in a few simple steps, how to make the best chipotle aioli sauce from scratch, in just ten minutes.
If you love the smoky taste of chipotle chillies, this sauce is the ultimate flavour bomb for you. Perfect for sandwiches, burgers and fries, chipotle aioli sauce can even be used as a salad dressing.
Made from scratch, using a stick blender, the sauce takes less than 15 minutes to make. Why even consider using store bought mayo when you can have a fresh, clean version made without preservatives and added flavours!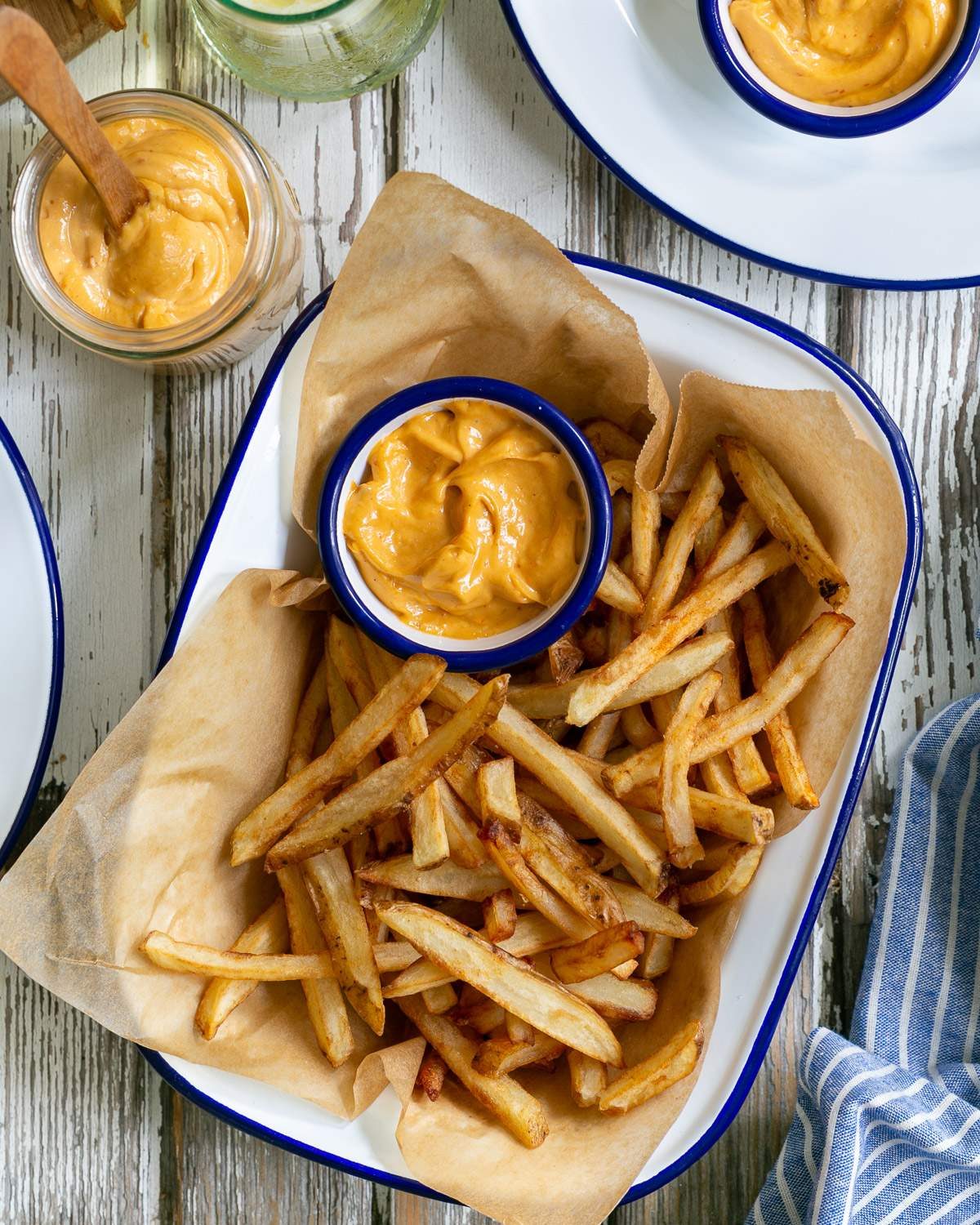 Use our easy recipe to make your own aioli and you'll never buy one from the store again!
Jump to:
WHAT IS CHIPOTLE?
Chipotle is a smoke dried jalapeno chilli pepper used in Mexican cooking. Chipotle chillies have an average heat but be careful using them - they tend to turn spicier with every bite! You can even make them yourself, this is how.
If you use dried chipotle, soak them in hot water for 30 minutes before chopping them up for this recipe.
INGREDIENTS NEEDED
Chipotle chillies are mostly available in form of a sauce. You will find them in the Mexican section usually in a tin or jar. The label will read "Chipotle in Adobo Sauce".
Egg yolks are the emulsifier for the mayonnaise. Always use fresh eggs from a trusted supplier.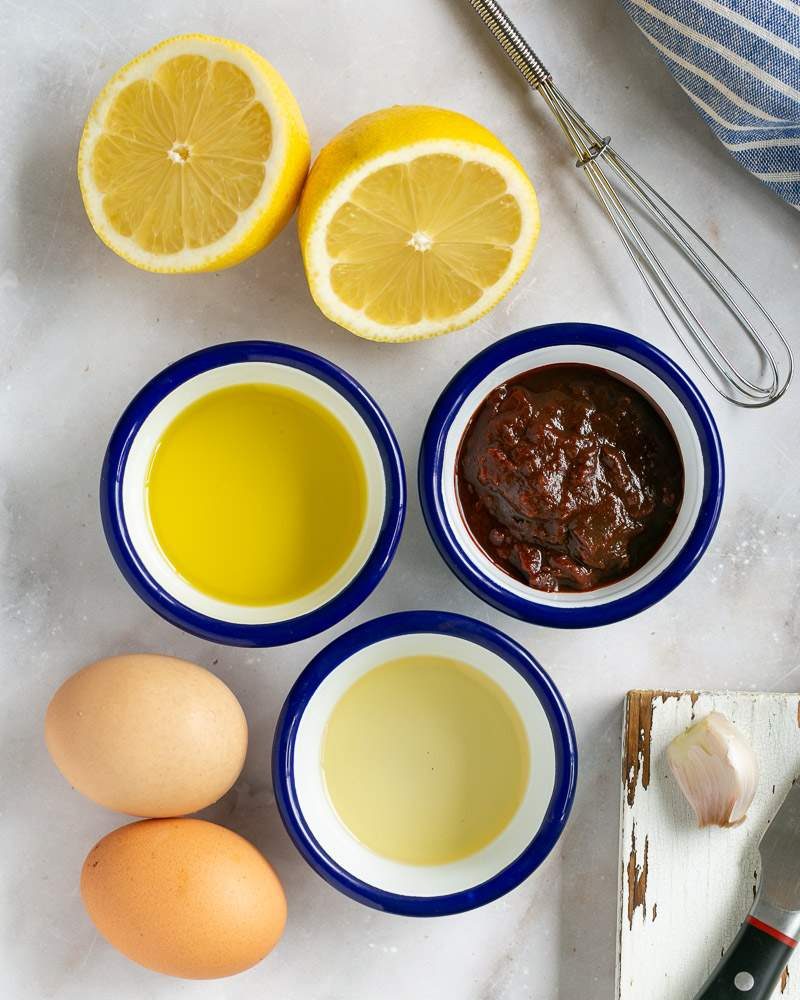 Garlic is the main ingredient in aioli sauces and always added raw. But if raw garlic is not your thing, you can cook it beforehand or completely leave it out.
Vinegar & Lemon Juice both add acidity to the sauce and help form the emulsion. Start with vinegar and add lemon juice in the end if you want the sauce to be less tangy.
Light Olive Oil olive oil tends to be bitter hence use a light olive oil for the aioli unless you don't mind the strong taste. Light olive oil comes in yellow colour rather than deep green. Other oils you can use are, grape seed or avocado oil.
HOW TO MAKE CHIPOTLE AIOLI SAUCE
Chipotle aioli is an emulsification similar to mayonnaise. Back in my cooking school days, we made aioli by hand using a whisk.
Nowadays there are appliances like food processor or kitchen aid that will do the hard work for you but the fastest and easiest way, in my opinion is using a stick blender.
combining the ingredients
Use a tall jar for the aioli, like the one that come's along with the stick blender (our's unfortunately broke sometime ago, so need to buy a new one!).
Add the egg yolks to the jar. Make sure you take the eggs out of the fridge beforehand as we want the egg yolks and the olive oil to be at room temperature for a prefect emulsion.
Now grate the garlic into the jar and add the vinegar.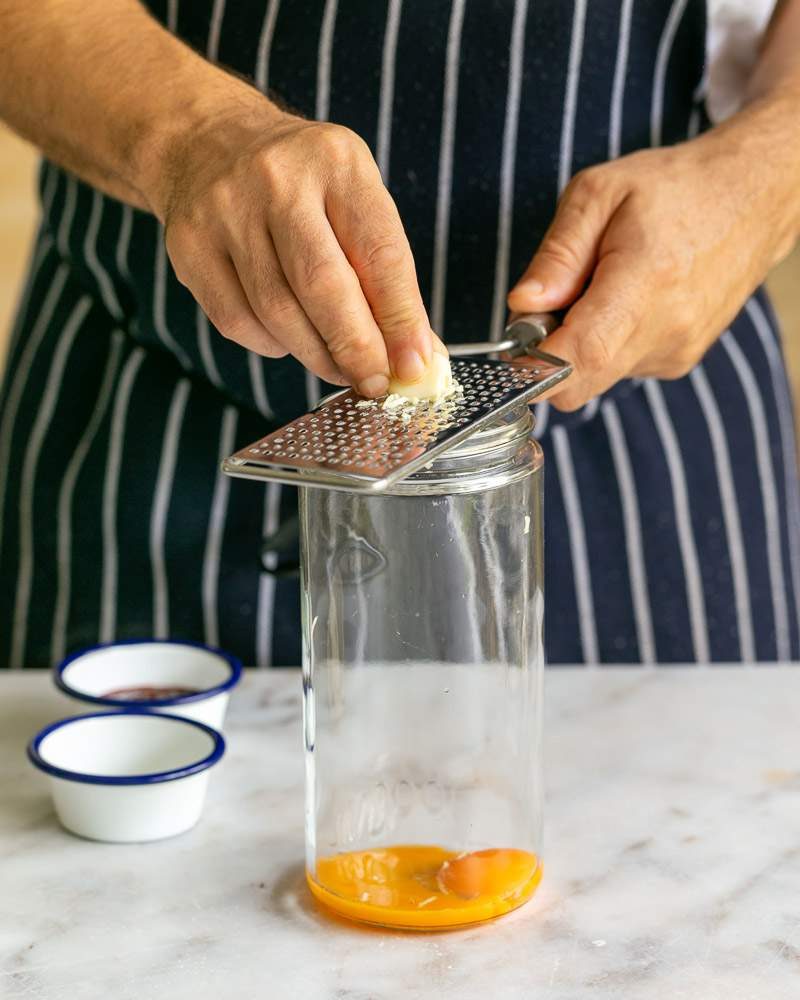 Next goes in the chipotle in adobo sauce. Keep in mind, you can always start with half the amount if you don't want it too spicy and add more later if you think you can handle a bit more heat!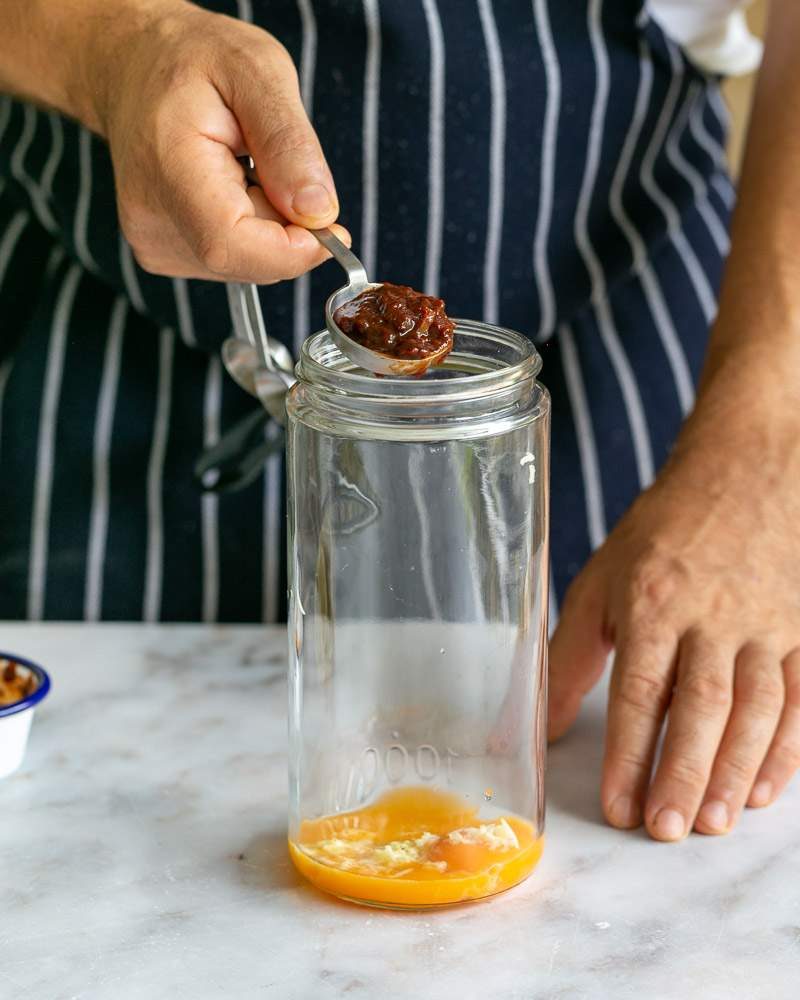 Lastly, add the lemon juice and salt.
adding the olive oil
Blend all the ingredients for a few seconds into a smooth puree, using the stick blender.
Start by slowly adding the oil drop by drop, keeping the stick blender running at the bottom of the jar and lifting it up slightly occasionally.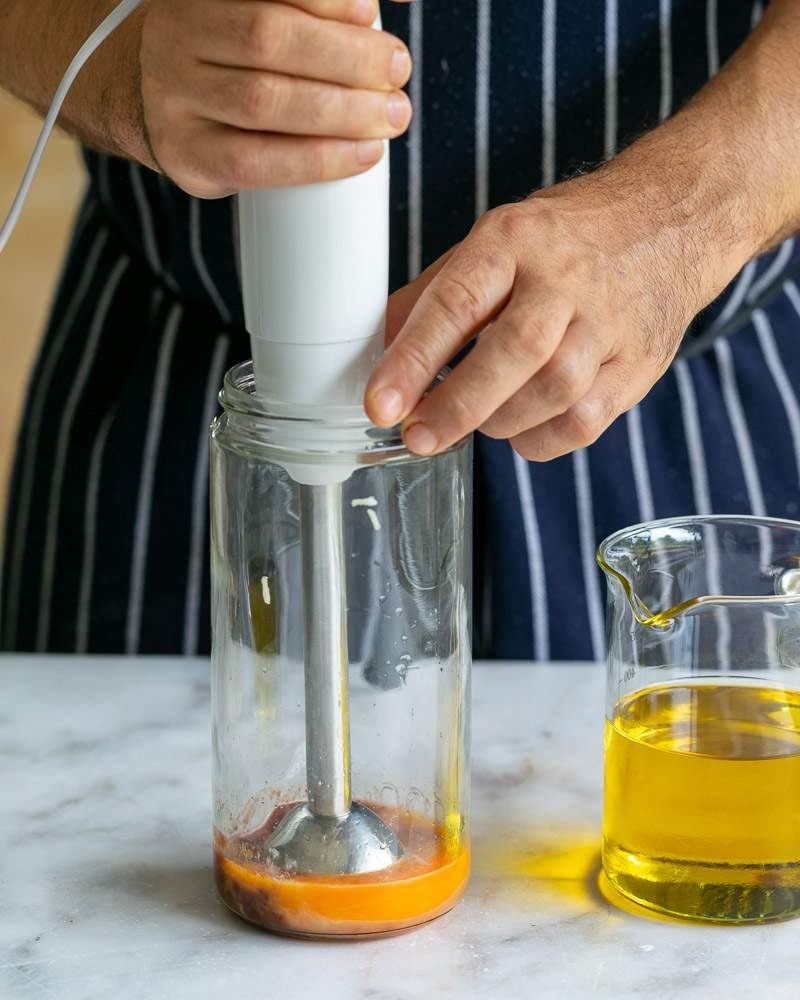 When you have used about a quarter of the oil, you can increase the flow to a thin stream.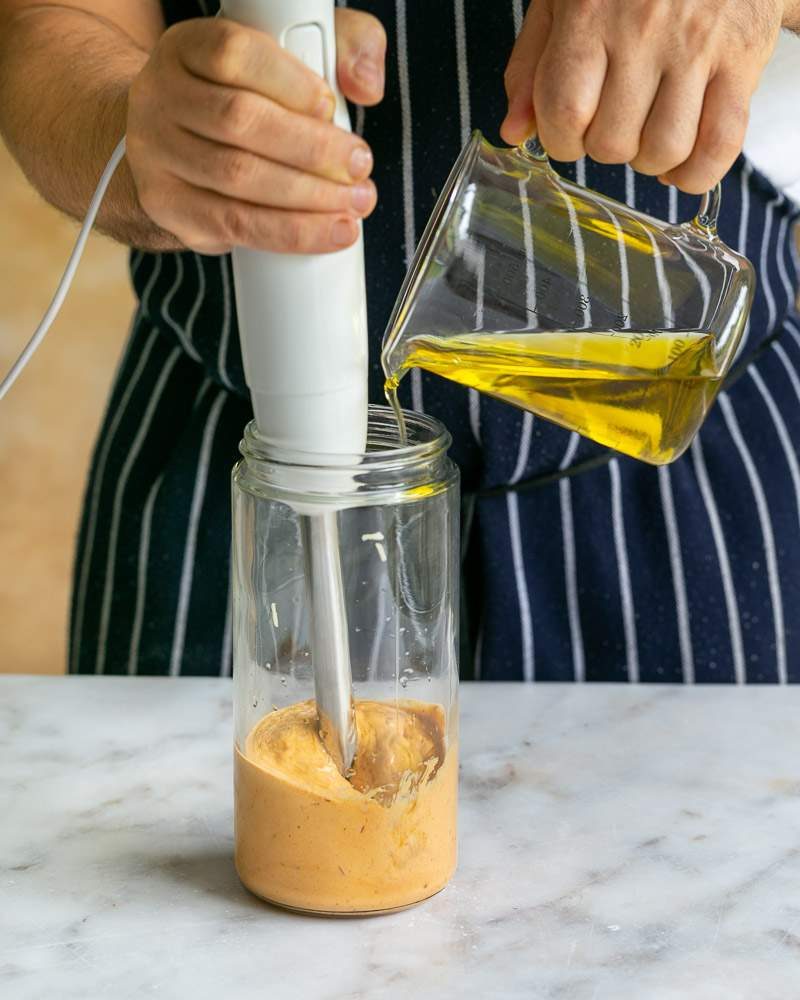 When you have added all the olive oil and the chipotle aioli has emulsified, it's time to taste! Add salt or more lemon juice if required.
FIXING A SPLIT AIOLI
Any emulsion can split - this happens to even the most trained chefs! It could be due to many reasons but don't worry - You can fix the split aioli. Start over again with one egg yolk and a splash of vinegar. Add oil drop by drop.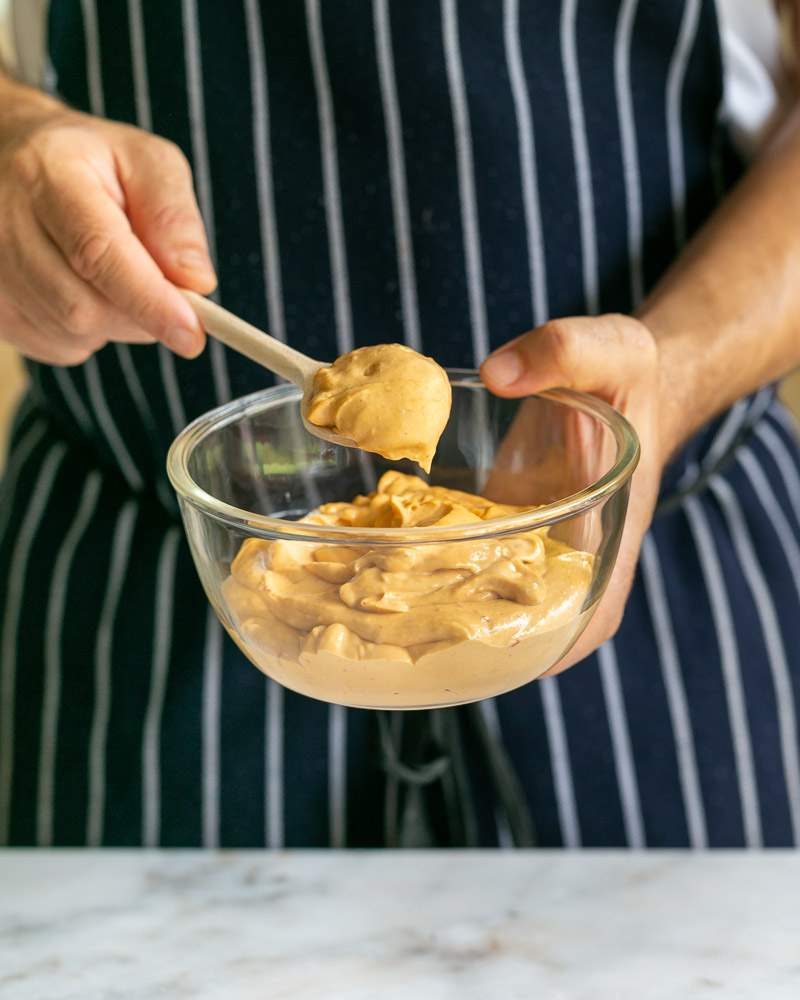 When it starts to combine and thicken, add the broken (split) aioli slowly, first drop by drop, then a bit faster. This should do the trick.
MAKING AIOLI WITHOUT RAW EGGS
Even though the risk in using raw eggs is fairly low nowadays, it shouldn't be overlooked. No doubt raw eggs are an important ingredient in the making of a good aioli but if you are concerned about using raw eggs, then try this method instead to make a "safe to eat aioli".
It is a recipe I adapted, when I first moved to Australia as the food safety rules for restaurants are very strict here!
WHAT TO USE THE AIOLI WITH
This spicy chipotle aioli makes a great sauce to dip your fries in. Try it on burgers, sandwiches or with fish tacos, you will love the spicy kick this smoky chipotle brings to your dish!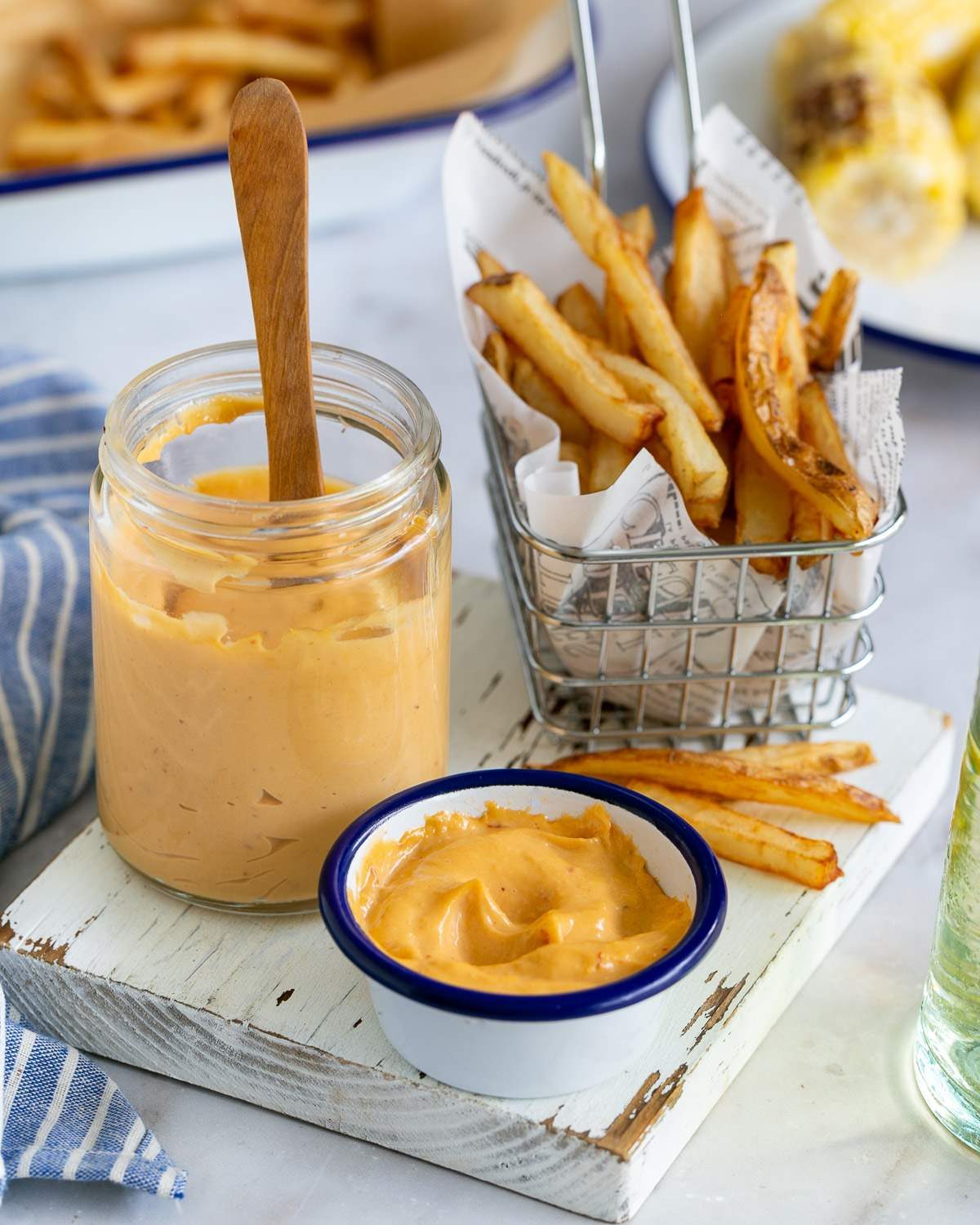 Chipotle aioli also makes a great addition for more sophisticated dishes. Use it as a seasoning for a simple salmon tartare or prawn cocktail. Or serve as a sauce with these zucchini, pea and ricotta fritters.
FAQ's
what can I substitute chipotle chillies with?
The closest to chipotle chillies would be red chillies or chilli powder mixed with smoked paprika powder. For a very spicy sauce use habanero chillies.
how long can I keep aioli?
To be safe don't keep aioli longer than a week and always store covered in an air tight container in the fridge. If you used fresh eggs you have nothing to worry about.
We hope you love this recipe as much as we do! It's a great way to add a touch of spice and heat that is honestly, so satisfying. As always, we will be delighted to hear from you so leave us a comment below sharing your experience!
Cheers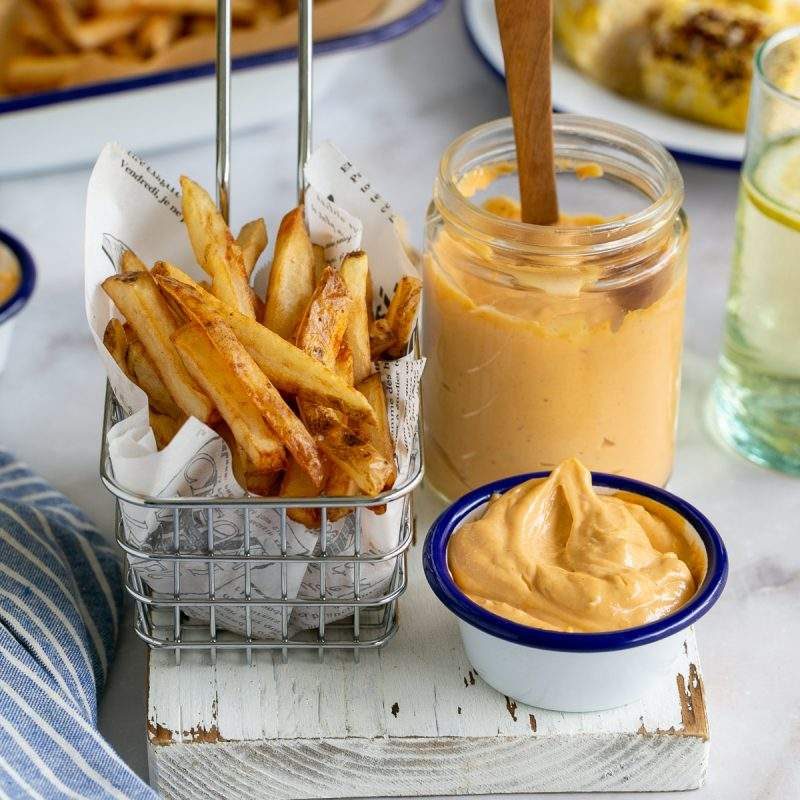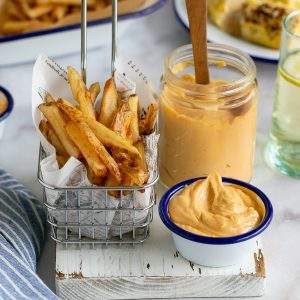 How to make Chipotle Aioli Sauce
Learn in a few simple steps, how to make the best chipotle aioli sauce from scratch, in just ten minutes.
Ingredients
2

egg yolks

1

teaspoon

white vinegar

2

tablespoon

chipotle in adobo sauce

1

garlic clove

peeled

1

teaspoon

lemon juice

400

millilitre

light olive oil

salt to taste
Instructions
In a tall mixing jar, combine the egg yolks, white vinegar, chipotle in adobo sauce, lemon juice and a pinch of salt.

Add the grated garlic clove and mix with the stick blender for 5 seconds or until the ingredients have turned into a thick puree.

With the stick blender running & pressed to the bottom of the mixing jar, slowly add the olive oil.

Start by drizzling small amounts of the oil and once the ingredients have emulsified, increase the flow of olive oil to a stream.

Continue until all has blended well together into a mayonnaise consistency.

Adjust seasoning with salt and lemon juice if required and serve with your favourite dish.
Nutrition
Nutrition Facts
How to make Chipotle Aioli Sauce
Amount Per Serving (40 g)
Calories 128
Calories from Fat 126
% Daily Value*
Fat 14g22%
Cholesterol 49mg16%
Sodium 50mg2%
Carbohydrates 1g0%
Protein 1g2%
Vitamin A 252IU5%
Vitamin C 1mg1%
Calcium 7mg1%
Iron 1mg6%
* Percent Daily Values are based on a 2000 calorie diet.