This recipe for homemade confit garlic and herb aioli sauce is not only fail-proof but it is easy to make too. Extra creamy and made with just a few ingredients, this mayonnaise based aioli can be altered to any purpose.
There is no comparison between a homemade aioli and a store bought one. The benefits of making your own aioli are endless, to name a few - you exactly know what is going in it and you have full control of what the final aioli will taste like.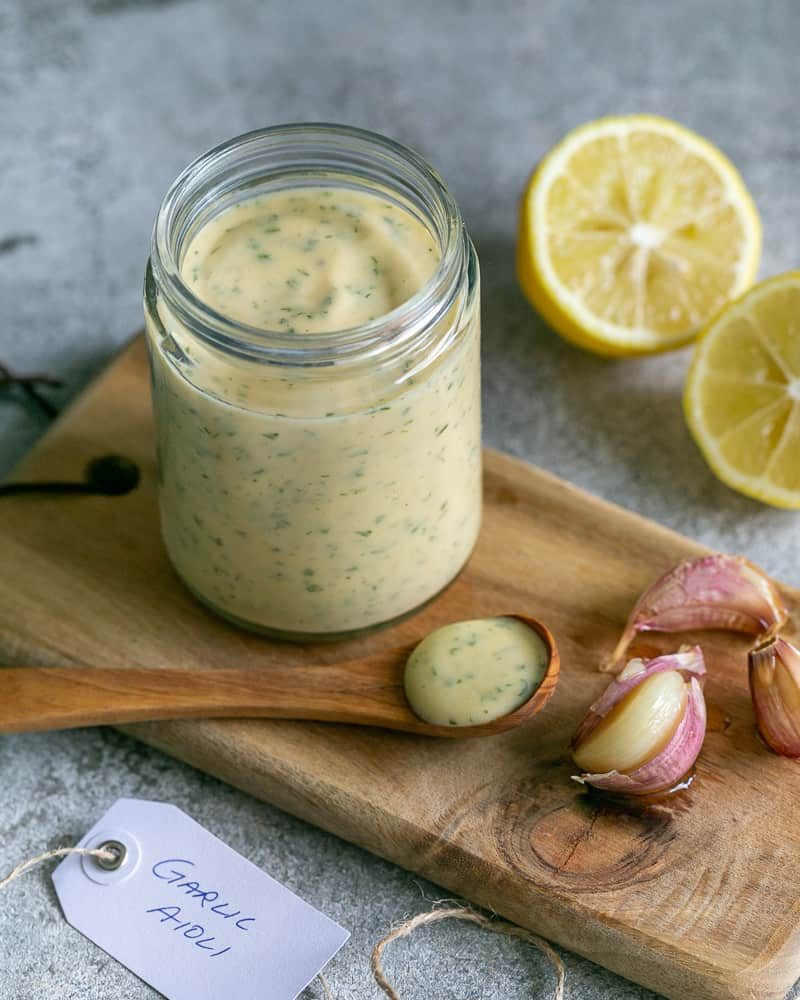 Besides, if we tell you that our recipe is not made with raw eggs and is safe to eat, nothing should stop you from making this aioli!
HOW TO MAKE AIOLI FROM SCRATCH
Being a professional Chef for many years, making mayonnaise or aioli from scratch, is a basic skill I learned early in my career. Having worked in mostly high end restaurant kitchens, knowing how to make basic sauces was always expected so I had to be on top of my game.
Many think making a sauce is complicated but I am here to tell you 'it doesn't have to be.' This Aioli recipe, is not only delicious but is also safe to eat.
If you want to know how, then keep reading...
IS AIOLI SAFE TO EAT?
While store bought aioli should be safe to eat, a homemade one can be tricky. First and foremost, the ingredients for a homemade aioli have to be fresh. Even so the risk in using raw eggs is fairly low nowadays, it shouldn't be overlooked.
No doubt, raw eggs are an important ingredient in the making of a good aioli but if you are concerned about using raw eggs, then this "safe to eat aioli" recipe is for you!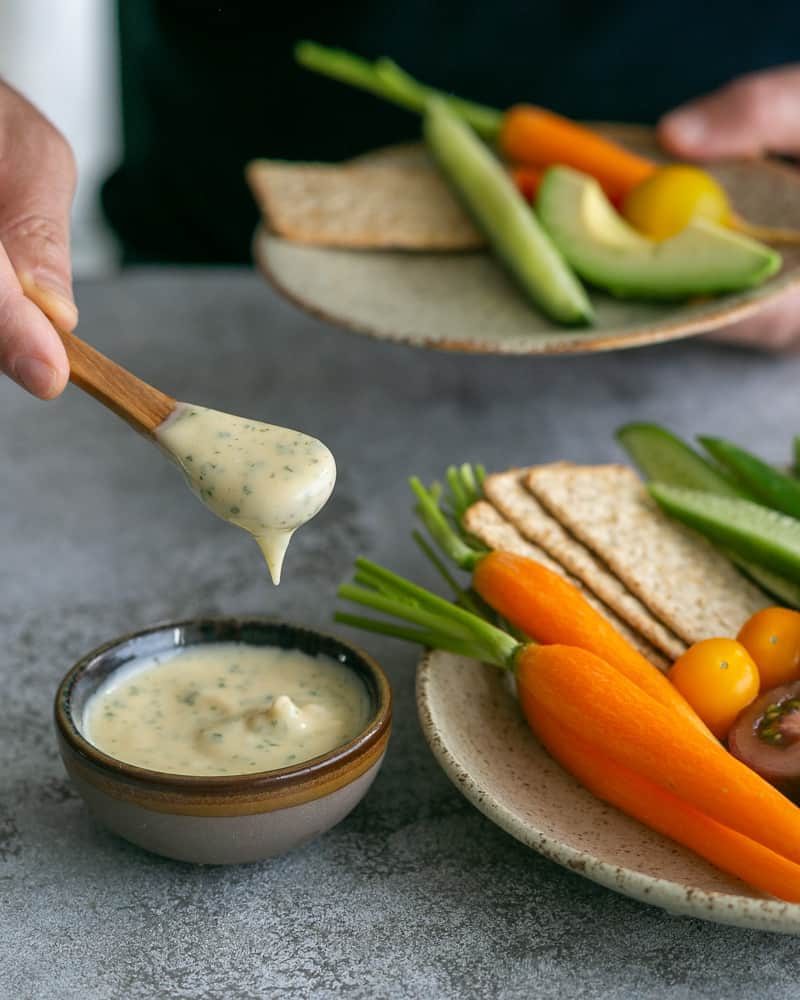 For our recipe we use whole eggs but we don't use them raw, instead we cook the eggs beforehand. Yes you read it right! We actually cook them to a soft boiled egg consistency which is enough to kill the bacteria.
Following this method, you will not waste the egg whites and you will also get a higher yield of Aioli. Now, isn't that a useful kitchen hack!
AS A NOTE: To store homemade aioli, keep in the fridge below 5 degrees and consume within 7 days!
INGREDIENTS FOR HOMEMADE CONFIT GARLIC AND HERB AIOLI
Pretty sure you already have most of these staple ingredients in your kitchen! Let's have a closer look at what we need: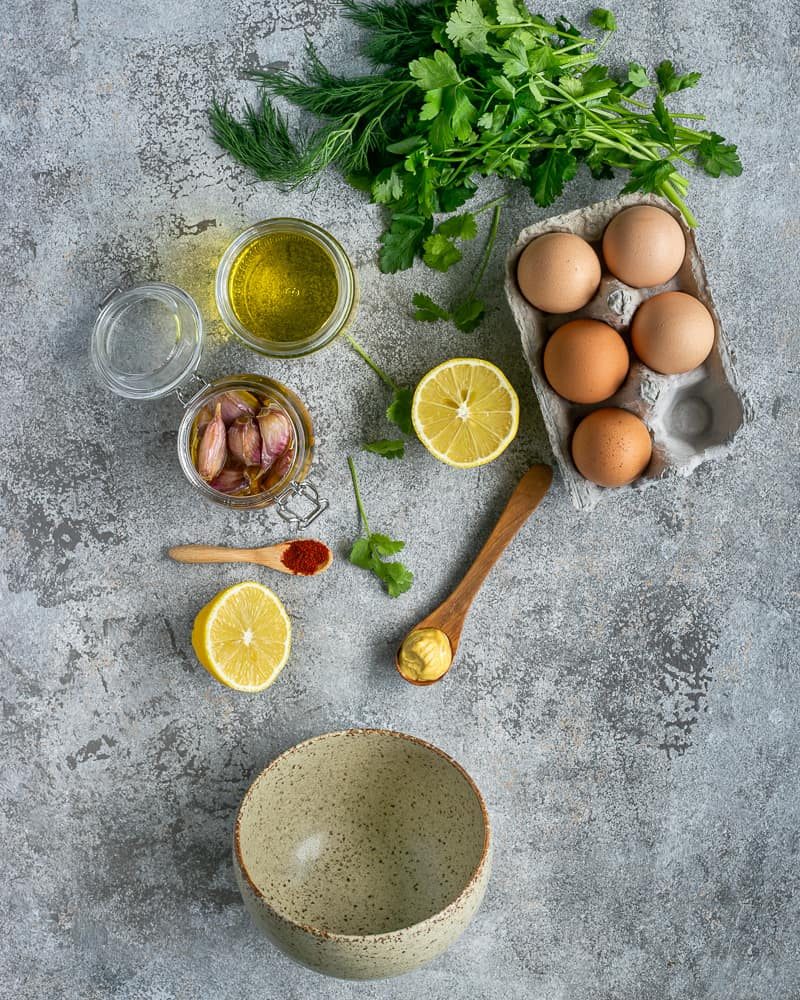 FRESH EGGS- Even so mayonnaise/aioli can be made eggless, a good sauce is made with them. As mentioned earlier, we are using whole eggs in our recipe which eliminates wastage and gives a higher yield. Check the expiry date on the eggs and only buy free range or organic. Also, avoid buying dirty or cracked eggs.
VINEGAR/LEMON JUICE- Personally I prefer lemon juice over vinegar for aioli. I like to add it little at a time into the aioli. Using vinegar or lemon juice gives the aioli that much needed acidity to form the emulsion properly. Another way of adding acidity is using preserved lemon peels.

DIJON MUSTARD- Apart from adding a wonderful sharpness to the aioli, mustard acts as emulsifier for the aioli making process.
CONFIT GARLIC- For this recipe we use confit garlic but you can use raw garlic as well if you like the sharpness.

OIL- we use grape seed oil for mayonnaise or aioli as It is healthy and neutral in taste. We recommend adding olive oil at the end since the taste is quite over powering. Avocado oil or canola oil are great too, use whichever you prefer. A trick to get the typical aioli flavour is by adding half neutral oil and half olive oil.

FRESH HERBS- I used herbs like parsley, dill and coriander. Besides these, there are many other herbs you can use like basil, oregano, chive, chervil...

SMOKED PAPRIKA POWDER- For more flavour I like to add spices like smoked paprika powder which adds a nice smoky taste to the aioli. Finally, for a kick I use cayenne pepper, dried chilli flakes or tabasco.
HOW TO MAKE CONFIT GARLIC
This technique gives you meltingly tender and sweet cloves, along with a beautiful fragrant and delicious oil. Ideal for sprucing up any vegetables that have been steamed, boiled or roasted like our whole roasted cauliflower recipe.
As for the fragrant oil, use can use it in your salad dressing or as a marinade for olives and feta. There are countless ways of using this confit garlic so feel free to make an extra batch!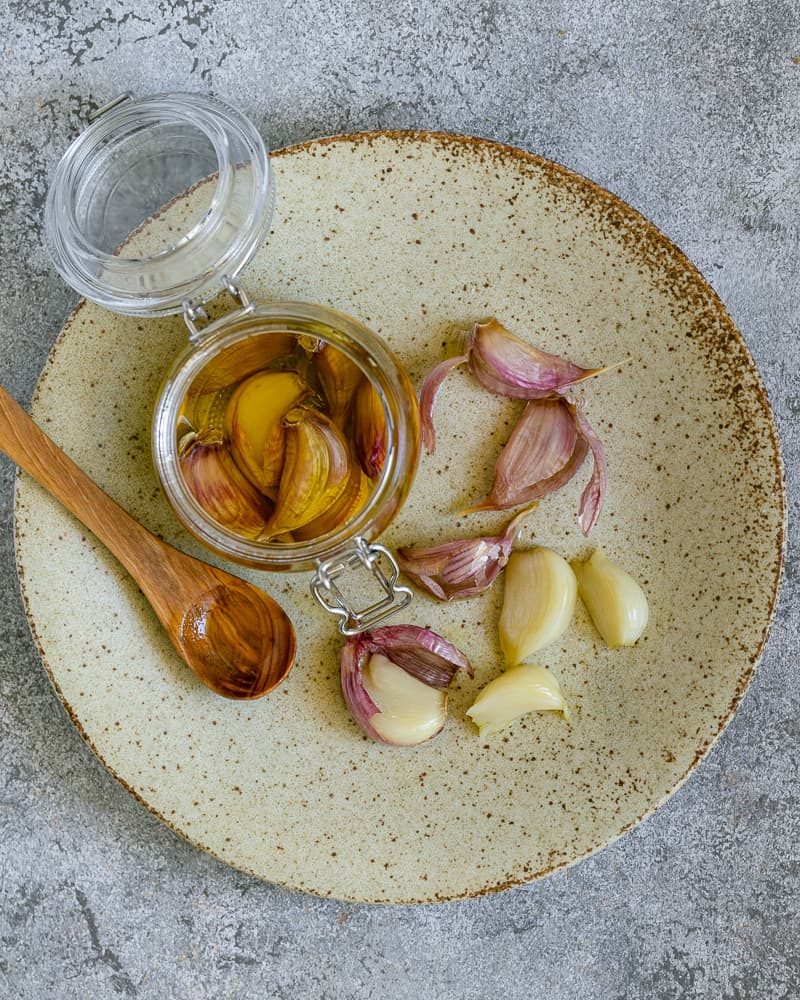 Okay! Let's make some confit garlic now!
Heat olive oil in small saucepan over medium-low heat.
Add whole garlic cloves with peel
Ensure the garlic cloves are submerged in the olive oil
Cook over medium- low heat for 15 minutes or until soft
Transfer the garlic with a slotted spoon to a clean jar and pour the oil in to cover the cloves
Cool the mixture to room temperature. Cover the jar tightly and keep refrigerated
AS A NOTE: It needs to be refrigerated in an airtight container due to a risk of developing botulism and other bacteria's if stored at room temperature. The mixture can be kept in the fridge for upto two - three weeks.
RECIPE FOR CONFIT GARLIC AND HERB AIOLI SAUCE
Firstly prepare your ingredients. Boil the eggs for 7 minutes and place in ice cold water or cool under running cold water and peel. In the meanwhile chop the herbs and juice the lemon.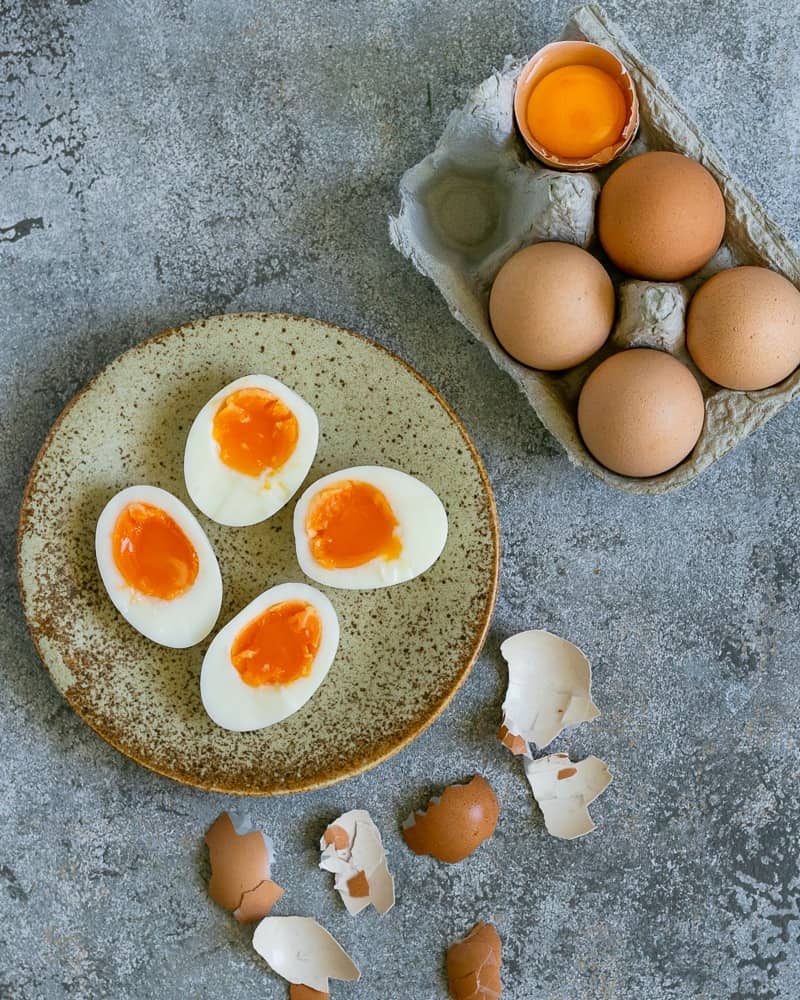 Next prepare your equipment. You need a food processor or stand mixer to make aioli. In case you don't have one use a stick blender instead.

Add your ingredients to the jar. In order to start the emulsification add the whole soft boiled eggs, mustard, smoked paprika powder, juice of a half lemon, confit garlic cloves, salt and pepper. Blend together for 10 seconds.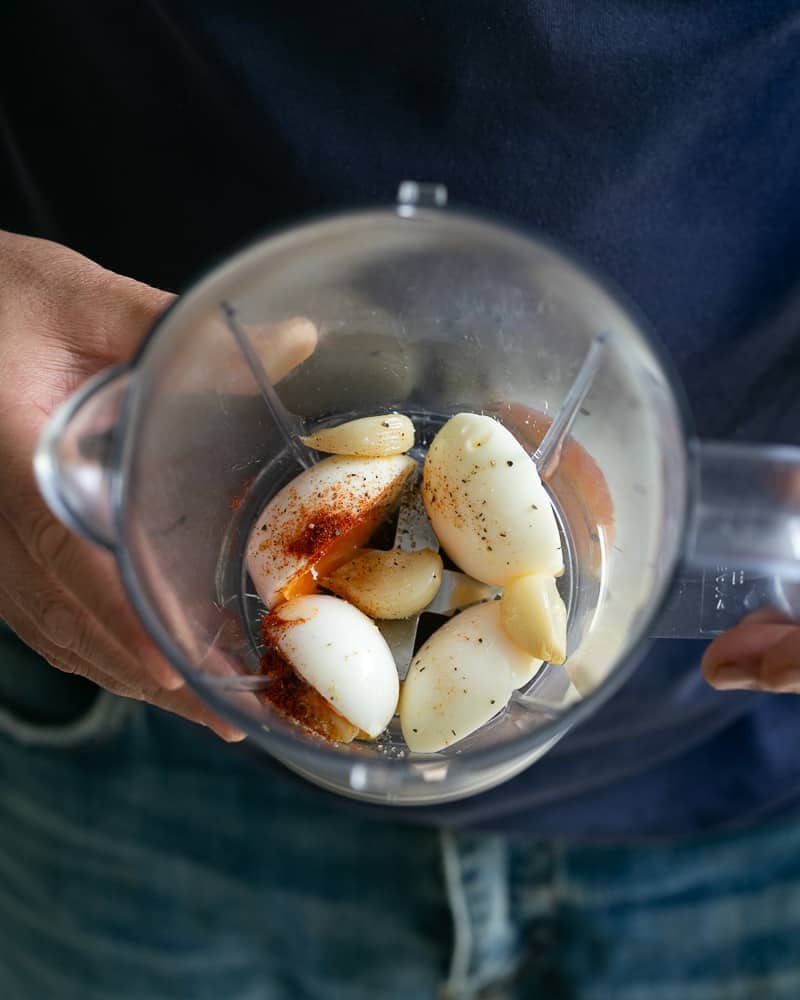 Now comes the tricky part. Add the oil in drops first until you see an emulsification happening. Afterwards increase the stream of oil and let the aioli thicken up.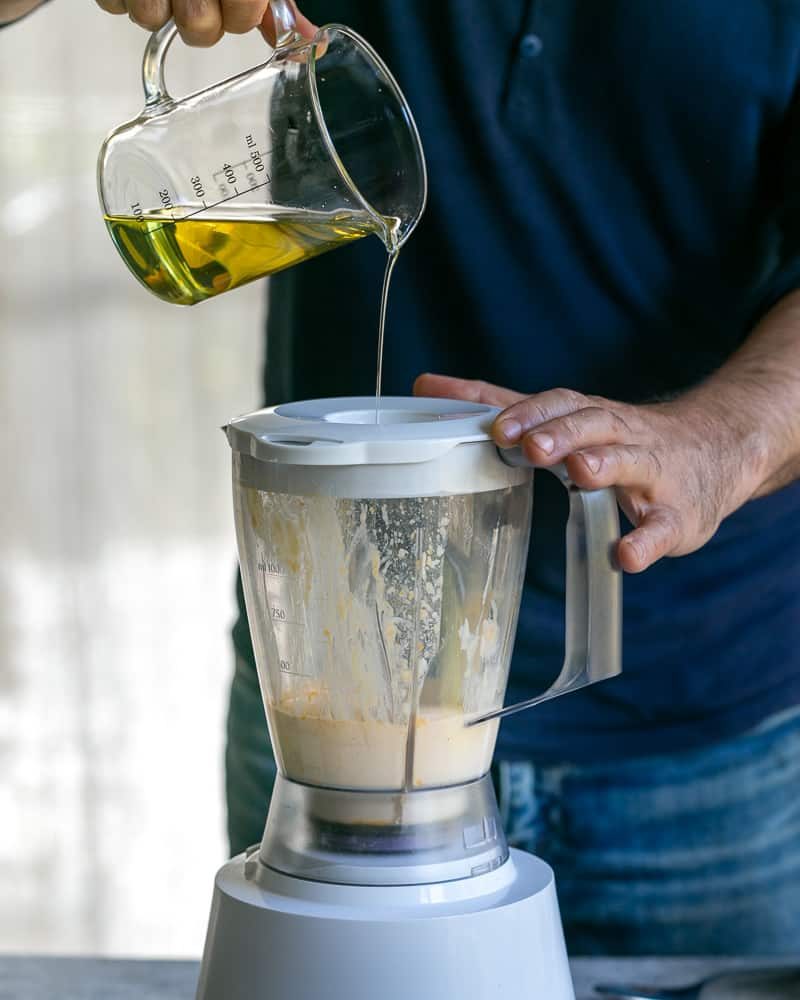 Finishing touches to your aioli. Taste the aioli before adding anything else to it! Only if required, then add more salt, pepper or lemon juice. Finish the aioli with some chopped herbs.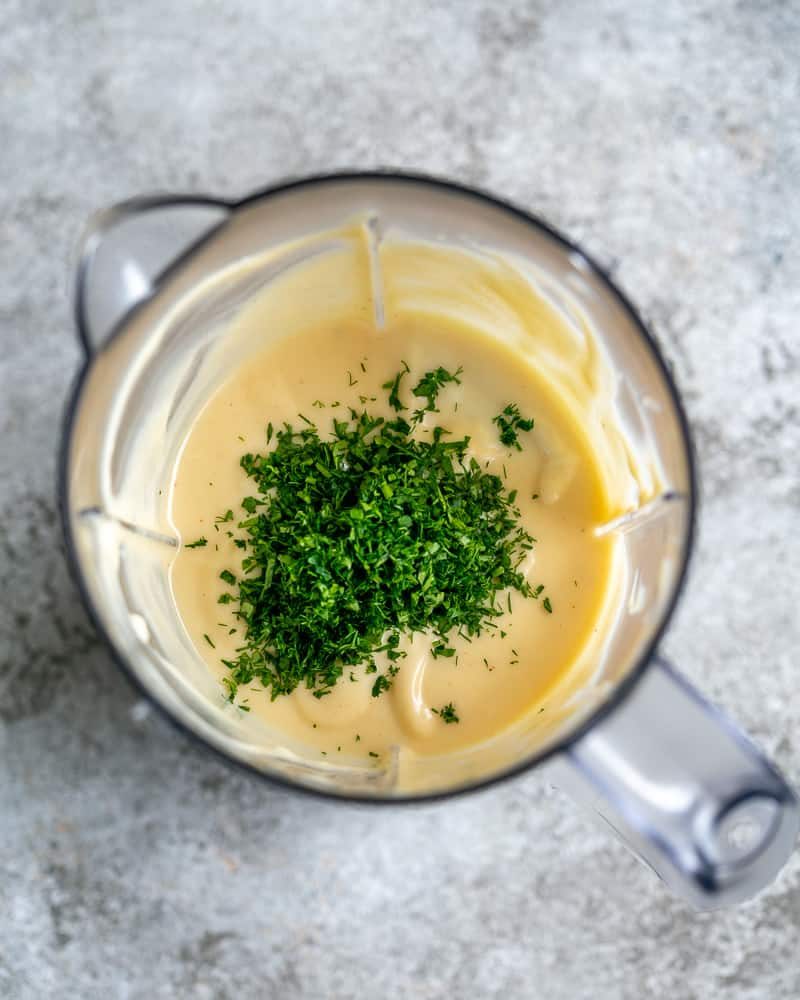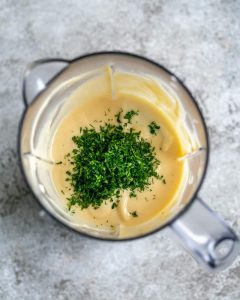 AS A NOTE: It is very important to add the oil slowly in the beginning. I usually start with only drops of oil and gradually increase the amount when I see the the aioli thickening up. This also means the aioli can not split anymore.
HOW TO FIX A SPLIT AIOLI
Even as a Chef, I have had to deal with split mayonnaise, aioli and even hollandaise sauce! The good news is that I have always managed to bring them back so don't panic if it happens to you too! In most cases, the cause of broken emulsifications, is either the oil has been added too fast or the temperatures of the ingredients are too cold or too hot.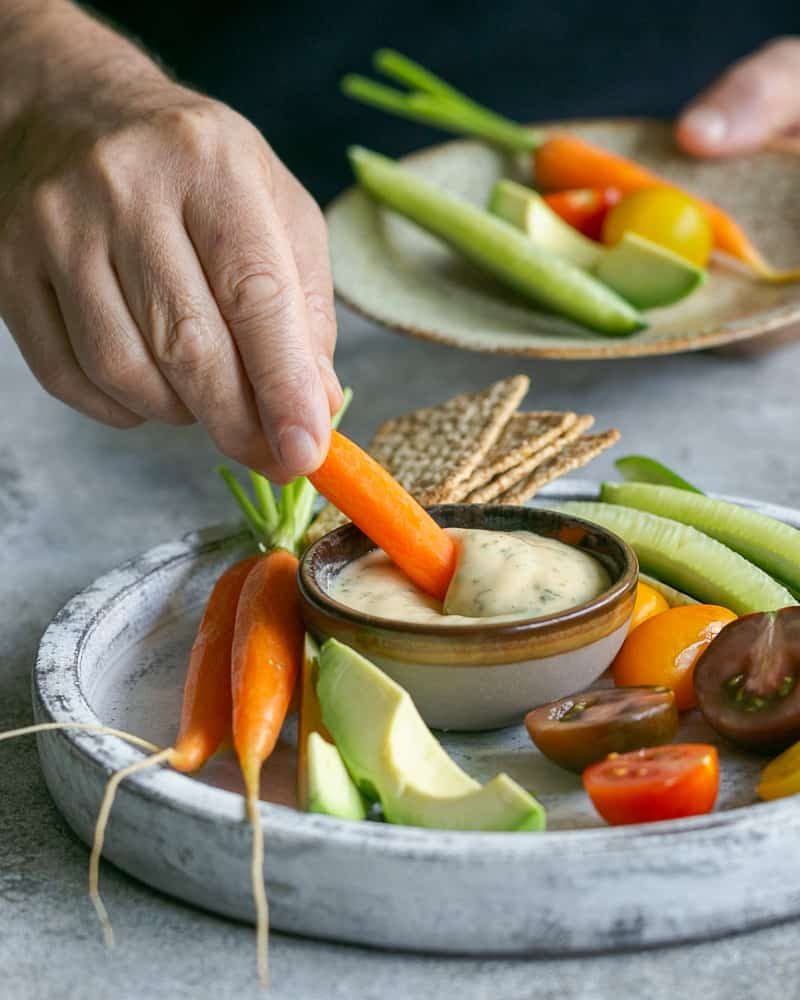 Here are a few ways to bring back a split aioli:
Add a spoon of warm water into a large bowl and slowly whisk the broken aioli drop by drop into the bowl. The water and broken aioli will emulsify again and you can continue where you stopped.
In case you don't mind an extra amount of mustard in your aioli you can do the same as in the previous step. Instead of using water use mustard and proceed the same way.
Lastly you can start again using the mixer adding a soft boiled egg and emulsify it with the broken aioli. This will definitely work!
WAYS TO USE HOMEMADE CONFIT GARLIC AND HERB AIOLI
This recipe for aioli sauce can be used in many ways. Here are some of our favourite ideas: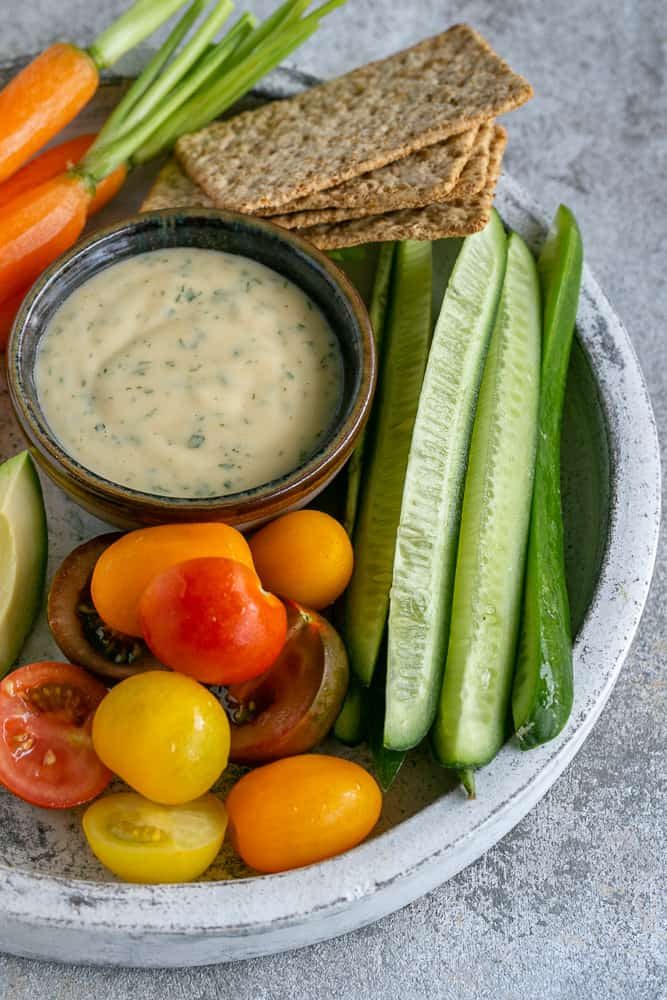 -as a dip with raw vegetables
-served with a whole baked fish cooked in salt crust
-as a condiment for a nicoise salad with fresh tuna
-as a dip with crispy oven potatoes or sweet potato fries
-with whole roasted cauliflower
-simply with poached or grilled prawns

Let us know how your attempt to make this recipe for aioli sauce turned out in the comments below😉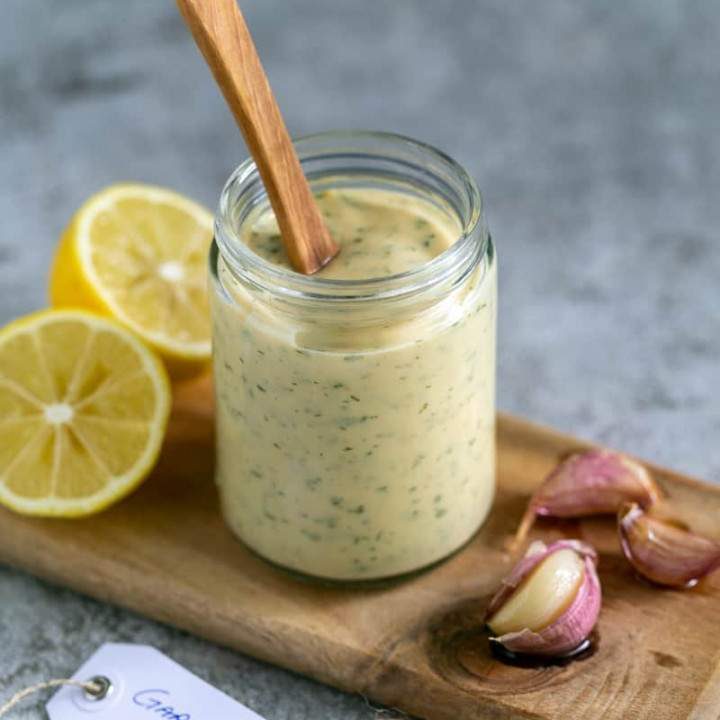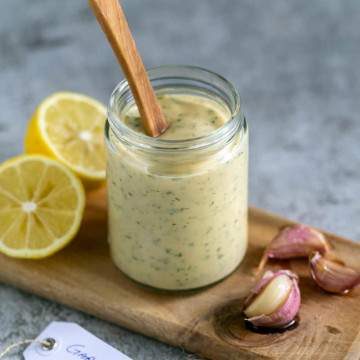 Confit Garlic and Herb Aioli
This recipe for homemade confit garlic and herb aioli sauce is not only fail-proof but it is easy to make too. Extra creamy and made with just a few ingredients, this mayonnaise based aioli can be altered to any purpose.
Ingredients
5

clove

confit garlic

2

eggs

1

bunch

fresh herbs

dill, coriander, parsley...

1

tablespoon

dijon mustard

½

lemon

1

pinch

smoked paprika powder

250

ml

grape seed oil

100

ml

olive oil

to taste

salt, pepper
Instructions
Cook the eggs in boiling water for 7 minutes. Refresh the eggs in ice cold water and let sit for a few minutes. Peel the eggs and set aside.

Chop the herbs and set aside.

In a food processor add the eggs, confit garlic, mustard, smoked paprika powder, a pinch of salt and pepper and half of the lemon juice. Blend altogether on low speed for 10 seconds.

Slowly drizzle in the grape seed oil starting with drops until the mixture is starting to emulsify. Increase the stream of oil until all the oil has been added. Add the olive oil in the end.

Scrape the sides of the blender with a spatula. Add the herbs and remaining lemon juice and blend again for 10 seconds. Adjust the taste with salt and pepper as needed.

If the aioli seems too thin, just add more oil to thicken it and blend it once more.

Enjoy it with some crudités or use it as a salad dressing.

Keep stored in the fridge below 5 degrees for up to seven days.