An indulgent Autumn dish, made from Risoni pasta (Risetti), Butternut Squash, Kale and Chorizo, is sure to warm your belly and your heart. All cooked together in a pan like a Risotto, finished with sour cream and Parmesan, comes together like a match made in heaven - A dish that will make it to your top ten weekly family meals.
It's that time of the year when I love using one of my favorite vegetable's - butternut squash. Butternut squash is like pumpkin with a nutty, sweet flavor; one can find it easily during autumn and winter. I personally prefer butternut squash over pumpkin, as I find they hold their shape better while cooking. Also, it can be used for many other preparations.
If you are vegetarian you can leave the Chorizo out of the recipe. Honestly there is no need to replace it with anything else. I have made this dish many times without any meat and it is as delicious.
WHAT IS RISETTI PASTA
I added a Risetti dish on the Tasting Menu when I worked at the Burj Al Arab hotel in Dubai, back in 2009. Risoni pasta cooked like a Risotto evolved into a Risetti.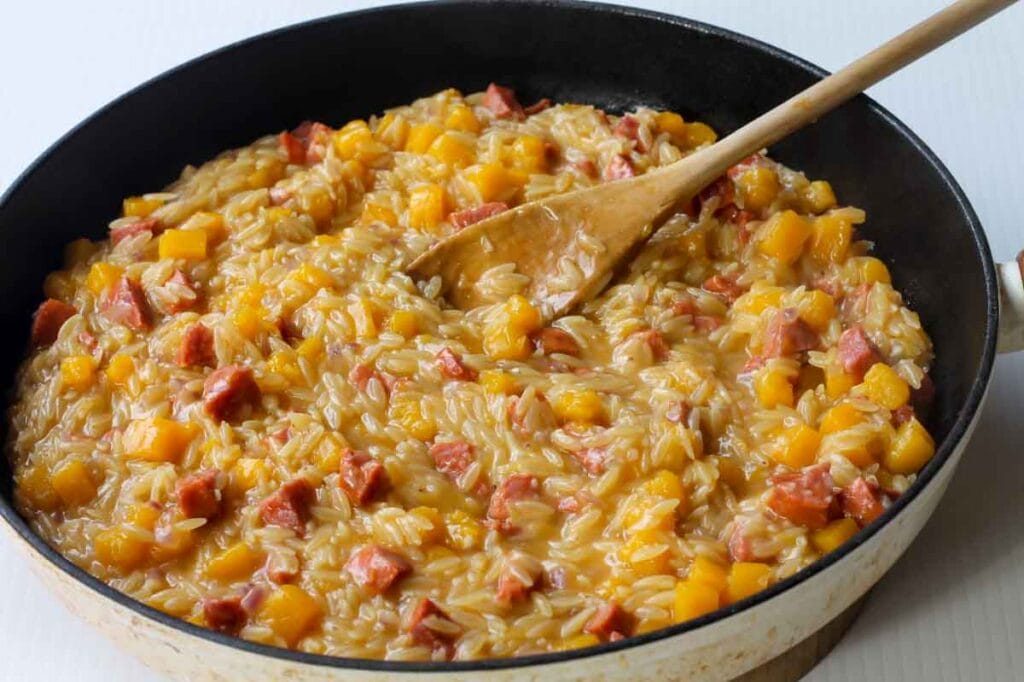 The idea actually came from a Paella dish I had seen prepared by a Michelin star chef, who used pasta instead of rice. I was so inspired by this dish, I went ahead and cooked the Risoni the same way. I added Saffron & Prawn stock, Chorizo brunoise, Piquillo peppers, Esplette pepper, Parmesan and herbs.

The dish was topped with roasted prawns and a light saffron foam; to my delight, the dish became pretty popular with guests hence stayed on the menu for quite a while.
Risoni or also known as Orzo is a small pasta shaped like a rice grain. It is quite versatile so you can use it in salads, soups, as stuffing in vegetables and even in a gratin. Easy to cook, you just need to boil the pasta for a short while in salt water and it's ready to go.
HOW TO MAKE BUTTERNUT SQUASH AND CHORIZO RISETTI
Similar to Risotto when you make this recipe, you should have all your preparation done ahead of time. While cooking the Risoni, once it reaches a 'bite point' (al dente) it should be served immediately. If you leave the risetti for too long it turns sticky and gluey if left too long in the pan.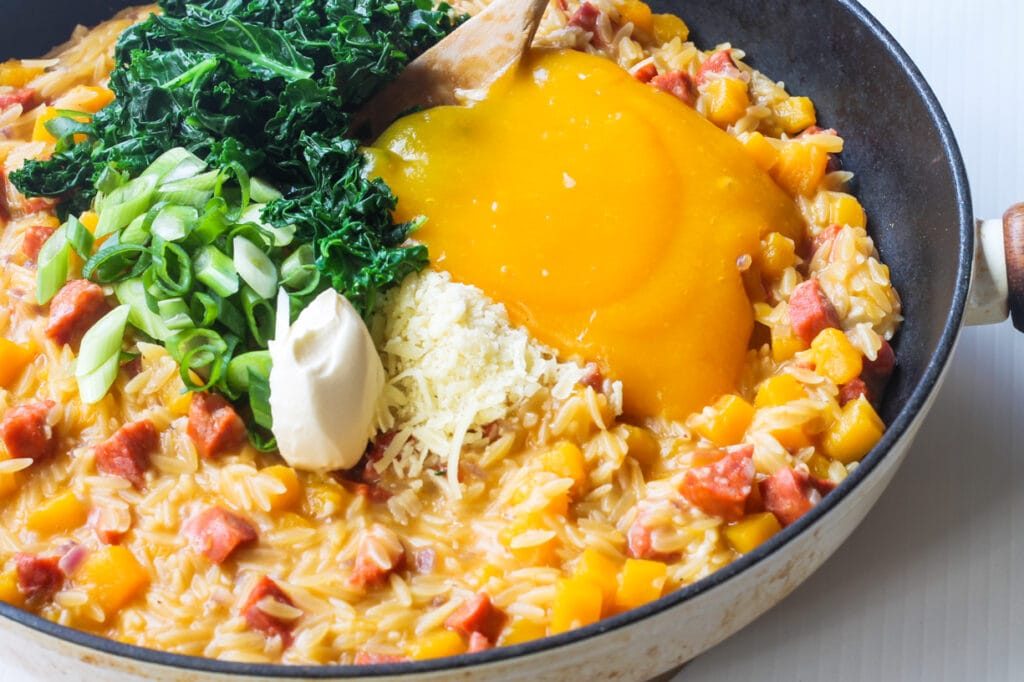 Making this butternut squash, kale and chorizo risetti involves a few steps, which can be time consuming when you make it the first time. Sharpen your knives before you start, there is as much cutting needed as cooking.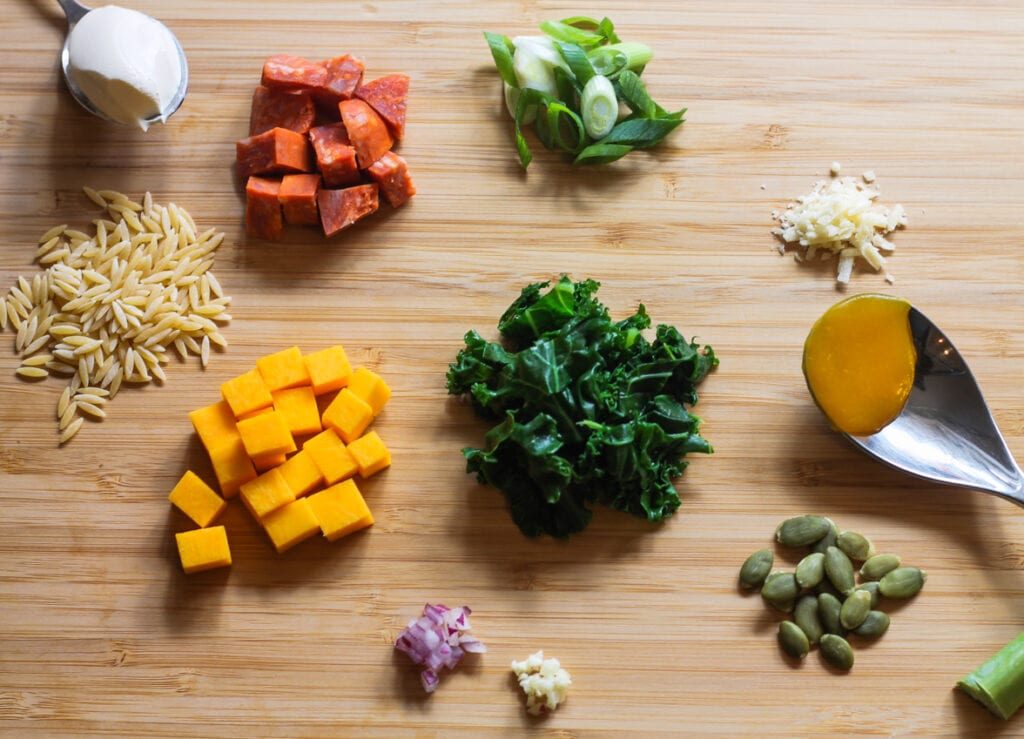 Cutting the butternut squash into same size cubes is important to avoid smaller pieces to cook faster than the larger ones. You will end up with many off cuts, which we can use to make a squash puree.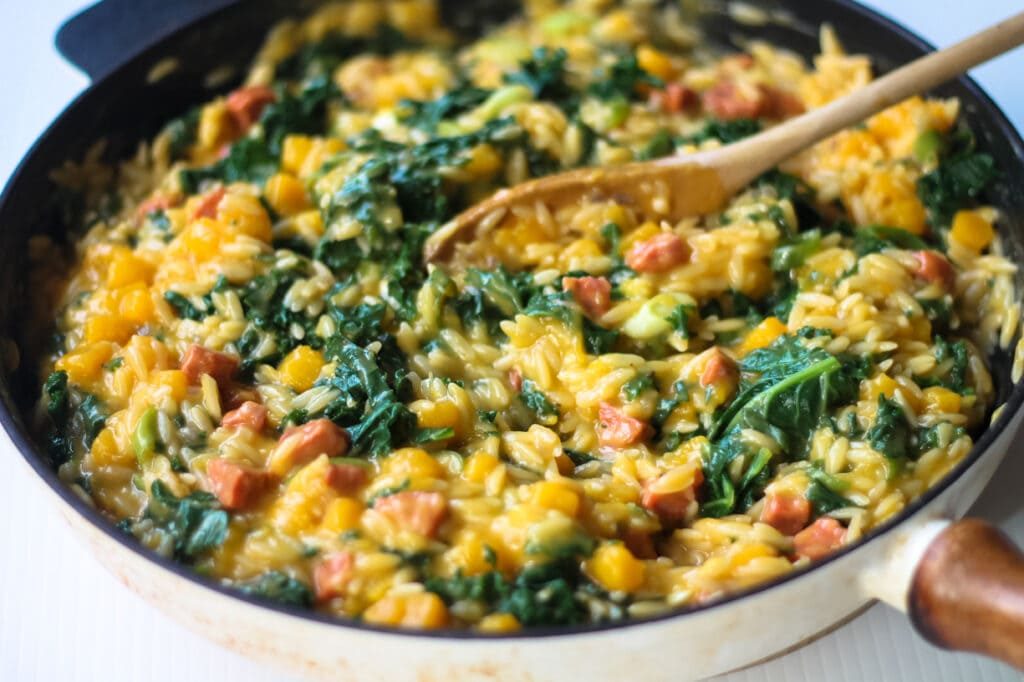 Adding the squash puree will give the Risetti, a rich nutty pumpkin flavor and that beautiful orange color. But If you can't be bothered, you can just skip this step and perhaps make a soup next day to make use of the remaining squash.
HOW TO COOK RISONI PASTA
To cook the Risoni pasta, follow similar steps to cooking a Risotto. Start with sweating the onions, garlic and squash dices with olive oil. Shortly after, add the uncooked Risoni.

Instead of stock, I added water, slowly - ladle by ladle; keep in mind the Risoni is not covered with water completely. Cook everything on slow heat, continuously stirring to avoid the pasta from sticking to the bottom of the pan.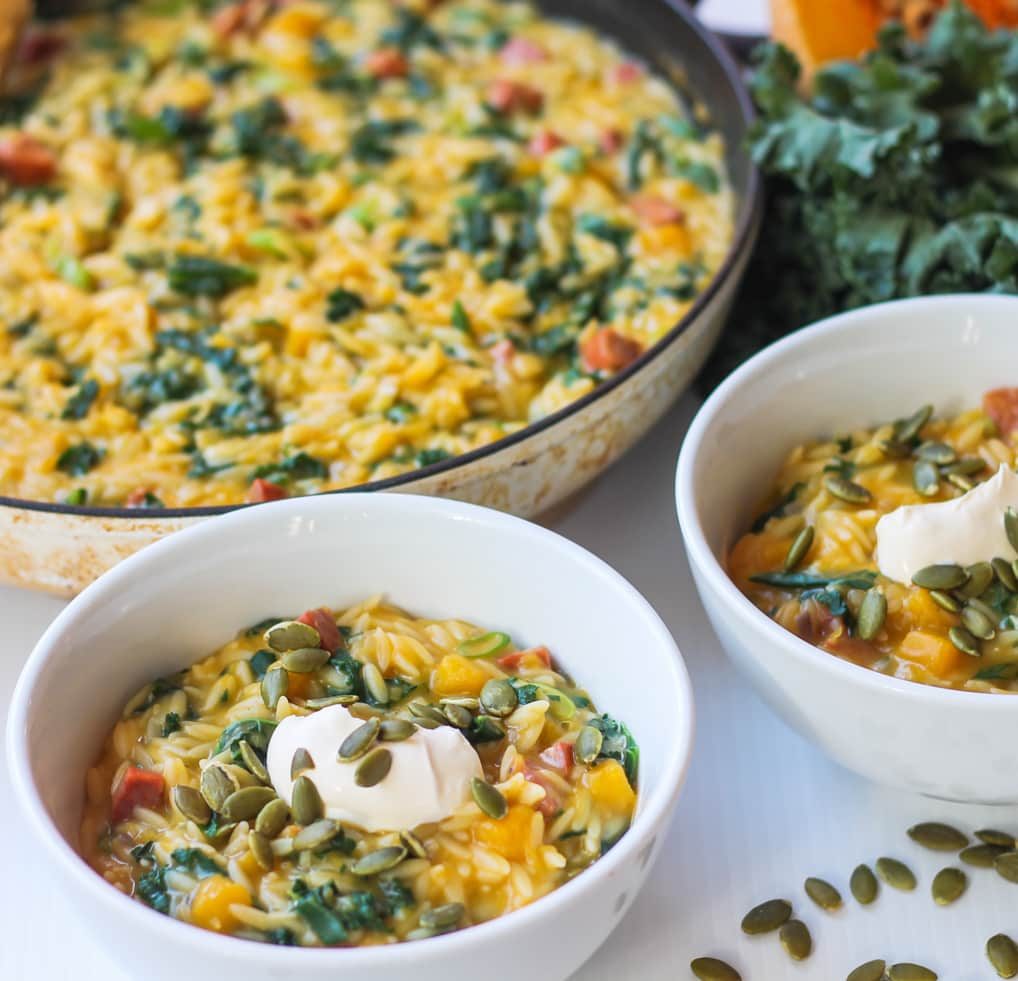 You can add your Chorizo at this stage though keep in mind, that all types of Chorizo are not the same. If your Chorizo starts to crumble when you peel it, you should add it later unless you prefer a mince appearance rather than Chorizo pieces.
Once the pasta is cooked al dente, it's time to add the remaining ingredients. In goes the squash puree, spring onions, blanched kale, Parmesan and sour cream. Simmer the Risetti for a few more minutes. Before serving, add a dollop of sour cream, grated Parmesan and garnish with some pepitas!

Loving Italian cuisine? Try our homemade Agnolotti with Walnut Butter or maybe a delicious Tiramisu.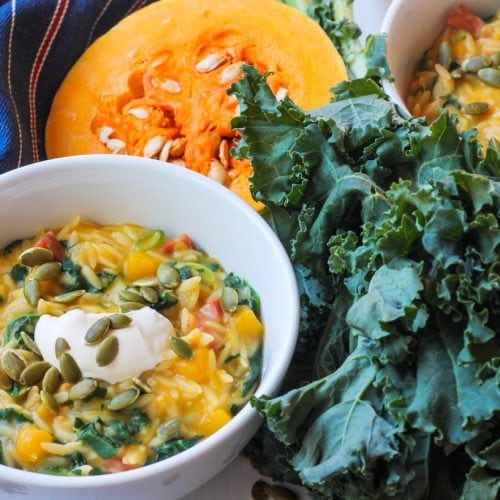 Butternut Squash, Kale & Chorizo Risetti
This comforting autumn dish made from risoni pasta, butternut squash, kale and chorizo will warm your belly and your heart.
Ingredients
1

whole

butternut squash

medium size

½

red onion

peeled

150

gram

kale

about 4 large leaves

100

gram

chorizo

1

glove

garlic

peeled

2

spring onions

200

gram

risoni pasta

or orzo pasta

30

gram

pepitas

lightly toasted

20

gram

grated parmesan

50

gram

sour cream

1

teaspoon

paprika powder

1

teaspoon

coriander powder

salt, pepper, olive oil
Instructions
Peel the butternut squash and cut into cubes about 1 cm x 1 cm. Once you have 150 gram of butternut squash cubes cut the remaining off cuts into larger pieces.

Cut the red onion into small dices (brunoise) and chop the garlic finely.

Place the squash off cuts and any red onion and garlic trimmings in a small pot, cover with water, add salt and let boil.

Meanwhile cut the chorizo in cubes and chop the spring onions.

Clean the kale by removing the green part from the stem and cut into finger size pieces.

By now the butternut squash should be cooked soft. Mix in a food blender into a fine puree and set aside.

Heat up a tablespoon of olive oil in a large pan and add the onion dices, chopped garlic and butternut squash cubes.

Cook for a few minutes without giving color and add the risoni. Season with salt, pepper, paprika powder and coriander powder.

Keep stirring to avoid the risoni from sticking.

Now add slowly water to the risoni using the same steps as if you would cook a risotto.

Reduce the heat and slowly simmer adding more water if needed.

When the risoni starts turning translucent add the chorizo.

Cook for another 2 minutes and taste the risoni, if the pasta is still hard keep adding water and cook longer if it has only a light bite left it to it go to the next step.

Add the squash puree, kale, spring onions, sour cream and parmesan and carefully stir it to combine.

Boil all together for one more time and adjust the seasoning with salt and pepper.

Your risetti should be smooth and making waves when you move the pan back and forth. If it looks dry add more water and sour cream if it is too runny add more parmesan.

Garnish the risetti with a dollop of sour cream and the toasted pepitas.
Nutrition
Nutrition Facts
Butternut Squash, Kale & Chorizo Risetti
Amount Per Serving (180 g)
Calories 823
Calories from Fat 234
% Daily Value*
Fat 26g40%
Cholesterol 55mg18%
Sodium 890mg39%
Carbohydrates 119g40%
Protein 35g70%
Vitamin A 46847IU937%
Vitamin C 156mg189%
Calcium 497mg50%
Iron 7mg39%
* Percent Daily Values are based on a 2000 calorie diet.