A traditional French recipe, for a creamy baked rice pudding that has been slowly caramelised in the oven for hours. The result is a deliciously perfumed baked rice pudding flavoured with cinnamon and vanilla, hidden under a golden brown crust.
This simple but satisfying rice dish has been part of my childhood. My French mother served teurgoule mostly for lunch! I remember my sister and I fighting over who got the most caramelized skin. The slow baking creates this caramelized milk skin which is delicious!! It's chewy, sweet, creamy and when eaten with the rice – it's heaven! So now you understand why my sister and I could never get enough of it!
Teurgoule is a versatile dish that can be served as any meal – breakfast, lunch, dessert or afternoon snack. However, planning is required to make this creamy baked rice pudding as it takes almost 4 hours to make. This task calls for creativity of which we have now become masters!
When we feel like eating teurgoule for breakfast, we cook the rice pudding late in the evening. Just switch off the oven when it's time to go to bed and leave the rice pudding in the oven overnight. When we wake up the next morning, its wonderful not having to cook breakfast because the tergoule that has been in the oven overnight, is still nice and warm! All we have to do is eat it!
However you plan on making this oven baked rice pudding, it's worth the wait!
WHAT IS TEURGOULE (BAKED RICE PUDDING)?
Teurgoule, also called torgoule or tergoule is a speciality from Normandie for rice cooked in milk using a traditional clay or terracotta pot.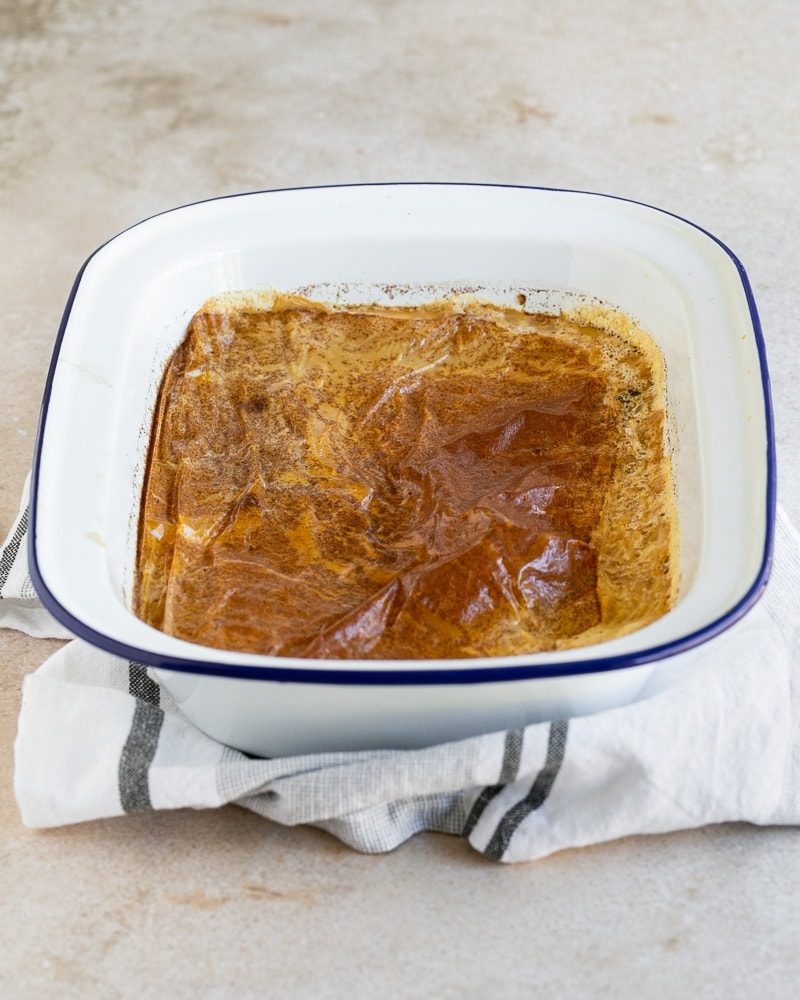 The rice would be sweetened with sugar and flavoured with cinnamon and sometimes even nutmeg or vanilla. The word "tergoule" translates in English to "to burn your mouth" because apparently it had to be eaten while it was still hot!
The story behind teurgoule that our mother told us goes like this…
The bakers used to put a bowl with rice and milk in the oven after their shift, while the oven was still hot from baking bread. It would slowly simmer for hours and the milk would caramelize on the top.
When the bakers came back to work the next day, they would be greeted with a nice warm caramelized rice pudding. This story always stuck with me that's why we do the same when we want to eat teurgole for breakfast!
In France, Teurgoule is mostly eaten as a meal rather than a dessert or breakfast. In the Normandie apparently it is eaten with a loaf of brioche and a glass of apple cider.
If you are not familiar with Normandie, it is a charming region just North of Paris known for producing some of the best cheeses, apple cider and seafood! For any gourmet, this region is a must visit in France.
Okay now let me show you how to make this baked rice pudding that I have been telling you about!
INGREDIENTS FOR TEURGOULE
This creamy baked rice pudding is made with simple pantry ingredients, available to anyone..
Round rice due to it's high starch content round rice like arborio rice is perfect for desserts like this rice pudding.
Milk If you want irresistible creamy rice, use full fat milk for this recipe. Otherwise low fat milk, almond milk or coconut milk work too.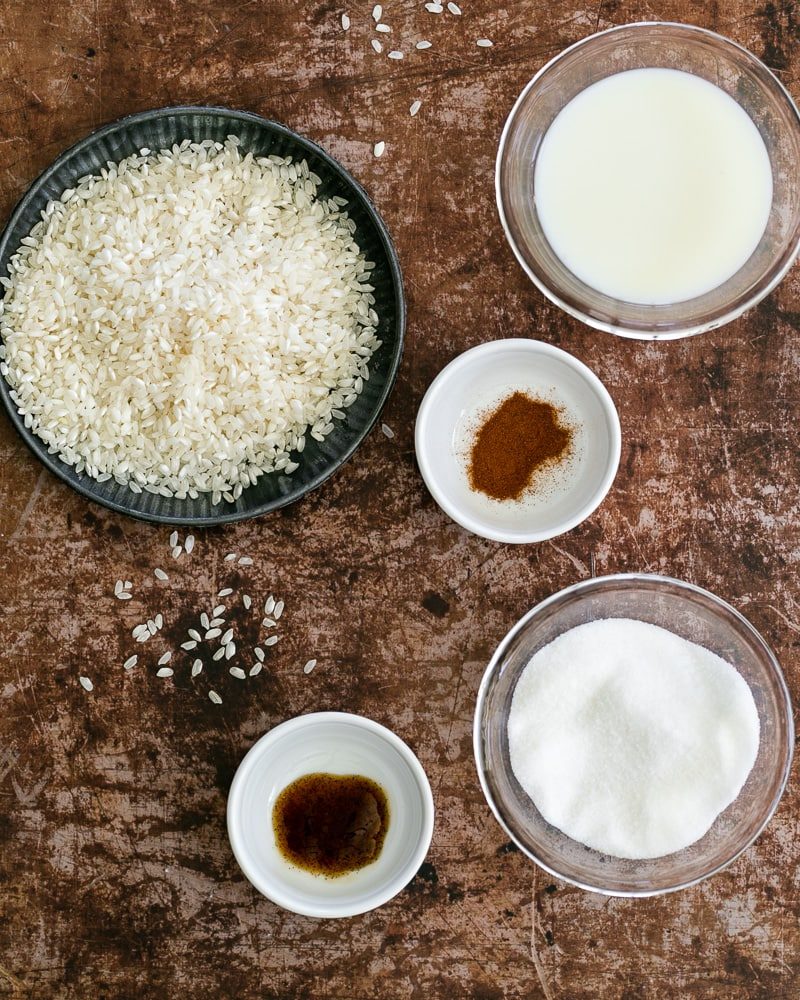 Sugar In this recipe I used caster sugar but you can also use brown sugar.
Cinnamon and Vanilla are the ultimate combination when it comes to adding deliciousness to any baked dishes like in this rice pudding.
AS A NOTE: Teurgoule can be flavoured with other ingredients like raisins, nuts, seeds, caramel, lemon zest, cardamom or spices.
HOW TO MAKE FRENCH BAKED RICE PUDDING
Firstly it is important that you use a baking dish that can resist oven temperatures. Even though the temperature is low, the rice pudding stays in the oven for almost 4 hours. We didn't have a clay or terracotta pot to bake in so we are using enamelware!
The recipe is simple. Combine the rice, sugar, vanilla and cinnamon in the baking dish.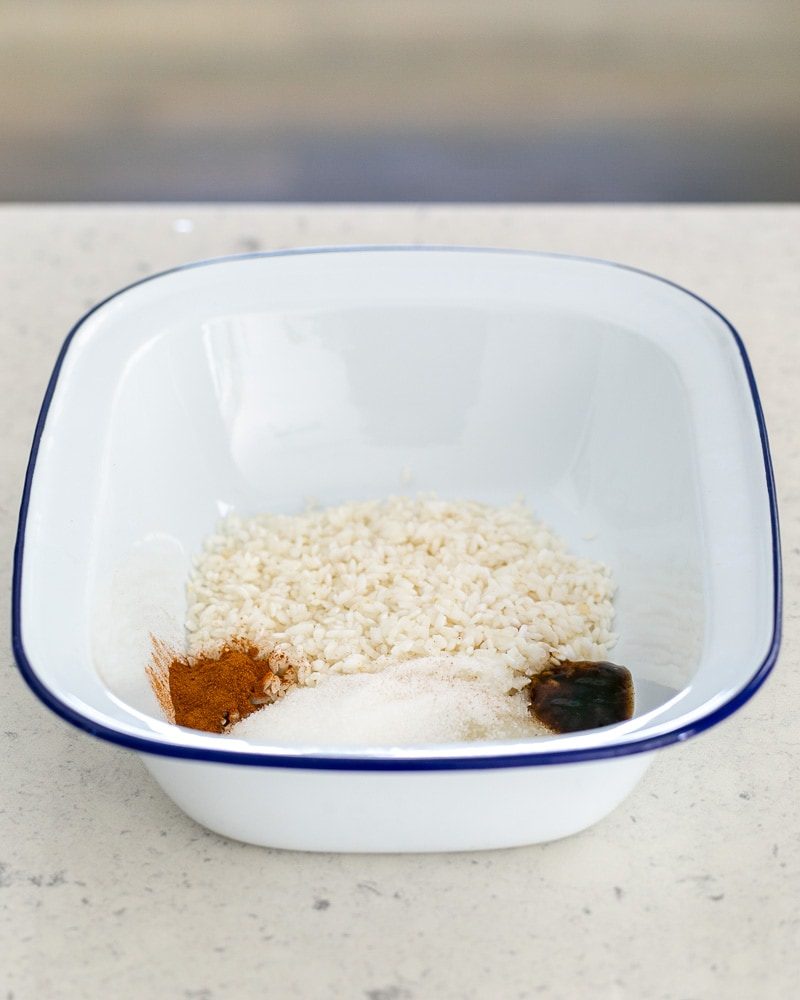 Bring the milk close to a simmer and pour into the baking dish. Stir one time and place in the oven.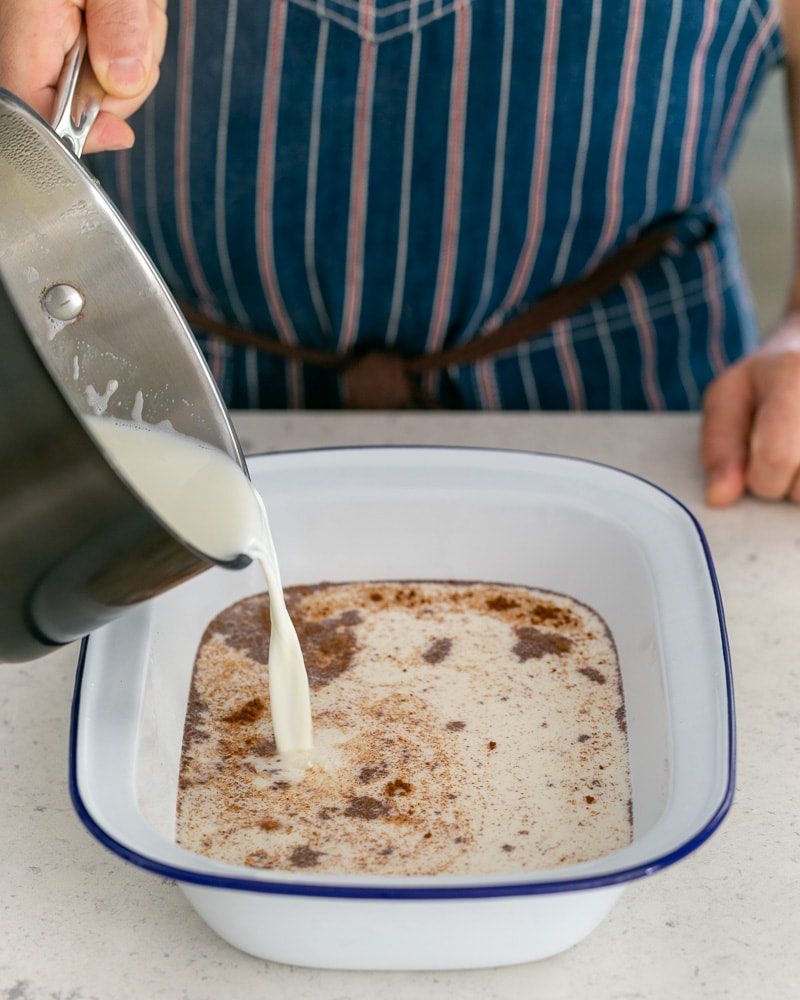 Bake at 150°C (300°F) for 1 hour and then reduce the heat to 120°C (250°F) and cook for a further 2½ hours.
When the baking time is up, I like to switch off the oven and let the teurgoule sit there for another 20-30 minutes, before I dig into it!
You don't have to eat it straight away but it will be hard to resist! For those who are meal planning, rice pudding tastes perfectly fine when reheated or re-baked the next day.
AS A NOTE: This teurgoule can be kept refrigerated for up to one week plus it freezes well too.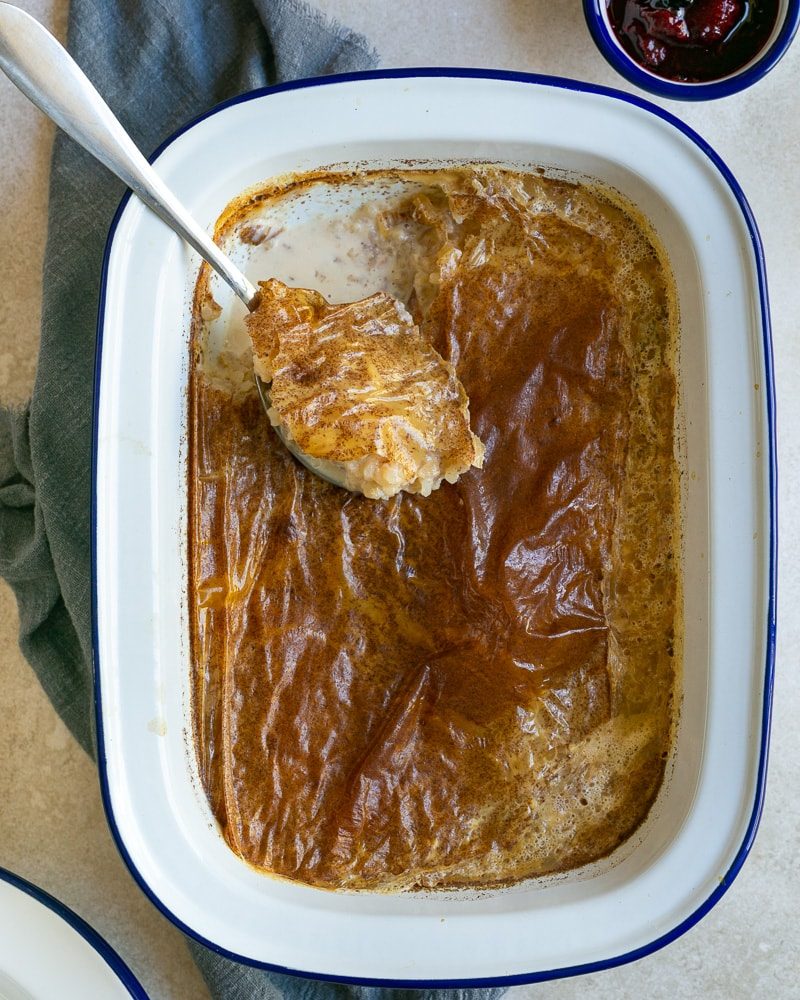 WHAT TO SERVE WITH RICE PUDDING?
While in the Normandie, teurgoule is eaten traditionally with brioche but we like to add stewed berries (try the rhubarb and strawberry stew in this dessert). In fact any stewed fruits go well with this French baked rice pudding.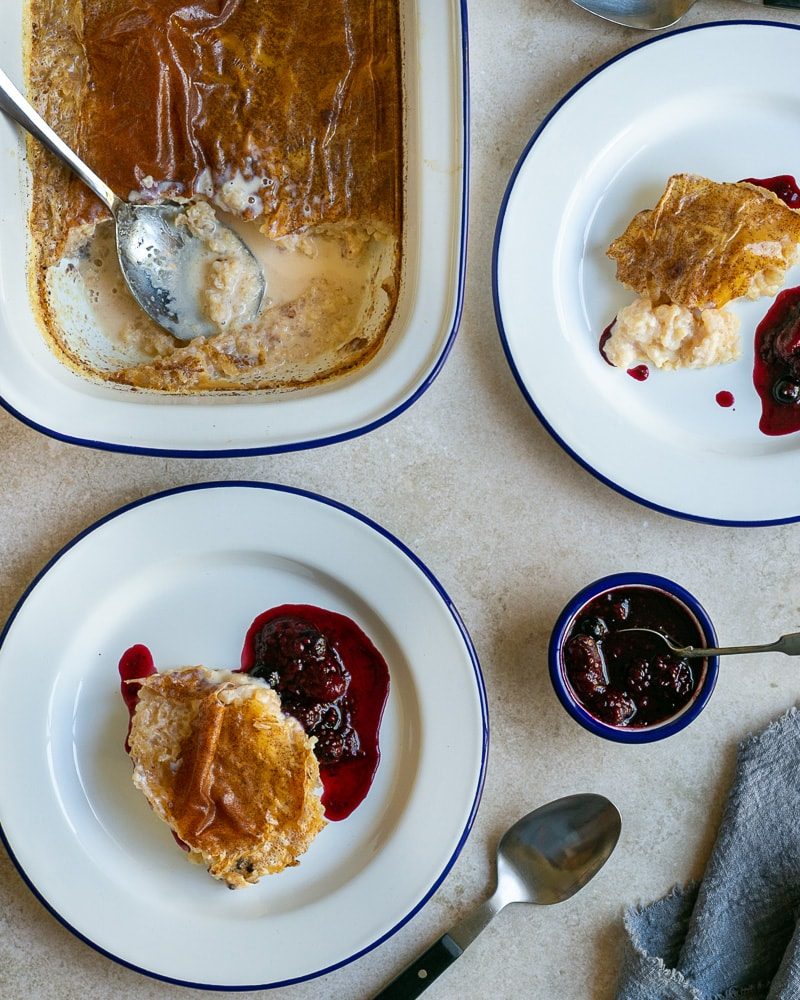 Sometimes we even cozy up on the couch and eat the warm rice pudding with a scoop of vanilla ice cream!! Naughty I know, but so yummy!
If you enjoy baking French desserts then you will enjoy this cherry clafoutis recipe or also my grandmother's apple tart recipe!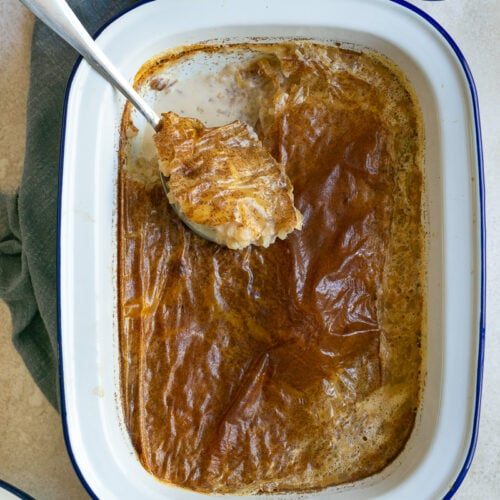 French baked rice pudding (Teurgoule)
A traditional French recipe, for a creamy baked rice pudding, that has been slowly caramelised in the oven for hours.
Ingredients
130

grams

arborio rice or any other round rice

100

grams

white sugar

1

litre

full fat milk

1

teaspoon

vanilla essence or 1 vanilla pod cut lengthwise

1

teaspoon

cinnamon powder
Instructions
Pre-heat the oven to 150°C (300°F).

In a baking dish, combine the rice, sugar, vanilla and cinnamon powder. Heat up the milk to almost simmer and pour over the rice mixture.

Place the baking dish in the oven and bake for 1 hour.

Reduce the heat to 120°C (250°F) and cook for a further 2½ hours.

Switch off the oven and let the rice cool for 20 minutes. Serve warm.
Notes
This teurgoule can be kept refrigerated for up to one week plus it freezes well too.