A delicious gourmet soup perfect for cold winter days. Enjoy it as part of a fancy dinner or as a meal in itself. Roasted chestnut soup with green apple & celery, is something I grew up eating. My mother had mastered the art of making this creamy soup and I could never get enough of it.
Marburg – the city I'm from, is about 3 hours drive to the French border on the Alsace side. An occasional weekend trip in the fall to Strasbourg or Colmar, was always exciting for us kids. We would leave early morning on a Saturday, stop for breakfast in one of the chic cafes in Strasbourg. We would then go for a stroll in the local markets and admire the fresh produce of the region.
Lunch would be at the famous "saladier" with shopping in the afternoon, paired with some sight seeing. On Sunday morning, the trip back home, was about how much we could fit in our little Golf car! We had cases of wines from local producers, cheese, charcuterie, bread, vegetables and of course antiques.
While my parents got busy shopping, the kids did their bit! We cut the grape vines from the vineyards, collected walnuts fallen from the trees and looked for those spiky chestnuts. Luckily there was an abundance of chestnut trees, so anyone could collect the ones fallen to the ground. No doubt this was hard work but mum's yummy chestnut soup served for dinner, made up for it!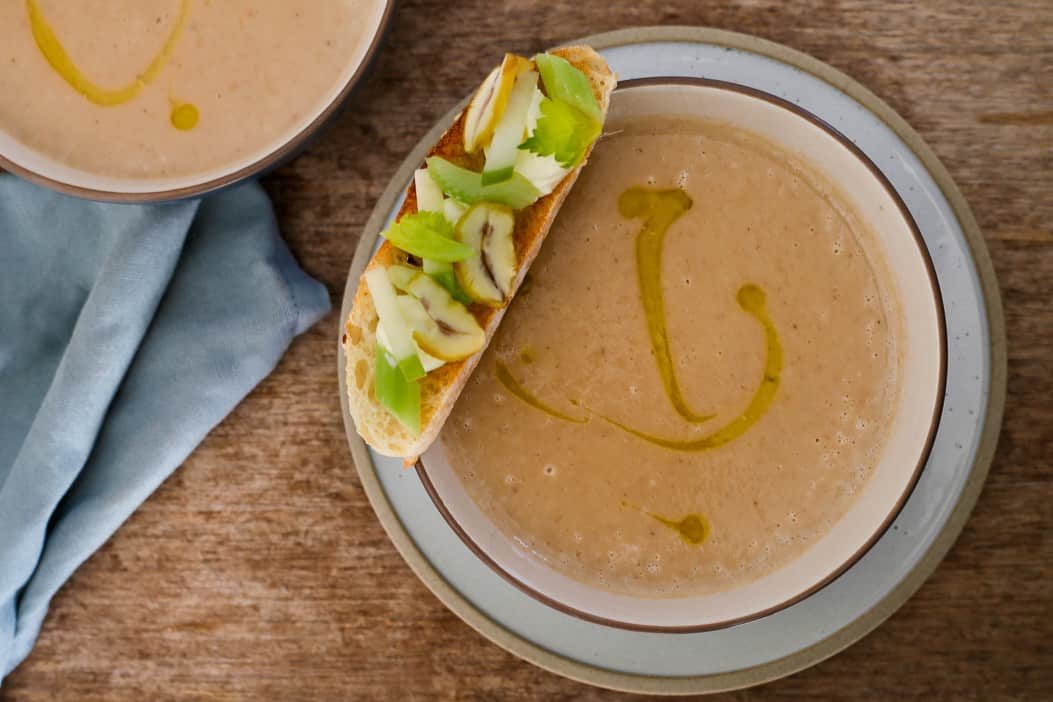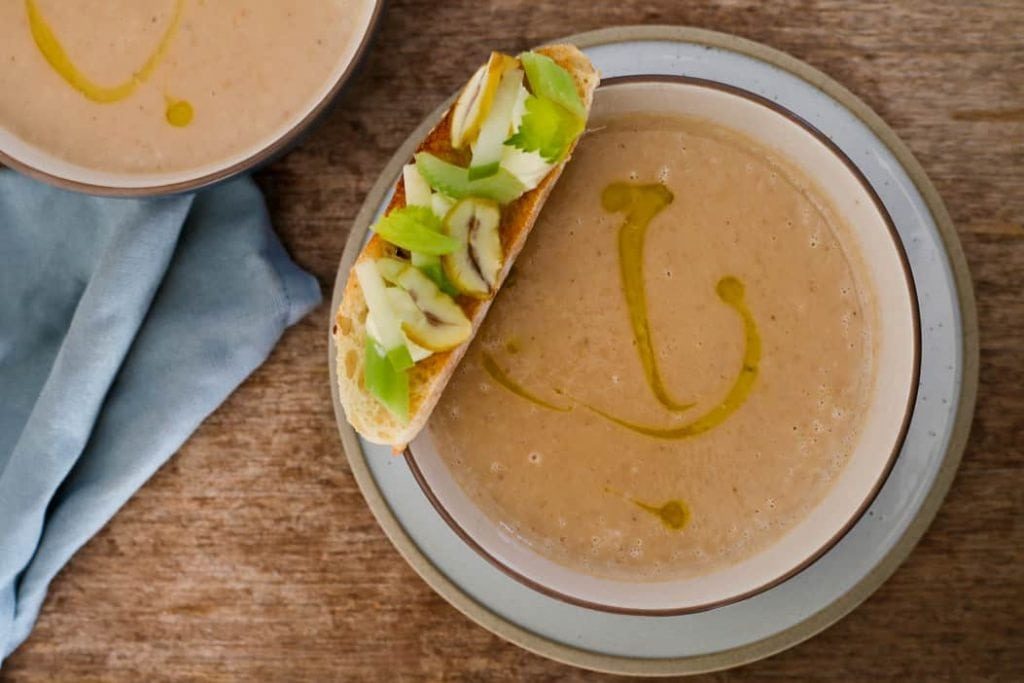 What are chestnuts
Chestnuts are an edible nut that come from the same family as the beech tree. Grown in areas that are hot in summer and cold in winter and preferably above sea level. When chestnuts have matured, they naturally fall to the ground which are good to consume.
Chestnuts are in season mid March to July in Australia. They can be bought fresh in the supermarket or at the local farmers markets. You might even find them already peeled and vacuum packed. Otherwise frozen chestnuts are also available all year round.
How to cook chestnuts
If you have collected the Chestnuts yourself, peel them first to get them out of their green spiky shells. But if you are buying them from the market, they most likely will already be shelled for you. You will need to cook the chestnuts, unlike other nuts, these can't be consumed raw. To reveal the edible part, score them with a sharp knife.
Chestnuts can be cooked by roasting, steaming or boiling. They only take about 10 to 15 minutes to cook but peeling them afterwards is hard labor. Delicious to eat as they are otherwise you can use them in stuffings, salads, as a garnish, soups and purees.
What to serve with roasted chestnut soup
In this recipe for roasted chestnut soup, I have cooked the roasted chestnuts with celery, shallots and green apple and added white wine, stock and cream to make a creamy soup.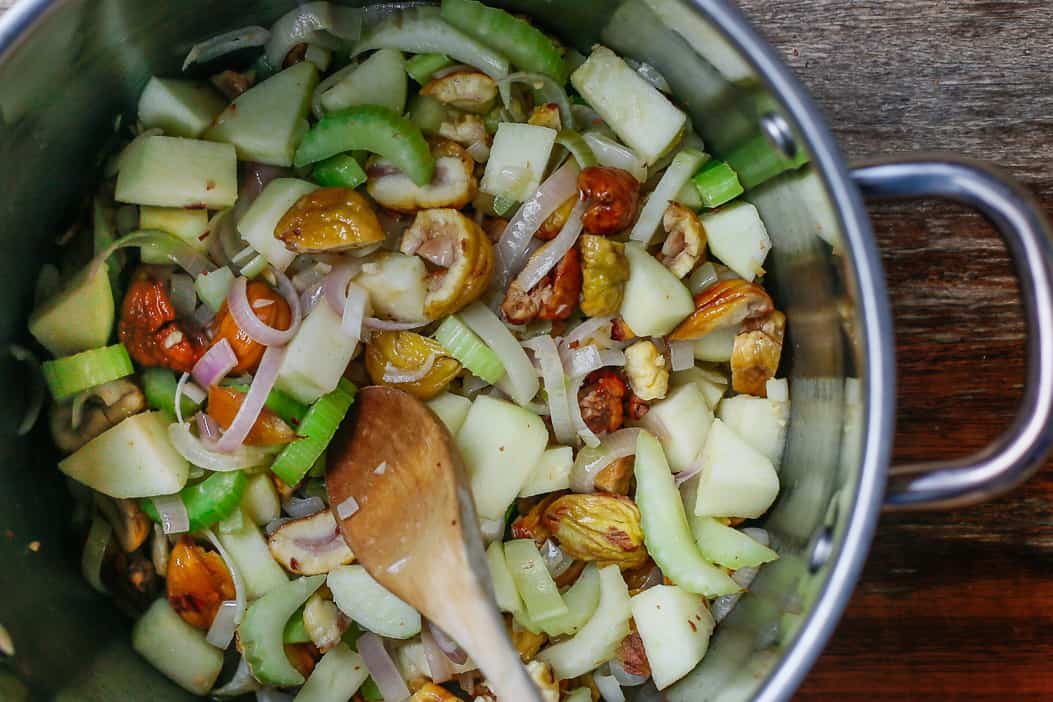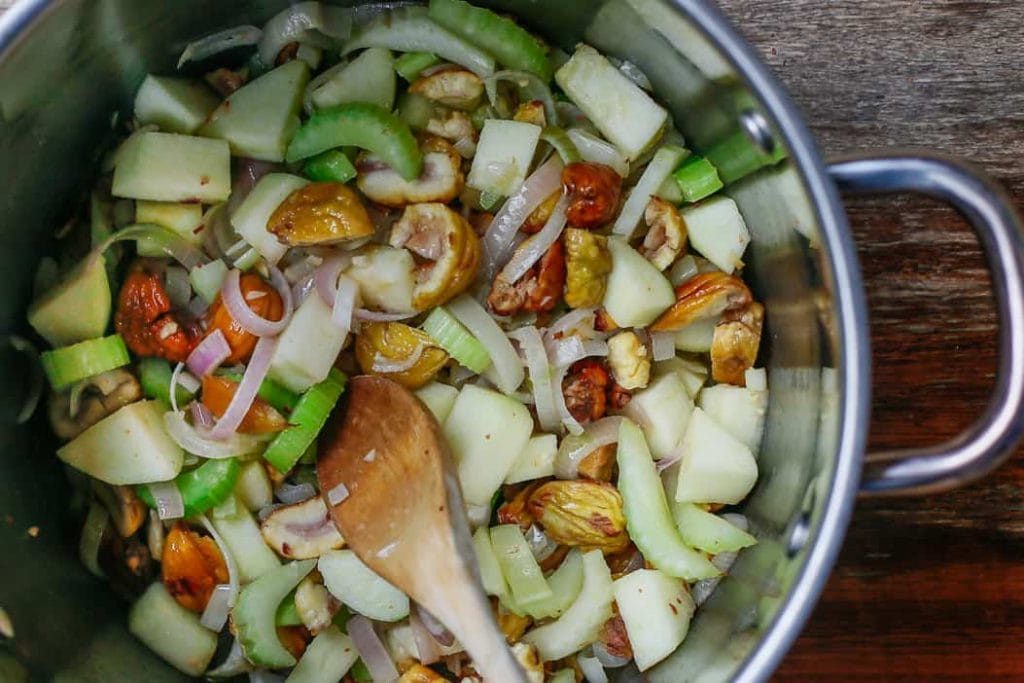 I have served a garnished crouton on the side. I have topped it with shaved chestnuts, celery, green apple and sour cream. Adding chopped chestnut, smoked salmon, pan seared lardons or even roasted duck breast are also good options.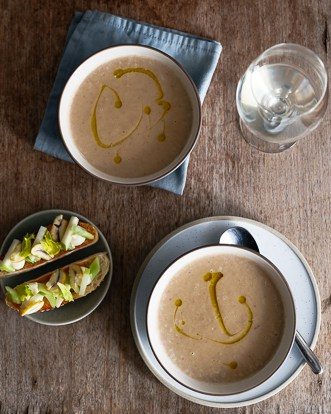 If vegetarian, add diced pumpkin or brussel sprouts with grated parmesan. To take the soup to the next level, pair it with goat cheese croutons, topped with our homemade Quince paste.
As a tip: when buying chestnuts look for same sized chestnuts to avoid uneven cooking times.
More Soup Recipes
Big fan of soups we would like to share more of our delicious soup creations:
Enjoy this delicious recipe and let us know your thoughts.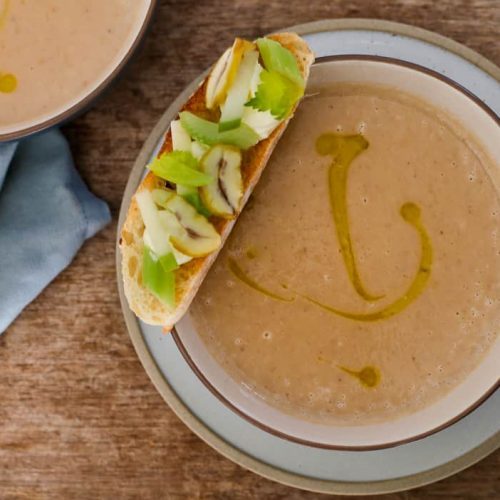 Roasted chestnut soup with green apple and celery
This gourmet soup is delicious on cold winter days. The soup can be part of a fancy dinner or it can be had by itself as a hearty meal. Roasted chestnut soup with green apple & celery is something I grew up eating. My mother mastered the art of making this creamy soup and I could never get enough of it
Equipment
blender or mixer

large pot
Ingredients
500

g

chestnuts, unpeeled

1

green apple

1

celery stick

5

shallots

20

g

butter

30

ml

white wine

1

l

chicken stock or vegetable stock

50

ml

cream

30

g

sour cream

1

loaf

ciabatta bread

salt and pepper to taste
Instructions
For the Soup
Score the the chestnuts with a sharp knife by cutting a cross into the top part of the chestnut. Make sure to protect your hand with a towel while doing this. Place them on a baking tray and roast in a pre-heated oven at 200 degrees for 15 minutes. The chestnut should crack open to make them easy to peel. Peel the chestnuts and keep one on the side for the garnish.

Peel the shallots and cut into slices. Peel the apple and cut into dices, keep a slice on the side for the garnish. Clean the celery and keep the leaves and a small piece on the side for garnish. Chop the rest in slices.

Heat up a heavy pot and add the butter. When the butter starts sizzling add the shallots and celery. Sweat for 2 minutes and add the chestnuts and green apple. Sweat for another 2 minutes and season with salt and pepper. Deglaze with white wine and add the stock. Bring to a boil and reduce to a simmer.

Cover the soup with a lid and cook for 5 minutes. Add the cream and continue cooking for another 5 minutes. Use a stick blender or stand up blender to make a smooth soup.
For the Garnish
Slice the ciabatta into 2cm thick slices. Toast them from both sides. Pipe the sour cream on the top and garnish with shaved chestnuts, sliced celery and celery leaves and green apple sticks. Serve the crouton on the side as a fancy garnish.