Rhubarb season is upon us! Fresh rhubarb gently poached in grenadine, tossed with strawberries and served on a whipped coconut cream chantilly, garnished with coconut flakes, is simply irresistible. Learn how to make and plate up this refreshing dessert with our step by step recipe and tips.
Having grown up in Europe, we had rhubarb in our garden for as long as I lived there. Eaten in tarts, in a compote over rice pudding, as a crumble or as a sorbet on a stick, my mum had many uses for them.
As far as I remember, I never disliked rhubarb. However, I recall one incident (which honestly I can still taste in my mouth) is biting into a raw rhubarb!! Despite rhubarb being extremely sour and stringy, surprisingly I quite enjoyed that experience back then!
Rhubarb may not be everyone's cup of tea but it has remained one of my favourite seasonal ingredients for this time of the year, especially when it's paired with coconut chantilly.
INGREDIENTS YOU NEED
Ingredient List
Rhubarb Stalks
Fresh Strawberries
Grenadine
Star Anis
Caster Sugar
Coconut Cream
Vanilla Extract
Coconut flakes for garnish
Now let's get started!
HOW TO PREPARE RHUBARB
Rhubarb is mostly in season during spring time but it can be found fresh for six months of the year. At our local produce markets, I found heaps of bundles of fresh rhubarb but all were being sold with the leaves cut off. Even though the leaves are inedible (actually poisonous) by removing them, it shortens the time the rhubarb can stay fresh.
When buying rhubarb, make sure the stalks are crisp and firm, avoid limp or soft rhubarb. Further, look for rhubarb that is pink in colour, like they say - Watermelon pink!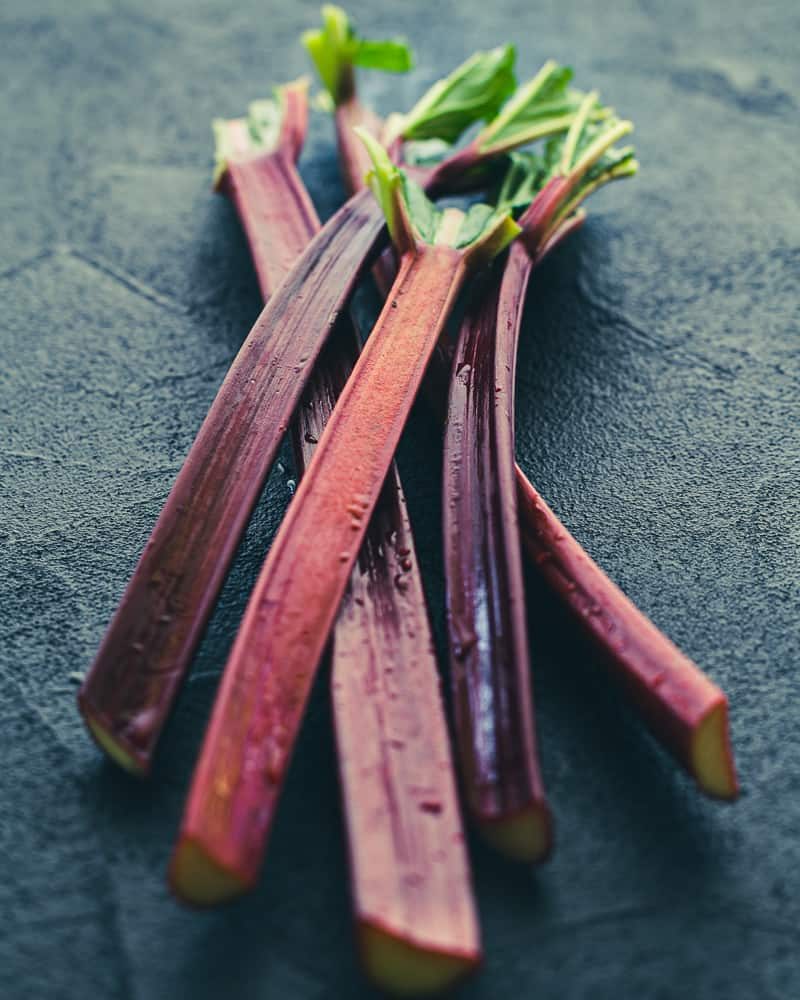 You need to decide if the rhubarb needs to be peeled or not. Rhubarb can be tough and fibrous but that's not always the case. To test, cut into a piece of rhubarb with a sharp knife. If you get stuck on stringy peels then you have to remove them.
I don't actually peel the rhubarb, I just remove strings similar to a celery. I just cut into the end of the rhubarb and lift the knife, pressing on the peel between my thumb and the knife.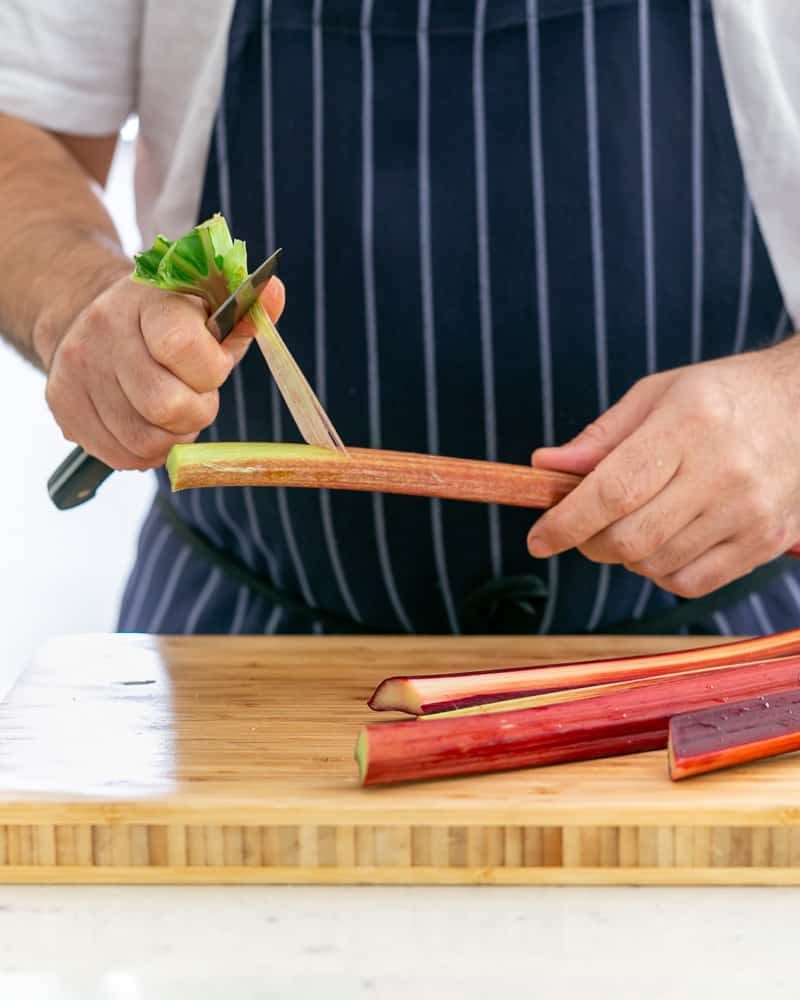 Adding this step will make cutting the rhubarb easier. For this recipe, we cut the rhubarb at an angle, similar to a diamond shape.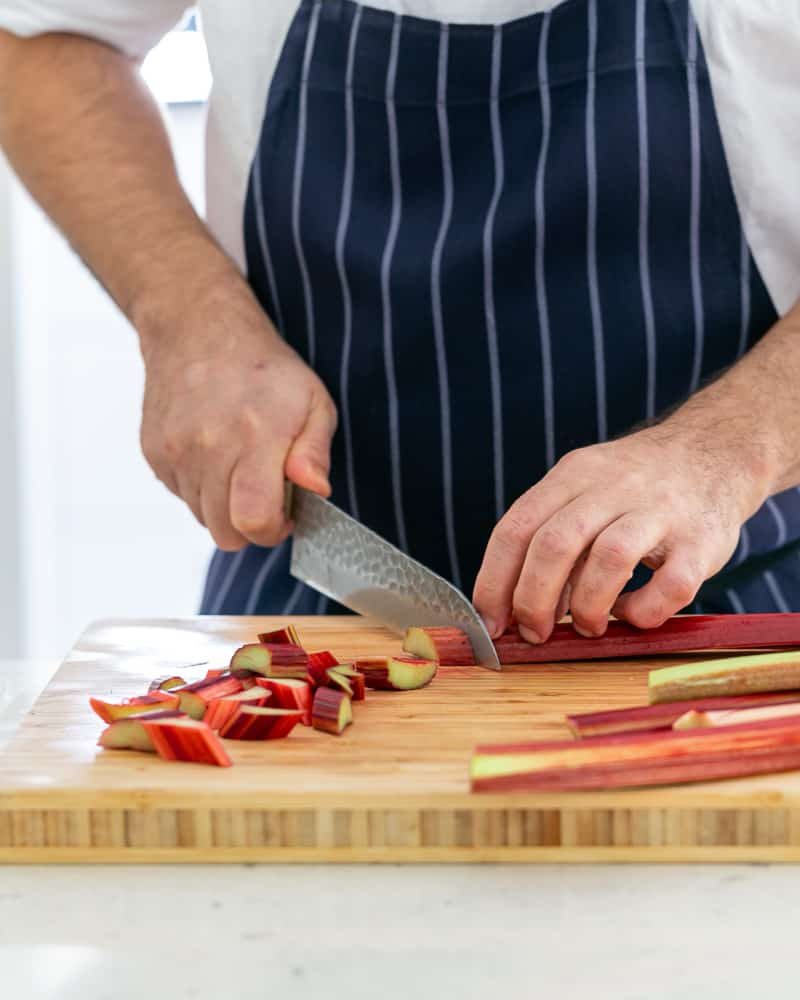 HOW TO COOK RHUBARB
Rhubarb is tart, so we worked on this recipe making sure that we add the right amount of sweetness to it. After all, rhubarb should taste like rhubarb so you want to leave a hint of it's natural sourness in the fruit. Ahem... actually rhubarb is not a fruit, it's a vegetable!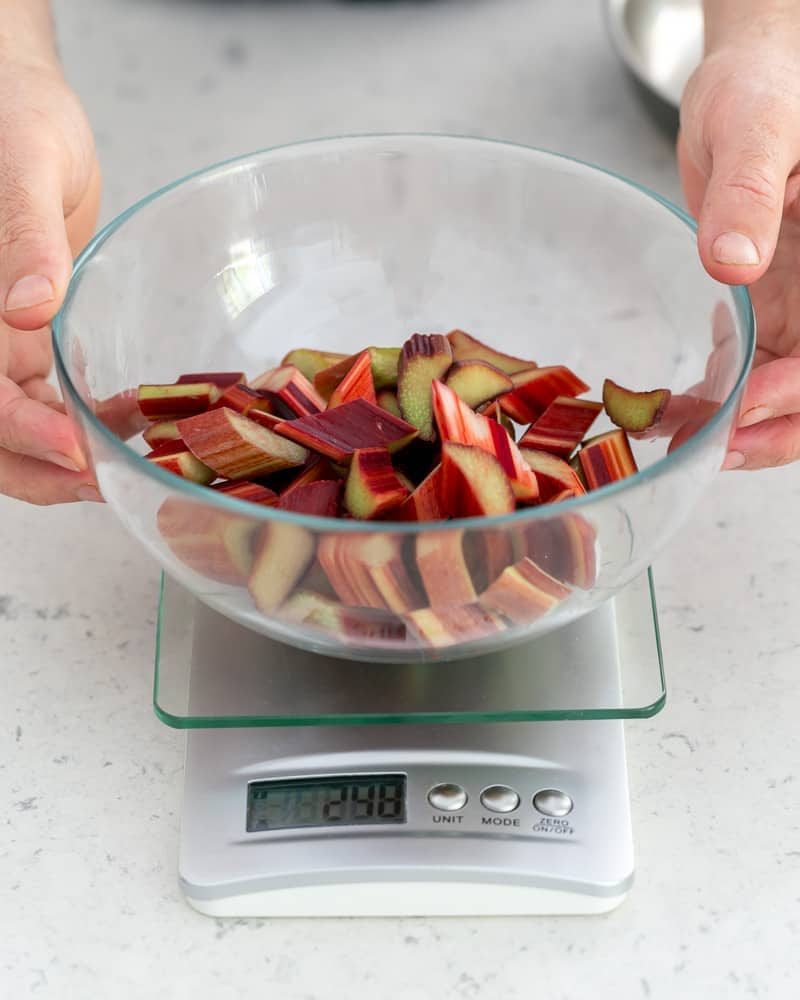 For ½ a bunch of rhubarb, I only used 2 tablespoon of sugar and added grenadine for sweetness and colour. Grenadine is a pomegranate syrup mostly used in cocktails but it can also be enjoyed on it's own, with just water and some ice! I decided to use Grenadine to cook rhubarb as it adds sweetness and colour to it.
Also, since we peeled off most of the rhubarb, we were left with just the green stripes, so by adding grenadine we were able to give back rhubarb it's pinkish colour.
All together, we poached the rhubarb with grenadine, sugar, water, star anis and lemon juice. Keep in mind we are using the poaching liquid for this dessert so make sure you taste and adjust it to your liking.
It may surprise you but the rhubarb only takes few minutes to cook. If cooked too long, the rhubarb falls apart and turns into stew. For this recipe, we want to keep the rhubarb intact so don't leave the rhubarb to cook on it's own longer than required.
Bring the rhubarb to a simmer and gently stir them. Keep simmering for a 1-2 minutes and check the doneness of the rhubarb. The rhubarb should still have a crunch. Now transfer to a wide bowl and rapidly cool it down in the fridge.
AS A NOTE: The grenadine can be replaced with rose water, red wine, cranberry juice or cherry juice.
Combining the poached rhubarb with strawberries
For presentation purpose, we used small strawberries for this dessert. Wash the strawberries and simply slice each of them into four slices. Once the rhubarb has chilled, remove the star anis and mix the rhubarb with the strawberries.
Taste the mixture and check the balance between sweet and sour. Add more lemon juice if required.
HOW TO MAKE COCONUT CHANTILLY
I only discovered recently, that you can whip coconut cream. Wish I had known earlier! Whipped coconut cream is not only tastier than regular whipped cream but it is dairy-free hence vegan too.
I added 1 teaspoon vanilla extract to 450ml (2 Cups) of coconut cream and left out the sugar completely. I personally find coconut chantilly sweet enough as it is. Whipping coconut cream is simple, use a hand mixer or kitchen aid and whip it up.
Before you do this make a note of the following tips, for a perfect whipped coconut chantilly:
The coconut cream needs to be cold. I had mine in the fridge for a day and then in the freezer for 30 minutes, the colder the better.
Keep the bowl you are whipping the coconut cream in, in the chiller before hand.
If your coconut chantilly is too thick and stiff, use coconut cream to thin it down.
If you are preparing the coconut whipped cream for later on or the next day, under whip it. This way the coconut cream stays smooth without becoming too stiff. Just whip it with a whisk before using.
The only brands I have used so far for whipping coconut cream are Kara and Aroy-D. Both were from a tetra pak carton and whipped up easily. We do not get affiliates from these brands but it's worthwhile mentioning as I can't guarantee whipped coconut cream works with other brands the same way. If you try with another brand then do let me know!
TWO WAYS TO PLATE UP
We eat most desserts with our eyes first so I will show you two easy but beautiful ways of plating up the poached rhubarb with strawberries and coconut chantilly! You can choose between a flat plate or a dessert glass, it's totally upto you!
You can prepare all the components in advance however, assemble the dessert à la minute (at the last minute).
On a plate:
Drop two large spoons of coconut cream on a plate and spread it out slightly.
Place the rhubarb and strawberry salad on the top and around with a spoon.
Drizzle the poaching liquid around the plate.
Decorate with toasted coconut flakes and lemon balm leaves.
In a glass:
Both the plate up styles are ideal when you want to end the meal with something a little sweet other than a full dessert. Your guests will welcome this light, refreshing, and visually appealing dessert even with a full belly😊
MORE SEASONAL RECIPES TO TRY OUT
We enjoy using seasonal ingredients, here are some of our best recipes:
-Quince tart with meringue
-Passionfruit lemon curd
-Baked Cherry clafoutis
-Plum tart tatin with lemon thyme
When you make this delicious rhubarb and strawberries with coconut chantilly no-bake dessert, let us know how it went down with your guests! with its fancy looks and taste, bet it will leave your guests asking for more!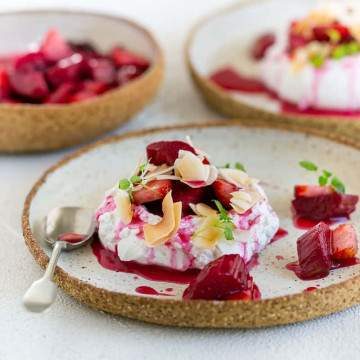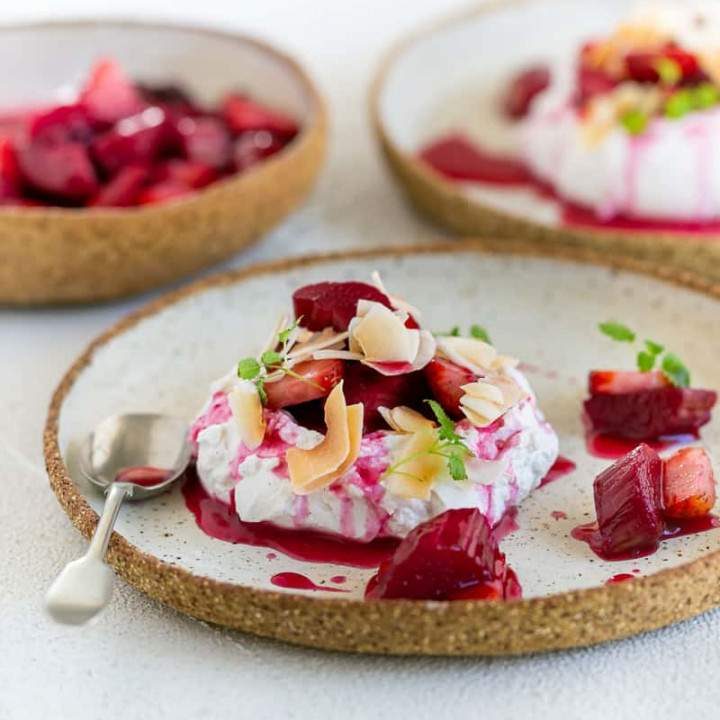 Rhubarb and Strawberries with Coconut Chantilly
Fresh rhubarb gently poached in grenadine, tossed with strawberries and served on a whipped coconut cream chantilly, garnished with coconut flakes, is simply irresistible.
Ingredients
for the poached rhubarb with strawberries
4-5

rhubarb stalks

makes 250g (8.8oz) cleaned and cut rhubarb

12

small

strawberries

½

lemon

zest and juice

50

ml

grenadine

2

star anis

2

tablespoon

caster sugar

2

tablespoon

water
for the coconut chantilly
450

ml

coconut cream

1

tablespoon

vanilla extract
for the plate up
20

g

toasted coconut flakes

12

leaves

lemon balm

optional
Instructions
for the poached rhubarb with strawberries
Wash the rhubarb and cut the ends off. Remove any stringy parts from the rhubarb with a knife. They should peel off easily similar to a celery.

In a pan or pot combine the rhubarb with grenadine, lemon zest, lemon juice, water, sugar and star anis.

Bring to a simmer and carefully toss the rhubarb. Simmer for 1-2 minutes and check doneness of the rhubarb. You want the rhubarb intact with a slight crunch.

When the rhubarb is done, transfer to a mixing bowl together with the poaching liquid and chill down rapidly in the fridge.

While the rhubarb is chilling in the fridge, wash the strawberries, remove the green leaves and stem. Cut each strawberry into four.

Once the rhubarb has cooled, combine with the strawberries and mix gently.
for the coconut chantilly
Keep the coconut cream in the fridge overnight and place in the freezer for 10 minutes before use.

Start by adding the coconut cream to a cold whipping bowl (make sure you chill your whipping bowl too before hand)

Add the vanilla extract and whip using a hand blender or stand mixer at medium speed.

Wait until stiff peaks form. Use immediately or keep chilled in the fridge until ready to use.
for the plate up
Place two large spoons of coconut cream on each dessert plate. Spread it slightly with a spoon.

Divide the rhubarb and strawberry mix between the four plates by scooping them on top of the coconut cream and around.

Drizzle some of the poaching liquid on the plate.

Garnish with toasted coconut flakes and lemon balm leaves.