This pickled white cabbage, made from scratch, is nothing like the store bought Sauerkraut. With a crunchy, sour and salty taste, it can be used in many dishes. All you need is white cabbage and salt to make this incredible easy jar of fermented kraut.
If you are new to fermenting, homemade Sauerkraut is a great way to start. Begin with first making a small batch and watch it ferment over the next two weeks. The result of this sauerkraut recipe made from scratch will pleasantly surprise you.
If you compare it to the store bought jar, you will find the taste and texture of this homemade kraut to be so much more complex and interesting.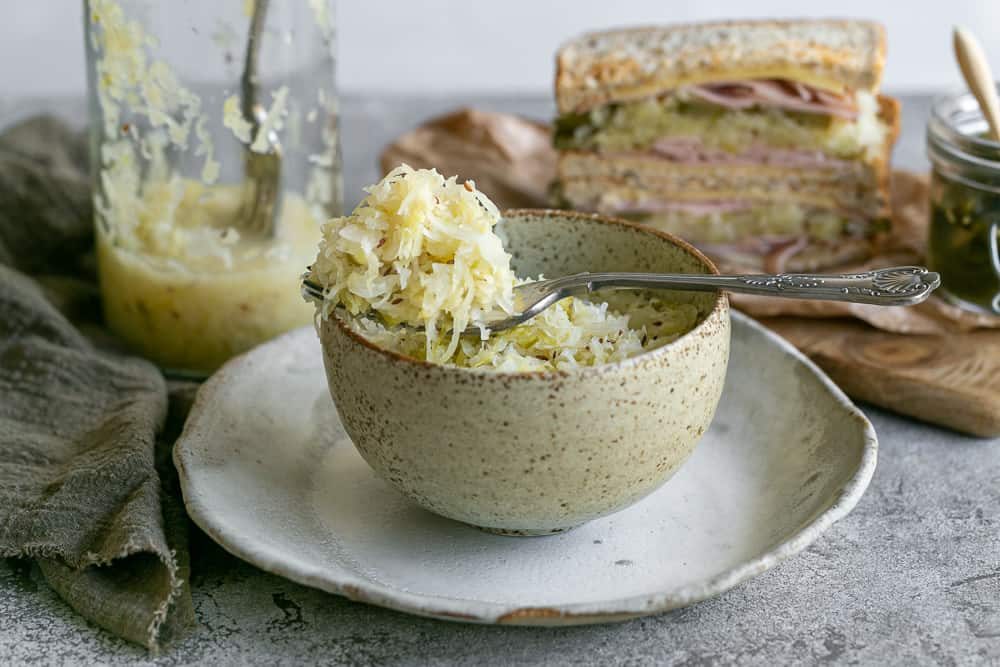 And the best thing about making sauerkraut yourself is that you can experiment adding all kinds of spices or using different vegetables to change the flavours around.
Jump to:
Why Sauerkraut is good for you
Sauerkraut is incredibly nutritious and healthy. It provides probiotics and vitamin K2, which are known for their health benefits, and many other nutrients. Eating sauerkraut may help you strengthen your immune system, improve your digestion and even reduce your risk of certain disease.
Just be mindful that Sauerkraut has been made fresh and it has not been pasteurised. The Lactic acid bacteria, present in it, helps in digestion similar to yoghurt.
I grew up in Germany where Sauerkraut similar to braised red cabbage was a staple at home. Aside from its versatility and great taste, it was our 'superfood' during the colder months. Rich in vitamin C and minerals like iron, potassium, and magnesium, made it the ideal addition to our daily meals.
How to make sauerkraut from scratch
Making sauerkraut from scratch is fun as you watch and learn along the way.
Step one - buy the ingredients to make sauerkraut
White cabbage and salt is all you need. Buy the freshest white cabbage you can get your hands on. I would avoid using sugarloaf and savoy as I have noticed these cabbages tend to make the sauerkraut mushy. A small sized cabbage will be enough to start with, as you can always double the recipe if you are planning to make a bigger batch.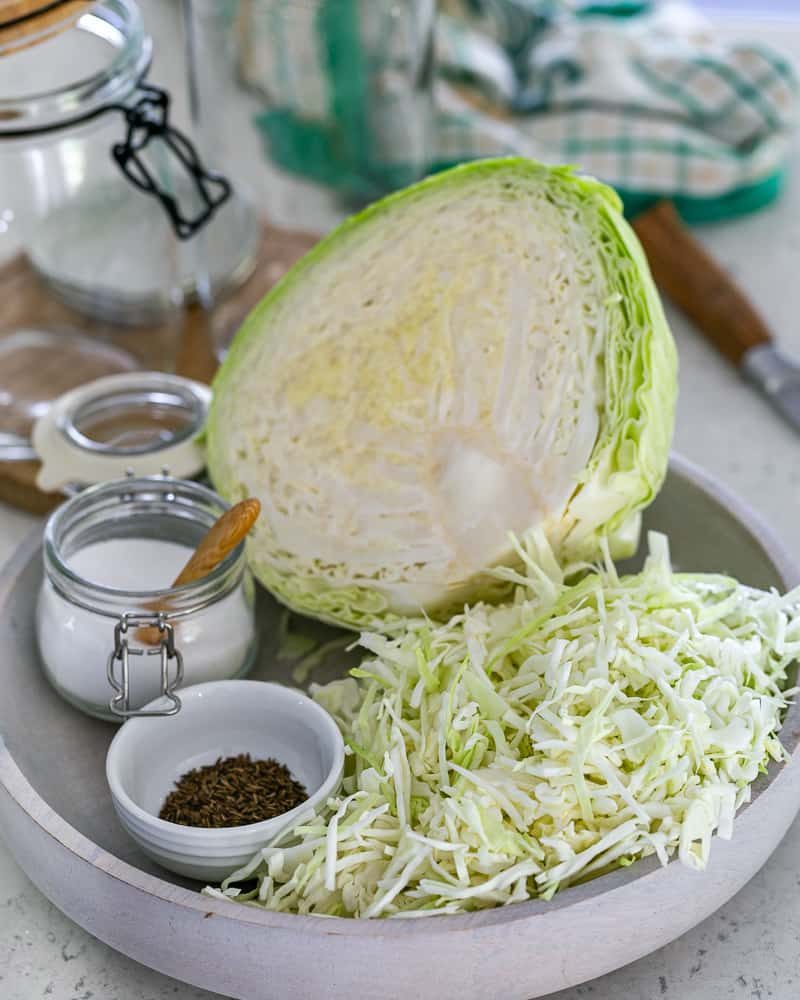 Next comes the Salt, an important ingredient in the fermentation process. Choose your salt carefully as Iodised salt or other salts with added chemicals can change the fermentation process and lead to forming mould. Unrefined salt is definitely the way to go. This will not only season the cabbage well but it will also keep it crisp.
To flavour the Sauerkraut, we like to add caraway seeds as they give the sauerkraut a subtle earthy flavour with just a hint of citrus and pepper. But in case you are not a big fan of caraway, feel free to swap it with another spice or even completely skip it.
Step two - have your kitchen tools ready
If you start with a small batch of sauerkraut, best not to use large preserving jars. Use a one litre mason glass jar or even smaller as it will be easier to store in the fridge and you can observe the process of the sauerkraut day by day.
Use a mandoline slicer if you have one to shred a whole cabbage. In professional kitchens, we use a mandoline slicer quite a bit as it cuts our prep time to a minimum and provides speed and uniformity in slicing, shredding and sometimes even grating. But if you don't have a mandoline slicer that's okay, just use a sharp kitchen knife instead to slice the cabbage evenly.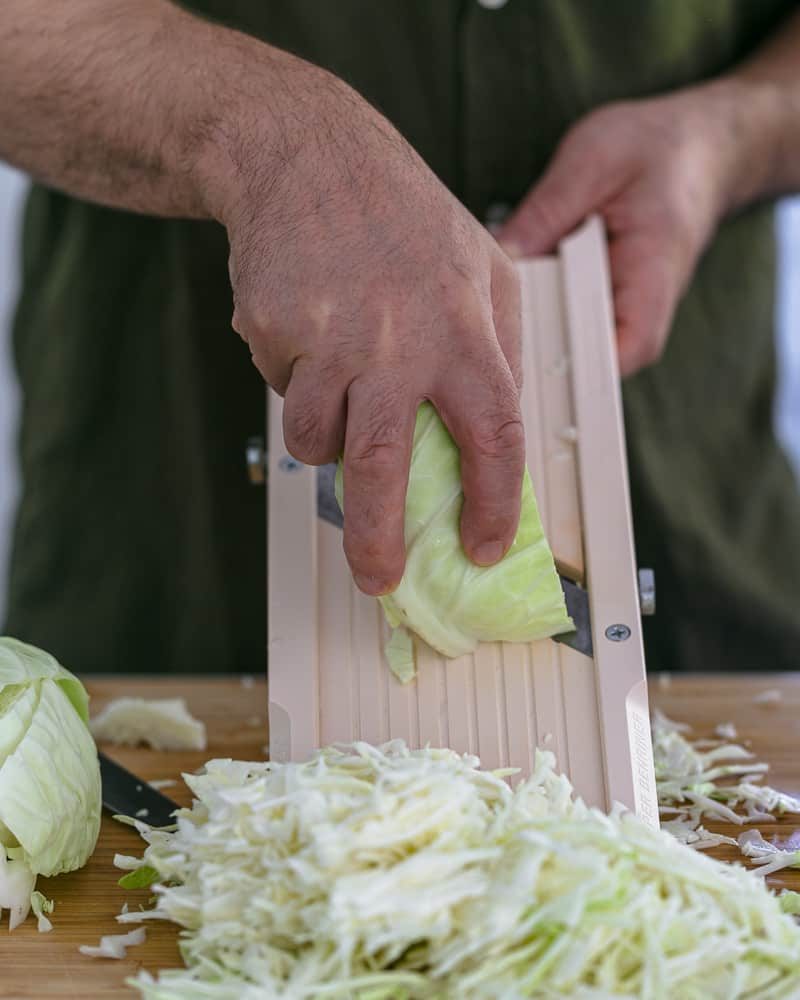 Tip: Do not use a food processor as the cabbage will loose water and the texture will not be as crunchy.
Step three - Process of making Sauerkraut
Wash your hands. Yes, hygiene is important for fermenting cabbage successfully. Bacteria on your hands can change the outcome.
Weigh your ingredients, layout your utensils and get ready to make the best Sauerkraut!
Recipe for homemade sauerkraut
650g (1.4 pounds) shredded white cabbage
1 ½ tablespoon salt
1 tablespoon caraway
Step by step process:
Prepping the cabbage
Remove the outer leaves from the cabbage and cut in four. Cut the stalks and remove the core. Slice the cabbage in fine stripes.
Place the cabbage in a large bowl and add the salt. Leave it for a few minutes as the salt will help release water from the cabbage, which is needed for fermenting.
Now let's flex those muscles and massage the cabbage by squeezing it between your hands. This process helps in further breaking down the cabbage cells which in turn release more water. Squeeze out enough water in the bowl to submerge the cabbage in.
At this stage, you can add the caraway seeds or any other spices you prefer. Bay leaves, star anise, mustard seeds or juniper berries are some great ways to get more flavour in your sauerkraut.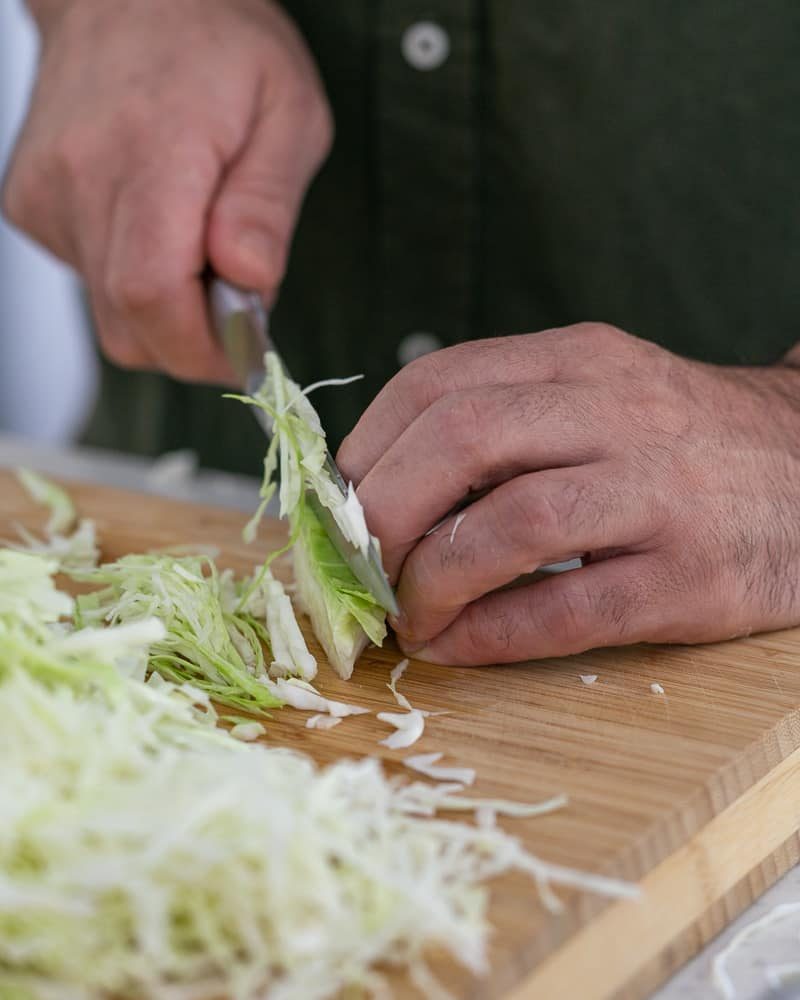 Canning Process
Next add the cabbage into the preserving jar and press down the cabbage to avoid any air between the layers. Pour the remaining water from the bowl into the jar until it completely covers the cabbage. Don't fill the jar with the water right to the brim, leave enough space between the cabbage and the lid.
Close the jar and place in a spot away from sunlight but still warm enough to get the fermentation going. A bit lower than room temperature will do.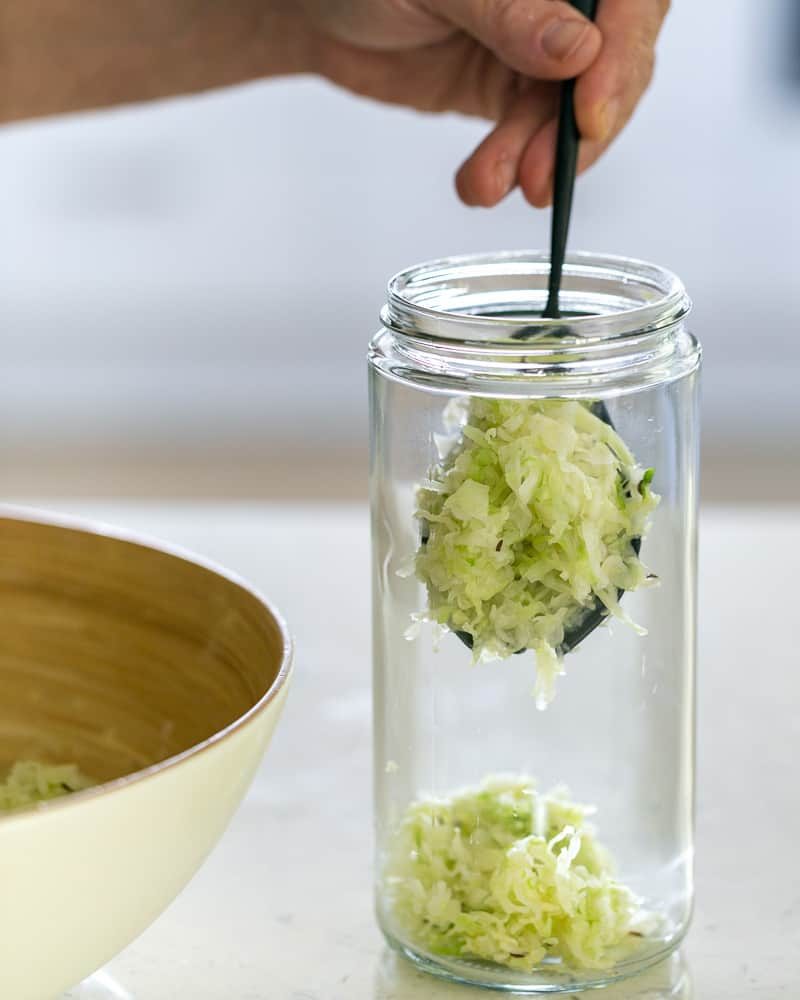 Fermentation Results 24hrs-72hrs
3. Watch your sauerkraut bubbling away over the next 3 days and make sure the cabbage is submerged in its liquid at all times. If you feel there is pressure building in the jar you can open the lid and release the air.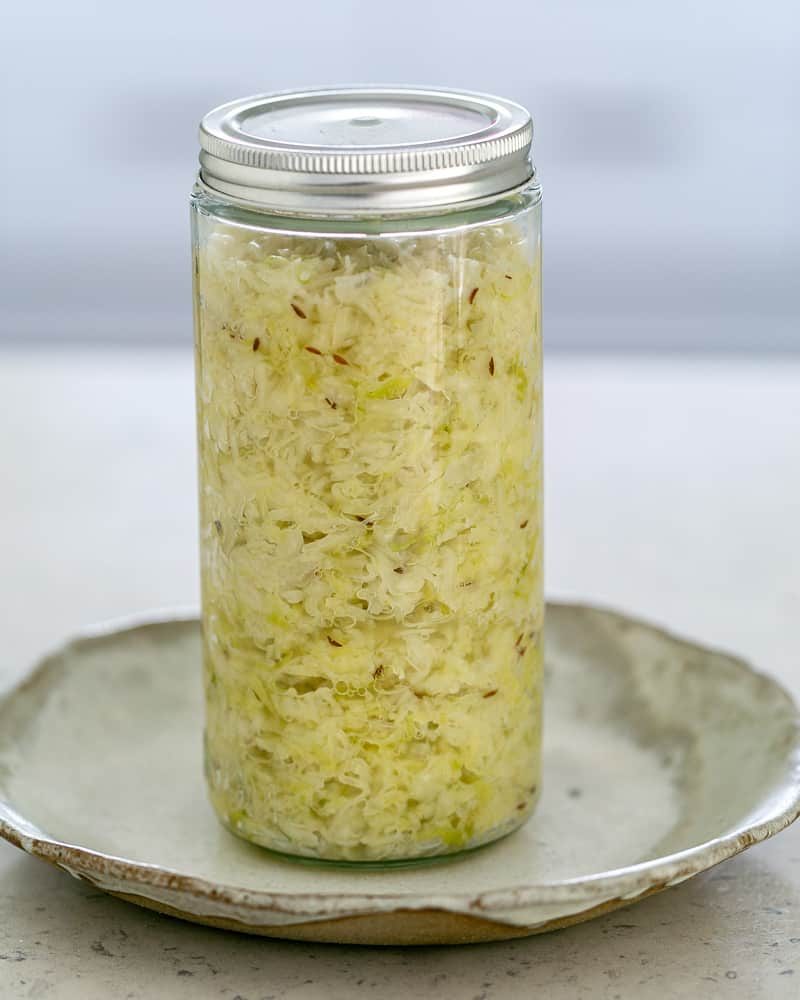 After three days you can try the sauerkraut already. It should taste lightly pickled and have a crunchy texture. We let the cabbage for this recipe ferment for 2 weeks which gave it a beautifully balanced sour and salty taste.
At what stage is the sauerkraut safe to eat?
At whatever stage you decide to use the sauerkraut, it is safe to eat it. It all depends on how long you can wait. Three days of fermentation are enough to start using your sauerkraut but in order to get best results, give it at least two weeks. At that two week mark the cabbage will develop it's signature sour taste. A good practice is to try a small amount of kraut every day, and the day you start enjoying the taste, you know it's time to stop.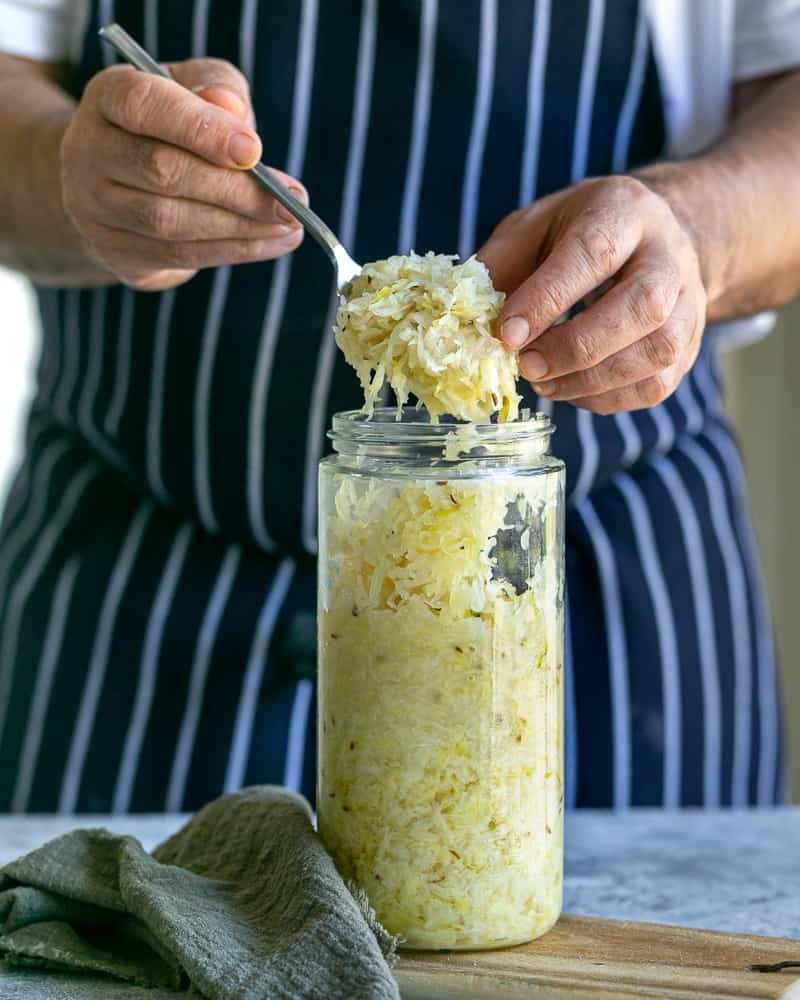 How to store sauerkraut
Depending on how long you are planning to store your sauerkraut, I recommend moving it to a cold, dark room like a cellar or garage. There you can continue fermenting for many more months. The longer you leave the sauerkraut, the tastier and healthier it becomes. Sauerkraut preserved in tightly closed jars can be kept for up to 6 months.
After you have opened a jar and are ready to use it, keep any remaining sauerkraut in the fridge.
How to use Sauerkraut made from scratch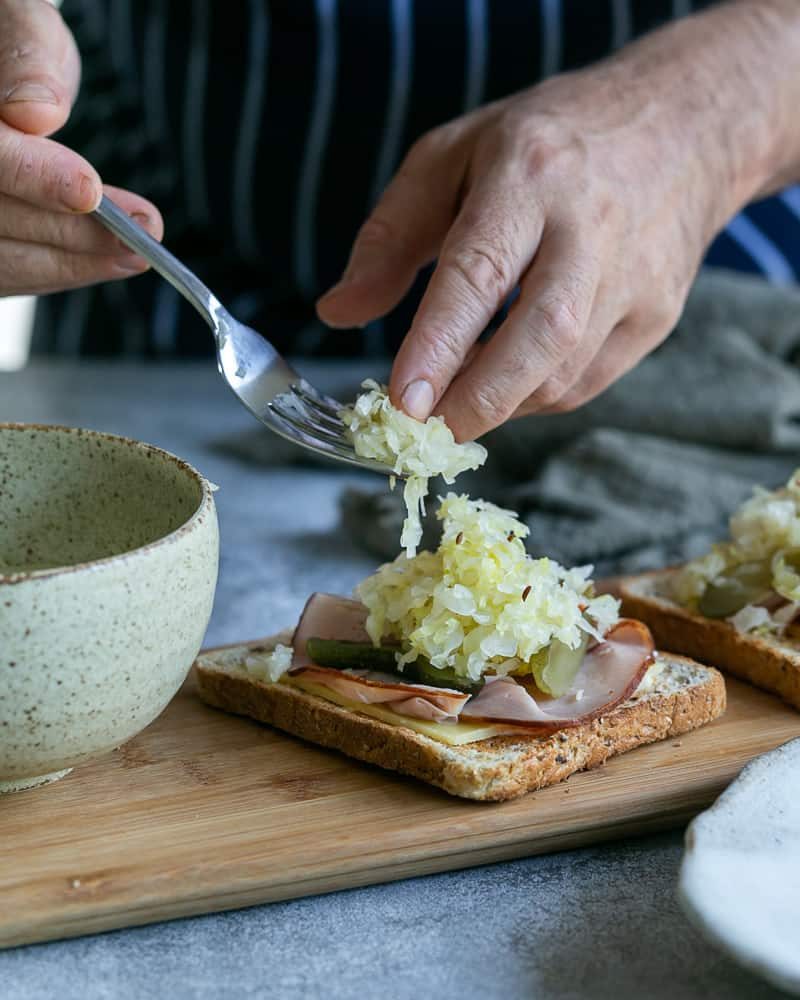 As a topping on soups. Skip a squeeze of lemon on your soup and replace it with sauerkraut out of the jar. It ads crunch and acidity for a nice kick.
In a sandwich. Think of a classic reuben sandwich or on a hot dog, American style. It's nice for breakfast too, on a sourdough with avocado and poached eggs dish, find a great recipe here.
In a salad. Sauerkraut is a great addition to any salad. There are no no no's, it's just delicious in a potato salad, with shredded carrots and beetroot or in a kale and quinoa salad.
With fish. Oh yes, I love this one, think poached or smoked salmon, pickled herring or in a fish burger, yum!
And if you enjoy german food then try this yummy black forest cake version.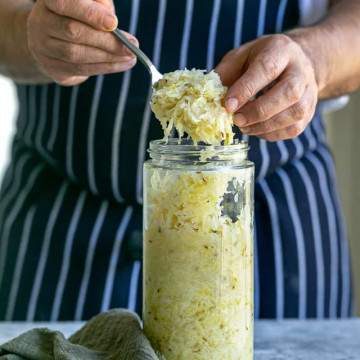 Homemade Sauerkraut Recipe
This pickled white cabbage, made from scratch, is nothing like the store bought Sauerkraut. With a crunchy, sour and salty taste, it can be used in many dishes. All you need is white cabbage and salt to make this incredible easy jar of fermented kraut.
Ingredients
650

g

white cabbage

thinly sliced

2½

tablespoon

unrefined salt

1

tablespoon

whole caraway
Instructions
Make sure your hands and working surface is clean before processing the cabbage. Remove the outer leaves from the cabbage and cut in four. Remove the stalks and cut out the core. Slice on a mandoline or use a very sharp knife to cut the cabbage into thin stripes. One small head of white cabbage should give you 650g (1.4 pounds) of shredded cabbage.

Place the shredded cabbage in a large bowl and add the salt. Leave for a few minutes letting the salt do its work - releasing the water from the cells.

Massage the cabbage by squeezing it with your hands. You want to release enough water from the cabbage to be able to submerge it later on. This should take 5 to 10 minutes. Afterwards add the caraway and mix well.

Start filling your preserving jar with the cabbage and keep pressing the cabbage down between layers to avoid any air. Pour the remaining liquid from the bowl into the jar. It is important that the cabbage is completely submerged to avoid any mould from forming.

Close the lid and leave at a cool room temperature away from sunlight. Over the next three days the fermentation will start and you should see some movement inside the jar.

After three days the sauerkraut will be at stage where it is ready to be consumed but we recommend to wait at least two weeks for a better result.