This is the perfect restaurant style garlic herb butter recipe to add fresh flavour to almost any dish! Use this delicious butter for making garlic bread, cooking vegetables, or add on top of grilled meats and fish! An easy step by step recipe worth keeping handy especially when you need that something extra to take your dish to the next level!
Garlic herb butter is one of these classic butters, that finds it's way to every household sooner or later. Even though you can buy good flavoured butter in grocery stores, we recommend making your own.
This recipe can be done in less then 15 minutes and there is no cooking involved. You can even add your own twist to the recipe by adding flavours you like! Perhaps you have a special spice or herb that will bring this butter to the next level, tell us about it!
Jump to:
STEP BY STEP RECIPE FOR GARLIC HERB BUTTER
I learnt to make garlic herb butter during my apprenticeship. Using a piping bag fitted with a star nozzle, we used to pipe the butter into roses. This was mostly used to garnish steaks! So very old school I know😄 Now of course there are so many more ways to use flavoured butter!
Ingredients for garlic herb butter
Only few ingredients go into our recipe but again you can add or leave out ingredients as per your liking.
Butter- buy a good quality butter, the one you like to cook with the most. Unsalted butter works best if you prefer controlling the salt level that goes in but salted butter is fine too.
Herbs- I used only parsley for this recipe but I have made this butter with other herbs too. Thyme and rosemary are a great addition, oregano, dill and basil work well too. In case you unable to get fresh herbs, you can use dried herb however use in small quantities as their taste can be overpowering.
Garlic- fresh garlic, as much as you would like in your butter. The garlic in the butter is just finely chopped and added raw. If raw garlic isn't your thing, substitute with cooked garlic instead. Try confit garlic for example.
Lemon- I just use the zest of the lemon for a little zing. It's not over powering and blends in well.
Cayenne pepper- this is optional but a pinch of cayenne pepper gives a little heat that stays in the back. If you like spice in your butter, you can also use chilli flakes!
Salt and Pepper- sea salt and black pepper for seasoning
Other ingredients you could add in small amounts: balsamic vinegar, fresh chilli, olives, anchovies, mustard, sesame seeds, pine nuts, sundried tomatoes, smoked paprika, parmesan, pickled jalapeños, cornichons...
HOW TO MAKE GARLIC HERB BUTTER
Step 1
Prepare the butter
Start by cutting the butter in cubes and place in a mixing bowl. Leave the butter to soften at room temperature. This is important, the butter needs to be soft to combine with the other ingredients.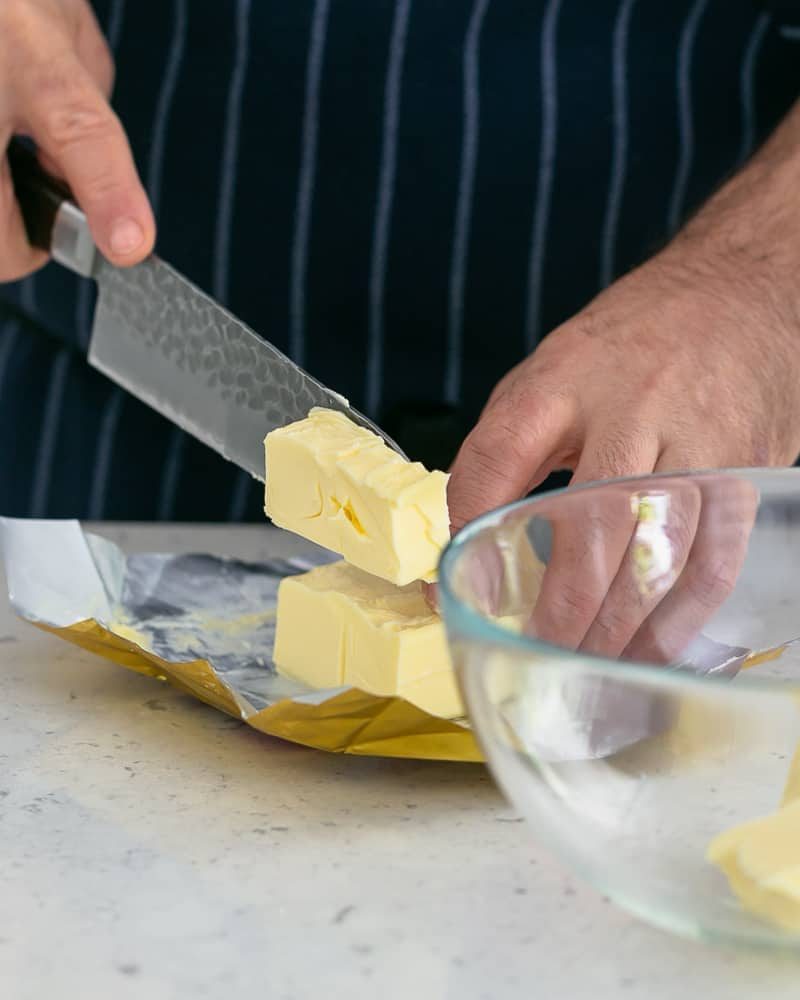 Step 2
Chop the garlic
It is no secret that freshly chopped or minced garlic imparts more flavour rather than a store bought one. All you need to finely chop garlic is your chef's knife and your chopping board. You can also use a garlic press or food processor if you find chopping garlic with a knife too tedious. As a Chef, I have just never used either in my professional kitchen, so prefer using my knife.
Step by step instructions for chopping garlic like a Chef
Break the cloves from the bulb: The whole garlic is called a head or knob and each small, individual segment of a garlic head is a clove. The recipe calls for three medium garlic cloves so you need to separate just three individual segment from the whole garlic.
Peel the garlic cloves: An easy way to peel garlic is by smashing the garlic clove with the flat side of your knife. Just lay the flat side of your knife over the clove while holding the handle and then with the heel of your other hand, either press hard or give the knife a light whack. This will separate the peel from the clove in one go!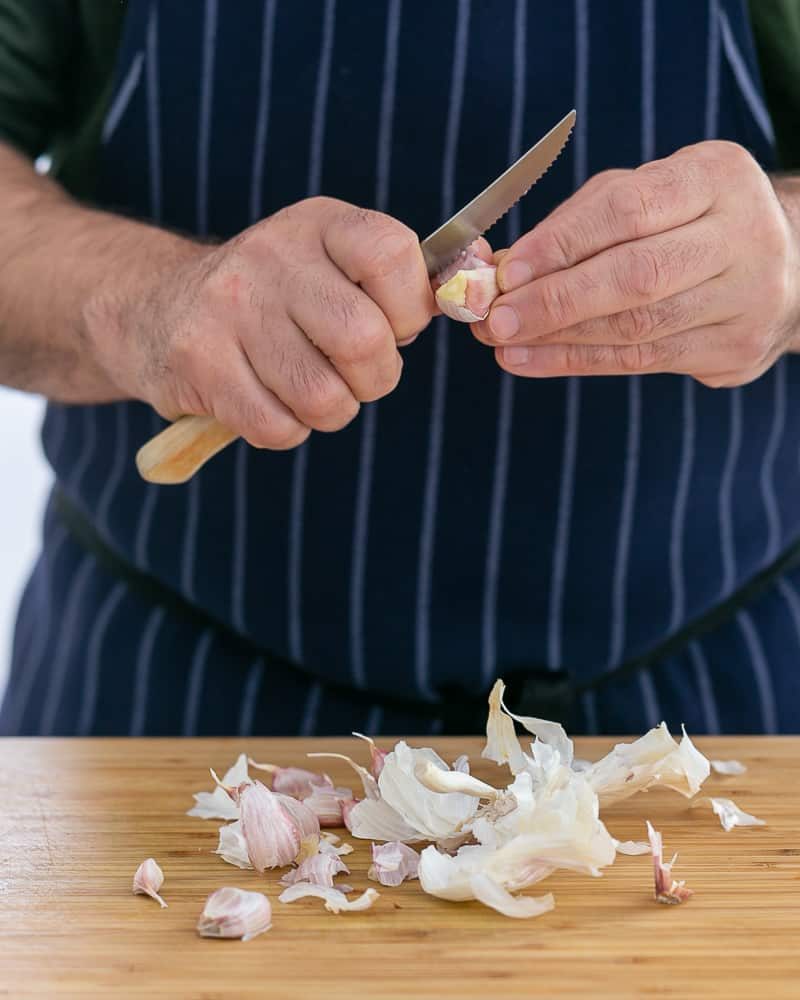 Chop garlic: Garlic for this recipe is somewhat between finely chopped and minced garlic so let's get started! Chop the crushed garlic roughly with your knife. Next, hold your knife and lay the other hand flat across the tip. Use a rocking motion to chop the garlic until finely minced.
It is important how you cut your garlic as you don't want any chunky pieces of raw garlic in your herb butter. There is nothing more unpleasant than biting on a raw piece of garlic is it?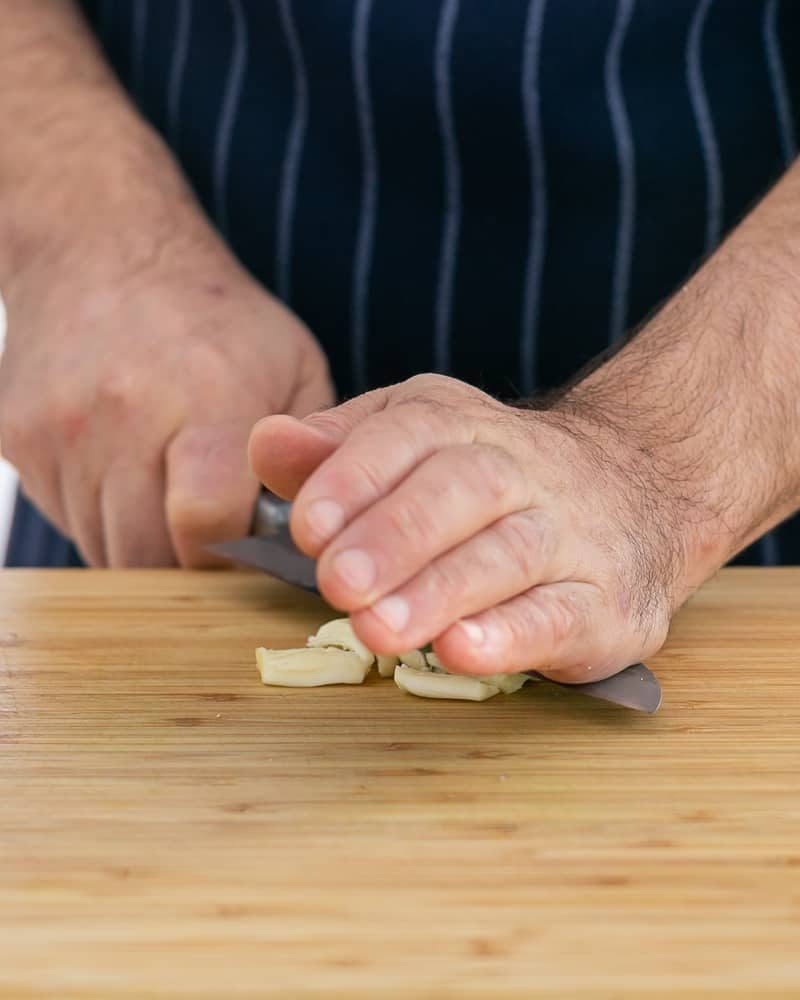 To get almost a minced garlic consistency, rotate the knife to a shallow angle, apply pressure, and drag your knife across the pile of chopped garlic. Continue until garlic almost looks like a chunky paste.
AS A TIP: Minced garlic distributes the flavour more fully in a dish that's why is great to use in sauces, marinades and flavoured butter recipes like this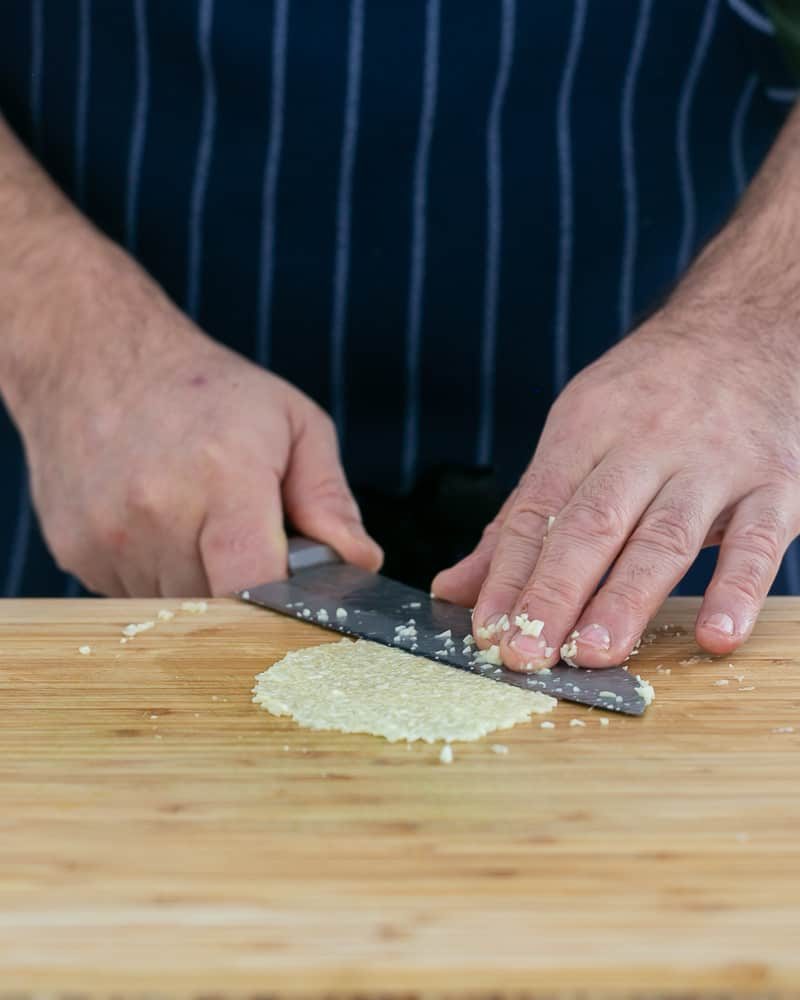 Step 3
Chop parsley
First, rinse the parsley in cold running water or just dip the bunch leaf side down into a bowl of cold water. Dunk the parsley bunch into the bowl of water and hold it up a couple of times to allow any sand and dirt to fall to the bottom of the bowl. Finely just shake out the excess water and dry on a paper towel or kitchen cloth .
Now, pluck the parsley leaves, separating them from their thick stems. Cut only as much as you need for the recipe and store the remaining parsley in a damp paper towel, sealed in a plastic bag or a box in your fridge. Gently gather the leaves together to avoid bruising the parsley. First, roughly chop the parsley, then using a rocking motion, run your knife two three times through it to get more finely chopped parsley.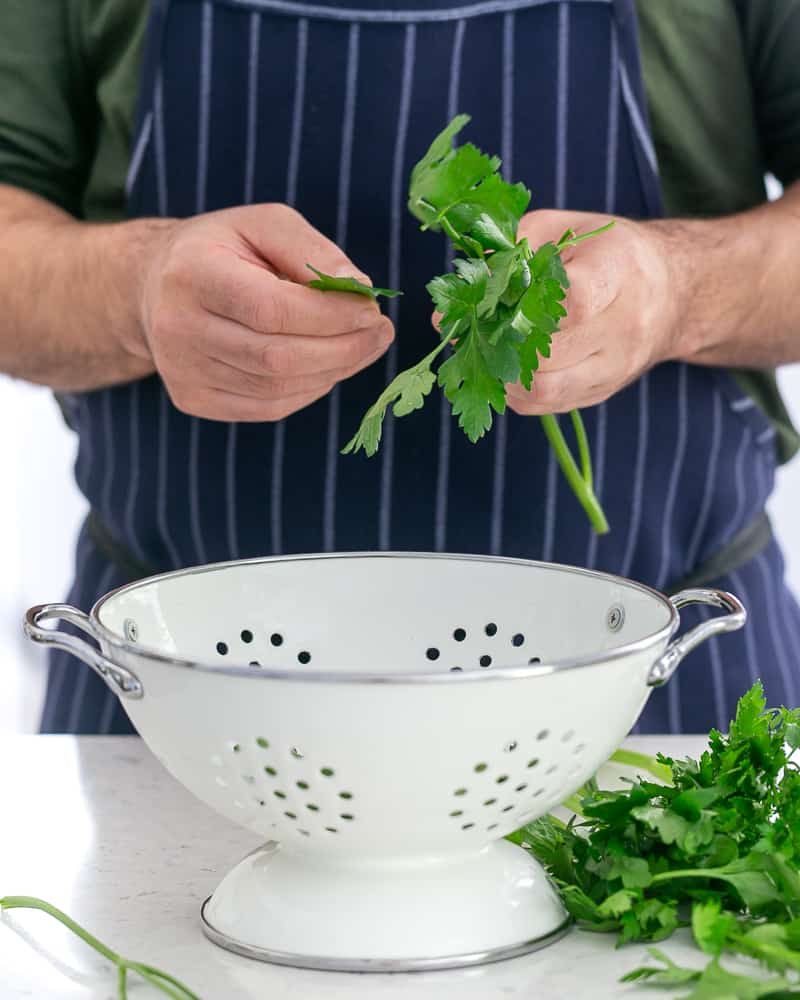 Step 4
Mix all the ingredients
Add all ingredients to the butter and combine well. Season with salt, pepper, cayenne pepper and lemon zest.
Taste and adjust seasoning accordingly.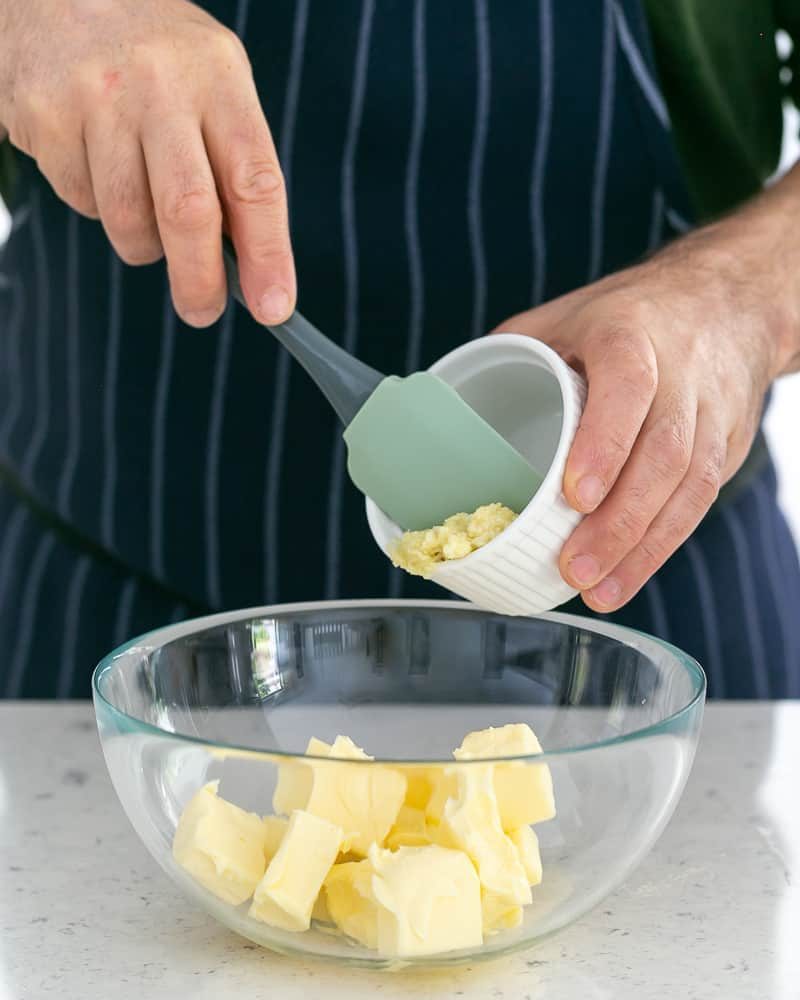 Step 5
Roll butter into a log
Now that the butter is ready, you can place it in a container and keep refrigerated until you use it. Another great way of storing butter is rolling it into a log. This will make it easy to portion the butter in perfect discs later on.
The easiest way to do this is:
Transfer the butter on a piece of cling wrap. Shape the butter into a log with a small knife or spatula. I made 2 logs of about 110g of butter per log.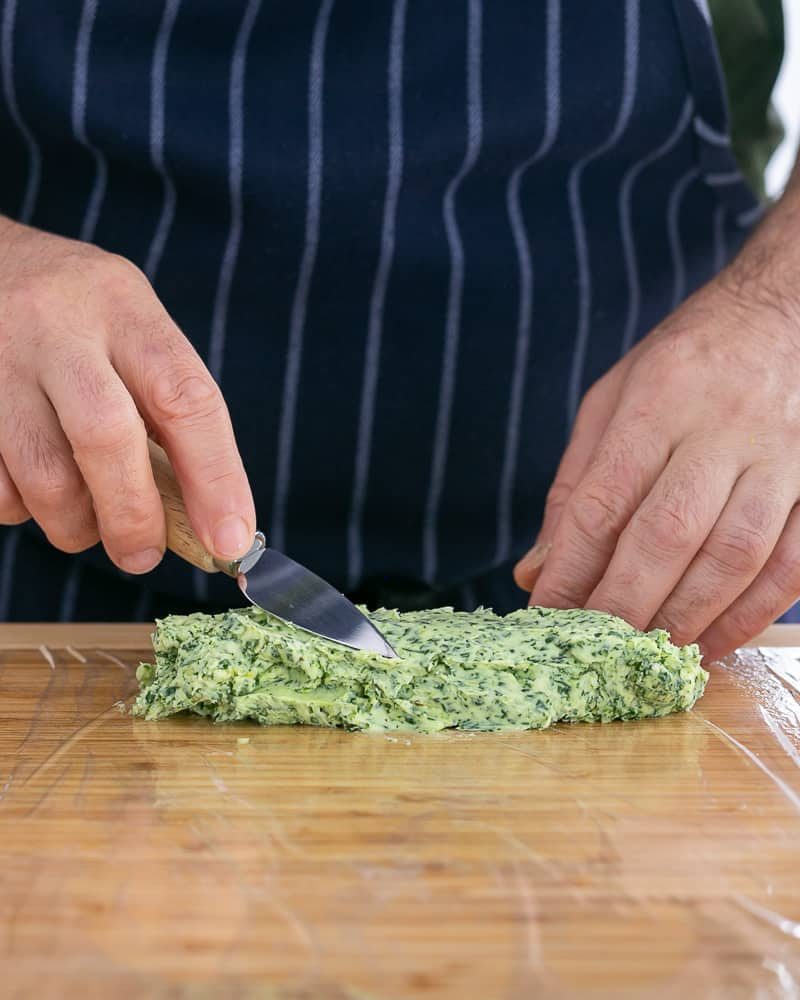 Fold the cling wrap over the butter and roll one time. With your fingers, hold ends on both sides of the butter. Start rolling the butter producing even pressure as that will squeeze it into a uniform log.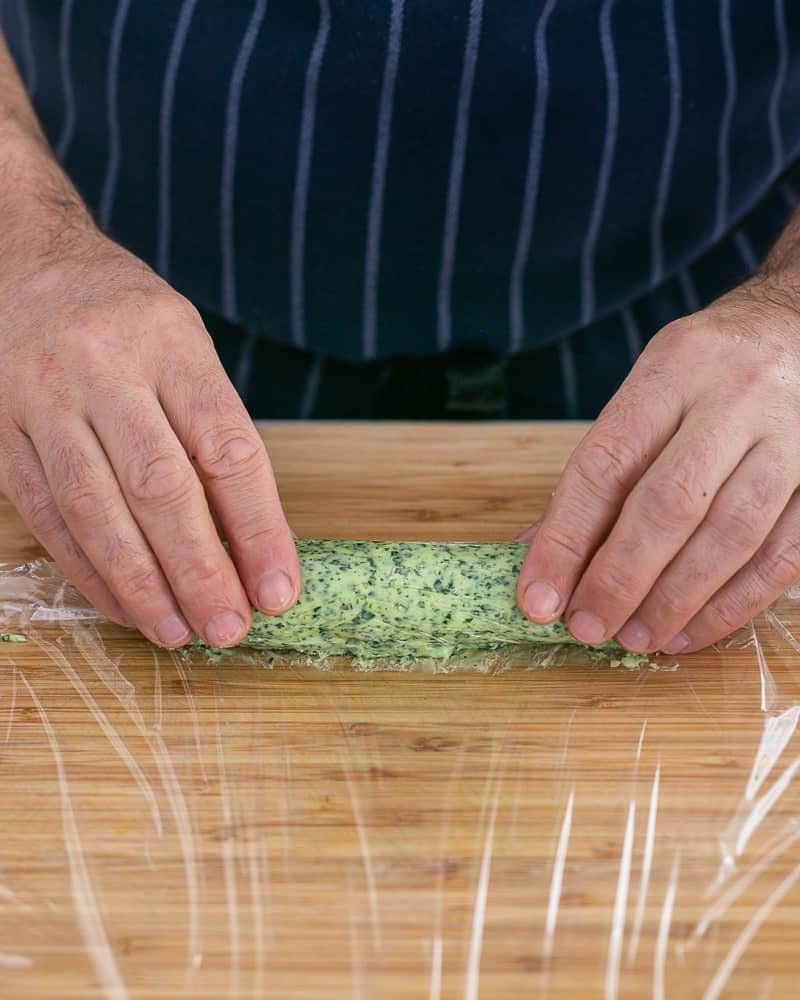 When you come to the end of the plastic wrap, cut the sheet and twist the ends of the butter log in opposite directions. Tie the ends with a string.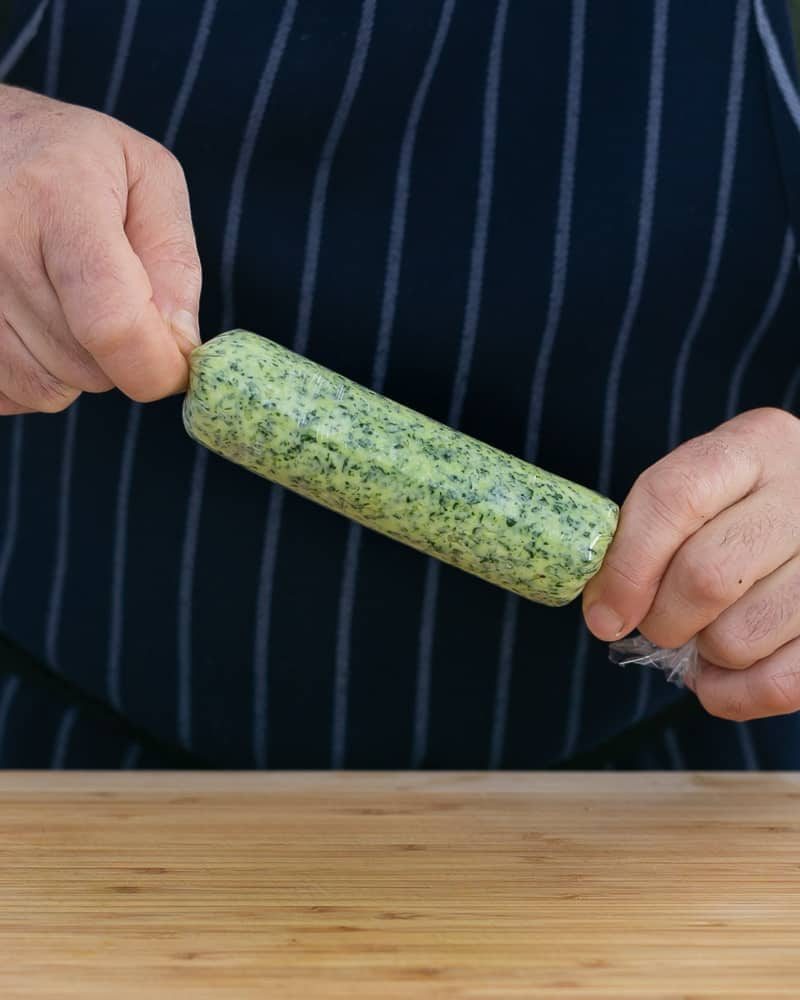 Chill for 2 hours and slice as needed.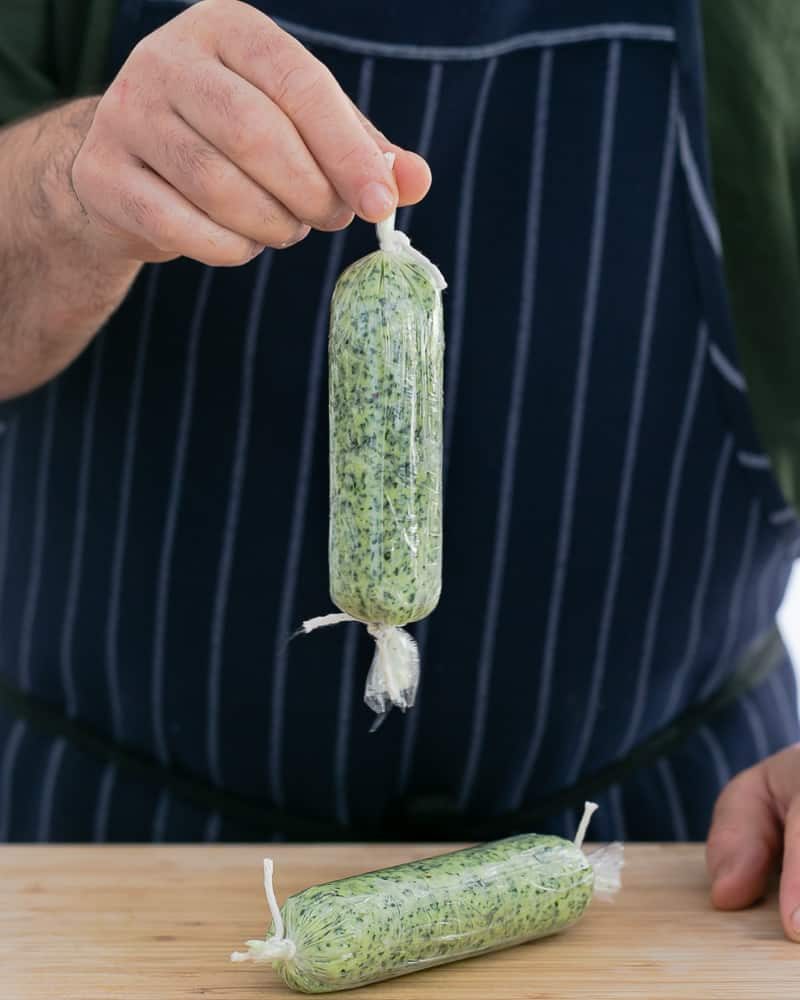 CAN YOU FREEZE GARLIC HERB BUTTER?
Yes you definitely can! We make large amounts of garlic butter and roll them into 110g portions and freeze them ahead of BBQ season. They keep frozen for up to 6 months. Defrosting is easy! Leave them at room temperature for at least 2 hours and then slice or cut them the way you want.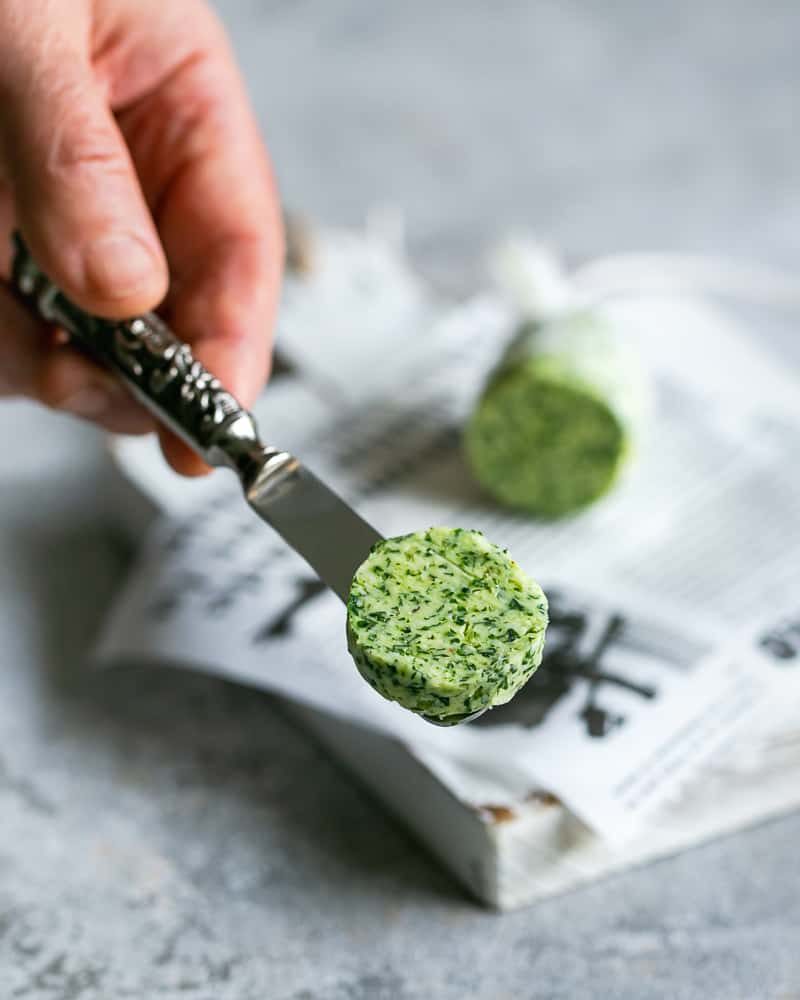 Even better, slice the butter beforehand and freeze in a zip lock bag. These are handy when doing a quick stir fry.
IDEAS TO USE GARLIC HERB BUTTER
You can use this garlic herb butter recipe for many preparations, for example garlic bread! A good garlic bread needs a good garlic butter. It also comes handy, when you just need something to elevate the flavour of your dish that tad more!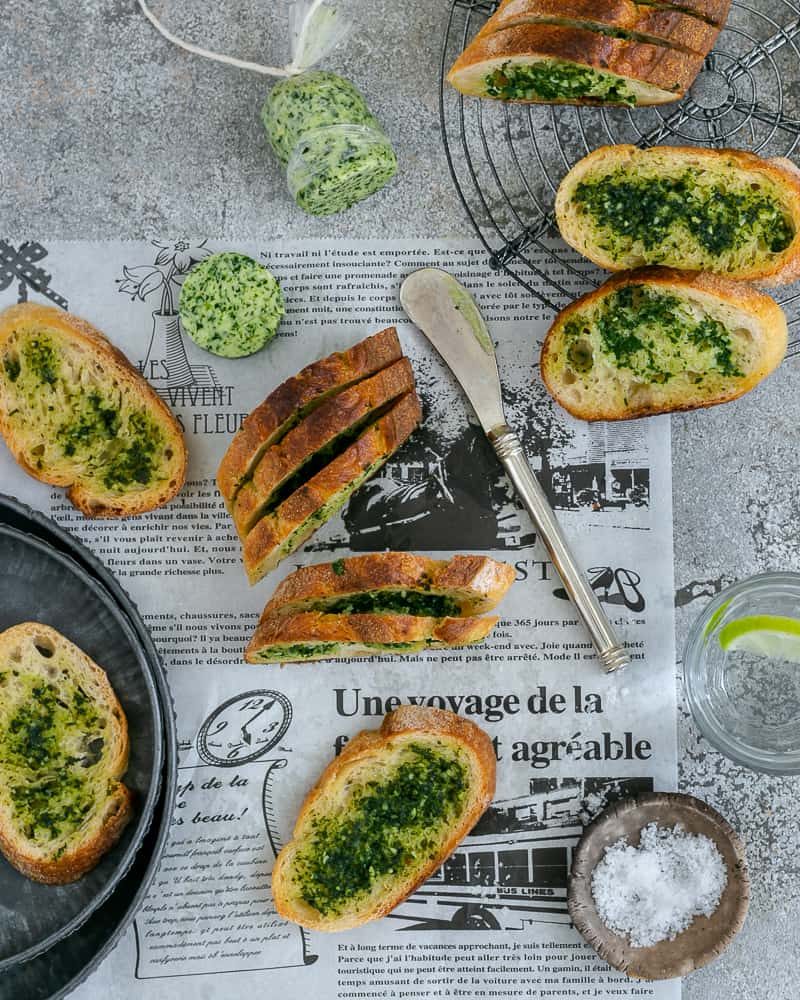 Here are some more ideas:
-add on top of scallops and bake them in the oven, we have the baked scallop recipe for you
-On steaks, chicken or fish, think BBQ season!
-With vegetables. Corn on the cobb, stir frys, steamed vegetables, on whole baked cauliflower, baked or roasted potatoes.
-In a sauce like lemon beurre blanc, peppercorn jus, gravy's or in pasta dishes like this casarecce pasta
It also makes a nice gift to take along to a dinner party. You can either gift wrap the butter log or use a small jar instead. Add a nice hand written note with it and I am sure the recipient will appreciate the gesture!
The sky is the limit here so don't be afraid to experiment and make your own version of this Garlic Herb Butter! We would of course love for you to try this recipe but if you make any changes, your feedback below will be useful for all of us! For more "from scratch recipes" check out my Chef's Pantry
Thanks and Happy cooking!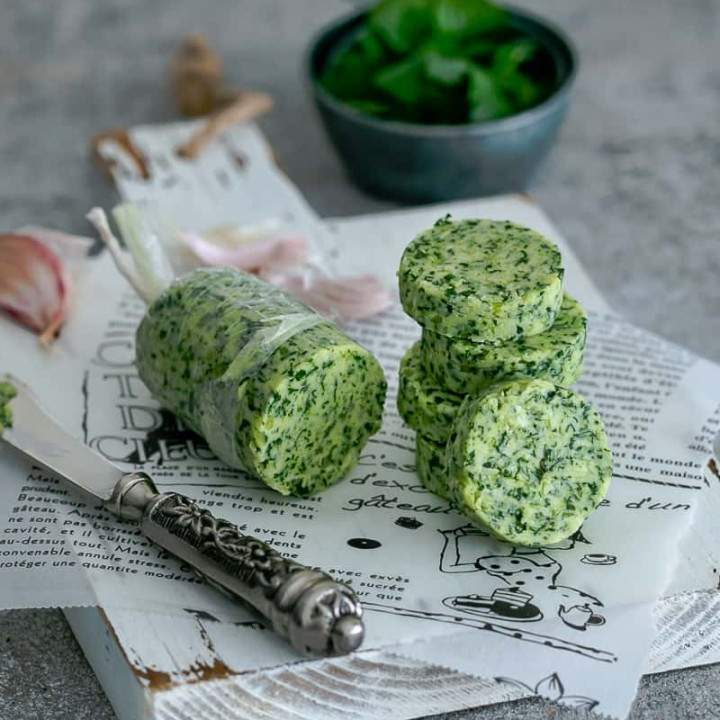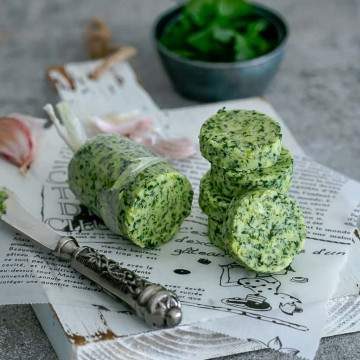 Garlic and Herb Butter Recipe
This is the perfect garlic herb butter recipe to add fresh flavour to almost any dish ! Use this delicious butter for making garlic bread, cooking vegetables, or add on top of grilled meats and fish!
Ingredients
200

g

unsalted butter

at room temperature

½

bunch

parsley

picked

3

medium

garlic cloves

peeled

1

lemon

1

pinch

cayenne pepper

salt and pepper to taste
Instructions
Cut the butter in cubes and place in a bowl.

Chop the garlic by hand or alternatively use a garlic press or food processor.

Add the garlic and parsley and combine well with the butter.

Grate the zest of 1 lemon into the butter and season with a pinch of cayenne pepper, salt and black pepper.

Taste and adjust the seasoning if needed.

Roll into two cylinder shaped logs and chill for about 2 hours before using. Alternatively refrigerate in a covered container.
Notes
keep refrigerated for up to 2 weeks or frozen for up to 6 months
substitute the butter with margarine if dairy free or vegan