Delicious eaten on it's own or nicely packed as a gift or used as a topping on a dessert, this recipe for crispy Macadamia nut brittle can be used in many ways.

This crunchy macadamia nut brittle recipe will come handy if you need a quick garnish for a dessert. When we are creating desserts at work, we always look for texture.
To avoid over complicating things, a nut brittle always works wonders! It can be broken into small pieces, chopped or ground into a coarse crumble.
Ingredients for Nut Brittle
Nut brittle is made from sugar, water, butter and nuts. The sugar and water make the caramel and the butter helps to make the brittle buttery-crunchy and easy to chew. Keep reading to find out, why we chose Macadamias for making our brittle.
Macadamia Nuts
Australia is one of the largest producers of Macadamias in the world. They are not only known for their buttery, rich flavour but also for being high in healthy fats. Harvested only a few times a year, makes them rare hence not the cheapest variety of nuts to buy.
We consider ourselves very fortunate to live in a place that is surrounded by macadamia farms. We love incorporating the rich flavours from this native nut in our savoury and sweet creations, that's why we decided to use them for our brittle recipe.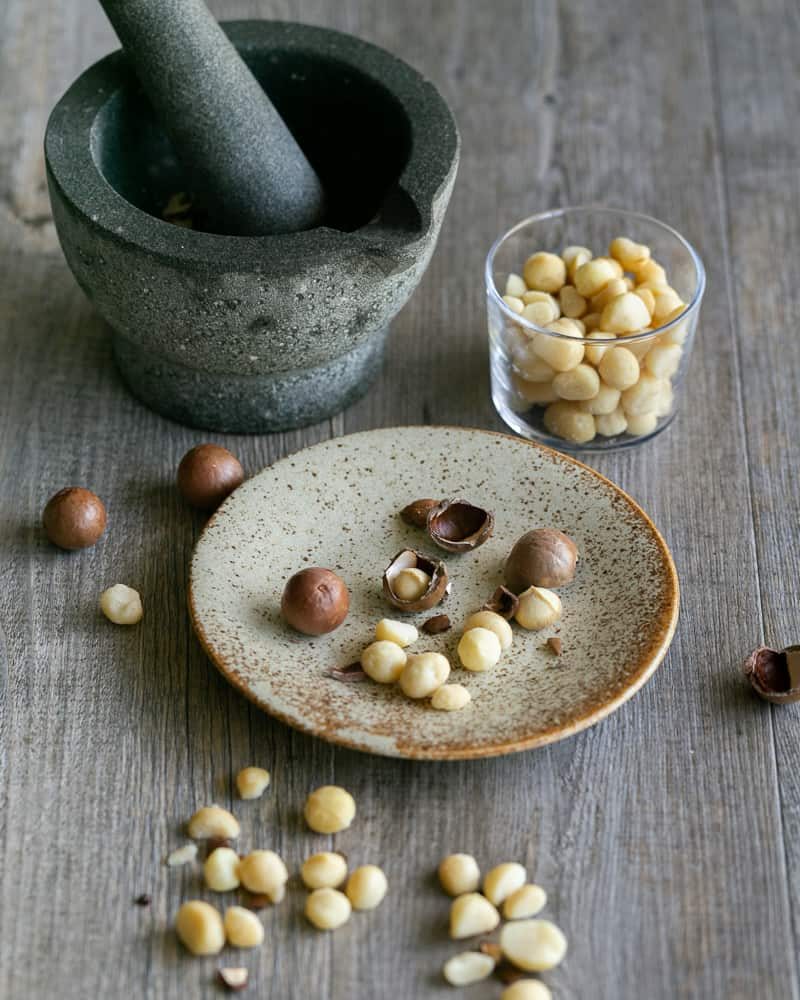 If you cannot find Macadamia nuts, don't worry, as these can be easily substituted with hazelnuts, almonds or other nuts.
How to make macadamia nut brittle
Nut brittle is a recipe that can be made in 20 minutes. It takes a bit of practice but if you can master it in the first attempt, you will be even faster the next time you make it. Depending on which nuts you are using, the roasting time may differ.
We bought whole macadamias from the farm but I decided to halve them as I find the brittle turns out too hard when done with whole nuts. You want to be able to break the brittle easily and not have to wrestle it! I made sure they were roughly cut the same size so that they all roast evenly. Buying halved macadamia nuts beforehand, will definitely save you time😉
Once the macadamias are roasted golden brown, have them ready on a tray with baking paper or a silicon baking mat underneath. This is important because you do not want your set brittle to stick. Now, we need to make the caramel so make sure the prepared tray with the macadamia nuts is next to the stove.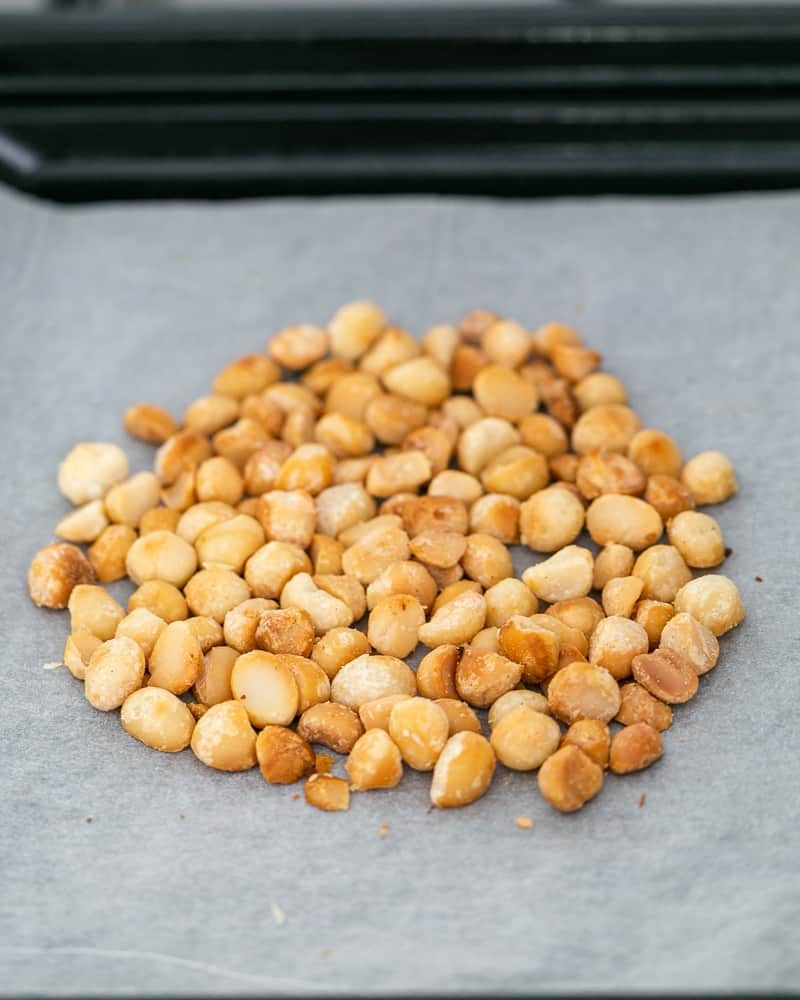 Making the caramel
For the caramel, in a heavy pan, combine sugar and water and reduce. When the sugar starts browning and turns into caramel, you need to keep a close eye on it otherwise it can quickly turn into a burnt caramel. A tip, I always use a pan that has a light surface as it is easier to see how dark the caramel is. We are after an amber colour for our caramel, so once you are there take the pan off the heat.
Next, quickly add a few butter cubes and stir them into the caramel until they are completely melted. Repeat with the remaining butter. While the caramel is still hot, pour over the roasted macadamias. Be careful not to burn yourself, caramel has a very high temperature and can get you second or third degree burns. Ouch!!
Leave to cool at room temperature. The amount of butter we use determines how rich will the brittle be and also the texture. While some brittles might shatter into pieces, others might be soft and chewy. Once cool, this brittle recipe will give you a hard block which can easily be broken into pieces or cut with a knife for more even pieces.
How to store nut brittle
Depending on how fast you will eat the nut brittle, keep it in an airtight container at room temperature. At work, we add baking paper between layers of nut brittle to prevent the shards from sticking together. If kept well, the macadamia nut brittle should stay crispy for a couple of weeks. With anything crispy, best to avoid any moisture so store the jar in a dry environment.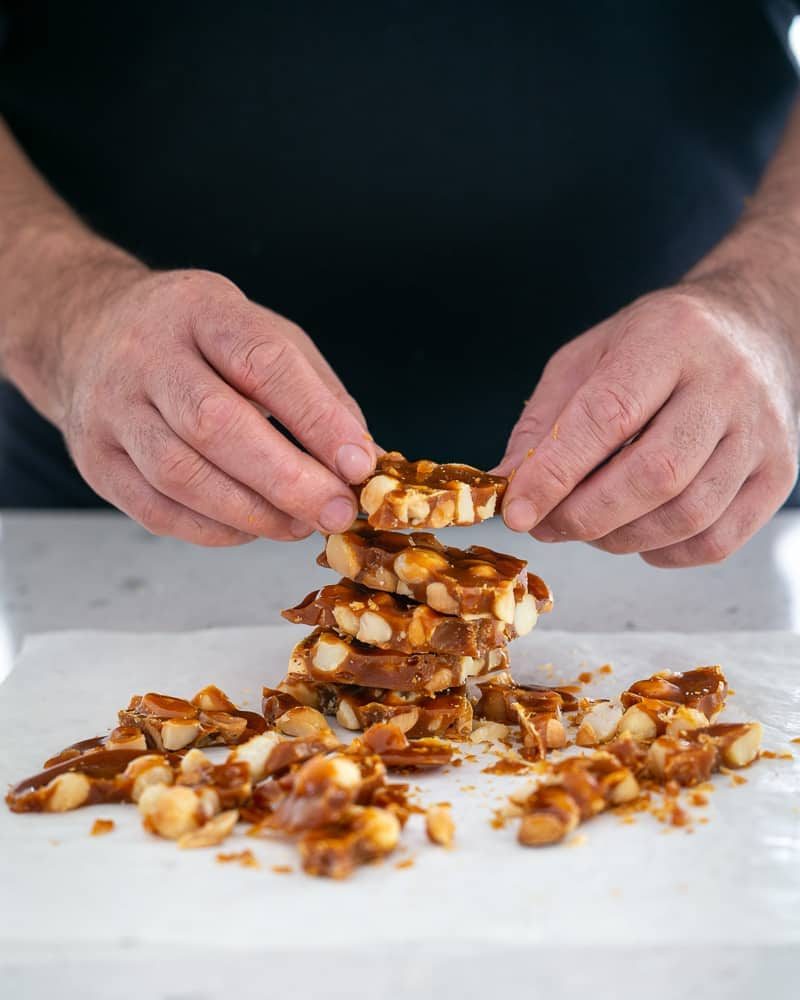 What to use Macadamia Nut Brittle for
Besides munching on them all day long, these addictive nut brittles can be used in many ways. They go well as a snack with coffee or tea or just as a candy after meals. One of my favourite ways to use the brittle is in an eaton mess or simply chopped over ice cream or fruit salads for an extra crunch.
Nut brittle can also be turned into a crumble. Simply add the macadamia nut brittle into a food processor and blend with a few pulses to a coarse crumble. Ideal for desserts missing a bit of texture, just sprinkle some crumble and voila, it instantly takes the dessert to the next level giving it a mouth watering nutty, crunchy texture!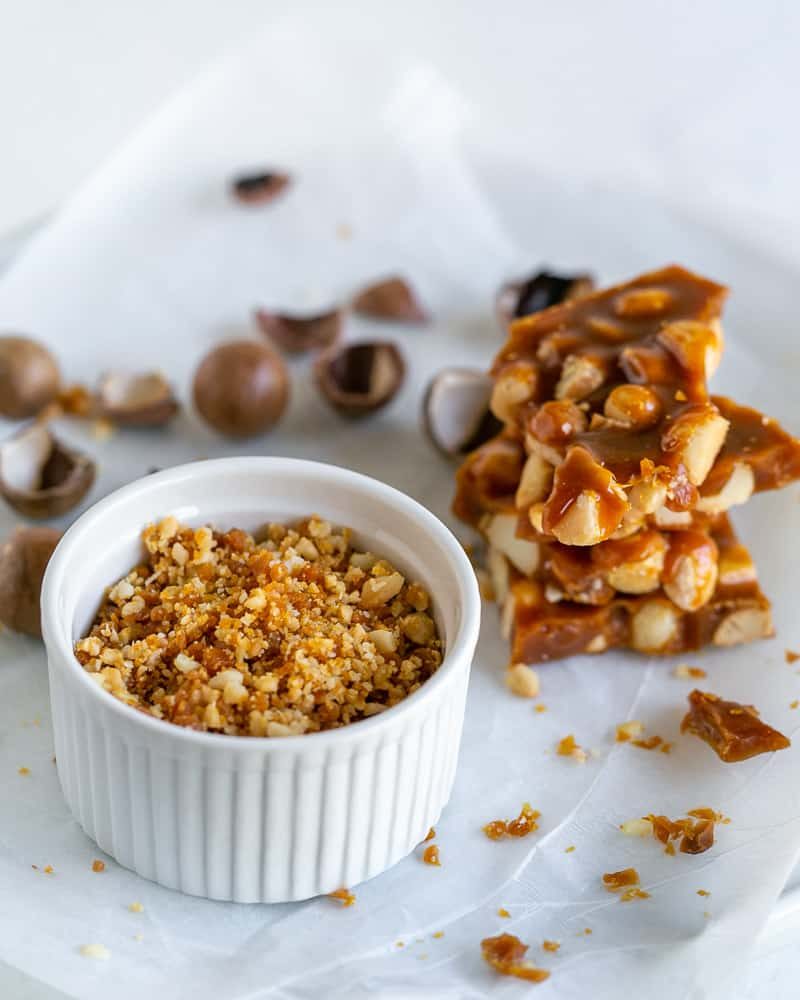 Are you ready now to make your own nut brittle? Leave us a comment to let us know, how your brittle turned out. Did you end up just snacking on it or did you use it as a topping for a dessert? If you enjoyed working with caramel, try our ile flottante recipe.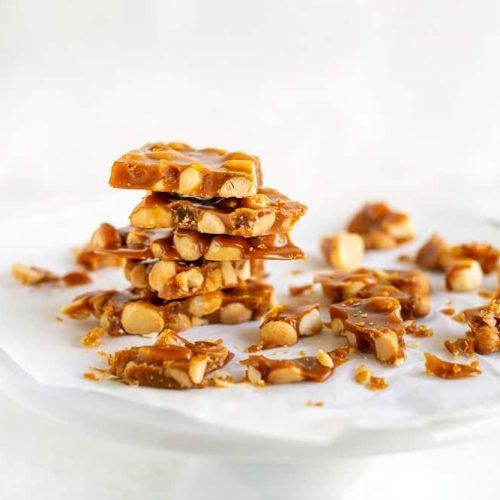 Crispy Macadamia Nut Brittle
Delicious eaten on it's own, nicely packed as a gift or used as a topping on a dessert, this recipe for crispy Macadamia nut brittle can be used in many ways.
Ingredients
120

g

macadamia nuts

halved

150

g

caster sugar

75

ml

water

30

g

unsalted butter
Instructions
Pre-heat the oven to 180 degrees. Place the macadamias on a baking tray lined with baking paper. Roast for 6-8 minutes or until golden brown.

Cut the butter in cubes and keep ready next to the stove.

Now, in a heavy pan, combine the sugar and water and bring to a boil. No need to stir until the sugar starts turning into caramel. Wait for the caramel to turn into a brown, amber colour and remove the pan from the heat.

Quickly stir in the cubes of butter one by one until they are completely dissolved. Immediately pour the hot caramel over the macadamia nuts. Be careful not to burn yourself while making the brittle, caramel is extremely hot.

Let it cool completely at room temperature. Break into pieces or cut with a knife for more even sizes. The nut brittle can be stored for up to two weeks in an airtight container.